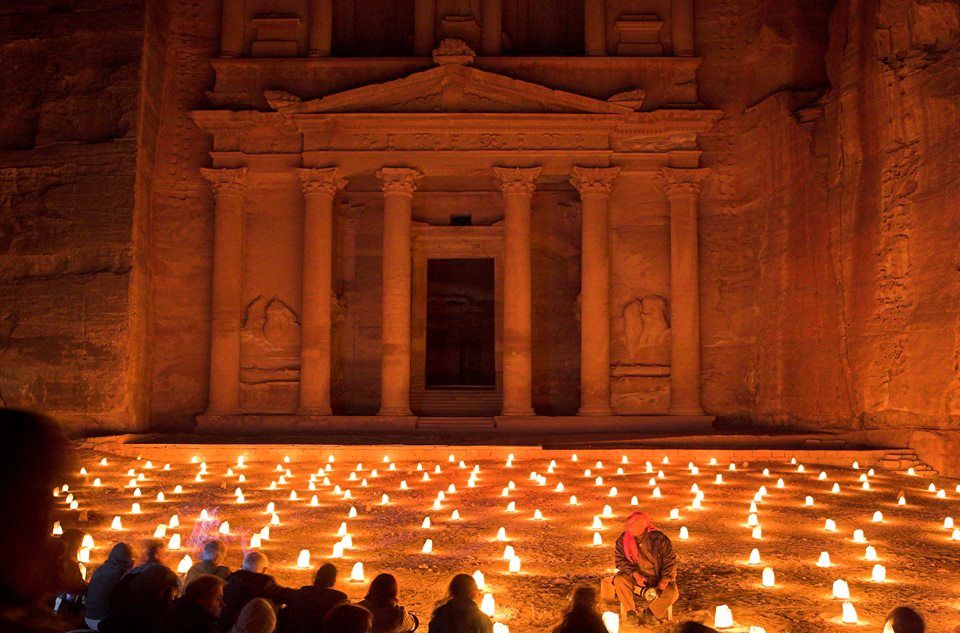 By the way, just to assure you again, we aren't kidding. We've actually just launched a contest right now in which literally clicking just two buttons may give you a chance to go to a 6 day trip to Jordan with any one of your friends or family by your side.
Check out the details and the entire procedure below.
Contest Details
It is quite possibly the simplest contest you'd ever participate in.
All you need to do is select 4 places you'd like to visit in the Jordan map provided on our contest page, and then invite your friends to support your entry. The person who has the maximum number of supporters by Oct 30 (i.e. Diwali) wins a Jordan trip. Yes, it is actually that simple.
What you need to do
1. Create a profile on Tripoto, if you haven't already.
2. On the contest page, select 4 places on the provided Jordan map that you will love to visit. Submit your entry.
3. Invite all your friends to support your entry. They can do so by clicking the 'Like' button provided there.
The entry with the most no. of supporters wins an all-expenses-paid trip for two worth Rs. 2.5 Lacs to Jordan.
Guidelines
1. The Contest starts from Oct 19, 2016, and ends on Oct 30, 2016, at 23:59 IST.
2. The FREE Trip to Jordan will be awarded to the winner + 1.
3. The FREE Trip to Jordan includes:
a) Return Airfare for two.
b) 5 nights / 6 days accommodation.
c) All transfers
d) Breakfast included for all 6 days.
e) Total Value up to INR 2.5 Lacs
4. The FREE Trip to Jordan will be sponsored by Jordan Tourism.
5. The winner will be decided by Tripoto. Tripoto Travel Pvt. Ltd. reserves the right to disallow any contest entry.
6. The FREE Trip to Jordan must be availed on or before Mar 31, 2017
7. For any contest related query, you can contact us on info@tripoto.com
Entire Participation Process, Simplified
We'll break it down into easily understandable steps so you can participate right away. The entire entry process will take you one minute from start to finish.
1. Log on to our contest page.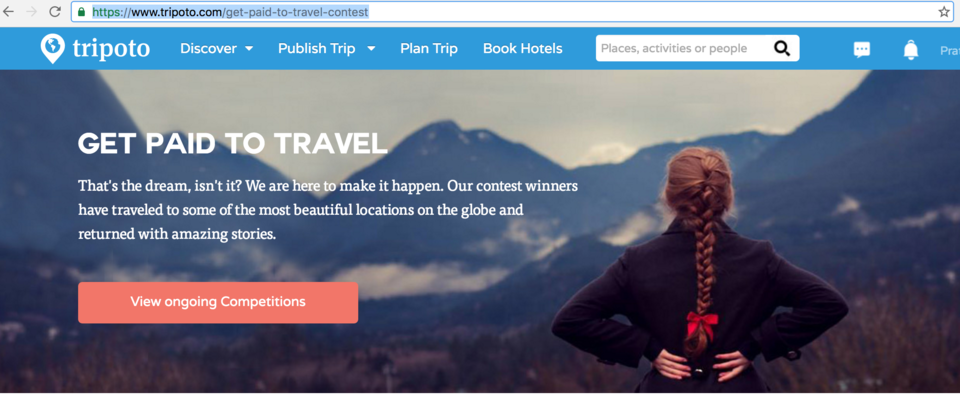 Or simply click here.

2. Click on the big red 'View ongoing Competitions' button.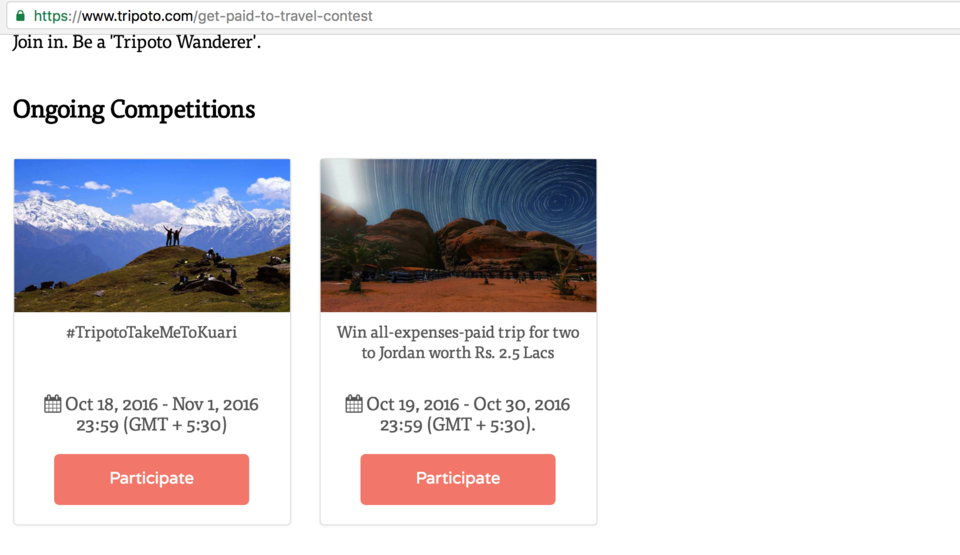 You'll see the window showcased above.
3. Click on the red 'Participate' button on the right for the Jordan contest.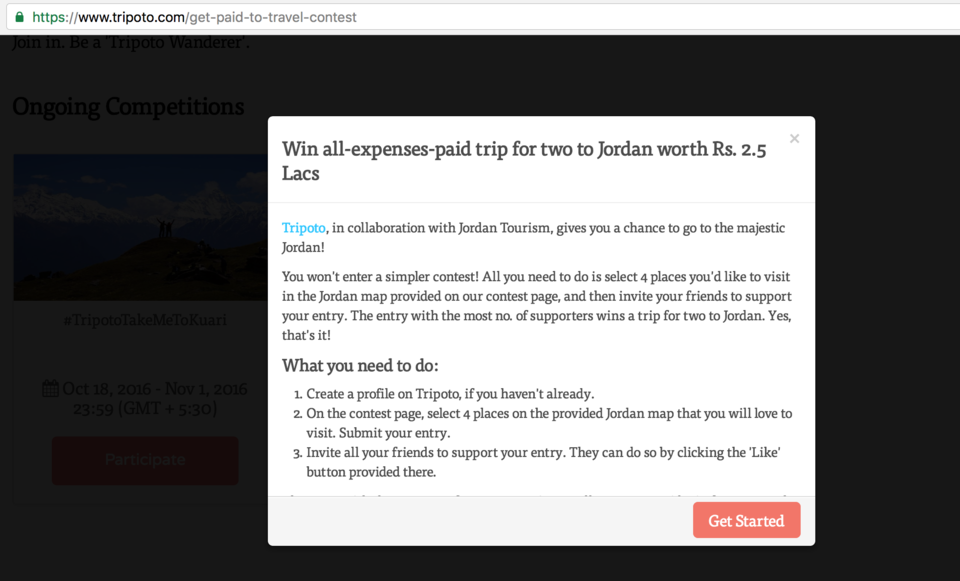 4. Click on the red 'Get Started' button.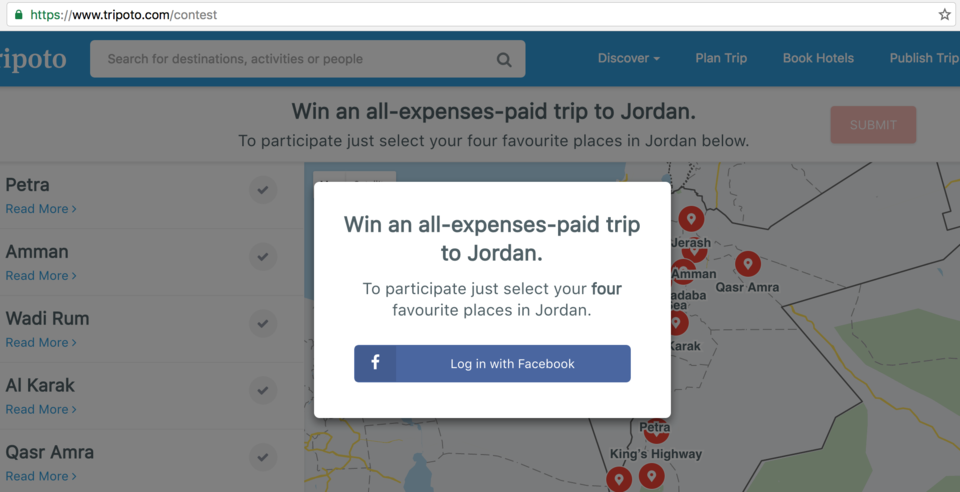 You'll come across this window.
5. Now, you need to log in with Facebook in order to participate. So, click on the blue button.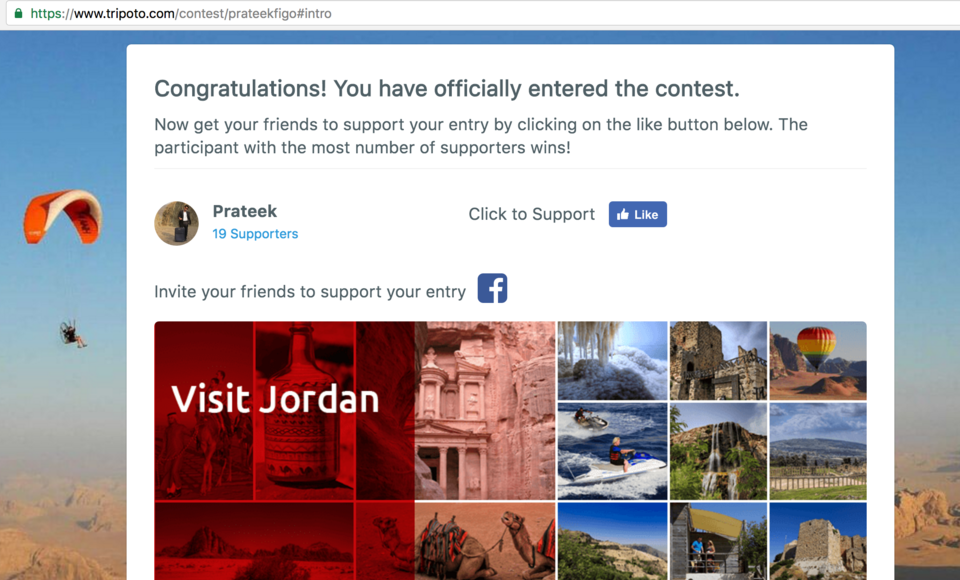 You'll see this window.
6. First up, support your own entry by clicking on the blue 'Like' button against which "Click to Support" is written.

The button will change into what's shown above.
7. Now, in order to get more support for your entry, you need to ask your friends to click on the same blue 'Like' button against which "Click to Support" is written.
So click the blue Facebook button against which "Invite your friends to support your entry" is written.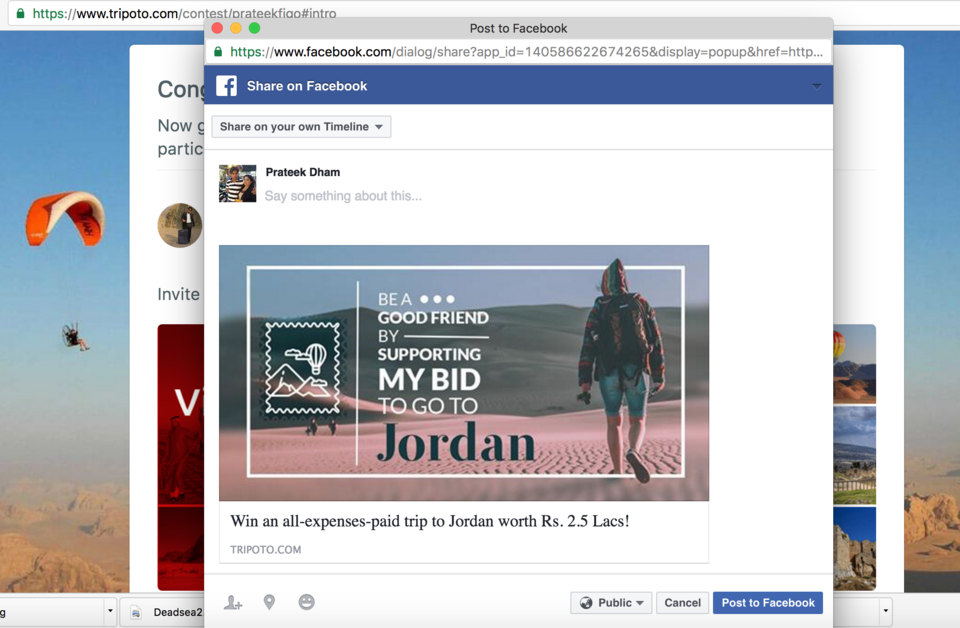 A dialogue box like the one above will appear on the same screen. Click the blue "Post to Facebook" button on the bottom right corner to seek support from your friends on Facebook. 
And, that's it! You're done!
If you still need any more clarifications, drop us a mail on Info@Tripoto.com and we'll tell you what to do. Hurry up, the contest ends on Oct. 30.