I had been reading about Rukgala for months and I was excited about the misty mountains, the food at the retreat and of course, the evening yoga with sound healing. Naturally, when I had the opportunity to visit this tranquil sanctuary in December, I was jumping in my seat, trying desperately to contain my excitement.
I realised really early on that big cities are not my cup of tea and even though I currently live in one because I work out of here and have family here, I find that I need to retreat to a slower life every couple of weeks to feel grounded and at ease.
My 10-day solo adventure in Sri Lanka began with a short stint at Rukgala. It was a long drive from the airport up to the mountains in Kandy but the views more than made up for it. I stopped several times for photo opportunities and even for tea because when in Sri Lanka, you absolutely must sip their tea and buy some on the way back as souvenirs for friends and family.
Upon arrival into the retreat, I felt a strangely familiar feeling. No I had never visited the property and I didn't know anyone from the team but within a few minutes, the place started to feel like a home away from home. Hotels can seldom give you that comfort but this is one thing Rukgala got right from the very beginning.
The place has a large yoga shala, swings, comfortable outdoor seating and a lovely pool. Guests can choose to go hiking with Aravinda, sit in a comfy nook and read a book, head over to the town for some knick-knacks or deep dive into their yoga practice.
The rooms are well appointed, spacious and airy with plenty of natural light. Each room is fitted with modern amenities leaving very little to be desired. Please note that it is mighty quiet around here so you won't have to worry about getting a good nights sleep when you are at Rukgala. The aesthetic was charming, a minimalist-meets-modern take on a wellness retreat and I honestly loved every bit of it.
What I loved about the property was the fact that everyone got together at mealtimes to sit at one large table breaking bread and sharing stories. It quickly became the best part of my stay here and as a solo traveller, I loved being able to connect with different people from different walks of life and having them share their recommendations and travel experiences with me.
The food at Rukgala retreat is special. Most people who visit agree with me and say that the food needs an exclusive blog post. While I was only there for two nights and three days, I quickly grew accustomed to the ginger tea, curd + treacle, hoppers for breakfast and the delicious kurakkan bread. I have been to many boutique properties and hotels but the food here was undoubtedly some of the best I have had on the island, by far.
The kitchen is well equipped to handle all dietary requests and allergies but please let the property know beforehand so they have time to prep before your arrival into Rukgala. The Sri Lankan food, in particular, was bursting at the seams with flavour but it didn't seem too heavy or too rich which was great because we could go swim, hike or drop in for a yoga class at the shala.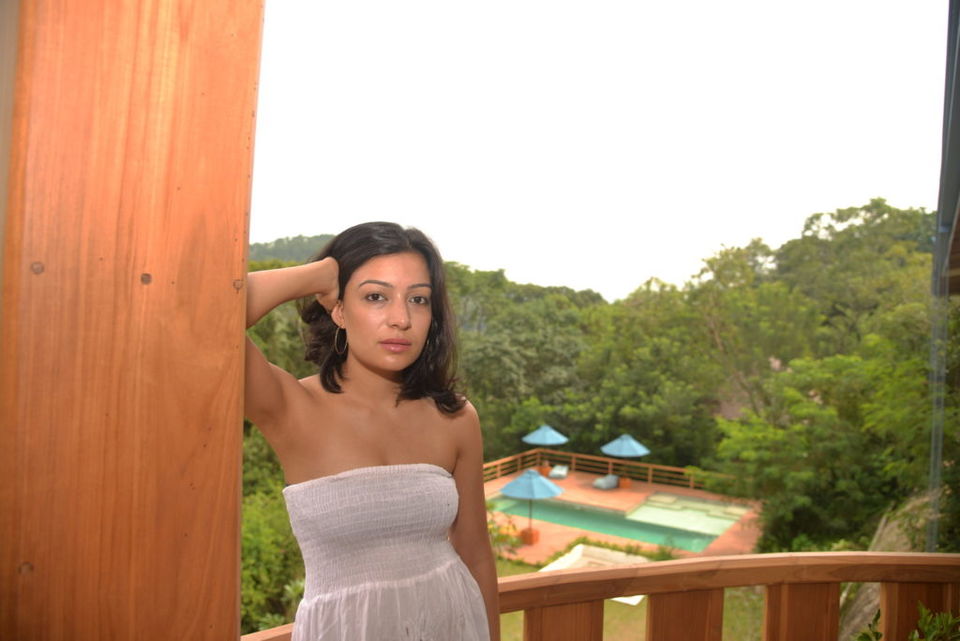 It doesn't matter if you have done 500 hours of yoga teacher training or whether you can do a perfect headstand, yoga at Rukgala is for everybody! The instructors are compassionate, kind and very considerate. They take their time to get to know you to ensure that you aren't pushing beyond what feels comfortable. Also, what I absolutely loved was the fact that Grace, my instructor, would often finish an evening yin session with a beautiful sound bath. I have talked about sound healing a lot on my blog and the therapeutic benefits particularly for those of us that are feeling anxious and overwhelmed. Needless to say, I felt noticeably more grounded and slept pretty well both nights.
Rukgala retreat taught me a few valuable lessons. The first, that less is sometimes more and better. We have to resist the urge to do more and to focus on just 'being'. I think it was relaxed environs, misty mountains, evening yoga and the peace that allowed me to look inwards and to truly slow down. The second lesson was that wellness is not about fancy acai berry bowls or keto diets or celery juice diets but in the little things that we do with mindfulness. Lastly, the yoga classes were easy to incorporate even when I returned home after the trip. It also made me realise that yoga was as much about what you do off the mat when you go about your day. It is the kindness with which you speak to yourself, the compassion you show for others, the way we look after things that matter in our lives and what we feed our body with on a daily basis. This is what counts, in the end.
There's something for everyone here at Rukgala. Whether you are visiting Sri Lanka for the first time, hiking in the mountains, headed here for a retreat or just looking for a home away from home. Everything from the inviting decor, delicious+ wholesome food and some incredible yoga sessions that will leave you feeling more than a wee bit like yourself again. I was there in December 2018 and I highly recommend a visit or three. I cannot wait to be back. For more information, head over to https://rukgalaretreat.com/