I must admit that while I have been to Sri Lanka several times before, I've only ever travelled around Colombo and the South Coast. This might be partly because of the weather and the proximity to the ocean, but after reading rave reviews of Aarunya Nature Resort, I was really tempted to pay Kandy a visit.
Kandy, situated about 3-hours from Colombo, is a large city in central Sri Lanka. It is highly sought after by travellers who prefer cooler climes and love the mountains. If you are looking to go trekking, deepen your yoga practice or wake up to the sound of birds... look no further. The landscape is beautiful with tea plantations, rolling hills and a view of the Kandy Lake. Visitors often combine Sigriya with Kandy to experience the famous lake where people choose to swim and go for boat rides and the temple of the tooth (also called Sri Dalada Maligawa).
Anyway, I digress. I arrived at the resort for a two-night stay in December and was really looking forward to slowing down. Despite the fact that the resort is strategically located a convenient drive away from Kandy town, I did not anticipate the calm and peace I felt upon arrival. You walk into the property and lo and behold, you have the infinity pool that overlooks lush, verdant Knuckles Mountain Range. It almost feels like you are ensconced in a tropical hinterland like Bali. The view from up here is priceless and there's green for as far as your eyes can see.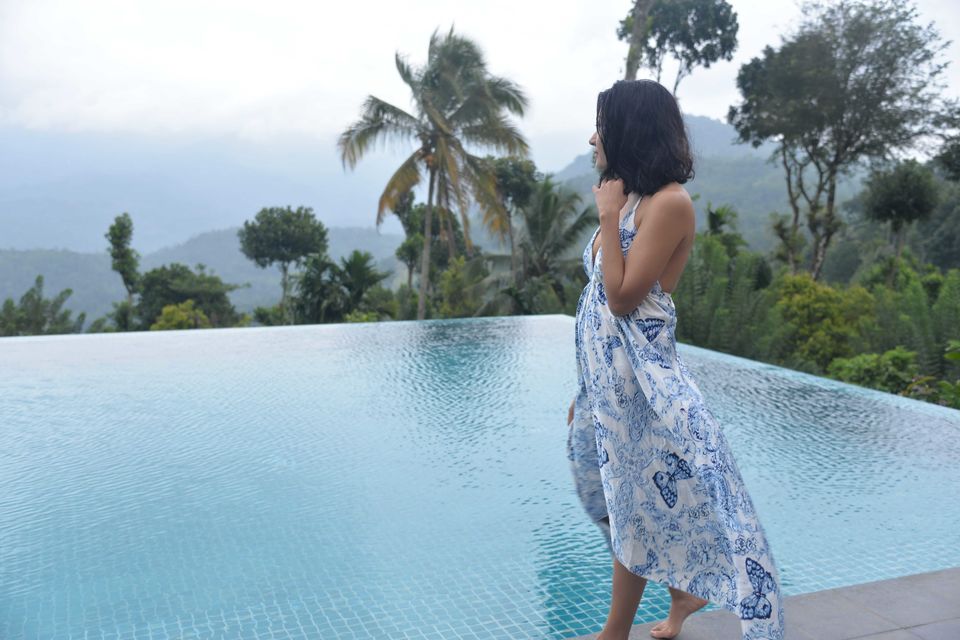 The name 'Aarunya', translates to 'first rays of the sun'. Since most of you know I'm not a morning person, I ended up staying up all night just to catch the sunrise and boy! was it worth it. It was a bit chilly, so I wrapped a shawl around myself and sat on the deck chairs, waiting for the sun to come up. As the sky changed colour several times over the course of an hour, I remember getting gooseflesh at the beauty in the world around us. I was tempted to pick up my camera and shoot away so I could capture this moment for posterity, but I'm glad I didn't. I chose, instead, to experience it mindfully. It was a very beautiful morning; one I will remember for a long long time.
The days were clear and sunny for the most part and I would muster up any excuse to jump into the pool until it was time to come out for coconuts and a snack. The property is quite large, sprawled across about 7 acres, with a huge focus on local food and sustainable farming practices. The owners and management had decided that they wanted to grow a lot of herbs, spices and vegetables on site. If you have time, you can always request the staff to take you tea picking while you are there. It gives you another chance to embrace, experience and marvel at the scenery as you figure out more about what you put into your body. City-goers and busybodies will find this extremely therapeutic as one doesn't really get the chance to slow down and spend time in nature.
The villas are well appointed, airy and spacious. Each living space is fitted with all the amenities one would need while at a retreat. The Premium and Superior villa's have a gorgeous open-air jacuzzi (the views from here are surreal). If you are booking online, make sure to put in a special request for the jacuzzi room particularly if you are travelling during the 'dry season'.
There's a lot to do around here and the team at Aarunya is more than happy to assist with your journey and sightseeing. While you are in the property, you can opt for a yoga class, go enjoy some cocktails, sign up for a deep tissue massage or just swim in the delightful pool. If you end up spending 3-4 nights here, you should definitely organise some trips to Sigriya, trek over to Adam's peak, visit the lake and maybe spend one afternoon at Kandy town. If you are a family travelling with little kids, be assured that the staff at Aarunya is very friendly and helpful and would be happy to look after your babies while you snooze, get a treatment at the spa, or go into the pool.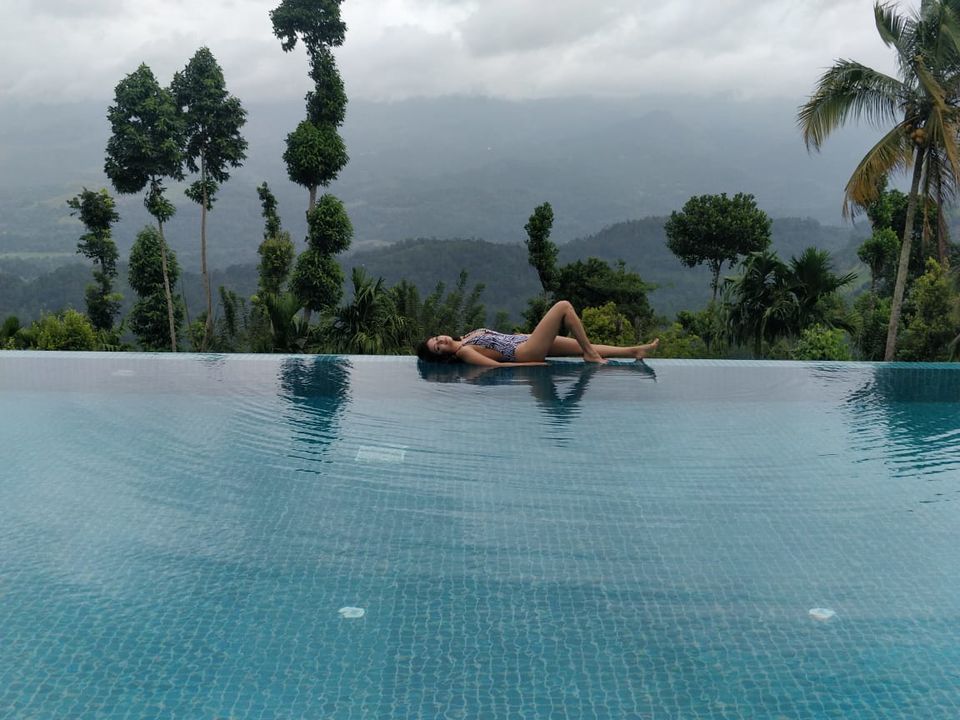 Whatever you do, try and make it back to the resort by sunset for some spectacular sights and cocktails. The F&B staff also whip up some delicious Sri Lankan fare in the evening (think: hoppers, dal, chicken curry, crab and fish curry). Just be sure to tell them ahead of time so they can prep accordingly.
Verdict: If you are looking for a pool with a view, in the middle of Kandy, where the clouds come and greet you every morning and evening, look no further. The team is warm and hospitable and will go out of their way to make sure your trip is a memorable one. They are also equipped to handle vegetarian, pescetarian and gluten-free requests. We loved their delicious Sri Lankan dinner, and their portions are huge, so bring your drawstring pants! A little birdie told me that there will be a highway soon from the airport to Kandy that will bring you to the mountains in no time. I cannot recommend Aarunya enough and if Kandy is on your itinerary, then you should definitely look at checking into this property for a few nights.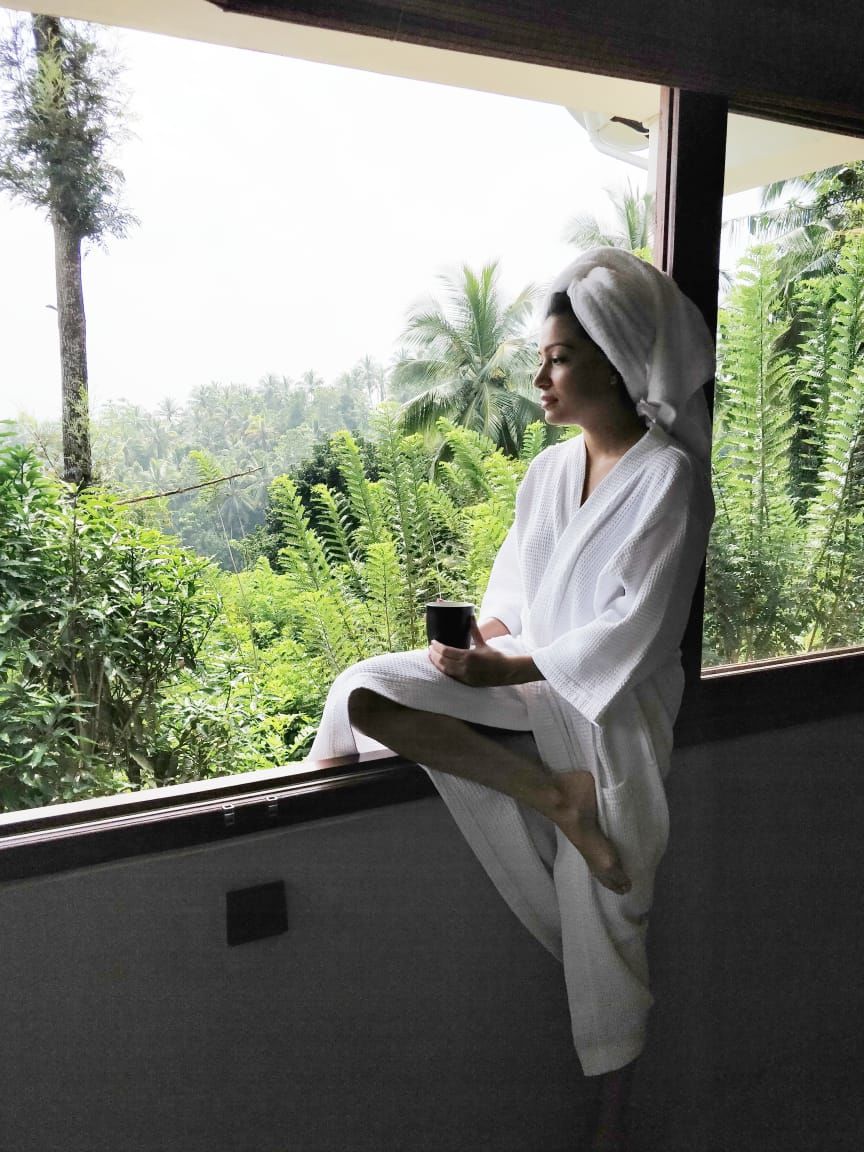 Quick Notes:
Aarunya Nature Resort
100 Malgamandeniya Road,
Alawatugoda 20140,
Sri Lanka
For more info- https://www.aarunyaresort.com/