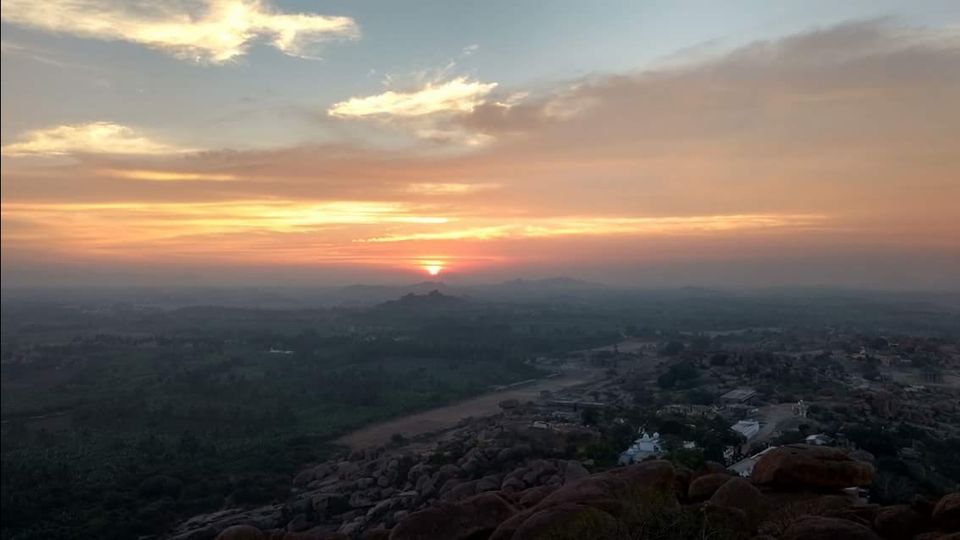 Hampi is known for many things including the ruins, history, culture and the hippie lifestyle that one can pursue.
Let me cut to the chase and highlight this lovely spot to catch the sunset and sunrise, should you choose to camp out here. What's more, you get to steal a lovely view of Hampi - probably similar to the one the kings would be treated to as they watched over the empire with pride. 😊
The Virupaksha temple is THE landmark in Hampi. Simply walk in the opposite direction, past the police station (which will be to your left) and make your way towards the large bull which is a monolith. You'll then notice a path behind this lovely monolith - simply follow it towards a lovely hill that seems extremely daunting at first (I was fortunate to have some lovely friends who encouraged me to get over my fears of climbing up this seemingly massive hillock).
The key - take it a step at a time and don't look up or down! Before you know it you will have come by a little temple tucked away under a rock, where the dedicated priest will be happy to offer a prayer on your behalf.
Once you've passed the temple, you're nearly there! Practically on the roof of the temple, you will just look around you to a wonderful view of Hampi! I was lucky to spend my birthday catching the sunset as it moved behind the Virupaksha Temple's gopuram to leave a beautiful silhouette behind.
You can also camp up here - but be sure to bring your own supplies and sleeping bags as there is nothing but a rock here! The sunrise is supposed to be pretty amazing too. Can't wait to catch it some day 😊
Scroll down for the pictures of the sunset and view from the hill.