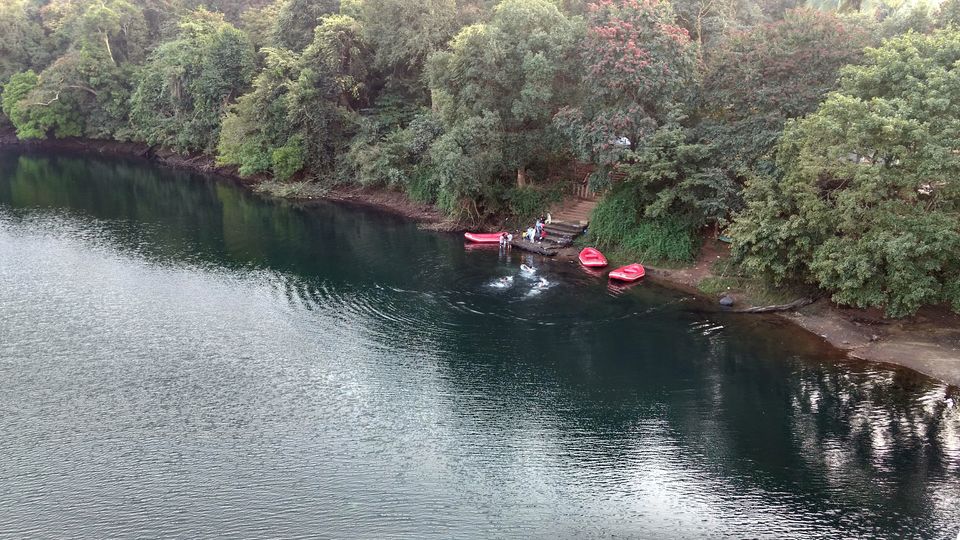 I was back to Bangalore during my winter vacation in late December 2016 and was scheduled to depart in the second week of January. I was looking forward to this much-needed break from the very beginning because, as always, I had only one thing in mind - exploring. So my travel buddy and I (we've already done a lot of traveling together) chalked out a tempting itinerary to Dandeli, a tourist attraction that boasts about the adventure activities it has on offer. But we wanted a little more; perhaps a little relaxation to our nerves from what had been a hectic past two months. So we added the neighboring coastal district of Karwar to our already exciting plan. Now here comes the part I love about my friend. He agreed to suggested that we start immediately after his last exam! So I hopped into his car at around 2:30 pm on January 6th near Tumkur road-Ring road junction. Without wasting any more time, we headed towards Hubli, where we had planned to halt overnight.
Not much description is required about the road leading up to Hubli, but here's something interesting that I came across for the first time - a NHAI coupon.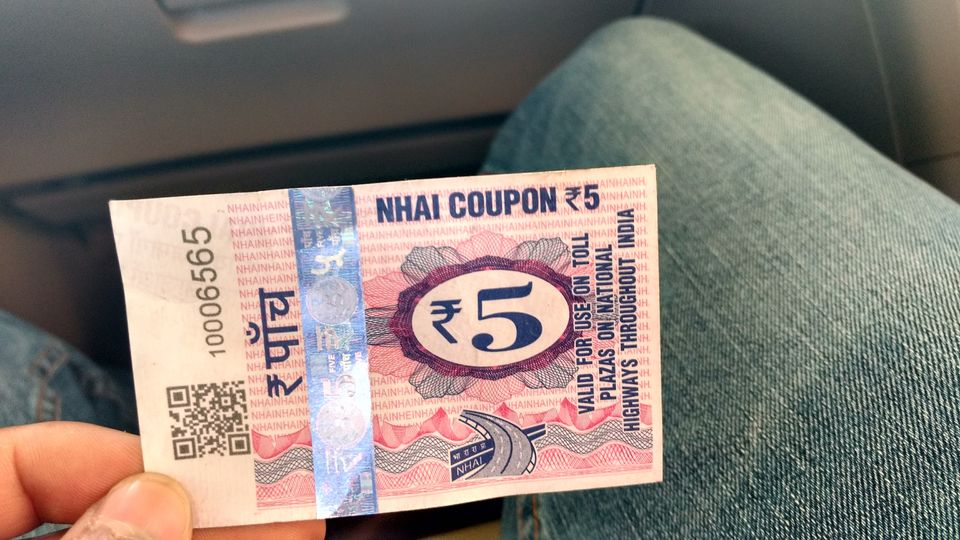 With a smile on our face as well as the toll collector's, we proceeded towards our halt point. On the way, we treated our stomachs to tasty Paranthas at Gurjent Dhaba. Rest of the journey was smooth as expected, and I shall not waste this space and your time describing it.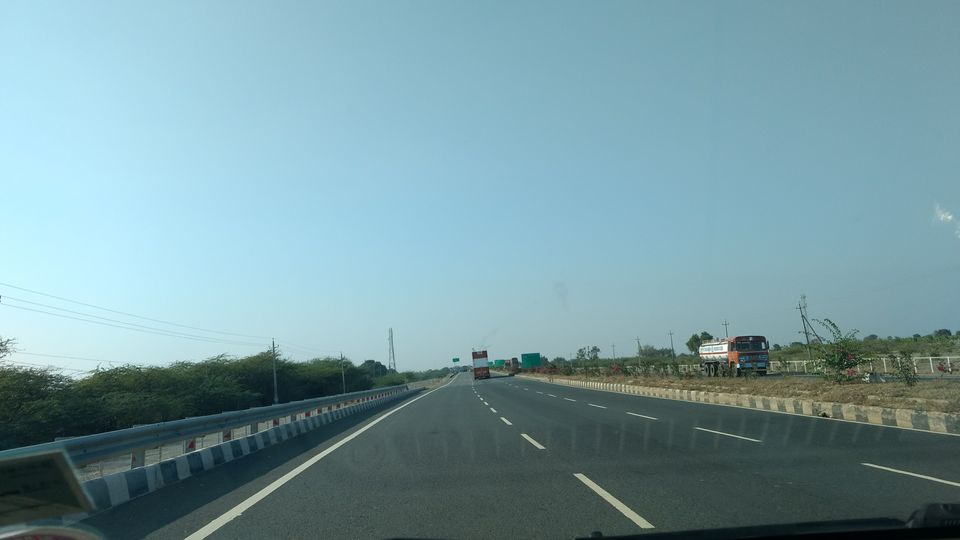 We reached Hubli at approximately 7:30 pm and checked into our lodge. We spent the rest of the evening watching Dangal at a theatre nearby (it was my 4th time and my friend's 1st) and had tasty dinner at a khanavali.
Day 2:
Next morning, we departed for Dandeli at around 9 am after a heavy breakfast. We took the Hubbali-Dandeli state highway via Kalghatgi and Haliyal, which is lined up by trees on both sides. It is a pretty good road, a part of which is being repaired and re-laid. However, the diversions are good too and don't cause much of a problem. The forest cover increases as we approach Dandeli.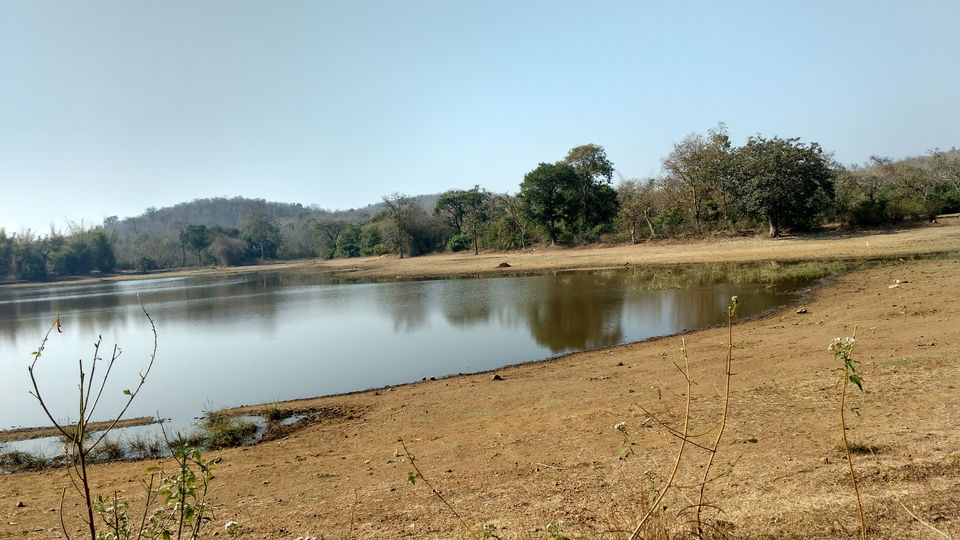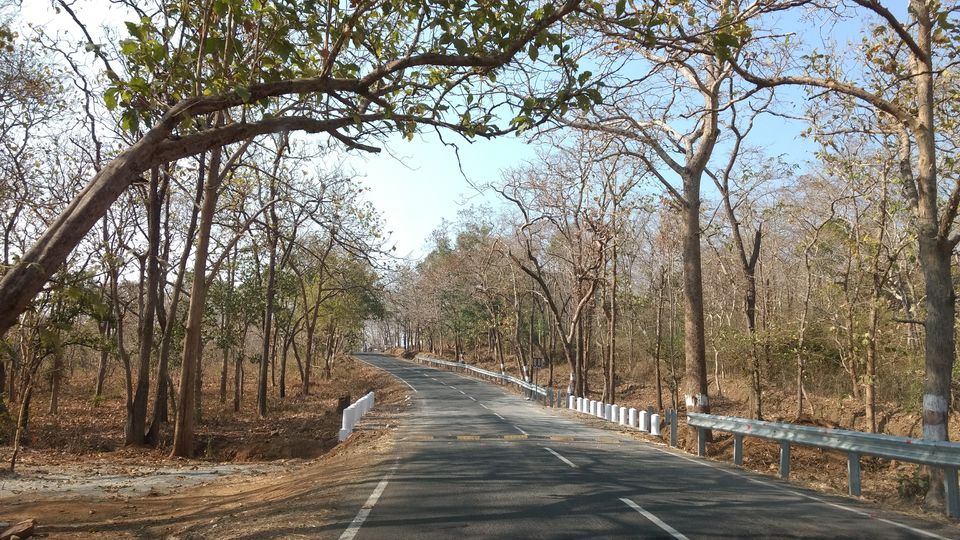 After a four hour drive, we reached the main town of Dandeli, where the owner of the home stay was to pick us up. We had chosen to stay at 'Sangway holiday homes'. The owner's name is Vikram Sogi. By 2:30 pm, we reached the homestay and freshened up. Our hungry stomachs were treated to a grand lunch that consisted of chapatis, sabji, rice and sambar. The taste matched the very nature of the place and we could geographically and traditionally relate to it. After a short discussion with Mr. Vikram, we decided to complete water sports the same evening. We also got to know that Kavala Caves and Sykes point were closed to general public; the former due to elephant movement and latter because it is apparently a restricted area. However, one can always try his/her luck at Sykes Point because the security may allow students if they have identity cards, but we decided not to.
So we made our way to Kulgi Nature Camp at 4 pm. The resort owners know Mr. Vikram, so it was easy for us to approach them. The rates are economical too compared to those at other places. We did kayaking, zorbing, and relaxed in the jacuzzi. These moments were personally some of the most pleasant and enjoyable moments of my life. Kayaking in the calm waters of river Kali gave me the opportunity to think about how life gives us a chance to explore and become one with nature and why we should enjoy every moment of it. Sadly, Western Ghats are slowly but definitely loosing their value as an ecological and a biodiversity hotspot. It is our collective responsibility to take care of whatever is left of it.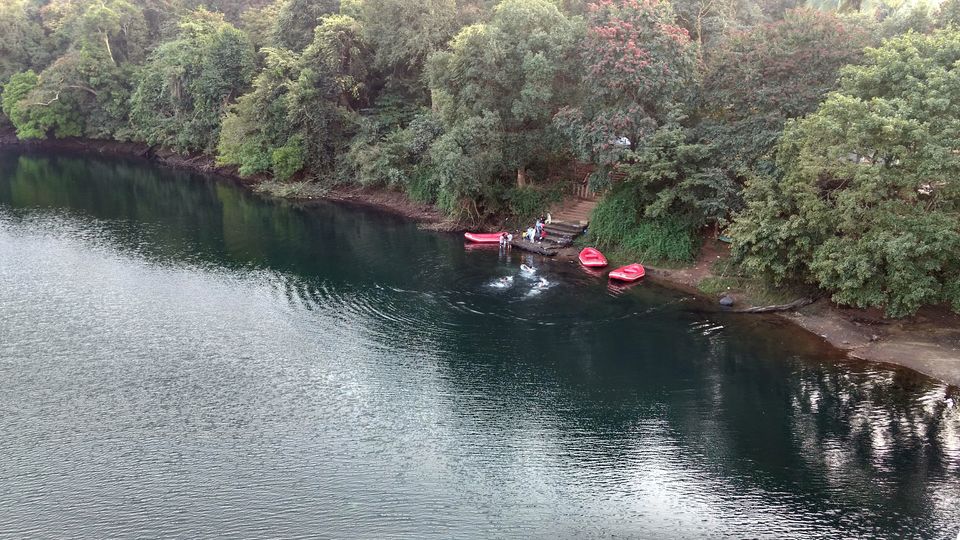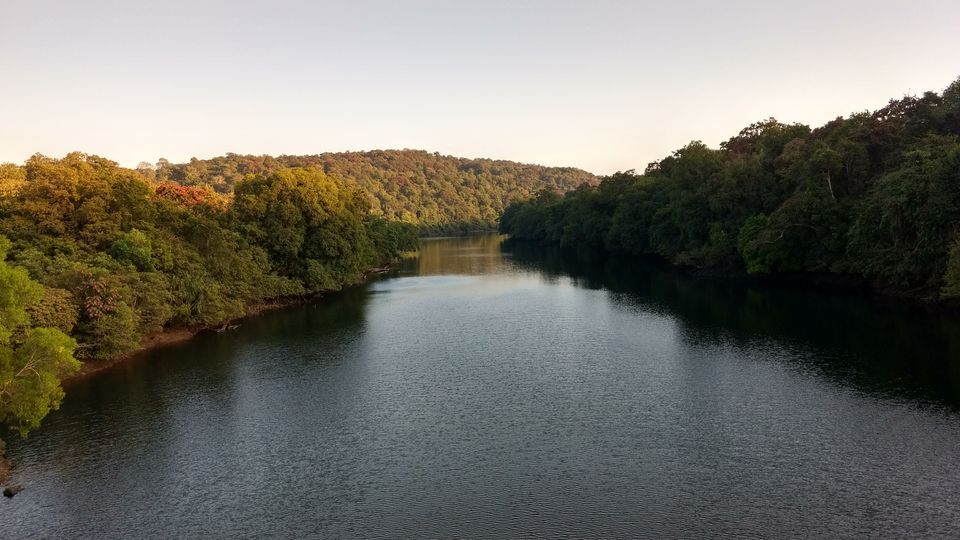 After two and a half hours of water sports and some bird watching, we went to a viewpoint a few kilometers ahead to see the sunset.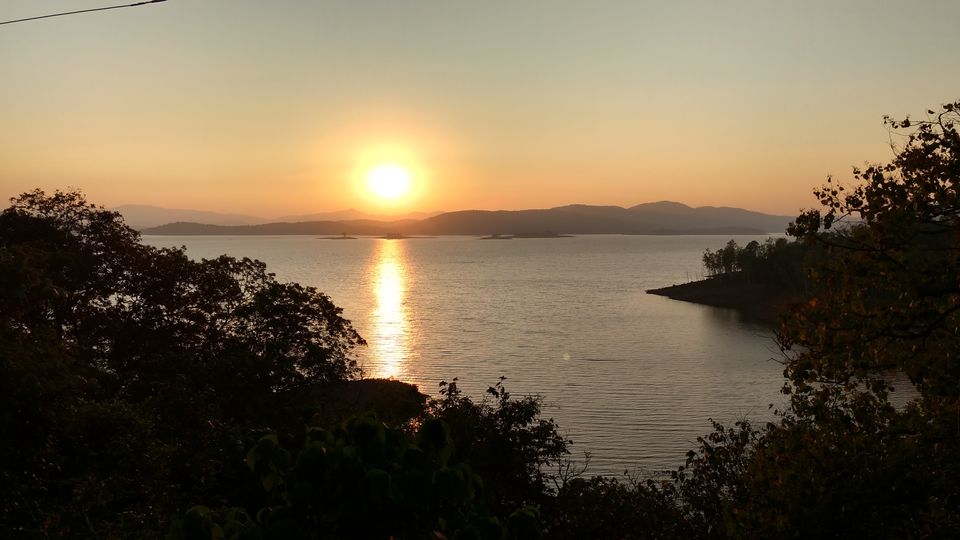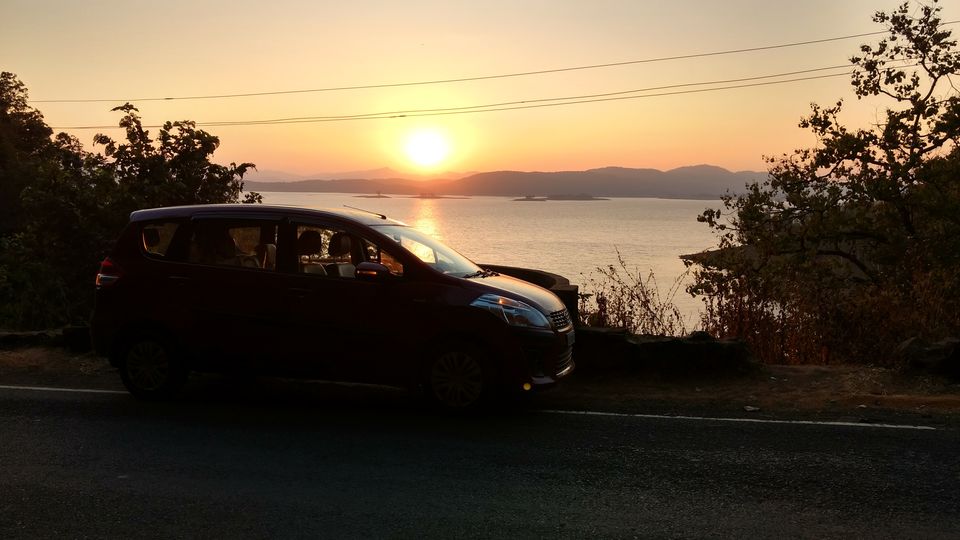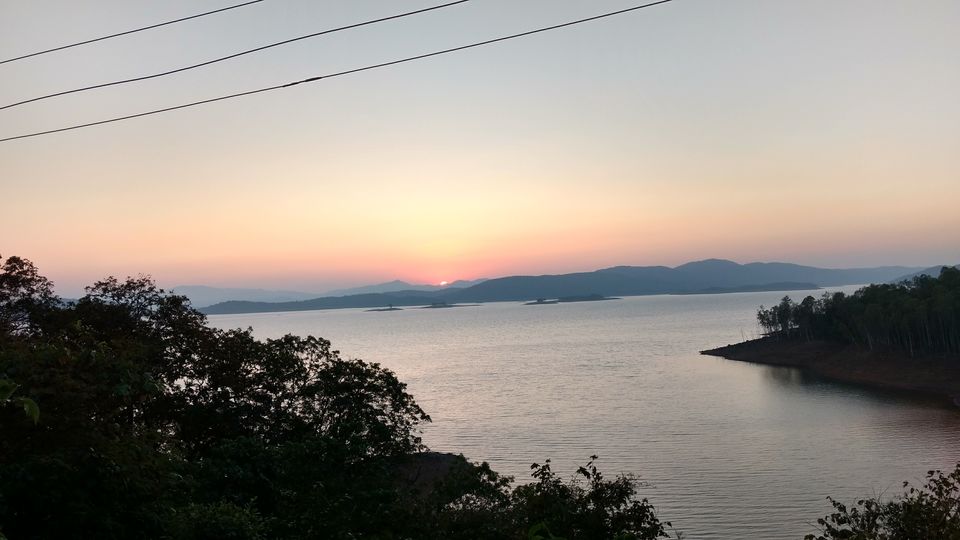 The dinner that was served on our return to the homestay was again a grand one and we were short of words to thank Mr. Vikram. After playing 'uno' for a while, we dozed off to sleep after a rather tiring day. It was one of the best and soundest ones I'd had in a long time.
Next morning, we woke up at 5 am and went for jungle safari. The Forest Department does safaris early in the morning for tourists. We were almost certain that we would not spot a single wild animal except some macaques, deer, and bison. We were proved right in the end, and being right did not make us happy at all. It is a given fact that imbalances in the environment and man-wild conflicts are taking their toll leading to drastic consequences. On the positive, we got to see the dense jungles that are still intact in some patches of the area. And it was a treat for our eyes and cameras nonetheless.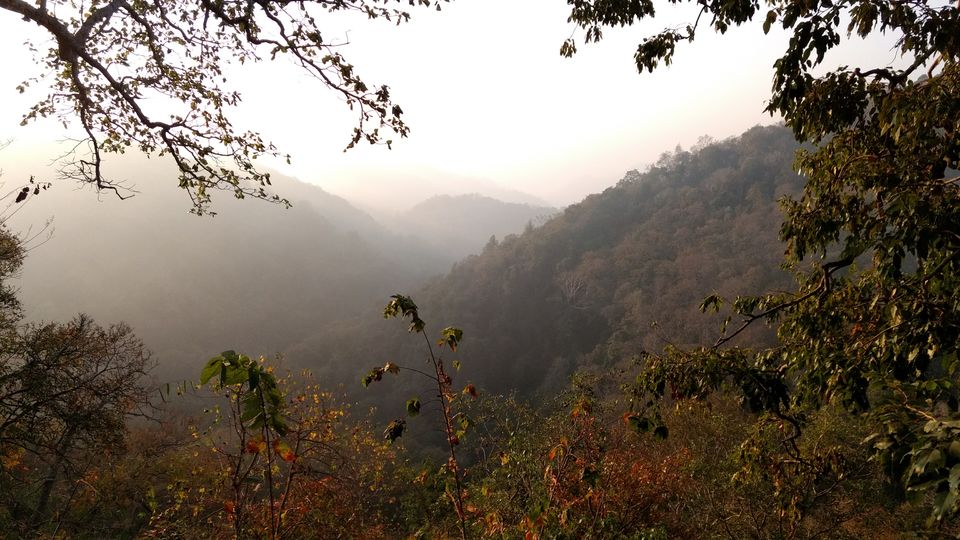 After returning to the homestay, we freshened up, had breakfast, and bid goodbye to Mr. Vikram and his homestay for all the comfort and hospitality. We then headed towards Syntheri Rocks, after which we were to proceed to Karwar. A single road 36 km long surrounded by greenery was covered in about half an hour. There is entry fees and assigned parking space near the rocks. From the parking area, one has to make a small descend by the steps or a through a well-marked trail. After walking for about 10 minutes, our gaze remained fixed on the massive monolithic granite rock formation and a unique range of small caves hollowed out by small rapids. Located in the dense forests of Western Ghats, it is a truly remarkable aberration of nature, with high rocks looking down at River Kalinadi gushing majestically and continuing its journey towards the Arabian Sea, which makes it a place worth visiting.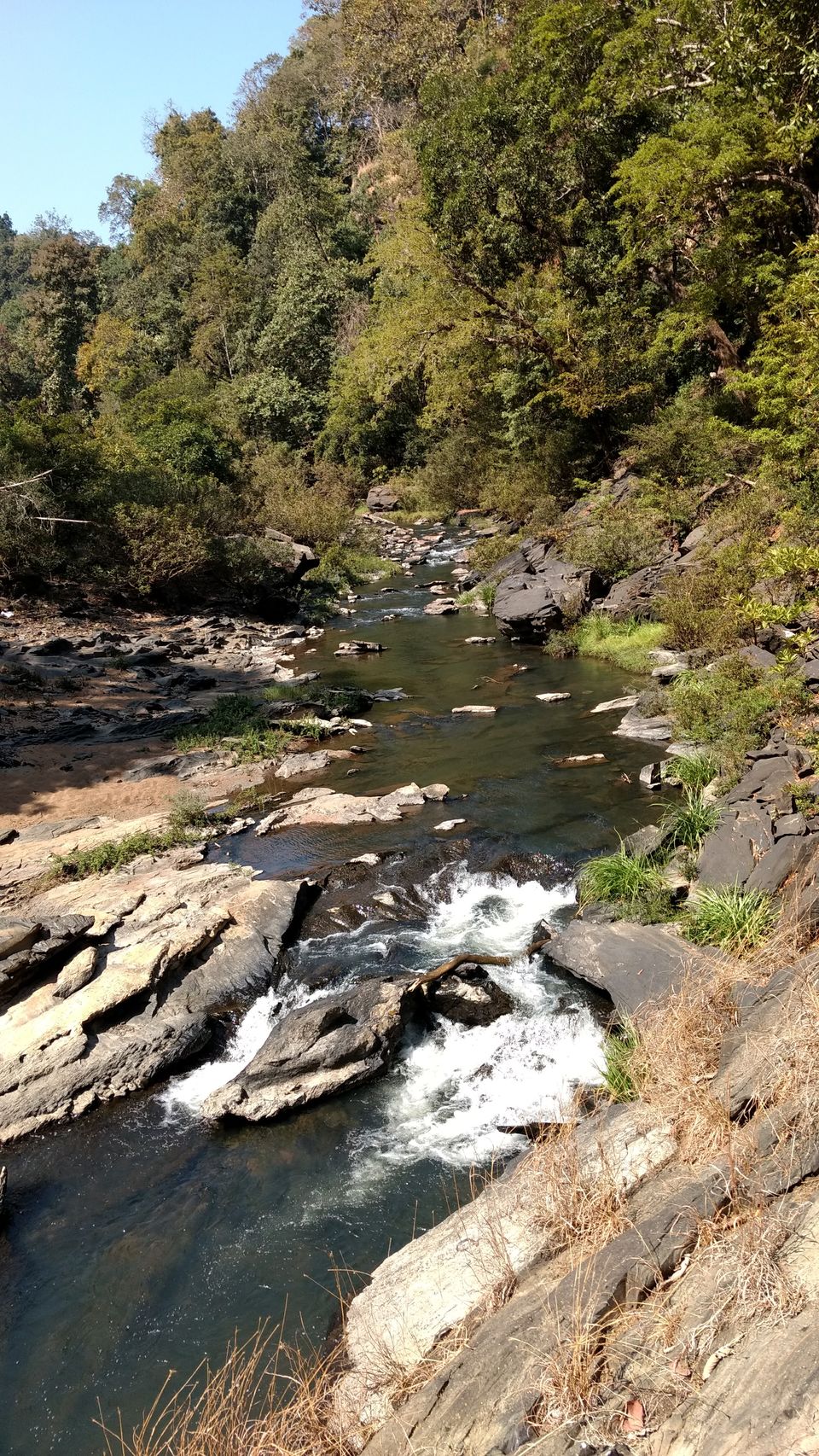 Next, we headed towards Karwar. Mr. Vikram had warned us not to miss some of the not so well-known view points, so we were carefully on the lookout for them. On the way, we met River Kalinadi again at some distance. The difference was that there was absolutely nobody around here. The place was surrounded by dense forests and there was a single rocky path through the river to go to the other side. After relaxing for a bit, we proceeded and encountered a bridge that offered yet another beautiful view of the stream.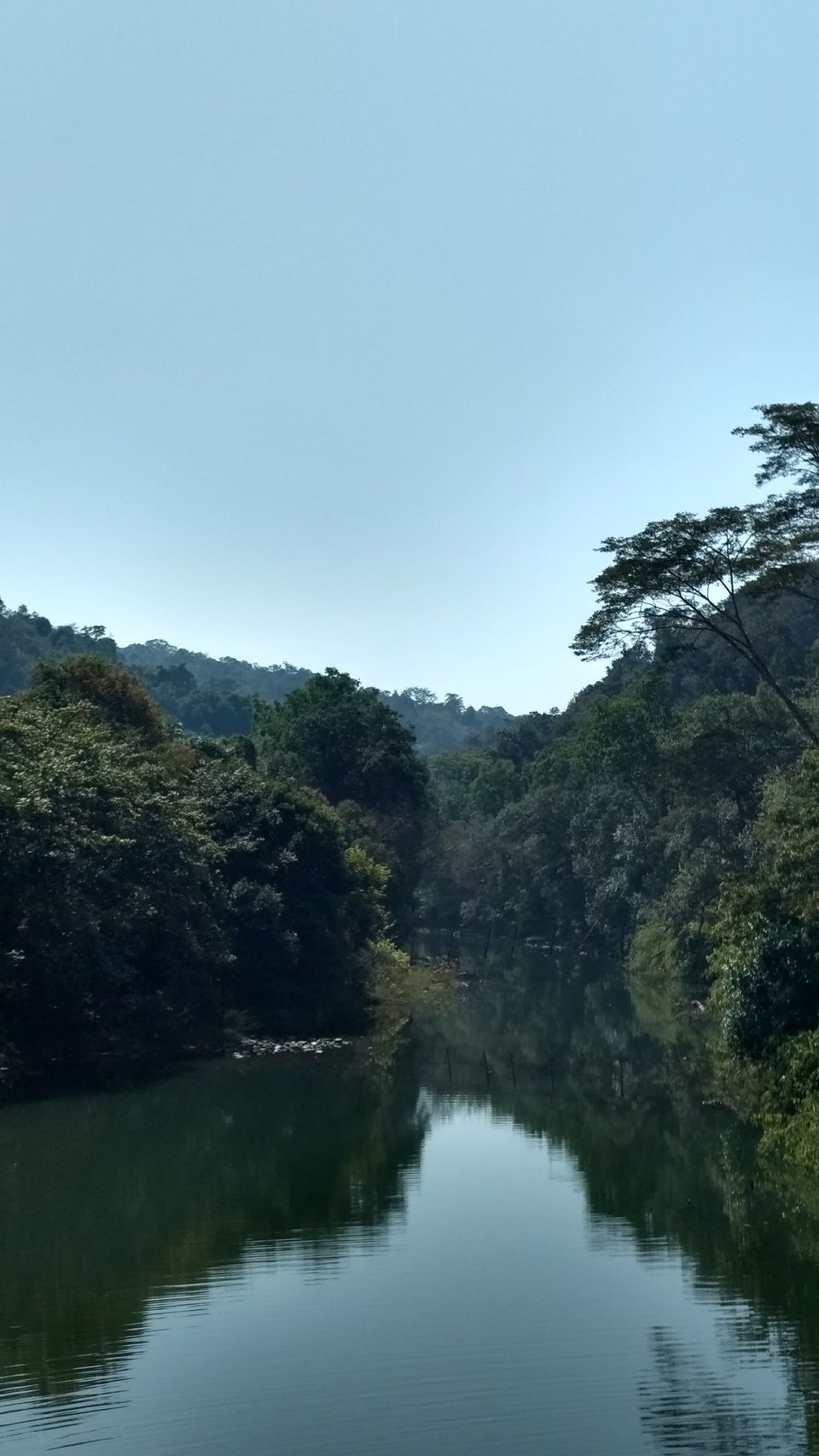 And then we got to our first viewpoint. All one could see was a continuous chain of mountains. Perhaps we would have to go further to catch a glimpse of the valley. The clear blue skies made the scenery even more beautiful.

At a short distance, we got our next view point. This one offered an even better view of the surroundings.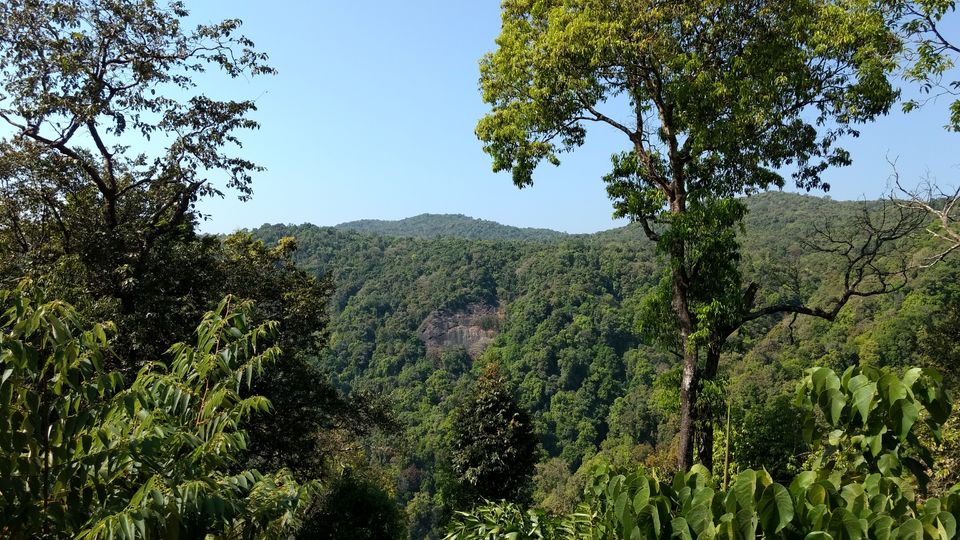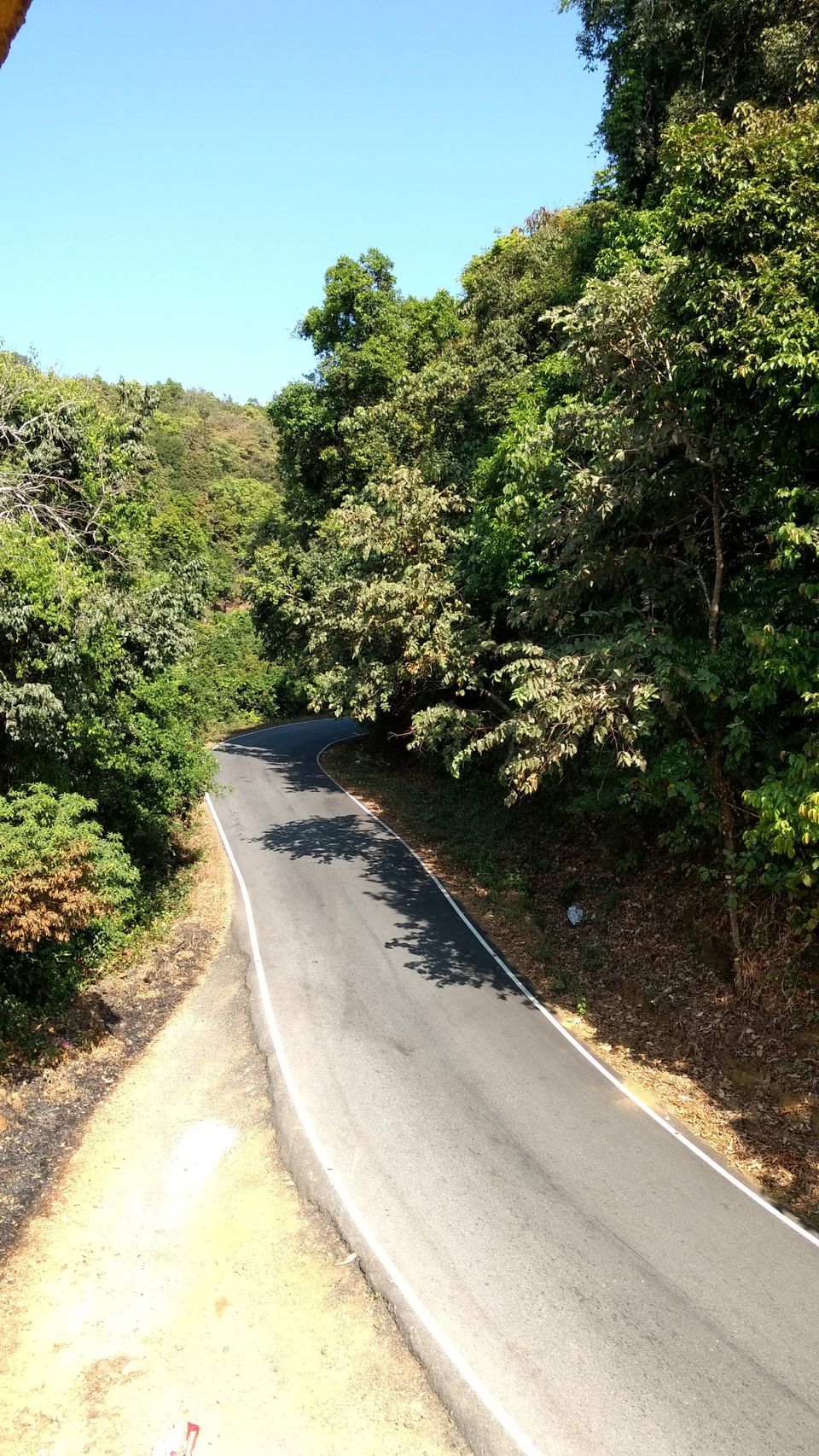 Both of these view points are in located in the Dandeli Wildlife Sanctuary, on the Dandeli-Karwar highway. It felt as if time had stood still and the entire world had become a place filled only with the sounds of nature. After a little exploration and admiring the serenity of the place, we proceeded towards Karwar. Our plan was to cover Kadra dam and Kaiga on the way. As we neared Kadra, the descend began.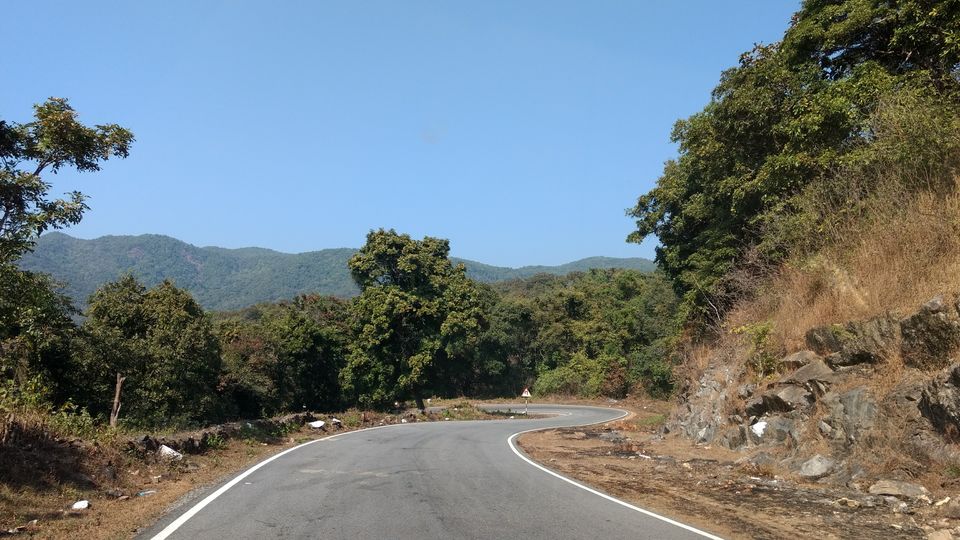 We sought for directions towards Kadra dam from the locals and we were glad we did so. The pictures speak for themselves.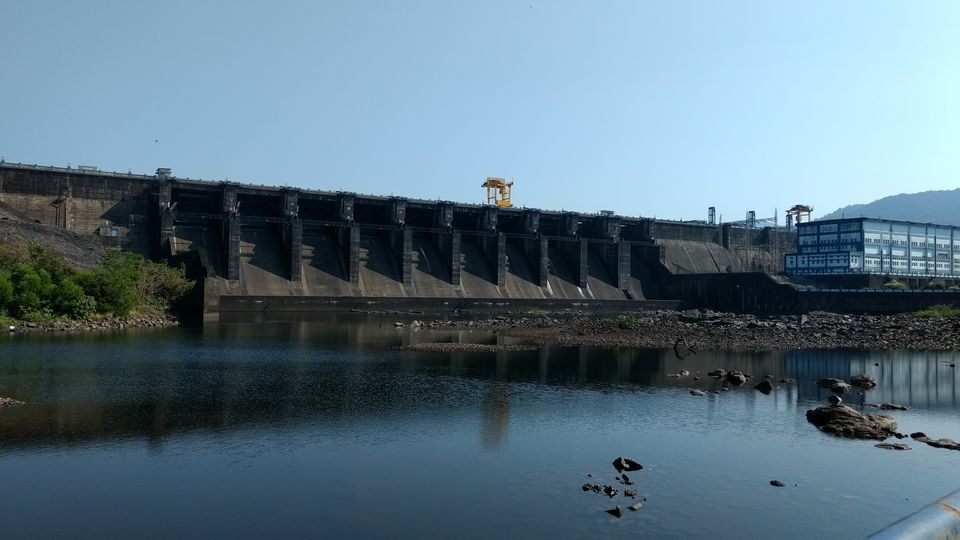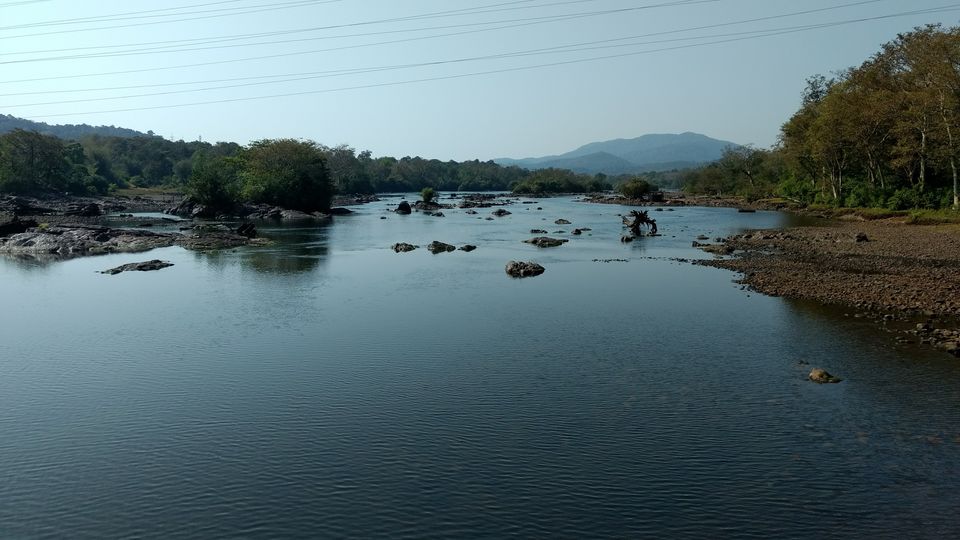 On reaching Kaiga, we were told (rather we knew) that the nuclear power plant is a restricted area. It was not a disappointment since we had no expectations of gaining entry whatsoever. We continued on the same highway and we reached our final destination of this tour, Karwar, at around 15:30. However, there was a big procession in the town and it took us nearly half-an-hour to get to Rabindranath Tagore beach. We wanted to witness sunset from the famous Kali river bridge. Sitting at the beach was the perfect time to recollect and rejoice about how memorable the journey had been so far. We also got a chance to remember and discuss about our college days.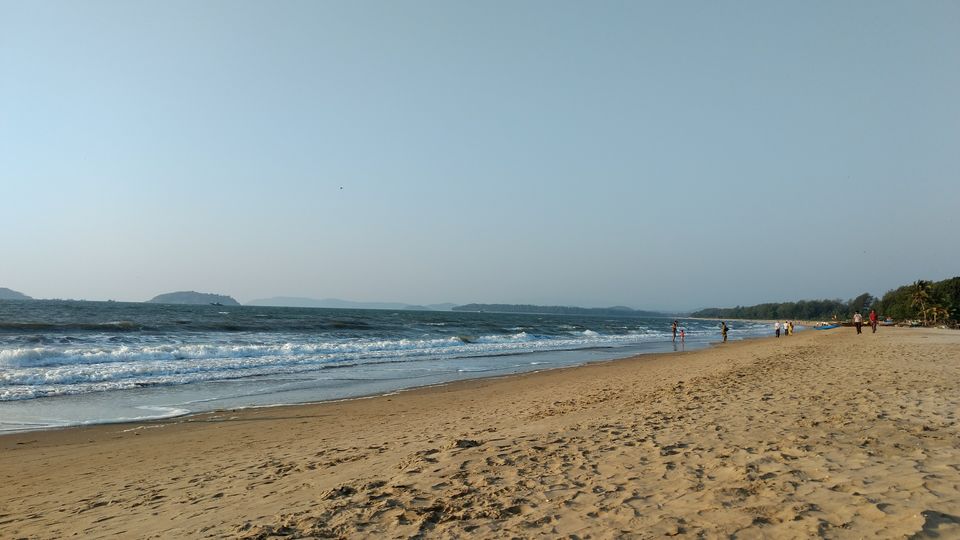 Around 17:30, we started towards Kali river bridge for sunset. Upon reaching, I realized how unique and different this place was as compared to the others we had seen so far. Considerable traffic on the bridge, but on one side of it River Kali, and on the other the Arabian Sea! This reminded me of the rule of nature I had learned in my primary school - waterfalls make rivers and rivers join the sea - simple yet worth seeing from a bridge built in 1986. Finally, the sunset signaled the end of what had been a wonderful trip.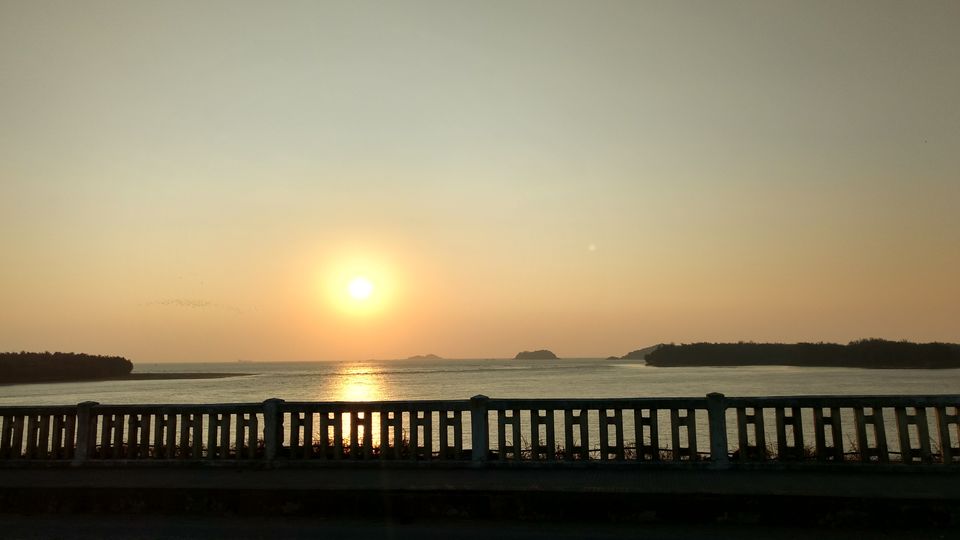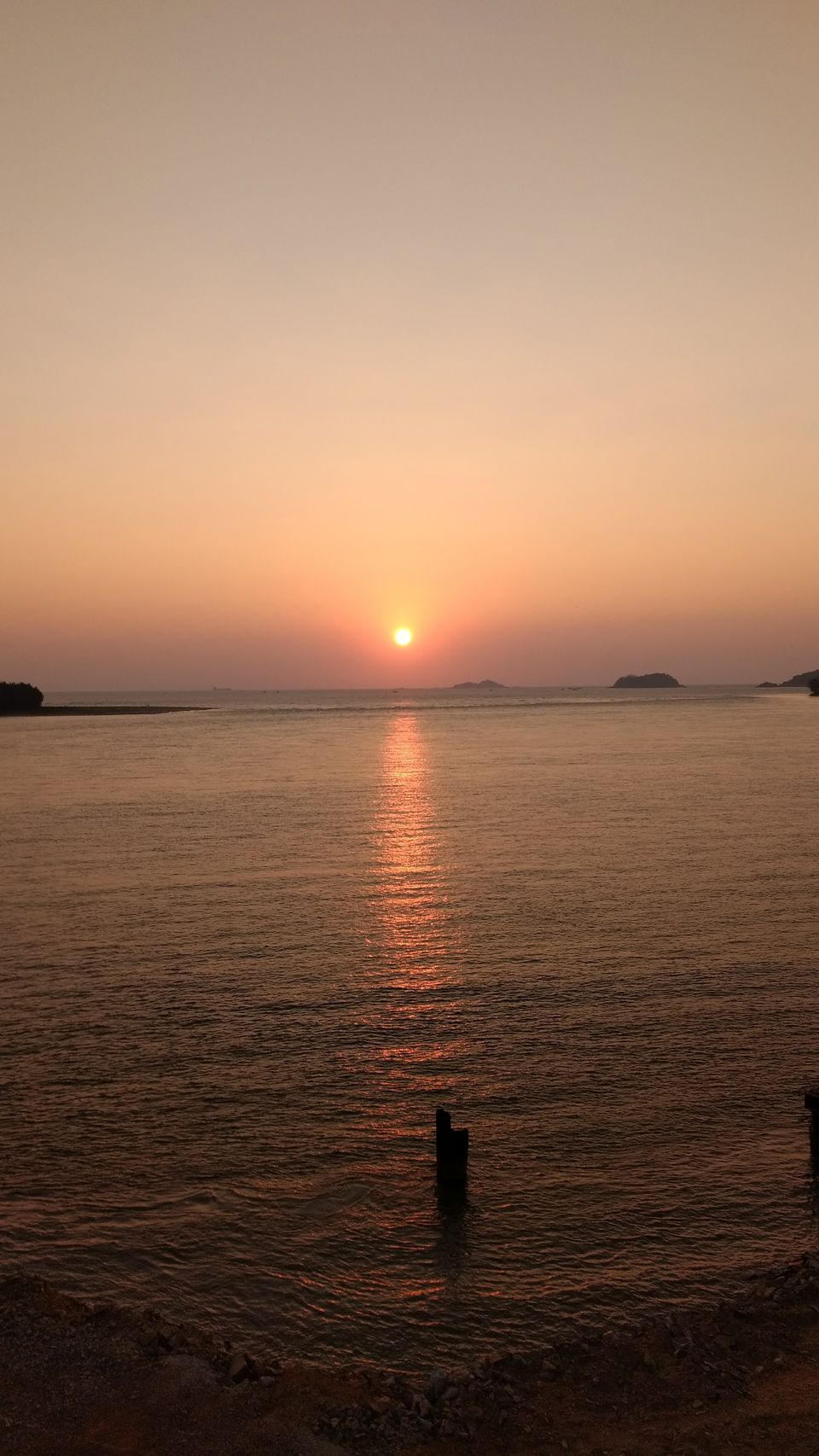 As we caught one last glimpse of the setting sun and hopped into our car, in my mind were countless memorable moments and one interesting question. Where next?