The low-cost carrier, TruJet has begun hour-long connections between Bangalore's Kempegowda International Airport and the Jindal Vijaynagar Airport in Vidyanagar, which is an hour's drive from Hampi. This has made the UNESCO World Heritage site, even more easily accessible. A one-way ticket on the new flights currently begin at ₹999 including taxes.
Now, since Hampi tourism is closer than ever before, read on to know how this ancient town is much more than just ruins and why you should visit it at least once in your life.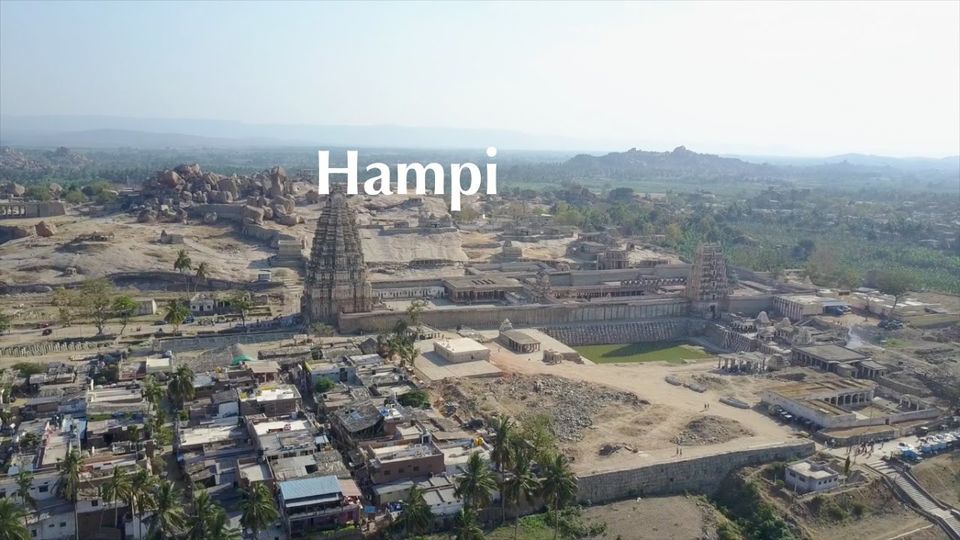 "Would just temple-hopping be worth it? How much will I be able to drool over temple architecture? Besides, I think most of these shrines are rumoured to be in ruins. Do I really want to spend an entire vacation roaming around ruins?"
This was my skeptical scheme of thought before heading out to explore Hampi tourism, a fabled lost city packed with a high pile of boulders, rambling ruins and verdant banana plantations. But this historical world heritage site managed to surprise me.
A world of forlorn ruins, a carnival of carvings, a pilgrim's delight, a backpacker's refuge, a historian's riddle, an artist's muse, a sage's sanctuary and a writer's inspiration, Hampi tourism can offer you a million things all at once!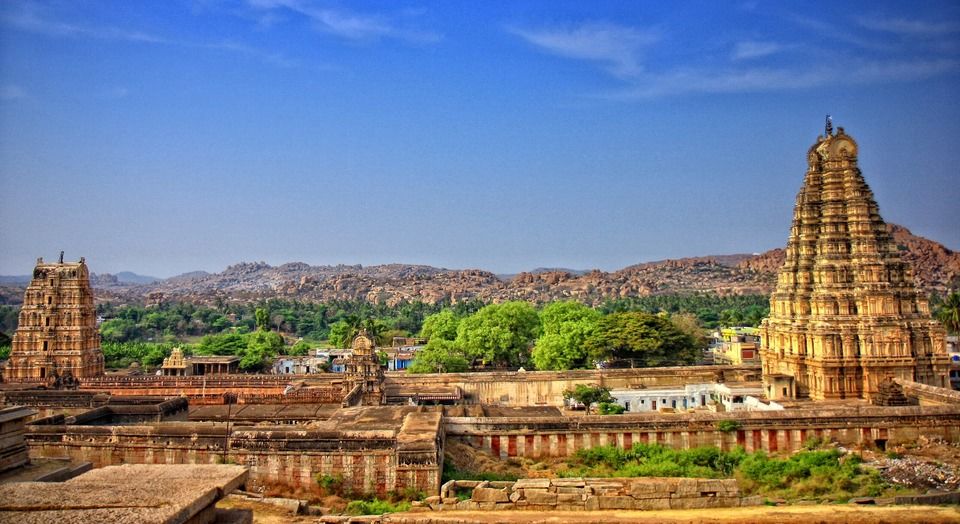 History
Dominated by the river Tungabhadra and open plains, with ruins spread all over, Hampi was the yesteryear capital of the Vijayanagara Empire – one of the richest and greatest Hindu kingdoms in India's history.
Domingo Paes, a Portuguese horse trader, who visited Hampi during its flourishing period wrote "The size of this city I do not write here, because it cannot all be seen from any one spot, but I climbed a hill whence I could see a great part of it. I could not see it all because it lies between several ranges of hills. What I saw from thence seemed to me as large as Rome, and very beautiful to the sight; there are many groves of trees within it, in the gardens of the houses, and many conduits of water which flow into the midst of it, and in places there are lakes and the king has close to his palace a palm-grove and other rich fruit-bearing trees.
Below the Moorish quarter is a little river, and on this side are many orchards and gardens with many fruit-trees, for the most part mangoes and areca-palms and jack-trees, and also many lime and orange trees, growing so closely one to another that it appears like a thick forest; and there are also white grapes. All the water which is in the city comes from the two tanks of which I have spoken, outside the first enclosing wall."
While history and heritage are still the main course on the menu of Hampi tourism, there are several other offerings of various kinds that deserve your attention!
Here are eight off-beat experiences that Hampi tourism has to offer
1. Watch bears and other wildlife species in their natural habitat at Daroji Sloth Bear Sanctuary
Located about 15km from Hampi, Daroji Sloth Bear Sanctuary was created exclusively for the preservation of the Indian Sloth Bear.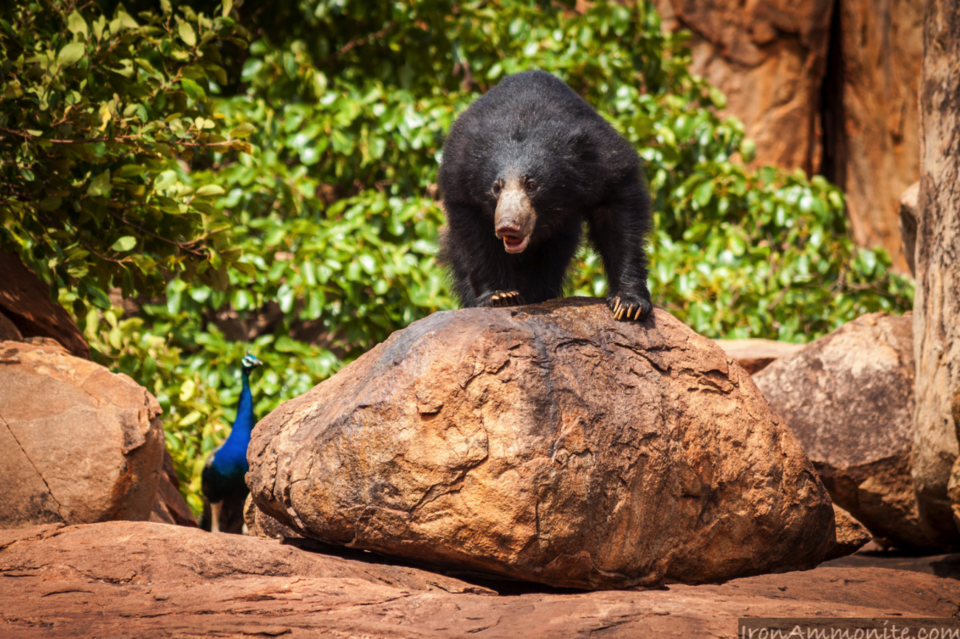 There is a watchtower inside the sanctuary that provides the best vantage point to watch the bears descending from the adjacent rocks. You have a good chance of spotting them, as honey is slathered on the rocks to coincide with the arrival of visitors.
Along with sloth bears, you can also spot leopards, wild boars, hyenas, porcupines, jackals, pangolins, star tortoise, monitor lizards and mongoose.
Visiting hours: 2 PM to 5 PM
Entry Fee: ₹50 for Indians | ₹300 for foreigners.
2. Discover your hippie soul at Virupapur Gadde
Celebrated for its laid-back environment and distance from tourists soaking in the magnificence of ancient temples and ruins, Virupapur Gadde or "Hippie Island," as it is called, is your gateway to the hippie world of Hampi.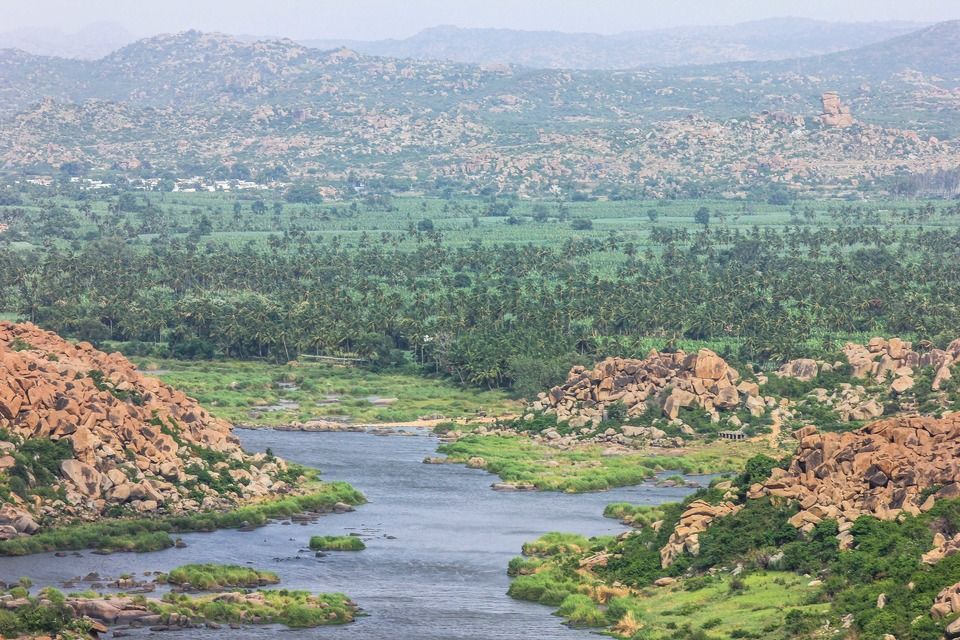 Dotted with numerous cafes and budget-friendly accommodations, life on the hippie island is all about relaxing siestas and musical evenings! You can take part in drum circles, dread-lock making, watch movies and have soulful conversation with backpackers from all across the world.
3. Between tradition and modernity, have a gastronomic blast in Hampi
Thanks to the number of foreign tourists that visit Hampi, the UNESCO World Heritage Site has a pleasing variety of cuisines from all over the world.
From typical south Indian vegetarian food to Italian and Israeli cuisine, you will find everything in this majestic empire. Bifurcated by the river Tungabhadra, you will find lip-smacking restaurants on both sides of the river – although the northern side (hippie island) definitely has a lot more variety.
The southern bank accommodates temples, and hence non-vegetarian food is not allowed on that side. But once you cross the river and reach hippie island, everything is allowed, including cold beers –the only form of alcohol you'll find in Hampi.
• Laughing Buddha Cafe, Northern Side
The best eatery that Hampi tourism has to offer is Laughing Buddha Cafe. Dig into Italian, Indian, continental and Israeli fare (their falafel-hummus platter is amazing) from its impressively large menu.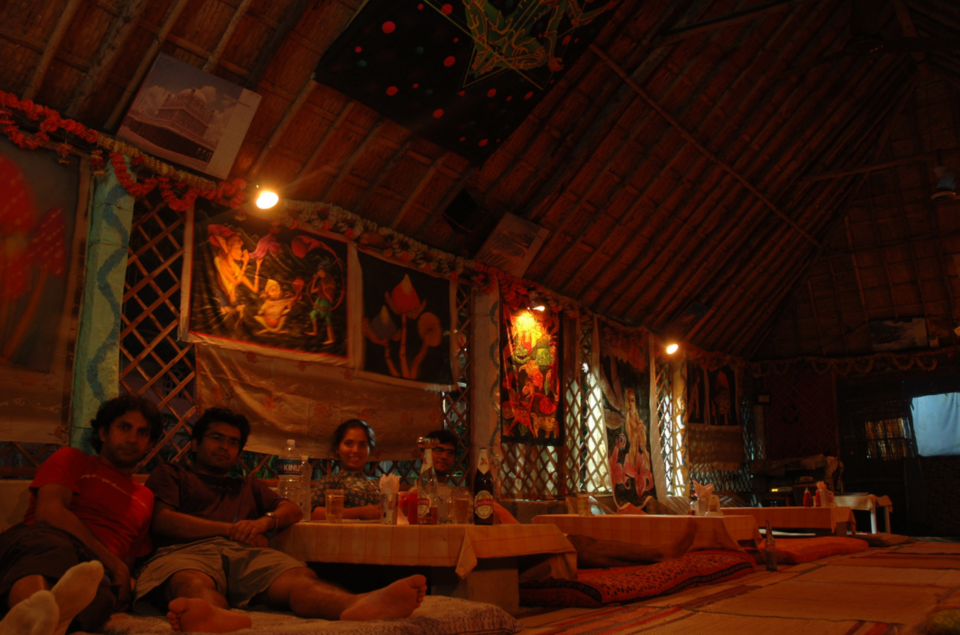 Where: Virupapur Gadde, Anjanhalli, Karnataka 583234
Phone: 094492 37326
Timings: 8:30AM–10PM
P.S. The service is slow, but the free wifi makes up for it!
• Mango Tree Restaurant, Southern Side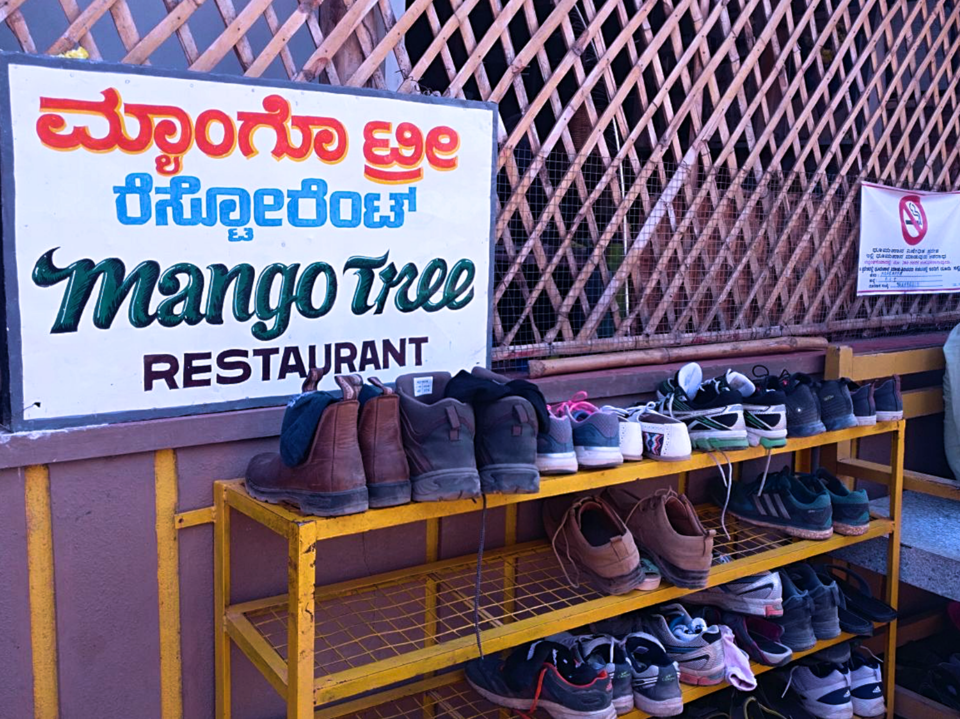 A laid-back cafe perfectly nestled inside an ambient tent, Mango Tree Restaurant won't let you feel the absence of meat! Some delectable offerings include a smorgasbord of pizzas, burgers, noodles, scrumptious thalis, sizzlers and Israeli delicacies such as shakshuka.
My recommendation: Try the mushroom sizzler, a glass of buttermilk and the Nutella sandwich.
Where: Near Virupaksha Temple, Janata Plot, Hampi, Karnataka 583239
Timings: 7:30AM–9:30PM
Phone: 094487 65213
4. Hampi is where you can ride for hours, without getting bored
Moped? Scooter or bicycle? Make up your mind and hit the road to get lost somewhere in the boulders, temples, and watch towers!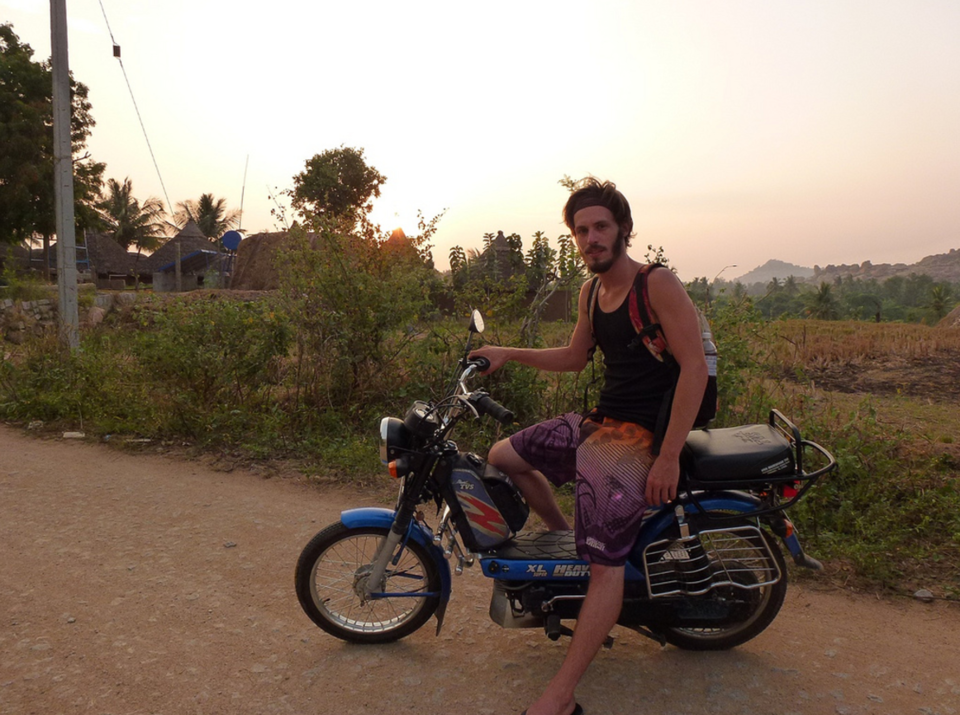 Most rental shops are located around the Hampi Bazaar area, Virupapur Gadde and you can find a few in Hospet too. They even let you to keep the vehicle overnight at your hotel. You just have to give them a valid photo identity proof.
The rental rates are bound to change, depending on the season. To give you an idea, these were the rates I was offered.
Bicycle (without gear): Rs 30 per day
Bicycle (with gear) : Rs 50 per day
Moped : Rs 200 per day
Scooter : Rs 250 per day
Motorbike : Rs 300 per day
5. Satisfy your bouldering hunch in Hampi
If adventure is your ultimate calling, then bouldering, a form of rock climbing, is the thing for you.
All the bouldering happens across the river from the Hampi Bazaar and the main bouldering hangout is at Goan Corner. Here you can attempt bouldering for a day or enrol yourself in the bouldering camps that last anywhere between two to four days.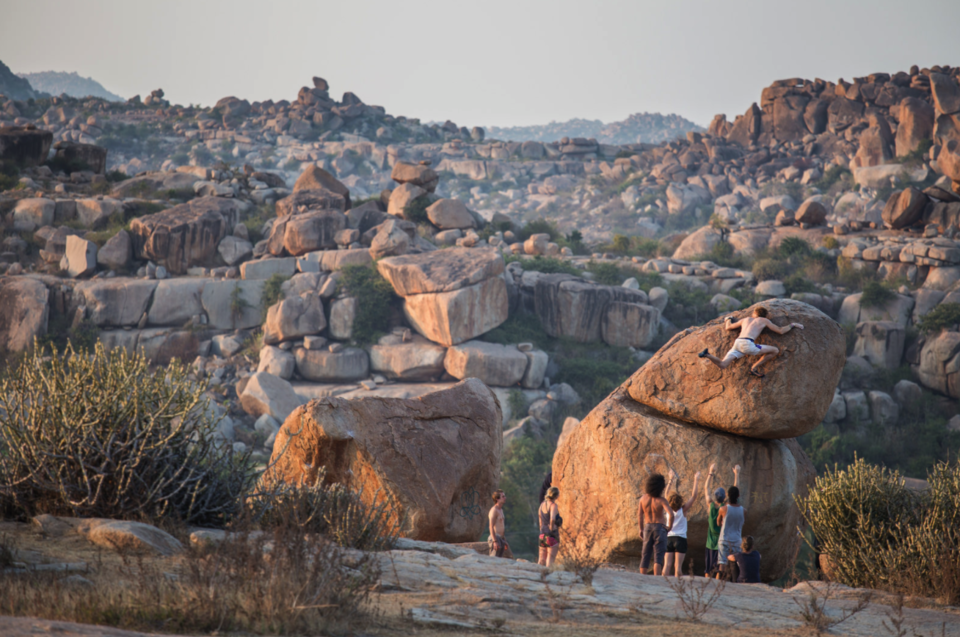 P.S. Hampi does not have any local bouldering equipment stores. Incase you're particular about your favourite brand of accessories, consider bringing it along with you.
6. Witness a gorgeous sunset at Matanga Hill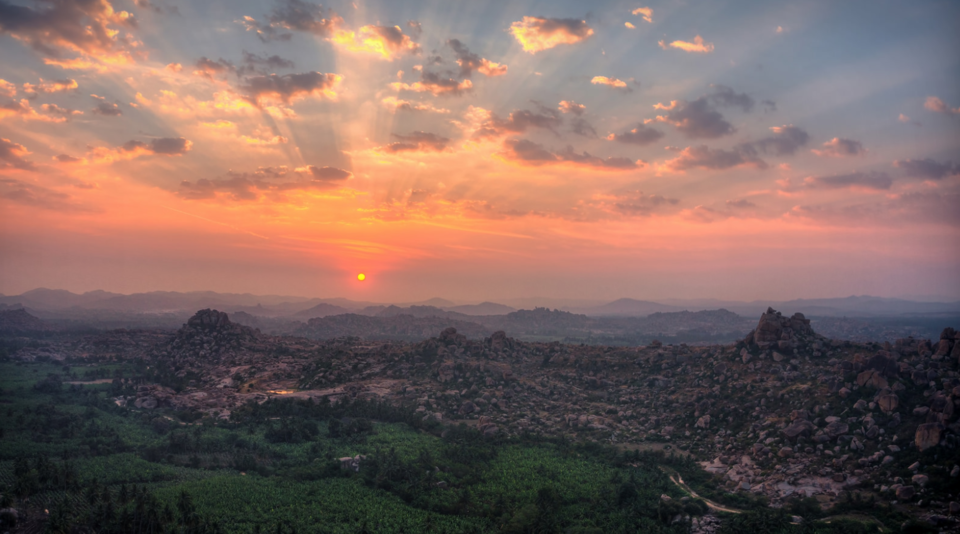 All of of us have seen the sun setting a thousand times, but trust me when I say that the sight of the setting sun from Matanga Hill is something you will never forget. Also, Matanga Hilltop is the best spot to get an aerial view of Hampi and it's surroundings. From atop the hill, you get a glimpse of the Achyutaraya Temple ruins, Virupaksha Temple and the Tungabhadara river.
7. Experience the charm of living in a homestay to get the best dope on Hampi
None of the guidebooks or articles can prepare you for the strange beauty of this place like a local can! Consider staying at Murali's Homestay to witness a side of Hampi tourism that you will never be able to discover by yourself.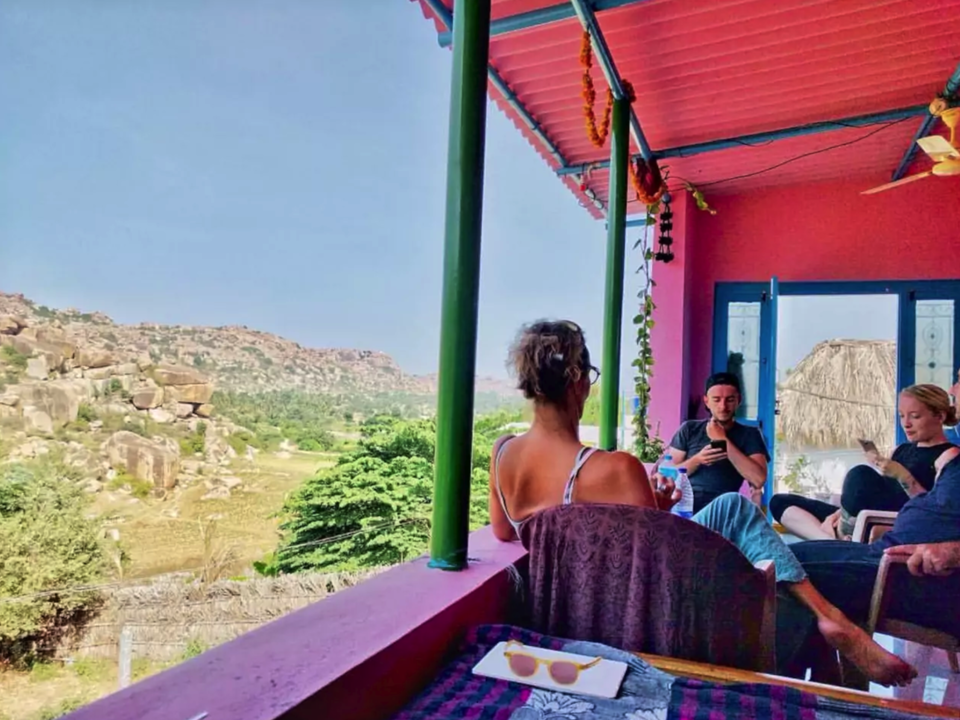 Since Murali and his family also live here, he's always available to give you suggestions, draw you a map to an adventure, and of course make you delicious food.
8. Treat yourself to a little retail therapy at Hampi Bazaar
Located in front of Virupaksha Temple, another popular name for Hampi bazaar is Virupaksha Bazaar. Spread across more than a kilometre, Hampi bazaar may not be as lavish but it was one of the earliest organised retail space in Indian history.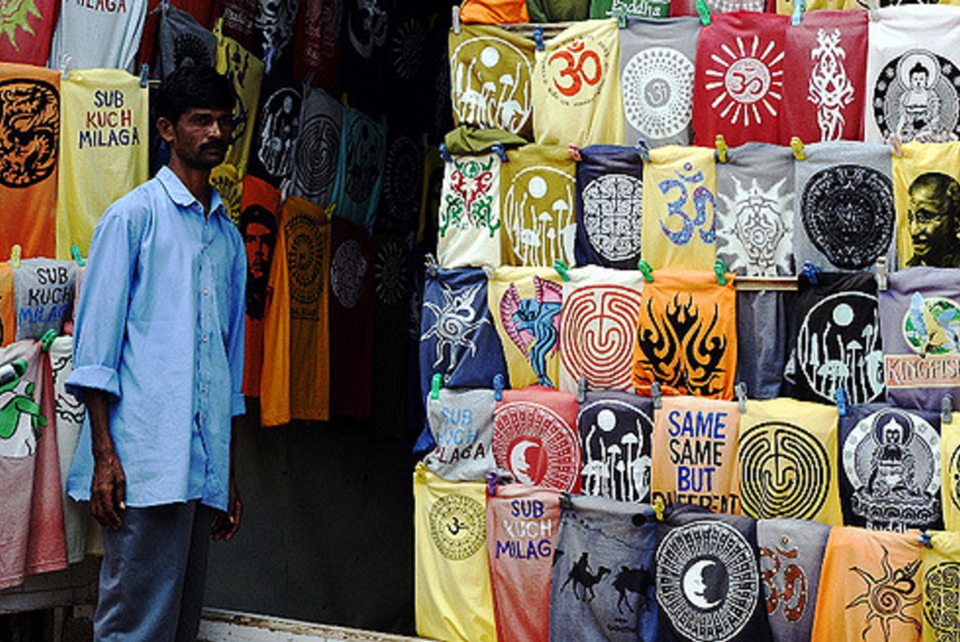 Things you can buy: Embroidered shawls and textiles, antique coins, traditional costumes, colourful bags, jewellery, stone figurines, carved artefacts and replica of Hampi ruins.
Other attractions that Hampi tourism has to offer:
Virupaksha Temple, Pampa Sarovar, Vijaya Vittala Temple, Tungabhadra Dam, Hanuman Temple, Hemakuta Hill Temple Complex, Sasivekalu Ganesha Temple, Lakshmi Narasimha Temple, Queen's Bath and Archaeological Museum.
How to reach Hampi
Air: Hubli is the closest airport, about 160km west of Hampi. However, the closest international airport is the Bangalore Airport. Once you reach Bangalore, take the Hampi Express or a private taxi from there forward.
Road: Tourists traveling to Hampi by road can easily avail taxis or buses from towns and cities such as Bangalore, Hyderabad, Hassan and Mysore.
Train: About 13 km away, Hospet Junction is the nearest railway station to Hampi.
Best time to visit:
October to December, when the weather is pleasant.
Happy Hampi to you!
If you have unravelled the gems of Hampi tourism in the recent past, share you travel story, stunning photographs and videos with like-minded travellers on Tripoto.
Frequent Searches Leading To This Page:-
Hampi Tour packages for family, Hampi backpacker paradise, road trip to hampi, Solo Travellers Guide to Hampi Backpack Trip, holiday tour package for hampi