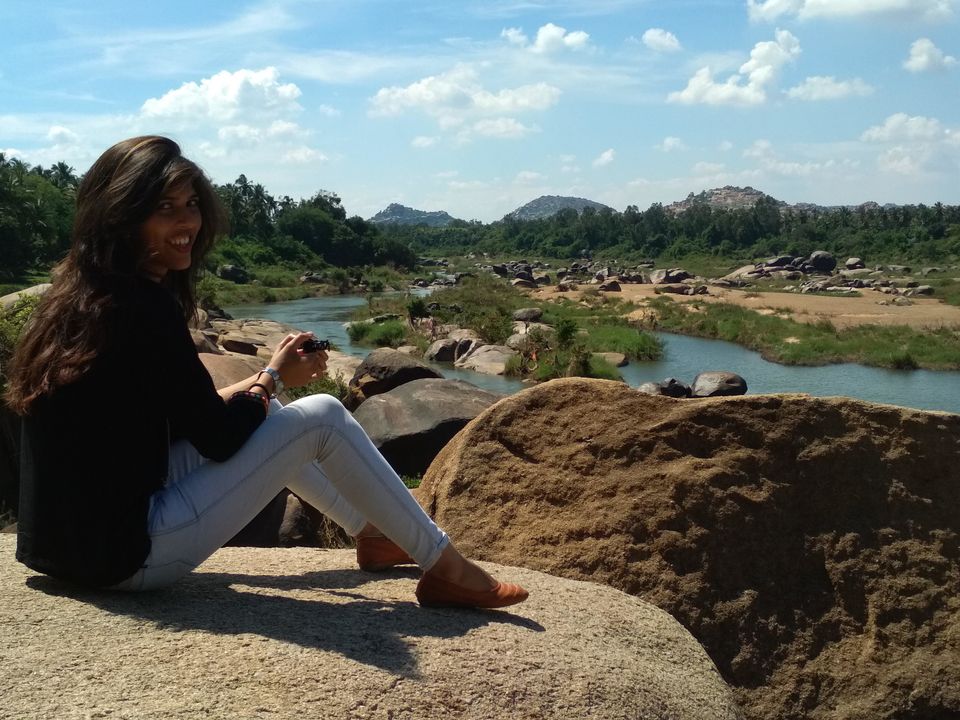 Lets directly dive into the details about money, because that is where everything starts.
How to get here:
Bus : If you are from Pune or Mumbai there are buses that directly go to Hospet which is 10-12km way from Hampi. It would cost you around 800 to 1.2k based on the season you book tickets
Train is also a better option from Mumbai which would cost you even lesser, but considering all the fuss that friends create before planning a trip, Buses are the only options that are left for last minute bookings.........
Stay:
We stayed in SKE Pallavi Residency, just right in the front of last Hospet bus stop, usually the hotel rates are around 900 to 1.5k per night,

But from my personal experience I would suggest staying in Homestays in Hampi, there are many homestays near Virupaksha Temple, staying at homestays would make your trip to Hampi complete.
Travel:
As we were staying in Hospet, and totally unaware of the whereabouts of Hampi we hired a rickshaw for Rs.1000 for full day that took us around the places, better hire someone to visit maximum possible places of Hampi, and if you are here for Hippie island then just get up and catch the city bus(frequency is good) for Hampi, take a coracle ride(Rs.50) from Virupaksha Temple a 2 min ride to Hippie side, hire a two wheeler (around 300-350 rent per bike) to roam around Hippie Island which I'll talk about in another post..

Note: On your first day in Hampi just bargain and hire a guide who will take you different places in Hampi, and try and finish as many places as possible on your first day itself, the following days then you can just laze around on a bike in Hampi and Hippie island. And mind well Hampi will be etched in your mind to such an extent that reading stories about people on their 3rd, 5th, 21st trip to Hampi, wont raise your eyebrows.......
The moment you enter Hampi, it gives you the impressions of a place surrounded by mountains of Boulders, the moment the periphery of Hampi starts you are gifted with the view of old temples made of granite stones right in the middle of the streets, with houses build right next to these old temples, the one among the cluster of these old historical structures is Virupaksha Temple (A UNESCO World Heritage Site), it is right at the bank of Tungbhadra river, it is a main centre of pilgrimage in Hampi,
Where is it : The City bus from Hospet would drop you right at the corner of the road that leads up to this temple, its a central attraction of Hampi, you can start your Hampi tour from here.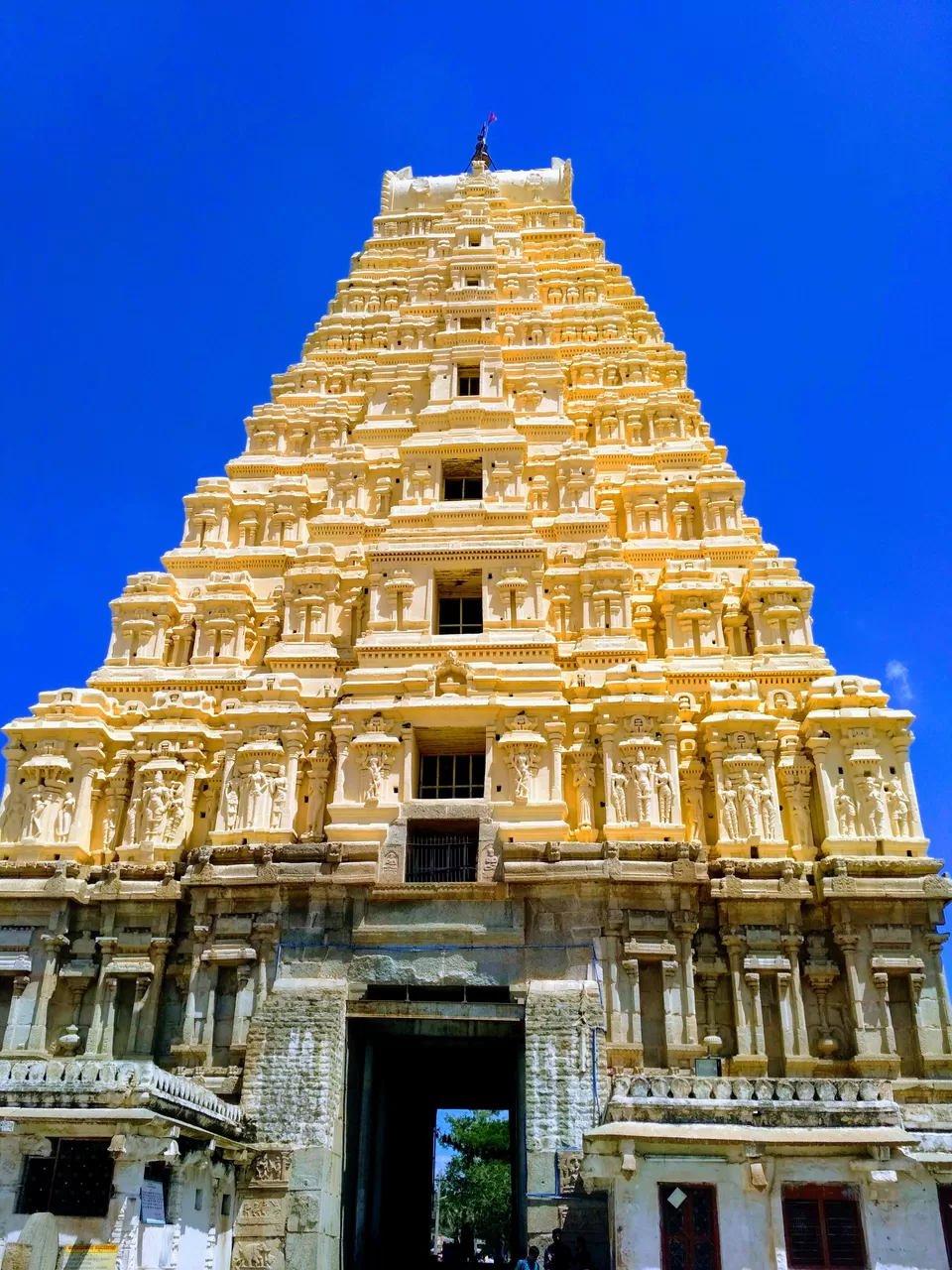 Probably the face of Hampi, again a World Heritage Site, The Historical monument at the back of the new Indian 50 Rupees note, If you are a photographer, an ancient architecture enthusiast this place will be etched in your memories and it will draw you towards Hampi over and over again. You will appreciate this place a lot if you have watched the episode of Ancient Aliens which says that this place was built with the thought of creating a celestial palace here on earth to please the gods, there are slender pillars all around the temple complex which when struck by hand emit sounds similar to musical instruments , the 56 pillars are individually tuned to one of the seven notes of the ' Sa Re Ga Ma...' . You will be mystified by the amount of craftsmanship that went into building this place. There are two ways two get here by walk and by road, if you want to enjoy Hampi I would suggest you reach here by walk, it will take you atleast half an hour to reach here from Virupaksha Temple but you will be gifted by the view of ancient ruins.
Where is it : There are two ways to reach here, by road(10 to 15 mins from Virupaksha Temple) and by walk 30 to 40 mins I would suggest the later one as the route is along the Tungbhadra river with ruins of other small temples on its bank.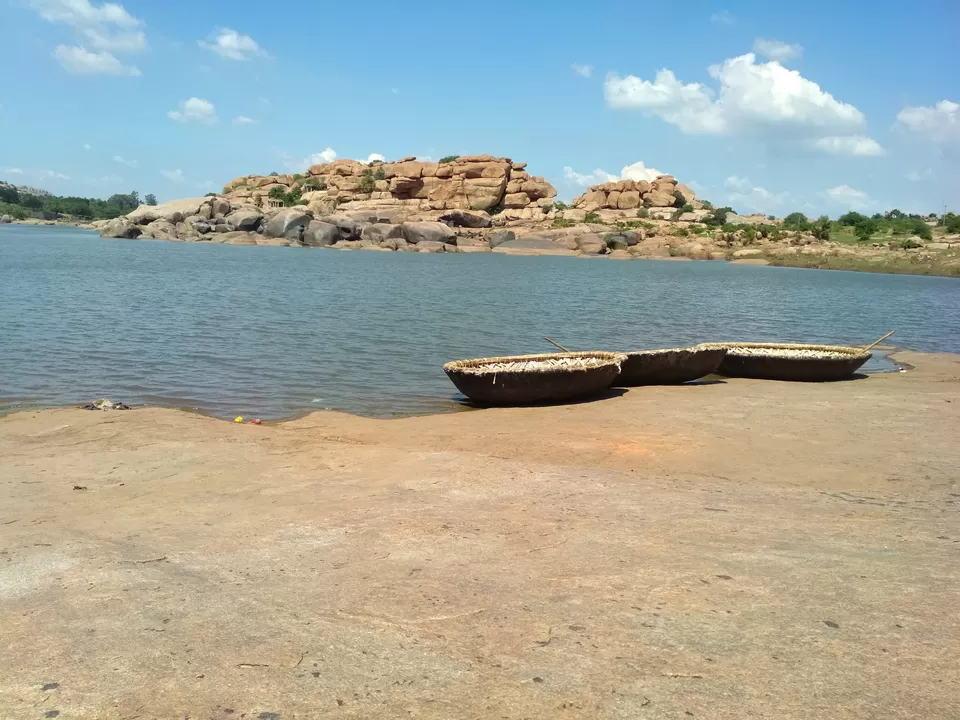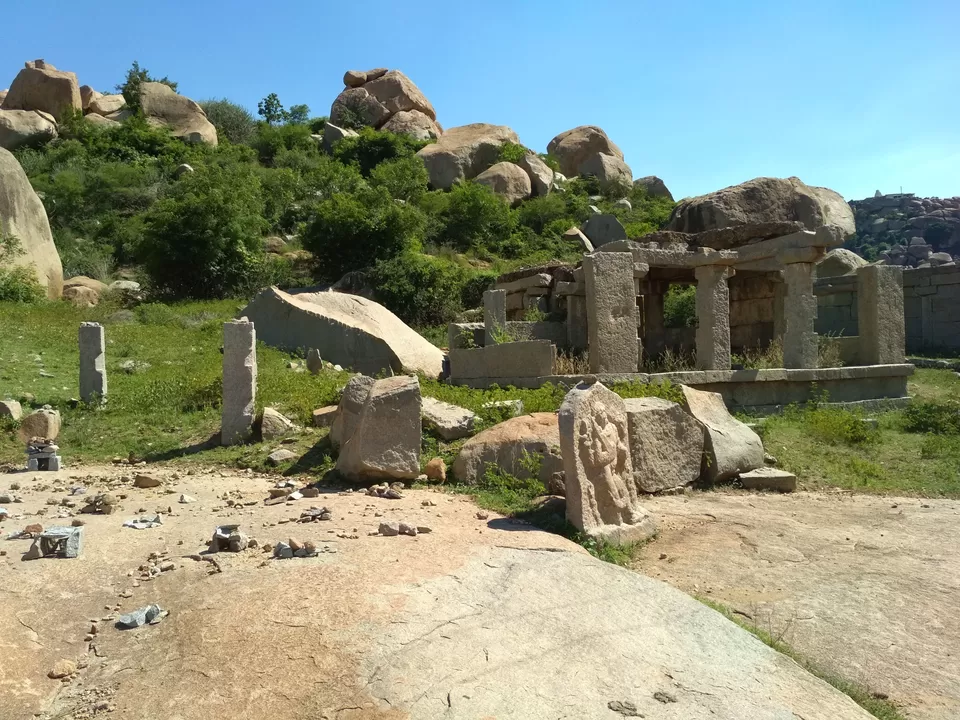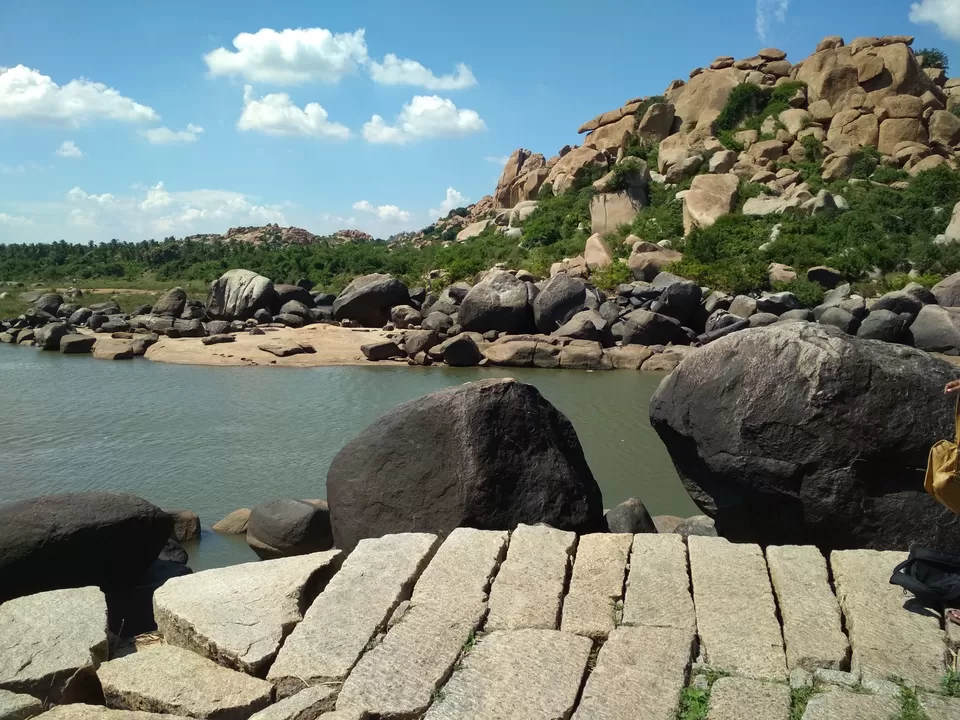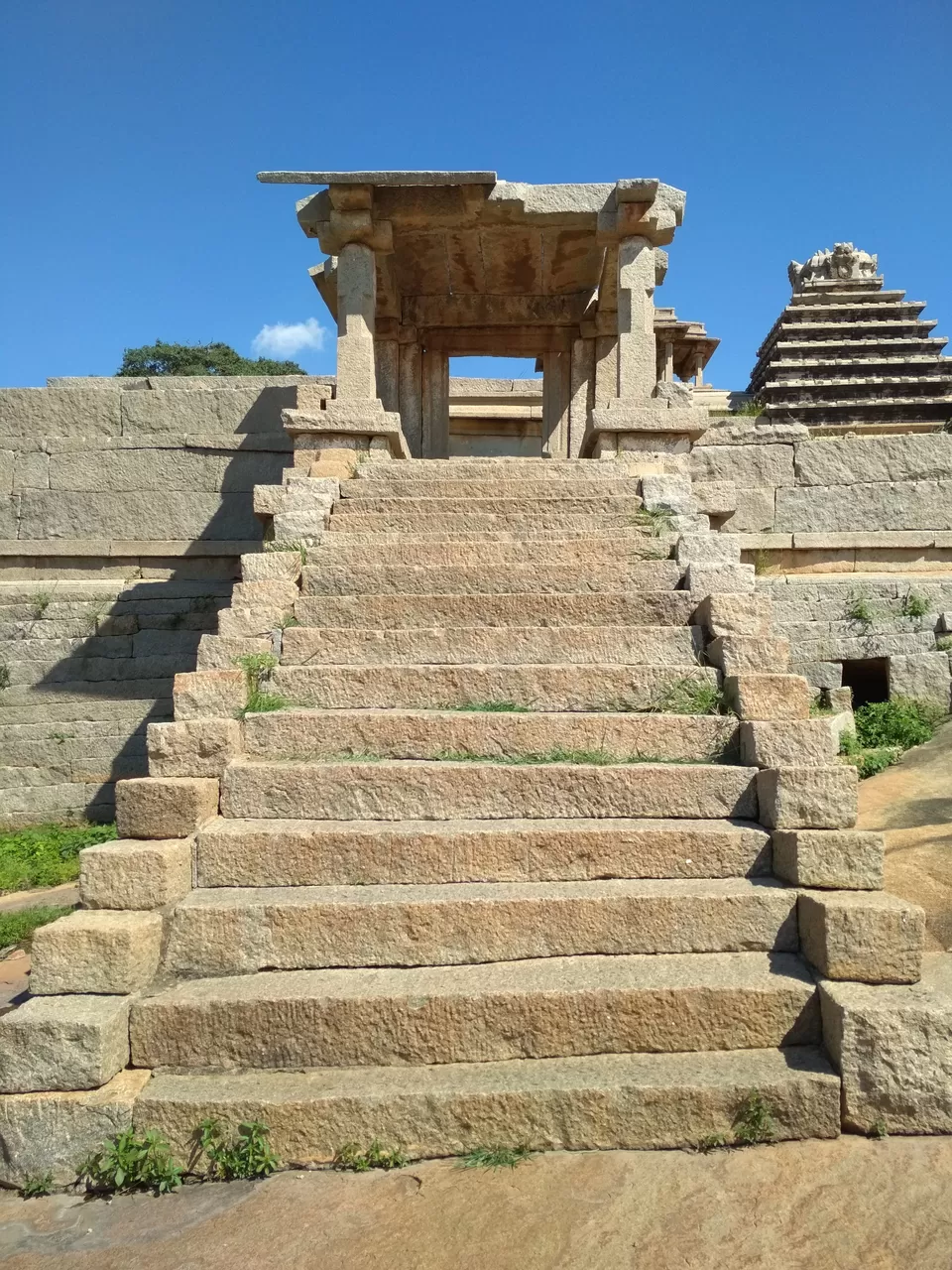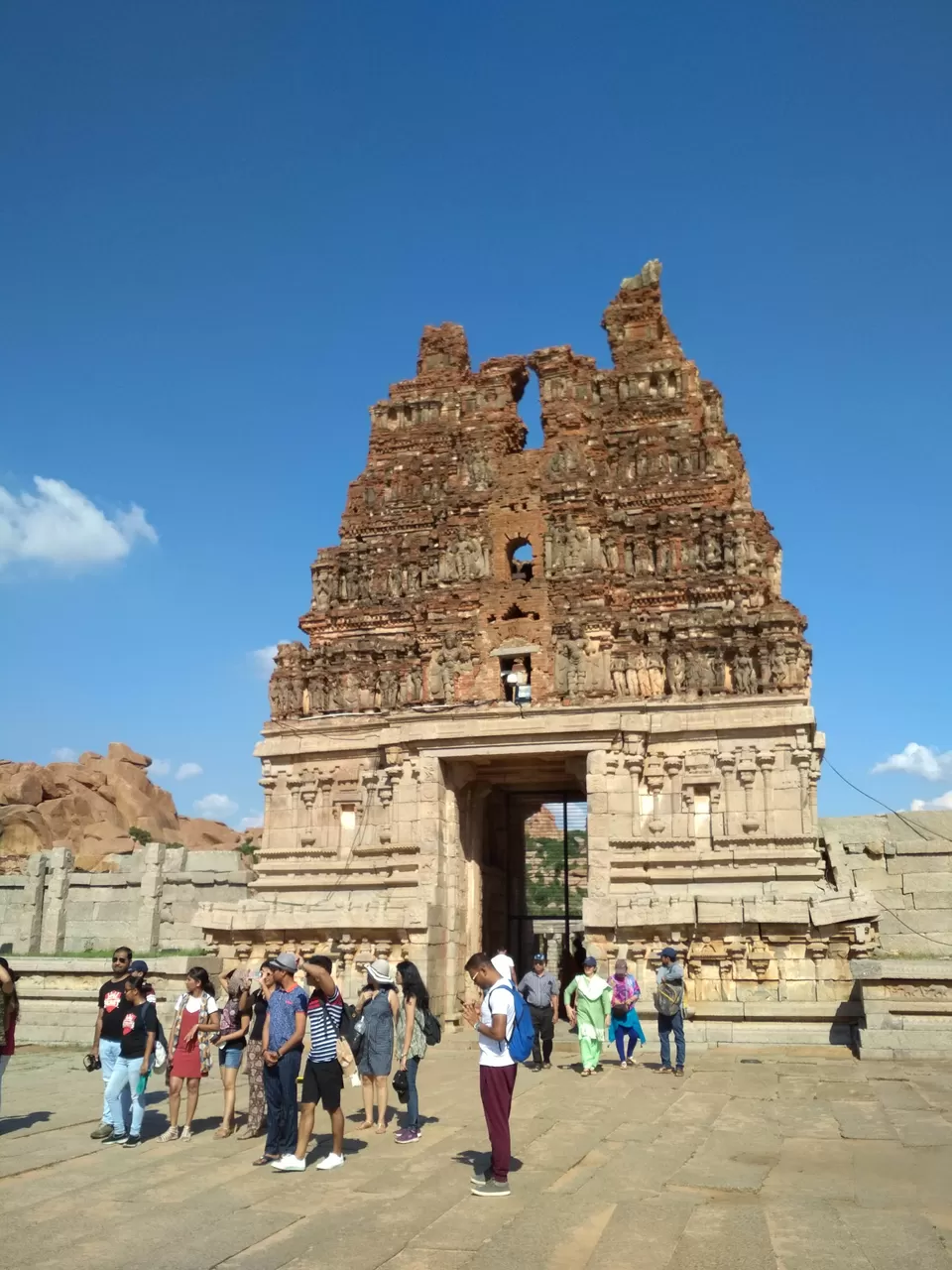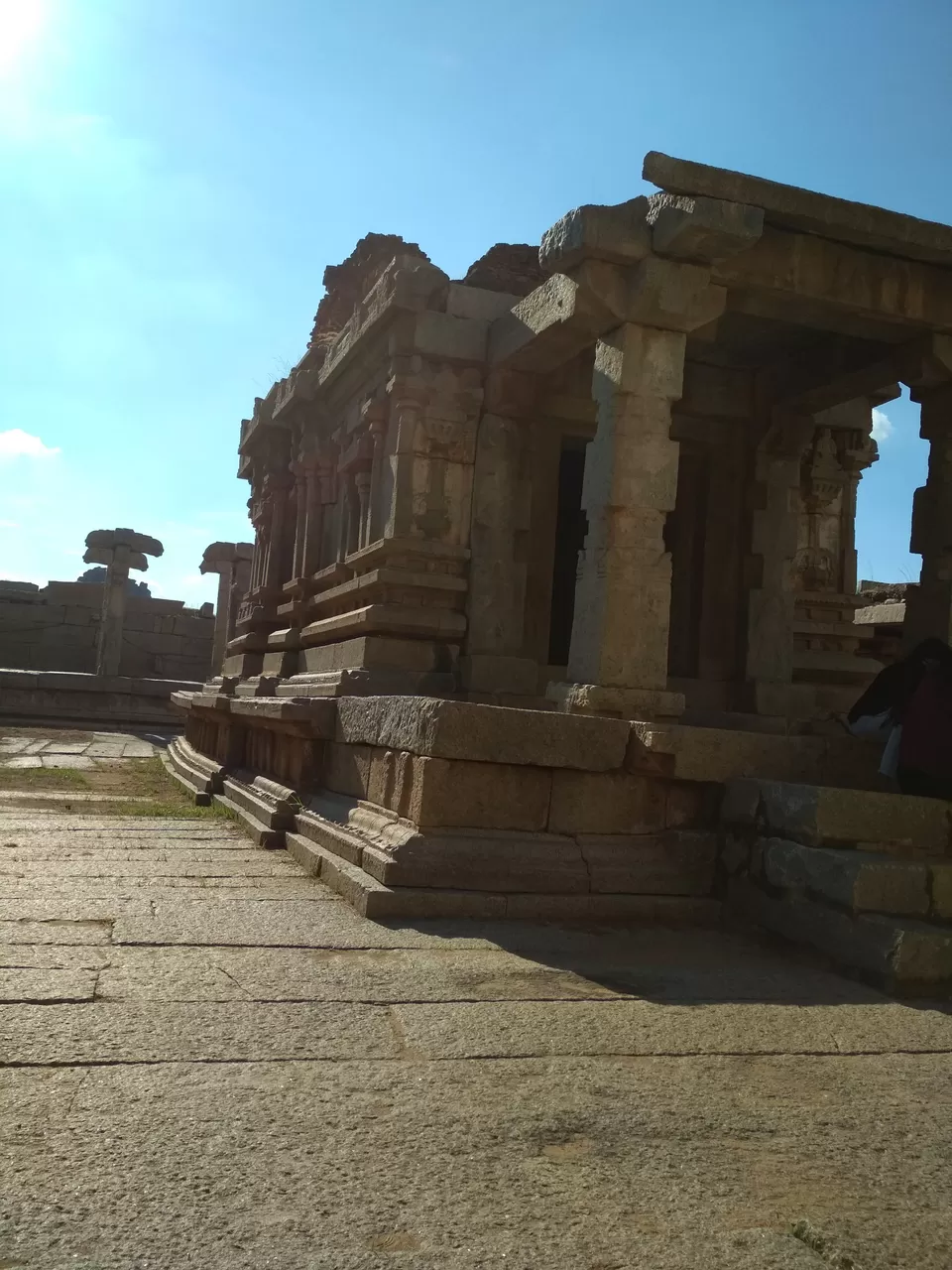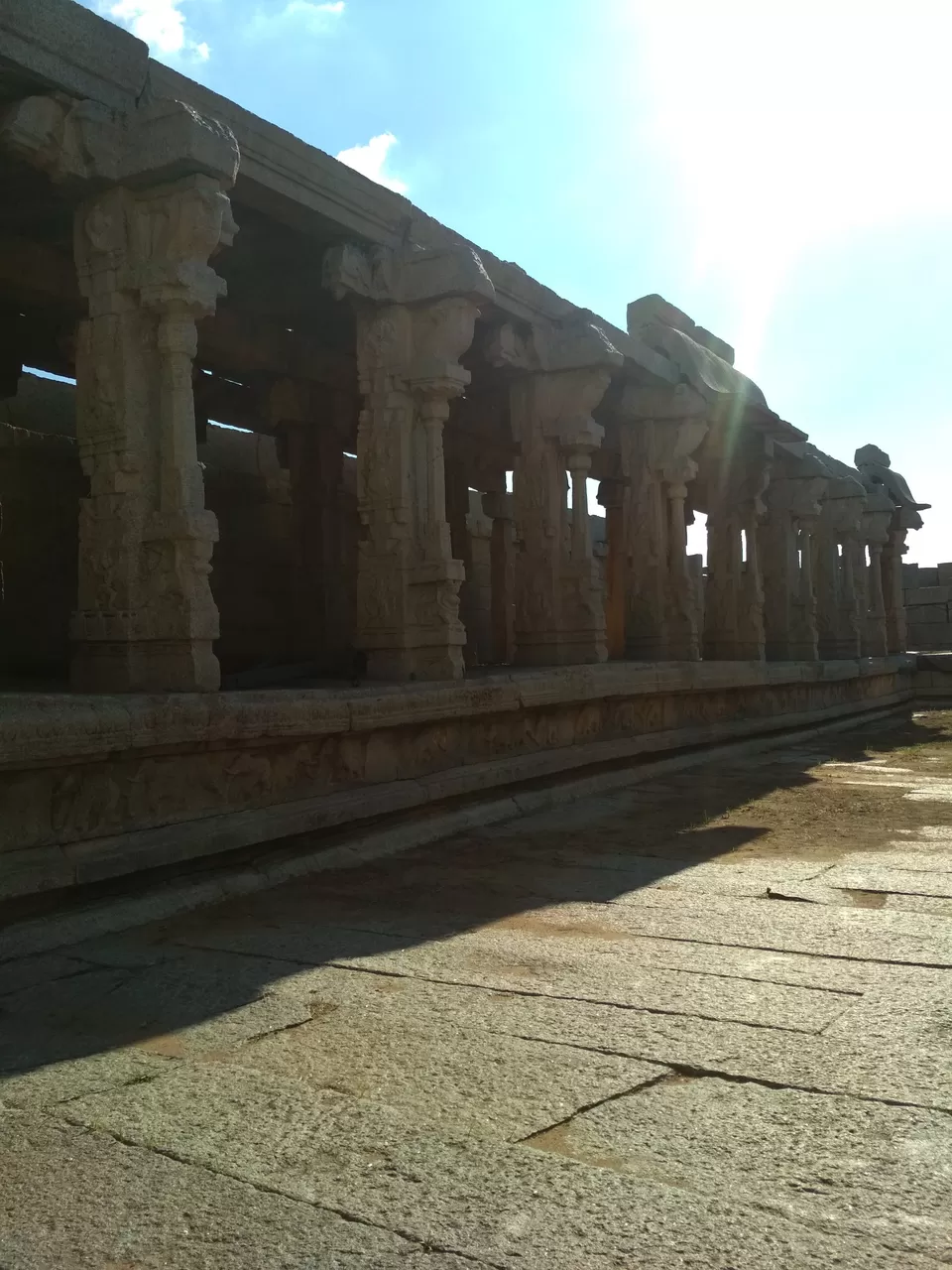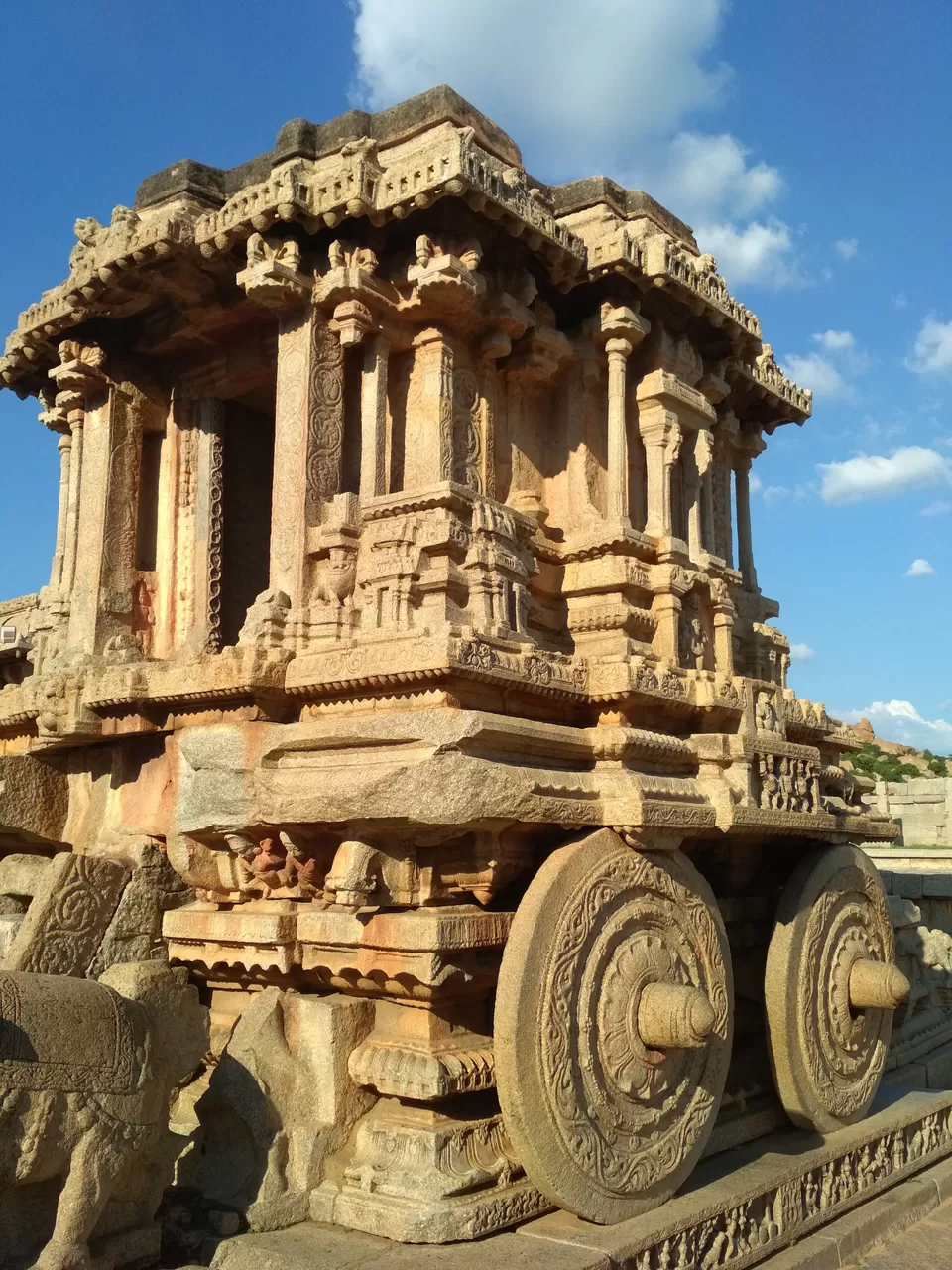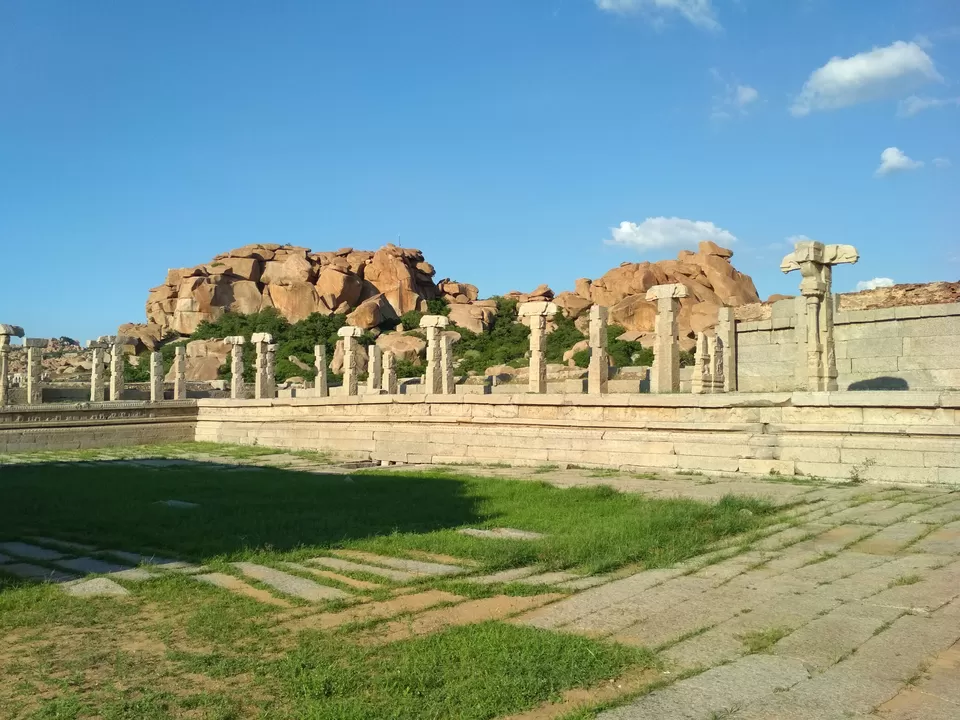 The beauty of any place can be enjoyed if you have an access to a bird eye view of that place, and Matanga Hill provides you with that, the calm and serene place during sunrise and sunsets with the Bhajans being recited in the background from a far place in the temples, with farm fields on one side and river running on other side, Matanga Hill provides you with picturesque view of the ruins of the ancient empire.
Where is it : Just a 100 m walk away opposite to Virupaksha Temple, takes around 15 to 25 mins to reach at the top based on your speed.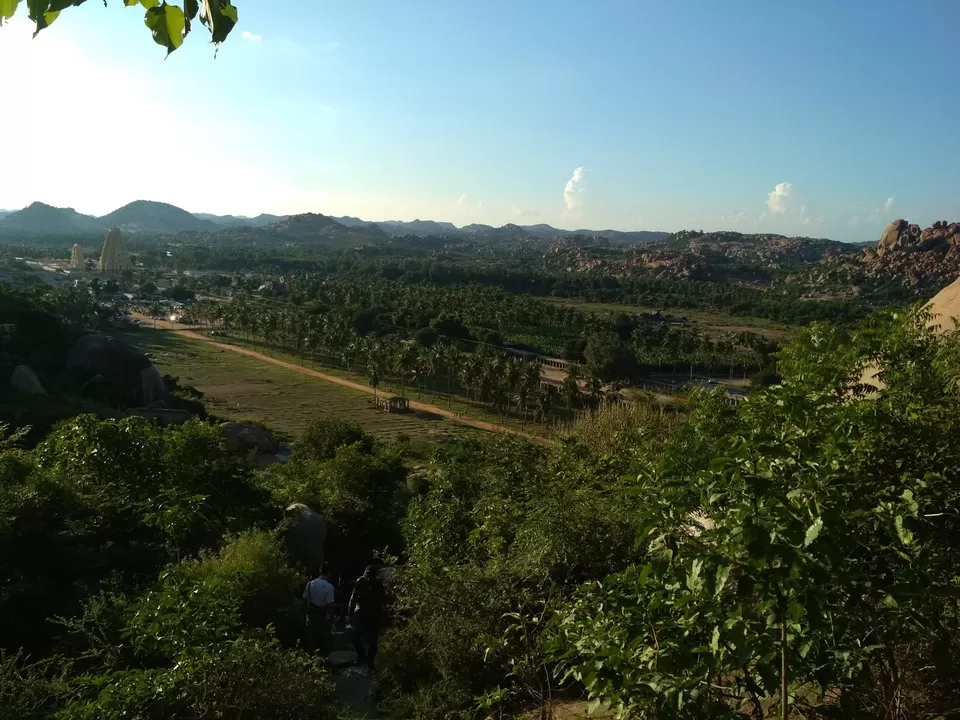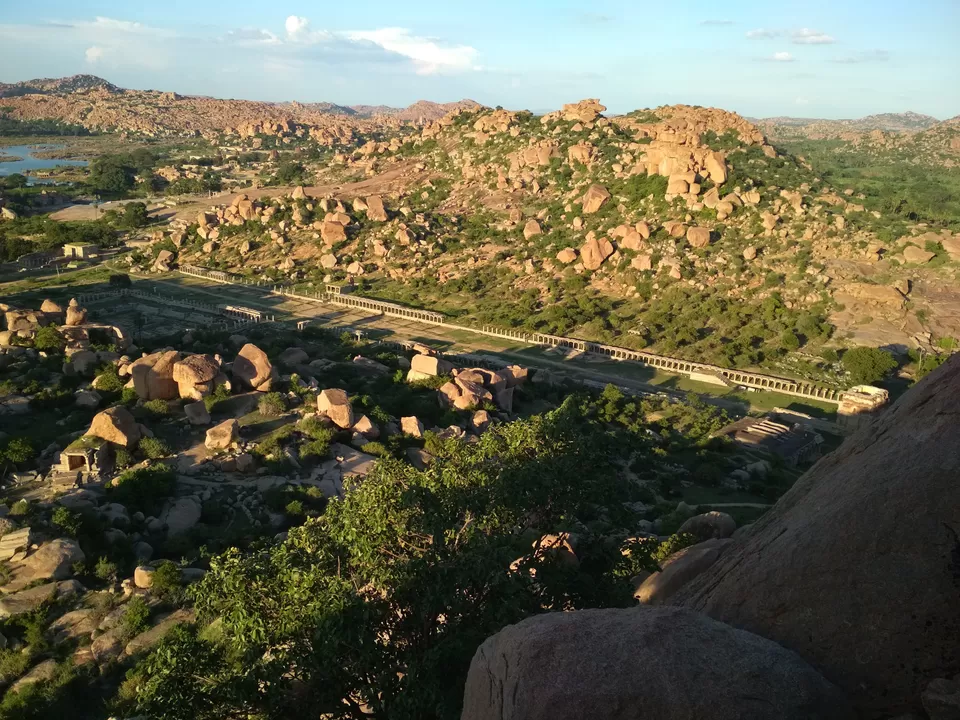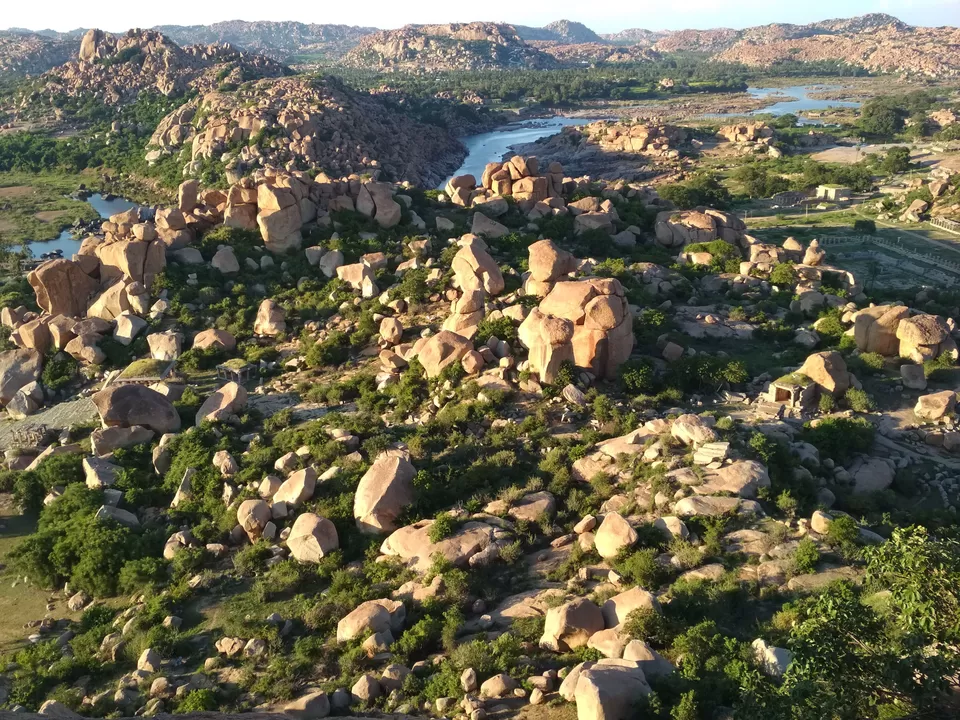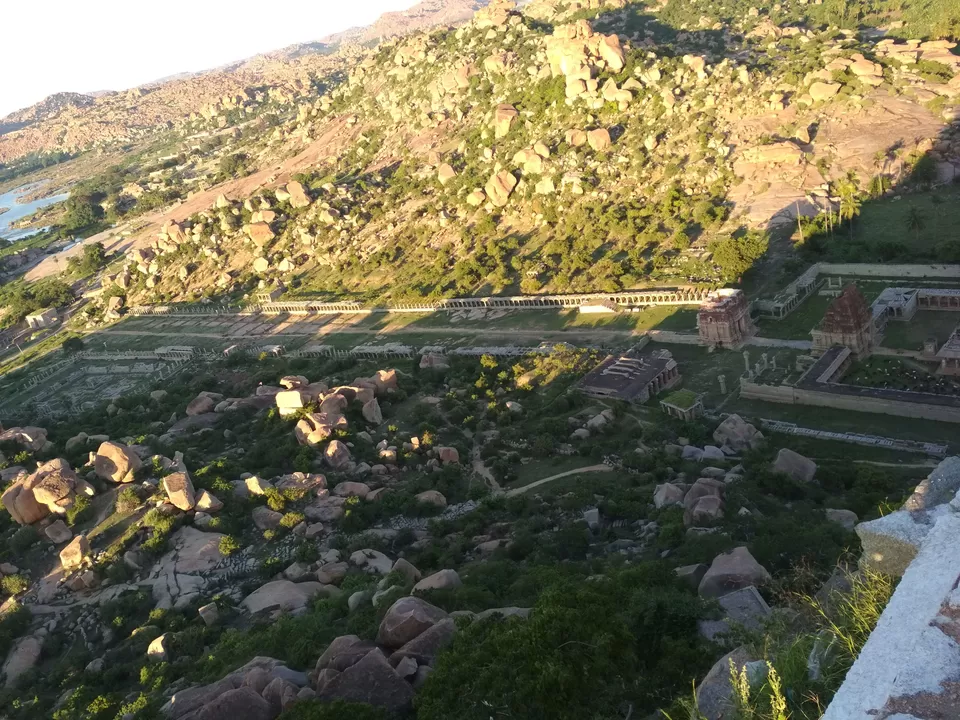 Hemakutu Temples, a group of shrines in Hampi, people laze around during evenings on the flat rocks around the temples
Kadalekalu Temple, is a monolithic statue of Lord Ganesha, in local language bengal gram is called as Kadalekalu temple and the belly of Lord Ganesha is sculptured in the form of bengal gram hence the name Kadalekalu.
Hampi Bazar, it is just in front of the Virupaksha Temple.
Queens Bath, nothing much to see around but its a big complex for bathing that was meant for the queen back in the days.
On an ending note to this part ASI (Archaeological Survey of India) is working with Indian Institute of Science, Bengaluru, are working tirelessly to unearth the hidden city, the locals of Hampi say that there is much more to Hampi, a lot of the old city is beneath and is being unearthed by ASI, so one thing is for sure, once you visit this place there will always be some reasons or excuses for you to come back and drown yourself in the mysteries of this place.
Note: If you are geek and want to know much more about Hampi and its origin then read Robert Sewells "A forgotten Empire Vijayanagar" it's gripping tale that describes the history of Hampi, also you can go through A. H. Longhurst's "Hampi ruins described and illustrated".