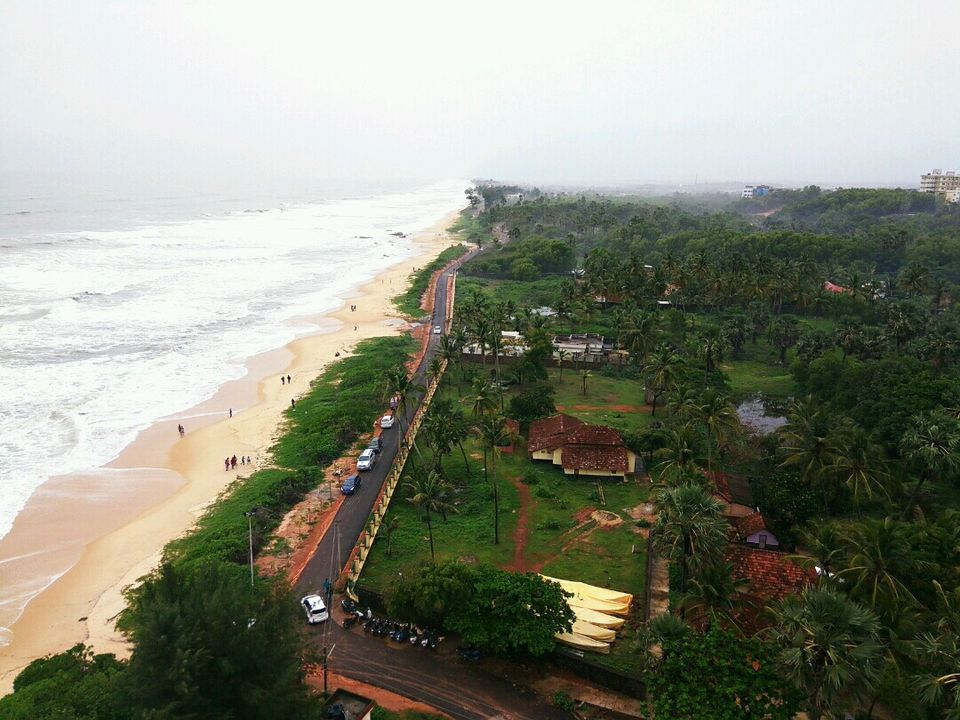 #CoffeeWithTripoto Firstly i never knew that there's such place/city exists on map of India which resembles with name "Bangalore" in same state "Karnataka". Yes i am talking about "Mangalore" , the truely heaven on the Earth .
Beaches are the first choice for any enthusiasist to have great time and take cool pictures and Mangalore is just more than what i thought or expected . I decided to visit Mangalore on May this year as i had no other plans to go anywhere and my friend was working there so booked tickets for June.
All i heard about Mangalore is , it is deserted city with poor connectivity , transportation and less developed . But what i experienced was totally opposite of it . I am a traveller so i prefer to travel on low budgets and save wherever i can so this is how we can manage
our budget trips . This time i took my sister along with cause afterall sister is your best friend first and i learnt that we should travel to unknown city with your sister atleast once your life .
We got on train (Netravati Express from LTT, tilak nagar to Trivandrum) by 2 PM which was late by 30 mins from arrival time . I preferred to travel by train from my place to Mangalore as there's this beautiful journey through range of Konkan stations and refreshing scenes across . Travelling by train to Mangalore turned out to my second best decision and first one off course "Mangalore".
We reached to Mangalore junction by 7 am on next morning and that was best journey i could have as it was raining mildly and dense range of coconut trees , lakes and hills . My friend came to pick us from station and we hired an auto till her place which was nearly 20 mins away .Place where my friend is called Valencia near Kankanady circle .
Travel/ Transportation : I am person who prefers to travel by Local transportation as it is the first and best thing to get connected to new place and people and to know them. Mangalore has very good local as well as out station transportation .
Mostly you will see private local buses who runs to travel within city with decent connectivity also it is very cheap than anything . Due to high frequency of buses , you will find less crowd or even if there is crowd , it won't be noisy or irritating .
Ticket rates starts from 5 rs.
Day 1 : We took bath and got ready for our first day out . Mangalore is costal area so it is mostly humid on summer days but very pleasant in rainy season that's why i decided my trip on start of rainy season that is last week of June .
We had our breakfast at nearby local food cafe which served delicious south indian menu including idli , medu wada , differen varieties of dosa , sambhar rice . I was so cheap that we actually had breakfast for three people for price of one person.
Kankanady village by itself spans a very large area and buses from Mangaladevi pass through this point, making it a common point to many routes which reach the city's center by passing through this area . It is 10 mins walking from Valencia.
NOTE : You will see maximum number of private buses running across city than KRTC local buses and those private buses are so cheap and have really good frequecy to any corner of Mangalore . These buses also has Bus no with destination location plate .
Plus driver and conductors are so humble , polite and guide you to reach your desired destination . Rather i found all people from Mangalore are very sweet and polite .
Food : So you get variety of food items in different food chains and restaurants in city . What i liked about city is Food quality anywhere and it's really really very cheap .
For non vegeterians , Mangalore is like feast . Try sea food and non veg items at any restaurant and it will be awesome . My friend took me to famous biryani house "Biryani Paradise" just opposite to Kankanady bus stop for this delicious chicken biryani and kebabs which costs around 350 for two people .
For vegeterians , well there are lot of dining restaurants near Hampankatta including Janatha deluxe and Cardamom which has nice ambiance and mouth watering manglorian and north/south indian food . I would say just go to those big lanes of Hampankatta and find suitable restaurant for you .
Also you must try at local food stalls and shops for amazing and tasty south Indian dishes which would cost less than 20/30 rs.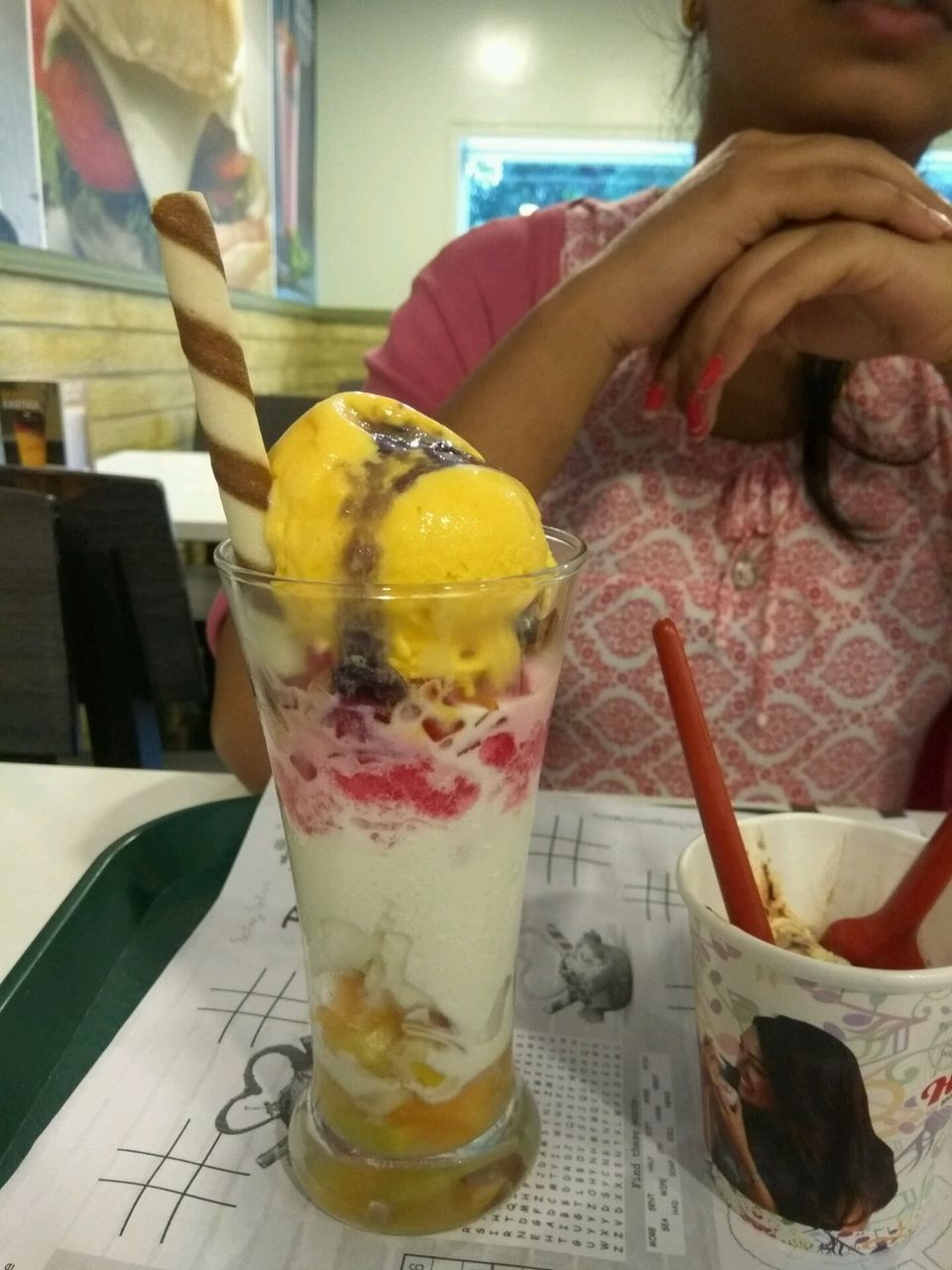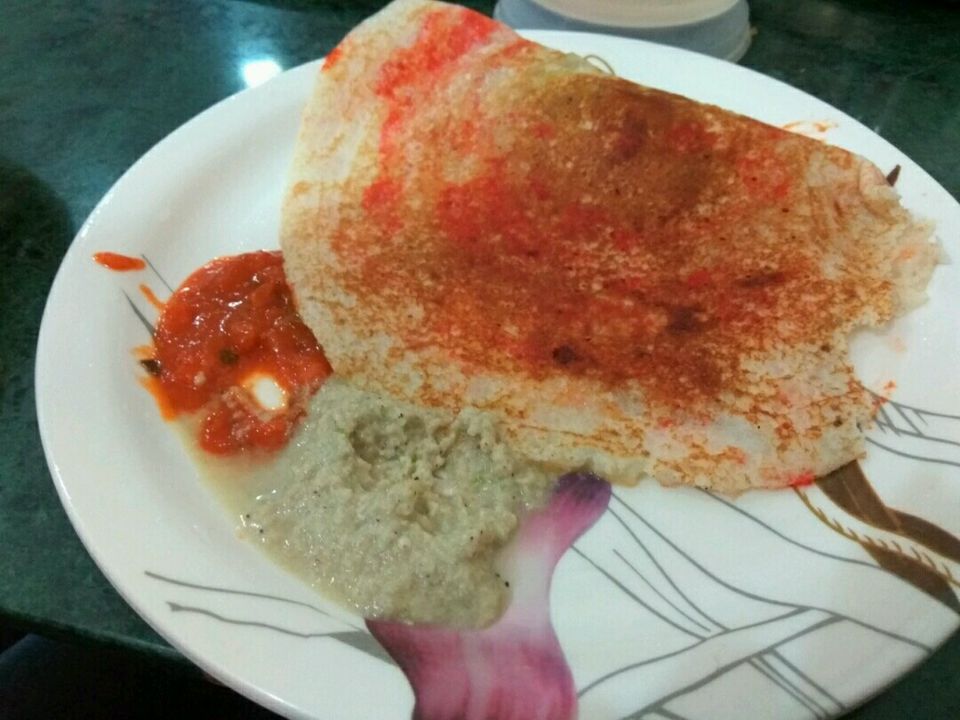 Day 2 : Mangalore is like paradise , heaven and what not . It has beautifully structured Temples and Churches . I know you get peace of mind in Nature's womb but positivity and energy off course at such holy places . I am not saying because i am theist but there's some divine energy you get at these places which we must feel once at least .
Next destination was Sulthan battery / bathery and Tannirbavi beach . We had to change two buses to reach Sultan battery from Kankanady , first "Kankanady - State bank" and second "State bank - Sulthan Bathery" . We reached at Sultan bathery by 4 pm in evening and got refreshed with tea . We found Golgappa/Panipuri wala next to Sultan battery tower and how can any girl restist herself to not to have it ?
It was ok not so good though but atleast fulfilled our tastebuds.
It is now nearly deserted with a few shacks and a boating club nearby . There is serene beach on other side of Sultan bathery and we have to there either by land near Kuloor Bridge or by ferry via Gurupura river from Sultan Battery .
Once you get down from ferry/boat , you have to walk for 10 mins to towards beach and through that walk you will notice local boys playing volleyball or football on muddy ground and enjoying their evening . Tannirbhavi beach has some basic facilities like life guards, proper toilets, a parking lot, a couple of small eateries and concrete benches.
This is again another eye catchy , little crowded and awesome white sand beach . Either you can sit on bench and watch divine beauty across beach or take walk through and give your feet touch of white crystalline sand . I would not recommend to go into water and get water cause water is so salty and it is very risky to go inside so better just get your feet wet only .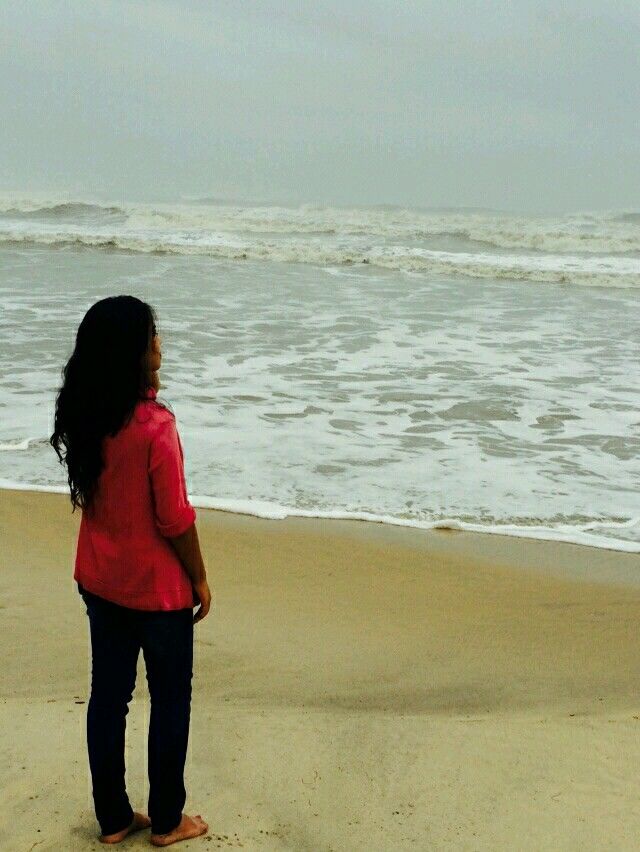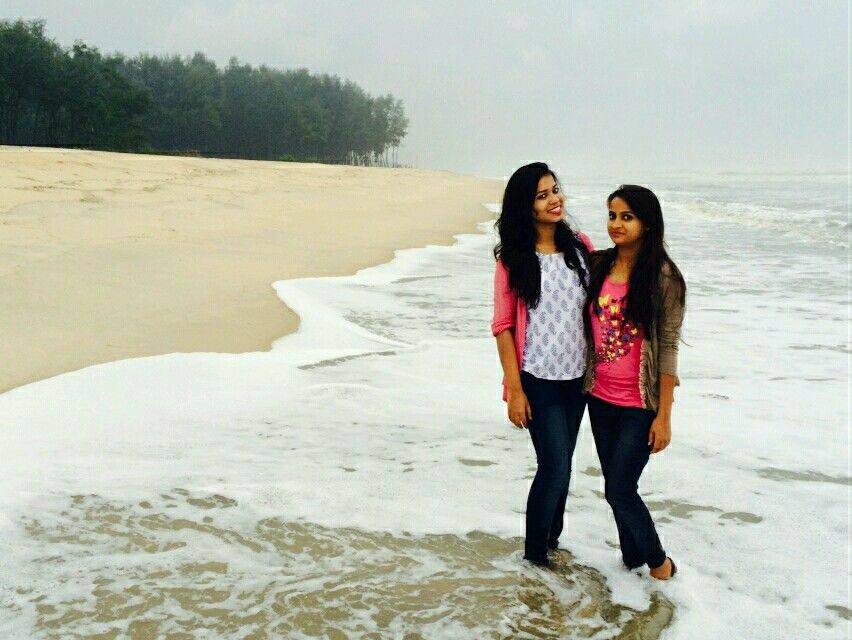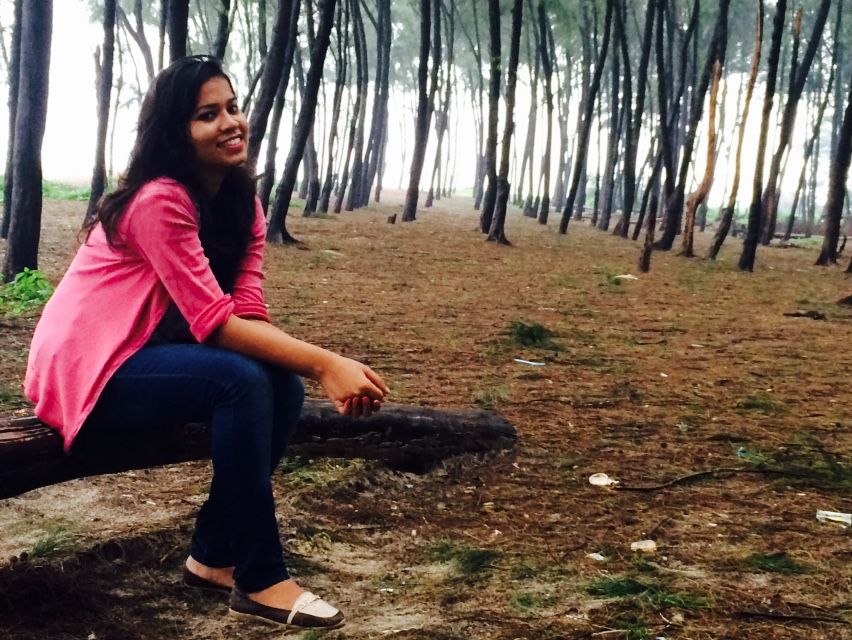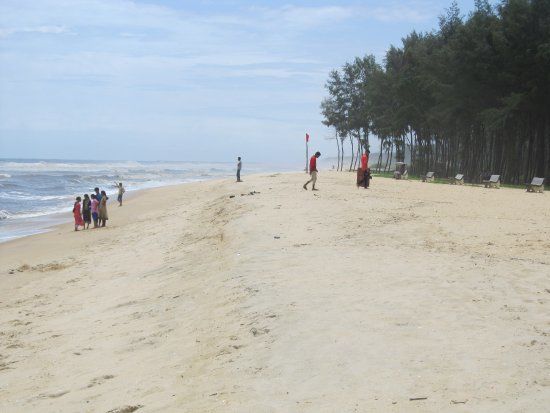 Then Tannirbhavi Tree Park is set up in an area of 15 hectares which has dense straight tall trees like Nilgiri trees and we can have pleasant evening at beach . We came back again by same route , Boat ride - State bank - Kankanady .
NOTE : If you are preferring to travel within/across city by local buses then you have to be very punctual during night time as you will not get bus after 9 pm . City closes very early in night and by cab also make sure you are returning to your place early .
Language : Tulu is the main spoken language in Mangalore and no doubt why Aishwarya Rai-Bachhan is so beautiful ;) . Also Konkani is the second most spoken language here . But don't worry people also understand Hindi and English and speak them fluently .
People from Mangalore are very polite , soft spoken and helpful . And never hesitate to ask for help if you are stuck anywhere or need it . Inspite of having GPS (off course technology is good thing) try to talk to people and ask them for route or bus or anything that you need .
NOTE : Let me tell if you are in Mangalore or planning to go there , add Pabba's ice cream parlour at Lalbag in your bucket list . Pabbas has to be visited place and try different ice creams and sandwiches and i bet you , you will not get taste unlike here anywhere around the world.
Pabbas special, Tiramisu, Gadbad and Dilkhush are few out of many rich flavoured ice creams and in Sandwiches , Schezwan grilled sandwich .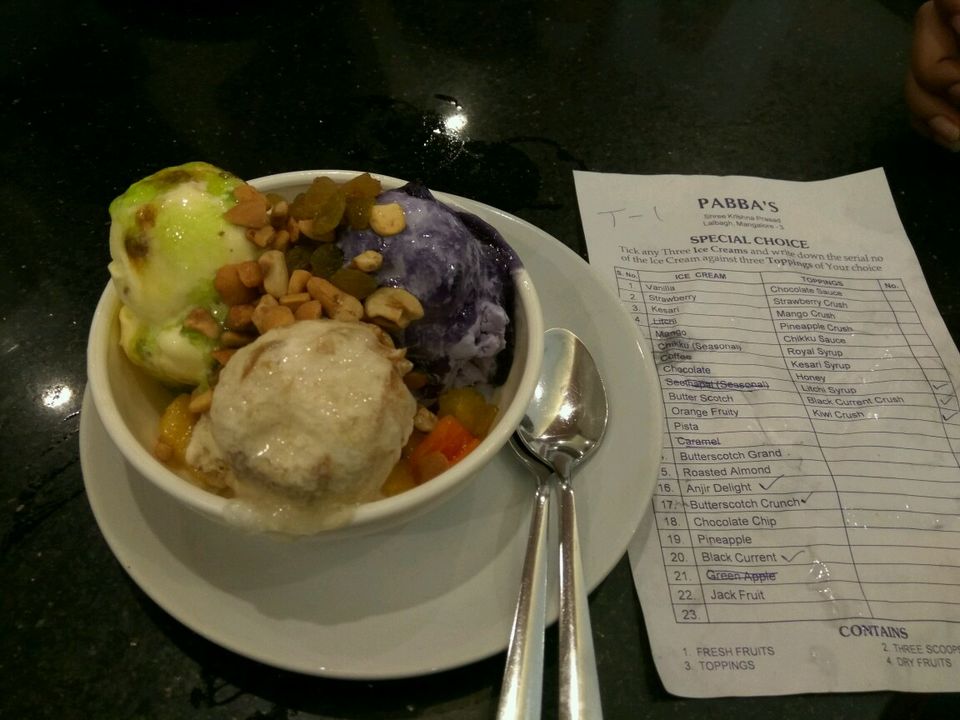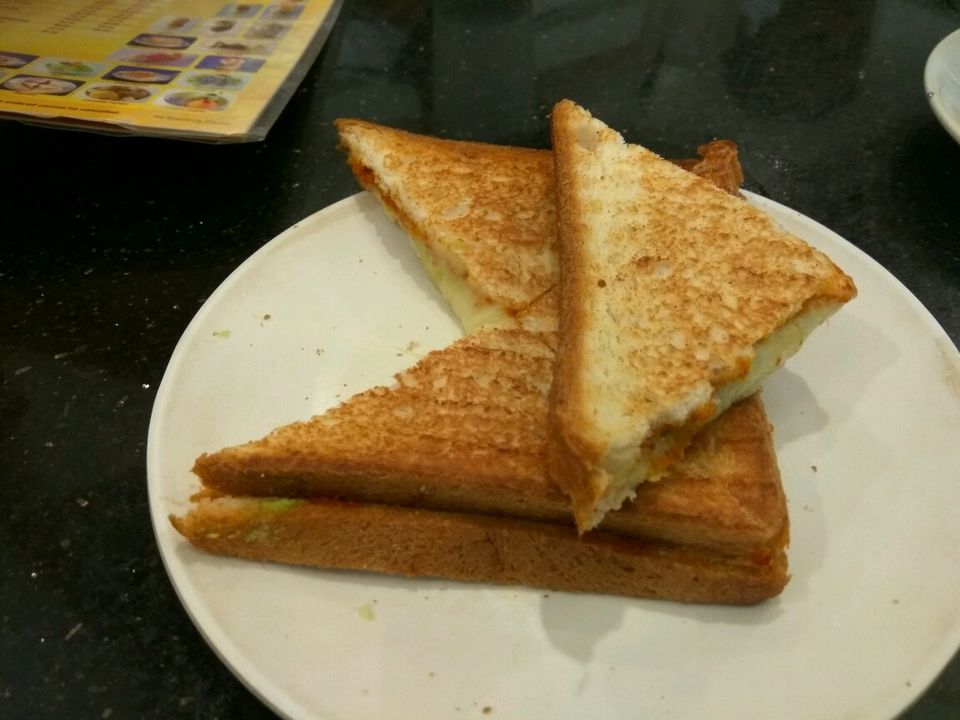 What i loved about Surathkal beach is it is little away from main road and you to walk through beautiful roads surrouded by huge trees and local houses . Another because it is less crowded than Kapu beach and very clean than it . There are huge rocks around the shore and has big Lighthouse .
The sunset from Surathkal beach was one the most beautiful experience i had and you must witness it . The lighthouse is situated on a rocky hillock and offers an uninterrupted view of the countryside and sea around. The lighthouse is open to visitors between 4.00 pm and 5 pm. Climbing floors is ok but from last floor to exit door at top is slightly difficult as it is rarely inclined and you have to climb up straight up though narrow ladder.
You have to first buy tickets to go on Lighthouse and guard will allow you to be there for hardly 10-15 mins . But we could manage to fool him as we was pointing on us only to get down so we keep on going round and round and taking pictures.
View from lighthouse will make your jaw drop and eyes wide and you will not want to go back . but due to time limit we got down and had amazing Manglorian tea at local tea stall in heavy rain. It was another great experience i had .
While returning from Surathkal , we packed dinner for us and we headed back to our place around 9 pm .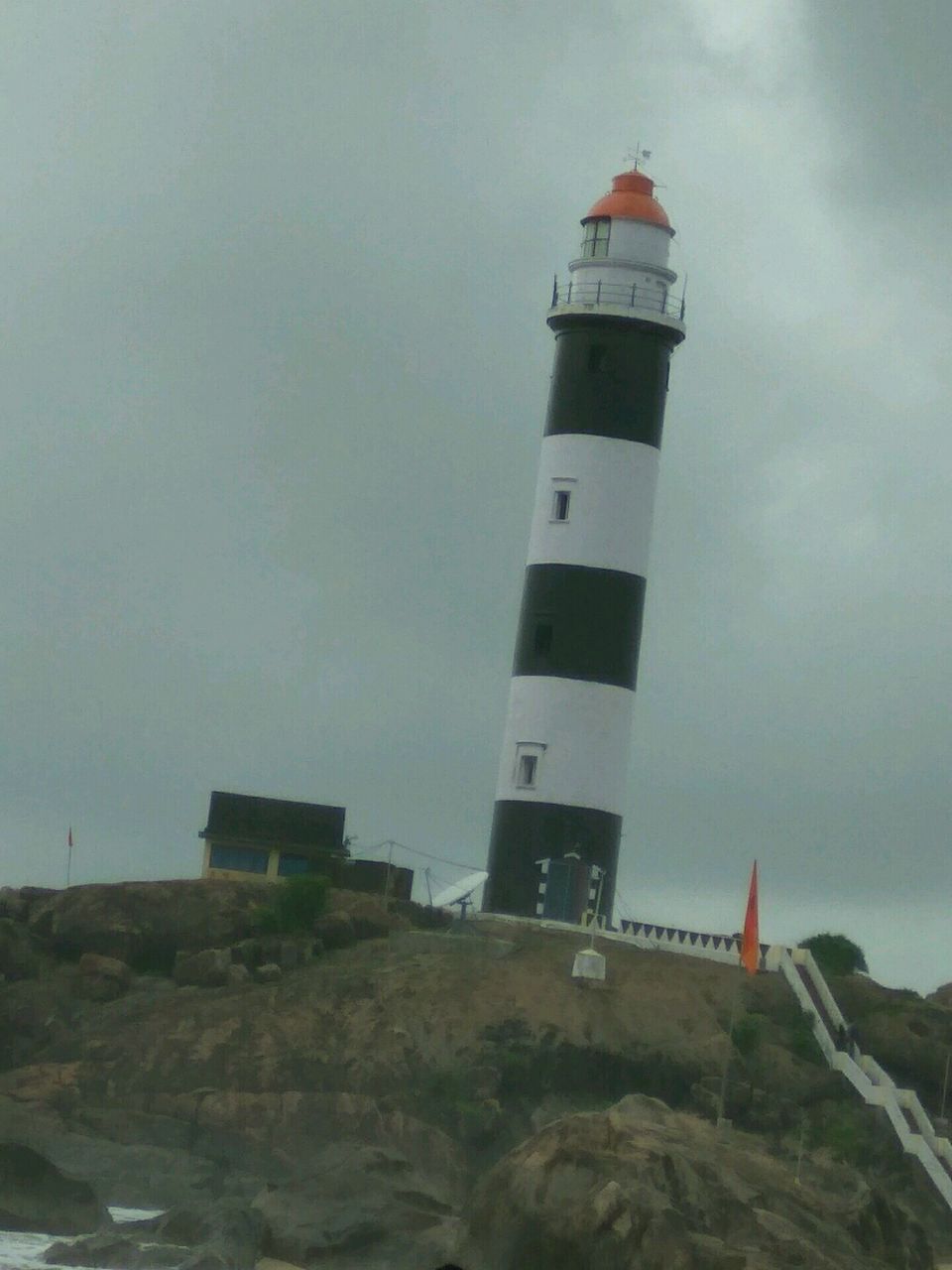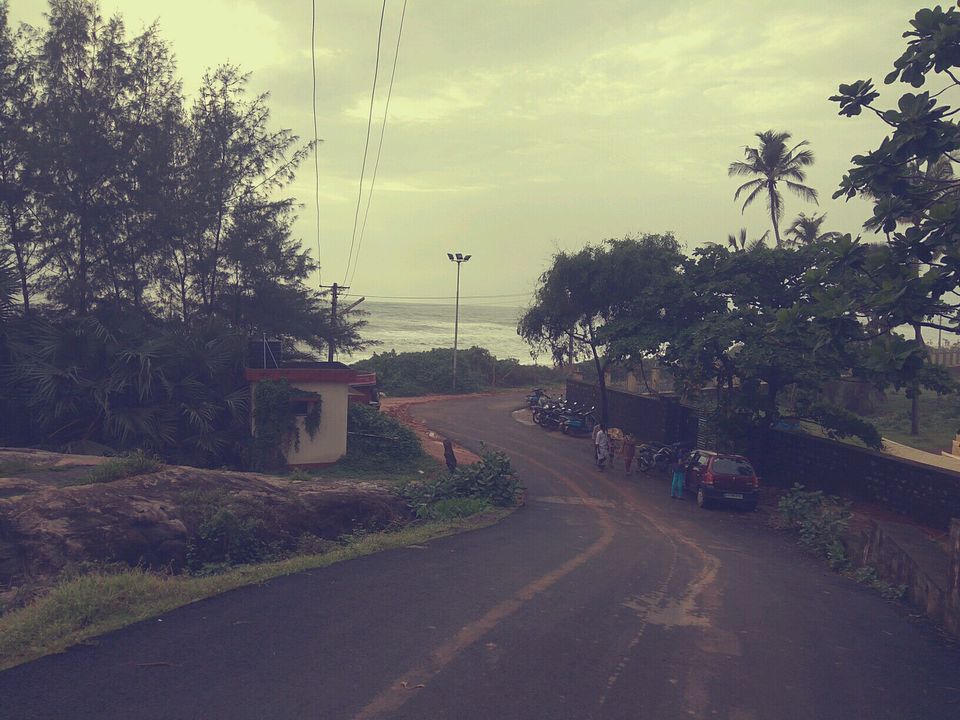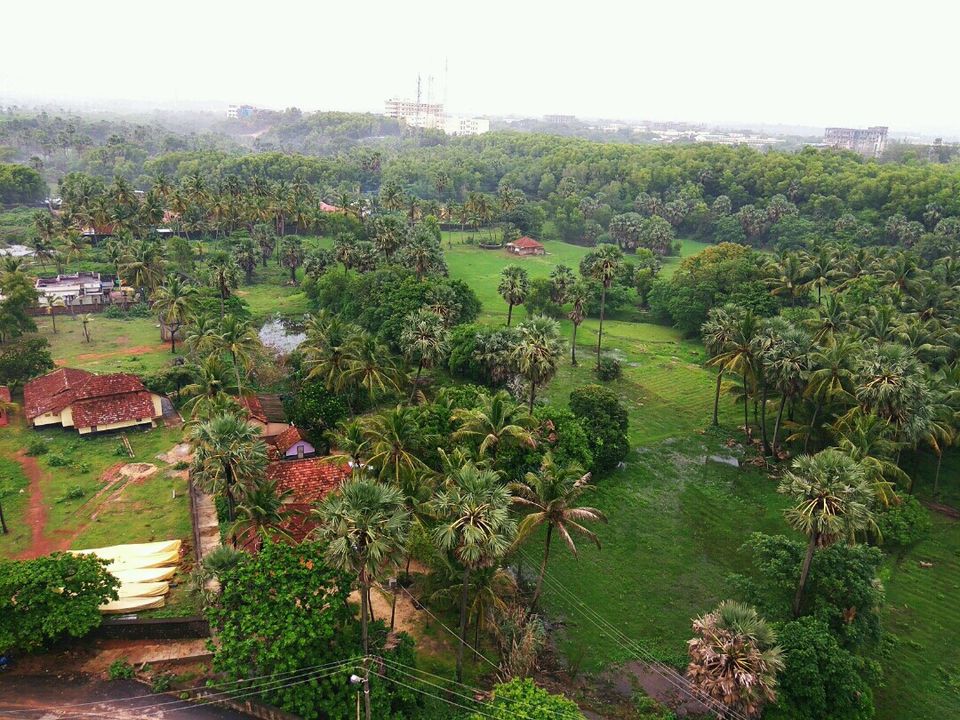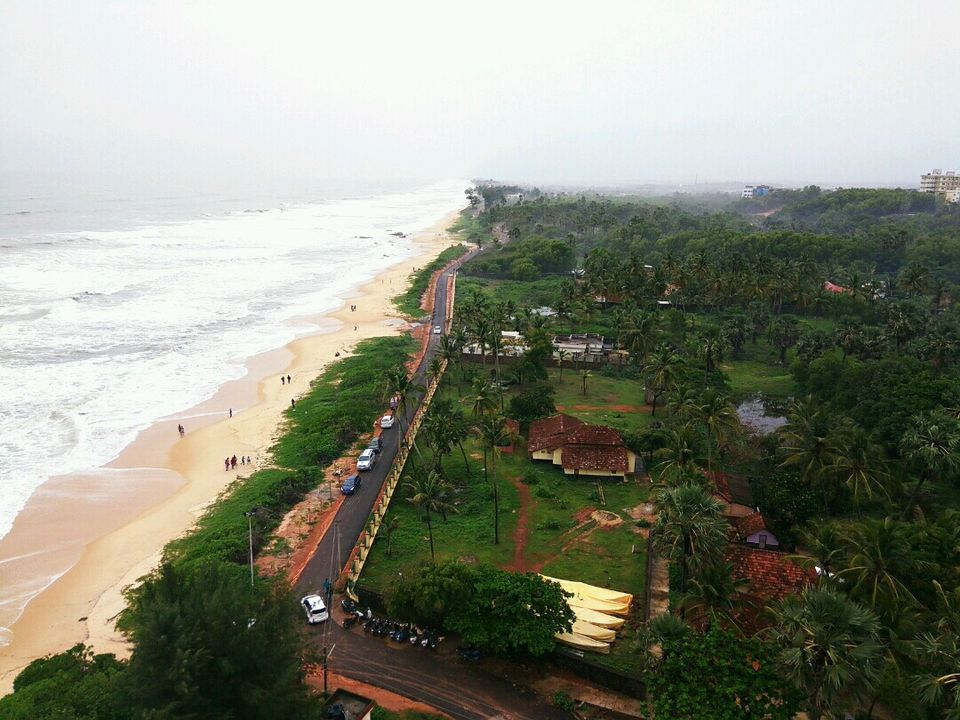 We sat there for a while and came back to our rooms to have lunch and after lunch we had to head for kudroli temple in evening . We had power nap in noon till rains stops and enjoyed it with cup of coffee . Then again we got on bus from Kankanady to Kudroli temple , we had to walk from main road to Temple and ask people for route . We got help from cute school going girl and had nice conversation with her . Such a nice soul ! She walked 1 km with us to guide us on opposite direction to her destination .
Finally we reached Kudroli temple and the temple is actually Gokarnanatheshwara Temple located at Kudroli area , Mangalore and also known as " Kudroli Sri Gokarnanatha Kshetra" , 2 km away from city .
NOTE : This temple has to be visited in evening or later evening to actually both the architectural beauty and great idols of Hindu Gods . The dasara festival is celebrated with much grandeur. The Dassera celebrations of this temple is popularly called Mangalore Dassera .
Gokarnanatha is another name for Lord Shiva and temple was built in 1912 by Adhyaksha Hoige Koragappa . At the entrance there's huge Nandi statue (Lord Shiva's great devotee and source of travel) .Then once you entered inside premises , you will get to see multiple temples .
There are Sai Baba's Temple , Lord Ganesha's temple , Lord Hanumana temple and all are really very marvlous and want you to hold back there .(from source: dols of Lord Ganapathy, Lord Subramanya, Goddess Annapoorneshwari, Lord Bhairava, the Nava Grahas (Lords of Nine Planets), Lord Shanishwara and Lord Shri Krishna has been installed at the Kshethra) On the left hand side of premises , there's marriage hall bulit by trustees for Manglorian people and statue of scene from great Mahabharata where Lord Krishna is explaining Bhagwadgita to Arjuna.
I could witnessed great Aarti (God's praising) in Lord Shiva's temple and get positivity and fill my soul with it .Once you take the darshan (blessings) , there's themed artificial lake and is surrouded by animal statues . We didn't realise how our time passed there and we had to come out due to time constraint .
Outside of Kshethra , we get variety of street food like chinese , chats , sweet corns and chai/coffee which we must try as we are in South Indian city and to know how street food is served here . We had different food items there and filled our stomach by that only and came back ton our room.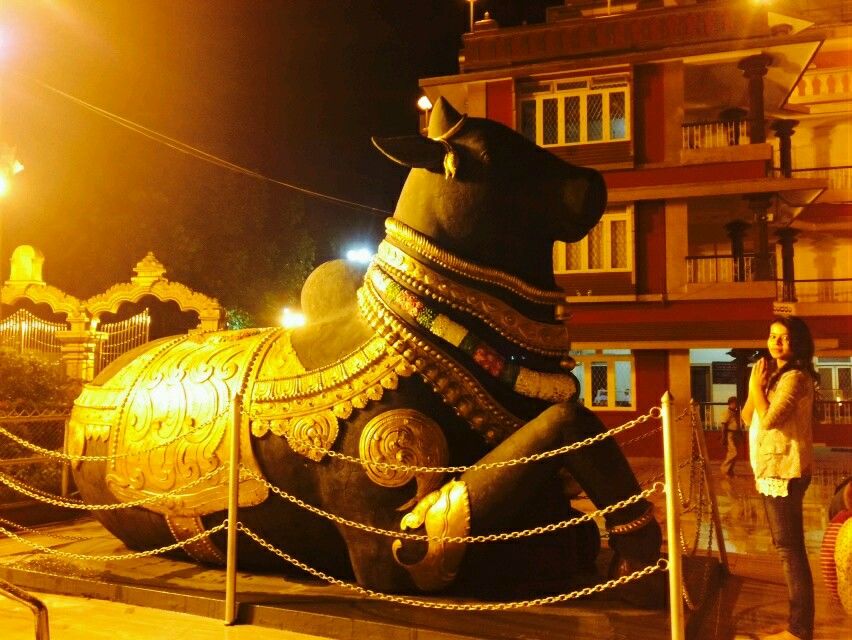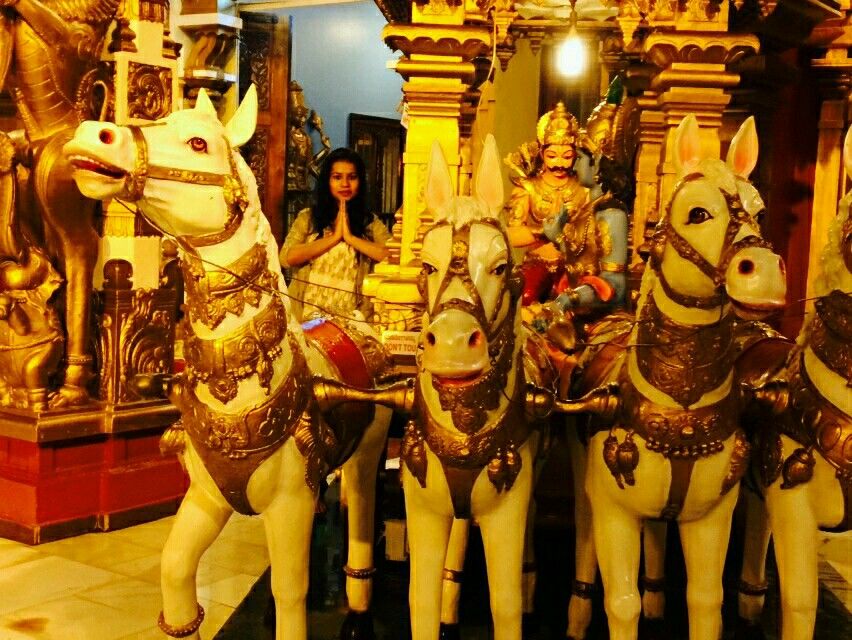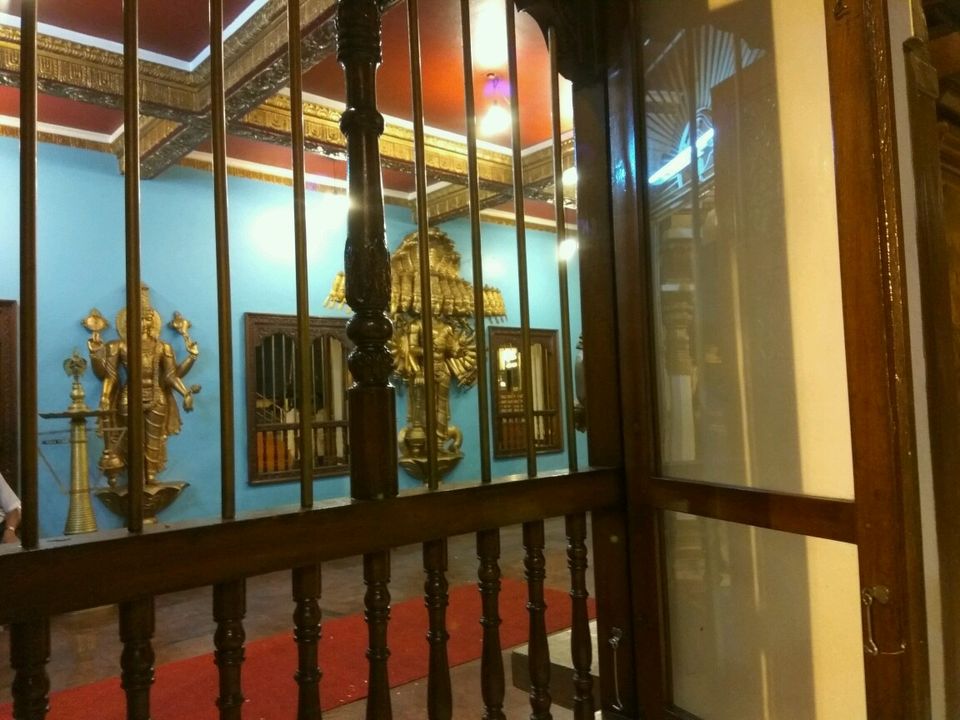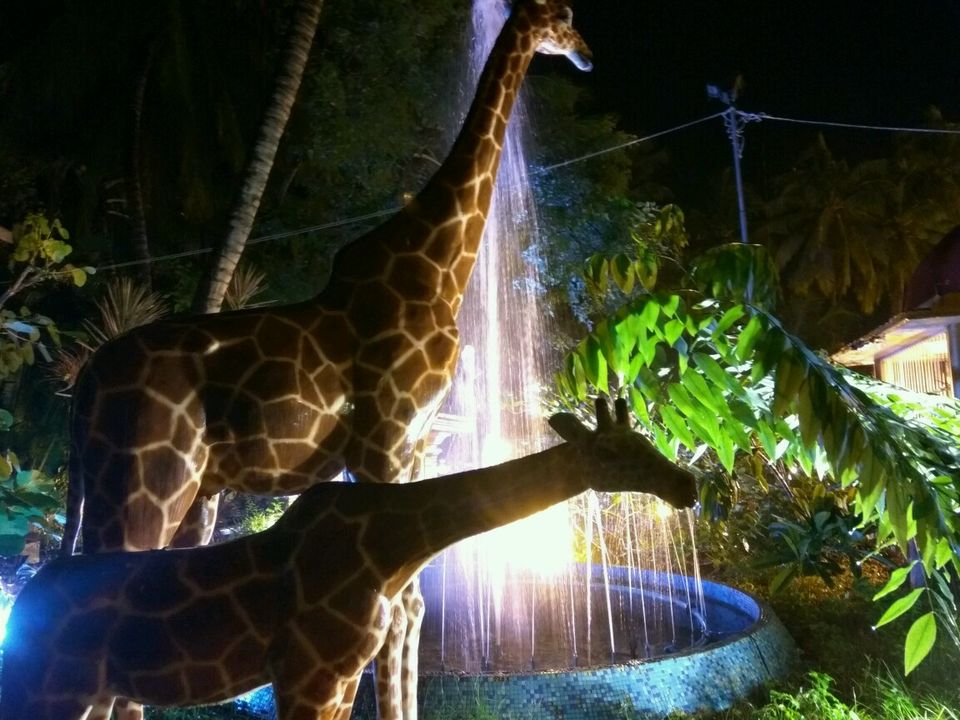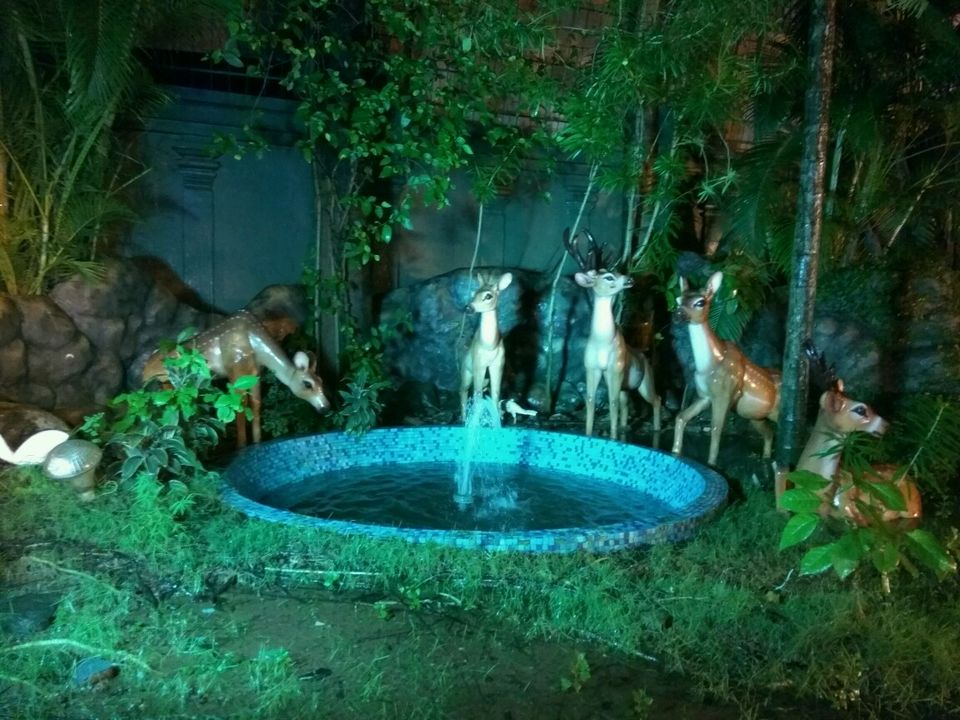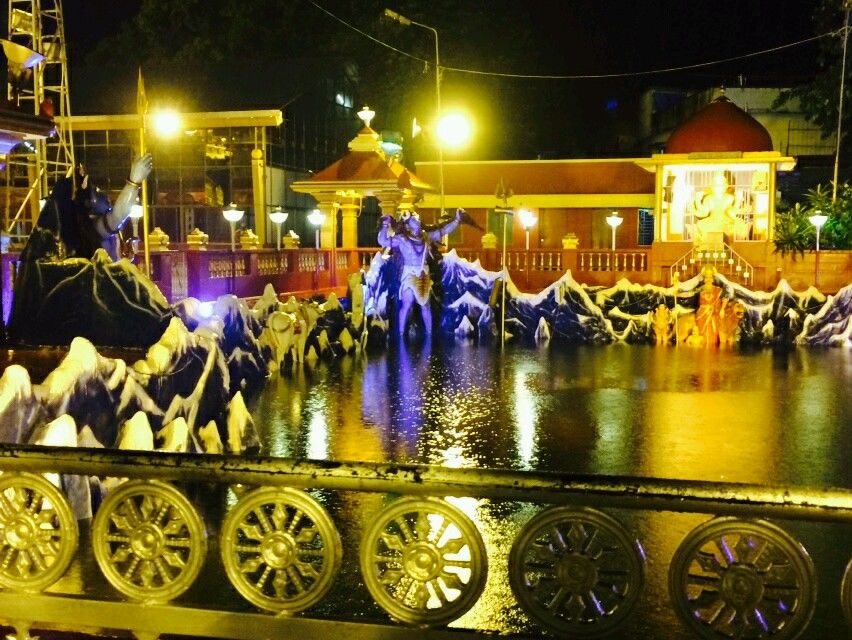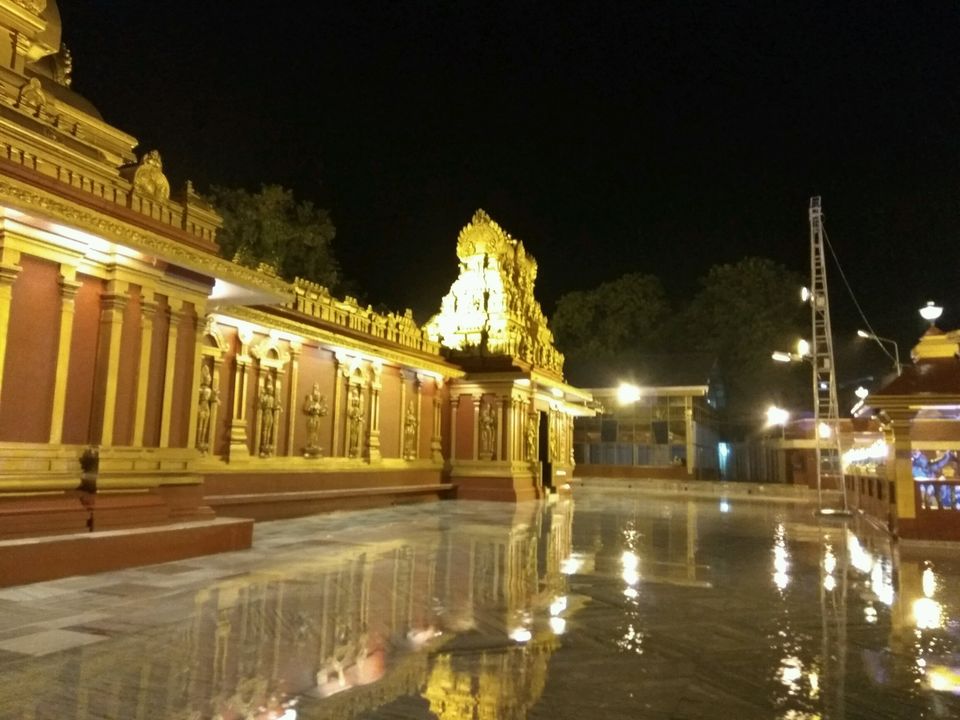 We got on some random bus to Someshwara beach which is nearly 10 km (25 mins) from Kankanady circle . City has very narrow and unplanned roads which city itself has unplanned architecture but it doesn't affect travelling across city or you won't find heavy traffic unless it is raining heavily.
We had to walk for 10 mins from bus stop to Someshwara beach . This was the first time in my life i could experienced this serenity and peace . Truly amazing city and beach ..........
Beach is very less crowded or no crowded , peaceful and clean as mirror . It has beautiful Siva's temple before the beach starts . Temple is open in morning and late evening but you can take darshan (blessings) of Lord Shiva from closed gate and chill out around the temple premises.
I met a new friend at the beach , isn't he so pretty ?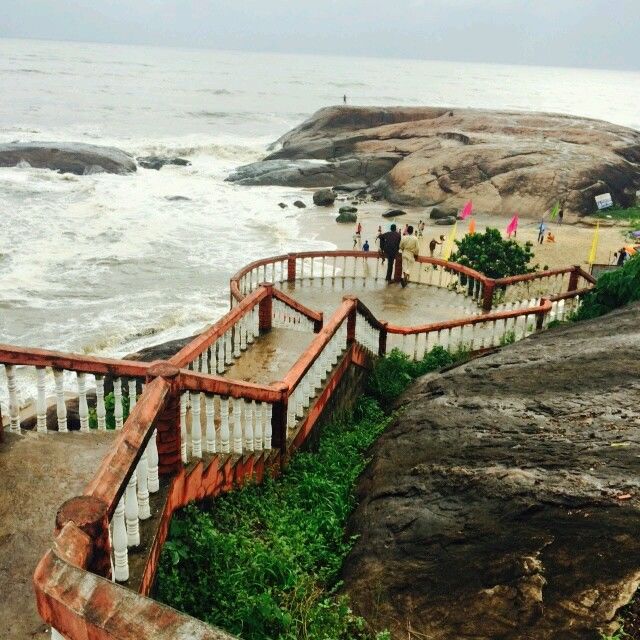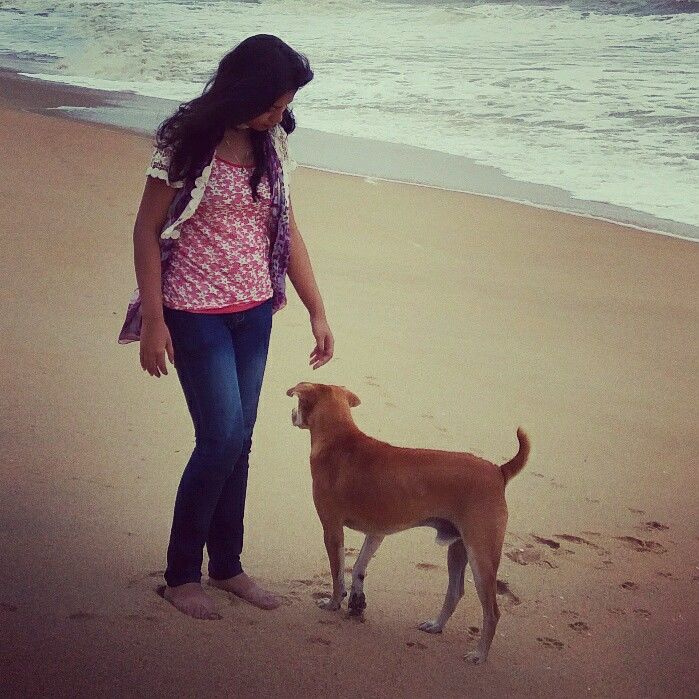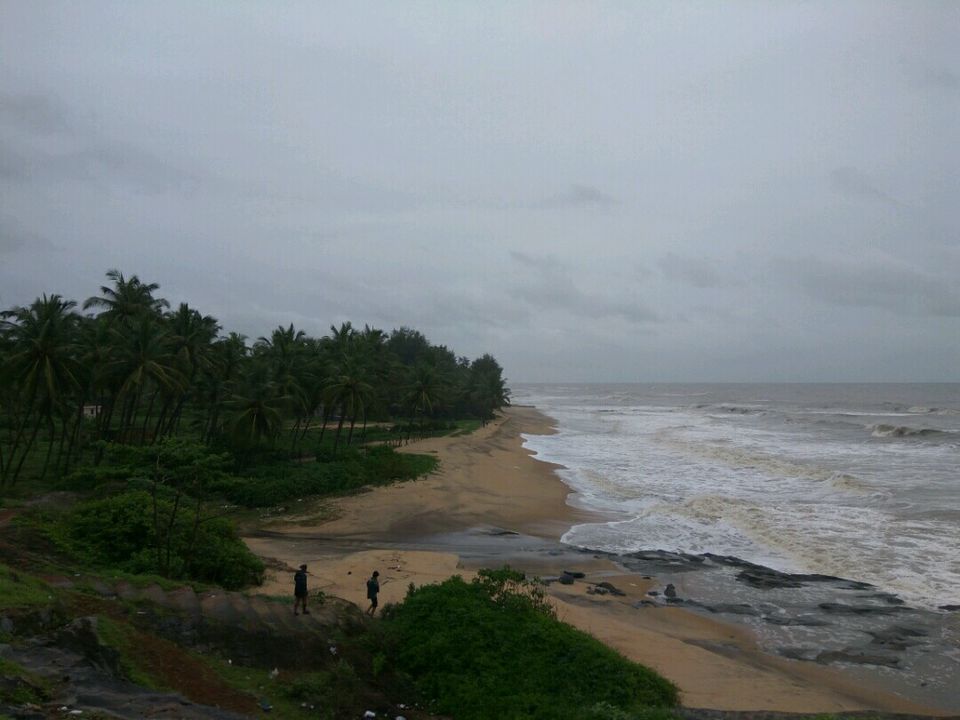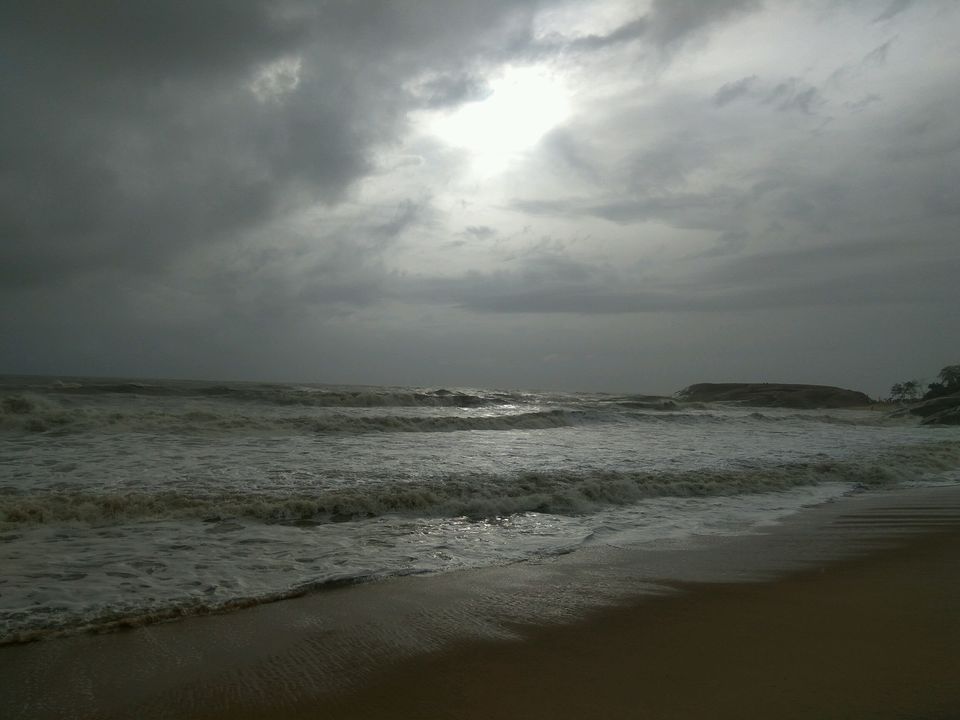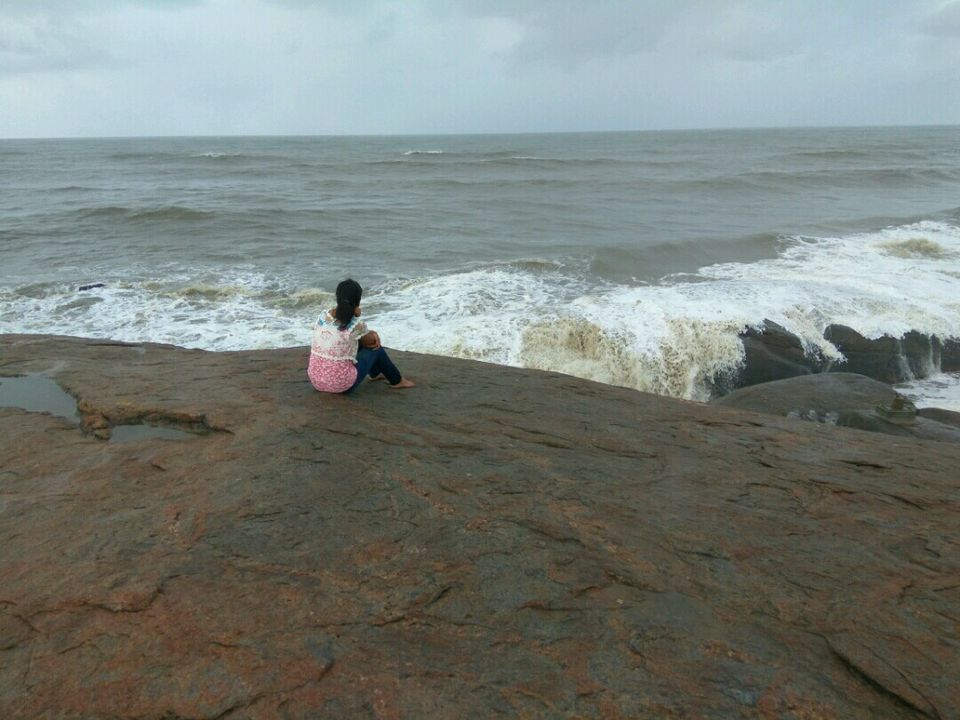 I been to St Vincent Ferrar church ,Valencia next to my friend's place and just opposite to Father Muller's hospital and college . This church is more 75 years old and very beautiful and spacious . There are several Churches in Mangalore but this was only church i visited due to time shortage and heavy rains .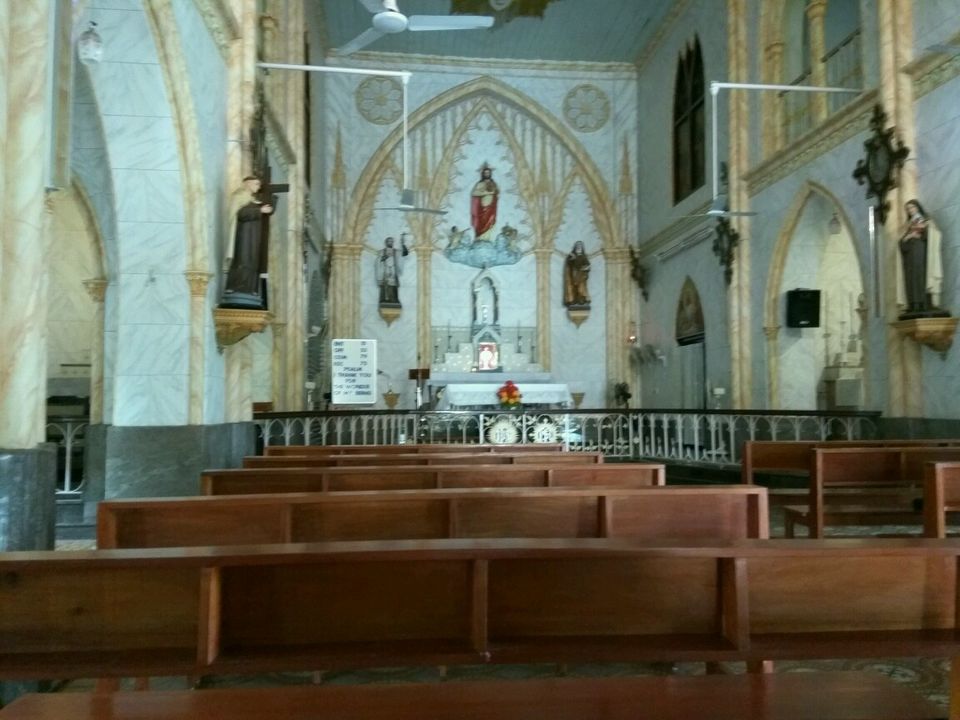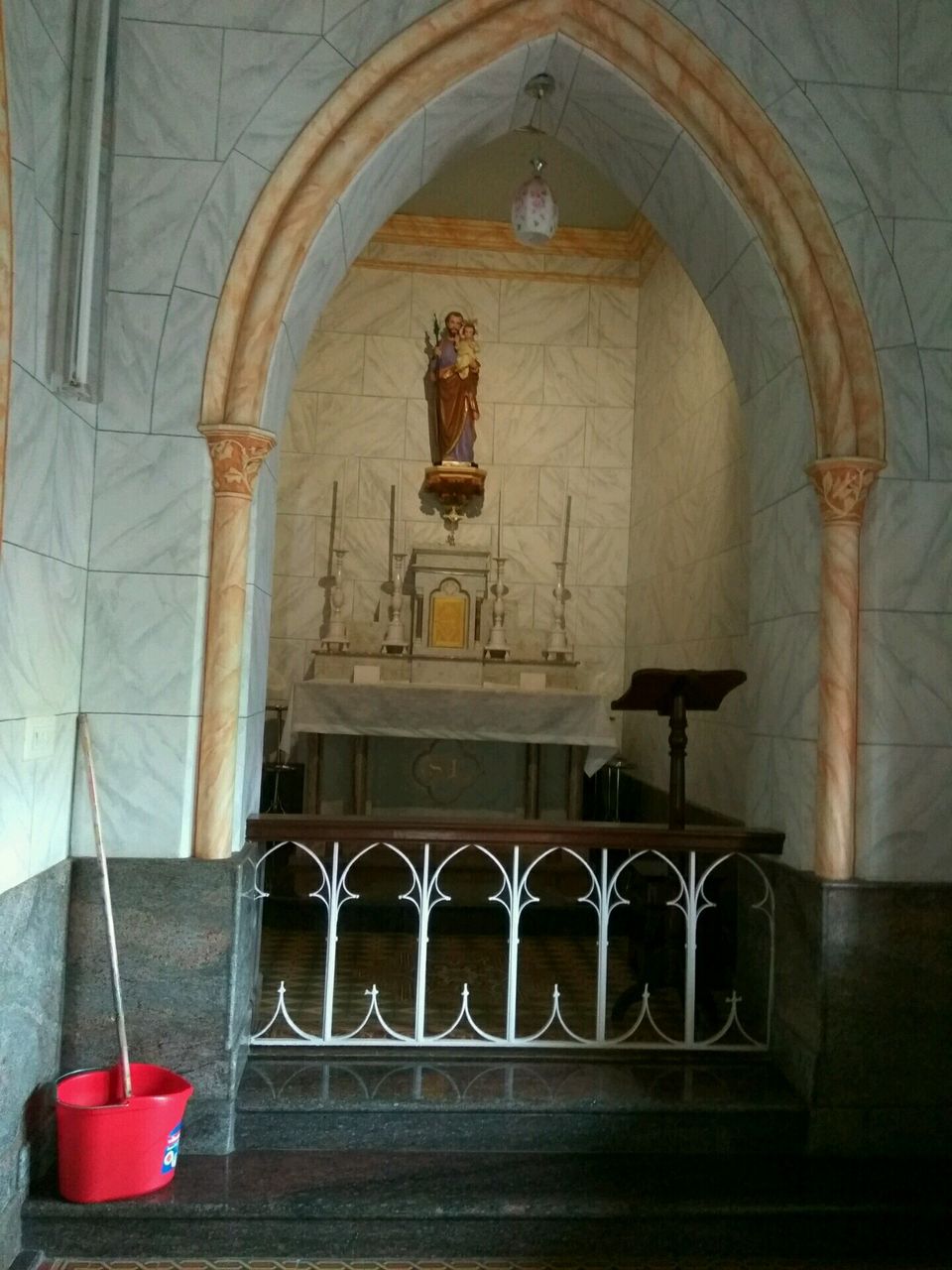 Sultan bathery is small watch tower constructed in the era of the emperor Tipu Sultan such that now the area and structure is almost decaying because of poor maintenance. You have to climb to the top of the watch tower by stairs, there is a panoramic view of Arabian Sea shows a blend of natural and man-made beauty.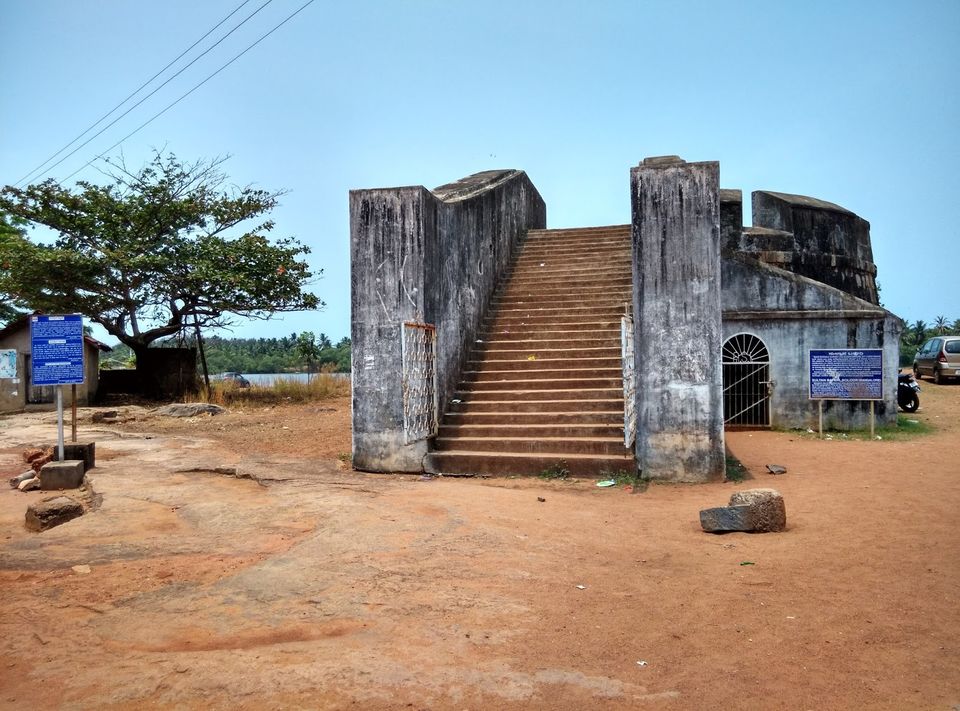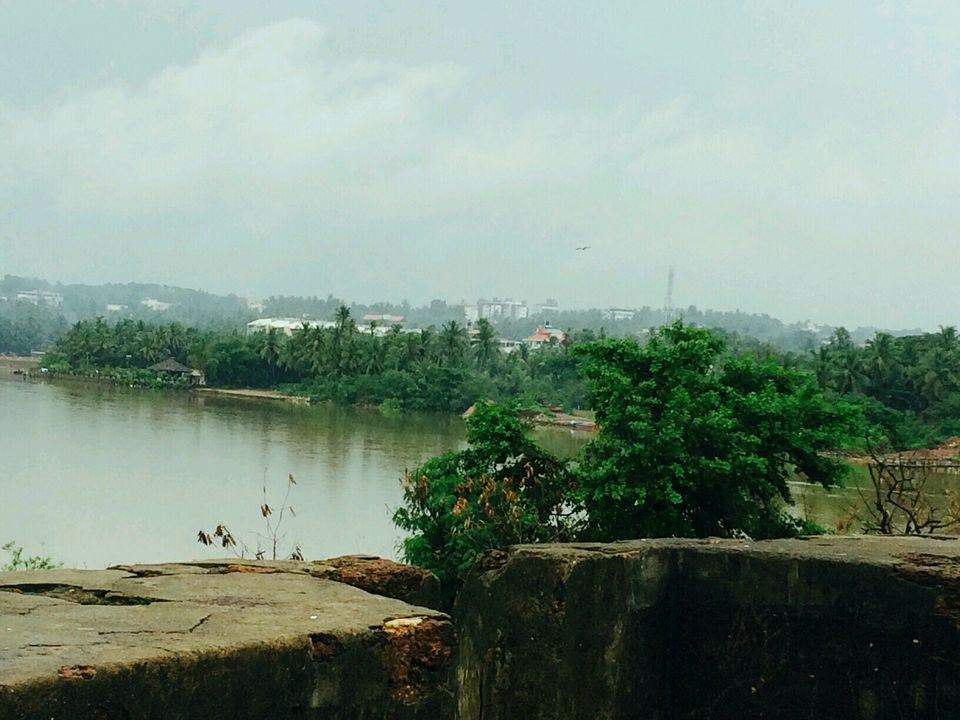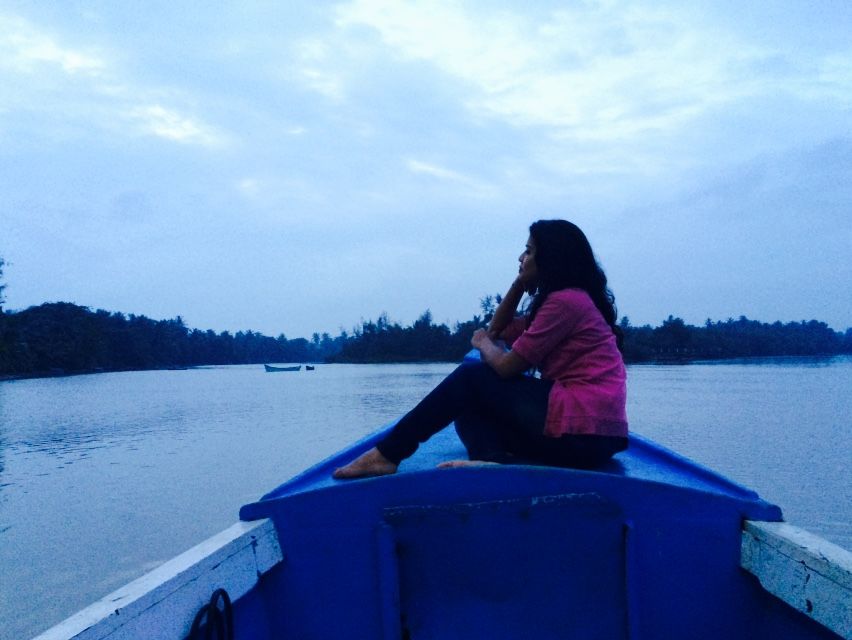 Day 3 : We had to go to Kapu beach via Lalbag . Because we had enough time , we decided to go to Kadri Manjunath Temple which is nearly 3 km from Valencia and has direct bus from Father Muller's road . The temple of Manjunatheshwara on the hills of Kadri is a very beautiful and popular temple in Mangalore. It is said to be built during the 10th or 11th century. It was converted to a complete stone structure during the 14th century.
The idol of Lord Manjunathaswamy of the temple is called as oldest of the South Indian temples. Photography inside temple is strictly prohibited . We could be part of Aarti (Hindu God's prayer including praising word's for God and ancient instruments).
I really love south indian instrumental devotional songs . It has some kinda spark and energy in it . In front of the temple, at an height there are a number of water ponds. There's a garden surrounding the ponds. When one walks down from there in front of the temple is a huge lightpole. During karthika maasa, deepothsava is held here. There are statues of Machendranath, Gorakanath, Shringinath, Lokeshwara, Manjushri, and Buddha in the temple.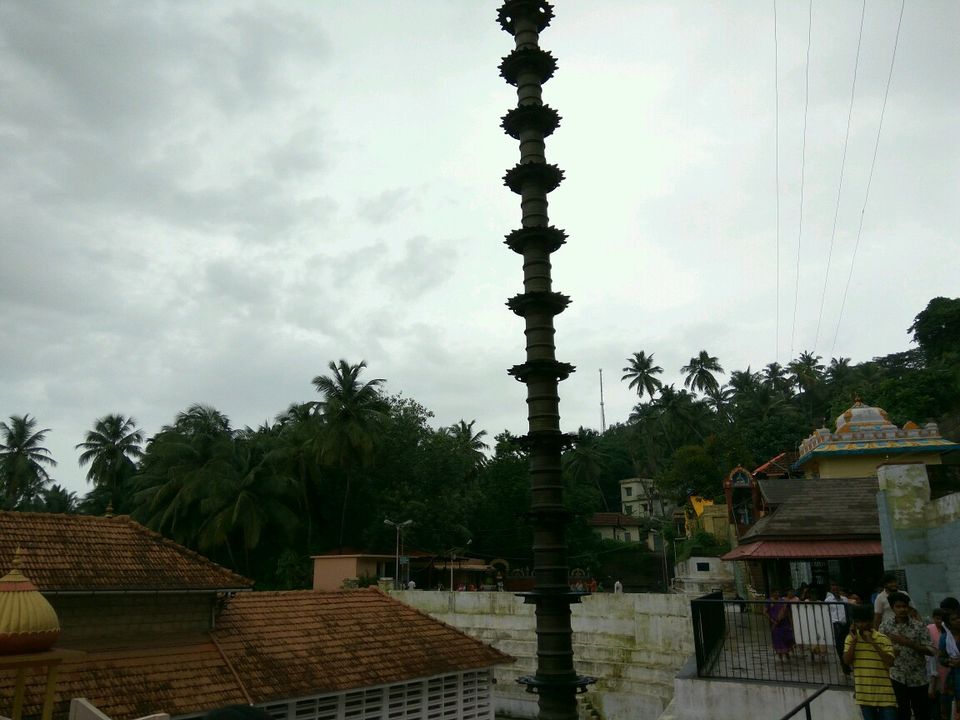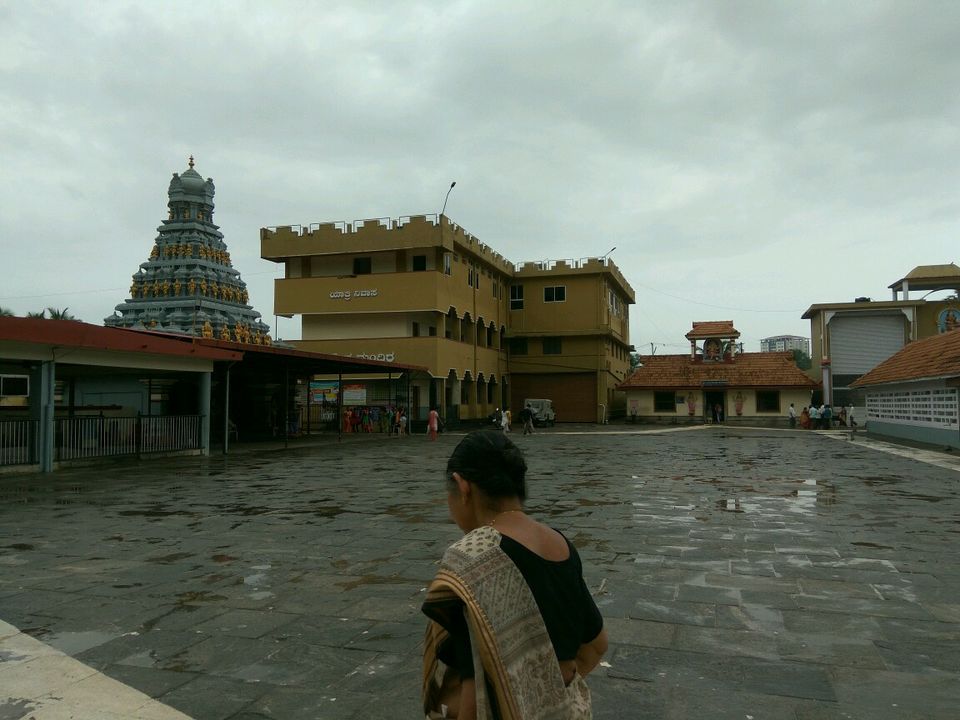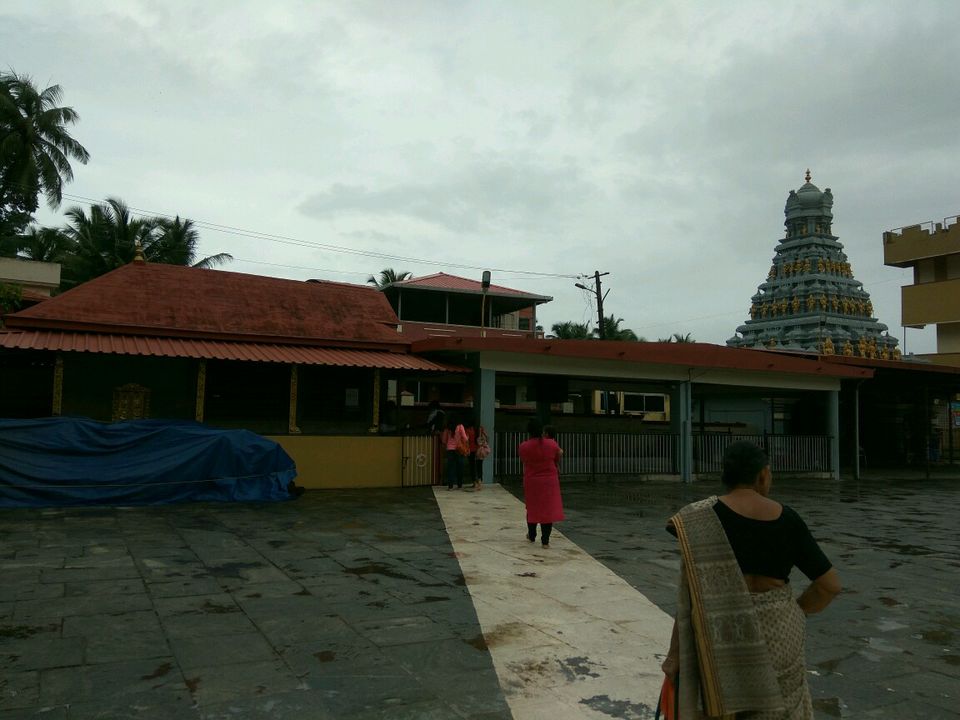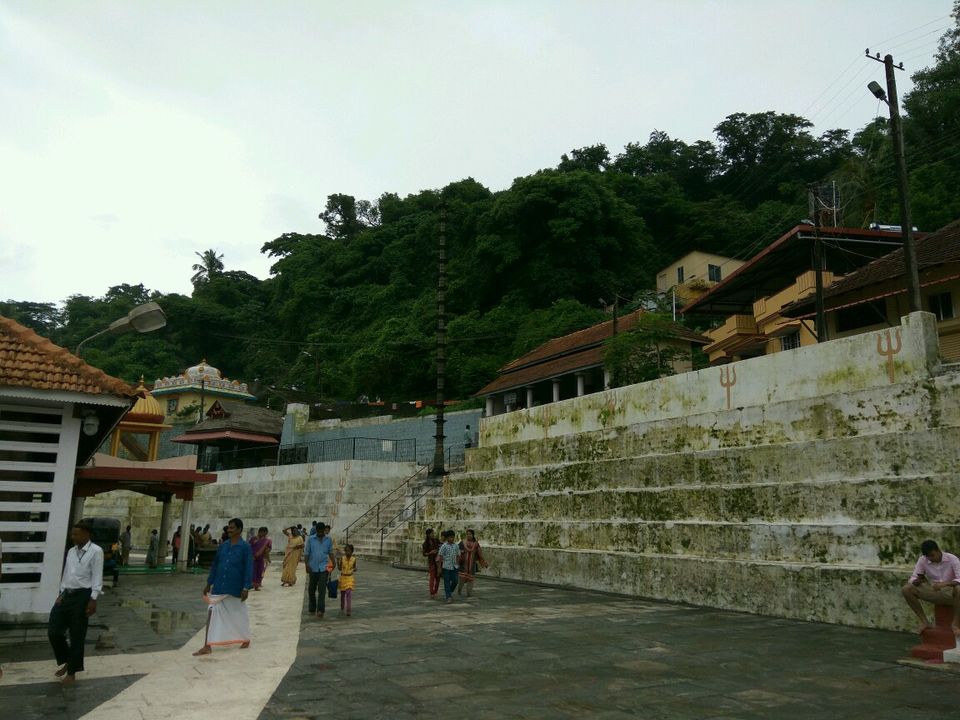 We had to take bus to Kapu beach, in between Mangalore and Udupi from Lalbag . There are private luxury buses travels from Lalbag to Udupi frequently and has fare around 200 rs. and distance near 43 km via NH66 . Kapu beach is quite crowdy than beaches in Mangalore and also you can have fun by going inside water and get drenched and lighthouse.
The lighthouse is open for visitors between 5PM to 6PM and the panoramic view offered is magnificent. The beach also sports a shack and a bar with seating in the open sky. The best time to visit Kapu beach is either during sunrise or sunset.
We got bored there very early and becuase we were very early for entering lighthouse so we moved on to our next destination , Surathkal beach . Distance between Kapu and Surathkal beach is nearly 30 km towards Mangalore and we took another bus from Kapu beach .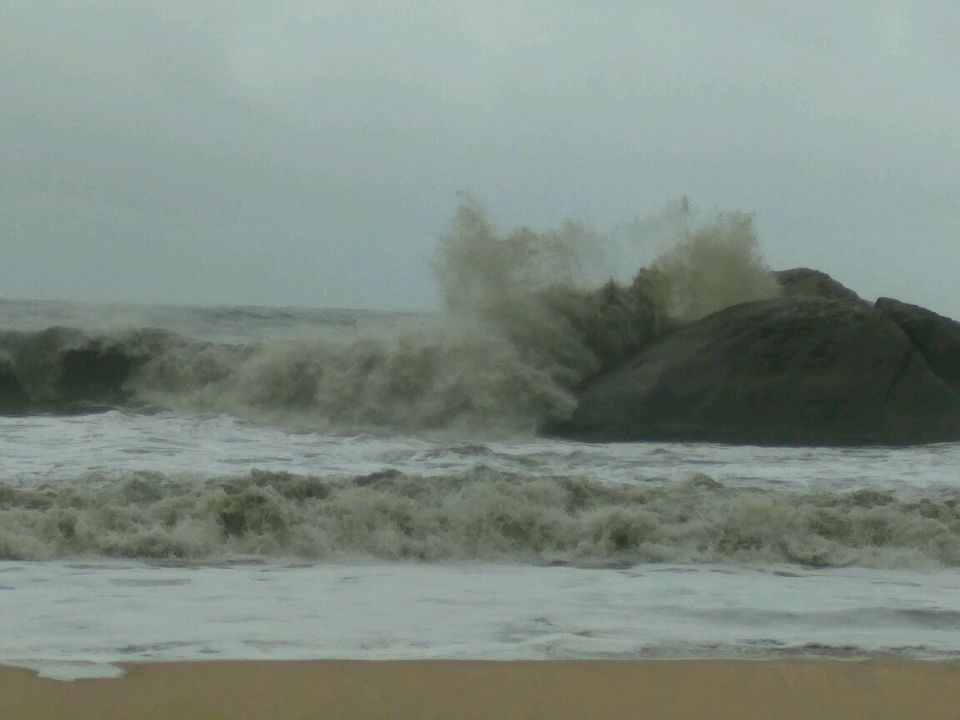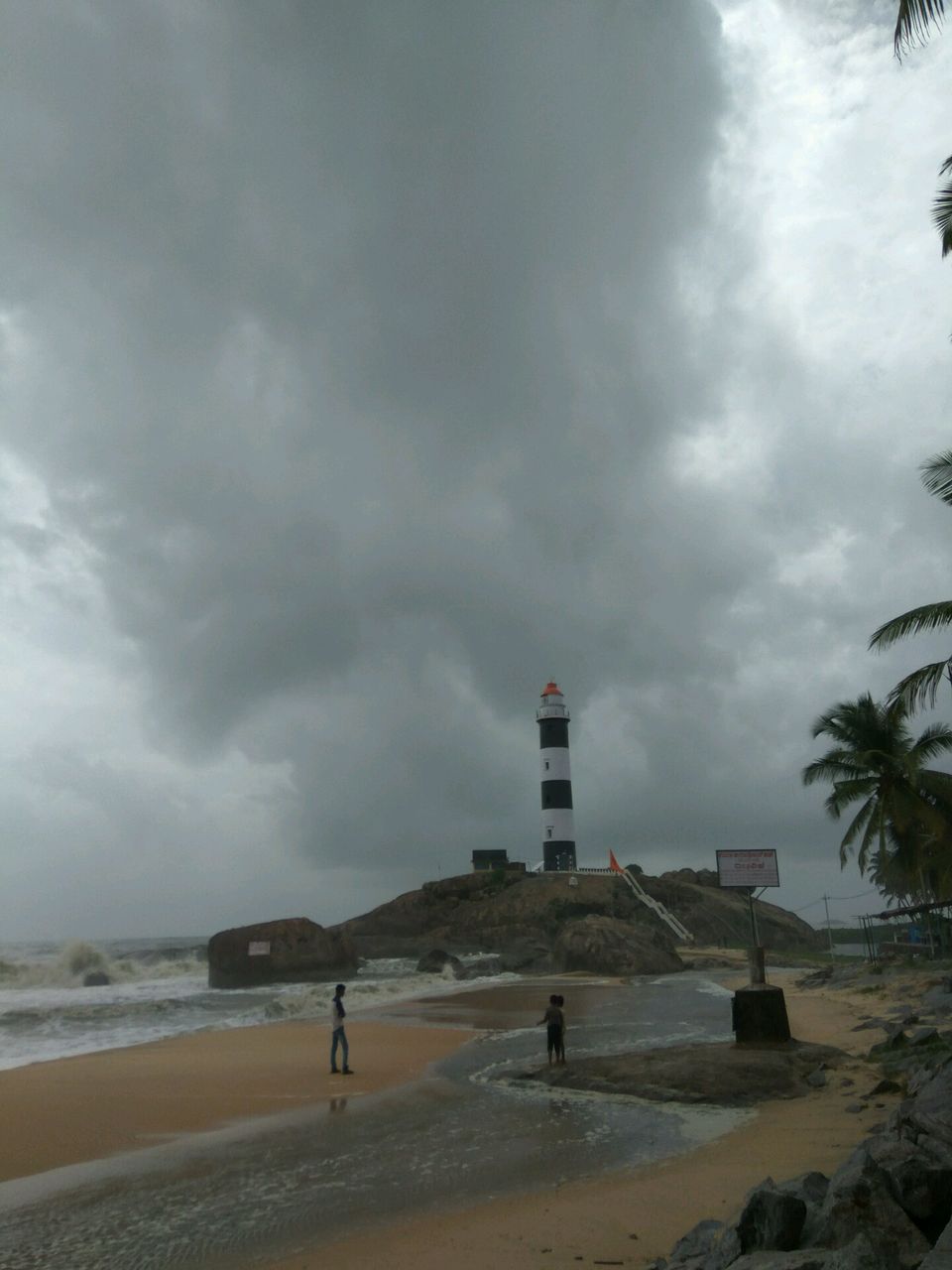 Day 4 : We got up early as it was raining heavily on that day and we had to cover two places on that day . One Mangladevi temple and Kudroli temple . Mangaldevi temple is 2.5 km away from Valencia and 3 km from Kankanady . The temple is dedicated to Hindu god Shakti in the form of Mangaladevi and city is named Mangalore after Mangaladevi .The temple is built in Kerala style very beautiful architecture and handled by hereditary trustees .
The temple is open daily from 6 a.m to 10 am in the morning and we went there by 9.30 am so we could take darshan(blessings) of Shri Mangaladevi inside temple. Darshan timings are ,
Navaratri (dussera) is the time for special pujas performed on all nine days.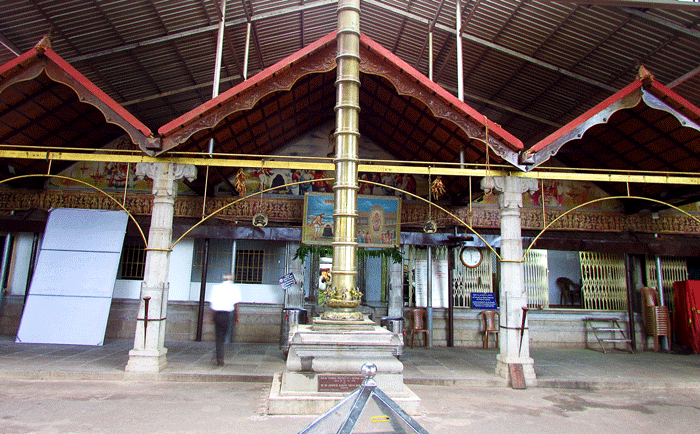 Day 5 : We spent this whole day at my friend's huge company premises after taking visitors permission from authorities and it was another great and peaceful day we had in Mangalore .
Another must visit Ice cream parlour is Hangyo which very popular and loved brand in Mangalore.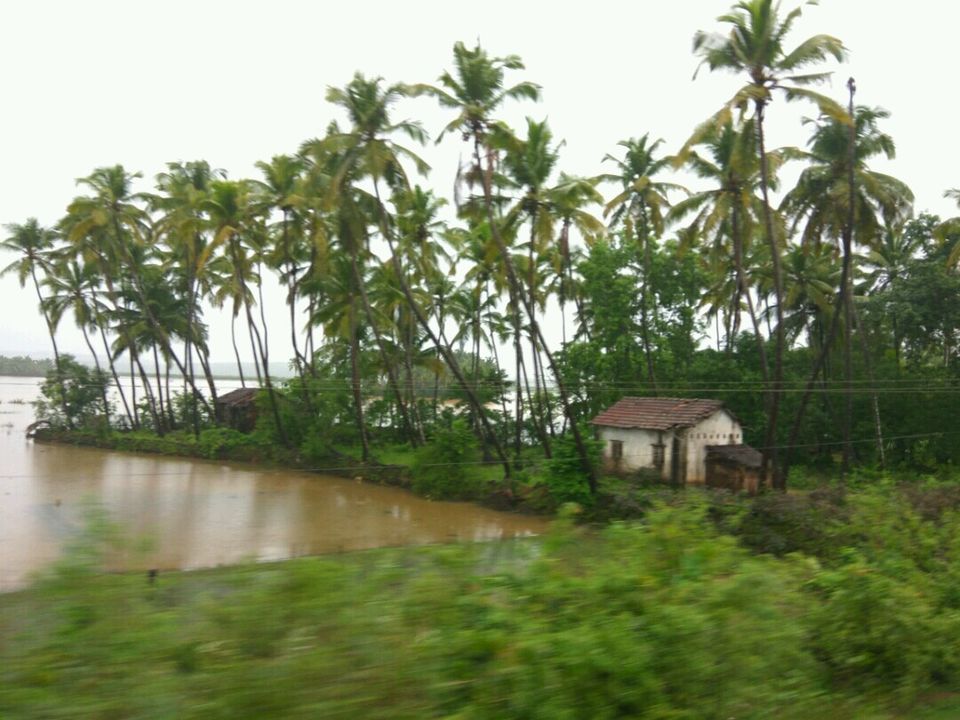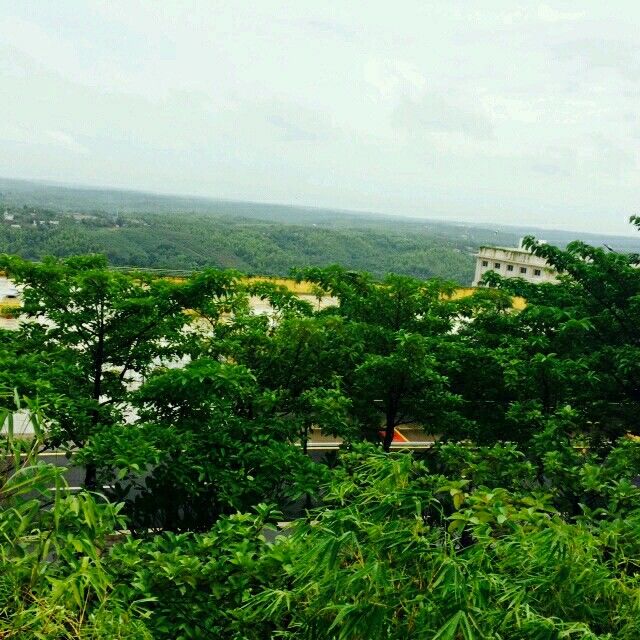 While leaving this amazing city on next day , i packed ghee mysore pak as usual from famous Karachi bakery near Kankanady and Mango barfi , jackfruits snacks ...........