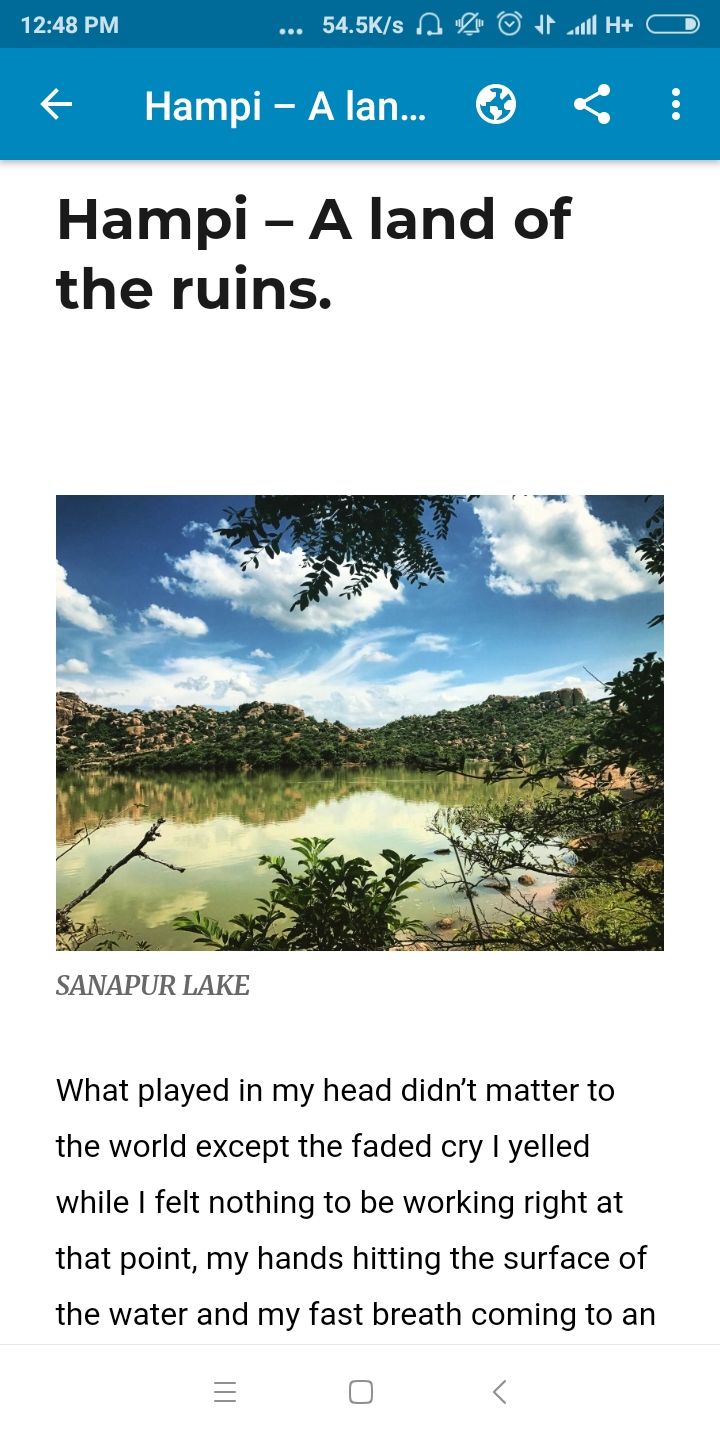 What played in my head didn't matter to the world except the faded cry I yelled while I felt nothing to be working right at that point, my hands hitting the surface of the water and my fast breath coming to an end. Yes, I was drowning into A land of the ruins.
The difference between the first few kms and the point where I felt I wouldn't be able to make it was nothing but the realisation that if I fail now, I'll do it later but if I push myself right away then I'll be happier than ever. The bullet did not stop nor did I. Through the speed breakers and the dust that washed my body completely, nearly covering a distance of 350 kms , I reached this land where the hippies progressed.
The absence of the ground made it even worse, it seemed as if the forces of nature were not reciprocative enough, as if it was absolutely erroneous. I could not feel, it was almost like a hurricane which was limited to only where my presence existed. I moved away like a dead wave from where I felt like I might survive to somewhere I never imagined to have opened my eyes.
Only after an argument with the attender of a distorted homestay did we get a fresh room to stretch our uncracked bodies. It was actually the uncertainty of the bumps on the road that led to the imbalance of the bike and it fell on my right with the silencer burning my lower right leg. The excitement to explore the place didn't really make me realise the gravity of the situation and here we were standing awestruck by the huge boulders covering half of our sight and the uncoventionality of the weather spreading over the greenery that surrounded the huts which we didn't notice earlier.
The matter of life in death was still visible, still feasible but for how long ? I could see no help. Life flew as time passed and giving up wasn't an option that I would ever consider. I still couldn't get over the shock that I went through that very second when I was about to touch the water filled with provocations, explications of life, a leap over fear and most importantly a lesson that entirely changed my perception about living. What's more difficult ? death or the feeling of it ? I would say non. It's the powerful anxiety that saturates the mind of losing life, the fear that I inhale of losing the opportunity to make a difference in every life processes that I thought needed a diverse feeling to it? death occurs to all , true, I say life occured too, did you think about it or made it worth the existence ?
Nope, we couldn't stop ourselves from living in one of those magnificent huts and ending our fatigue day by listening to some good music in a cafe where people just didn't come to take instagram photos but also to people watch and experience life off social media, yes, it was that magical. Our skin looked lifeless next day when we went out to explore more of Hampi because of the direct sun which sheltered us until the horizon came into existence. As we sat down against the rocks which were at a height of 15 feet above the water level and saw the sun moving down, we couldn't help but to just let our minds wander off with the stillness of the unflustered feeling which was unfurled all around.
A sigh of relief inflicted all of a sudden when a man on a coracle pulled me out of the water who probably came after one of my mates reached for help. I clutched myself onto the basket and let my teeming skin discern the cold water for the last time as he was rowing towards the edge of the lake. I survived, it just felt unbelievable then.
Let's jump! We decided. 2 beers down after mustering all the courage I decided to scamper from one end to the edge of the boulder and then plunged into the water. While I flew blind towards it, I said to myself ," I'm gonna be saved !"
Things that should not be missed in Hampi :
· If you live anywhere around Hampi ( 300 kms - 400 kms ) a bike ride is a must ! The road is a little bad in some areas but it's worth it !
· Living in one of those bamboo huts of course ! The view is incredible and comparatively cheaper than the homestays!
· Spending time in one of those cafes where music is in the air. An evening to it would only make your stay great ! Sai plaza cafe is your place to go !
· Chilling near the Tungabhadra river after dinner ! It's a hippie's dream experience for a reason !
· One can never get bored of those coracles! From crossing the river to spinning on the lake, those are the best form of fun !
· Climbing the huge boulders near the Sanapur lake! Best view of sunrise and sunset !
· Swimmers, you cannot miss to not to jump from one of those huge boulders into the Sanapur lake! Run, dive and swim !
· Last but not the least, check out the historical places in this land of the ruins! Some of them are - Zenana Enclosure, Elephant stables,queens bath, Archaeological museum, the kings balance,Vijaya Vittala temple and Virupaksha temple.
Things to remember / tips :
· Carrying a life jacket is important if you don't know how to swim!
· Wearing denims while on the bike, the roads are bad and if at all the bike falls on your leg, you don't want the silencer to burn it !
· Alcohol, medicines and other stuff like toiletries and snacks are not easily available there so it's better if you carry some of your own !
· Torch / any other light source would be really helpful because it becomes really dark at night since the place doesn't have much artificial light!
· If you decide to stay on the other side of the river , it will be better to leave the bike near the river instead of transporting it to the other side. You can get bikes on rent and it will also save you from a lot of work!
· Best time to go to Hampi is during early winters ( September - November ) since it will save you from a lot of heat during the summers!
· 2 days in Hampi is more than enough! It's a perfect weekend getaway!
· The streets aren't good so it's better to wear shoes than sandals or slippers!
· Light clothes are recommended but do carry at least one jacket since the nights are cool!
· Keep your belongings safe because there are a lot of monkeys, they might snatch it away !