All of us have studied here and there about the stone age. All of us have seen pictures of it too.
Ever seen it come to life?
Boulders and the evidence of the beautiful architecture of the Vijaynagara Empire is what Hampi is all about. Now this might sound mundane, but as you approach this little heaven, you'll know exactly what i'm talking about.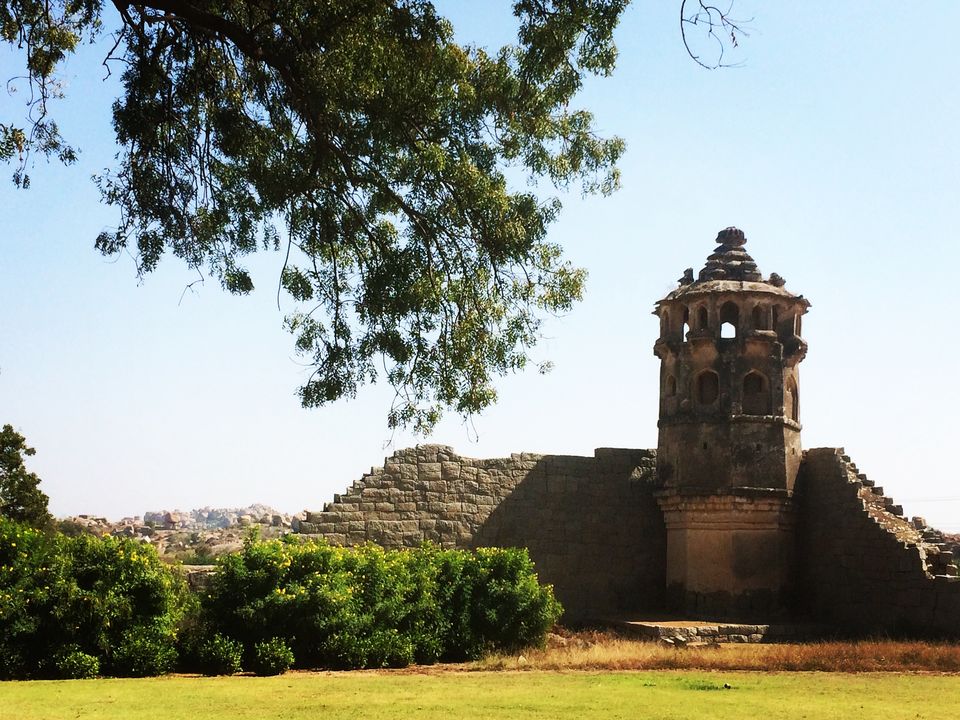 Hampi is a little village in Karnataka, India, a UNESCO world heritage site, for all the right reasons. We left from Pune by bus ( You could do that too if you live anywhere in Karnataka or the neighbouring states ) and we reached early morning at the nearest major bus stop to Hampi which is in Hospet. Hospet is merely 10 kms away from the village, and there are plenty of options to get there. Once you reach, you'll see a river overlooking the entrance of the village and a boat crossing every other minute taking people across. That is the boat you have to hop on to get to the other side and witness some cultural difference. The side you get off at first when you reach is the main village, called the Hampi Bazaar side. It has all the temples, all the beautiful intricate structures of 1500 AD. i had already done some research before leaving so we chose to stay on the other side considering better accommodation and food options. The boat is in service only till 5 pm, so we thought it would be better to come back the next day and explore the bazaar side and leave directly from here.
Once across the river, you walk 10 steps and the line of cafes and guesthouses begin. You can choose your type of accommodation, which is either a normal room with a communal washroom or an attached one. Prices vary. Since we'd gone during season time, we gulped the hiked price and took a room with an attached washroom. Hardly any Indians, the cultural difference that I talked about earlier was the hippie culture present on this side. Baggy clothes and no connection to the outside world, there is something really fascinating about these people, who were seen in abundance here. Moving on, Hampi offers tourists only on this side of the river the option of any type of two wheeler to hire, from a bicycle to a bike. We found a middle ground and hired a scooty to reminisce our Goa memories ( rental prices are also the same as Goa) after some freshening up. As you leave on your two wheeler, You would come across boulders, boulders and some more boulders. Not a pinch of civilization it seems, with broken walls and pillars here and there, it definitely is a city of ruins.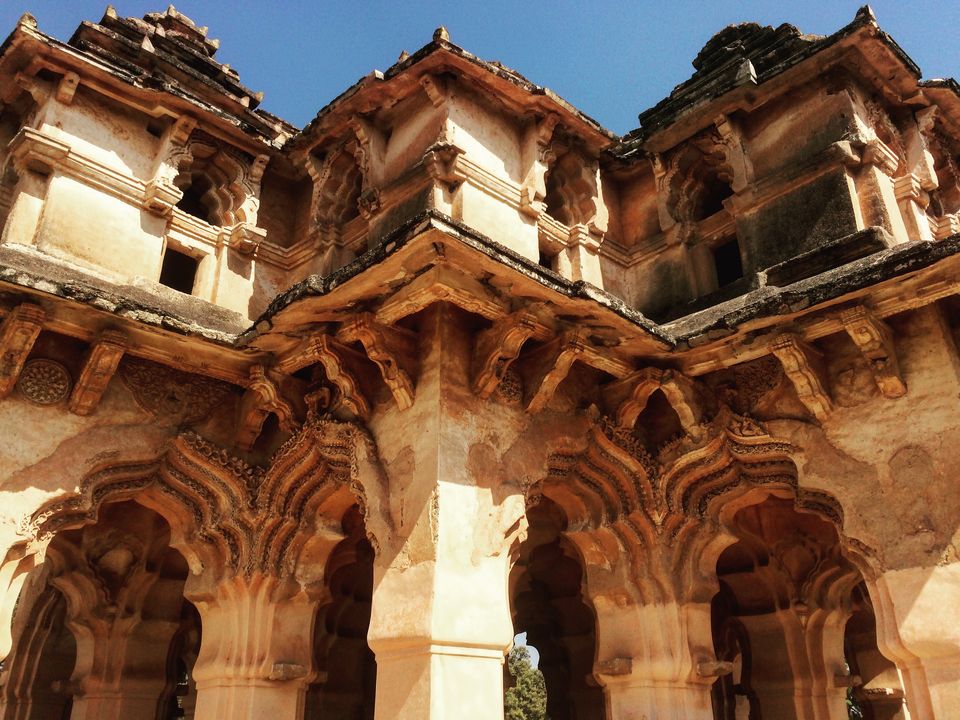 The one road you take to exit the small setting of guesthouses, leads to a T point. Right you go to an unexpected petrol pump, the village of Anegundi, and lets not forget its an endless road to god knows where. Left takes you to the village of Sanapur and a small cut in the village leads you to the majestic landscape of a river. Beyond this, there is a Hanuman temple, which is said to be the birth place of Hanuman, and at present there are tons of monkeys there. Not being a fan of monkeys, we decided not to visit this temple. So we first took the right and went onto that unending road cluelessly. It wasnt a total waste because the view was simply breathtaking. I felt I was in a different era, all I needed next was a heavy Indian attire to feel like a queen back in the day. We chose to turn back and visit the village of Anegundi, which has nothing much to offer to Indians, mostly handicrafts which we get easily in almost every part of the country.
We went straight going towards the 'left' of the T point. Kms ahead reaching the lake, something I've always wished to do, I witnessed a man jump off a cliff. In a second I knew this was it. I could finally cliff dive. My friend jumped off successfully in the river and swam back to the land. I counted the number of years it had been since I had swam in my head, concluding the possibility of a major risk for me to dive without full confidence. I had to take a step back, but I promised myself to refresh my skills and come back again!
Leaving the riverside, we left for our guesthouse again, making stops on our way simply to chill on the boulders. On reaching the guesthouse setting in the evening, we did some hopeless shopping and chose one of the beautifully lit cafes for our dinner. The food, undoubtedly is amazing. Not very cheap and not very expensive, there is a wide variety of cuisine to choose from.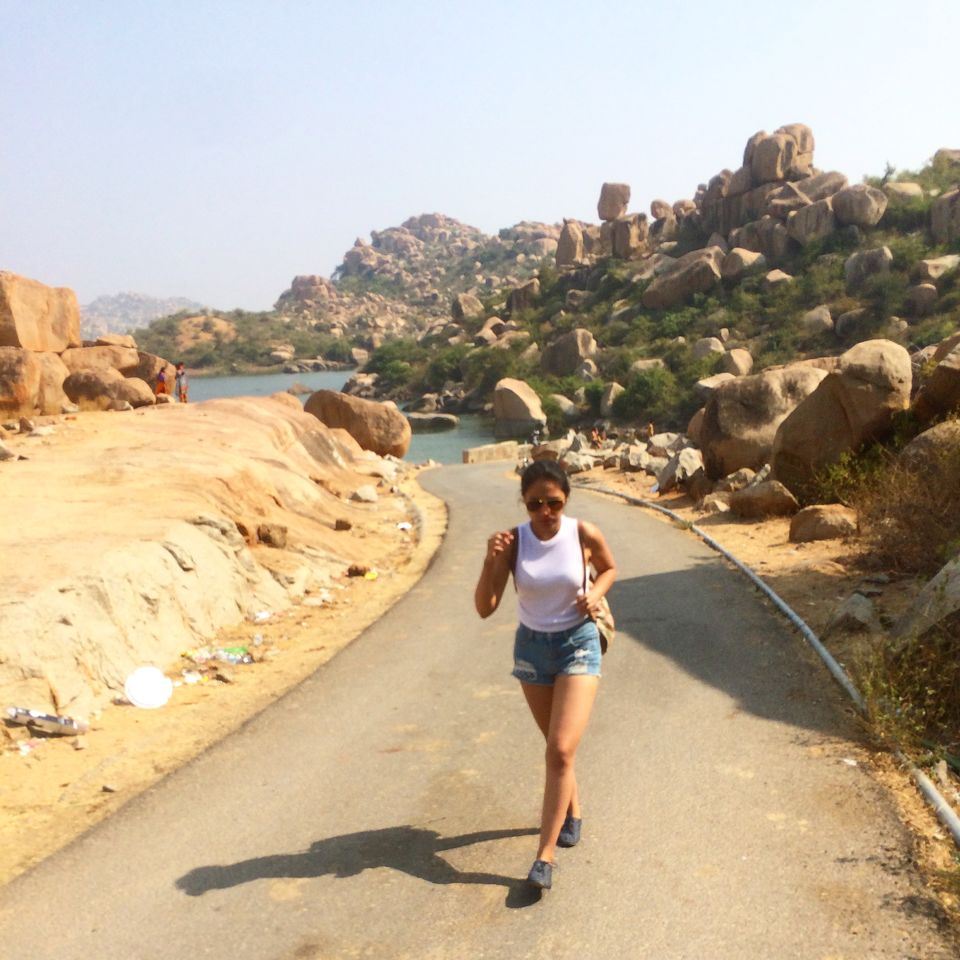 Day 2, We bid goodbye to this side and went on the other side via the boat again. Hampi bazaar side is where the locals live. Not stopping at the bazaar because it mostly sold stuff uncanny to foreigners, we set off on our 4 hour sightseeing plan, covering all the temples. Since all the temples were few kms away from each other and some in groups together, we hired an auto to take us everywhere (No two wheeler to rent available on this side like i mentioned before). We first visited a group of temples and structures side by side. I genuinely cannot name all because there were a lottt however to name a few - Lotus ( Its not a functional Temple, just a historic monument. There are gardens and its simply to beautiful to gaze at, or probably chill ) , Hazararam Temple - So gorgeous, you can actually see characters from Ramayana carved out on the walls of this temple, again not a functional one, just a monument ) , Queen's bath - As the name suggests and for other women too.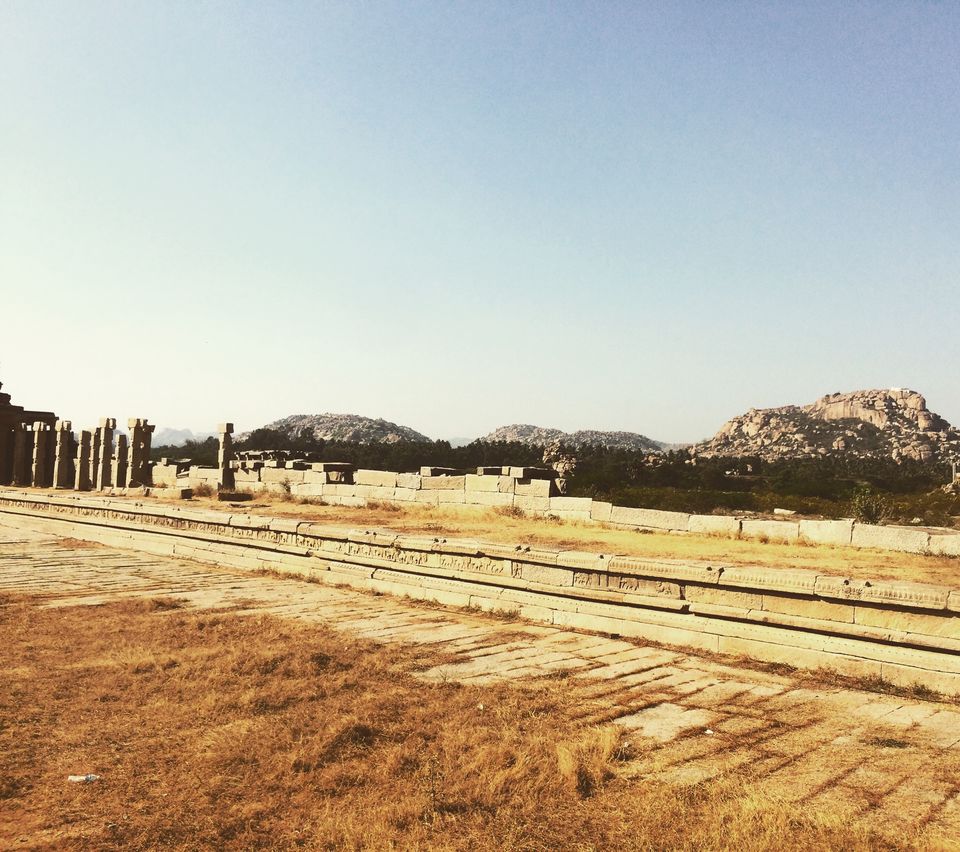 Next we went to the biggest and the most fine evidence of the beautiful Vijaynagara empire, the Vittala Temple. The queue to get here is longgggg and frustrating but totally worth it. A little rickshaw/bus ride to the temple from the entrance, you go in there and prepare to be mesmerized. The approaching road to the temple looks out of some historical epic, only you're not watching, you're in it. The temple is nothing like i've seen before, again not a functional temple. At one point, there's the peak of the temple, and behind are the huge boulders, you simply cannot believe you're in the same world you came from a day back. Returning, we stopped to visit our last set of temples.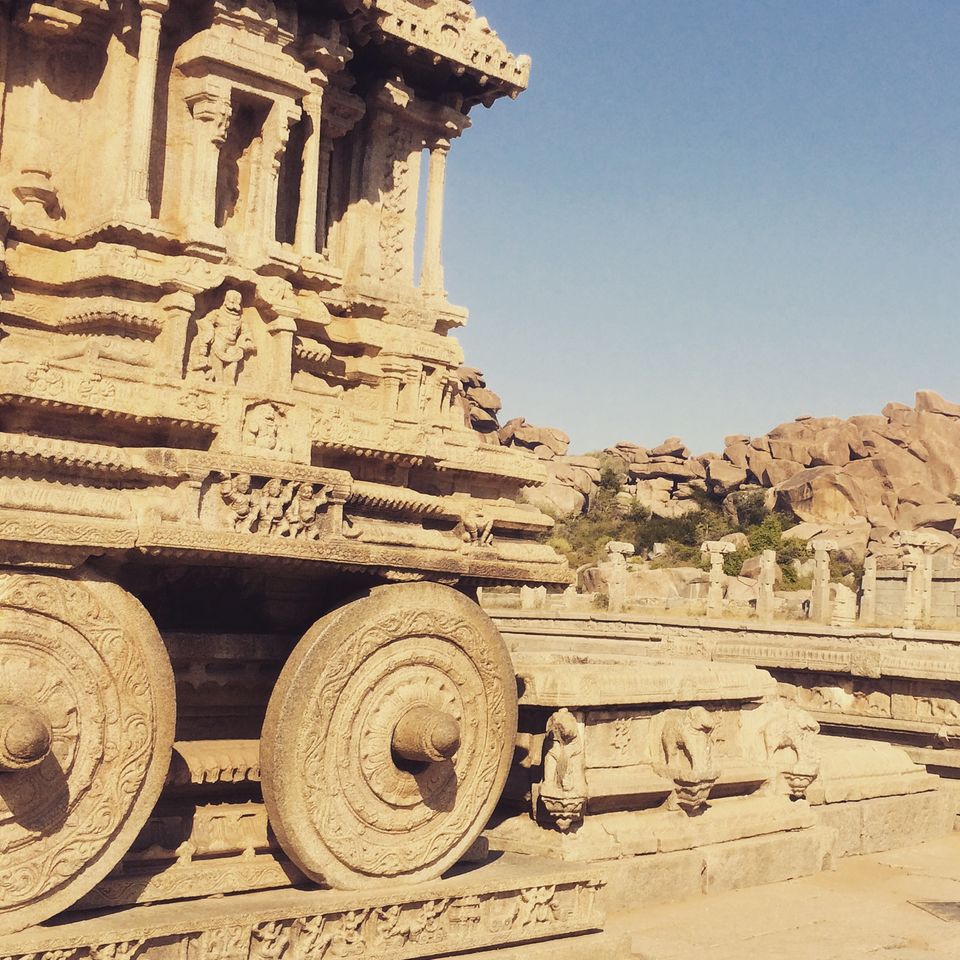 Virupaksha Temple, the functional and the most important temple of the village, is an eye catching one. Its again a beautiful one, next to two other temples very different from it. The Hemakutta Temple was at a 50 step peak, you could witness the whole village of Hampi from there. No kidding, I felt I was looking at a Jurassic Park film set come to life. In between there was the Ganesha Temple, with a 20 ft huge Ganesha, looking so majestic and humble at the same time. I paid my gratitude and we left to exit the village of Hampi.
Hampi has Boulder climbing activities too, only time did not permit us to do the same. Its the perfect place for history and nature lovers. I would go back there a 100 times, simply because it makes you believe and realise that a world like this existed before the one we live in.