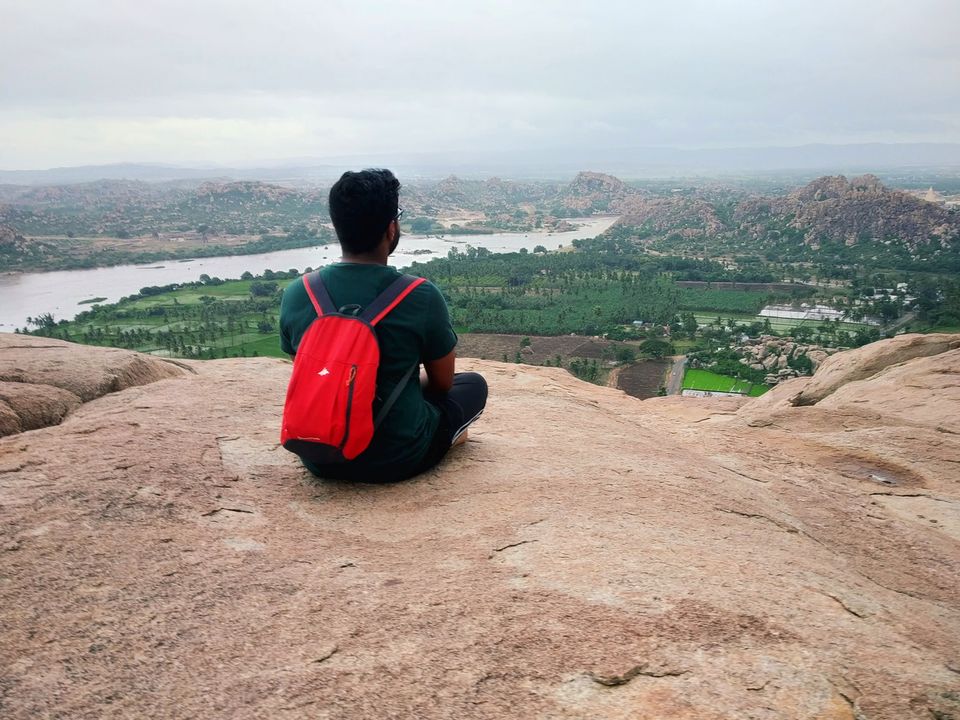 June 2018, Delhi's heat and the not-so-productive Orthopaedics internship , allowing me to browse travel articles 24X7 besides my college mates constantly uploading their recent trips on Facebook. Well, these reasons were annoying enough, if not convincing enough to make me step out of Delhi and take a break with myself. Guess what, elective duties (a clever way to take some time out for a vacation) were coming in July. The scorching summers would have naturally paved the way for a Himalayan tour but then the sheer number of previous trips to Himachal, rawness of Uttarakhand and the distance to North East made me reconsider it. And then, just like the Lumos charm, a beautiful word HAMPI sparked in my mind; not because I saw a link to it somewhere but because during my last several trips, most of the western travelers I met in various hostels had Hampi on the tip of their tongues and I knew that these PHORAN guys were way better in exploring places in our country when compared to us.
Bas, I started browsing articles and whatever I came across over the internet, left me spellbound.Temples, boulders, coracle rides,raw nature. I was literally thinking about them for the next one month. So much, that twice I dreamed about catching the train, crossing the river, and walking along the rocks and temples.
Finally came the day to board the train. There was no direct train to HAMPI; I had to change a train in Karnataka itself to catch another train for the station Hospet-the nearest bus and rail stop for Hampi. My initial plan was to travel to Secunderabad and then board another train till Hospet. There was a buffer time of two hours between both the trains. However, knowing what the Indian Railways are much infamous for, my train started thirty minutes late and reached exactly 2.5 hours late. I stood annoyed and helpless at the platform. Thinking about how another day of my precious trip would be wasted, I got back into the train, without much thought, to deboard at Hyderabad. I hoped to get a solution at a bigger railway station and city. Thankfully, a local came to my help and told me that I might have time to board a bus from Hyderabad to Hospet which would help me reach it faster. Somehow, I managed to land at the Hyderabad bus station with a pouch of Hyderabadi biryani in one hand and a bottle of coke in the other; only to be told that the last bus to Hospet had left. Damn, a teardrop literally fell out of my eye at the realisation that all the train-auto-bus action and money had been in vain. I started roaming around the bus station, lost and surrendered to the plan of catching the next morning train to Hospet. Just before stepping out of the bus stand, I happened to ask a bus conductor if there was a way to reach Hampi by morning. And lo! He turned out to be no less than an angel to my itinerary. He took me to his bus which somehow managed to get me to Hospet after changing another at a nearby city; but I was there at the time I wanted to be at. From there, another bus ride took me to Hampi.
The moment my bus entered Hampi, I could feel my heart start to thump! Boulders, rocks, temples and swaying trees: OMNIPRESENT. The bus passed through an old stone gateway- it felt as if History was welcoming me to Hampi. My couch surfing host was on the other side of Hampi, across the river. As I waited near the river bank for a boat, I felt prophetic- I knew that Hampi was going to be dramatic. The ten minute wait for the boat was totally worth it; sitting at the bank and absorbing the sound of the rushing water along with the hustle and bustle of the temple.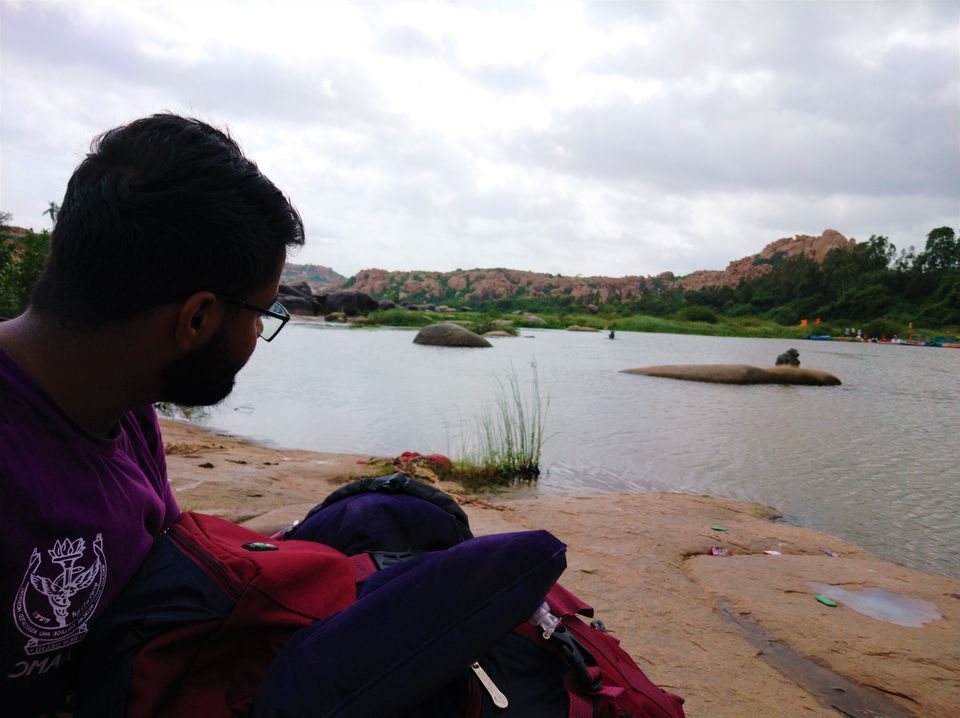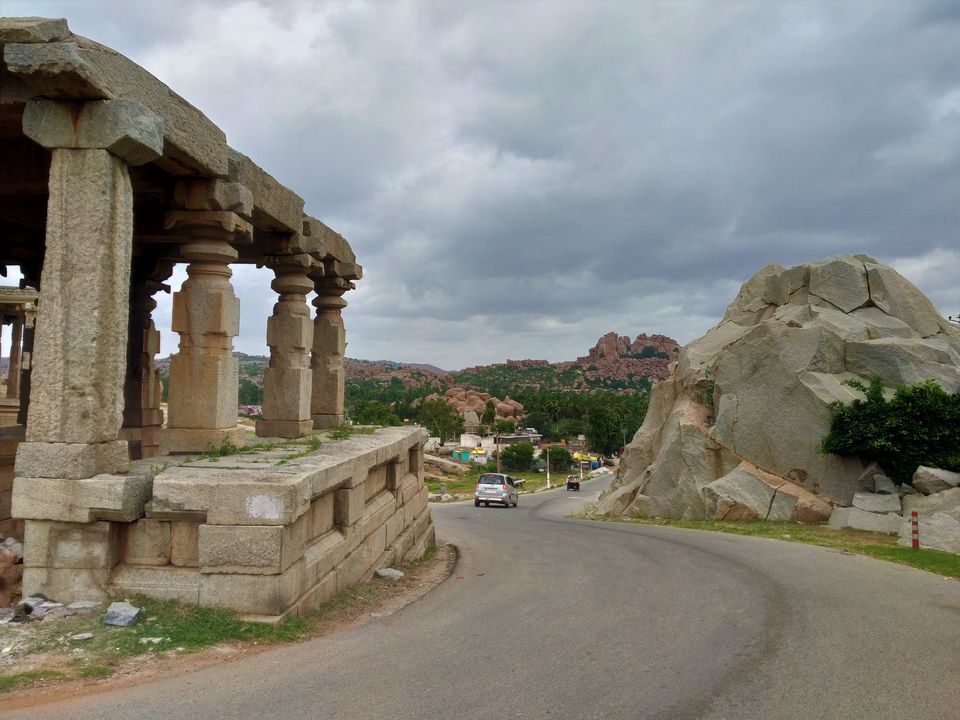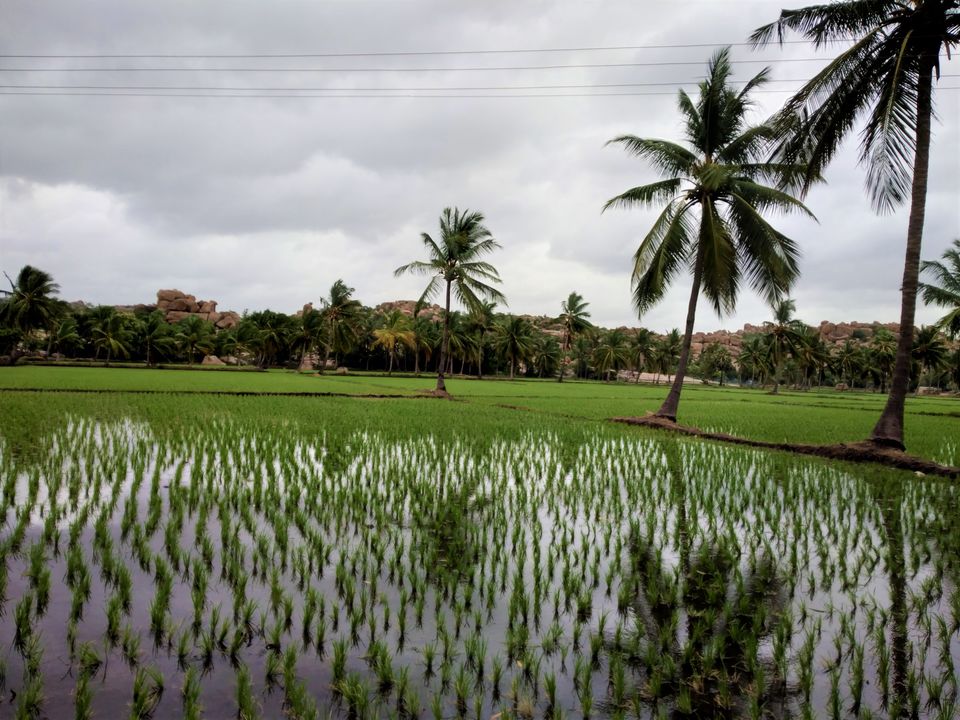 After crossing the river, renting a bike and again crossing the island to the other side, I managed to reach the host's place somewhere inside the jungle. The name did complete justice to the property- The Hidden Place. I was just getting accustomed to the array of adventure and beauty being thrown at me when the host's place left me spellbound, as if I wasn't already. With a small stream flowing through a huge lawn with peacocks, rabbits and even a couple of dogs with their pup around, I was mesmerised, and my mind was like -WHAT NEXT? Well, Hampi was just beginning.

I took a quick nap to cure my train-bus travel hangover. On getting up, I realised that whenever I turned my head in any direction, I found something beautiful to gaze at. I found a local to help me around the place and luckily, he took me to a very beautiful place near the river bank. The place exuded overwhelming peace; boulders on three sides and the river right in front. I spent the remainder of the day just sitting by the banks of the Tungabhadra river.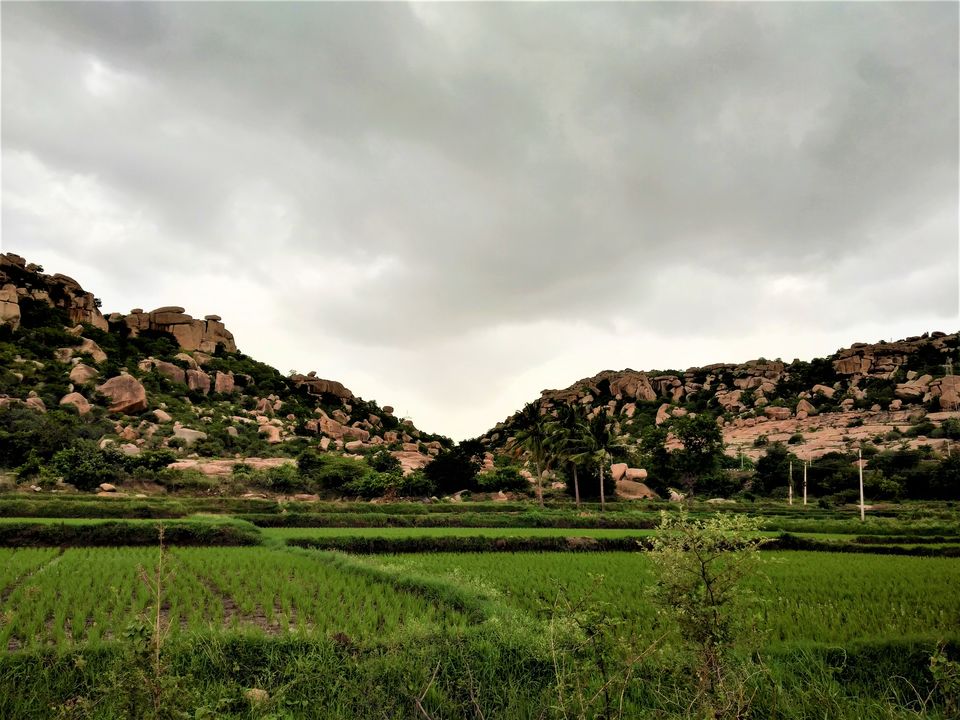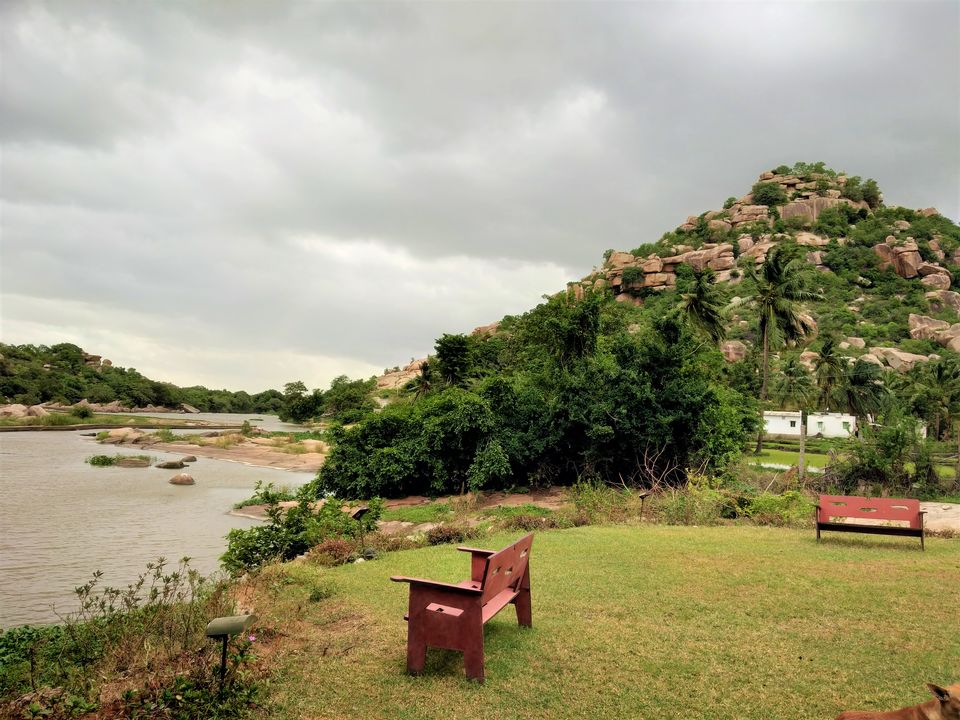 Next day, when I woke up and rode across the island to catch a boat back to Hampi, I was left baffled. Baffled by the fact that the same path that brought me here to this side yesterday, was not there anymore. A strong current had taken hold of it, thanks to the monsoons and the TB Dam opening up. I stood there baffled and broken, realising that I shouldn't have crossed the river at all. I inwardly knew that the water wouldn't come down for the next 3-4 days and I saw the whole trip collapsing. However, as it happens, the best things are found when you aren't looking for them. Little did I know that this place, on this side of the river was a heaven in itself. Roaming around in despair, I asked the local about things I could do there and thankfully, there was a lot to do. So, I started riding my bike around and realised that every corner in Hampi is a destination in itself.
Empty roads, swaying palms, coconut trees, paddy fields and those high boulders- man! All of this accompanied by clouds hiding the sun and cold, strong monsoon winds playing with my hair; I felt like saying: Agar firdaus bar roo-e zameen ast, Hameen ast-o hameen ast-o hameen ast.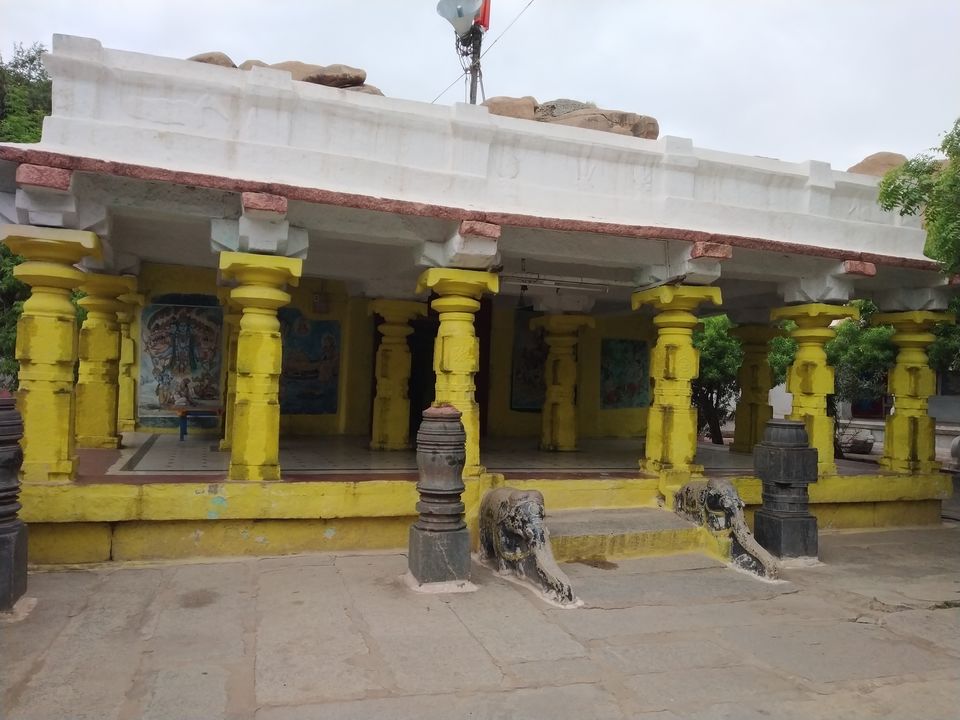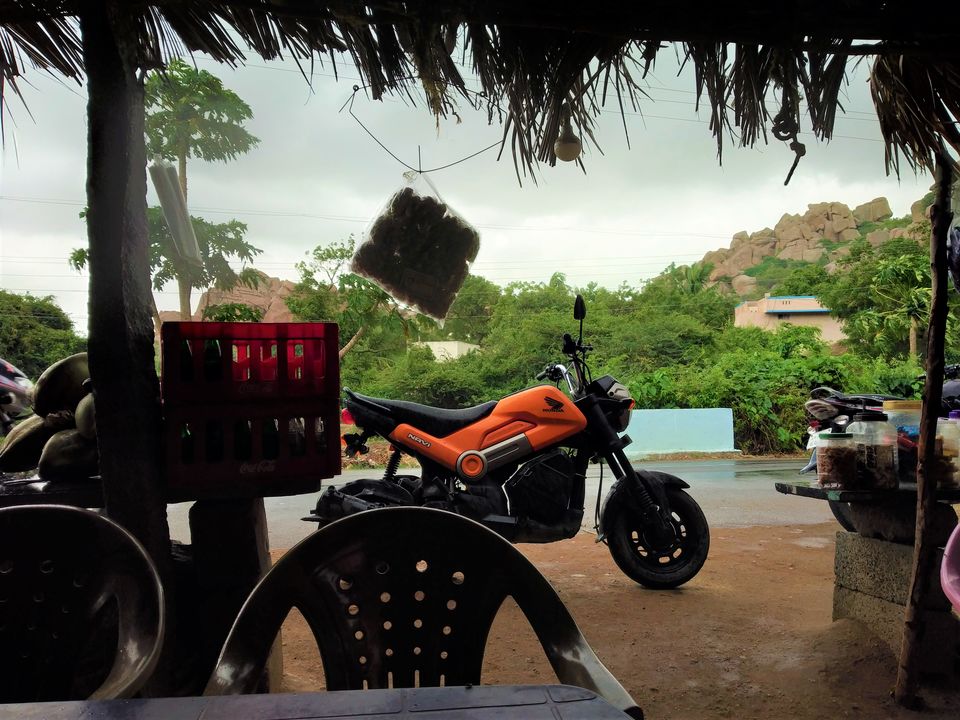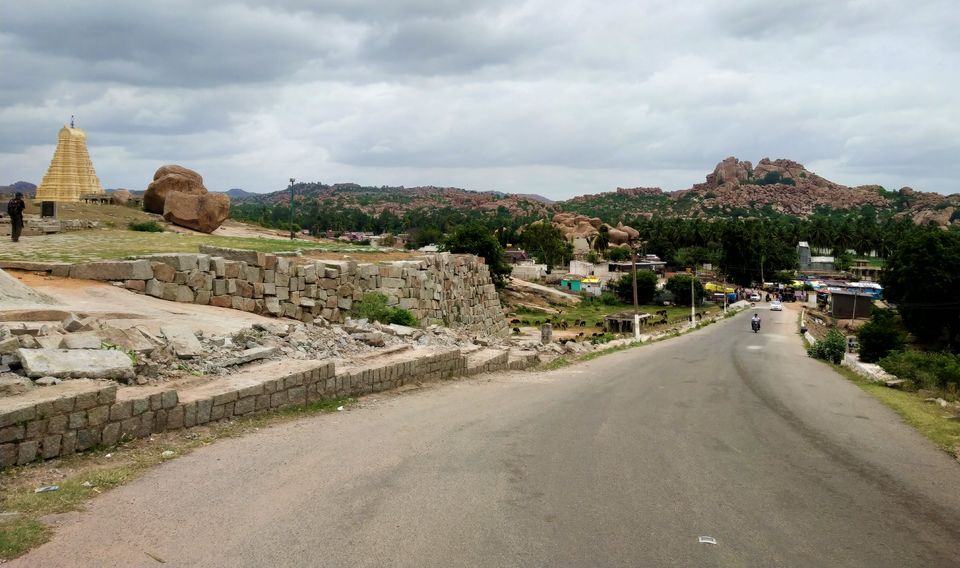 The next two days were spent loitering around aimlessly. Mornings began with idli and chai at a local shack. Lunch was at some temple followed by another visit to that aunty's shack.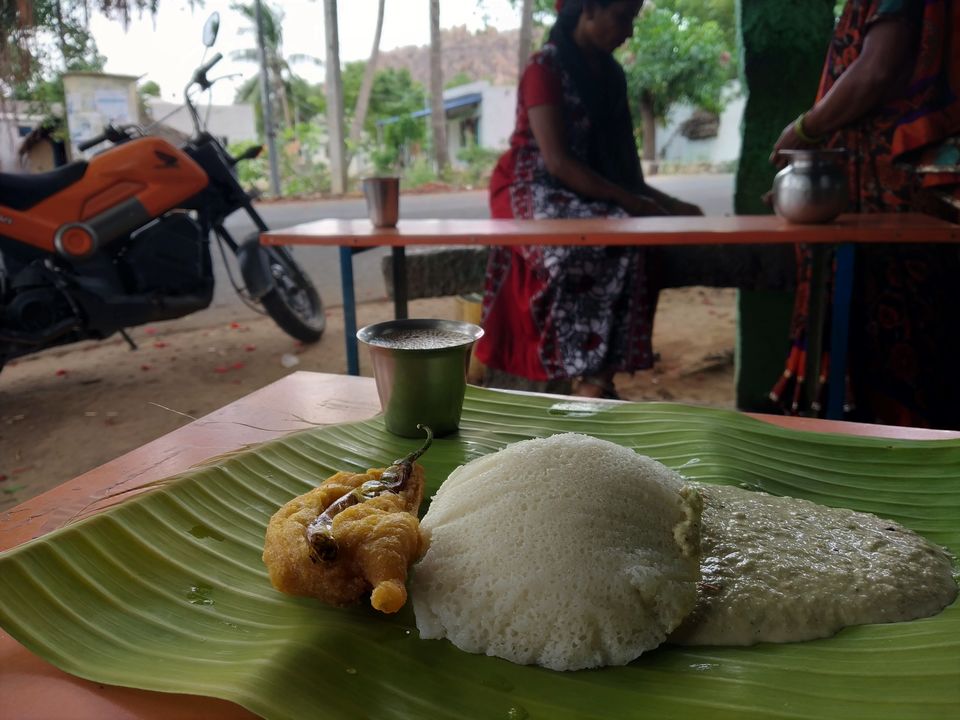 The village of Anegundi was where I spent most of my time; roaming around in the old temples and imbibing the culture along with spending some peaceful time with only myself near those riverside temples. Believe me, the aura of an empty temple along the bank of a river is a perfect recipe for soothing your soul. A Durga temple, constructed over a slope had some caves around it which led me to a point from where I could get a beautiful view of the entire Anegundi village. Standing on the edge of a boulder, bracing the strong winds, I realised how lucky I was to be in such a place, all alone, thanks to the off season. Soon I saw something in front; a much higher temple and the next thing I knew I had to be there. After grabbing a quick free lunch at the temple, I drove to the hill in front of me.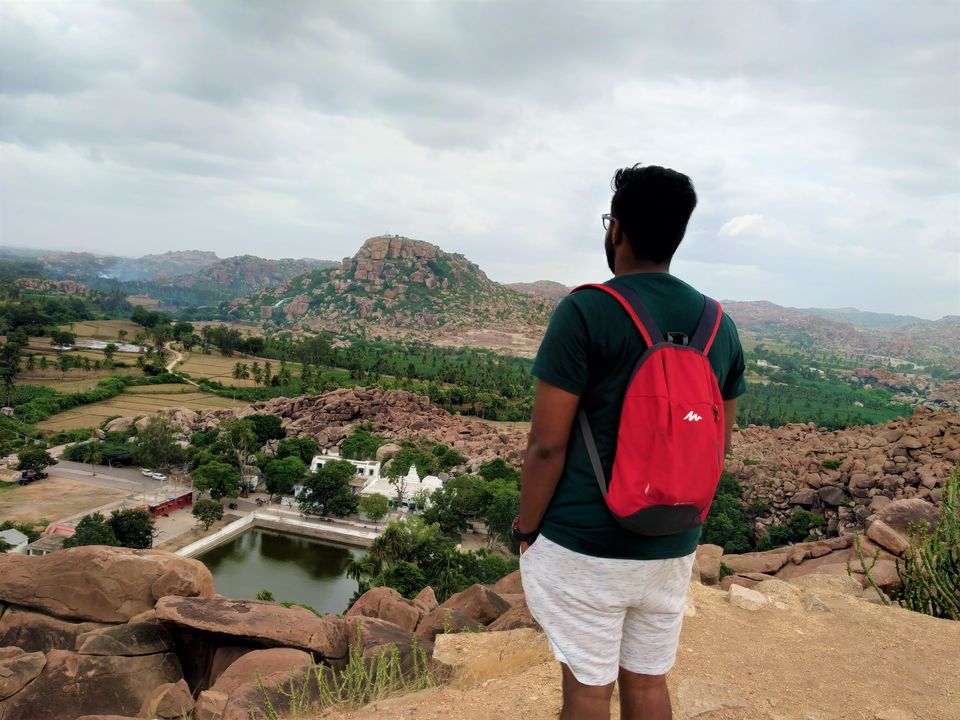 As soon as I reached the foothill, I came to know that it was none other than the birth place of Lord Hanuman - Hanuman Anjani Parvati. Well, it wasn't going to be that easy- 575 steps waited for me. The climb was moderate but the view left me spellbound. The temple at the top of hill proved that Gods always chose the best places to take birth. I was overwhelmed with happiness and a sense of achievement as the view from the temple was a sight to behold. For each degree tilt of your neck, a fabulous view morphed into another fabulous one. I could see the whole of Hampi, the river Tungabhadra piercing through the green heaven, temples arranged over a vast expanse of space and boulders dispersed everywhere. The only company I had was a group of monkeys (not counting the priest of the temple). It felt as if time was standing still but for the wind pushing my whole body hard and the river's water flowing like a charm. I spent an hour there, but then a rain shower made me leave the place for my room.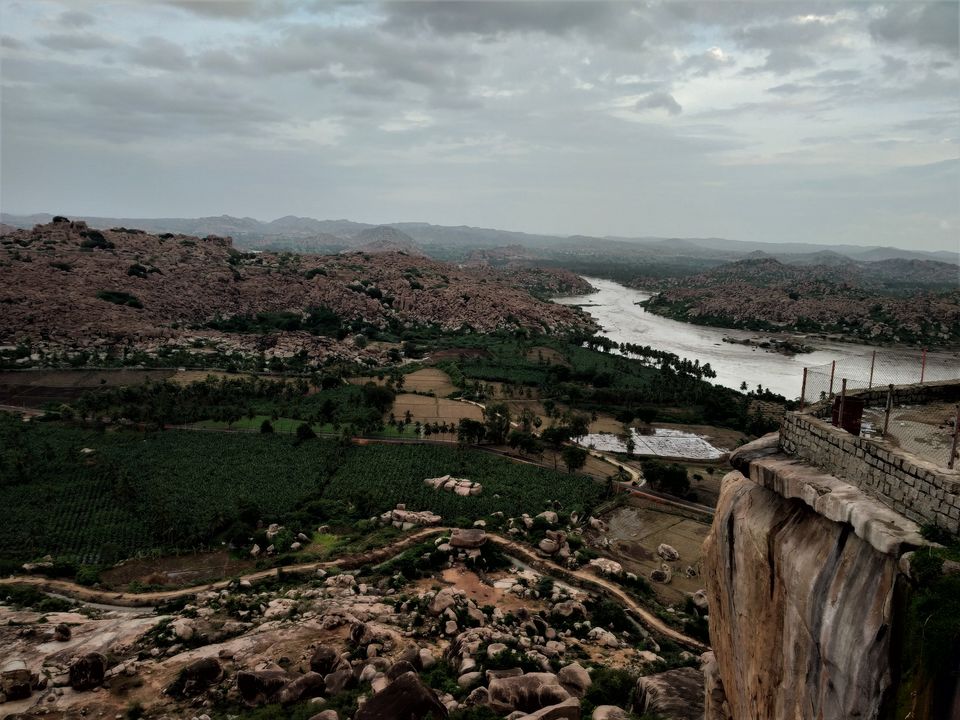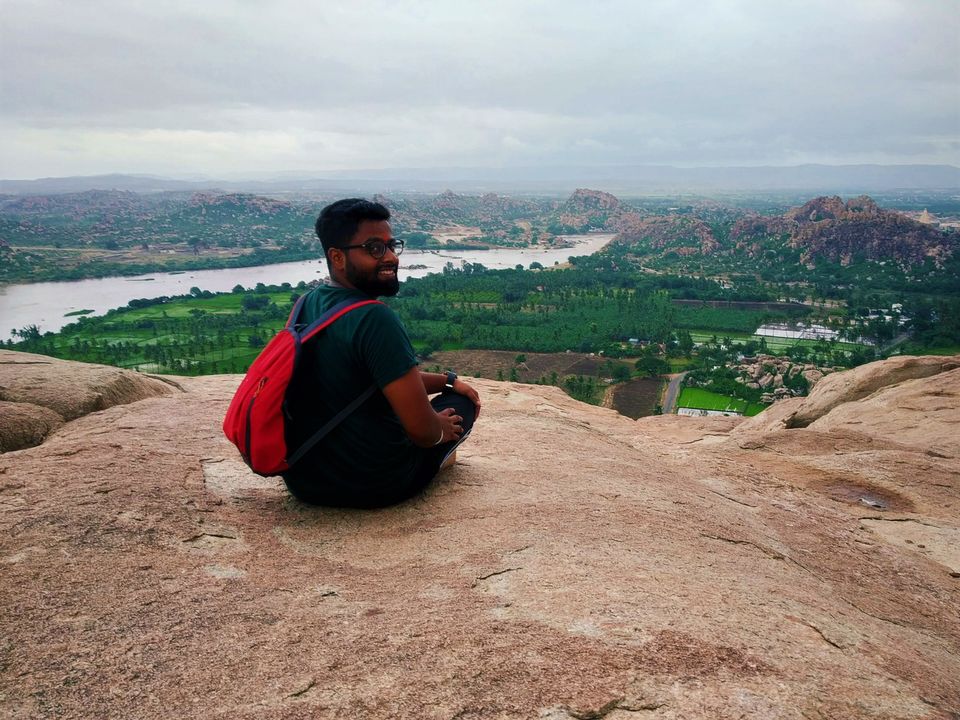 Half of the next day was spent exploring the other end of the road, followed by an evening of Old Monk near the riverside with a local(who turned out to be the MLA's son!) The same continued for another day. Even if you have no itinerary planned, you can spend your day just loitering around in the villages of Hampi and that would be a charming experience in itself. The place is wonderfully blissful, so much so, that even if you drive for 2-3kms you might come across only 3-4 vehicles. We city dwellers are used to honking, however, it was something that I used to avoid as much as possible; so that the natural flow of peace and beauty isn't distorted by my bike's horn. And this way, two days passed by like a story in my head.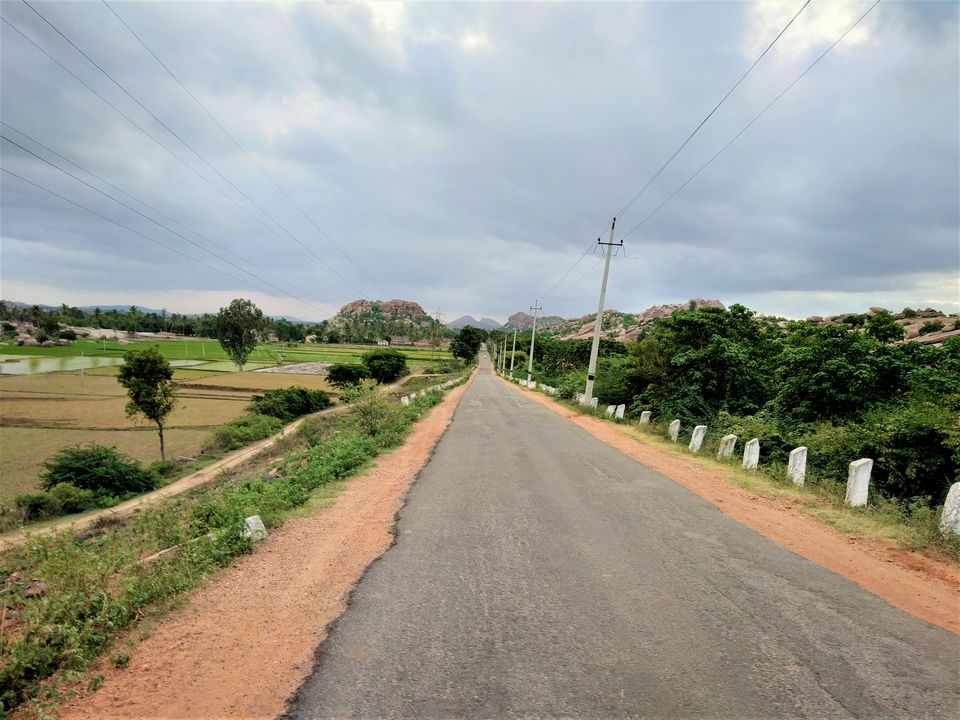 The river's level refused to come down but thankfully, I found a long, but beautiful road to Hampi's temple side. There, I hired a guide and thus began the exploration of temple ruins. This side of Hampi is a story in itself. From arches and boulders on the roads to elaborate temples on the sides, accompanied by strokes of winds, a story of a bygone era was being narrated. 'Monolithic' was the word I learned this day and it left me astonished everytime i saw a temple or a statue. Each and every temple felt like a manuscript of the glorious past; the walls, the pilllars, the courtyard- everything was exuding a fable of royalty and grandeur. I was left awestruck at this aspect of my country's chronicles. Eventually, I decided to spend my night here and explore the place again, alone, at my own pace. The next day ended on a sweet note with an evening spent at the Hemkuta Hill which gave a magnanimous view of Virupaksha temple, the river and the villages. The full stop came with the divine Carnatic music of Evening Aarti and moonlit views of the Virupaksha Temple. After a small meal, I departed for Hanumanhalli. Well, these two days certainly left an imprint on my soul for eternity.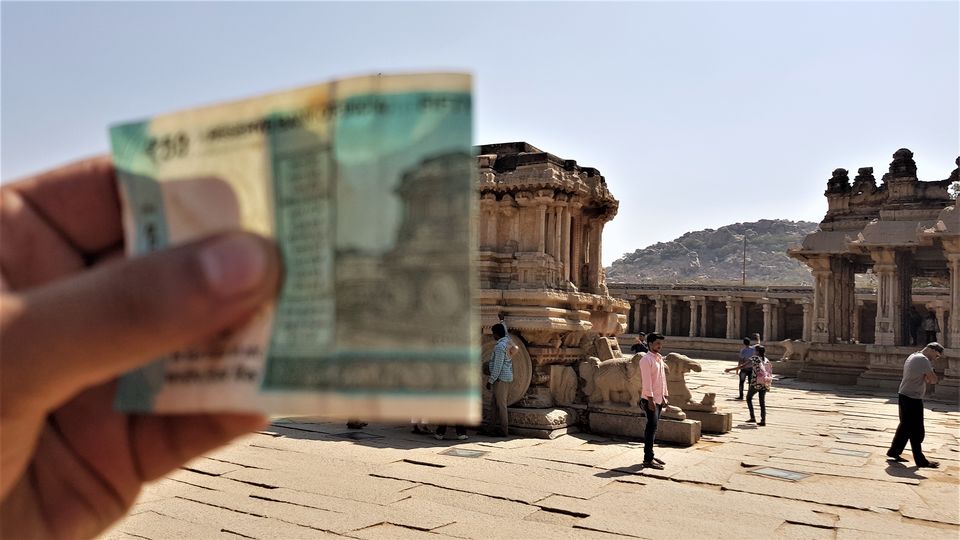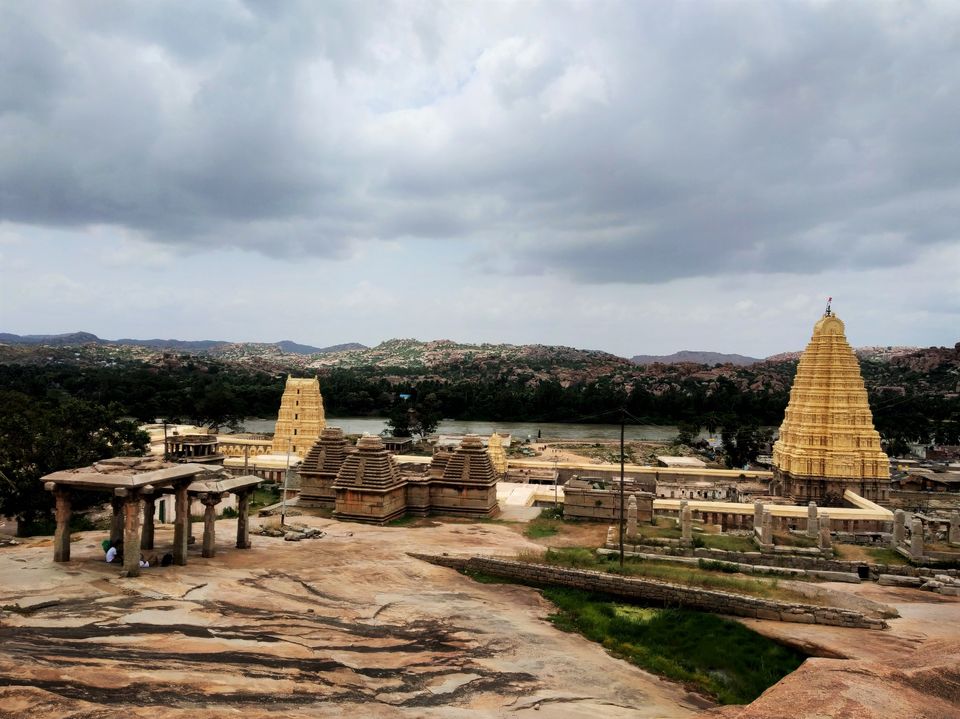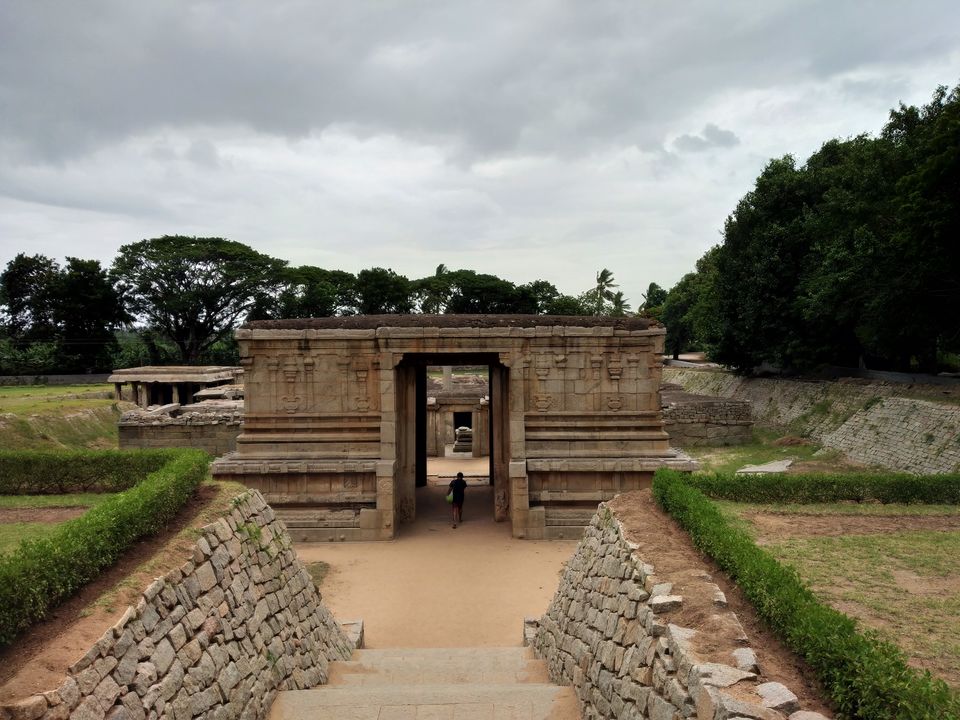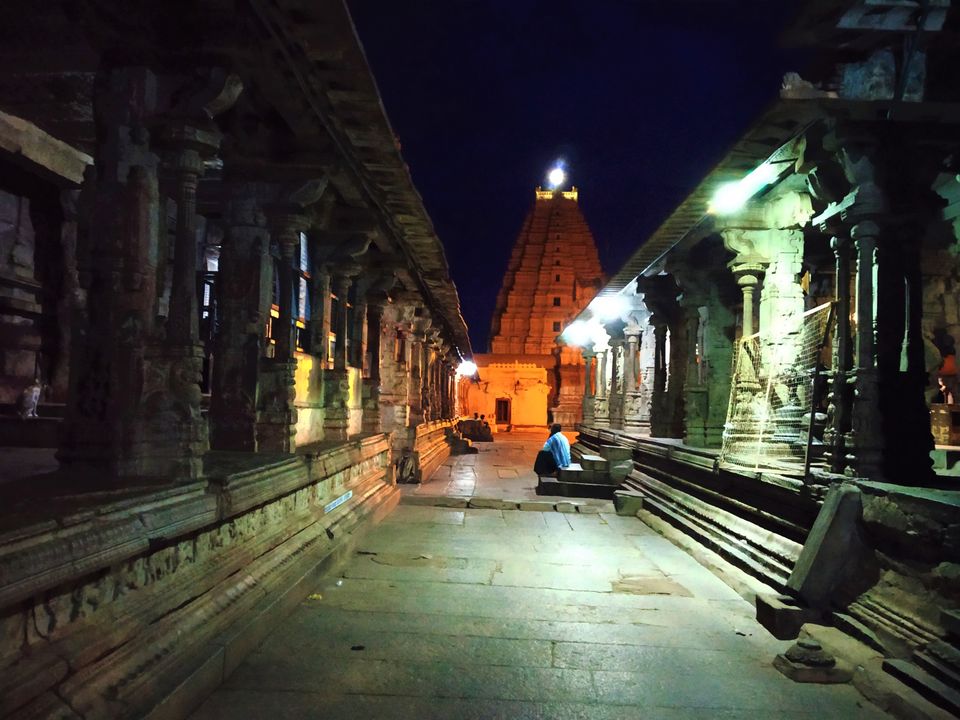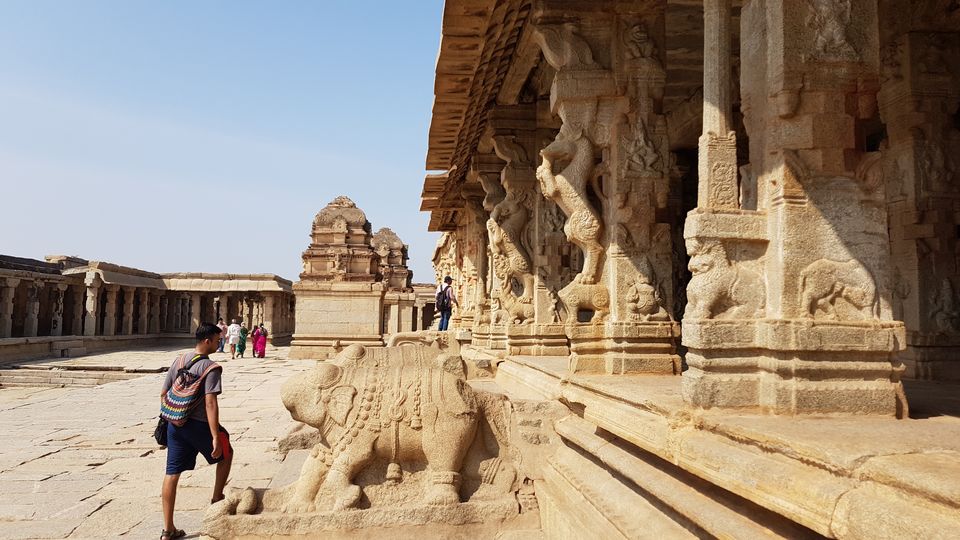 Back in Hanumanhalli, I knew that my stay in Hampi was coming to an end and that Coorg was waiting. So, I decided to visit one of the most acclaimed places: the Sanapur Lake. I drove my way again through the beauty of boulders, paddy fields and banana trees. As I reached Sanapur lake, I was blown away; not only was it simply beautiful but also bewitching. It was different when compared to the perception of lakes that I had, as a Delhite. It was huge, it was brimming (thanks to the Rain God), and it was surrounded by tons of huge boulders that added a whole other dimension to its beautiful appearance. What was the icing on the top? The coracle boat. A ride in these small, bowl shaped boats is one of the things one looks forward to, when coming to Hampi. I assure you, the feel is something which you wouldn't have felt in any other boat ride. Add to that the childlike amazement you feel when the boat guy spins your coracle in the middle of the lake, playing with your labyrinth, aah, lovely! A quick splash and a coracle ride followed by a small nap on one of the high boulders near the lake; justice was done to the day.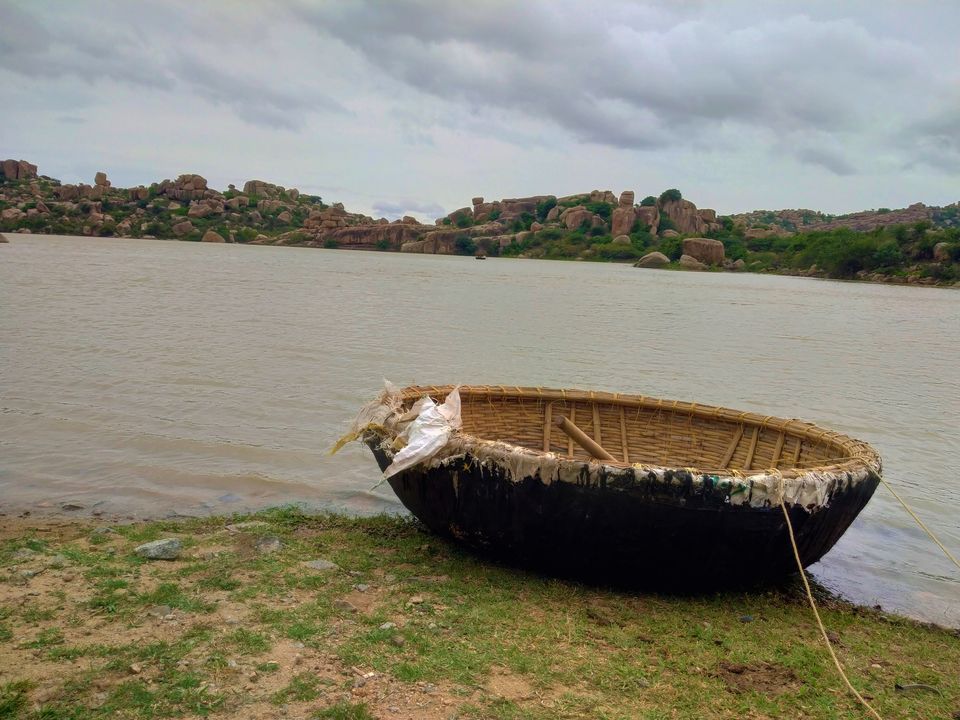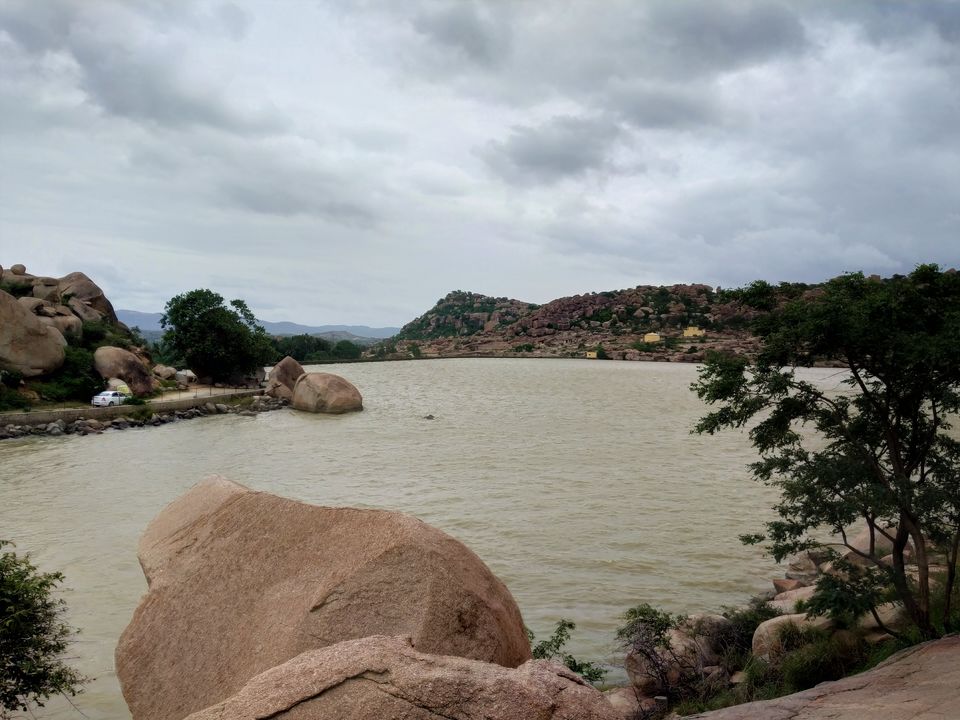 Next day, I decided in the morning itself that Coorg was calling and that this would be the last day in Hampi. With nothing much left to be explored, I spent the whole day loitering around in the villages. It doesn't matter how many times you see them, they'd always look soulfully alluring. As evening approached, I again climbed the Hanuman Temple and grabbed a seat at my favorite place; savouring the grand view of this heaven. After climbing 575 steps, I sat on the edge of the hill and spent more than an hour absorbing the majestic view. I wanted time to stand still; for the moment to never pass. Maybe a joint could have worked; and ironically, it was the Hanuman temple which made me realise the importance of that green herb which many Shiva followers laud. But wait, Hanuman is Shiva's avatar, right ? Well, never mind?!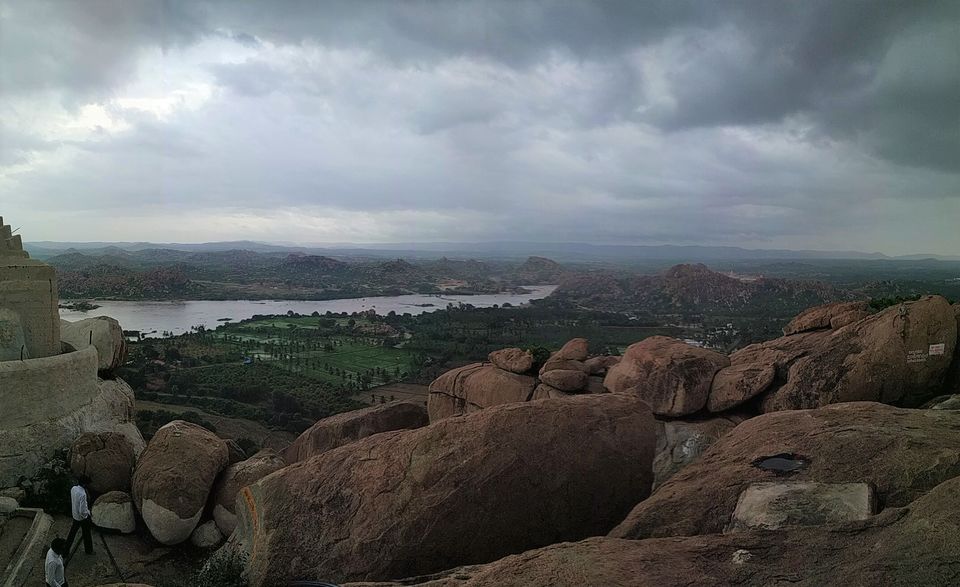 With a heavy heart, I left the temple, returned my bike and walked to the bus stand. I could see the golden sun setting against the rice and banana plantations, little birds flying around and of course, the omnipresent boulders.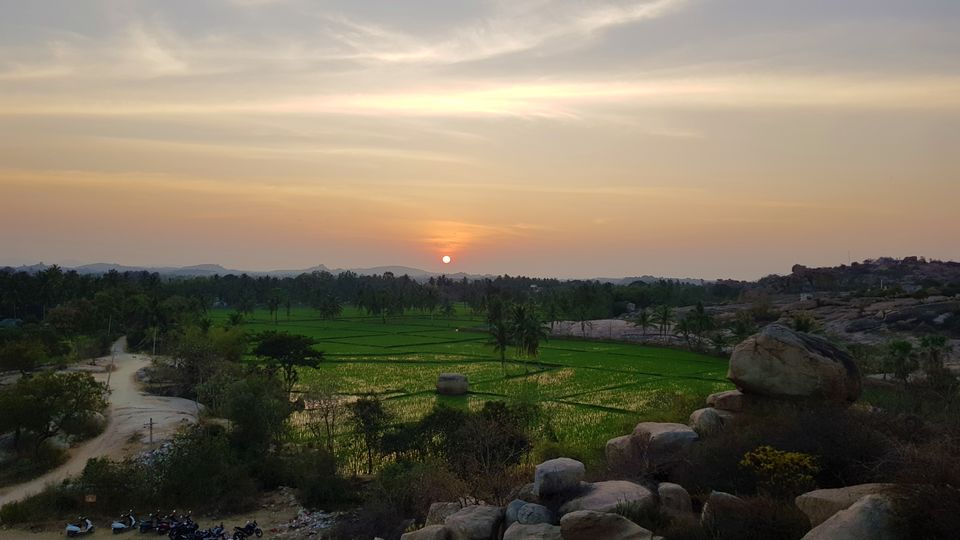 Teardrops fell. It was tough to depart! A very rare occurrence on my solo trips took place- I called my mom. Not to tell her about the grandiosity of the place, but to cry and say that I couldn't leave Hampi; I was asking for help. As a mother, she came up with a solution - "Koi nahi phir aa jaiyo, Abhi aagay ka plan continue kar." This is what helped me to somewhat control my emotions (which made me miss a bus that passed right in front of me.) Eventually, I caught the bus back to Hospet; slowly absorbing the gradual transition of terrain, where another bus for another lore called Coorg was waiting! By then, I knew that I had made an intense memory for the patronus charm!