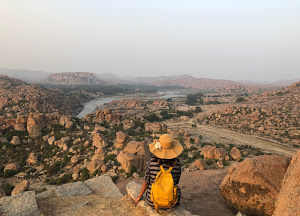 Hampi has always been on my goto list and as I sit to pen my thoughts down I realize it STILL is on my goto list cause I'm just not done with it.
As I climbed the Amravati express to Goa from Cuttack, I never thought our destination would make me so HAMPI. I can't disclose much about how we ended up in Hampi instead of Madgaon but well it was quite an adventure (with a LOT of spectators). That said and done, the ruins of Hampi made me feel as if I was zipping off back in time.
CODED CHICKEN :
Amidst the backdrop of golden brown hues stood the majestic Virupaksha Temple, literally on the backyard of the guest house we were staying in. After almost 27 hours of the train ride and the added adventure, we were all craving for some good chicken! Fun fact about Hampi, for some odd reason (or maybe the fact that it's an ancient city full of temples), wherever we went for food the menu had only vegetarian options. You can imagine our disappointment with the vegetarian lunch we had to bear with. BUT you'd notice "Poli" or other code words for chicken in the menu. Hahaha. Sadly for us, we only discovered this too late.
HIRE A BICYCLE :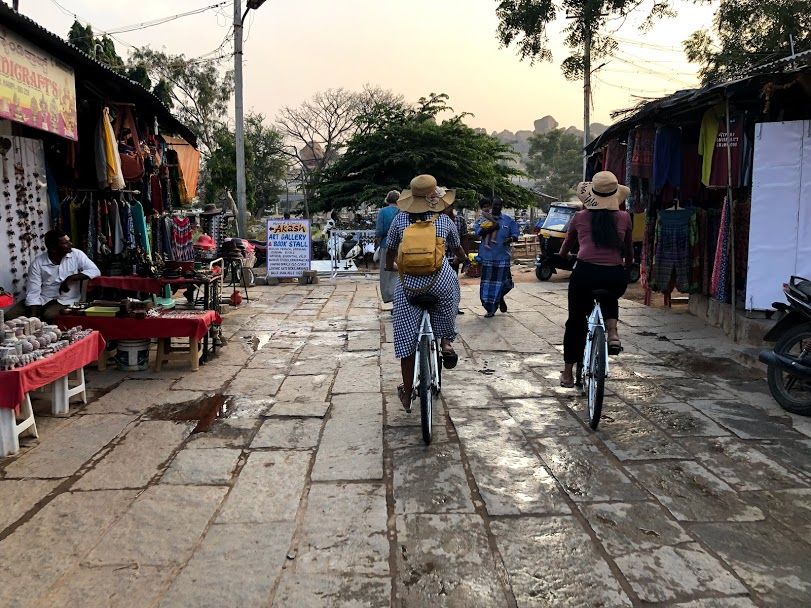 To roam around Hampi, rent a bicycle. Charges might vary depending on the season and it cost us ₹100 per cycle.
TWO SIDES OF RIVER T:
There are 2 parts of Hampi, on 2 sides of the river Tungabhadra. The last boat is at 5.30pm. Be sure to haggle with the boatsmen. We were charged 50 per person for one way ride. But we saw some people pay as less as 20 per person. :(
SEE :
1. Sunset from the top of Mantanga Hills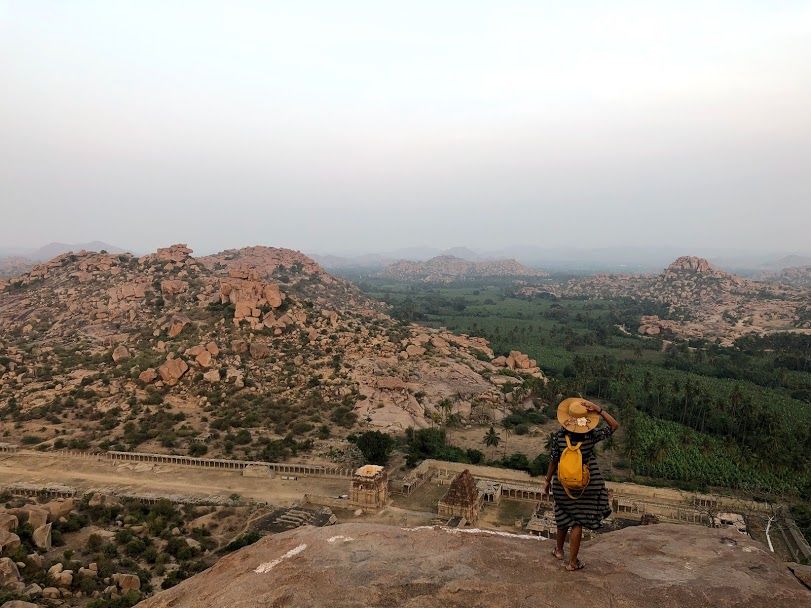 Things you should know before going there is it involves a trek. There are 2 ways to reach the top of the hill. One is the easy way which has proper stairs to ascend, and the other involves a more rocky ascend (latter is definitely the more beautiful way up). So, be sure to wear a good pair of footwear (I was wearing my fancy sandals like a genius. But, Hey! I had no idea I'd to trek through rocks).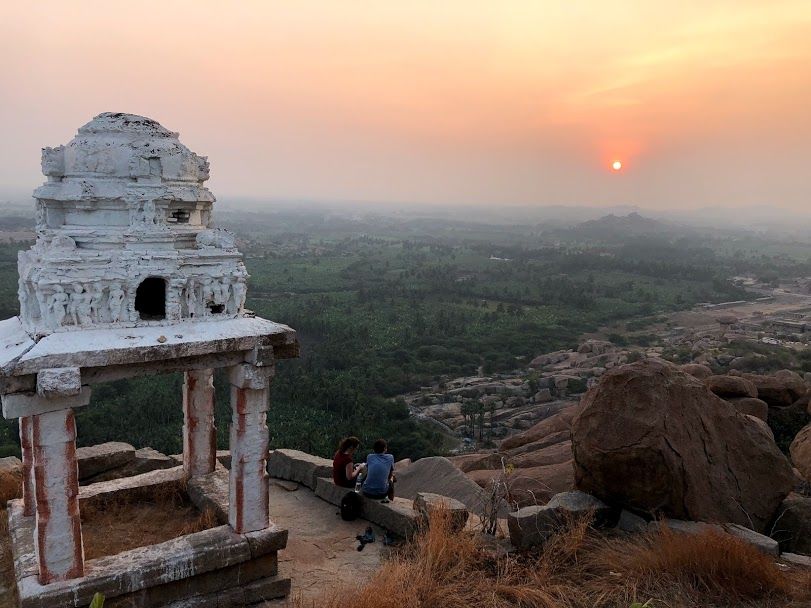 The view from the top is breathtaking. You get to see the entire city, the rivers meandering through the ruins. There's a tiny temple too inside a cave like place on the top. As I looked at the incredible sunset, I felt pure joy and utter calm!
2. Virupaksha Temple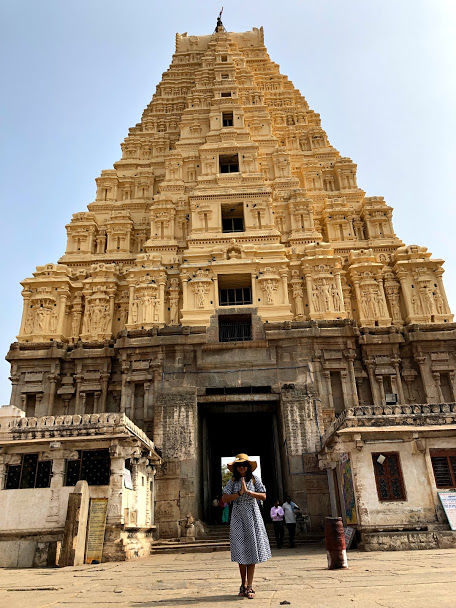 You cant help but marvel at the detailed architecture and intricate carvings of the temples of yesteryears. When all they had was their mind, hands and some basic tools but the outcomes are splendid. The Virupaksha temple is grand, once you enter it you will see an elephant on the left. It was so cute! We fed it bananas and were blessed by it. I took my time to observe it and it was quite funny when at one point it had way too many bananas and it kept storing them.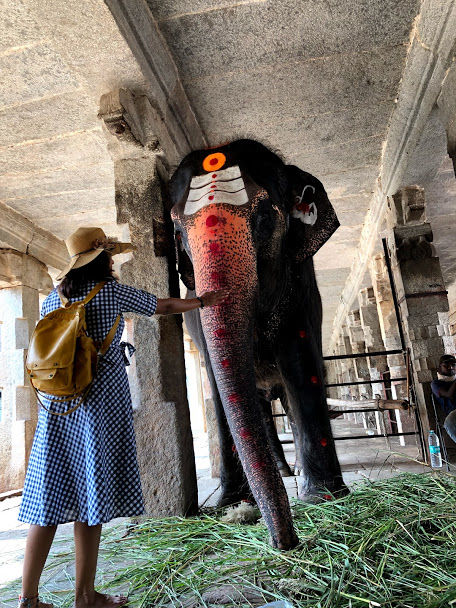 We just visited the Virupaksha Temple as we didn't have time. But I heard from fellow travellers that the Vijaya Vittala Temple is wonderful too.
3. Colourful Markets and Restuarants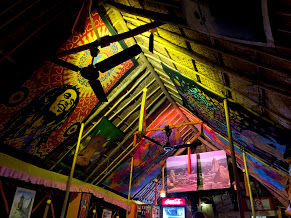 Go to any restaurant or cafe in Hampi and you'd find a similar trend of mattresses aligned together with low tables to sit in the "indian" way, with colorful cushions, lamps and vibratly painted walls (Lord Shiva to Bob Marley). All in all it will give you a very chill and happy vibe (or might I say, Hampi vibe :P). The markets are all very colorful with trendy clothes and accessories. I braided my hair for 50 bucks.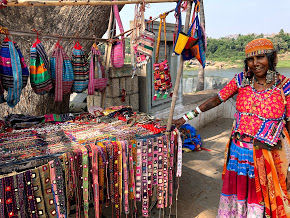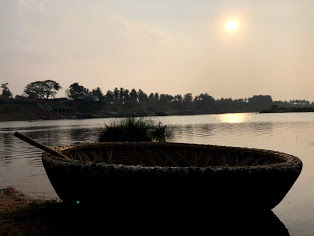 You can take one of those round boats to wander around the river. Although the rides are quite expensive. Even without the boat ride the place is quite enchanting with the river on one side and the Hampi ruins on the other.
5. The other side of the river T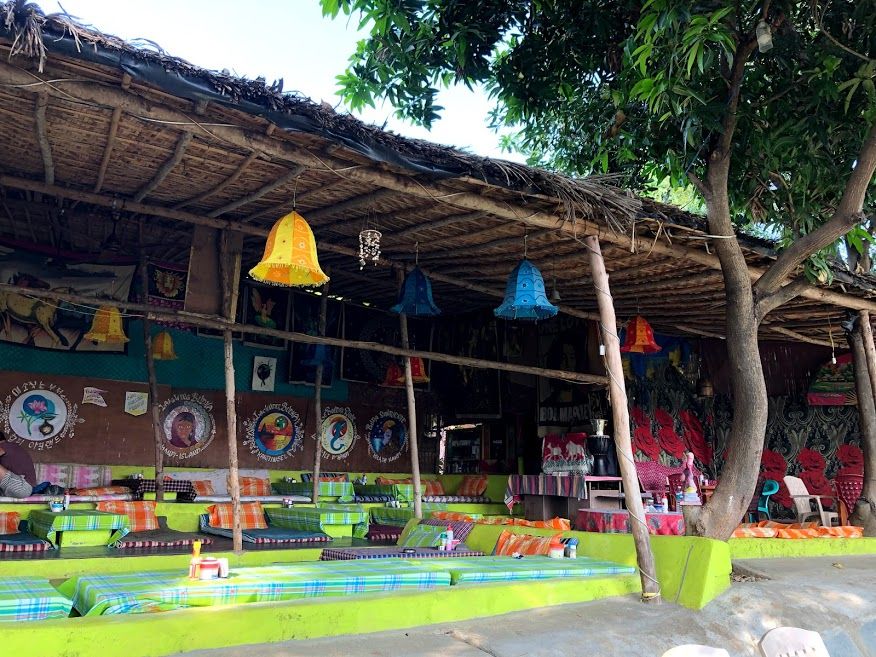 As you get down the boat, you will see colorful shops. We climbed up the hill to reach a T junction overlooking a huge farming land. We didn't get much of a chance to explore the other side well. Just went to the laughing buddha restaurant. It is situated right by the river and is brightly colored with a great view. The food was decent.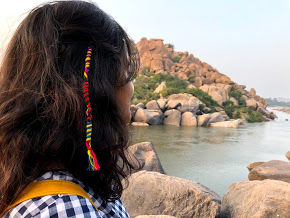 Until next time, au revoir!