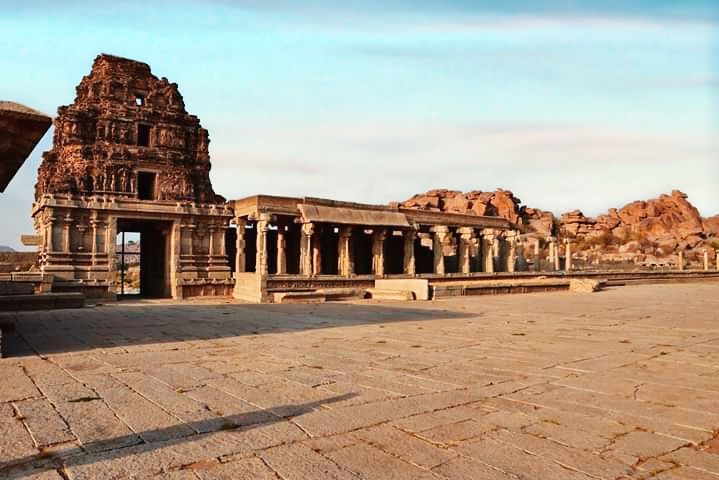 HAMPI .... The Lost Empire, Where stones tell stories in SilenceHampi is idenitfied as Pampa Kshetra mentioned in Ramayana. The City is named after Goddess Hampadevi. (State: Karnataka)
The ruins of Vijayanagar near the village of Hampi are some of the most fascinating in India. Once the Captial of one of the largest empire in Indian history, Vijayanagar was founded by Telegu princess in 1336. The empire controlled the regional spice trade , cotton industry and its bazar was of international commerce. The Empire came to a sudden end in 1565 when the city was ransacked by a confederacy of Deccan sultanates. Hampi is thriving traveller centre, the place to get connect and reconnect to travellers. In Hampi the favourite mode of crossing the Tungabhadra is the humble Coracle . (Coracle looks like one half of the hollow coconut) Things to See and Do
Virupaksha Temple, as well as those dedicated to Pattibhirama, Raghunatha, Balakrishna and Vittala. The Main gopuram almost 50m high was built in 1442. The main shrine is dedicated to Virupaksha, a form of Lord Shiva. There is Bazaar street in front of the temple. To the south overlooking ,Hemakuta Hill has a scattering of early ruins including Jain temple and a monolitihic sculpture of Narsimha (Lord Vishnu in his Man Lion incarnation)The Vittala Temple, the undisputed highlight of the Hampi and now on Embossed on New 50 Rupee Note . Its in good state of preservation,but pirist may raise eyebrows at the cement block collumns erected to keep the main structure from collapsing .It is a lovely place withmusical pillars and halls. The outer "musical" pillar reverberate when tapped, although this is discouraged to avoid further damage. It has a beautifullycarved stone chariot in its courtyard containing N IMAGE OF Garuda. Keep your temple entry ticket for same day admission into Zenana Enclosure and Elephant stable in Royal centre. Down the road toKamlapura is the Badavi Linga which is The 12ft linga, built in black graniteRoyal centre, this area is quite different from Hampi Bazaar . Within various enclosure here are Hampi major attractions including Lotus Mahal, Elephant Stables, Zenana Enclosure .Hazara Rama Temple meant for royal worship Anegundi : North of the river is the ruined fortified stronghold of Anegundi. There are numerous small temples including "Hanuman temple" which is perched on top of a prominent rocky hills .Hippie Island: The sunset point is located on the Hippie island and is the compulsory place to be around sunset. Reason being that there is a whole different vibe that goes on around sunset there. The island is flocked mostly by foreigners who stay for months at a time! Main part of the island has this long road - one side of which has all the guest houses and the other side has scenic rice fieldsFast Facts
When to go The monsoon (July- September) and winter (November- February). Catch the three-day Hampi Festival in November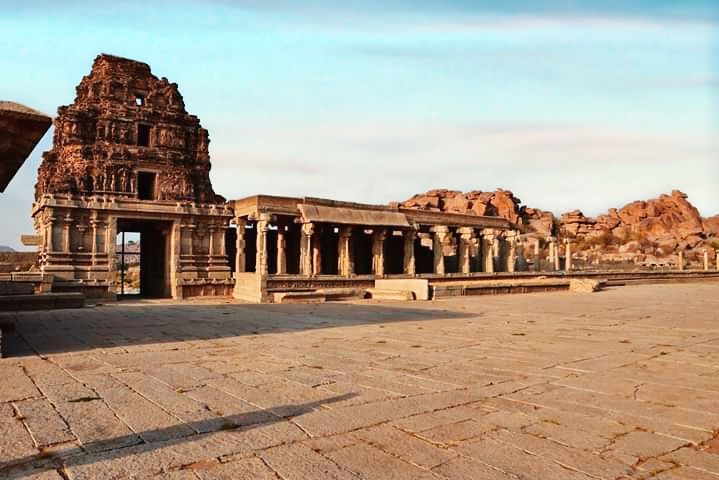 Places to Eat:
Hampi isn't renowned for its cusine. Simple restaurants are near by Ha,pi bazaar and new places near the guest houses. Hampi is a religious centre so meat and alcohol aren't allowed. Restaurants on the other side of the river do serve the two. One can try the German Bakery and Mango Tree for some delicious fare.
You can try Banana flower vegetable , Chilli pakora .
Getting there :
Air : Nearest Airport: Hubli also connected to Mumbai , Bangalore and Hyderbad.
Bengaluru airport is approx. 350 Km Away
Rail : Nearest Railhead : Hospet .
Road: Daily KSRTC , Neeta Volvo , Sleeper deluxe bus from Bengaluru, Mumbai , Hyderabad