Travel bug peeps out yet again to take me to the wealthiest cities in its prime, where the dazzling Tungabhadra River is fortified by the mighty boulders.

With the Sun spelling its power on the town, winds whistling  through coconuts and fierce boulders daunting the time's pace, Hampi has many stories to tell…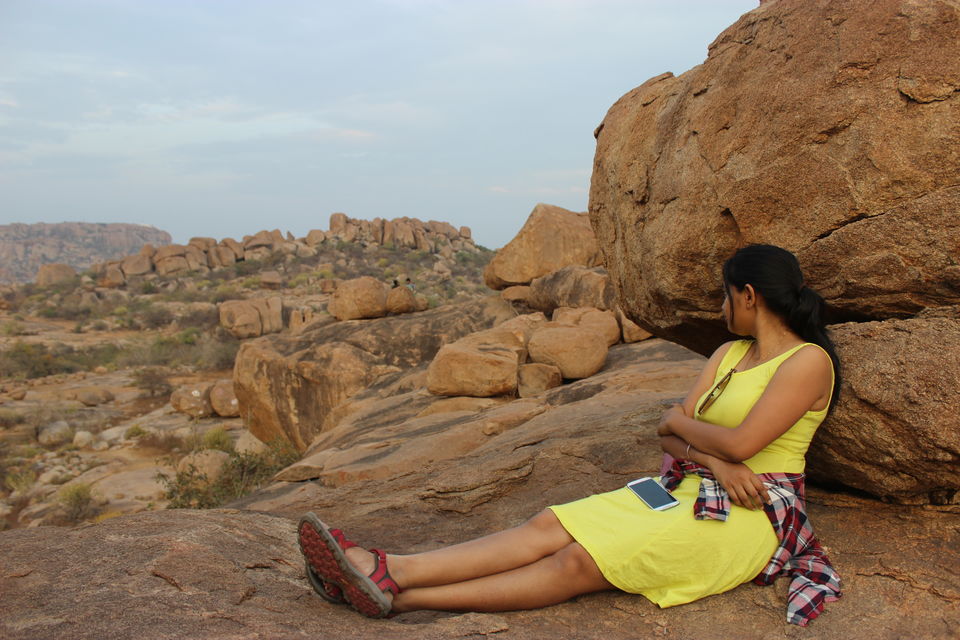 After chasing couple of work weeks, I rushed back home on 25th night to pack my "Checklist"
-Rugged backpack
-Loose clothes
-Shades
-SUNSCREEN
-Comfortable footwear- Floaters worked best for me, even for trekking!
-Some identity proof- of you want to rent bike/cycle
-CASH- there's absolutely no ATM around
-Earphones
-Cover up
Hampi Ground rule: YOU WILL BE TANNED!
All checked and in no time the clock showed 9! We had a bus to catch from Pune to Hospeth, SRS and VRL serve to be the best for this route costing approx. INR 1500. Grabbed some snacks and a pack of UNO and ready were we for a four day break @ Hampi!
Day 1: The Hippy Trail

We reached Hospeth 8ish to a sight of school children marching around with flags in crisp uniforms and the tri colored ribbon-oh yes it was Republic Day! We took bus from a local bus stand to Hampi for INR 13 per ticket.
The bus landed us back in time (1500 AD ;)) in front of Virupaksha temple.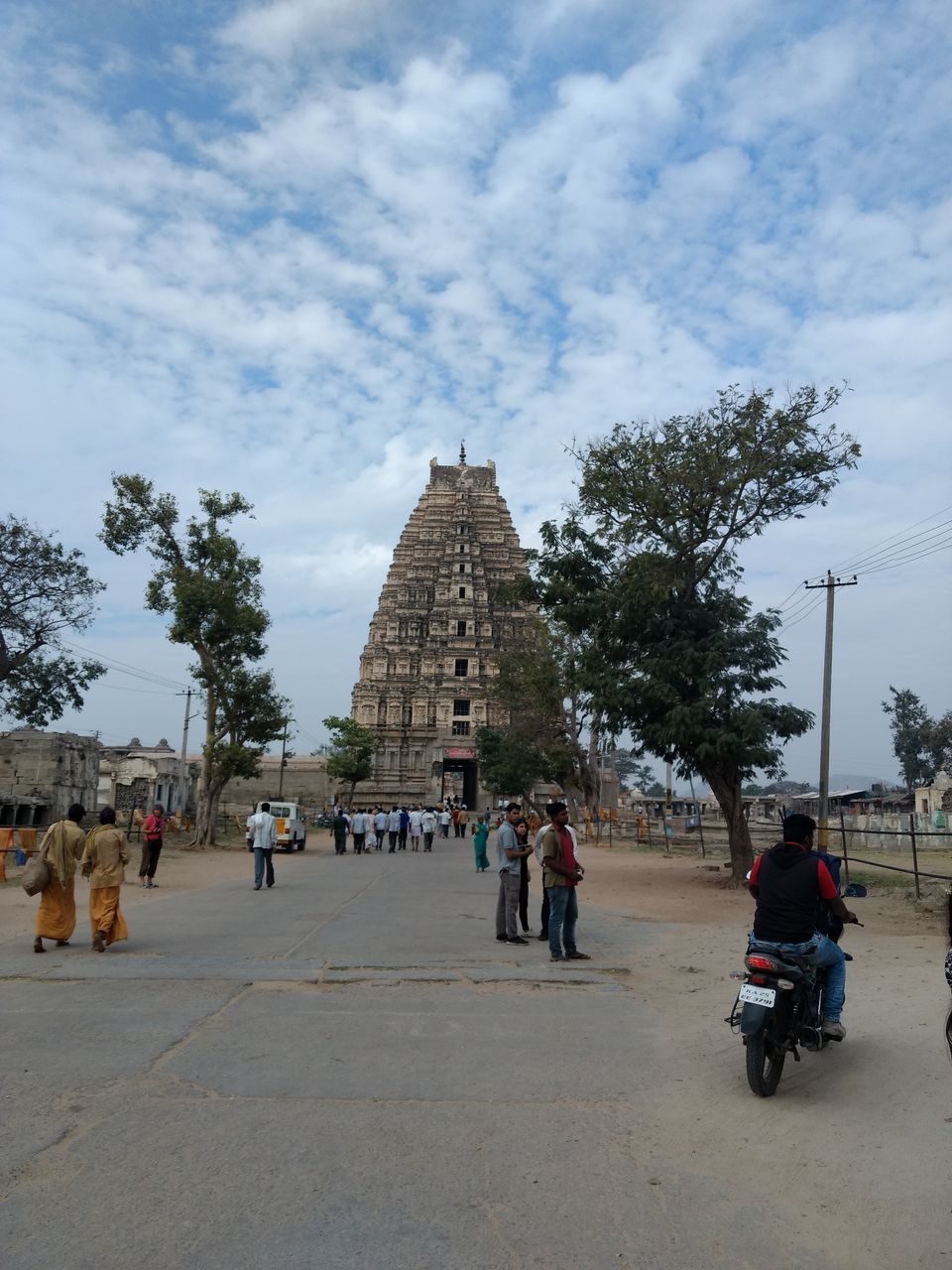 You need to walk down some 20 odd steps and cross the river by basket boats or jetty in 50-20 INR for the Hippy Islands, but we chose to walk.
You can hire Cycles at INR 150,  Scooters- INR 300, Luna's INR 350, geared bikes INR700 and petrol for 90/litre. Bike rents are negotiable so mind to wear best of your bargaining caps.
Vroom vrooom... we started our ride to the "Hidden Place" near Hanumanhalli with the barely working brakes. The street-being the main street- has numerous stores of "Hippi" clothes, accessories, cafes, musical instruments and cafes alongside.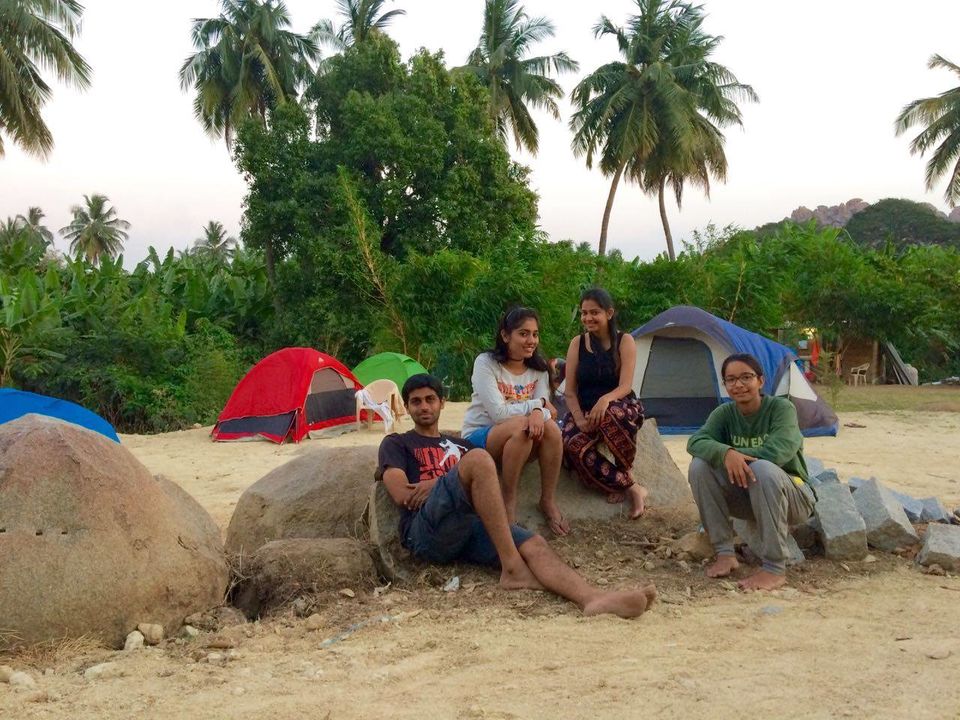 The tent-300/head offered bedding's, blankets and 2 common washrooms for all at the vicinity! Freshened up and headed to Pampa Lake. You can skip this place as this does not offer much.
Later we headed to Durga Temple situated underneath heavy boulders. The short climb gives spectacular view of the town and the ride becomes interesting owing to the scenic views.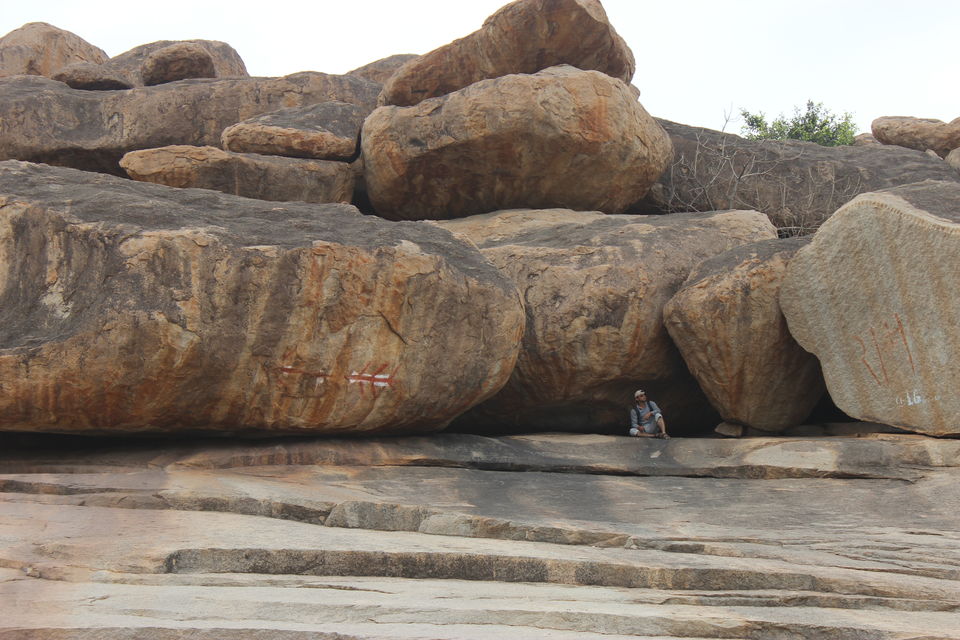 Next was Matanga Hill for sunset. By far the best moment in Hampi! Our sunset was perfectly accompanied by few artists practicing their musical cords! We returned the bike and shared rick back to our base.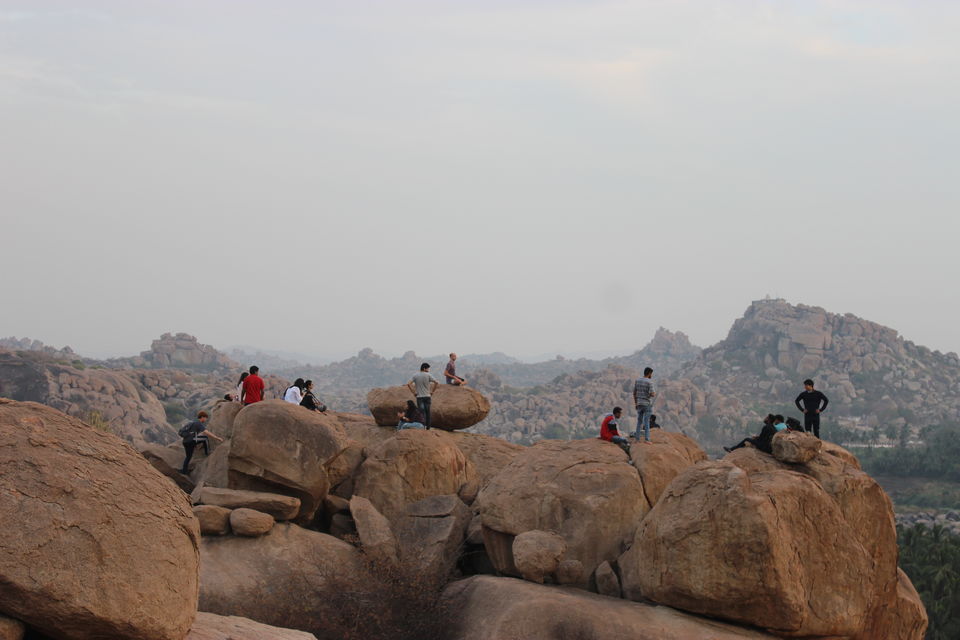 Day2: The Spiritual Spell

Next morning we crossed the river to experience the sacred side of Hampi. They do offer cycles on rent here too but I think its best explored by foot. Places to cover (these all lie within the 8 kms radar)
• Virupaksha temple
• Vittala Temple (you need to walk a lot here and cycles cannot make this trail)

• Royal enclosures
• Queens bath
• Water reservoir

• Underground temple
• Elephant stables
• Lakshmi Narasimha temple
• Shivlinga
Day 3 : Monkey Masking

We had breakfast at the Baba Café; I highly recommend this place for its food, cost and the Curd Rice. This place offers accommodation too. We later trekked to Hanuman Mandir or the Anjaneya Temple. This hill asks to pay a climb of 575 steps to give a philanthropic view. Inspired by the Hampi vibe we tried some yoga up there :p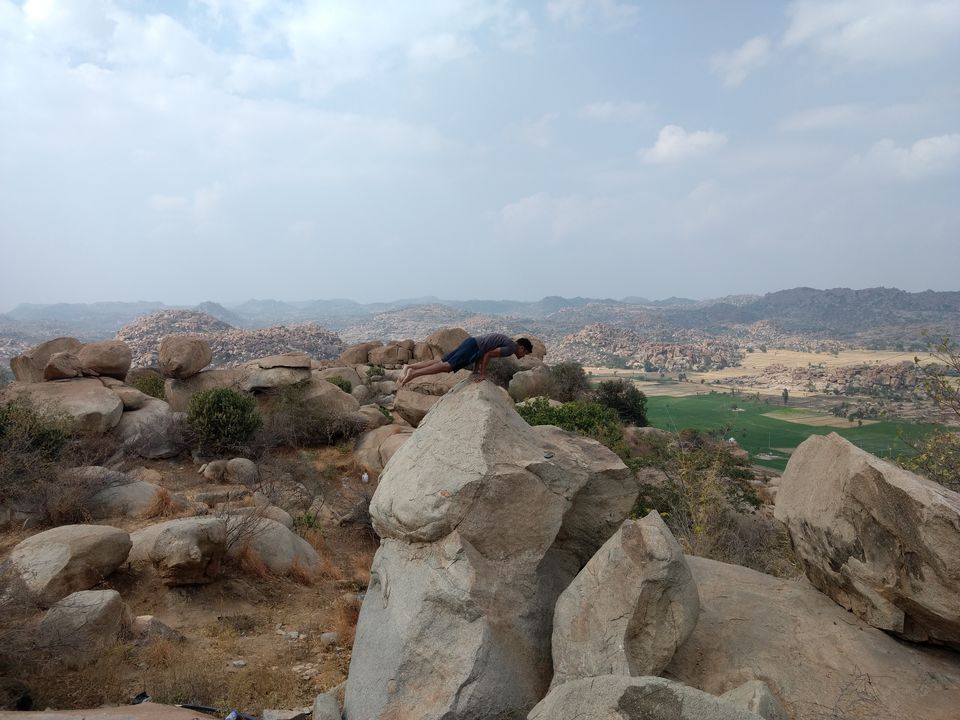 Day4: Blue Splashes

We took a local bus from Hunamanhalli, just outside our tents, to Sanapur Lake. The bus charges less than 10 bucks to reach to a nearby road. After walking some 15 odd mins we reached the lake! It's magical to see that blue shade amidst of the dry boulders. There are no crocodiles in lake even though some boards mention so. Two of the brave souls in our group did bridge jumping in the water! They said it was fun and we believed the shivering spines :D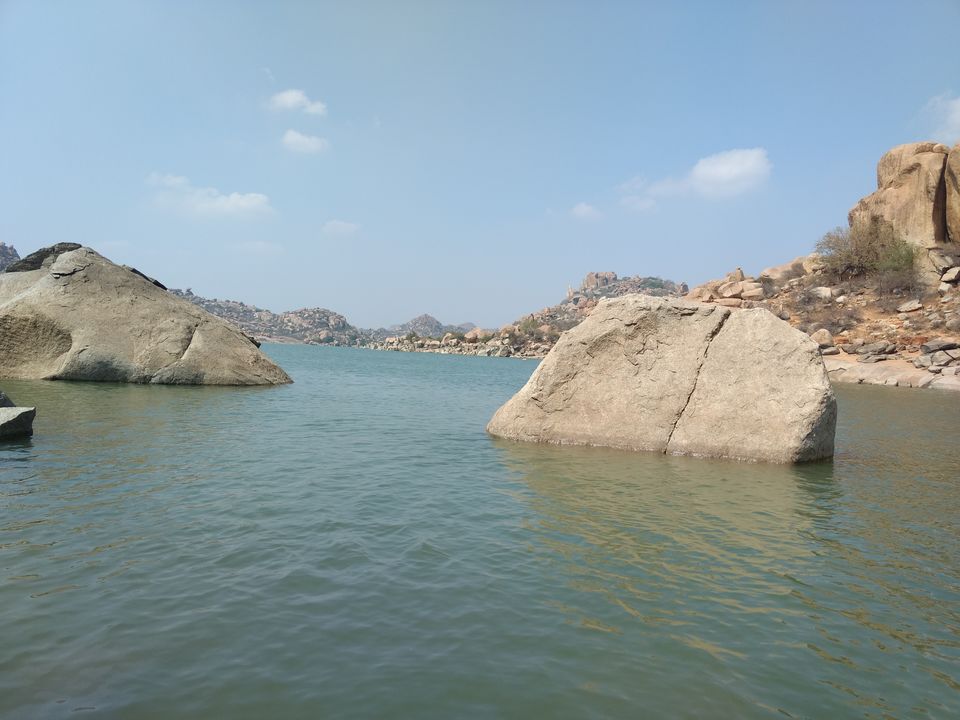 Flaring the Bohemian vibe, Hampi tickles your gypsy soul! The 1500AD dynasty, which is now ruled by monkey's has something to offer for everyone… With a group of eight fun and CUTE people and all the uncanny talks -Hampi you will be missed!