The first Solo trip I completed with Get Beyond Limits.
"Travelling solo doesn't always mean you're alone, sometimes you meet marvelous people along the way and make connections that last for a lifetime"–
Jacqueline boone
I pondered on the thought of going for a solo trip for a long time. I just wanted to kick start this notion. Since I have a lot of like-minded friends near home, there is always one or more friends accompanying me for shopping or even a stroll in the neighborhood park, not that I don't do all this alone sometimes, if I want to. So this time after reading a lot of travel diaries of going solo, and I have met a few whom I admire for travelling miles alone just to find the pure bliss, peace and solace with one's own.
This was my time to get beyond limits ???????? wink.
I went with GetBeyondLimits organization for a trek to Tadiandamol peak located in Coorg. At the time, I was accompanied by my colleague from office. Although when a group of like-minded people goes to a trek they are bound to become friends. I found the comfort that I would have, even if I had gone alone. So this time when there was Paradise Island to Gokarna beach circuit trek, I opted to go alone. I wanted to find out for myself about the journey.
So on 21st Nov night, It was time to board the traveller at 8:00 PM Silk Board, Bangalore. Unfortunately, my phone was dying without charge and since it was raining, my phone had caught a cold (LOL Timing). After several attempts to contact trek leads for details and crossing that 4-way road about 4 times with no luck. Finally, one of the trek lead called me and surprisingly call got connected and he directed me towards the traveller. With all that jitters and butterflies I boarded the vehicle.
We left from Bangalore to Gokarna via Dharwad. After all the introductions and GBL tradition we got comfortable and dozed off. We reached Gokarna at 9:00 AM, freshened up at a decent hotel, had breakfast then dumped our extra bags there and took only the necessities like water and poncho for the trek.
Our trek started from the heavenly Paradise Island.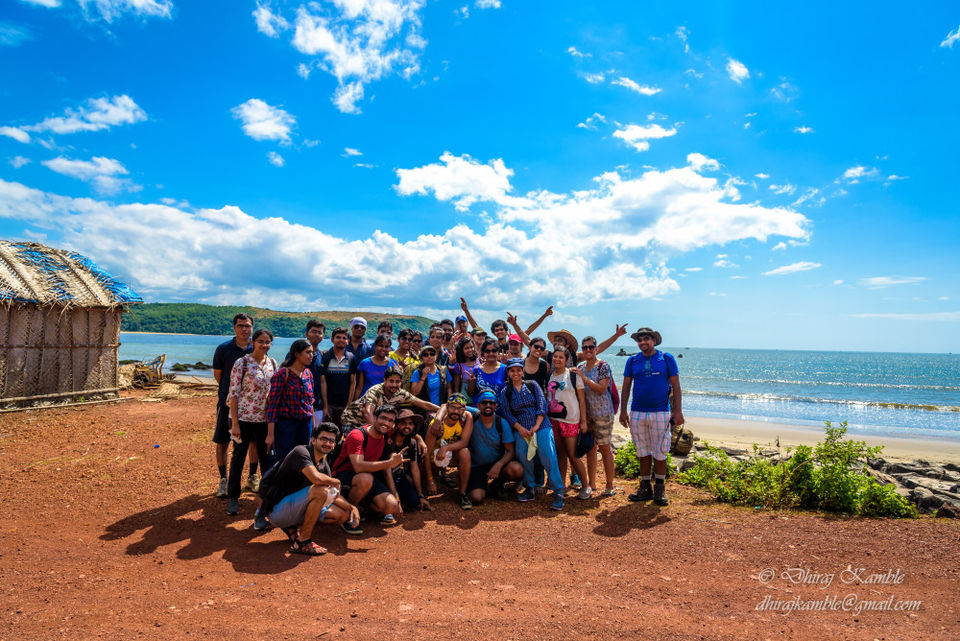 We walked through the inner pathway and towards the paradise beach. When we reached there we saw the hippies. One of them was sitting on a bench near his hut and playing a slow tune on the guitar. The whole atmosphere felt nice. At first, I was avoiding playing on the beach, but these people: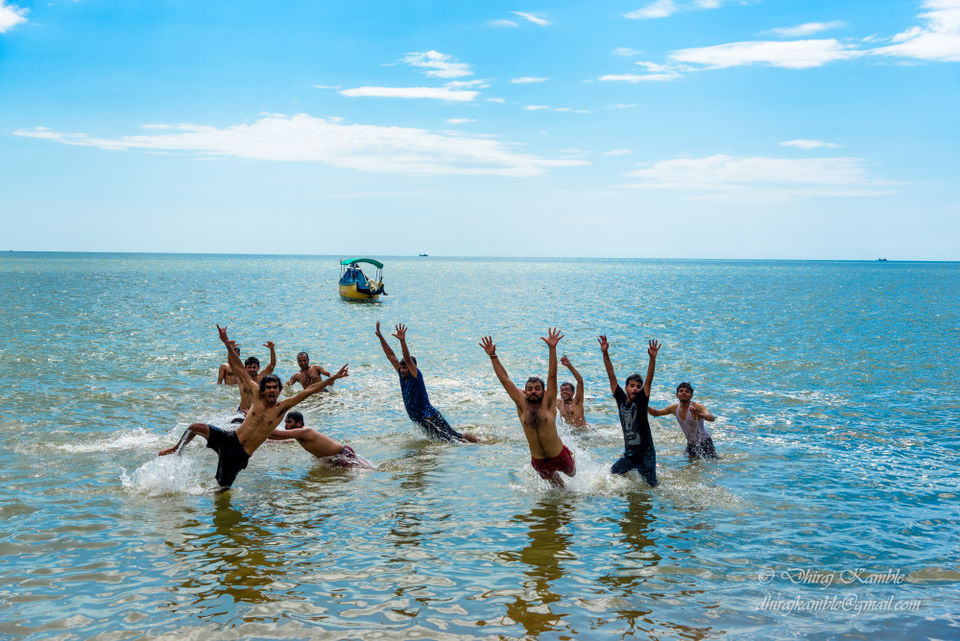 The pure bliss of blue water and clear blue sky was so welcoming, especially for an ocean lover like me, this is unavoidable: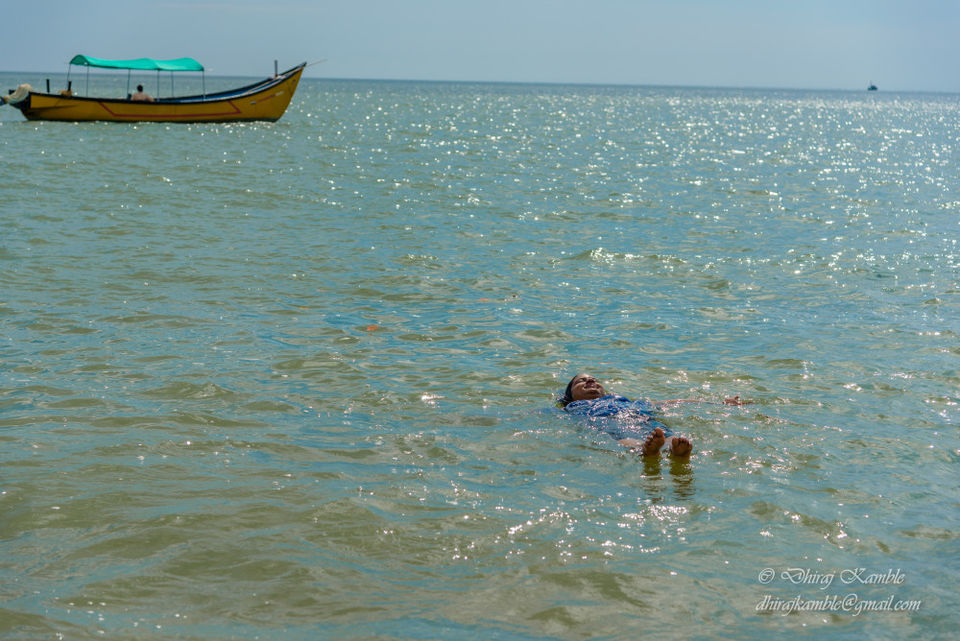 I floated through paradise.

While walking through this trail there was a branch over a rock where some people holding the branch leaped forward.

Meanwhile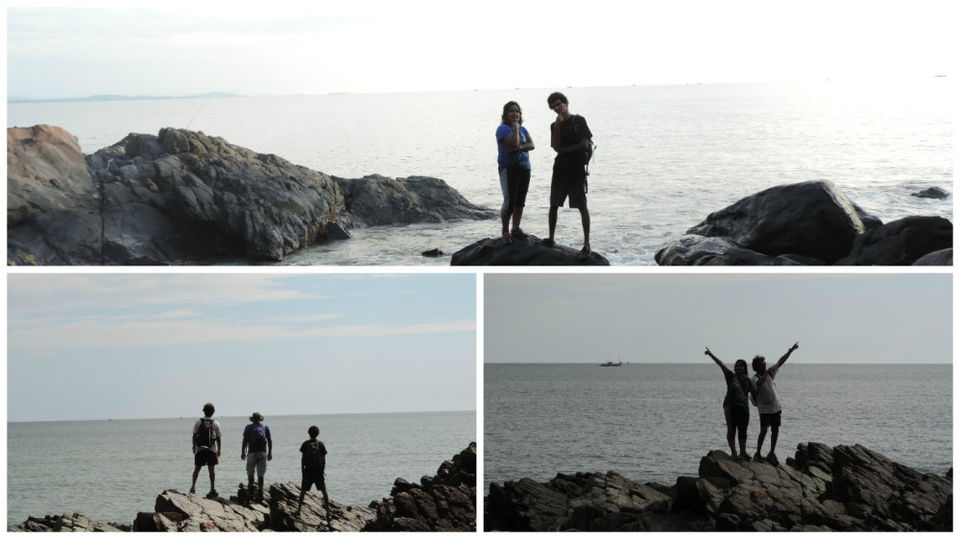 After all the craziness we walked towards half moon beach.

We had a 3 point challenge on the way. The idea behind it was to climb this rock in 3 steps.

While everybody was waiting for their turn and completing the challenge, others tried doing the same challenge from other sides as well.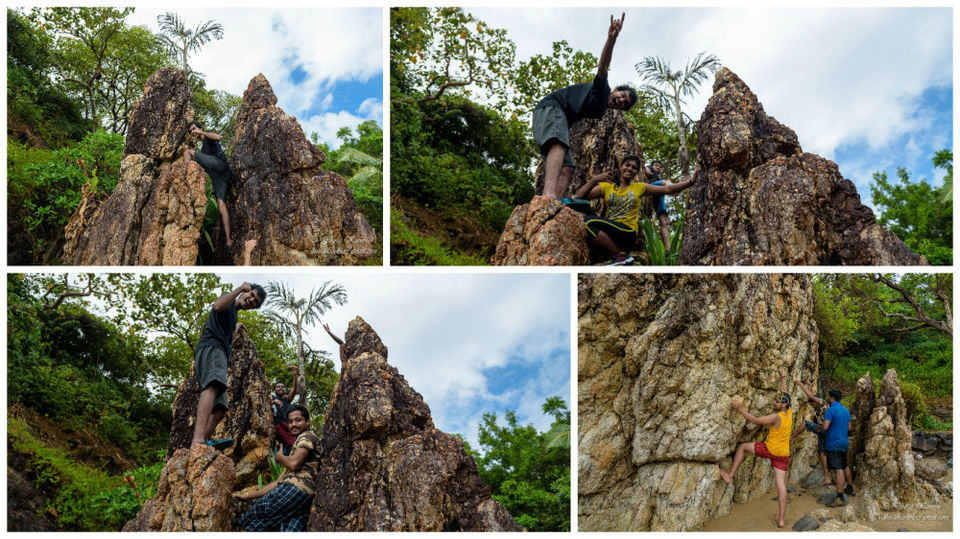 Meanwhile some photography????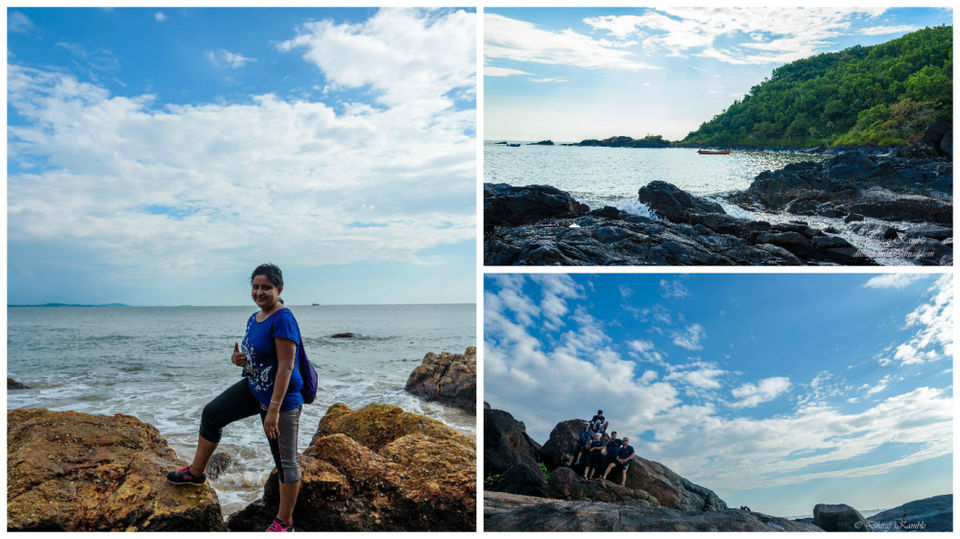 we reached Half Moon beach and many agreed to have lunch since it was 3:30 PM already. We divided ourselves into 2 groups and went to 2 very nice cafes in half moon beach serving Indian, Continental, Italian and American cuisine. The best think about these cafes was the food was great no matter which food you choose. Personally, scrambled egg served was my favorite. It came first and everybody jumped on it. Sizzlers were also tasty here for a spicy relish like me.

Another fun fact about this place is, from the table we were seated in, one side was the deserted island and the other side were the guys going shirtless taking a stroll after dip and bikini-clad skinny women enjoying the view at the beach absolutely intimidating me, But hey a girl's gotta eat.

After a sumptuous meal, we took the trail towards Om beach. The best thing of this whole Gokarna circuit trek was here, The sunset and the dolphin spotting from the Rock of Peace.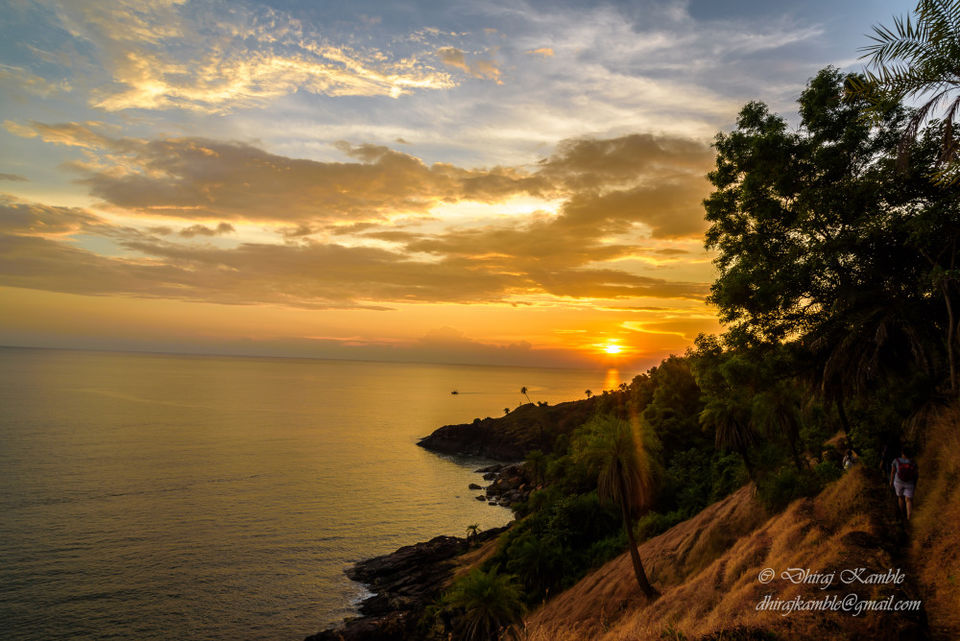 The terrain was beautiful with the sunset over the vast Om beach one side and the half moon beach towards the other. We got lucky that day as we got to see dolphins there. Although I have seen them before in Kerala, This was still rare.

We then got to Om beach and our trek lead Kush suggested Nutella pancakes with spicy macaroni from a cafe there. Both were absolutely delicious. We then walked towards the kudle beach and further went to Gokarna beach.

We reached Gokarna beach at around 11:30 PM. We had collected logs for the campfire.

So we created the campfire at Gokarna beach: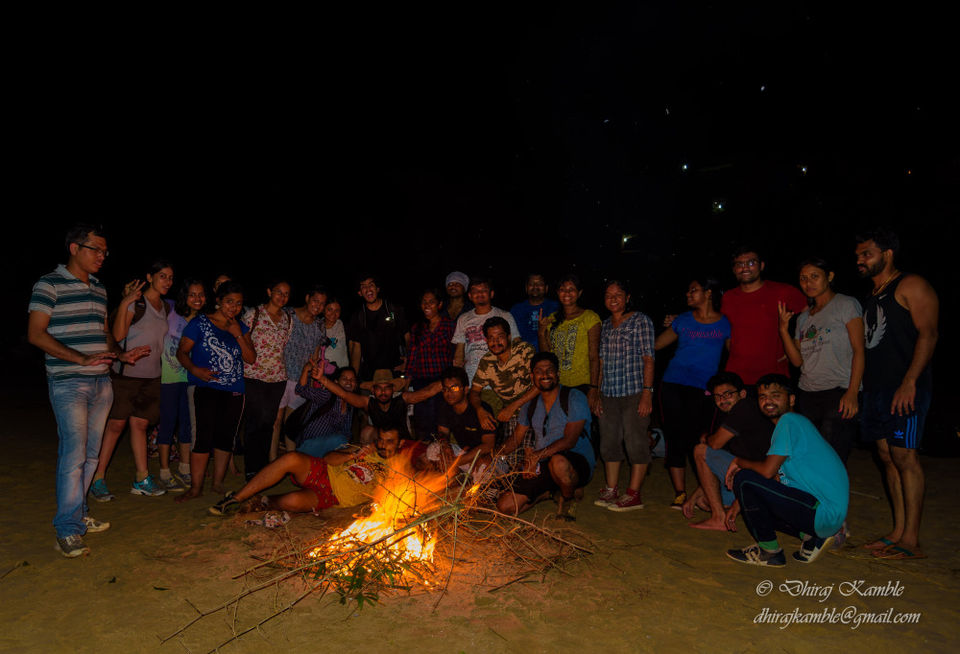 After enjoying the camp fire for a while we went back to our hotel.

Even though we slept late that night, next day early morning we went to visit the Sunrise near the kudle beach from a small peak. The beautiful view of sunrise at one side and the whole gokarna terrain on the other.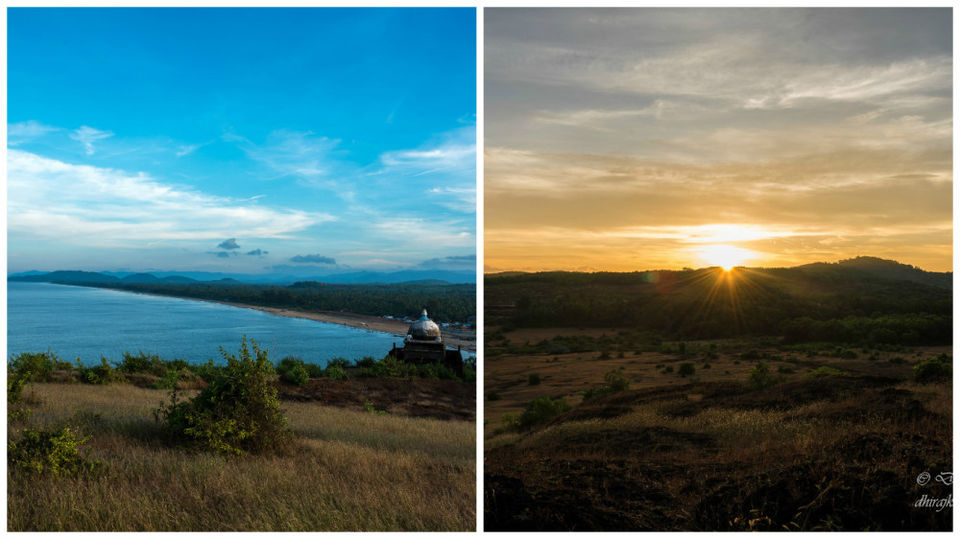 After this, we departed from Gokarna with a heavy heart and a long travel ahead in the traveler to Bangalore.

The whole journey was eventful from sharing the room with a hardcore IISC researcher to talking about Schrodinger's Cat and Parallel Universe at breakfast making my curious soul excited about all sorts of endless possibilities. We then played Mafia and Dumb charades while travel and departed our separate ways with good friends to count on.

Gokarna Trek with GETBEYONDLIMITS Cost: 2799 INR

I would like to end my blog by saying "It feels good to be lost in the right direction"

–

Ramya
Trip first published on ramyathechosenone