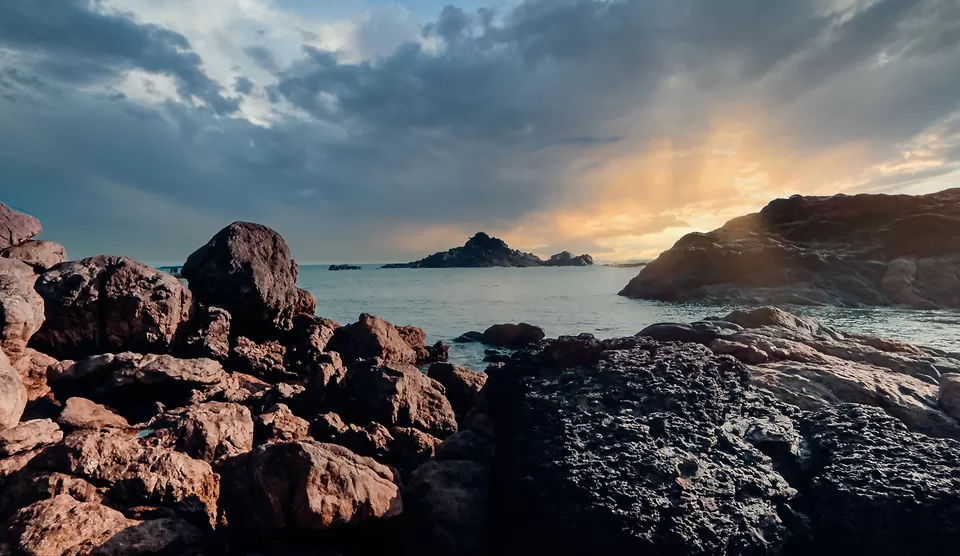 Out of the four pristine beaches in Gokarna, the Om Beach is also named as the Gokarna Beach. The name 'Om' comes from the fact that the beach makes a perfect symbol of 'Om' here. It is a beautiful place but not fit for swimming as the slope is steep and thus the waves are a bit fierce. You can enjoy a picnic here or walk along the beach admiring the beautiful sceneries filled with greenery. There is also a hill nearby on top of which the famous Om Beach Resort is situated. From on top of this hill you can get clear panoramic views of the whole town.
A heaven for sunset, seafood and sea lovers, this beach is one of the most popular beaches in Gokarna. The Om Beach traces the shape of the Hindu Symbol of Om. One can go here in the evening to enjoy the sunset by the beach followed by a delicious sea food dinner.
Best food options on Om Beach
1. Namasta Café
This is a beachfront restaurant that has established itself as a significant spot for foodies. This is also a hotel, with rooms of multiple categories. This place is particularly known for watching mesmerizing sunsets and sipping on delicious food.
2. Dolphin Bay Café
You can take a ferry ride from the Om beach to see the near by beaches and popular spots like the lighthouse, half moon beach, paradise beach, or simply trek to these places.
3, Moksha Café
This is a quaint little café facing beach front located 2.3 miles from Tadadi port. It has an outdoor garden and an indoor space. This café also has a handful of rooms in the villa with decent interiors.
Best stay options on Om Beach
There are not many stay options on Om beach, but there is a variety of stay options on the Om beach road. Here are some of the best stay options in Gokarna. But these resorts listed below are in closest proximity to Om beach.
1. Stone Wood Nature Resort
Located only 1 km from Om beach, this beautiful resort is on Om beach road. The resort has a spacious swimming pool, friendly staff and known for its seafood variety. The resort is located in a prime location with everything almost walking distance away.
2. SwaSwara Resort
Located less than 0.3 km from Om beach, this is the most luxurious property in Gokarna. It is also the most expensive property. Everything about Swaswara talks comfort and luxury. They host a multitude of activities like morning yoga sessions, meditation meets, and also have a luxurious ayurvedic spa.
3. Arthigamya Resort & Spa
Located only 0.7 km from Om Beach, this is yet another property that speaks luxury at affordable prices. It is perfect for families with kids and couples. The property has various activities, nature walks, a good food spread and a comfortable yet affordable ayurvedic spa.
Other activities on Om Beach
Om water sports is a sport equipment and rental service in Gokarna. One of the most well-known stop for any water sport activities on Om Beach, they offer a wide range of water sports for all the adventure seekers.
Gokarna is of strong religious significance to people in India. It is known as the land of Lord Shiva. Some bits of this quaint shore town still remain unexplored. Every year, the town experiences a flock of tourists and travelers, some come here to make memories, some others come here to explore, but every body goes back with a mountain of stories. Gokarna is a good vacation spot all through the year. There is no specific season for this destination. So what are you waiting for? It's time for a road trip.
Planning a trip to Gokarna anytime soon? Apart from the options above, if you're looking for budget friendly stay option, then Zostel, backpackers hostel, is exactly what you're looking for. This is also very close to the main beach in Gokarna. Here's everything you need to know about Gokarna Beach.
Be a part of the largest online community of travellers on Tripoto's Facebook page!
If you liked the article, share the love and follow me on Instagram - #Whereizmyboardingpass