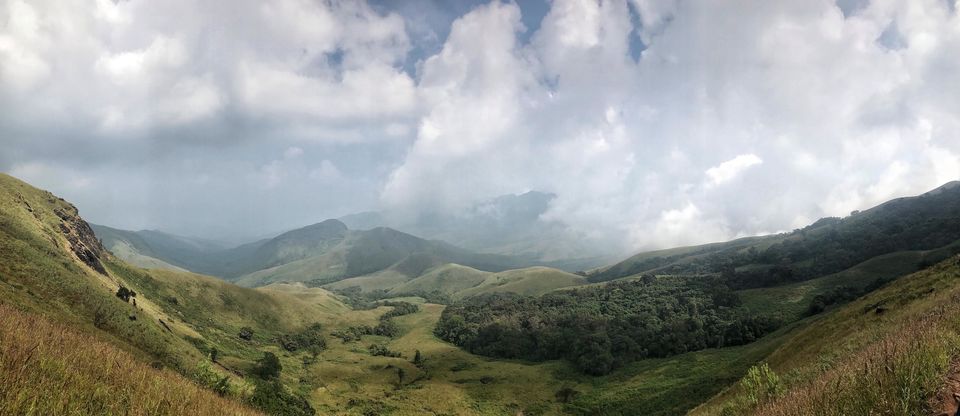 On the western ghats of our country, lies a hill station cum mining town known as Kudremukh. It is the name for a peak which is located in the Chikmagluru district. Attracting tourists from across the nation, Kudremukh is truly a jewel.
Karnataka, as we all know is famous for its mountain ranges and the treks. Only a few treks in the southern part of India would be as beautiful as the Kudremukh Trek. It is a mesmerizing experience.
did you know? Kudremukh - Horse faced (the peak resembles a horse's face)
Located at a distance of 340 kms from Bengaluru and 100 kms from Mangalore, Kudremukh is the perfect getaway spot for you if you like to trek and witness the beauty of the nature.
Getting there:
The nearest airport to Kudremukh is in Mangalore which is approximately at a distance of 190kms. The nearest railway station to Kudremukh is approximately 150kms away. Okay so, there is no bus to my knowledge which drops you in kudremukh except the private tour and travels. KSRTC buses are available till Kalasa, from where you can either take a jeep or a bus or an auto to Balegal. The journey doesn't end here, you'll have to further take a jeep or an auto to Mullodi which is a small village full of home stays near the trekking point. It is not as difficult and complicated as it looks like. If you have a tie up with a home-stay guy in advance then you do not have to worry about anything. The only thing you'll have to do is to give him a call when you reach Kalasa, he'll make the arrangements. And obviously you can take your car along for a scenic view along the drive.
Transport:
Other than travelling from the bus stop to your home-stay, you would barely require a vehicle. Everything is at a walking distance.
Where to stay:
I caused a problem by mixing up between two home-stays there, I hope you don't. There are many home-stays there and you can choose one as per your budget. I chose "Shankregowda Home-stay" which was reasonable and decent for a college guy. He offers us food(breakfast+packed lunch+evening snacks+dinner), a room with mats, a washroom which has hot water and a bon fire at night with a really good service at 700₹ per person. I would provide his contact number, just in case if you would need it, +91 9482493167 - Shankre Gowda.
Permits:
Yes, you would be needing a permit in order to trek or visit the national park. The entry fee for trekking is ₹420 per person, however, if you are a group of more than 8, they would charge ₹500 per person along with a mandatory guide of ₹500. They allow a maximum of 50-60 trekkers per day. So, you should plan everything in advance. The timings to start the trek are from 6am - 9am and you have to start the descend by 2pm and reach the starting point by 6pm.
Brief:
Distance from Bangalore - 340kms by road
Attractions - Kuduremukh National Park, Kuduremukh Trek and a few waterfalls.
Trek Distance - 24kms (approximately) (both ways)
Time to Summit - totally depends on you, for me, it took 2.5hrs to summit, however, I met people who were trekking since 6:30am and were on their way to summit.
Best time to visit - September to November (after that the forest starts getting dried up)
Food - There's no restaurant near the homestays, the nearest restaurant that can be found would be in Balegal.
My Journey:
During my time in the boarding school, we went for some treks that made a deep impact on my life. I noticed my fascination towards travel, trekking and the nature. Since then, I have decided to trek almost all the treks that are present in our country.
Kudremukh was a starting point of a big milestone I want to achieve. I had been planning about it from the moment I had first heard of it. And finally, I got a chance in the form of a long weekend last week. My friends and I booked a KSRTC bus at a very affordable rate, which took us to Kudremukh in approximately 8hrs. On reaching Kudremukh at 4am, we were unable to find any jeep or auto or a bus. Shankre Gowda sent an auto and we reached our home stay, after which we started our journey to the peak with the packed lunch provided by him. Initially, the trek was mostly flat and i was relaxed but then came a point where the uphill started and went on till the peak. I took a five minute break and went on without taking any rest, made it to the summit in 2hrs 30min. It was a beautiful experience altogether, which ended with a relaxing massage by one of my friends and a bon fire at night.
The next day we woke up early and left for Kalasa to board our bus back to Bengaluru which marked the end of our memorable trip.
Note:
1) People there, do not understand English or Hindi. The only language they would be comfortable with would be Kannada.
2) Due to the linguistic problems, bargaining is a problem.
3) Make the travel arrangements i.e. pick up and drop off to the bus stand in advance to avoid any sorts of inconvenience. Call the number I have provided above and specify what you want clearly.
4) Avoid eating Non Vegetarian food there.
5) Be careful during the trek, they don't let in any speakers or food like chips, maggi etc.
6) Do not freak out on sight of any dangerous insect or animal, just inform your guide. Carry salt along for any such problems or a rash.
शुभ यात्रा | Happy Journey | bon voyage