ITINERARY:
Day 1 .( 28th oct 2016)- Boarded bus from majestic bangalore to kalasa
DAY 2 .(29th oct 2016)- Reached kalasa bus stop at 11:30 am.
DAY 3.(30th oct 2016)- Started the trek to kudremukh peak at 8:00 am
DAY 3 .(30th oct 2016)-Boarded the bus from horanadu to bangalore majestic at 9:15 pm.
DAY 4. (31st oct 2016)- Reached majestic bangalore at 5:30 am.
DETAILED DESCRIPTION:
Although, the travel bug was in my ass since my school days ,but it was only after joining a corporate i realized, that i should more often let this bug out of my ass.
Shifted to bangalore in september , already very frustrated with the traffic , pollution and falling hair, i was looking for a place near by to travel , when someone suggested me to go on a trek to kudremukh peak in chikmanglur ditrict, i googled it convinced 6 other friends of mine and planned a trip to kudremukh . It is a mountain range in western ghats , whose elevation is 1894 m I was really excited for the trek, after seeing the amazing view of kudremukh and the ferocious forest route was making me anxious and restless to start the trek.
we decided to go on the trek in the long weekend of diwali from 28th oct to 30th oct 2016.
DAY 1. ( 28TH OCT 2016):
i was in the office and was waiting for the clock to strike 6 pm, we had booked a KSRTC non-ac sleeper bus from majestic to kalasa which was scheduled @ 10:26 pm .
My humble advice to all, please leave for the bus stop at least 3 to 4 hours prior your bus timings. I left at 8 pm and reached @ 10:45 pm i thought i had missed the bus , luckily the bus was also stuck in the traffic it came @ 11:30 pm. Due to heavy traffic and so much of delay we reached kalasa @ 11:30 am , 29th oct, our scheduled arrival was @ 5:30 am thus we couldnt start the trek the same day ,because forest department people doesnt allow you to enter the forest after 12 pm.
DAY 2. ( 29TH OCT 2016):
we reached kalasa @ 11:30 am ,it is a very beautiful town , the moment i stepped down from the bus all the vendors and shopkeepers were waving their hands , it was a very warm welcome indeed. After reaching there we called Mr. raje gowde who provides the house stay ,he arranged a jeep for us to be picked up from kalasa stop to his home , now this jeep journey was fun there were no roads up hill , only jeep could accommodate that terrain, even if you are taking your own vehicle you cant reach his home by your vehicle you will have to take the help of the jeep only.
On reaching at the location , Mr. gowde very short heighted very humble and a very kind man greeted us and showed us around ,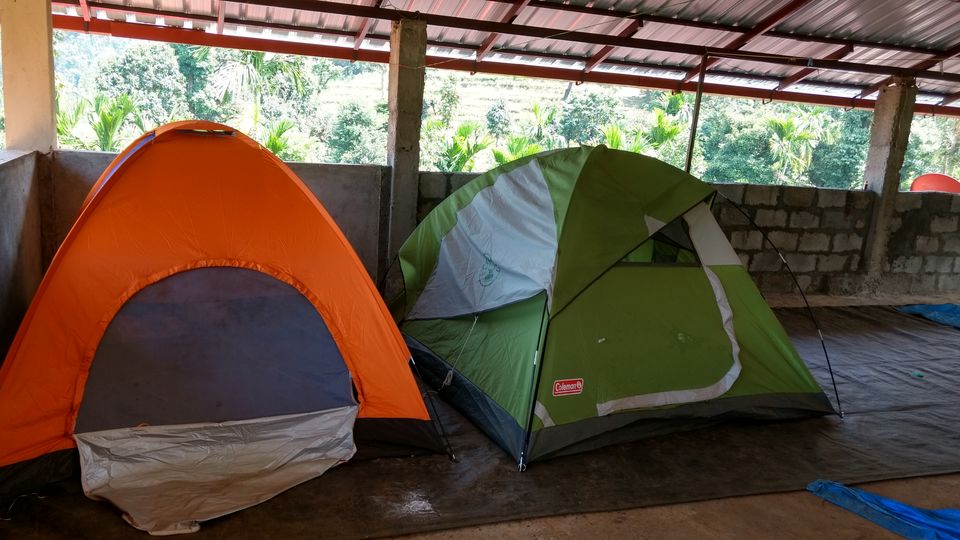 the only thing i was waiting was, for some food to be served ,i was starving ,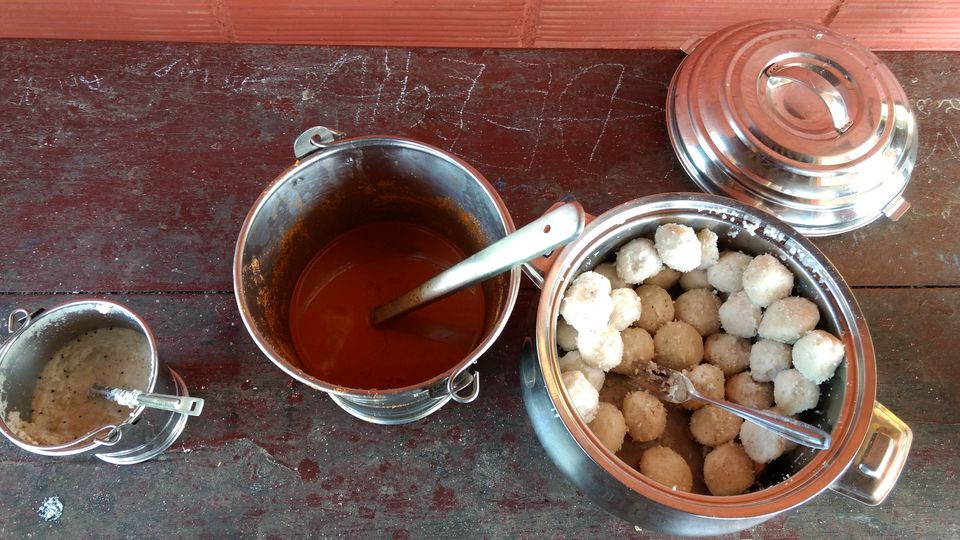 after having brunch we went to a waterfall just next to Mr. gowde's house. It's a small serene waterfall ,you can take a bath over there , #beware the rocks are very slippery dont try your bones with it, although it's a small fall but still you can break your hand or leg if you are not careful.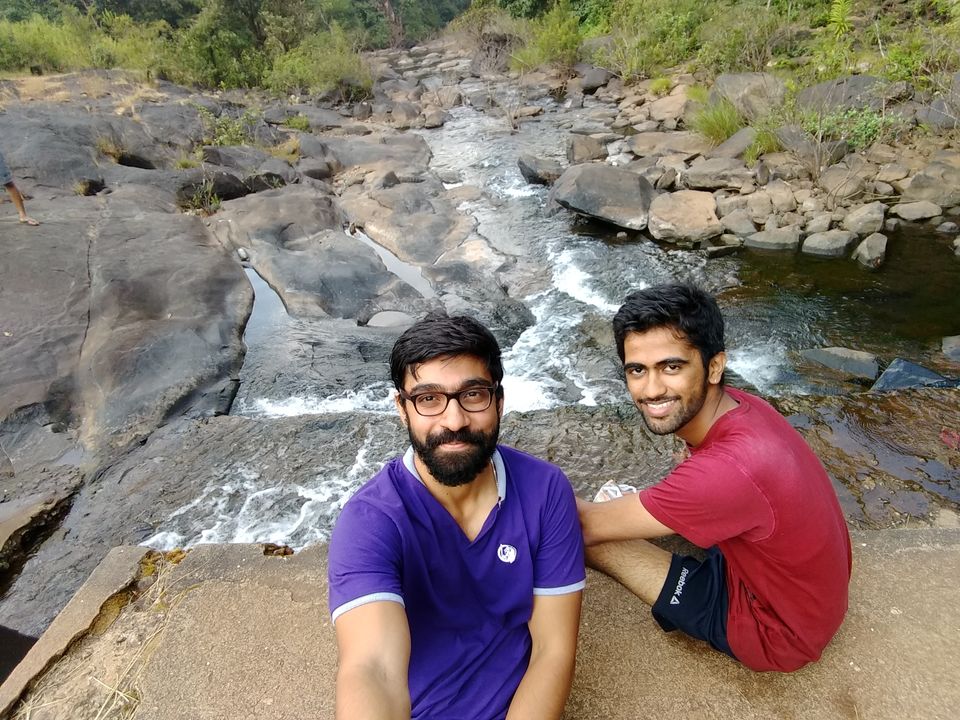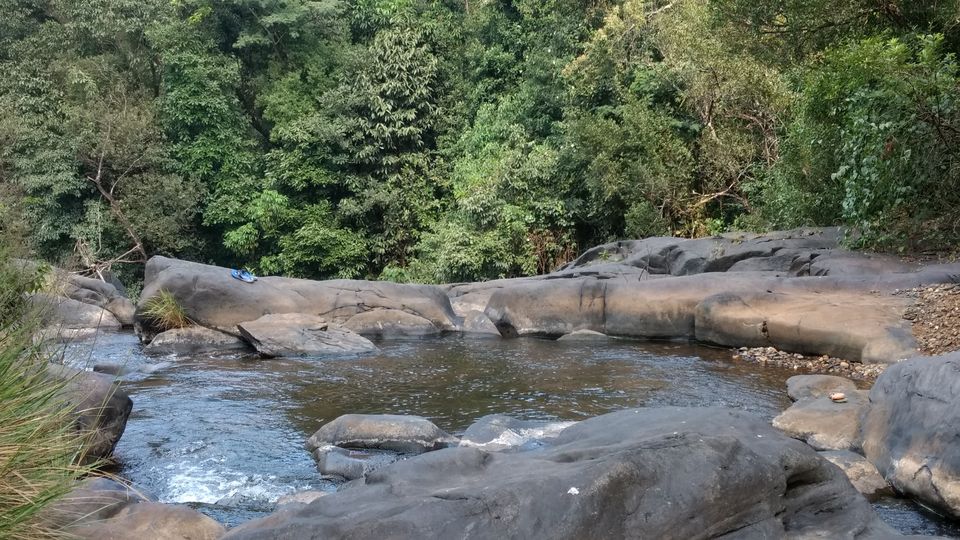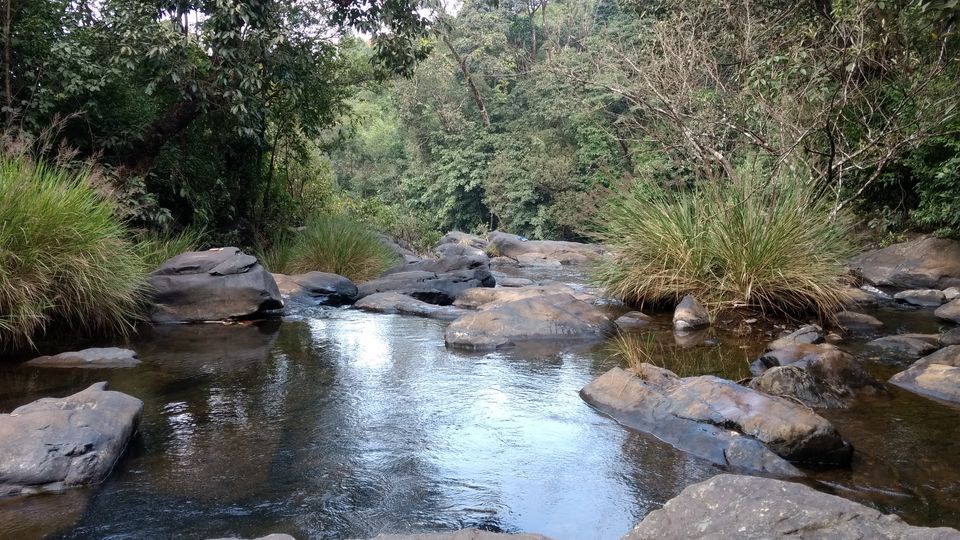 after spending some time at the falls we came back to our base camp, there was a group sitting verandah having snacks, they had just came back from the trek , i was listening to their experince . after talking to them i was anxious to climb the peak , their description of the forest , the falls , the greenery , clouds made me restless.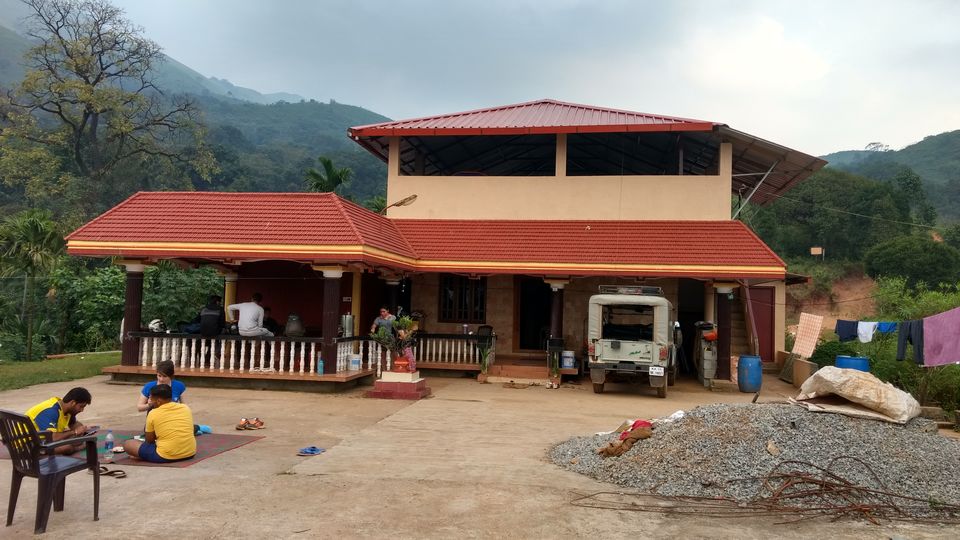 after having dinner Mr. Gowde arranged a camp fire for us , it becomes very cold in night , so camp fire was a good option. There was no pollution in that area, hence a clear dark sky with lots of stars was someting you should never miss, i had witnessed so many stars after 2002 only , you wont realise this unless you go to your terrrace and see how many stars you can see now, pollution is eating the environment. I saw 3 shooting stars in just 15 mins. With a trail of 8 to 15 seconds.
DAY 3 ( 30 TH OCT 2016):
I was so restless , i didn't want to waste one more second , we woke up @ 5:30 am, the morning was so beautiful we had our breakfast we were all set to start our trek, prakash was our guide , after getting the trek permission we started off with our trek.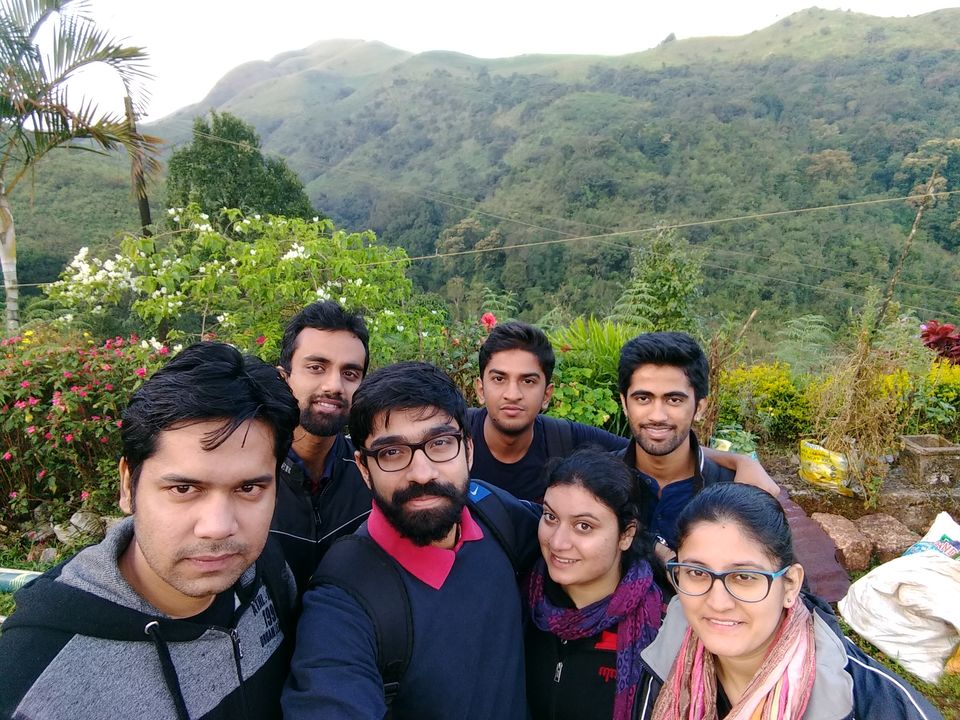 The whole trek is full of dense forest ,steep climbs, green plains,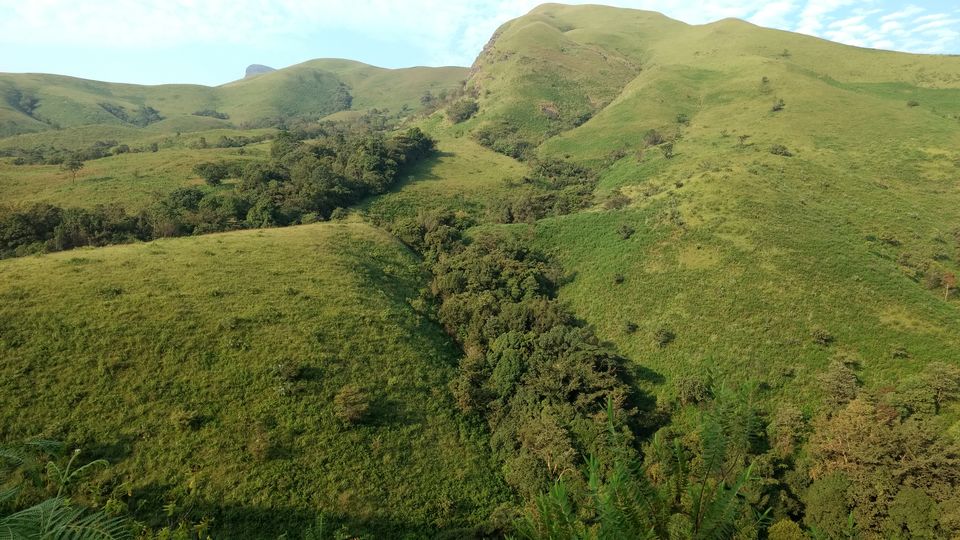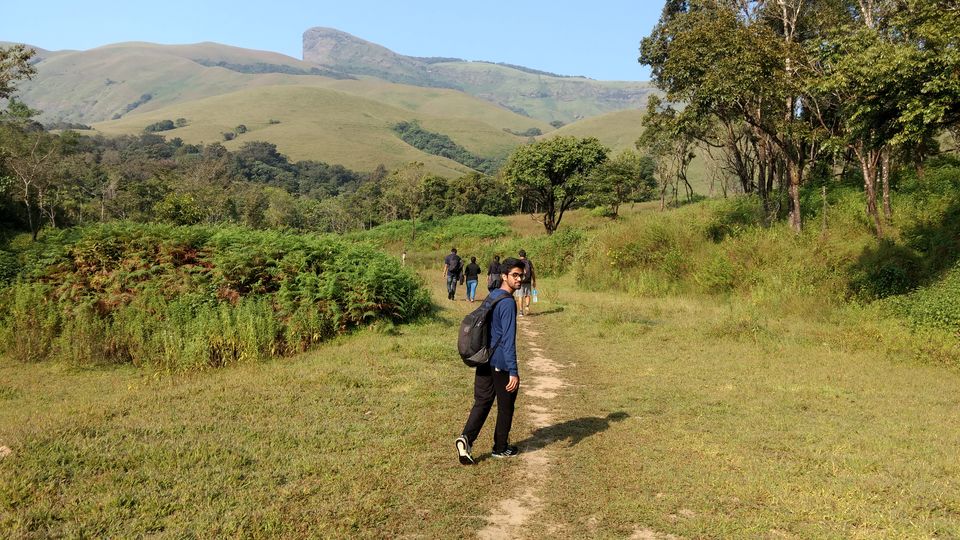 we were carrying 3 water bottles which were empty in the first 2 km strech only. i was worried how would we continue without water , i looked at prakash ( guide) he was smiling and said " ever tasted the fresh water of the water fall". through out the trek you can hear the gushing water flowing by your side , and after every 500- 700 m there is water flowing you can fill up your water bottles , i had never tasted such a tasty and refreshing water before.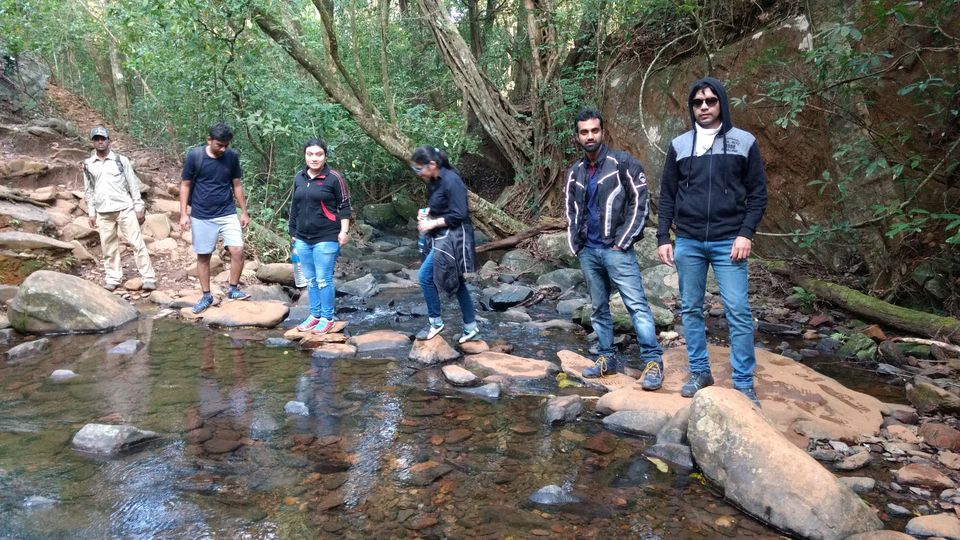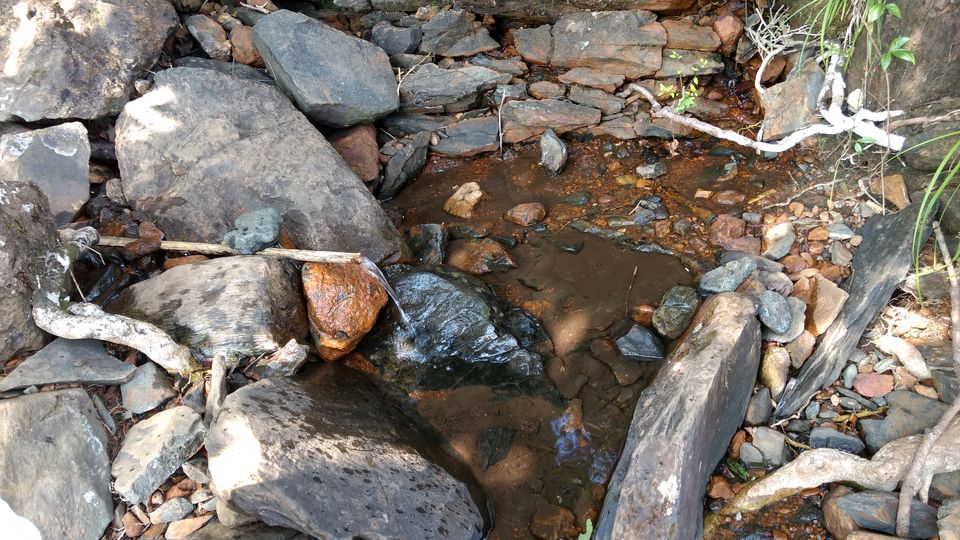 The trek is 10 km long , after 5 kms there was a resting point. we all were exhausted #LESSONLEARNT always carry some chocolates and dry fruits with you ,they are instant energizers .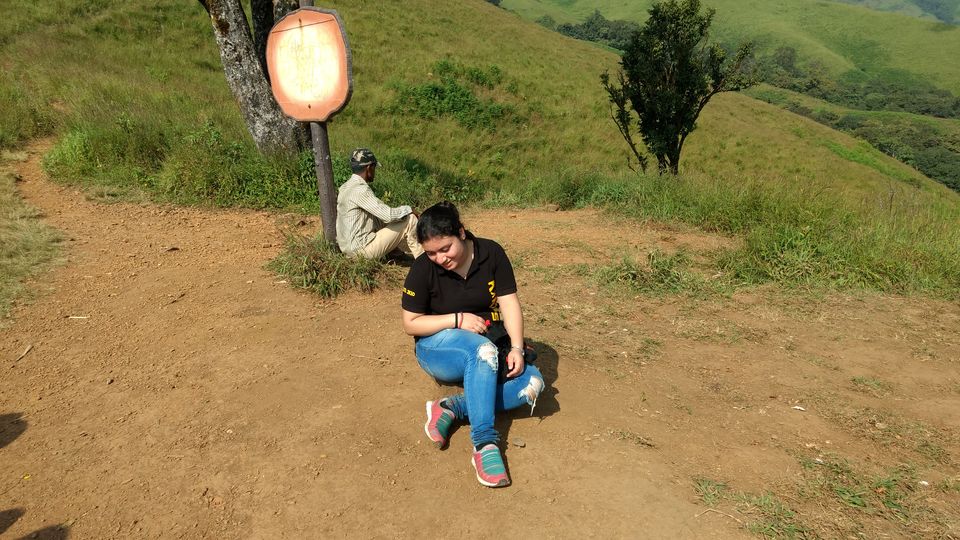 we had started our trek @ 8 am in the morning. It took 4 hours to reach at the peak, after reaching the peak @ 12 pm it all made sense all that pain , all that desperateness of filling up of water bottles all that steep climbs made sense.
i was at the top , there was peace , serenity in the environment the air was so fresh and pure . everybody was busy in making videos and taking selfies , i found a big rock in a corner at the peak , i sat there for an hour all alone didnt speak a word, no earplugs, the nature's music was loud and clear enough . The kudremukh ( horse faced peak ) was acheived .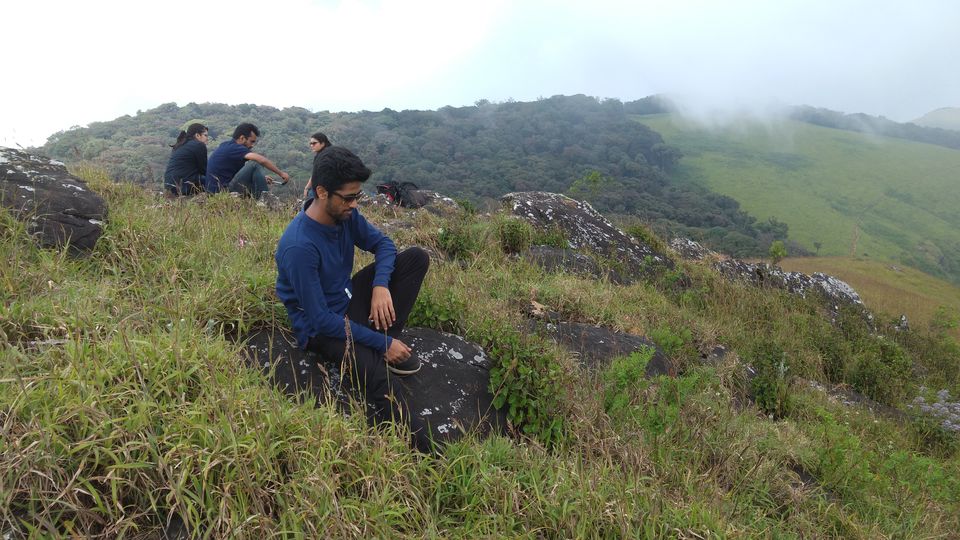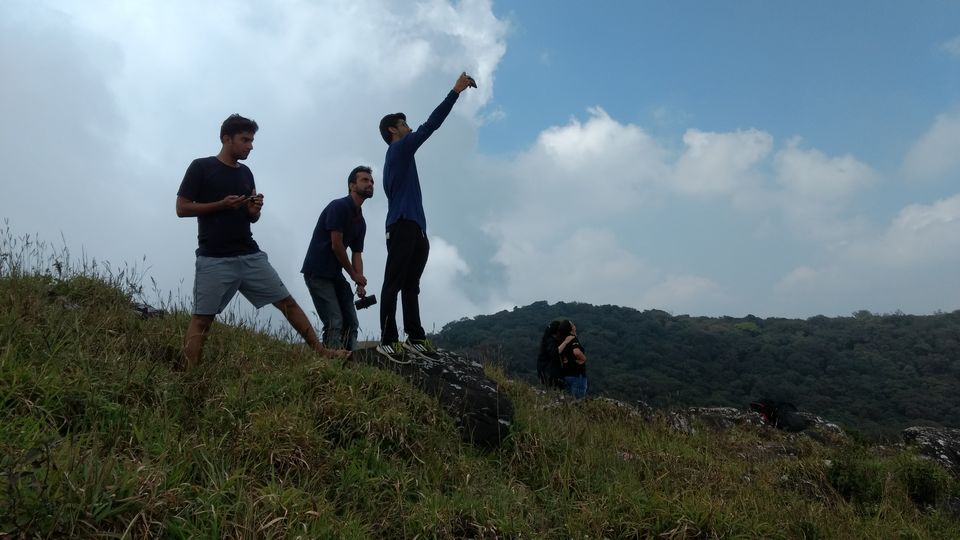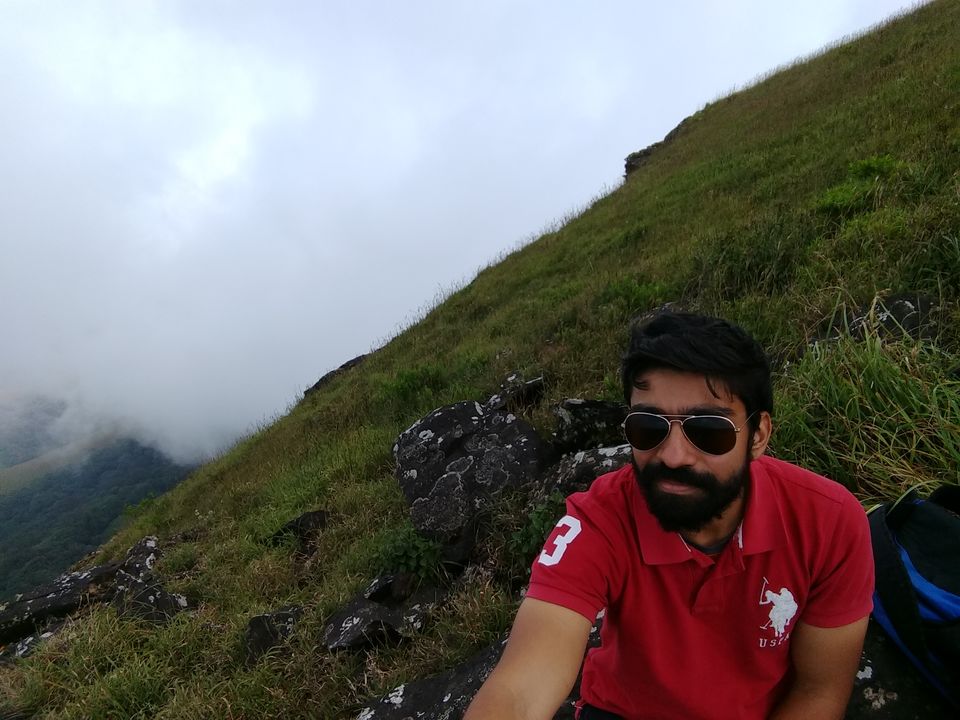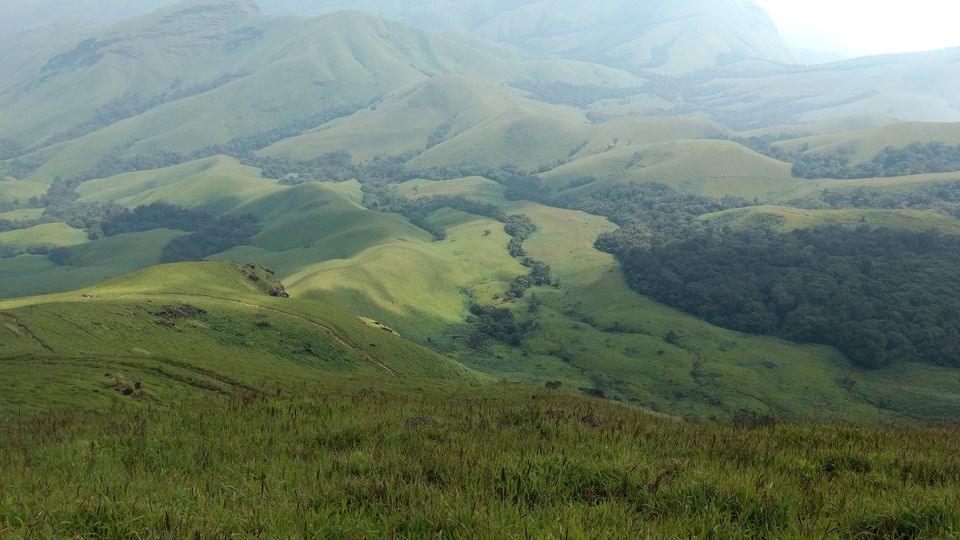 I never wanted to go back , but Prakash insisted to start descending as it might get dark till we reach the base camp. we ate our packed lunch ( lemon rice) and started descending at 2 pm, reached the base camp @ 5:pm ,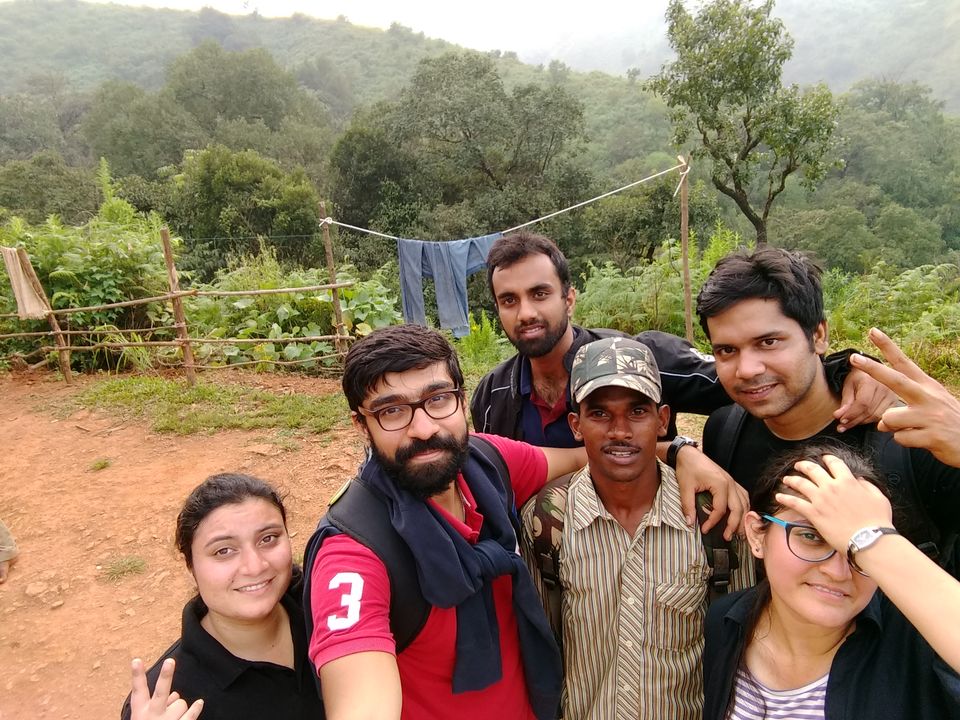 at the base camp " onion bhajiye " were waiting for us. we took bath and thanked Mr. gowde for his hospitality and left the place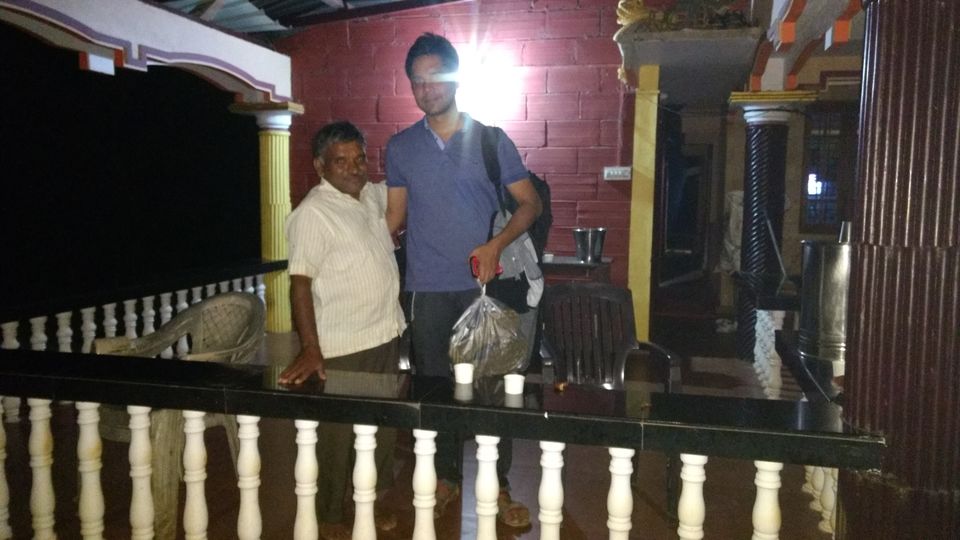 he arranged the jeep for our way down to "horanadu" from where our bus was scheduled at 9:15 pm to bangalore majestic.
DAY 4 ( 31 st oct 2016):
we reached majestic at 5:30 am , and the trek was successful and worth cherishing . Surely one of the best treks i have ever had.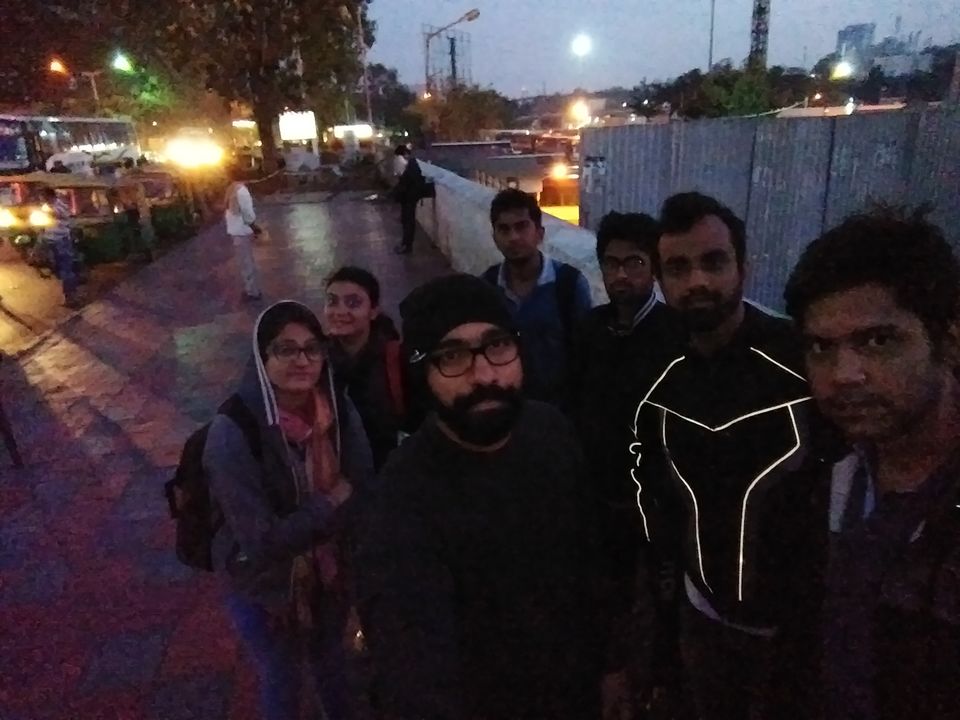 BUDGET: ( per head cost)
1. Bus tickets, non-ac sleeper ( 660*2 to and fro) - rs 1320/-
2. Jeep from kalasa to gowde's house( 1000/7)- rs 142.85/-
3. Home stay per head charge- rs 800/-
4. Trek permission per head- rs 350/-
5. Guide ( 500/7)- rs 71.42/-
6. Jeep from gowde's house to horanadu ( 1500/7) - rs 214.28/-
TOTAL - RS 2898.55/-