Hampi was in my bucket list for sometime now. Malayali's were drawn to Hampi especially after the movie "Aanandam". I had told my friends about the ride to Hampi in the past but none showed any interest to go there it could be because whenever they asked me why Hampi I never had any clear answer, I just used to say that there are many old structures there.So I didn't feel like inviting anyone else I just told my two friends that I would be going on this trip but they were preoccupied.
I decided to go on my first overnight solo motorcycle ride. Even though I initially planned for a 4-day ride it had to be cut short to two days so just the weekend. Hence planned to start around 3pm on Friday and reach Hampi by midnight. But again had to reschedule because of work. Finally started the ride by 3am on Saturday.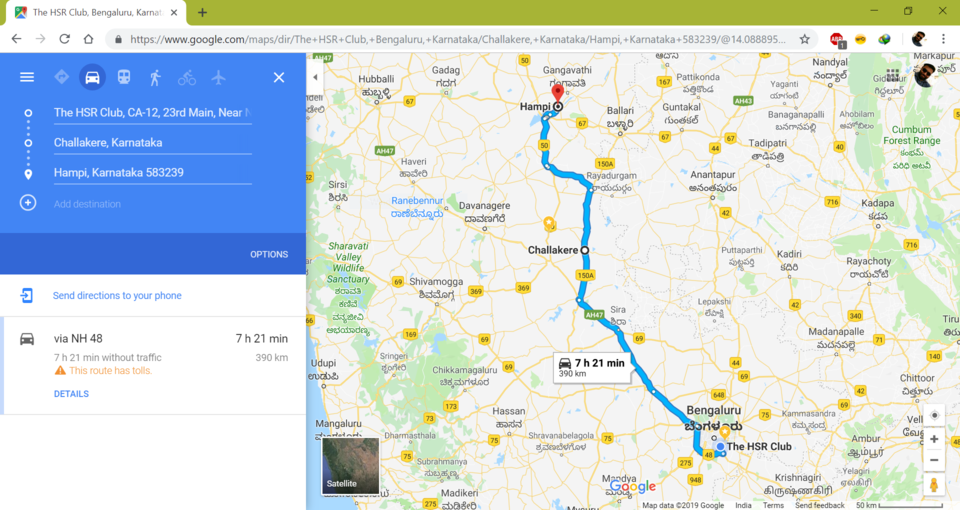 I already had decided upon the route through Challakere as I had read online that this route is most scenic and it was until Chalakere.
I started the ride on Saturday morning 3am after a hot shower and black coffee. Took few coffee and smoke breaks along the way and reached Chalakere in time for breakfast. The ride till this point was superb, road were great and scenic, weather was a bliss. Once my stomach was recharged decided to hit the road again and at this moment Google maps decided that I can save 10 mins if I took a different route and guided me along this route which took me an hour more than the estimated time to cover up.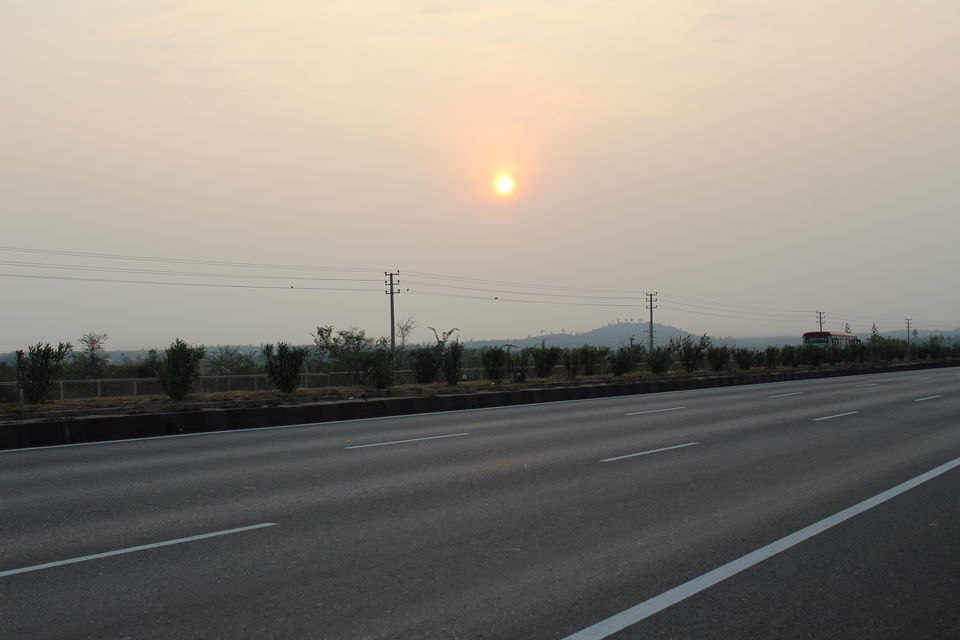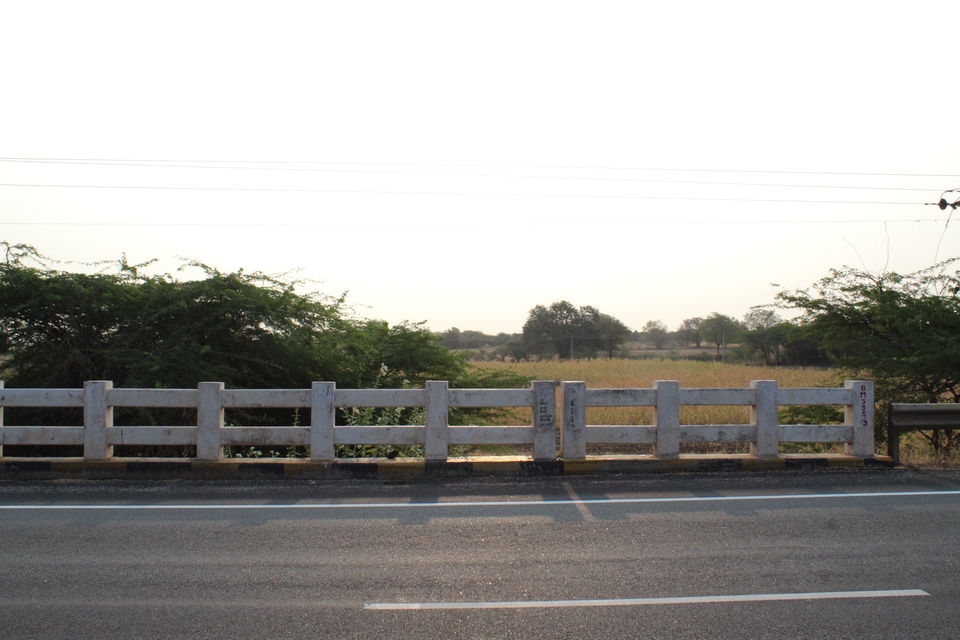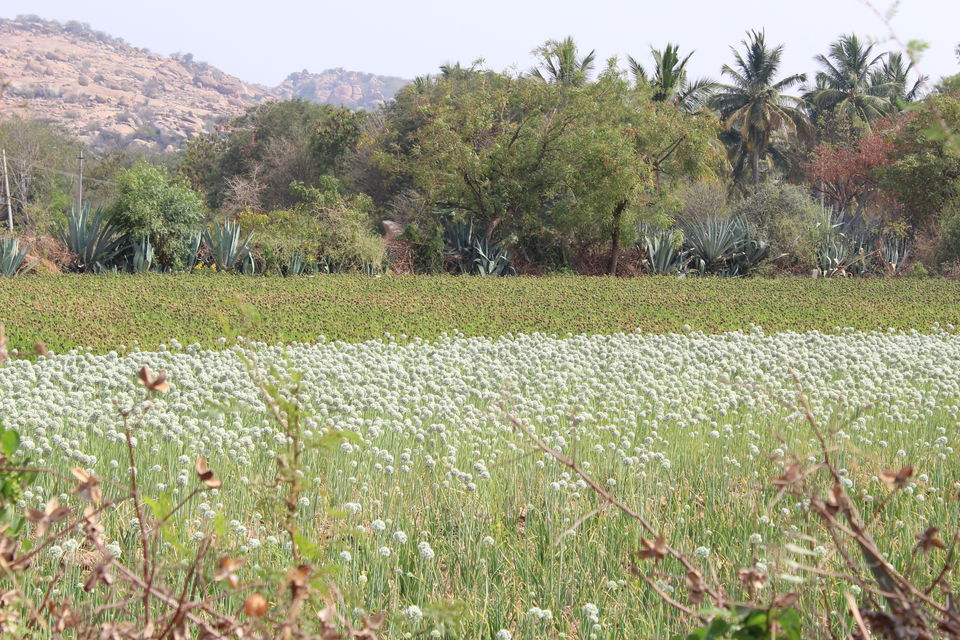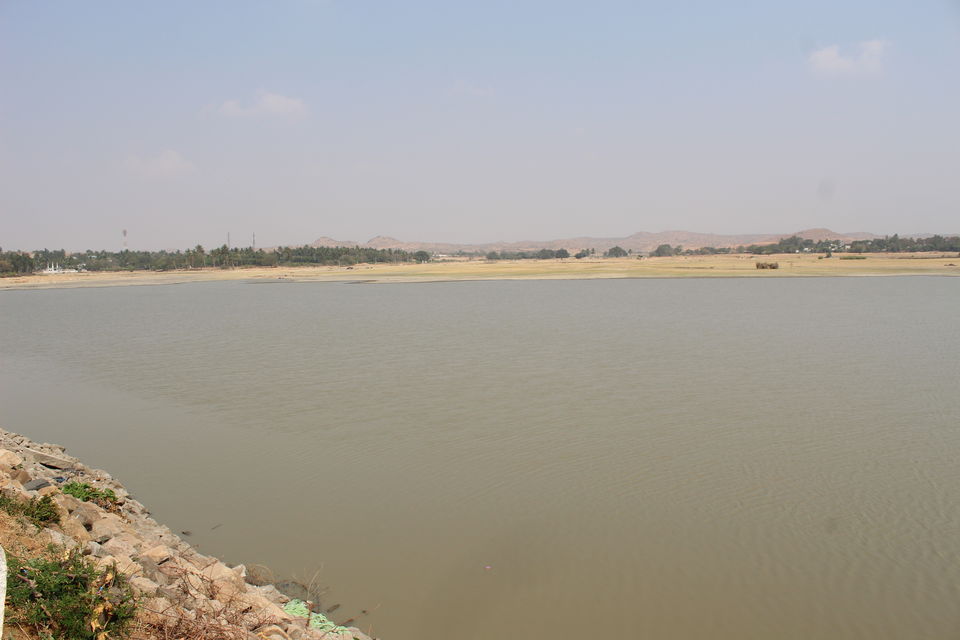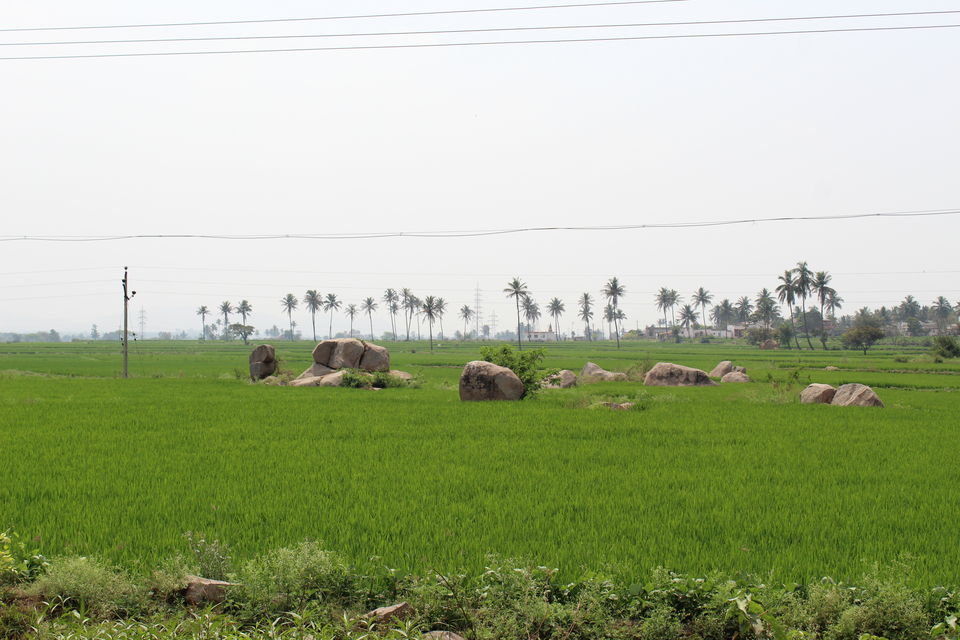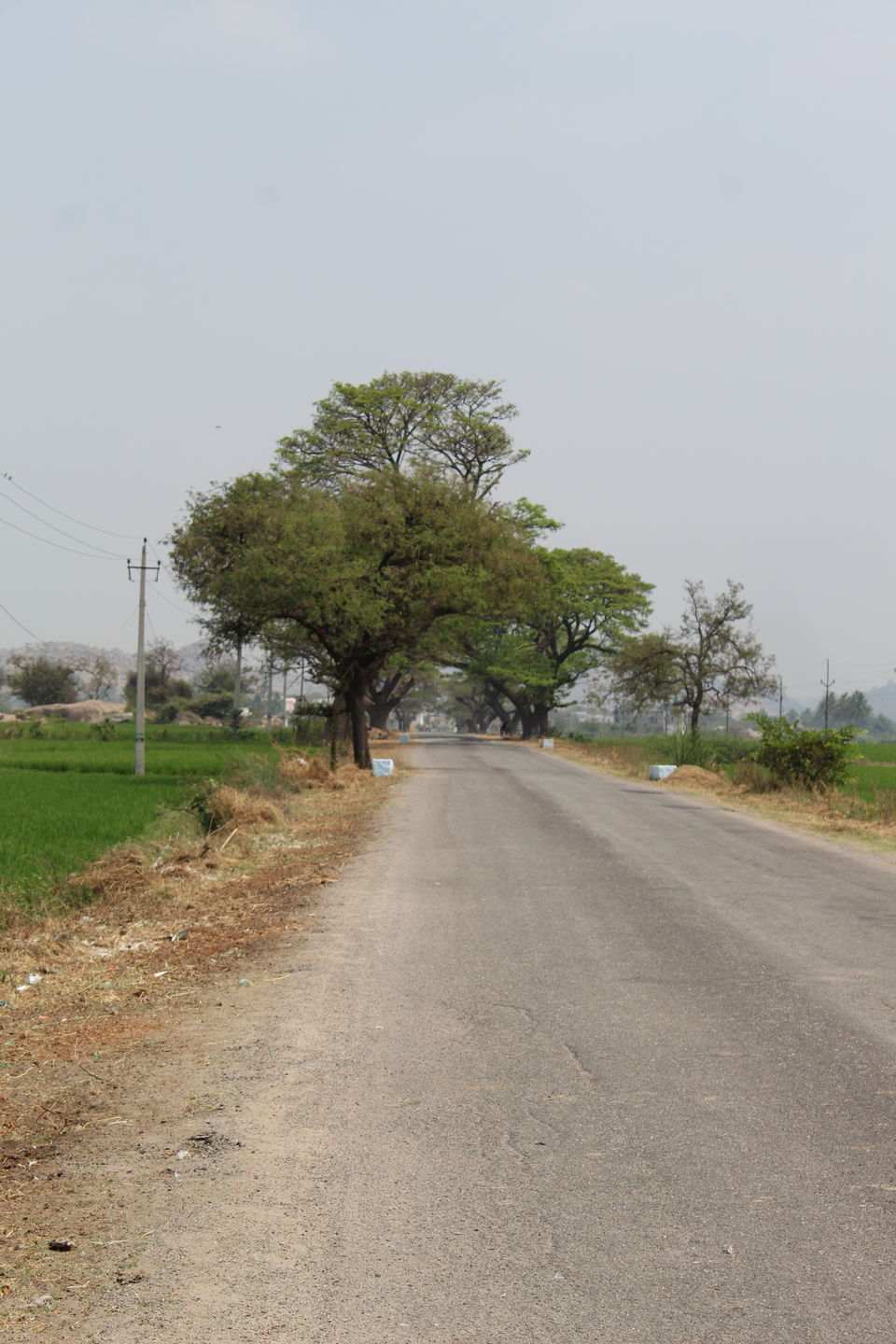 I had already booked my stay at Rambo guest house,Reservoir road via Booking.com. Reached the homestay by 1pm and informed my friends and family about the same. Initial impression about the stay was not great but since the address of the stay said "Reservoir road" I wanted to explore so I set out right away. Found water bodies near the reservoir, tourists enjoying Coracle rides and a secluded lake at the end of the mud patch. Made a mental note to swim in lake next day.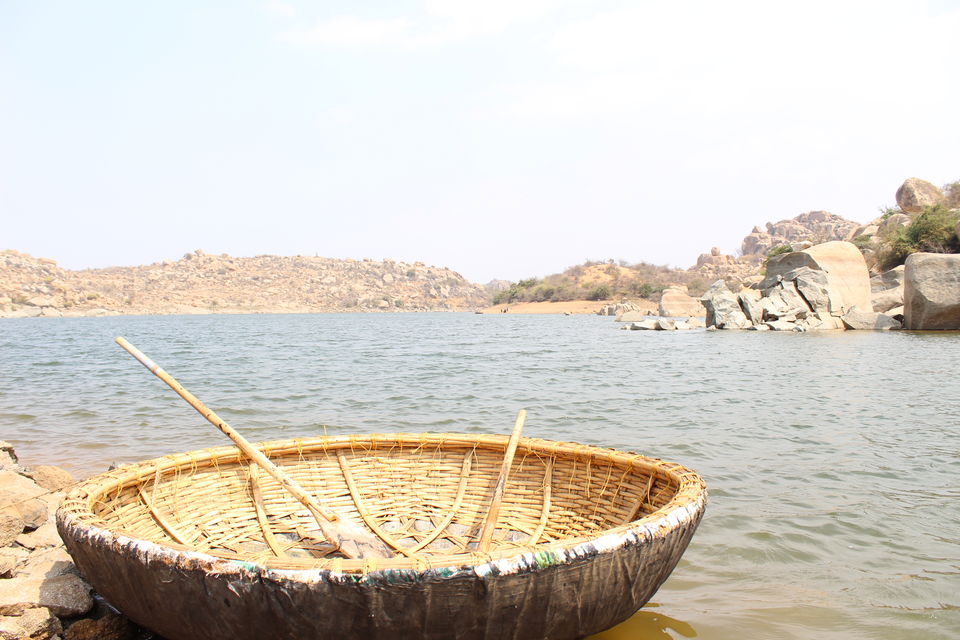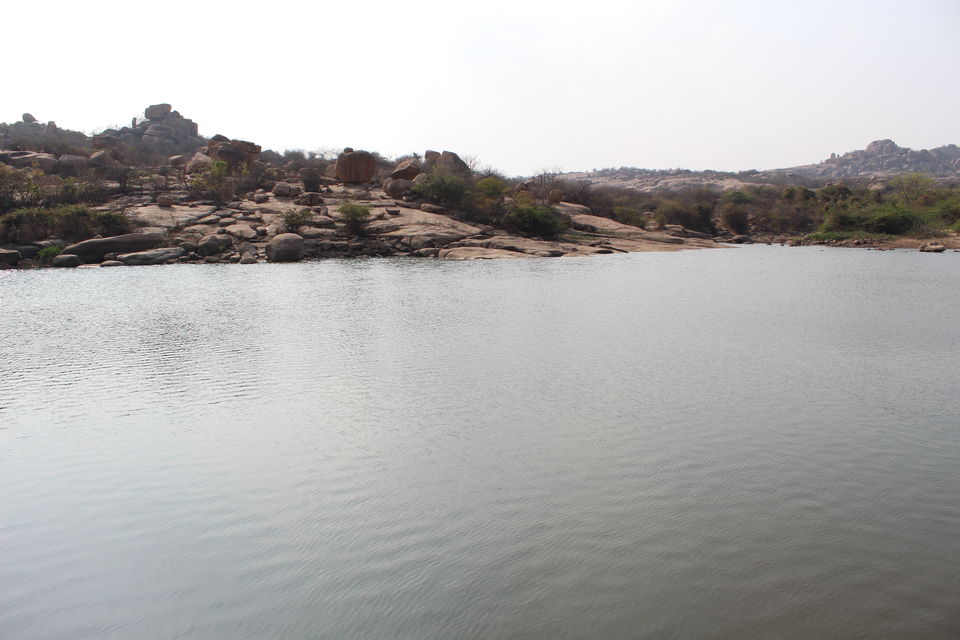 By this time Hunger had already kicked in so decided to head back to the stay. Decided to find a decent place to eat but settled for the in-house restaurant at the guest house which turned out to be one of the best decision in the trip. Ordered Chicken Fried rice which was the best fried rice that I had in a long time. There itself I met two final year graduates who were also taking a break.
After the lunch,I decided to just relax at the restaurant and listen to music for a while. Now this felt really good that too after a long ride. Enjoyed the peace and also the ambiance of the place, even the thought of that stay puts me in a relaxing mood. I do apologize for not clicking any pics of the place but the place does set you in a lazy mood(I am uploading a pic that I found in google).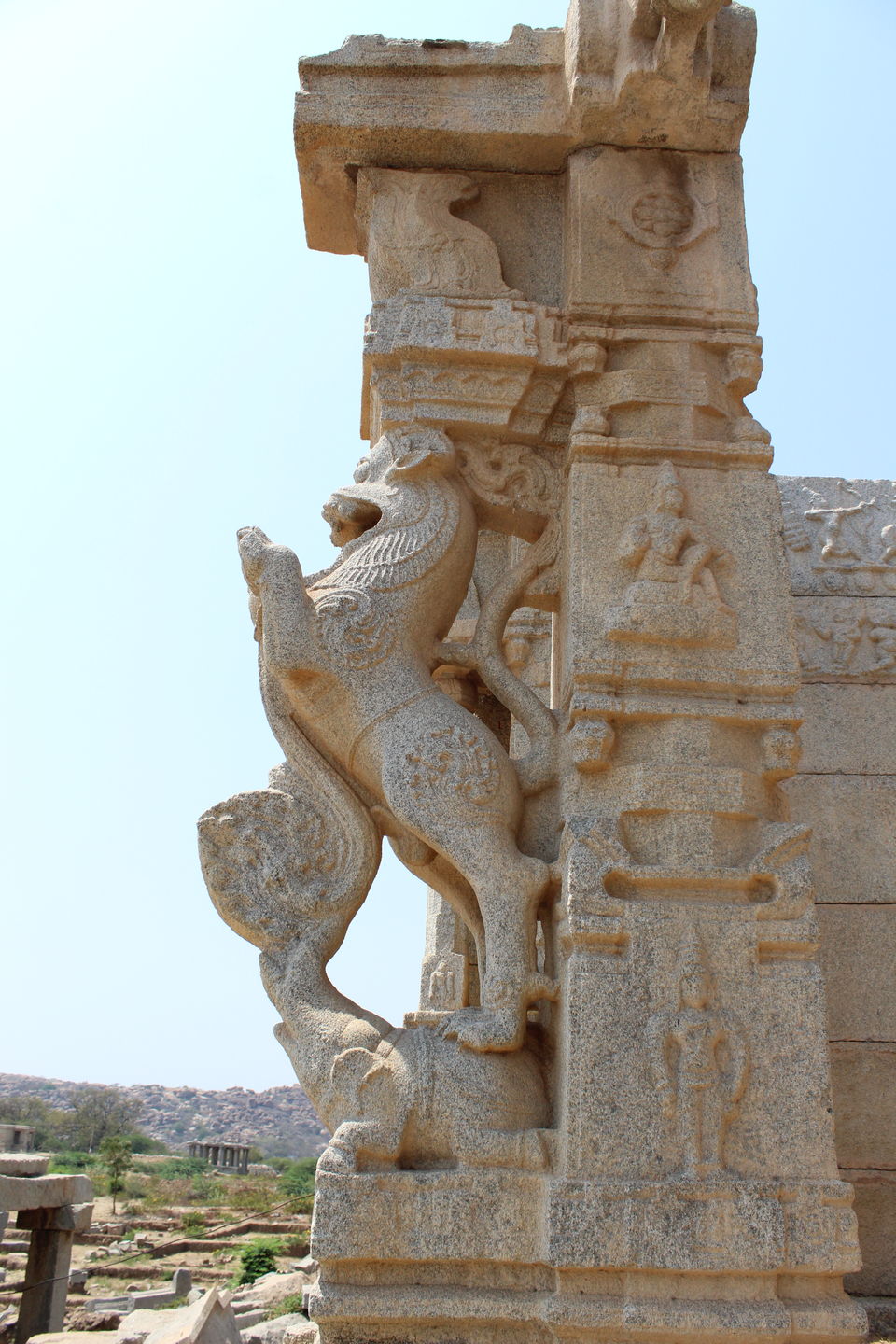 Around 4pm I decided that I am gonna just do one thing, go and witness the beautiful sunset but it was way too early for that so made up my mind to just roam around. Hence started by bike, turned off my nav and just went through the roads in Hampi just left right left. Those roads took me some really good spots.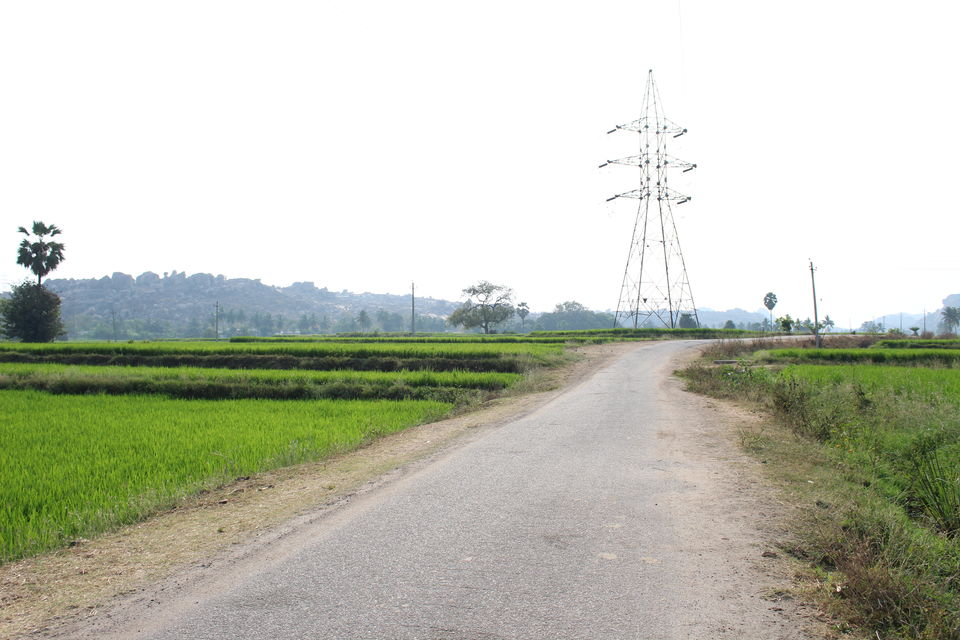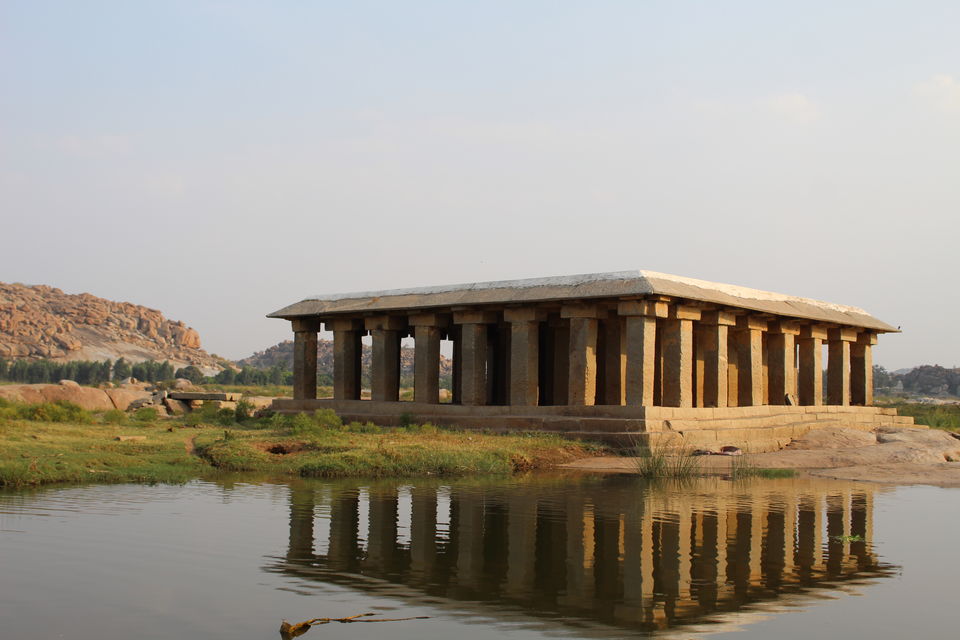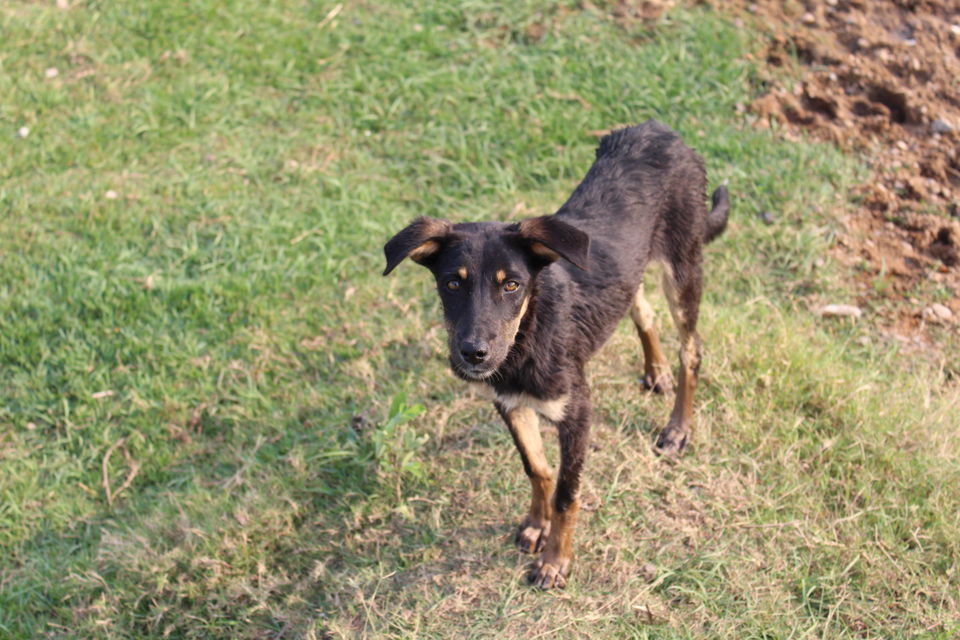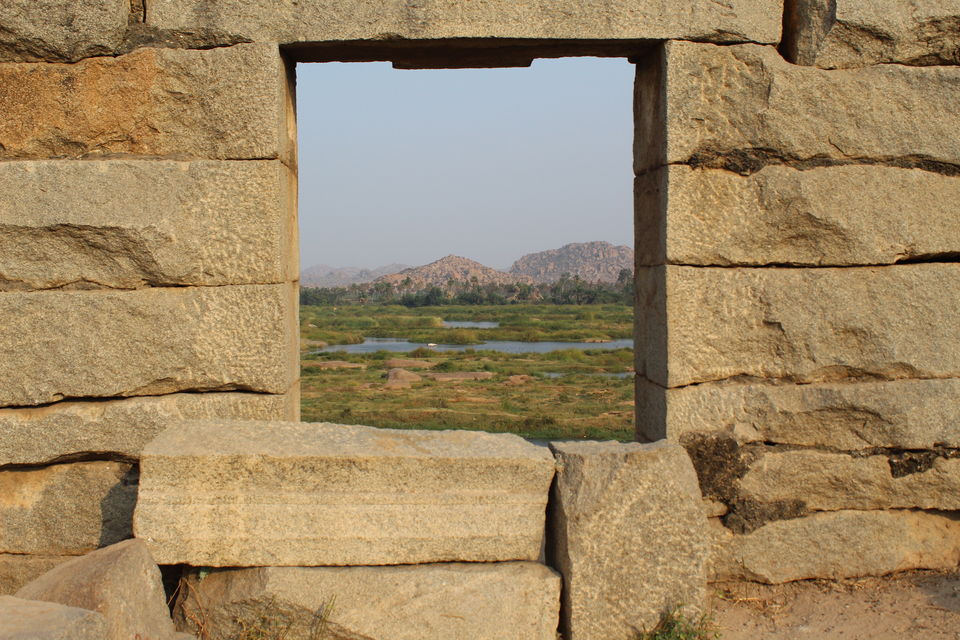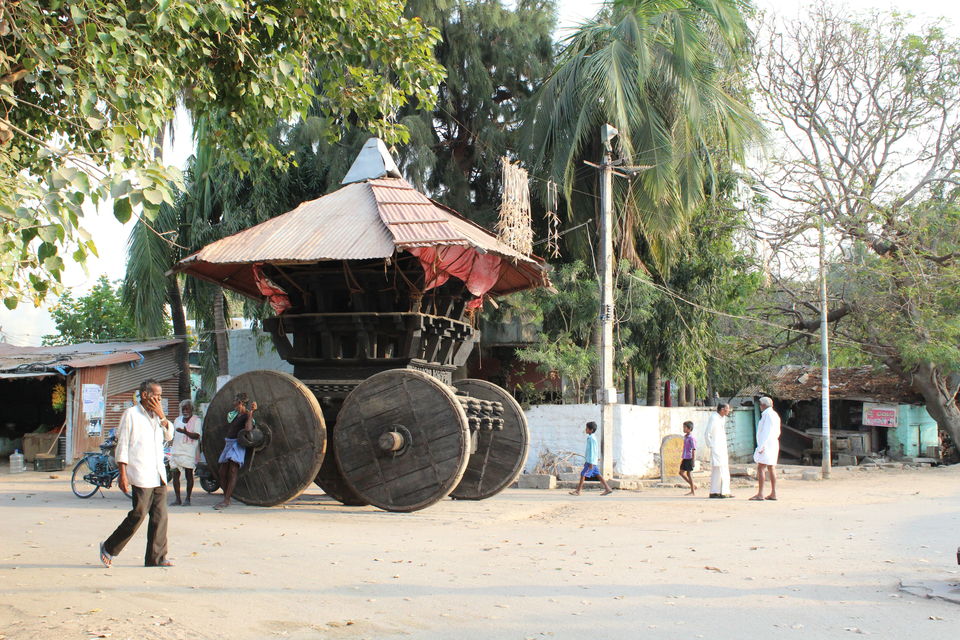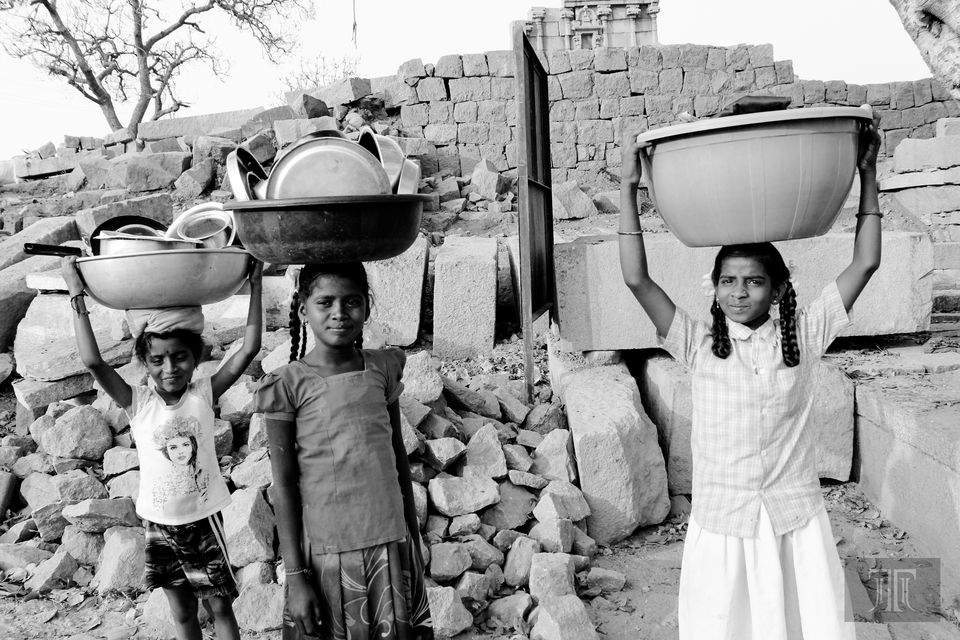 Here I captured the above image which made me aware of how privileged I am. Finally decided it was time to head out for the sunset. Hence headed towards the famous Anjenaya Hills in Hampi but after seeing the majestic stairway to the top of the hill I quickly turned on my Nav to another sunset point. This sunset point was in the heart of the Hippie village in Hampi and it was actually a structure of boulders which was right beside a paddy field. Fond a nice spot and settled down to enjoy the sunset which made me regret the decision of not climbing the Anjenaya hills a bit. The view was Majestic.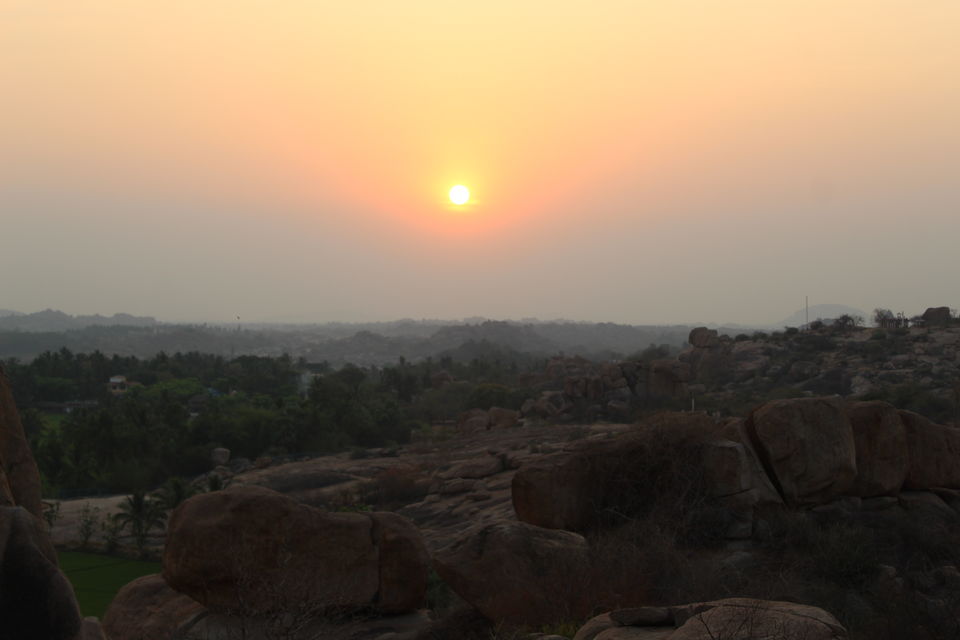 Right after the sunset there was a Jam session going on in that same spot which I was very thrilled to witness. I was already aware of this Jam session through Couch-surfing.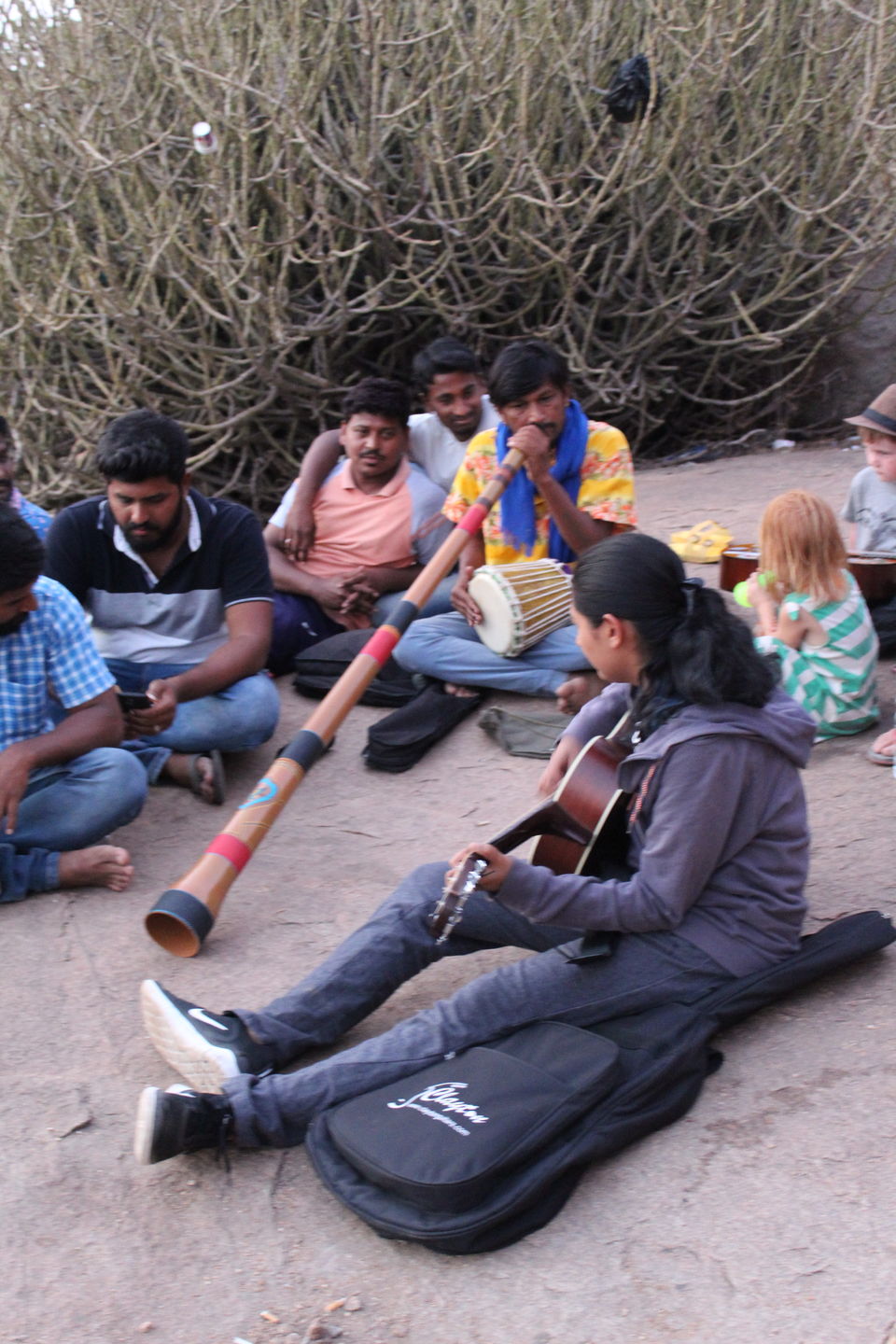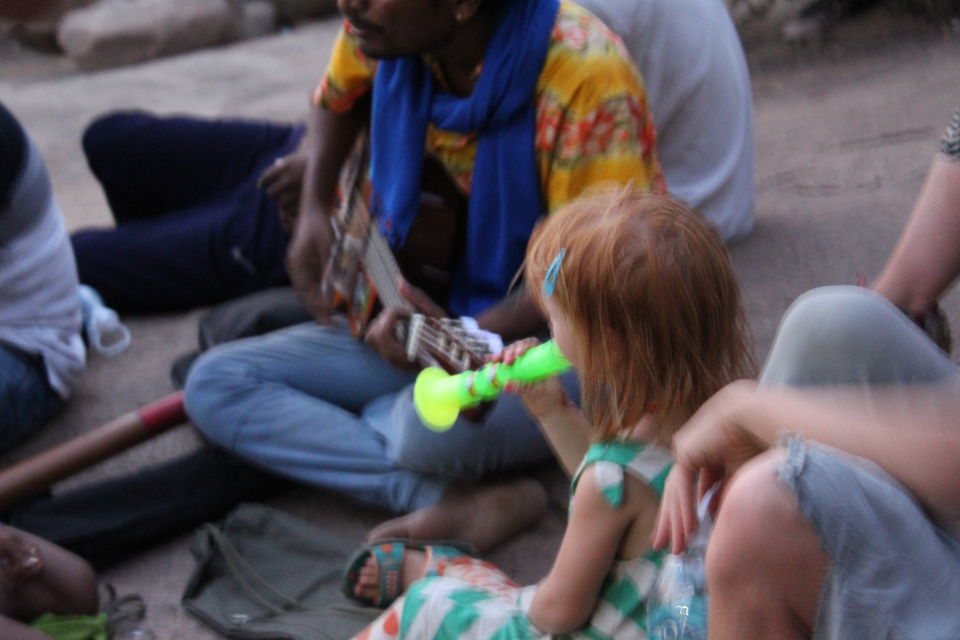 After the jam session, I decided to head back to my stay to wash up, recharge my stomach and then retire for the day but this didn't turn out as planned but better. Reached the guest house and straight away the owner of the stay came to meet me once he saw my bike (I ride a modified Thunderbird 350). We talked about motorcycles and Hampi for some time.
After I washed up, headed straight to the restaurant for dinner but decided to relax a bit so ordered just a soda and was listening to music. At this point I was interrupted by the graduates that I had met earlier, they invited me to their room where we had a couple of drinks and smoked. Liquor is prohibited in Hampi but still available in the Hippie village but expensive so carry your own if you plan to booze. After that all 3 of us went to have dinner, I ordered Red sauce pasta and once again hats off to the chef.
After dinner we got talking with few Israelis who were travelling and exploring India, had a nice chat with about Indian culture and places to visit in the south. During all these talks I quietly slept off in the restaurant itself and none disturbed me or asked me to go to my room. Even though Hampi was a but hot during the day it was really cold during the night.
The next day morning I woke up along with the sun, freshened up I realized that I have just been in Hippie side of Hampi the whole day yesterday so have to visit the other side of hampi today and also start for Bangalore in the afternoon. But first I decided to go for a swim in the lake. Since it was early morning there was no one around in the lake which made me self aware not to risk it so just bathed near the lake shore and headed back.
Packed all my luggage, paid my bills and headed to Laughing Buddha, which was a place suggested by many, for breakfast. Had Vanilla shake with mashed potatoes and bread toast. Here I met a fellow traveler "Yeob" who wanted to book a train ticket online but irctc never let him create an account because of some database issue this was the time that I happily complained to Yeob about the issues in the Indian system but to my surprise he assured me that you will face similar issues wherever you go.
After the breakfast I headed towards the ferry point where it just costed me 50 bucks to ferry me and my bike across. I visited the Vittala temple which truly spoke of its heritage.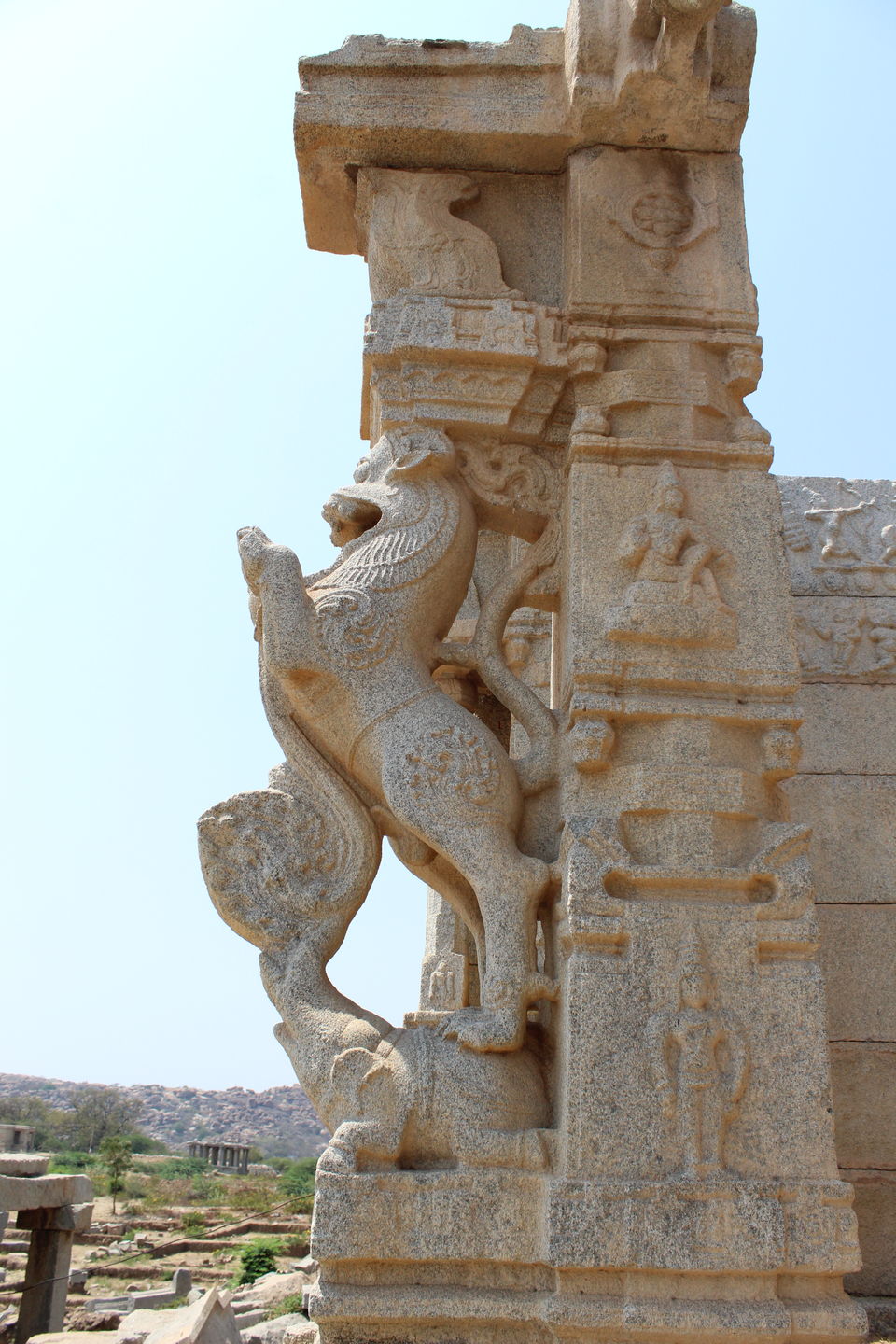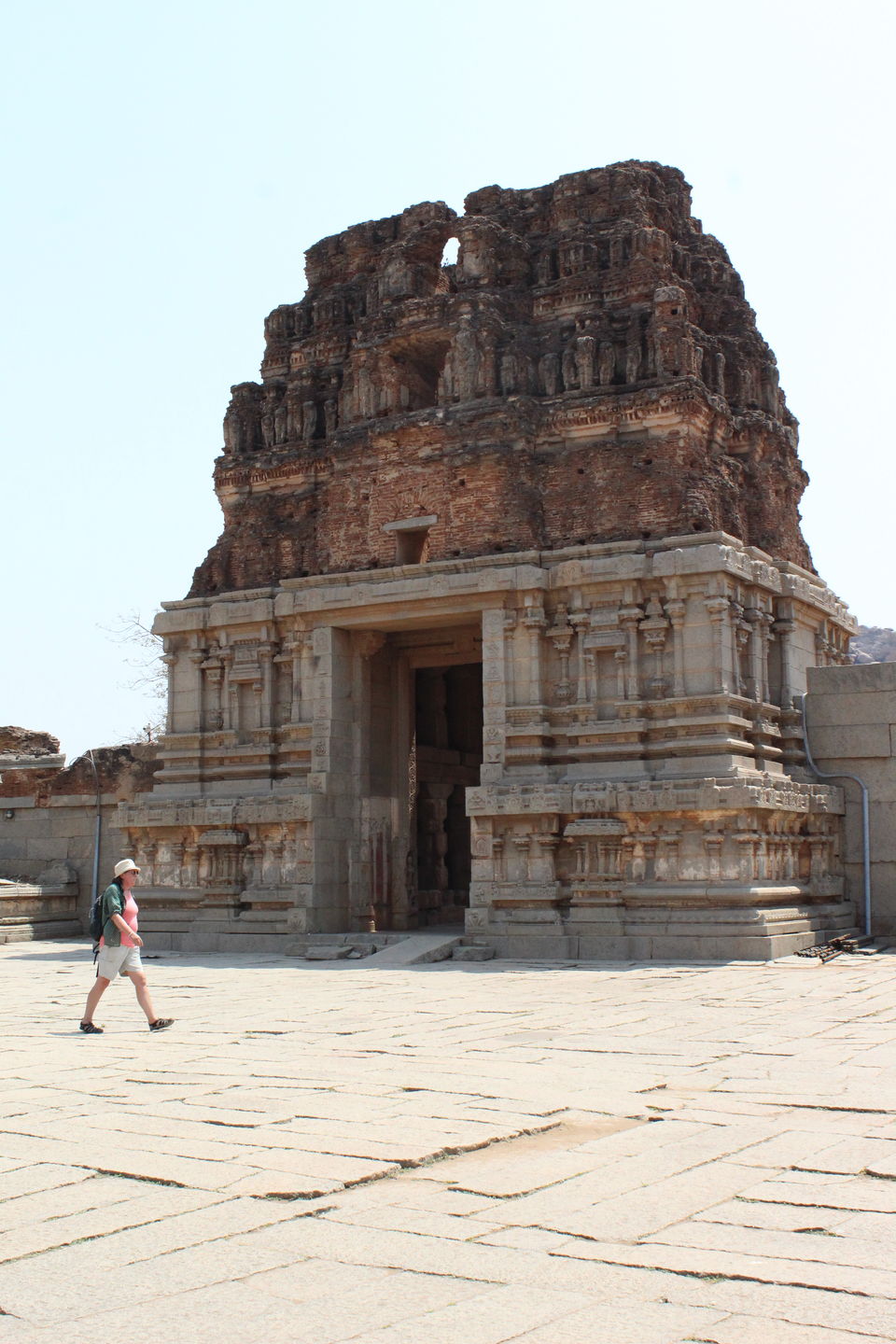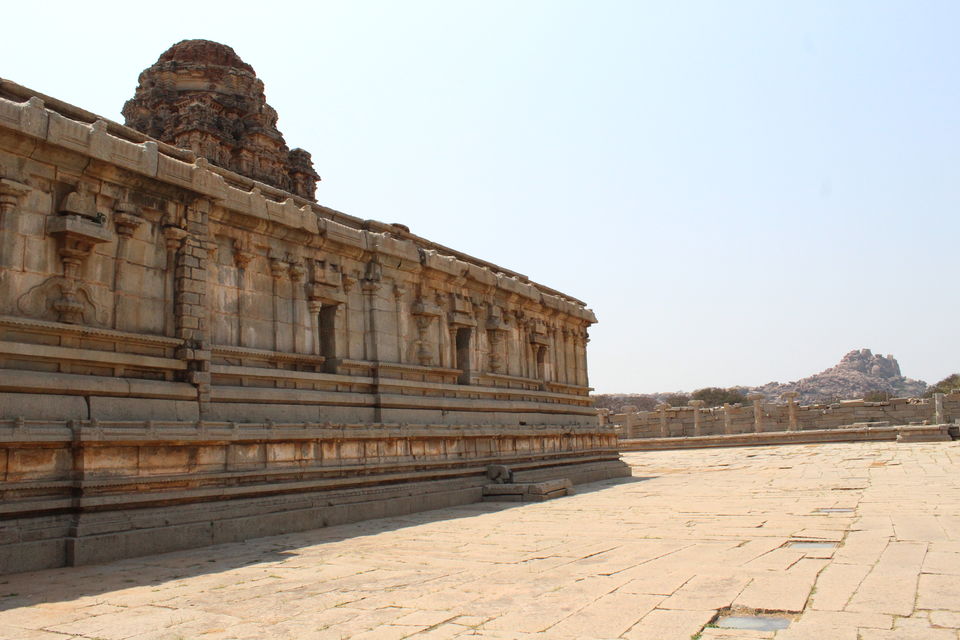 After this decided to head out to Hampi baazaar near Virupaksha temple but the cops had put up a barrier restricting entry for two wheelers almost 5kms before. After this disappointment I decided that at this point I am not gonna explore this part of Hampi but will do that at some other ride. And started back towards Bangalore right after having an awesome special falooda. Thought of having lunch from "Mango tree" a vegetarian restaurant but decided to get going and may be have lunch from some roadside dhaba.
At this point I decided to just take the main road from Hampi to Hospet to Chitradurga and then finally reach Bangalore. The road from Hampi to Chitradurga was terrible, there were works going on the highway so all of a sudden two lanes will become single lane, both traffic may merge together poorly designed crossings all which make the ride unenjoyable. So a tip from my end if you are travelling from Hampi to Bangalore you can choose the route via Anantapur,Lepakshi. At a crossing about 30 kms before Chitradurga my clutch cable snapped. This was a big issue since up until this point I never carry any spares just a toolkit and this being a sunday chance of finding an open workshop was real slim. I inquired to a local about any workshop he told me that there was a workshop about 15kms behind me or I have to go straight to Chitradurga. Now people will tell me that you can just try and stick the bike in 2nd gear and ride but seeing the condition of the road behind me I decided to not take the risk. Mr. Viresh, a localite offered to keep my bike and luggage at his place and also called his co-brother to check on the workshop behind me which was closed. He boarded me on a bus to Chitradurga and gave me clear instructions on what to do. On the bus ride I met Bharat a resident at Chitradurga he offered me to take me around chitradurga town to find the right spare cable. After I bought the cable I headed back for my bike. Once I replaced the cable I started on my way back. All this had set me back by almost 3hrs. Now I had decided that I would reach Bangalore by midnight and maintained an average of 90km/hr through out the ride back and reached my place by 11:58 pm.
The ride was really memorable the whole way even the cable incident. Through out this ride many have asked me about why am I riding solo, about the risks of solo rides. I do agree that a solo ride is more risky that a group ride but I do believe that its because of riding solo that I was able to enjoy this ride and experience all this.
So travel more, spread music, spread love. And don't worry be Hampi.