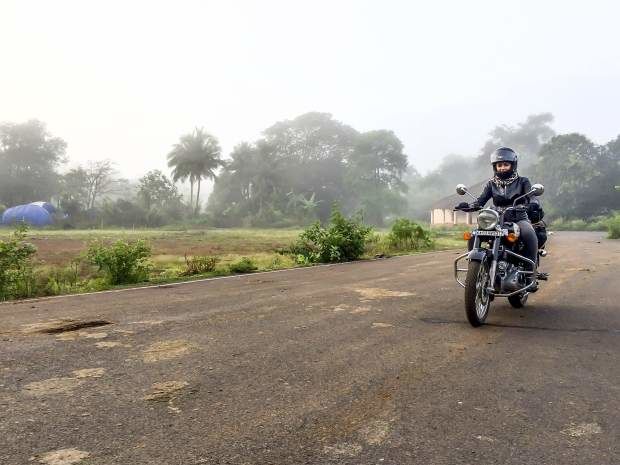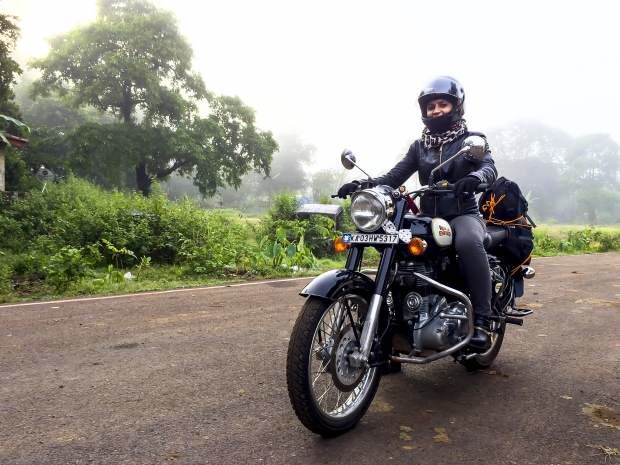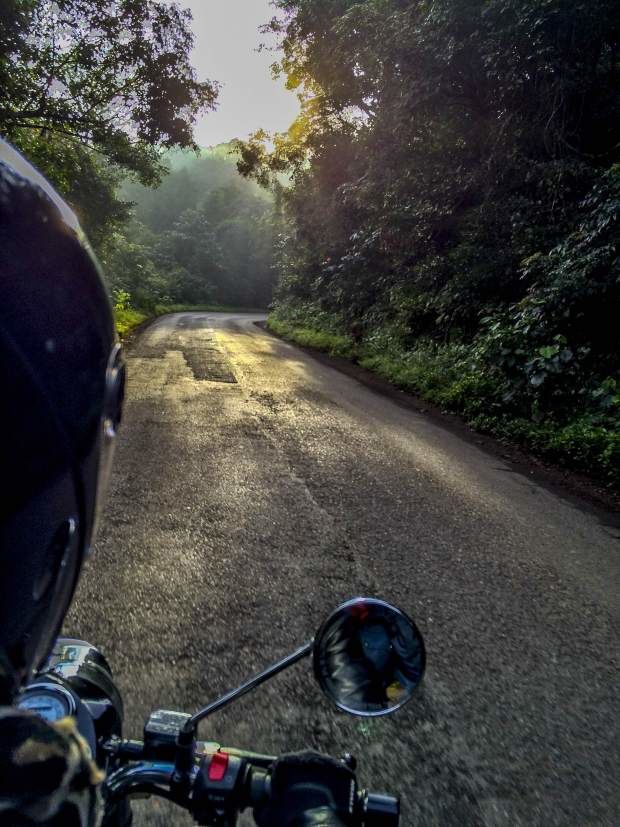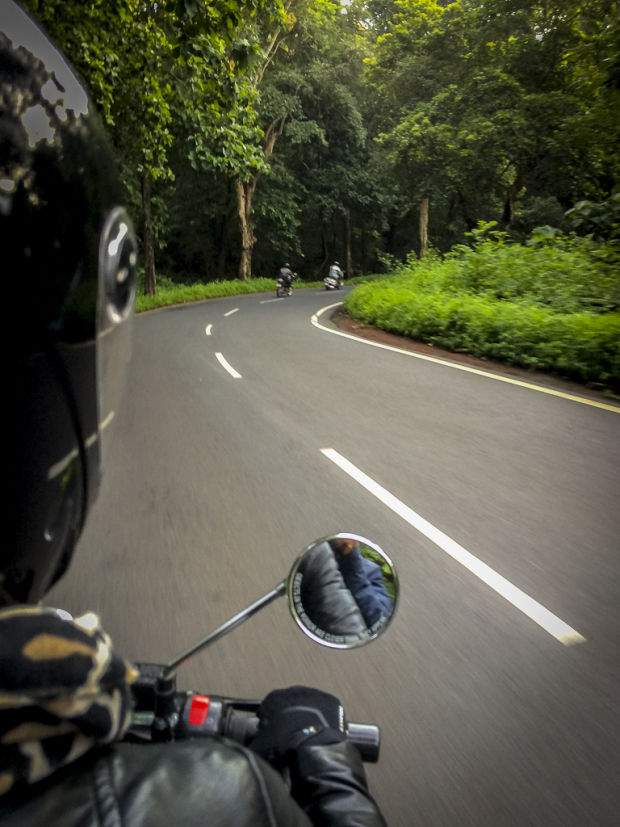 It was a Thursday night. Both me and Rohith got back from work and were planning on what to do on the 3 day long weekend, that lie ahead. 'Lets ride to Goa',  I said, very casually knowing that he would not agree. He prefers 4 wheeler over 2…! To my surprise, along with the same 'are you mad' look, he agreed. And soon before I could believe, the route was finalized, bag was packed and we were ready to leave next morning. The bike was just back from the service center a day back so there was nothing to worry about. What a thrilling weekend it was going to be, I said to myself and went to sleep with a big smile
Little did I know what would follow the next morning.
It was 5:50 am and we were ready to leave in 5 more minutes. As I took a sip of my coffee there it was….
Rain…. Its Bangalore, you stupid Kruti..! Its Bangalore…! How could you not know that ? Of course it rains even when monsoon is over. That is the best part of this city, but certainly not now. Not when my 'car is better than a bike' husband is ready to come with me on his very first bike ride. Oh, I could see his ' I told you so' look.
We waited for about an hour for it to stop, but it increased instead. So we cancelled our plan and went back to sleep. And then at around 9:30 I woke up with regret. Head was heavy and thoughts were running in my head. Damn it, we could have just left, it wouldn't have rained everywhere anyways, we could have just left. Anyways, before I could analyze what a terrible mistake we had done, we decided to leave. For Goa
This was our route –
Bangalore > Tumkur > Sira > Hiriyur > Chitradurga > Davangere > Ranebennur > Haveri > Hubali-Dharwad bypass > Panjim.
We left at 10:30 am, way past our scheduled time. After a quick stop for breakfast, Rohith started riding.  The road AH47 (NH4) was fantastic to ride on and the weather was just perfect. Open roads, blue sky and the wind !! There is no greater feeling than that. Everything was as per our calculation and amazing.
As mutually agreed upon, we took turns riding every 100km. You know its not easy for a pillion to sit on a hard, bread loaf shaped seat. So every one hour we would take a short 10 minute break, stretch our legs and then move. Lunch at Chitradurga took almost 1.5 hours , which set us behind our schedule. But it was the rain that started after Davangere that affected us the most. It poured for half an hour while I was still riding. On and off drizzle till we reached the Hubali-Dharwad bypass. But nothing major to worry about. Adrenaline and Happiness had taken over all those bumps and we were loving every bit of it. It was around 7:30 pm, we had done 500+ kms in 10 hours with all the breaks in between and only 135 kms were left. It would take another 2.5-3 hours, we thought. But… now the road was horrible…! There were more pot holes than the road itself. Because of rain, pot holes were filled with water, making it worse. We were doing 20-30kms/hr all thanks to that, and it took us 3.5 hours just to do 100kms..l.! Still 35 kms to go and it started raining again. We reached Panjim at 12:30 in the night. Finally…. dripping wet and hungry.
Dinner at a cafe in Panjim at 1:30 in the night was something I will remember. Wet and shivering , but we had weird smiles on our faces.  Checked into a hotel, emptied our wallets and put all the wet currency notes in the cupboard to dry
Next day went to Baga beach for lunch. Sight of the blue water & sound of waves does something to me. I love that feeling..! After few drinks and food at Britto's, we felt content. Back to Panjim in the evening, we strolled around the cathedral and market. Delicious dinner at a cafe' and then we hit the bed.
After spending 28 hours in Goa, it was 5:30 am on Sunday, time to head back home. We took the same route back.
Now, the road which was the worst in the night a day before, turned out to be the best…! Lush greenery around, a nip in the air, rising sun, and mist…! Pictures do not do justice to its beauty. Of course, I was riding (evil grin).
We hit rain again on the way back. In between wet and dry spells, we reached Bangalore in 12 hours. And after 2 more hours in the pouring rain, we were home, sweet home. Dripping wet, happy faces, content hearts & weary tushes is what I would sum up this road trip. Writing this, I am smiling. And I am so glad that we did it
If I had to give any advise, it would only be this. Check the weather before, but still, take rain coats with you…
This trip was originally published on 'The Red Lip Rover'.