Trip members: Karthik and family, Vijay and family
Trip date: 02, 03 and 04 Oct 2015
Trip Plan : Chennai - Bangalore - Daroji Bear Sanctuary - Hampi - Hospet - Tungabadra Dam - Chitradurga - Bangalore - Chennai
We reached Bangalore a day earlier by car and started fresh to Hampi on Day-1 of the trip from Whitefield by 6:15 AM on the beast Mahindra XUV 500. The early morning rain was refreshing and set the tone for the trip. The trip route was from Whitefield - Anantpur - Bellary - Hampi. On the way, we planned to visit Daroji Bear Sanctuary, one of its special kind, dedicated for only sloth bears.
Day 1:
Had a super Karnataka breakfast at Hotel Nandi Upachar - masala dosa, kara bath, vadai and idlis with coffee. The drive of 174 kms to Anatpur flew just like that - little more than an hour on the XUV. OMG !
The road from Anantpur towards Bellary is just full of factories and industries - filled with trucks and really poor roads. Driving through this stretch was really tiresome and one really cannot be so patient after driving through the AH43. We reached Bellary around 11:30 and were all tired and decided to have a round of brunch :). We chose Hotel Renuka in the Bellary town - had some Pooris, Chappathis, Bisebelabath and Benne Dosas! This restaurant is ok for some local tiffin items and to drive away hunger.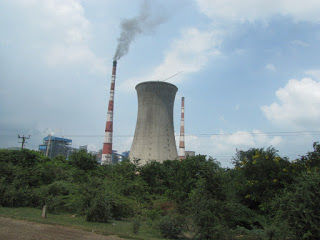 The Daroji Bear Sanctuary is on the road between Hampi and Bellary - 15 kms into the village roads. The sanctuary is open between 2 PM to 6 PM only unlike where most of the websites say 6 AM to 6 PM. So, plan your visit accordingly to visit post noon only !
They charge Rs.25 per adult and Rs.10 per kid entry and Rs.500 per private vehicle ! Yeah... it looks high. But, when compared to other sanctuaries across India, where we pay separately for parking, person entry fees, jeep/bus ride, this looks at the same scale for a group of 4-6. We need ride 4 kms into the Sanctuary to get closer to the watch tower. One may sight peahens, peacocks and few other creatures on the way in this 4 kms.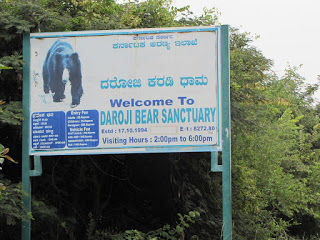 It was around 4 PM, when we reached the first spot in Hampi. We knew we had close to 2 hours to complete the day-1 and its going to be dark. Decided to complete 2 - 3 places by sunset. The Octagonal bath - first stop - was itself a great architecture - how water was supplied and how it had been architected ! The place also had couple of temples around - all inactive and under ASI. No deities inside. We can see other bigger ruins from this place and motivates us to move ahead.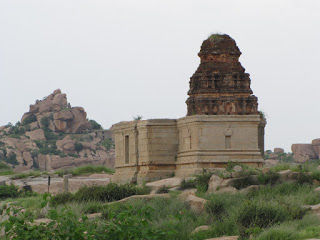 After having breakfast at Hampi International, we visited the most important place of Hampi - Vittala Temple. There is ample parking space - and one needs to go to the monument by battery operated golf carts or bus, They charge Rs.10 per adult one-way. Guides are available from the parking space. We took a licensed guide for Rs.300 for this facility alone. They are available for a full day as well at a charge of Rs.1300. We get to just be dropped on the entrance of the Vittala temple. On either side of this way towards the temple, one can sight various ruins - like water storage tanks, small temples and market place. There are many who walk this 2 kms distance as well and see the small ruins.
The main attraction before entering the temple are the horse stables - good sight for photographers. Once you enter, the main attraction is - the trademark Hampi photo - Stone Chariot ! The Chariot wheels are compared to those in Sun temple. It is said that the Konark Sun temple is an inspiration for King Krishnadevaraya to built this Stone Chariot.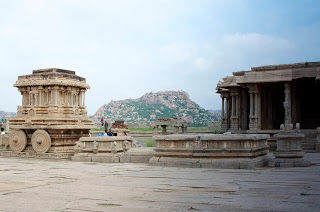 Virupaksha temple is situated on the banks of river Tungabhadra. It is an active temple with regular poojas to Lord Shiva - in the form on linga. We spent close to 30 minutes in and around the temple and see a view of river Tungabhadra.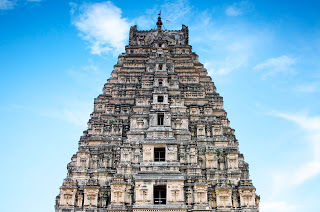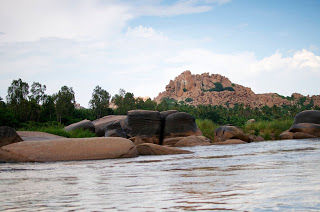 We, then set forth our directions to Tungabhadra dam. The dam is near the town of Hospet - 14 kms. This is the largest dam in Karnataka and offers a majestic sight from a watch tower and also has a garden. One needs to pay Rs.20 for adults and Rs.10 for children for going to the view point. It takes a 10-min drive to reach the top of a hill and have a majestic view of the dam. We got to see water till the distance we could see.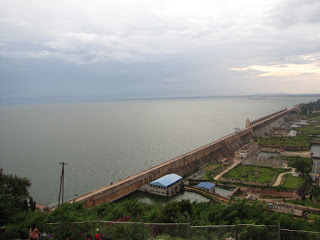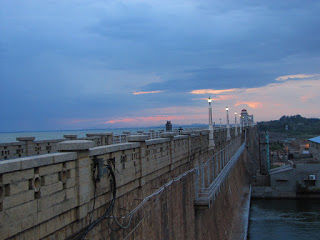 The early morning views were pleasant - quite foggy and on the foothills of the hill that hosted Chitradurga fort. We learnt that the Chitradurga fort is the second largest in India, after the Gingee fort in Tamilnadu. We had some hot idlies and vada at the restaurant in Yatri Nivas and started the walk in Chitradurga fort. We hired a guide for Rs.400 - who spoke in Tamil and walked us around for 90 minutes and left us at one point and leave us wander as much as we want.
A big area of hill is fortified and converted into a fort with seven walls of security. The fort's name Chitradurga means 'picturesque fort'. The fort was attached by Hyder Ali for twice and defeated. His third attempt gave him victory, besides having taken help from insiders.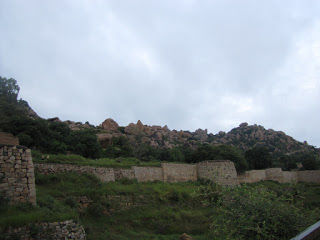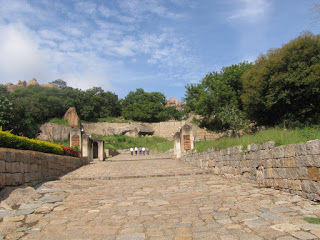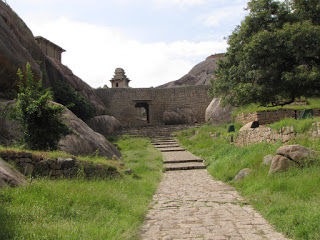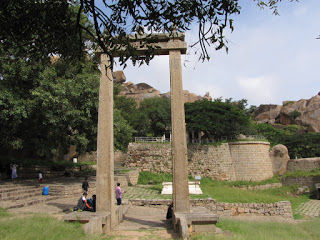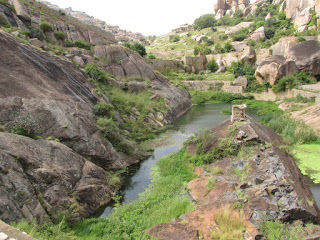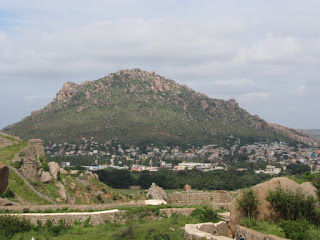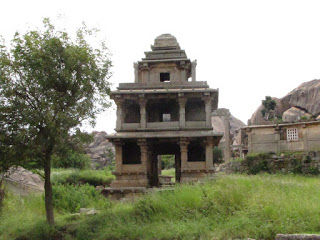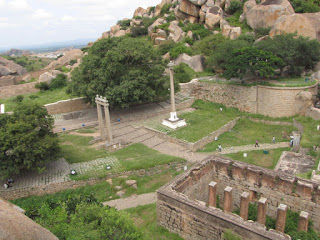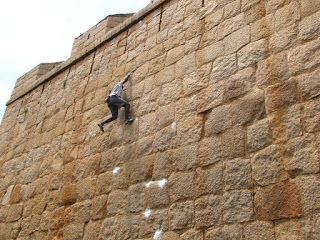 Once we reach the parking space, we need to walk for 5-7 minutes to reach the watch tower. The watch tower gives a great view of stony hills all around - 360 degrees. Do sit quietly and wait for the bears to appear. The caretakers of the sanctuary lay some food (rice and jaggery) to attract bears for the visitors to have good time. Do look for the Bears to descend from the opposite hillocks. This hillock has hundreds of caves where the Bears take shelter and shall come by taste the food. Fortunately, we sighted several monkeys, peacocks, peahens, wild boars and ONE bear, Many say, they see many bears if we wait.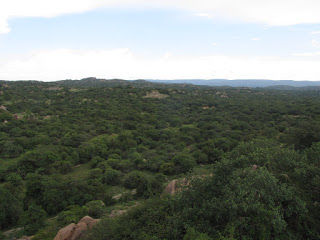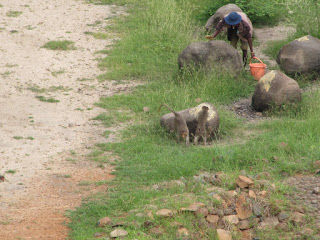 We spend close to 45 minutes in the Sanctuary and returned back to visit Hampi, the capital city of Vijayanagara. In 17 kms, we hit the first spot to see in Hampi - Octagonal bath, Sarasvati temple and Chandrasekhara temple. Before I proceed further on Hampi, I would like to reset some things on visiting Hampi. First thing, Hampi is not a place to view some spots and move on. Rather, it is a complete city totally ruined. So, let me see the top 3-5 spots - does not work out! Second thing, believing one day or two is sufficient to see Hampi is a Myth ! One needs atleast 3 days to understand the city and appreciate the architecture and history behind it. Well, most of us don't have time. So, what ? Plan atleast 2 full days or 2.5 days to feel it ! Its worth it and it needs it!!!
Next was Queen's bath. This was a much better architecture and engineering with respect to how water was handled for a queen to take bath ! Then, comes to most important place - The Royal Enclosure. This were the bunch of structures where the King Krishna Devaraya was celebrating festivals like Dussera (Mahanavami Dibba, a secret chamber for meetings, lots of water storages, aqueducts, Pushkarani - stepped tank, courtyards, wide avenues for people to sit, enjoy and have food.
Seeing the vast place and history around it, we instantly decided to take a guide and was available for Rs.100 for this place alone. It was worth it to understand the history and very specifically, what is what! Else, we will end up seeing anywhere in Hampi as a place filled with stones out of ruins. We spent close to 90 minutes in this place and it was almost 18:30, and the sunset was right there.
We had booked rooms in advance at Hotel Hampi International in Hospet - 12 kms from Hampi. There are some homestays in Hampi, but, we decided to stay in Hospet, as there were more options. Hotel Hampi international provided clean rooms and bathrooms, with a great restaurant too. We had food here itself and was good, though the service was quite slow and definitely can be improved. On the way to Hospet, we fortunately saw a great sunset on the Lake Kamalapur.
Day-2
Two big mandapas welcome you. One is the Kalyana Mandapa, used for the marriage of Vishnu and other, musical mandapa, where the queen used to dance without any musical instruments, but for the 57 pillars used to mimic 800 musical instruments !!
Several important Ramayana moments are being inscribed on the sculptures here and few of the Lord Vishnu avatars and related moments.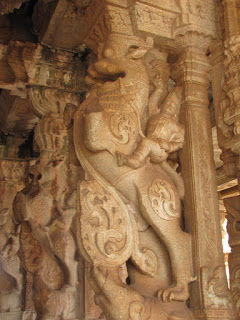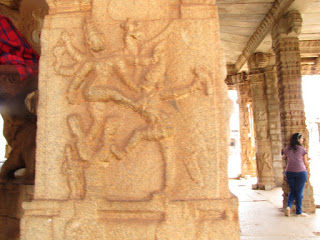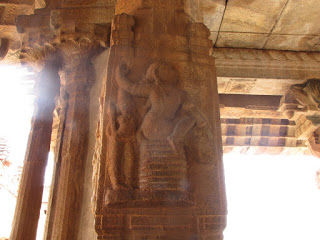 There are 3 hills around Hampi Vitthala temple - and they are believed to be the birth place of Anjenaya, Vaali and Sukrivan - Lord Anjaneya's birthplace hill is called as Anjaneyadri (Anjaneya's hill) and on top of the hill is the temple dedicated for Hanuman. This area is called Kishkinda - where Rama and Lakshmana meet Vaali and Sukreevan.
We then spent time with guide to understand how the dynasty was established, its objective and how it fell ! Greedy people was the only reason where almost every great dynasty fell ! We then preferred to go by walk around the Vitthala temple, an easy climb on the mountain to few more places - King's balance and temples. One can walk upto Virupaksha temple - 2-3 kms from the Vitthala temple by walk. We got closer to river Tungabadra, right behind the Vitthala temple.
We climbed few stairs at the Achyutaraya Temple and had a grand view of the places around. We then returned back to the parking area on the battery car. There are small shops selling tender coconuts and bottled juices all around. Given the rocky terrain all around, frequent drinking of water is very much essential to avoid dehydration.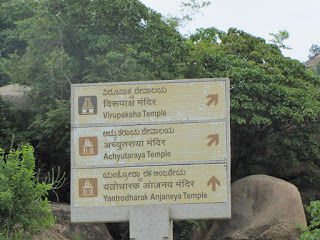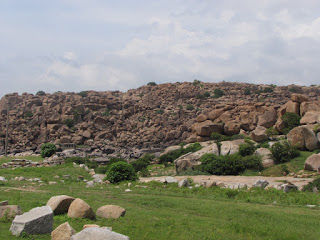 On enquiry with drivers in parking, they said there is a place called "Food Point" - right after crossing the area adjoining the Vitthala temple complex. The parking was very poorly coordinated - however, the food - Thaali was ok. We good the meals in 10 minutes and was enough to manage the rest of the day. After a quick break for 45 minutes, we moved to the series of places we could not see previous evening.
The first stop post lunch was Lotus Mahal and Elephant's stable. The queen's enclosure is available in the front side and then the Lotus Mahal. Lotus Mahal is two-storeyed. The place is fully surrounded by great walls. The Elephant Stable is right behind Lotus mahal. There are 11 chambers for Elephants. Each of them have a uniquely designed dome. There is also a small museum inside, which displays few sculptures found in this place.
Next to see - underground Shiva temple. The temple is one of the first to be built in this area and lies lower than the ground level. Currently, the temple level is filled with few inches of water. This carries important history for the dynasty.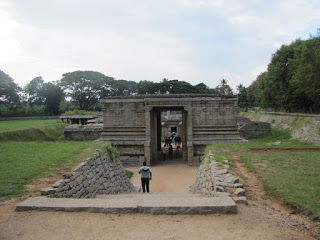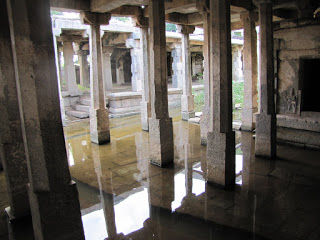 There are so many places to see on this line towards Virupaksha temple. The Virupaksha temple is the only active temple and is open from morning 7 to noon and then evening 3 to 7. On the way to the temple, you can see Bhima's place, few Ganesha's statues, Ugra Narasimma, to name a few.
After having spent close to 45 minutes there, we came down in the bus. We had booked the Yatri Nivas at Chitradurga - near the entrance of the Chitradurga fort and left around 6:30 from the Tungabhadra dam. It was a distance of 134 kms to Chitradurga and the full length of the highway was without medians and mostly - pot holes in pitch black ! It was a difficult ride - considering the darkness and absence of any passenger vehicles. Almost, all of the traffic were trucks and not eateries to stop, apart from couple of road-side dabbas, and rarely a truck or two were halting.
We reached Chitradurga by 9:30 and hot food on order was served at the restaurant in Yatri Nivas run by Karnataka Tourist Department. The food was ok, though it took quite a time to serve. We hit the beds with ultimate tiredness ! The dormitory we took was quite clean and had water heaters as well.
Day-3
Hidimbeswara temple is the most important part of the fort. We spent around 3 hours in the fort. We also got to know about Jyothi Raj - Hero of Chitradurga, native from Tamilnadu - the International free rock climbing champion. Fortunately, we saw him perform as well. We then came down after a satisfactory walk of the fort.
We then checked-out of the Yatri Nivas. We had chosen two more places to see on the way back - however, no proper route was made aware or the timings right. Jogimatti is a small hillstation near Chitradurga and Kaggaladu Bird sanctuary - a place on the way to Bangalore. The season for bird sighting starts in January. On the way back, we stopped at Atithya Midway Plaza - a Veg Family Restaurant and back to Whitefield - ending a great and memorable trip.
Distances
Whitefield - Hampi - 377 kms (via Anantpur, Bellary)
Whitefield - Hampi - 363 kms (via Tumkur, Chitradurga)
Whitefield - Chitradurga - 222 kms
Hampi Hotel International - Tungabhadra Dam - 14 kms
Tungabhadra Dam - Chitradurga - 134 kms
Hampi - Chitradurga - 143 kms
Tumkur - Chitradurga - 135 kms
Whitefield - Tumkur - 89 kms