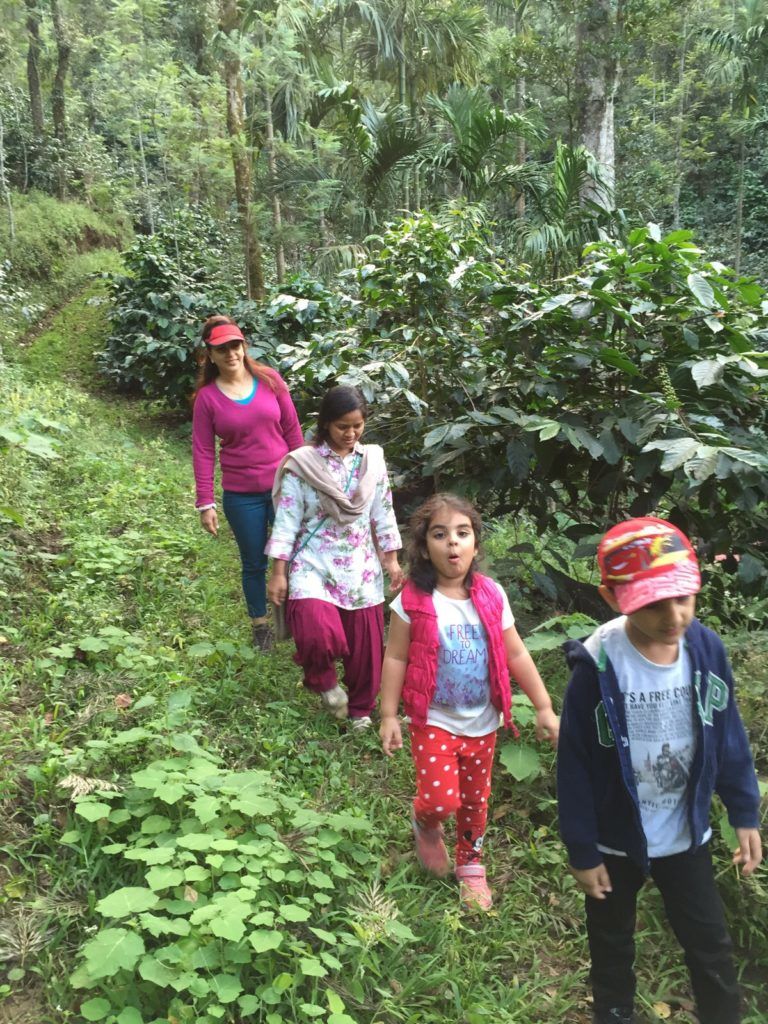 December 2016 saw us heading to Singapore for New Years eve, where we spent a memorable holiday on the cruise liner, 'Mariner of the seas'. We were at Changi airport, waiting for our return flight to board when the kids proclaimed 'we want to go by car on our next holiday. A Plane is very boring!' I just stared back, pleasantly surprised just short of being flabbergasted - What more could one ask for! This was like a dream come true. In an age where 'image' is everything, and the boasting rights of where you last vacationed trumps all other considerations, here were 2 kids that wanted a domestic holiday, traveling by road, eating at nondescript joints and generally roughing it out, rather than flying to some exotic or not so exotic 'foreign' destination! I guess one may as well enjoy it while it lasts.
So as decided, next December we resumed our annual road trips across India. This time we headed towards the salubrious climes of Chikmagalur. Coorg is the preferred destination of most people visiting 'coffee - country', but nothing comes close to the beauty of Chikmagalur. On the one hand, it is largely 'undiscovered' with not too many people heading there, and as a consequence not too many resorts to choose from either. Secondly, at 3000 to 4000 feet, it is at a higher altitude than Coorg, making for better weather. Consequently, the vegetation seems denser, and of course it houses the Chandra Drona forests, adding to the foliage and natural beauty of the place. Having visited both places, I would choose Chikmagalur over Coorg anyday.
Heading along NH 47 from Mumbai, we drove 670 kms to get to the town of Haveri. Compared to our visit on these same roads 4 years back, there was a world of difference - the roads were way better, with the national highway being one long 4 - laned ribbon all the way from Pune to Davanagere. Pretty much every small town and village could be bypassed using the network of flyovers and we made an average speed of 84KMPH, as compared to 67KMPH a couple of years back. Compound that with the mileage a truck does, and the savings on time & fuel are staggering! With a night's halt at Hubli, we resumed our journey next morning at 0500Hrs, and got off the NH 47 at Haveri , taking SH 169 for a further 233 Kms to get to our destination, Villa Urvinkhan. While the state highway is a 2 laned road for the most part, it is pretty well paved and easily navigable. Other than a stray tractor, 2 - wheeler or bullock - cart, there isn't much traffic you encounter en route, and it is a joy to drive on. After a 100Kms or so the fields gave way to the Chandra Drona forests on either side, and even the stray vehicle wasn't to be seen. By now the road had reduced to a single track, mud in most places, and the car was in it's elements. We'd upgraded from the Yeti to a Pajero Sport, and driving it on these mud tracks was great fun!
After a brief halt of 45 minutes, where we strolled away on a path into the jungles, we resumed our journey and soon reached Niduvale, the village from where you turn into the Urvinkhan estate. We went around a couple of times before realising the way to the estate is a nondescript turn - off at the Karnataka Bank branch. From there it was a 3 - 4 Km drive up a steep winding road to get to the villa. By now it was around 1200Hrs, and we were famished. We hadn't encountered a single decent restaurant or dhaba en route, and had driven straight through (the famous Mysore Cafe is on the North - bound carriageway, and we gave it a pass) - so if you plan on making this trip, make sure that you are well stocked up with sandwiches and snacks!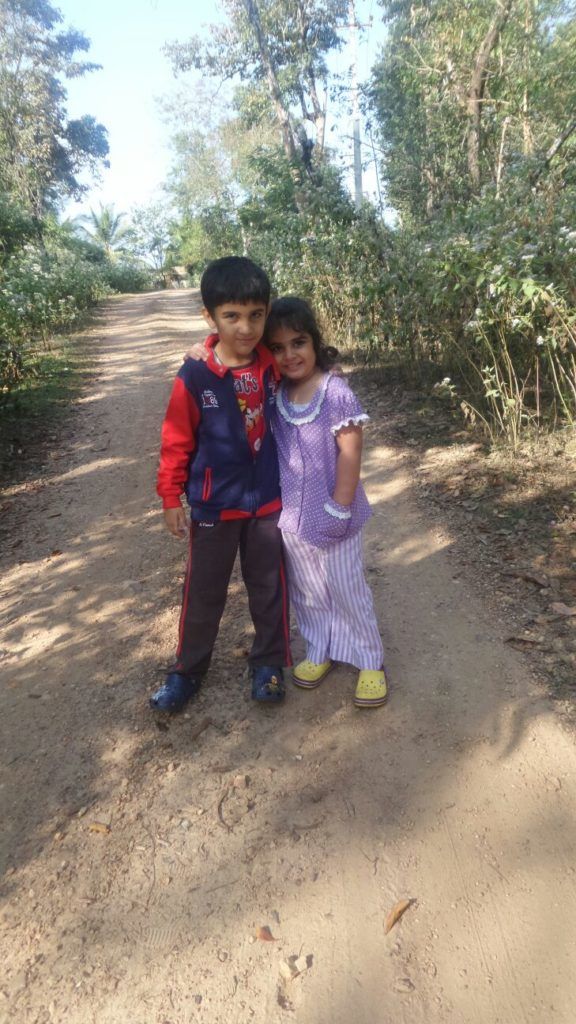 Villa Urvinkhan is a beautiful plantation with a main building and 4 cottages nestled in 400 odd acres of coffee plantations and forests. At an elevation of around 4000 feet, the main home takes you back to the 1800's with its beautiful stone facade, sweeping views of the valley beyond an infinity pool and wide open vistas. We were booked in one of the cottages adjacent to the main bungalow, and the room was a dream! A massive 500+ sq.ft. structure, the room sported a huge 4 poster bed, with an open air shower area (besides an enclosed, well - appointed bathroom) and a delightful sitout overlooking the pool and valley beyond. Besides the teak furniture in the room, what really gets your attention is the 20 feet high ceiling, criss - crossed with sturdy wooden beams. Takes you back to an era where life was more relaxed, and one could take the time out to contemplate, rejuvenate or simply vegetate!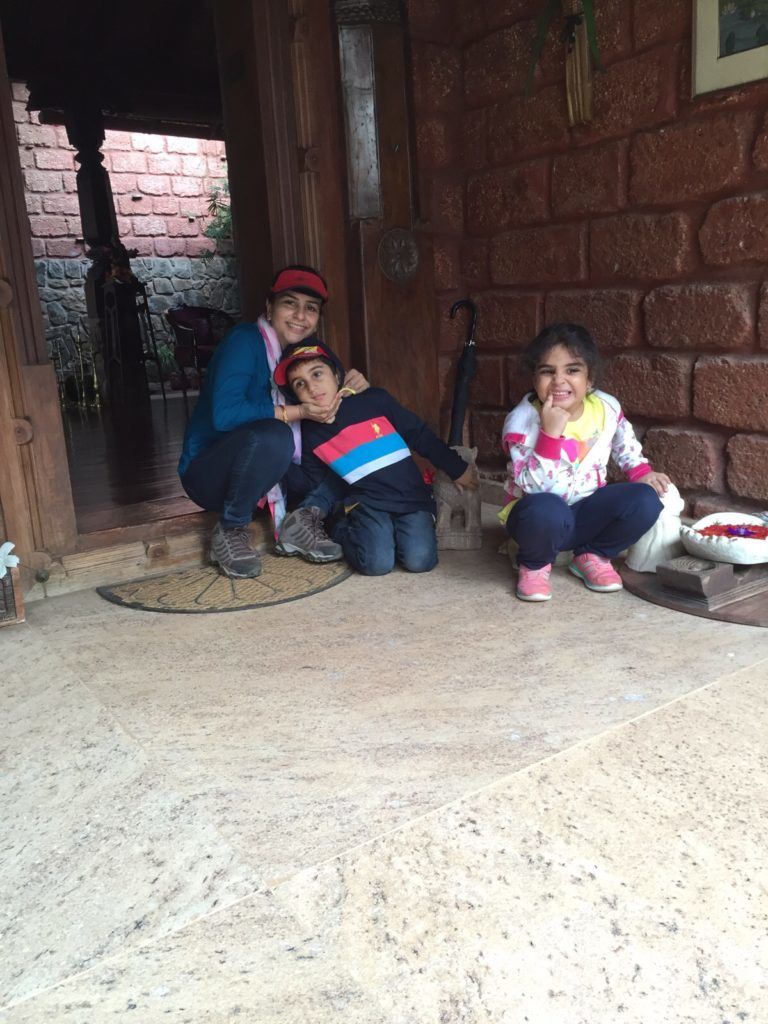 After a quick lunch, we headed out to explore the estate. Unlike a tea estate, walking through a coffee plantation is a different experience altogether, since the bushes are around 6 to 8 feet tall, and you feel like you're walking through a jungle path! As we walked in silent bliss through the path, with a gentle sunbeam occasionally peeping through the bush, we suddenly came across a deer, that looked up at us, startled - before we could react, it gracefully bound away into the bushes. I guess deer are used to coming across the plantation workers, and encountering us was no particular cause for alarm. By late evening the temperature had plummeted to below 10 degrees, and we bundled up in our woollens for dinner. The meal was simple home - cooked fare, with a chicken cooked in local spices, along with delicious poppadums!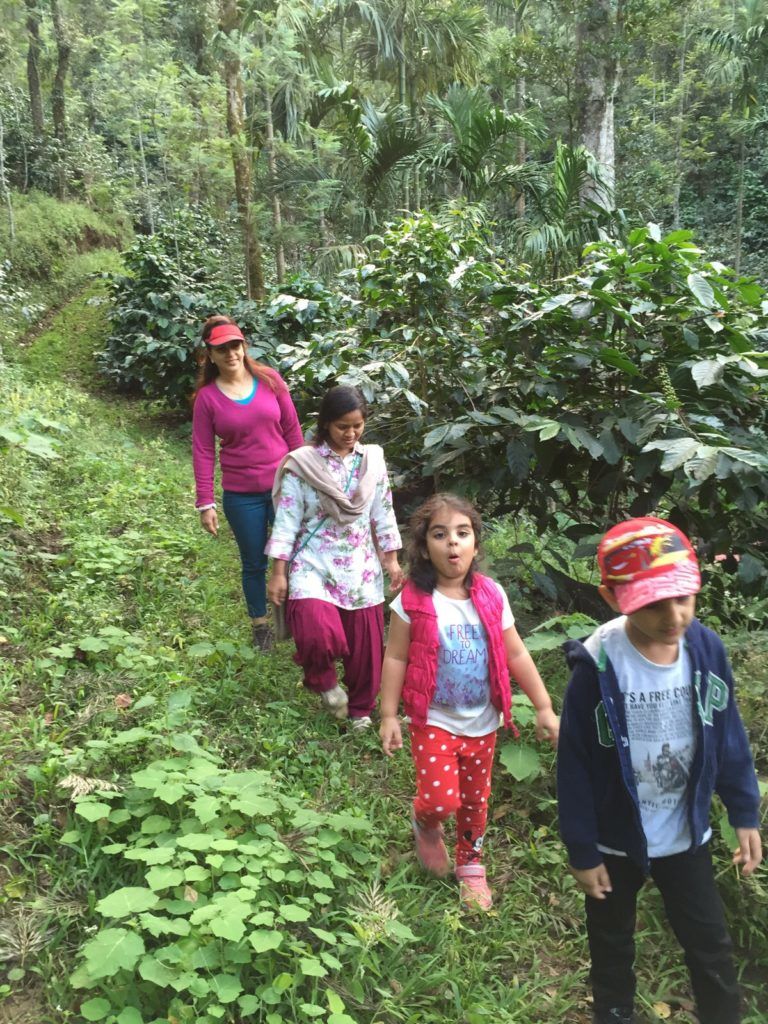 We spent the next few days trekking around the estate, walking nearly 10 Kms everyday exploring every nook and cranny. One of the mornings the resort staff escorted us to a lake on the property, where we spent a lazy couple of hours fishing (with gear that they kindly lent us - and no, we caught nothing!). With the children now slightly older, they could walk with us and accompanied us on all the treks. A typical day would see us wandering off in a random direction post breakfast, climbing up and down the hill - sides for 2 to 3 hours, before returning for lunch. Post lunch we'd take a short nap, and after some filter kaapi (from the Urvinkhan estates!), we'd head out again for a couple of hours, wandering in a different direction.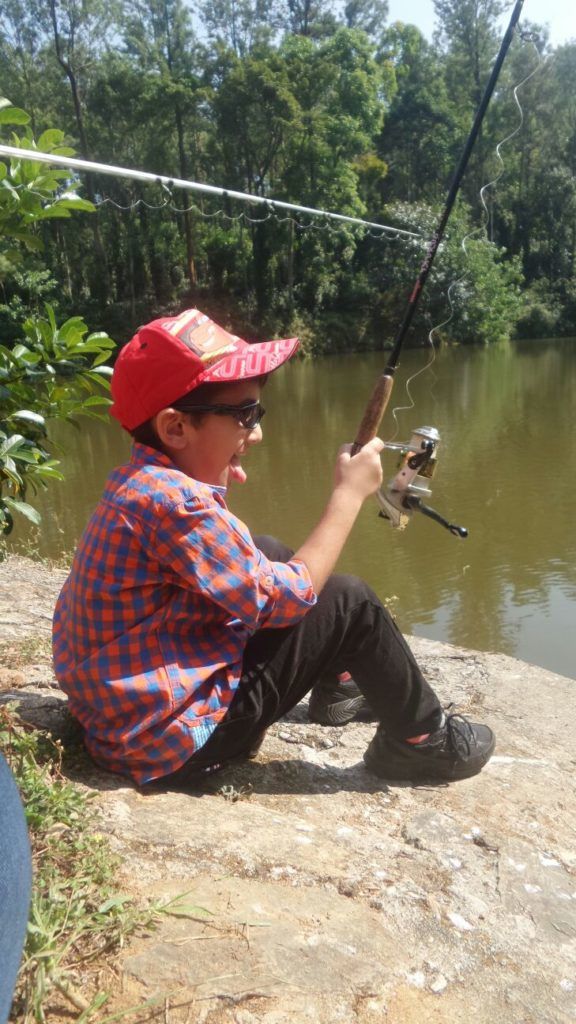 By the first day our son Aditya was bitten by the trekking bug, and from then on each afternoon he'd wake us up excitedly with the proclamation 'hurry up I've discovered a new trekking path!' Of course these were all existing walking paths used by the estate staff, but for a 8 year old it was a new discovery!
For us, the best gift was that here were a pair of 7 and 8 year old's, and all that they wanted was to either jump in the pool or head out trekking. What amazed me the most was that not only could they keep up with us (mind you, we were trekking an average of 10Kms everyday according to my wife's fitbit), but they were filled with unbound enthusiasm for the next trek, the next turn of the path, the next hill they'd crest AND want to go for a swim once we returned! Not having a television may be a blessing, but not having any network on your cellphones is a benediction - when we weren't trekking, we'd either read or play board games or just hang out together. Not being 'connected' is the best way to stay connected!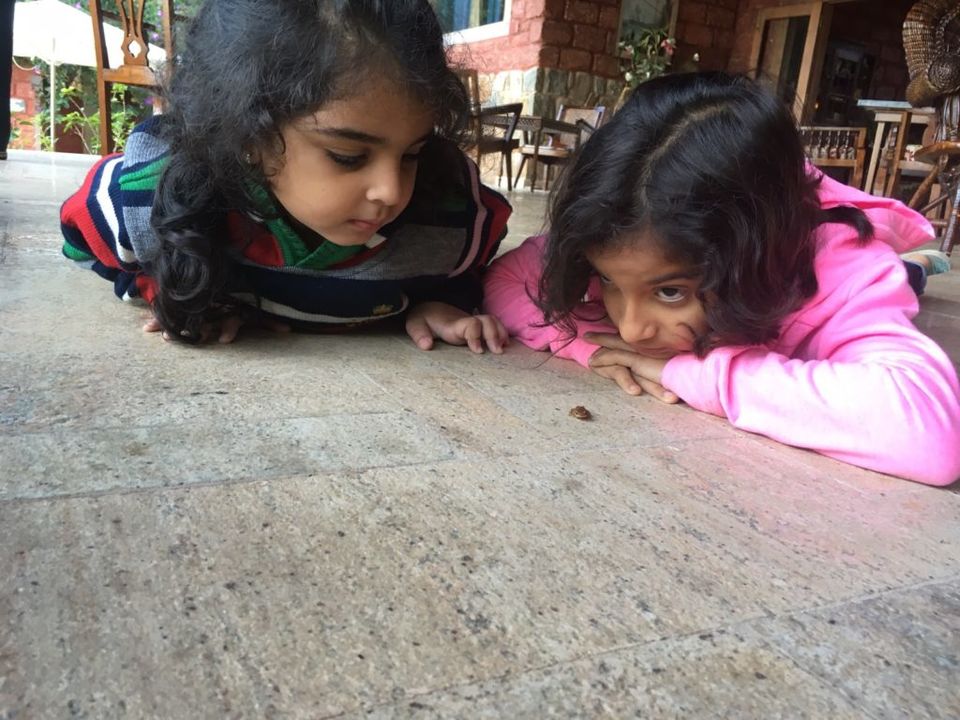 After 5 blissful days, it was time to move on to our next destination. As we headed for our cottage after dinner on the last night, I remember looking up amazed at the sheer number of stars twinkling in the sky. Move your gaze back down, and the starlight merges with the twinkling lanterns hung out in the porch adjoining the dinner area. Urvinkhan has never looked prettier. We went to bed wistful to be leaving this place behind, yet, excited at what was to come next!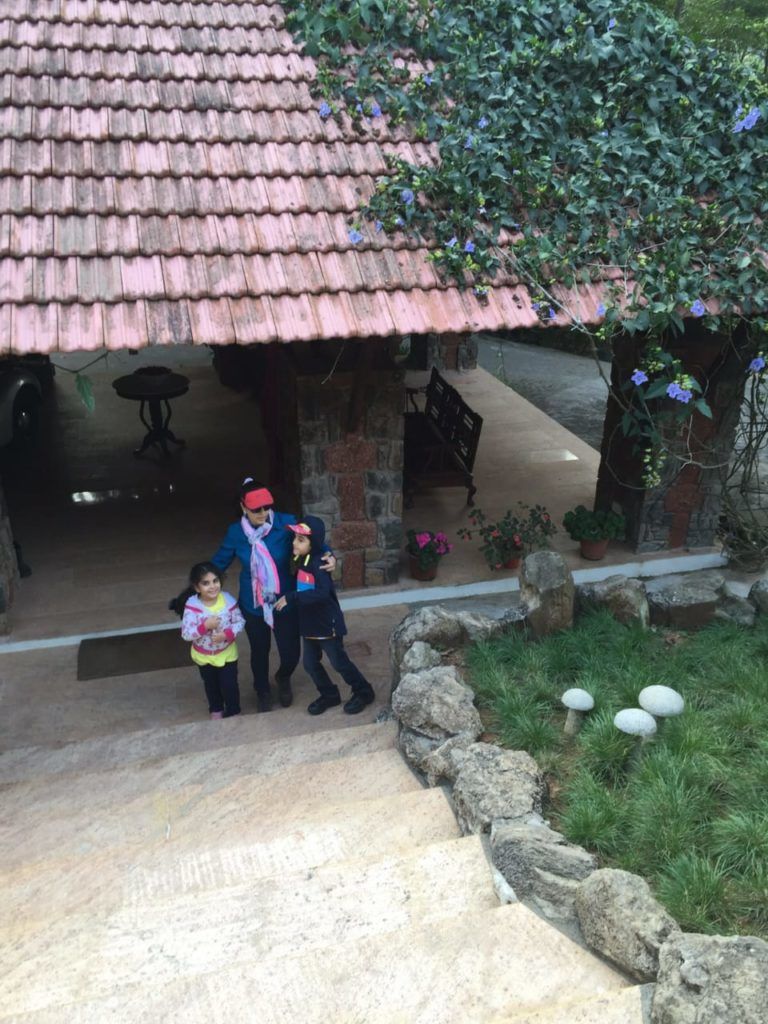 Location: Chikmagalur, Karnataka
Place to Stay: Villa Urvinkhan
Cost / Day: Approximately RS. 7000 per head, Incl of all meals