En route Chikmagalur We are all living in a world where we find ourselves stuck with deadlines and targets. In this busy schedule, we(me, my husband, his friend an his wife) managed to take out a week's time to rejuvenate ourselves, getting accelerated in energy by travelling and exploring new places. We recently returned from a week long road trip to coastal Karnataka, and I would like to share my experience of Chikmagalur . Chikmagalur in kannada means, "younger daughter's town". It is said to be given as a dowry to the youngest daughter of Rukmangada. But for me, it is a land of coffee plantation, spices, hills and forests. It is a perfect weekend getaway. We started from Kuntapur around 12:00pm. The distance to our destination was approximately 195kms. The roads were mostly in good shape.
The drive to Chikmagalur pass through Agumbe. Agumbe has one of the most mesmerising and scenic views of western ghats. The road passes through Someshwar Wildlife Sanctuary known for tiger reserves.The well know hair pin bends do gave us some goosebumps???? but the drive through the ghats was refreshing. We even encountered a jugadu skywalk(not with glass flooring, but with concrete) on our way . We couldn't afford to miss the photo op. So we decided to take a brief stop to get ourselves clicked.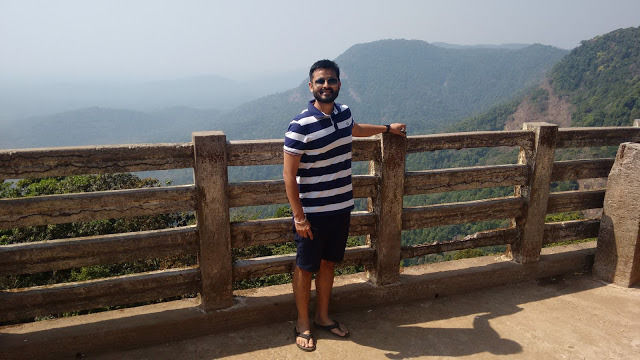 Agumbe (on our way to chikmagalur)
We reached Chikmagalur around 5:30 PM. We booked a homestay on the outskirts of Chikmagalur on the foothills of Mullayangiri peak. It was called Thotadhahalli Homestay. The path to the homestay was scenic ,full of coffee plantations on either side of the road. It seemed as if we were passing through a jungle safari. The road is not in perfect condition but the sight of plantations make up for this bumpy road.
Built in 1957, run by Indhavara family, located in the middle of lush green coffee plantation, hence the name Thotadhahalli means, "estate village", in Kannada.
As soon as we entered our eyes popped out, jaws dropped and we were like... we made the right decision. Its haweli type vibes, big pillars, antique accessories, unique collection, great collection of bonsai, cacti and other plants gave it such a royal feel.
It was our first homestay experience and it was much more than what we expected.
The entire property ,spread across 75 acres, is a paradise in itself. The weather during the time of our visit was fantastic. It was breezy with bit of chill in the year .We were served hot coffee on our arrival .The room which we were given was basic but quite clean and well maintained. The rooms are big enough, well maintained, neat and high ceilings, art works added to the space. Everything in the room gave early 90's feel right from the bed to switch board.
We freshened ourselves and went for the dinner.For the starters ,there were Pakoras, and piping hot healthy spinach soup. To top it ,there was a bon-fire to add to the warmth of the place with some nice music.
On our first day we just relaxed as it was a long drive and tried absorbing the Malnad tradition, plus this place has it all.
They showed us a documentary on projector on how coffee is grown, varieties of coffee, how it is processed in Karnataka.
This place hardly has any network, no wifi, therefore you can enjoy in solitude without any distraction from work and social networks.
Our accommodation included all the three meals . Malnad cuisine ,as they called it, was amazing. The host, Mrs Pallavi took great care in preparing various dishes. I think photos might not do complete justice to the amazing food but still i tried to capture some delicious cuisine.
It satisfied our taste buds even though we were from North India. It was light on thhe stomach yet filling. Every time, we were surprised with the wide spread.It seemed "they serve love when they serve food". Pallavi and Prakash, the owner of estate made sure that people get to taste the best of Malnad cuisine. He was ever ready in explaining various nuisances of Malnad cuisine . He also made sure that we socialize with other visitors.
Even their cook(Ravi) always had a smiling face and such happy vibes made the food doubly delicious. In fact Mrs Pallavi even shared the recipe of Sanaa with me.It satisfied our taste buds even though Even their cook(Ravi) always had a smiling face and such happy vibes made the food doubly delicious. Since we were not too aware of Malnad Cuisine before coming here Mrs. Pallavi was happy to share her cooking experience with us. In fact Mrs Pallavi even shared the recipe of Sanaa with me.
.The size of dining hall was generous and it was so well maintained that we could sit there for the whole day admiring the artifacts. There was always a cool breeze blowing across the dining hall cum verandah. We felt we could sit there doing nothing and still didnt get bored
Next day, we went for Mullayangiri trek to see sunrise. Mullayangiri is the highest peak in Karnataka. It was half an hour drive from the property. The trekking trails on the Mullayangiri hills took us through some of the most rustic and beautiful pathways.The drive (especially last 3kms was a bit tricky) .One can drive all the way to Mullayangiri except the last 300 metres which needs to be done on foot as there were 300 odd stairs to climb to reach the summit.It's a delight for an adventure lover. It was too windy and we could feel the chill as we were not prepared for the weather.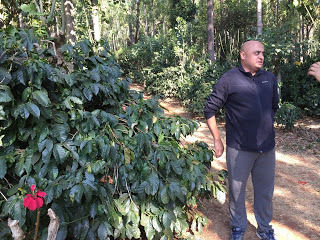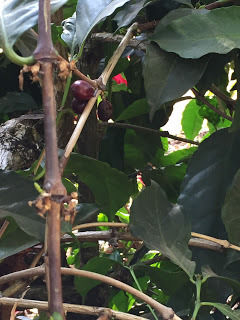 According to a legend, the first seeds of coffee in India at Chikmagalur by Baba Budan on his return from his pilgrimage to Mecca. It is said that Baba Budan strapped 7 coffee beans to his chest so it doesn't get confiscated. So, the people of chikmagalur named an entire mountain after him aptly named baba budangiri. Normally , coffee is divided into 2 main categories: Arabica and Robusta. Their taste will satisfy any mochaholic.
After our coffee sessions, we headed for breakfast. It was a buffet comprising of kesari bhath, paddu, coconut chutney, fruits, upma etc.We decided to relax in the property as there was much to appreciate there itself. We took this time to take lots of photos .
Around 3:00pm we headed to Galikere lake near Baba budangiri peak. This lake is supposedly known as " Mansarovar of Karnataka".
Passing through narrow and steep stretch. It was the scariest drive of the entire trip as the road (if you want to call it road) was really tricky. It took around one and half an hour for us to reach this lake. This lakes marks end of the motorable road. But we were left underwhelmed (may be we had set ourselves high expectations hearing the term mansarovar).
In the evening we were invited to a birthday celebration by a family who was also staying there. A little hesitant to join them, because we had no gift for the kid ????
But we were happy to be a part of their celebration. They had come there to celebrate the birthday of their three year old grandson. . VÒÌLA... we had a customised special cake, sang birthday song, got return gifts. These are the additional perks of staying in a homestay ????.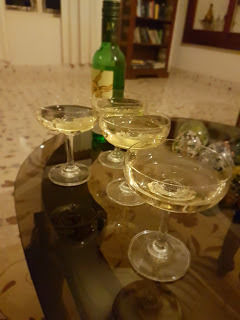 And how can one leave this beautiful place without a glass of wine. Good wine, in a good company, amidst this beautiful landscape is life's pleasure and can definitely make relations last longer... ????????. We had just started when Mr.Prakash came with bowl of 'chakhana' and to check if we were comfortable. We were in awe from the moment we made the bookings and couldn't stop talking to each other about the wonderful property and it's owners. A good beginning makes good ending!
The tradition of applying kumkum (by Mrs. Pallavi) while departing gave us a homely feeling. .......we did customary shopping (local coffee and spices).
On our return journey, we stopped at Belur in Hassan district for its Chennakeshava temple which was our final stop before reaching Bengaluru airport.
And another day was over from a few days left in life. :)
It was a memorable experience, my first of staying in homestay. The weather, property ,hosts and ever present coffee aroma all came together to make it a magical experience.
Chikmagalur is way more beautiful than the pictures.
Would love to go back sometime!!!
This post was originally published on Hello Food Sneha.