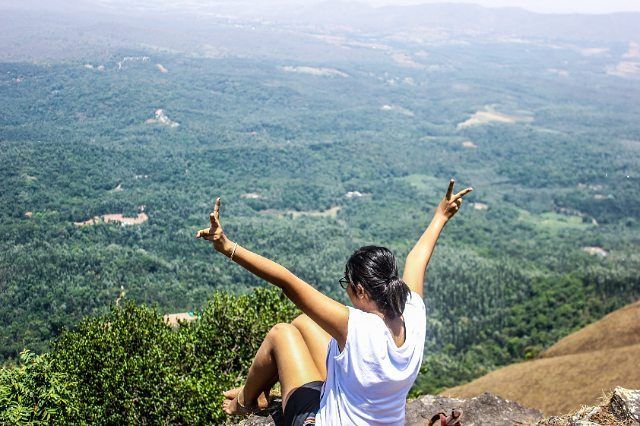 It had been a month since I'd travelled anywhere and I was waiting for an excuse to find some place to go. One fine day, a dear friend from Kochi called me up and said that we was going to go to Chikmagalur (Chikmanguluru, for old school people) for a shoot (he's a photographer) and wanted to come down to Bangalore to spend some time with me before heading to the shoot.
I quickly thought of a plan and said, "Let's go a day earlier to Chikmagalur". I quickly roped in another friend and we decided to go by car since it was three of us. Bangalore to Chikmagalur is roughly 250 km and since we were driving down, we knew we'd reach quickly.
I was super excited because I had some relatives staying in Chikmagalur district and I knew we'd get to go see some amazing wildlife. My friend finally came down and we picked him up by car from a common point near Mysore road. It wasn't early in the morning and we knew we had to catch up on time. It was nearing mid-day and I didn't want to be driving in the hot sun.
We quickly hit the highway after a late breakfast and began our drive. I called my uncle and asked him where we could stay for a night, preferably somewhere away from the town and somewhere quiet. He suggested a place called Thottadalli Mane and put me in touch with a person he knew quite well. We got the location of the homestay and while I knew the route to Chikmagalur, we would need the location to find the homestay itself.
Driving with music is an all-time favourite of mine. I don't mind driving around in circles if there's music and if I'm on the highway. Add a touch of rain and I'd be at absolute peace. We laughed and spoke the entire way to the homestay. It's a nice drive and the route to Chikmagalur is beautiful as you pass by hill ranges and forest areas. It's almost always a cool drive. Somehow every time I've visited Chikmagalur, it is cloudy and cool and you manage to get amazing pictures at any spot.
It grew dark as we reached Chikmagalur and we were yet to find the place. We had to take a deviation into a forest and drive about 2 km further until you reach a sprawling gate with a huge parking area. The moment we reached, a huge boxer (the dog breed) came running out and I was too terrified to open the door. A man, laughing from the garden above us, said that the dog wouldn't do anything. I was too scared anyway. My friend stepped out, and the guy from the garden led the dog away for us to take our bags out.
We later learnt that even though the dog was huge, she wouldn't have hurt a fly. She was just overly curious and always liked to run to people.
As we dragged our bags up the stairs to the garden area, we saw a huge bungalow that stood in the midst of this forest. It was covered by plants and on second look, almost all the plants were bonsai. The owner stepped out and greeted us with a smile. He told us that the speciality of his place is that he only grows plants with an intention to make them bonsai. He literally had a bonsai of every kind of plant. He even had a bonsai of an orange plant and pomegranate plant!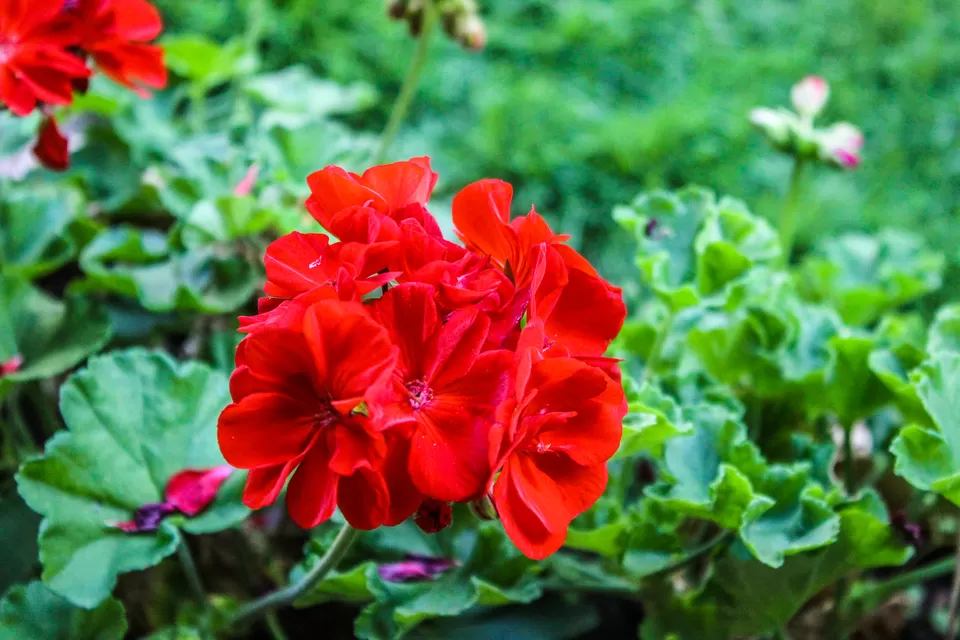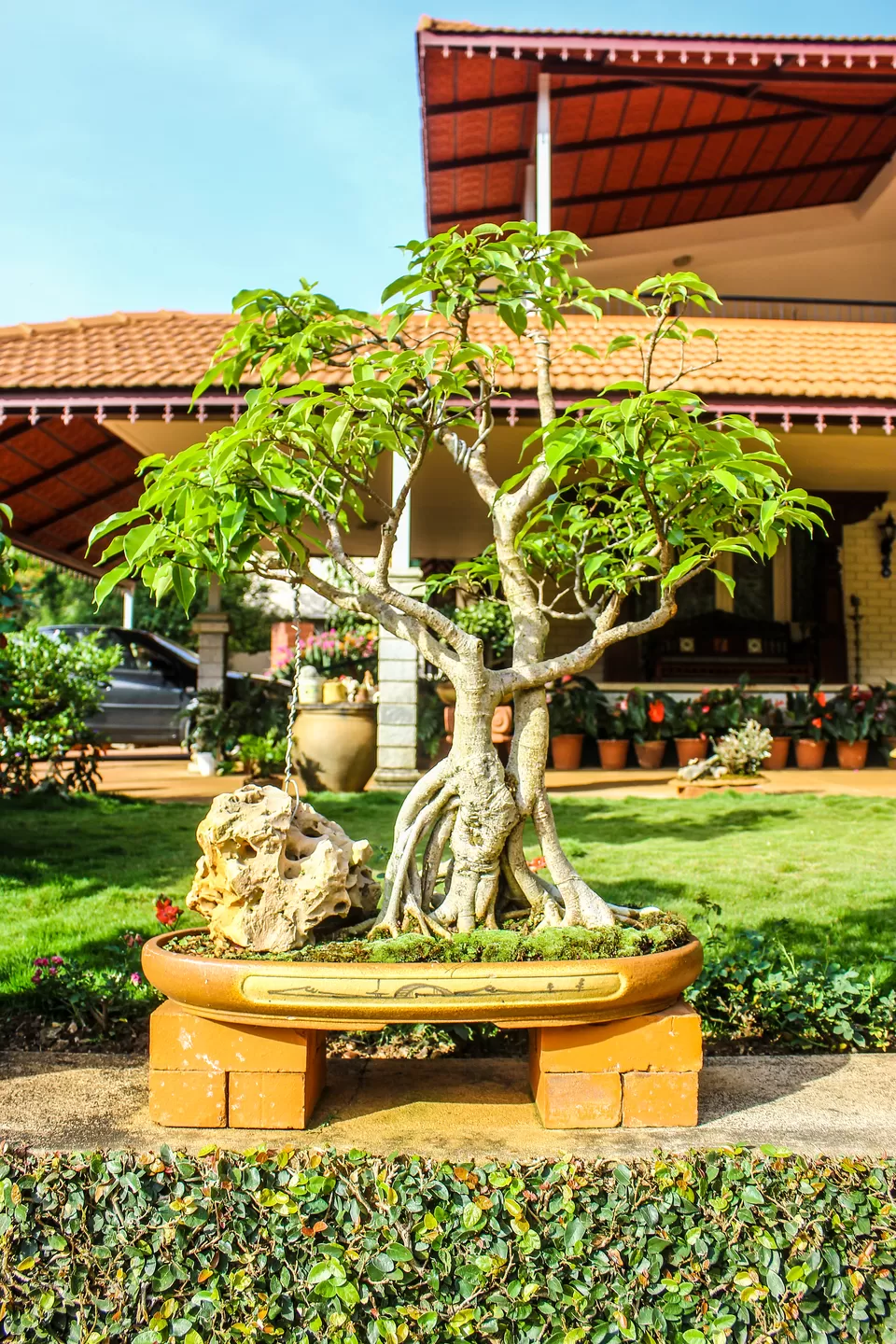 It was already completely dark when we reached and we had already eaten our dinner. He took us into the bungalow and said that his family stayed in the ground floor below while guests could use the rooms on the first floor. The entire house was vintage style, covered in teak wood work, old antiques hanging from the walls, grand painting adoring the stairway and even a classic old minibar. The furniture was also old-fashioned and grand-looking. They had a huge sit-out in the first floor where one could sit and look at the fields below beyond the bonsai plants.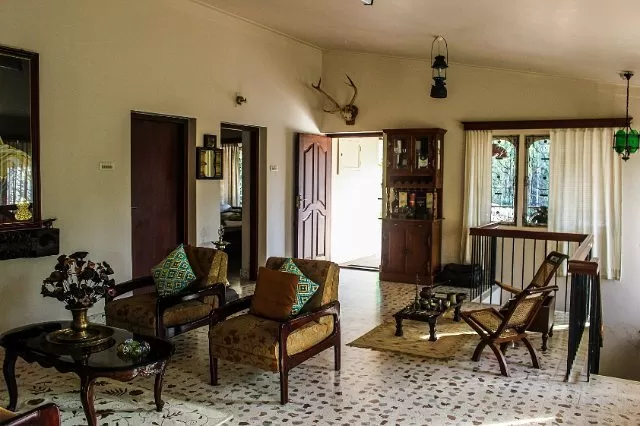 I was way too tired after the long drive and decided to call it a night. My two friends wanted to stay up and chat and then sleep later. I went into my room and I dozed off instantly.
We woke up early the next day and decided to drive down to Mullayanagiri to enjoy the view from the height. Mullayanagiri is the highest peak in Karnataka where a lot of people flock to visit the temple on top of the hill. It was a few kilometers from where we stayed and the road leading to the hills has a checkpost where they charge you a nominal entry fee. However, if you go past this check point with some local, they don't charge you anything. However, we paid this time and drove the beautiful route up to the hills.
When we reached, a police training van was also present and all the new trainees were heading to the temple on top as a trip of their own. It was amazing to see the number of lady recruits in the police force. We parked our car and got out and I realized that there were way too many people for us to go up the hill to the temple. I looked around and saw a hill opposite the main hill. I pushed my friends towards and we began climbing the rough rocks to get to the top. It wasn't very steep and soon, we had an amazing view of the fields and trees below.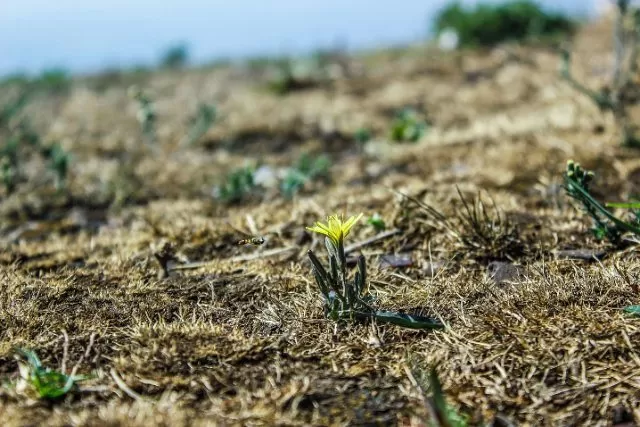 The sun had just come up and it was extremely windy. What do you do when you travel with photographers? Take awesome photos!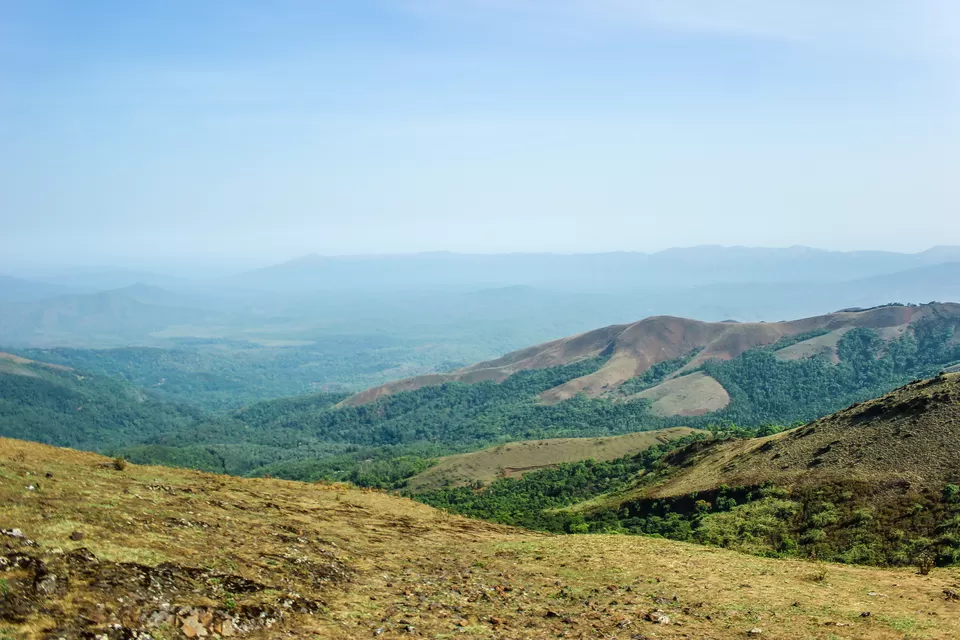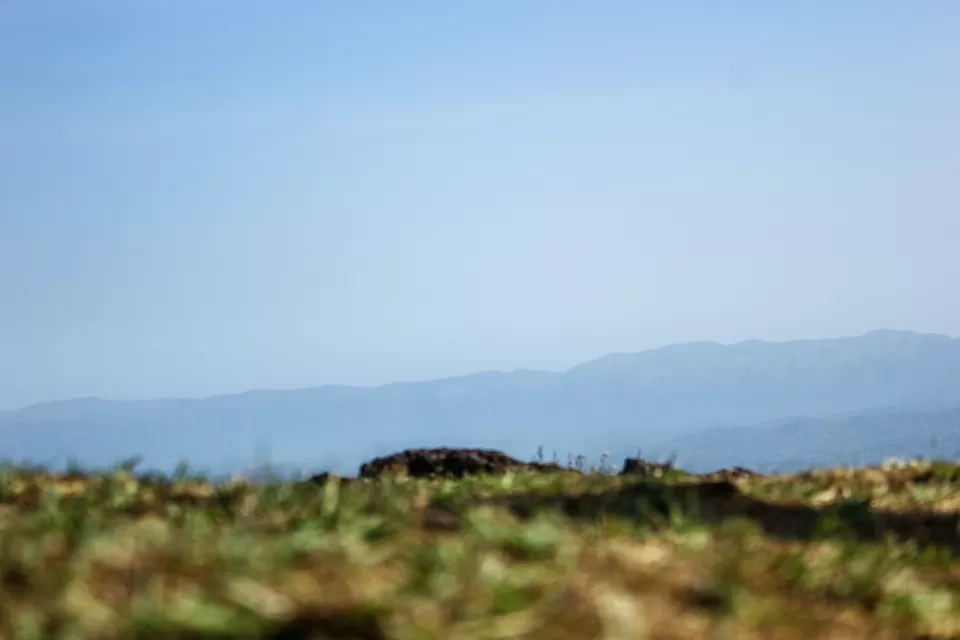 After chilling out above the entire town, we headed down and drove back to the house. Before we had left, the owner had invited us to drive down with him and his family to Baba Budangiri and enjoy the view from up there. We got back, ate a quick home cooked lunch in the backyard of the bungalow (which was also covered in bonsai) and then began to freshen up. The backyard itself was covered in bonsai and orchids of different colours. In a sheltered area of the backyard, they had tables and chairs set up where one could sit and enjoy a meal. They also had laid out a buffet for all meals that we could help ourselves with.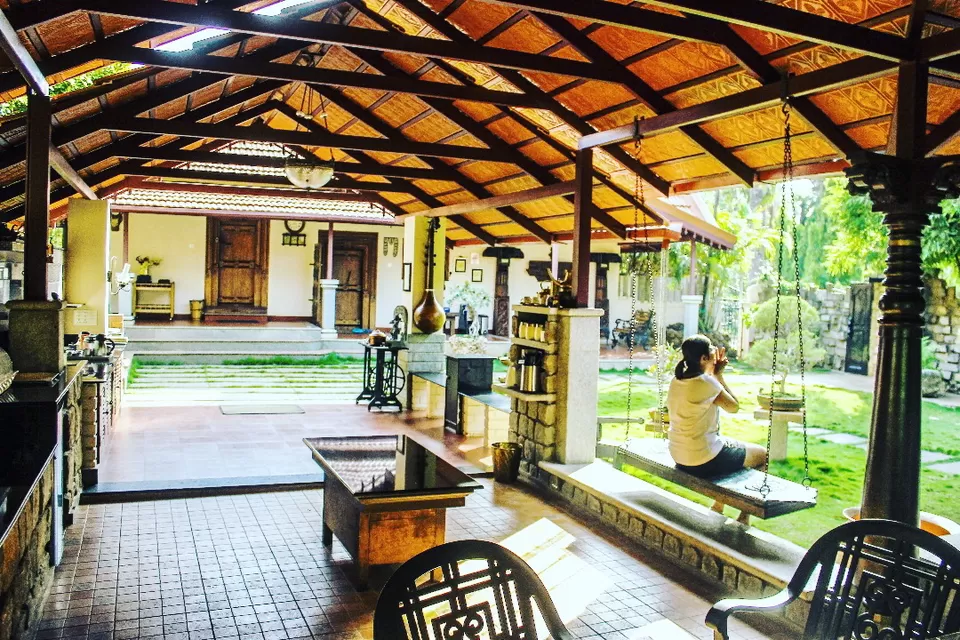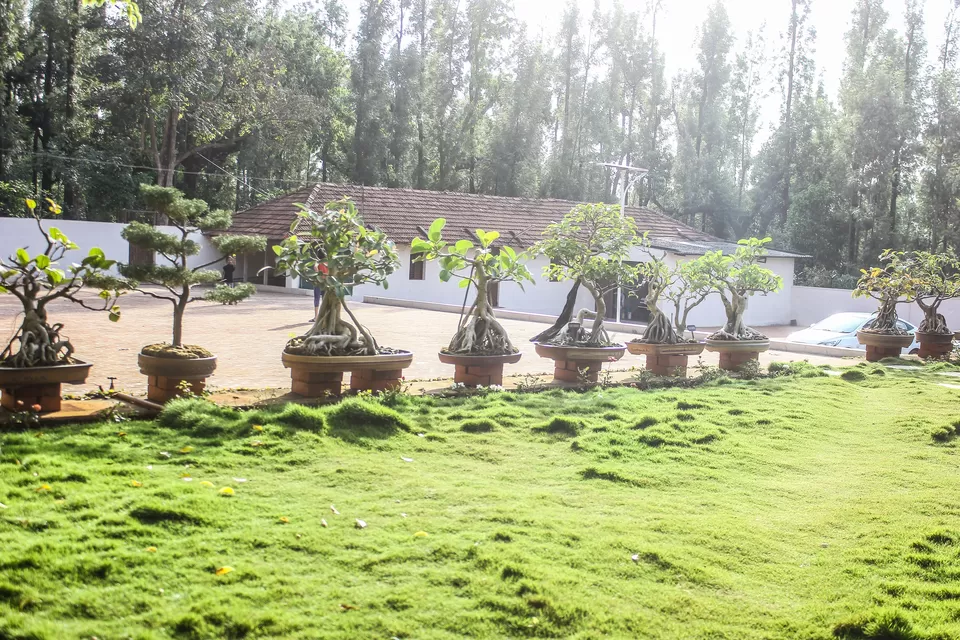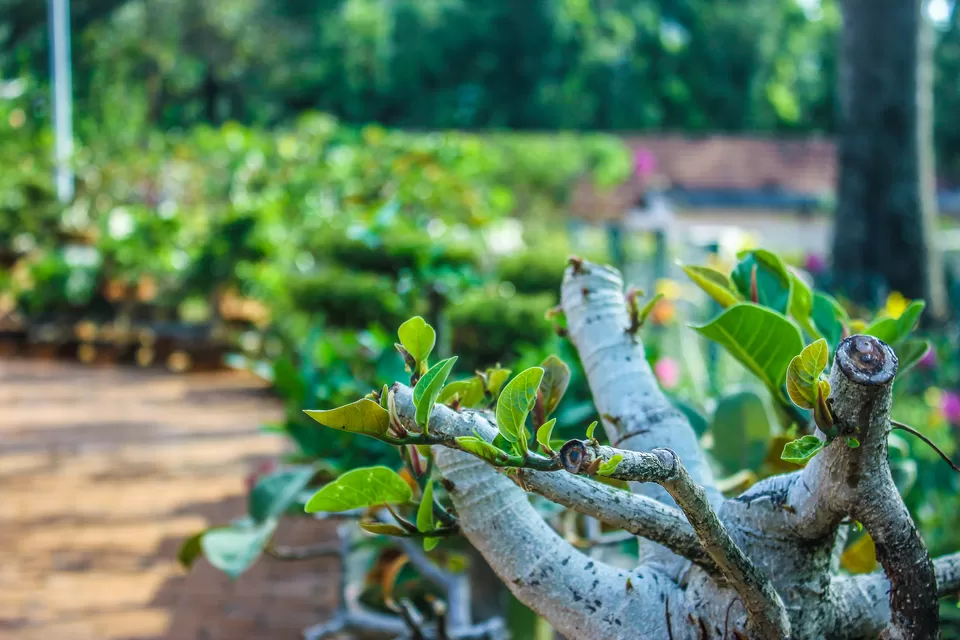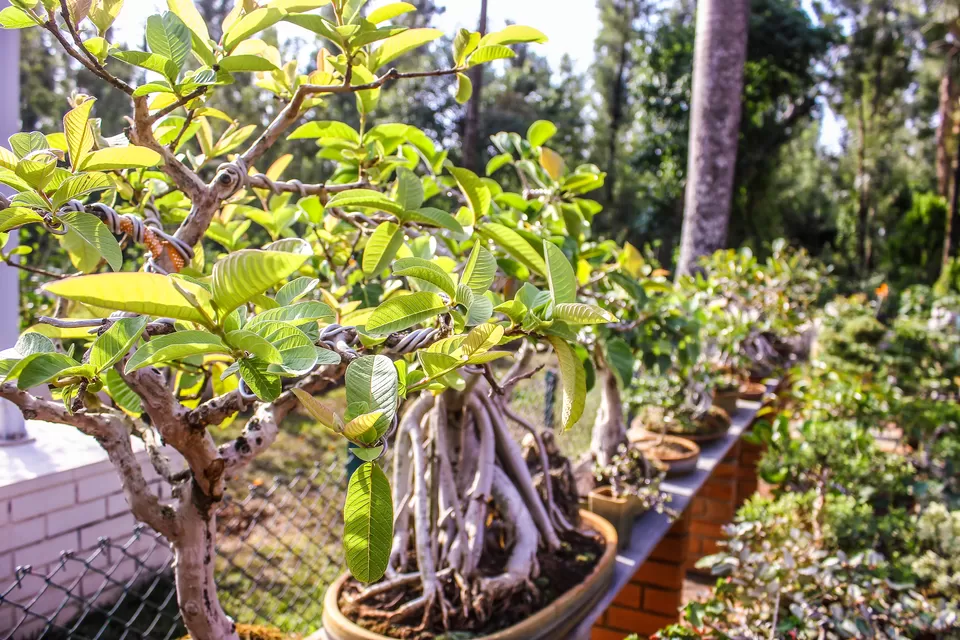 Baba Budangiri's route is along the same for Mullayanagiri and so we had to pass by the same checkpost. We didn't pay this time and drove for a much longer time, this time for about 12 km.
The road got smaller and muddier as time passed until we got to the point where the road wasn't wide enough for two cars to pass each other. We even got stuck at some point when a small van from the opposite side wanted to pass by. Finally, we stopped and parked the car literally at the cliff of the hill. A foot more to the left and the car would have gone over the hill.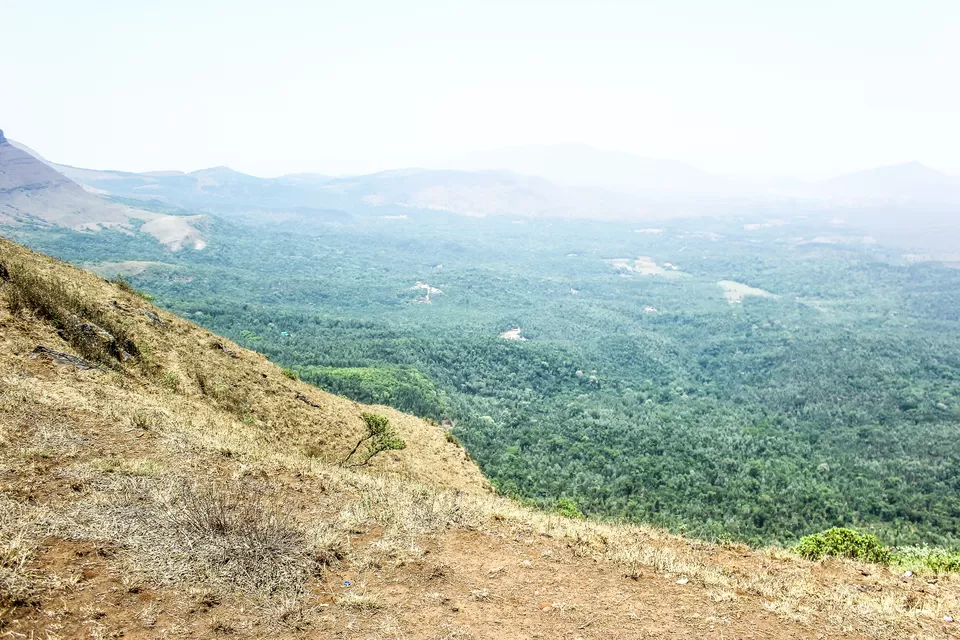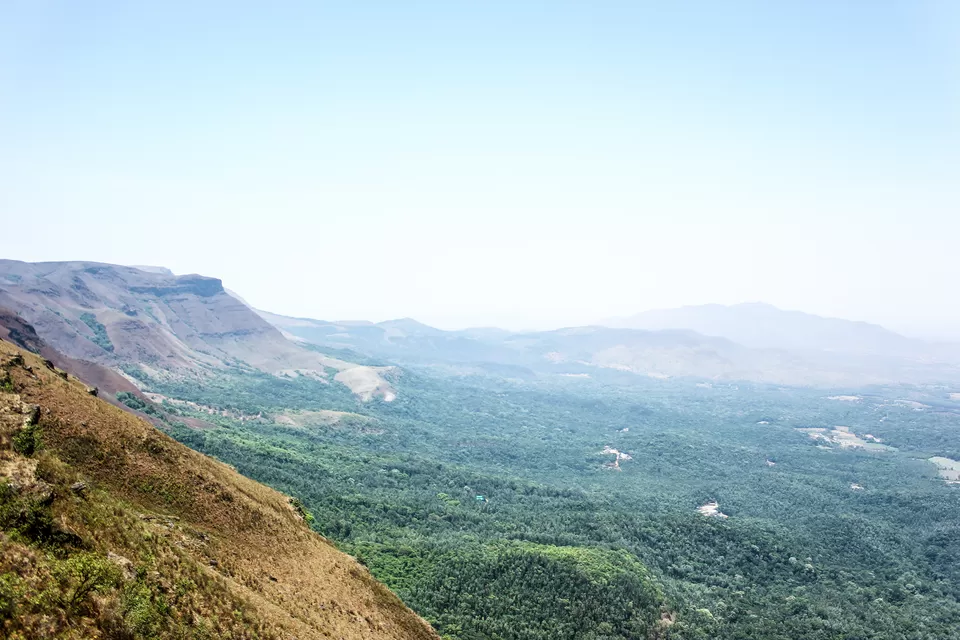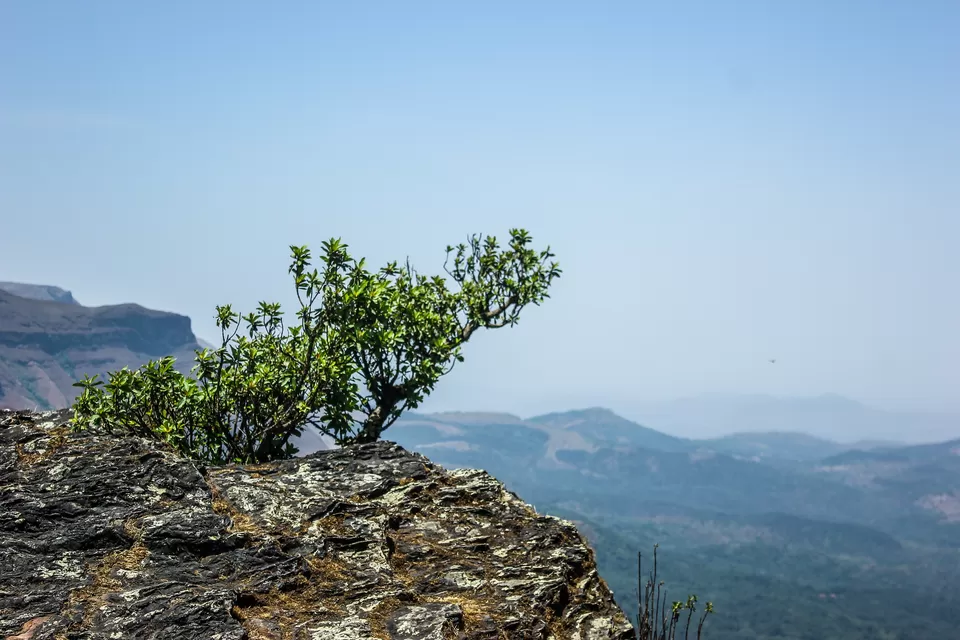 It was a breathtaking view, however, the rains weren't in sight. The grass was golden brown and in some places had become crisp. I enjoyed walking on the grass with the classic "crunch" noise! Baba Budangiri is famous for being a shrine that is sacred to both Hindus and Muslims at the same time. Since this was off-season, the place was pretty empty.
We didn't go towards the shrine and opted, instead, to go towards the higher peaks to get good photos. After clicking some group photos and some amazing cliff shots of the land that lay ahead, we decided to leave. We still had to drive back a long way and I had to stop by uncle's place to say hi to him. The owner of the homestay wanted to stay a while longer with his family, so we said goodbye to him and got back to the car.
After carefully driving out of the narrow cliff, we hit the highway and headed towards Lakkoli where my uncle stayed. We wanted to be able to enter the wildlife range since I knew a few officers in the area through my work with NDTV, and we had to make it by 5 PM. It was already lunch time and we had to head back to the bungalow, pack our bags and leave.
In 90 minutes straight, we had packed our bags and departed to Lakkoli. It was approximately 80 km away and we had to drive around the entire hill range to make it.
We reached exactly at 515 PM and we missed the last jeep into the forest. The forest isn't safe beyond 5-530 PM and no officer risks taking anyone inside when the sun begins to set and so we had missed it. I had been inside the forest previously and I've had the privilege of seeing tigers and leopards in the wild. But, my friends were disappointed.
We then drove to my uncle's house which was less than a kilometer away and said hi to him and his family. We spent about half an hour then and began our drive back to Bangalore. It was getting dark soon and we had to reach before it became too late to drive. While I did enjoy night drives, the highways in these parts are not safe. And what's worse than these areas is the highway near Bangalore.
We drove for over 4 hours and reached Bangalore safely. While it was a short weekend getaway, it refreshed me completely to be able to go so close to my native and enjoy the scenery and fresh air.
Frequent searches leading to this page:-
unexplored places in chikmagalur, trip to chikmagalur from bangalore blog, chikmagalur tourist places with distance