7 Nov 2015: 5pm (Phone rings)
Kafeel: Bro what are you upto?
Rahul: Nothing man! Getting bored! How about going somewhere out?
Kafeel: Hmm. I was also thinking on the same.. But where to go?
Rahul: What about Rasta Cafe? I always wanted to be there. Lets make it happen today!
And so it all started....
Meeting up at Kafeel's home, all set to go. The Pulsar and Google maps also says Ready! Here we started our first and foremost journey on a two wheeler from Koramangala, the place known for its Bars, Pubs and Restaurants. Koramangala became my home just a month before this trip. But this city has swept me off my feet by its liveliness, madness and craziness.
Cruise to Rasta Cafe:
Google maps said 49 kms to go.. We headed towards the destination through the late night traffic to reach Mysore road. The clean road at night gives the best opportunity to any Bangalorean to actually fulfil the wish of speeding up on the road. The road to say is not so great but a good opportunity for a smoother ride for anyone who have not come out from the Bengaluru traffic for a long time.
Rasta Cafe: S01 E01: ONE PLACE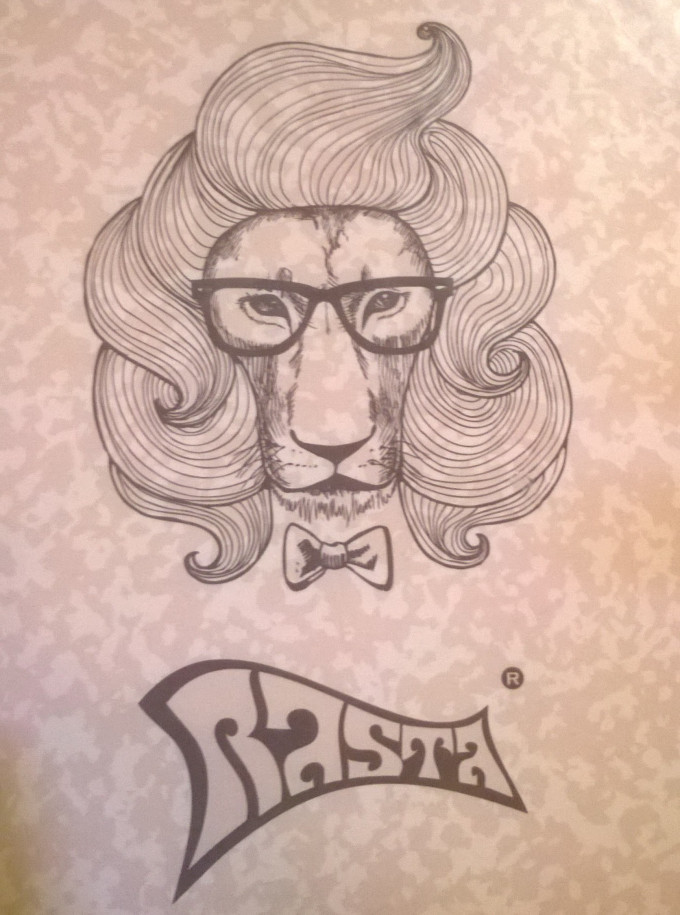 WELCOME TO RASTA.. Called as a pit stop on the highway, rather to be called as a reason for the highway ride! The colours and ambience of this Lifestyle café are sure to inspire in you a sense of freedom. Rasta comes from our need to unwind and take a moment from our fast paced lives to spend some quality time with our friends and family. One of the most famous cafes that opens for as long as 20 hours in a stretch. Opens at 9 AM and closes at 5 AM. Peak day being Friday and Saturday and timing being 12 Midnight to 3 AM. A must go place!
Valiant journey to Talakad
Being at Rasta till 2 AM, we decided not to go back to Bangalore so early, so while searching in Maps, we found a place named TALAKAD, about 100 kms away from Rasta cafe. Here is the experience we had being lone riders for about straight 40-50 kms. The Google map played a prank with us, which lead us to a kaccha road. Driving off road for about 10 mins we learned that "we are totally lost". The funniest part being Google map showing the way through that scary road. Both sides being dark and don't even think of looking back, if you are a soft hearted person! Having seen only darkness around and banyan tree roots hanging down through the headlight of the bike, we sped up. Time being 4:30 we see a street light far away. Thinking of a taking a pit stop after a non stop long ride, we headed towards the light. A temple, with a sign board written in Kannada. We took a break and so did Google maps. Remembering that our destination is just 15 kms from that place,we started moving. A tea shop to a take a pit stop. The cheapest tea available today, in there. Just priced ₹3 for a tea. The chaiwala uncle has told us that the Talakad temple is just about 5 kms from the town.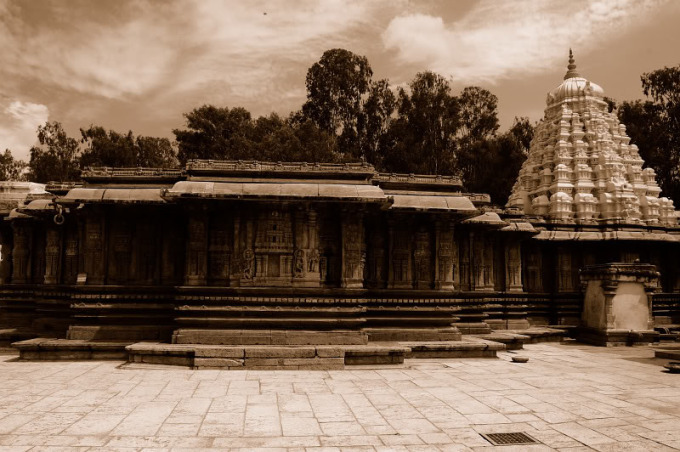 Beauty of Talakad
Talakad is a desert like town on the left bank of Kaveri River. It once had over 30 temples, most of which now lay buried in sand. The extant group of temples, where the eastward flowing Kaveri river changes course as the sand on its banks spreads over a wide area, is a popular pilgrimage site for Hindus. The Talakad curse has established itself in the folklore as a miracle since the early part of 16th century because of two strange events visible even to date: first, Talakad, a historically vibrant city, is now being submerged under sand dunes several meters deep, and second, the Mysore royal family have faced a problem of having a rightful heir to the throne since the 17th century. The land of mysteries. Sand in the mid of the town. The wonderful architecture of the temples. One of the most beautiful experiences. The Sunrise boating at Talakad, Kaveri river was a heartfelt happiness giving experience.
The journey to B R Hills, was another experience of its own. A 60 KM journey from Talakad in the early morning, having breakfast at a small house restaurant. A very different cuisine of Karnataka rural food, the common idly, sambhar, chutney in a most different manner. The state highway 57, was one kind of a road, where you can expect animals to come out any time for their hunt.
The Biligirirangana hills, so called B R Hills, is situated at 5091 ft. above sea level. It has the Biligiriranganatha swamy temple wildlife sanctuary, which is a protected reserve under wildlife protection act of 1972. The temple of Ranganatha is situated at the edge of a bare cliff overlooking the northern parts of the sanctuary. The bare rock-cliff looks white in colour, giving the hill its name ( Biligiri in Kannada means white hill). The deity is often referred to as Biligiriranga and is depicted in a unique standing position. The Ranganatha deity at this temple is possibly the only standing form of Ranganatha, attributed to Tipu Sultan's rechristening of a previous Venkatesha temple, when he visited these hills during a hunting expedition.
There we lead back to Bangalore having lunch at Empire restaurant, Mysore road. It didn't reach the quality standards of the Empire, be the food or the service, so it was better to go for another one on the NH. Coming through NH 275, we saw again the favourite Rasta Cafe. The Rastaccino has helped us come back into senses. We came in the city, again the same old traffic.
Making a 20 hour journey of 434.3 km naming it S01 E01: EXPLORING KARNATAKA.
This blog was originally published on 'S01 E01: Exploring Karnataka'