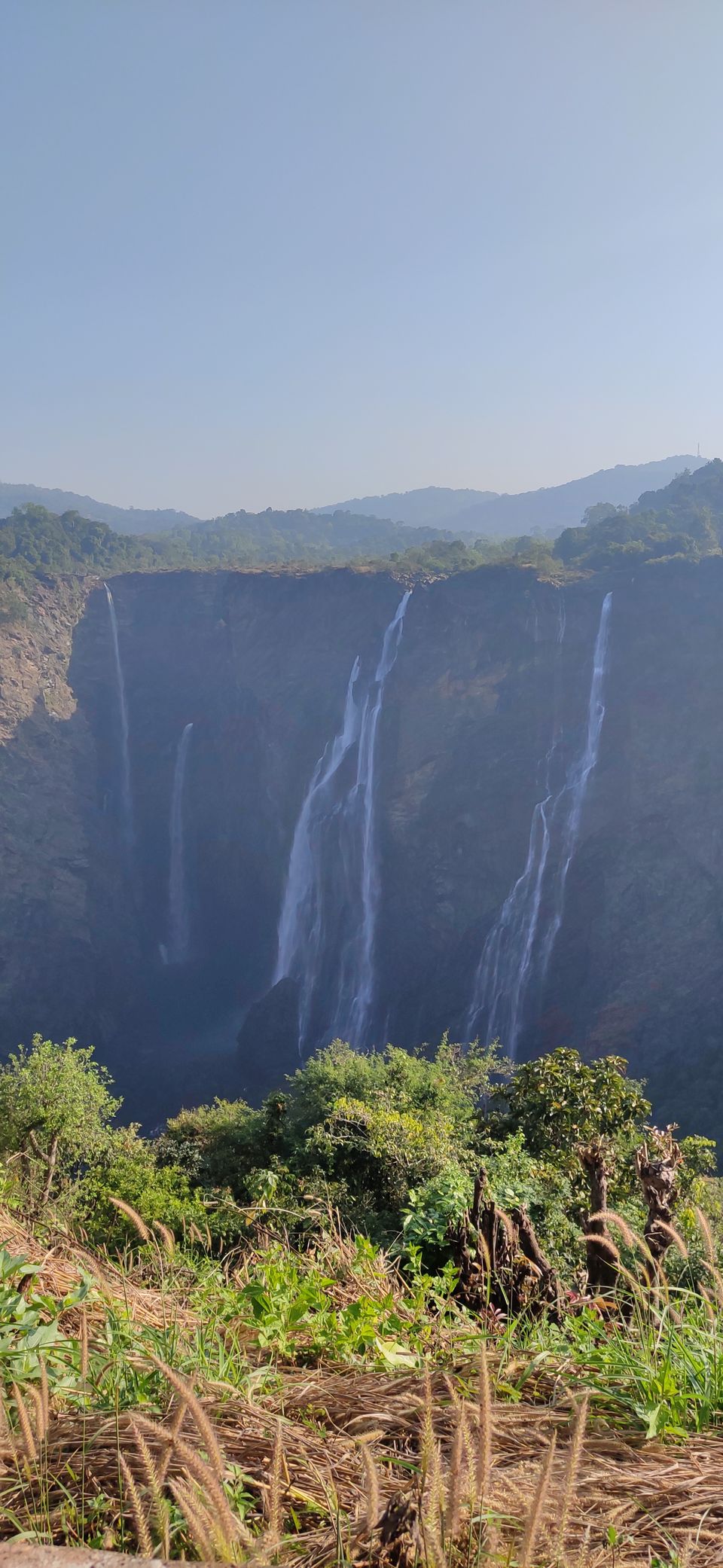 The state of Karnataka is rich and unique in every aspects - be it culture, people‌, eco-system, geography etc. This piece is about a diamond that Karnataka holds in its crown - South India's highest waterfall - Jog Falls or the "Joga Jalapatha"
My trip started from the crowded Yashwantpur station. I would suggest you to take the Mysuru - Talaguppa (16227) train in the night so that you can reach Talaguppa, the nearest railway station to Jog Falls in the morning. This train stops in KSR Bengaluru and Malleshwaram stops as well. Once you board, try to sleep off as an exciting day is ahead!
The next morning, you would reach Talaguppa, the last railway station of the Malenad region of Karnataka latest by 7:30 AM. You can come outside the railway station and board a bus if you wanted to have a new experience. You get taxis at the gate of railway station but do bargain the travel price!
I got a bus from the bus stop close to the railway station. The bus was from Shimoga heading towards Jog Falls. Get ready for a rollercoaster experience as this travel is gonna be constant ups and downs, and twists and turns. Free Advice - Carry a lemon if you puke while travelling. The bus ticket would barely cost you ₹30 and the way to Jog Falls is enchanting than anything else!
It takes approximately 45 mins to reach Jog Falls from Talaguppa. The entry fee costs you ₹10. But incase you come in a vehicle, separate parking charges apply. Also, there is no separate charges for carrying cameras!!!
Pat yourself, you have reached the spot! You can find four falls namely, Raja, Rani, Rocket and Roarer.
There are various view points which has benches as well for you to enjoy some breathtaking views!
There is a way to the Mahatma Gandhi Hydel Power station's view point in the same campus as Jog Falls'. Many ignore them, but please do take that way if you love for some great views and a calm environment. Even here you have benches hence you can sit and chill for a while.
In the Jog falls Campus, you can find photographers. If you know the basics of photography and needs your pictures to be A1, then I would not suggest you to try them. If not and you just wanted a memento, then good to go. They charge upto ₹150 for print outs and ₹30 each for soft copies.
Food:
The campus has Karnataka State Tourism Development Corporation's hotels and restaurants. I could not try them as they didn't serve by the time I reached there. However, there are a few small outlets in the campus itself that gives you food items like fried rice, Parotta and quick bites like Maggi and Bread Omlettes. They are priced at a decent range.
There are various other unique places in and around the Jog Falls which private tourist guides take you at ₹600 per head. I could not try that as well because of short time.
Nearby Jog Falls, you can also visit the Linganamakki Dam built by the renowned Sir M Vishveshwaraya.
You get bus back to Talaguppa every half-an-hour from the Jog Falls. However, I would suggest you to go to Sagara, the nearest town which is 35 Kms away from Jog Falls if you need to have a fine dining experience.
You can get back to Bangalore the same day through the Talaguppa Mysuru train. The train departs around 8:15 PM in the night and reaches Bangalore the next morning.