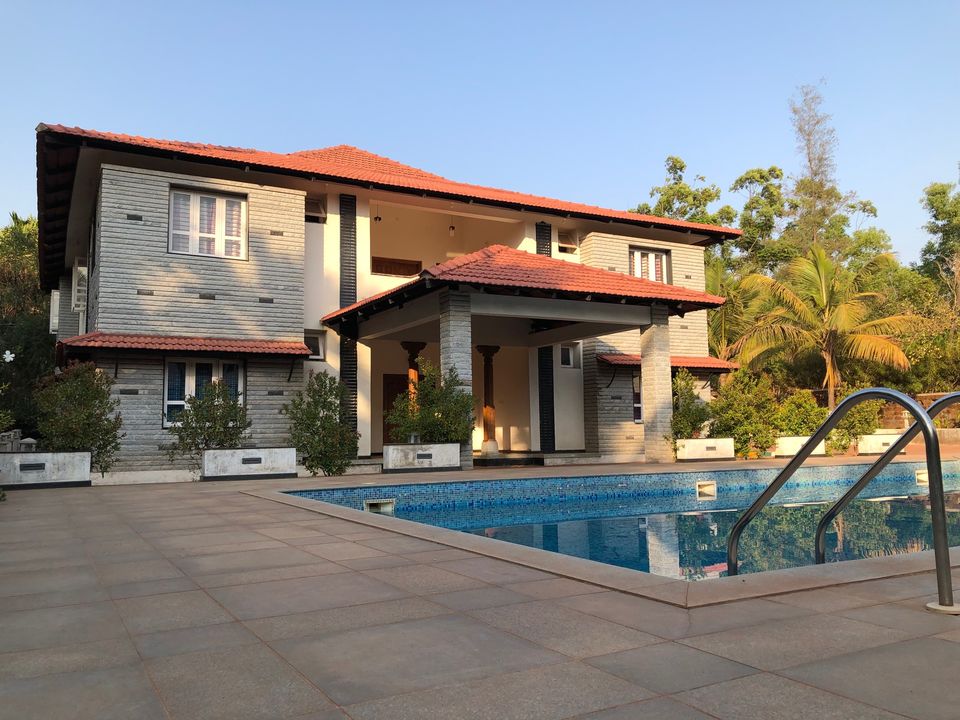 Matthuga, a homely retreat..
A spectacular green backdrop, lush green areca plantation, untouched wilderness on a truly mesmerizing landscape – that is Matthuga for you. Here, you can let the monotony of the city drift away as you enjoy the exotic nature. Your ambience here is perfumed with the inciting aroma of areca, coffee, pepper, vanilla, cardamom and wild orchids. Matthuga is a plantation bungalow, situated in the middle of a 11 Acre Areca Plantation on the Bangalore-Honnavar National Highway (NH206), 19 Km from Sagar and 8 Km before the world famous Jog Falls.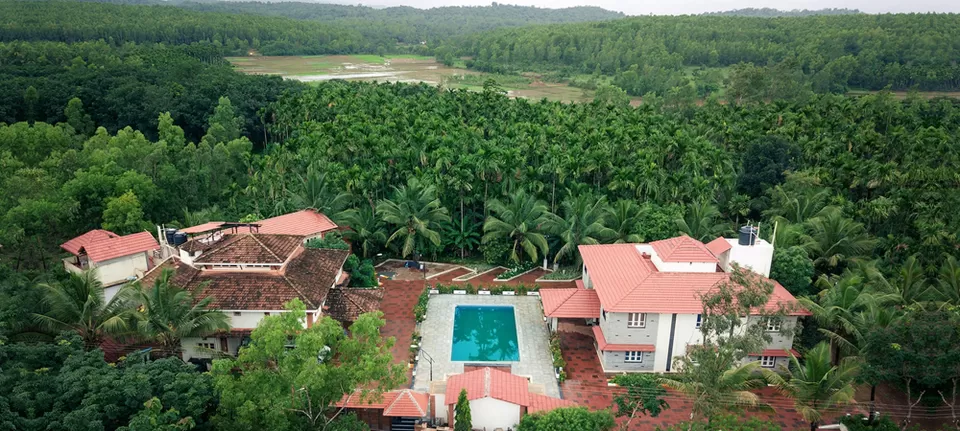 JOG FALLS:
When you are in Matthuga, you are just 5 to 7 minutes away from the world famous, the most magnificent and picturesque falls in Karnataka-India, JOG FALLS. Set in the wild and exotic surrounding of the river Sharavathi, this majestic falls drops nearly nine hundred feet in the form of four main channels namely Raja, Roarer, Rocket and Rani. Watching Jog falls during the monsoons can be an unforgettable experience. The mist around makes the setting magical to view.
Even though the quantity of water in Jog Falls during monsoon is huge and gives an amazing sight, watching world famous jog falls during other seasons specially in the early mornings and evenings, even though with less water, gives you a very different experience.
Sharavati Valley view point is also very close by to the place.
Don't forget to witness the recently started "Musical Fountain and laser Show" at Jog falls.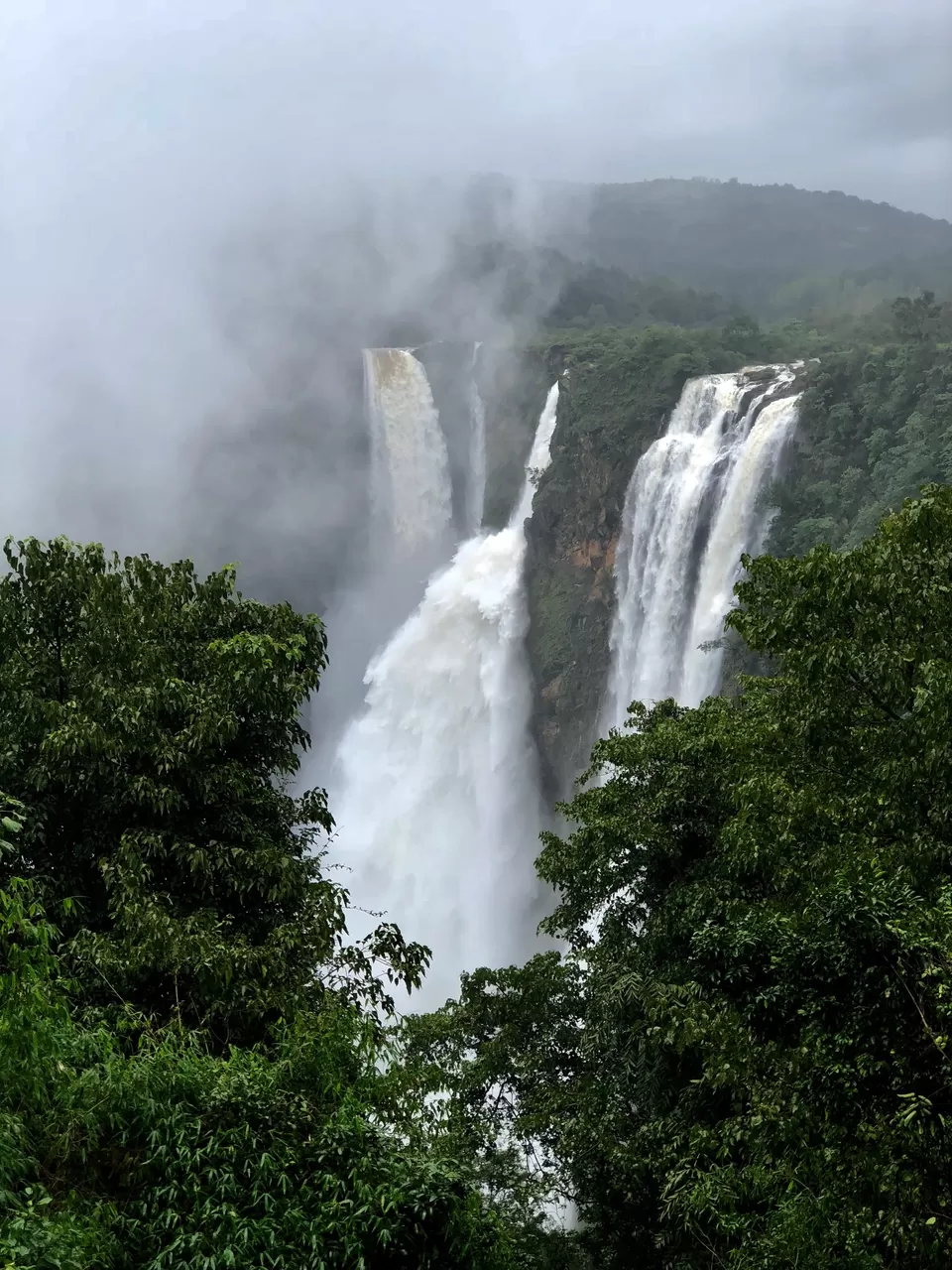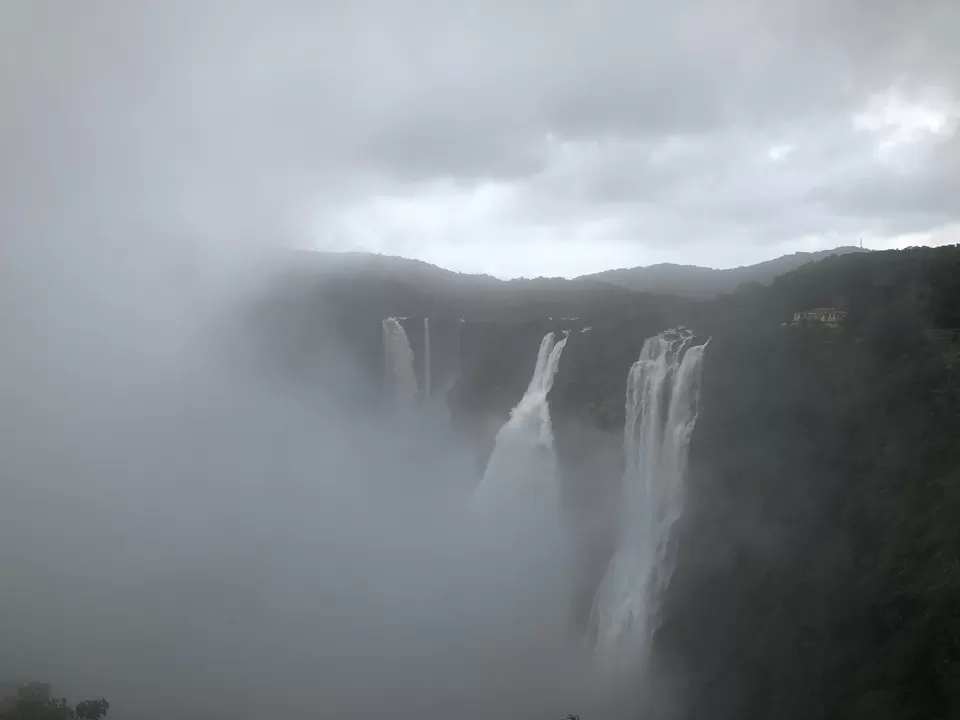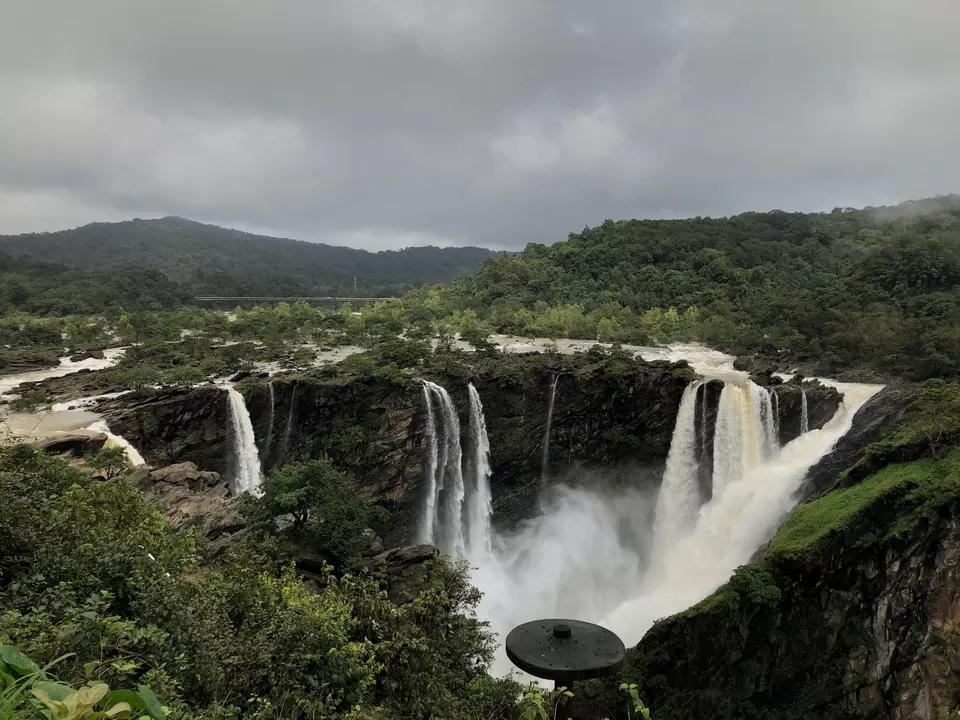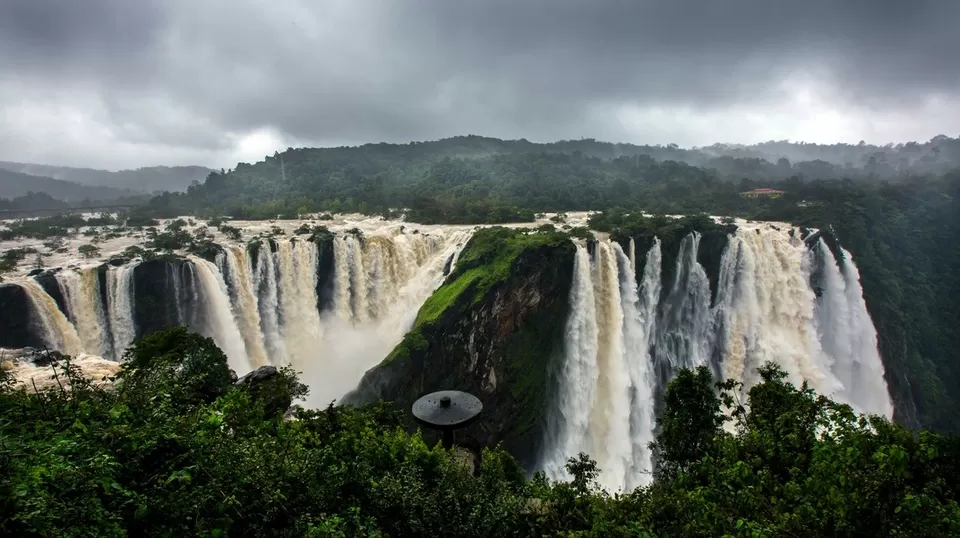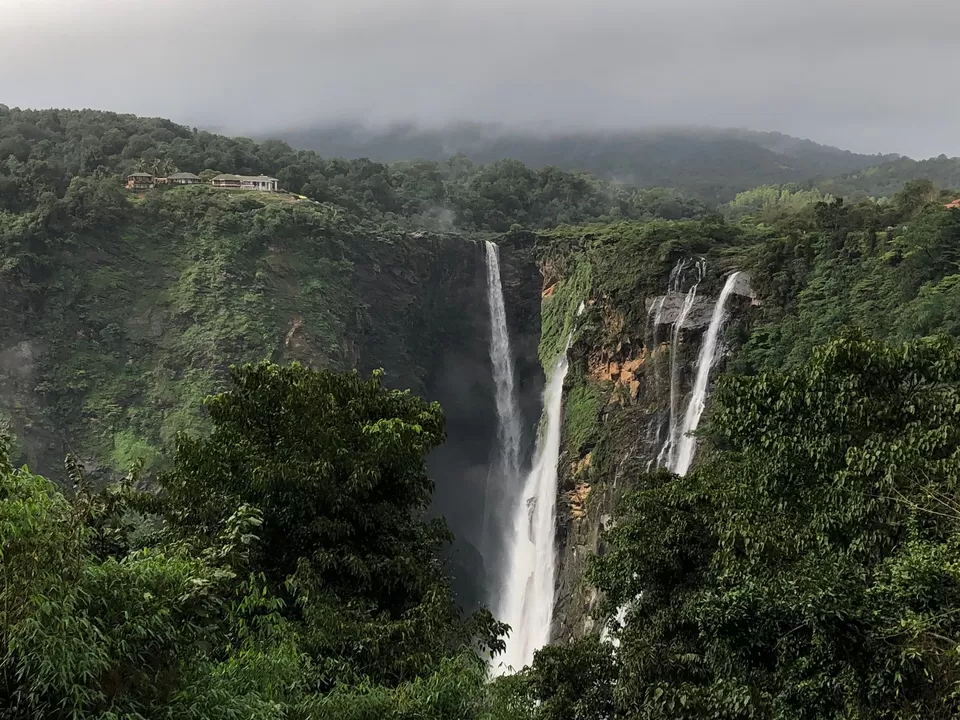 Rooms and Accommodation:
Matthuga offers fully furnished, traditional architecture styled and contemporary looking rooms with all standard amenities in each room (Non-AC). Rooms here are divided into West Bungalow, East Bungalow, and Luxury Cottage rooms. The property also has a swimming pool accessible for all the room categories. Classic and rustic interiors with a blend of pleasant shades set a perfect ambiance of peace and calmness.
West Bungalow:
Surrounded by the lush greenery of areca plantation, the west side bungalow at Matthuga offers refreshing feel with a cool breeze. Don't forget to listen to the chirping voice of birds along with a magnificent view of nature enclosed beautifully. Book your room at Matthuga west bungalow to experience the stay in the midst of nature. This one has five double rooms with attached bath.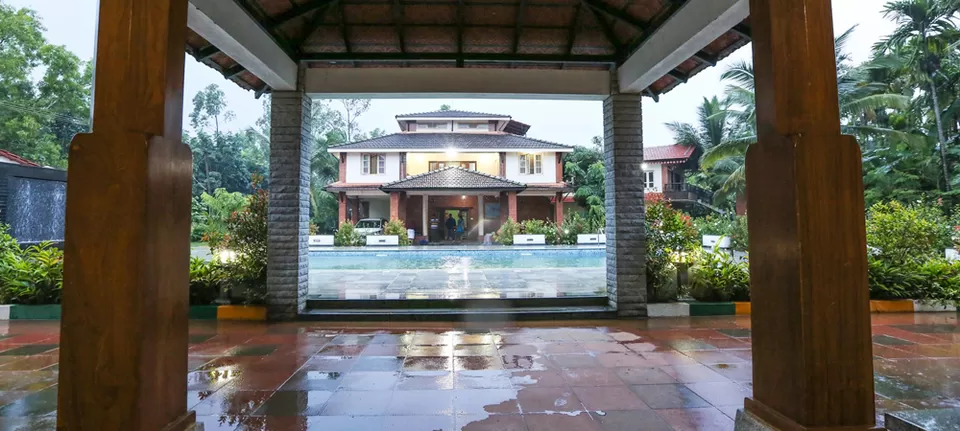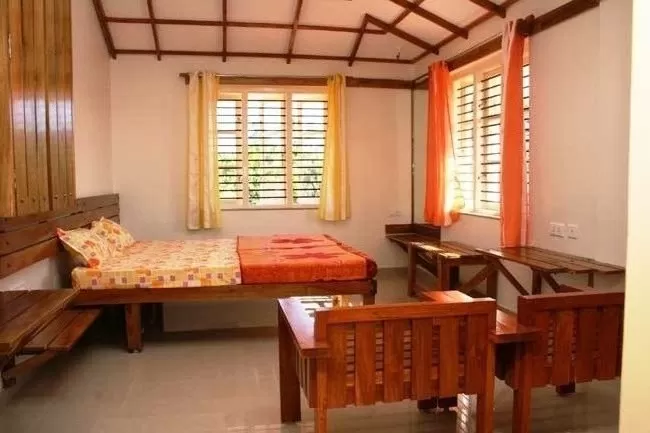 East Bungalow:
East side bungalow with standard amenities and a rustic courtyard provides lavish stay experience. Rest next to the pool and feel the freshness of nature when you are staying at East Bungalow at Matthuga. This bungalow has twelve fully furnished rooms with attached bath.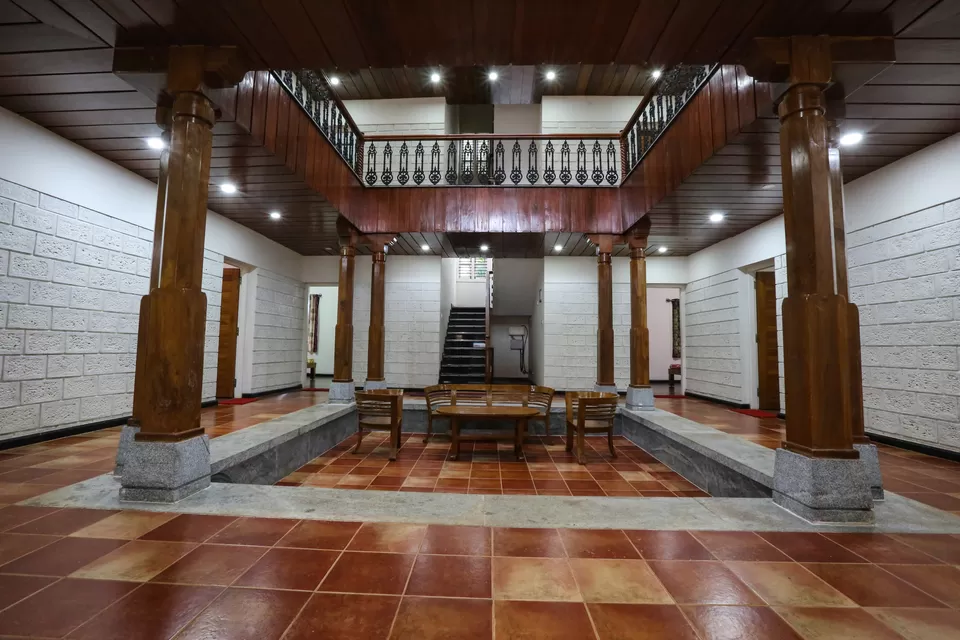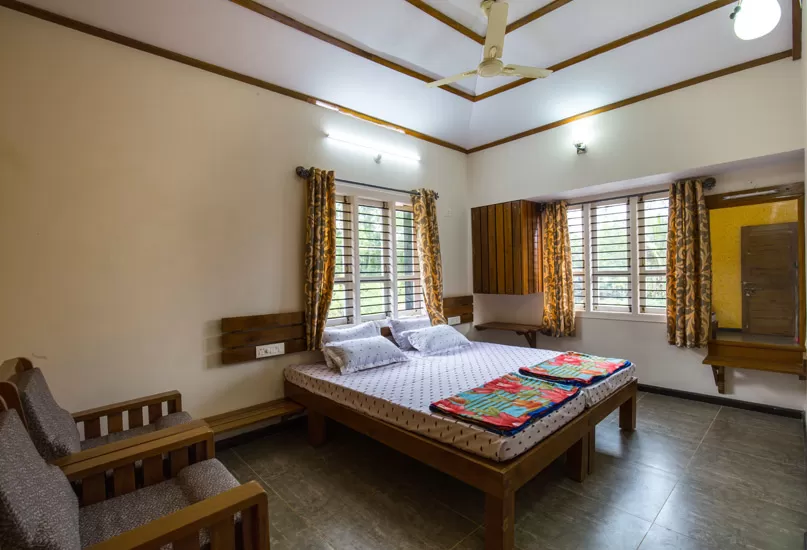 Luxury Cottages:
Fully furnished spacious cottage are in the middle of the farm. To reach them, you need to take a two minute stroll inside the farm. The amazing view of areca plantation makes it an ideal choice for quiet and comforting holiday experience. There are four luxury cottages which comprise all the facilities that make you feel like home.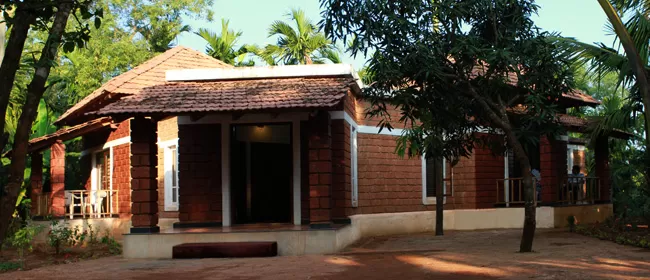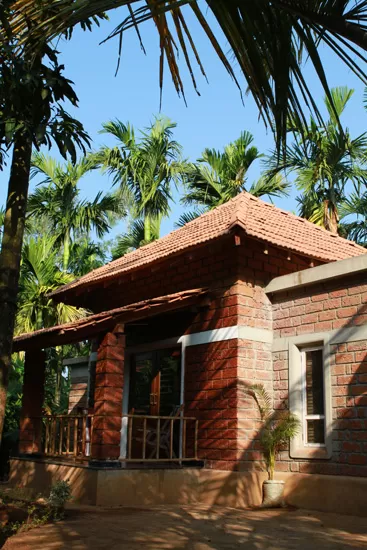 Also, do not forget to taste the wide variety of delicious local cuisines that are served with the utmost care.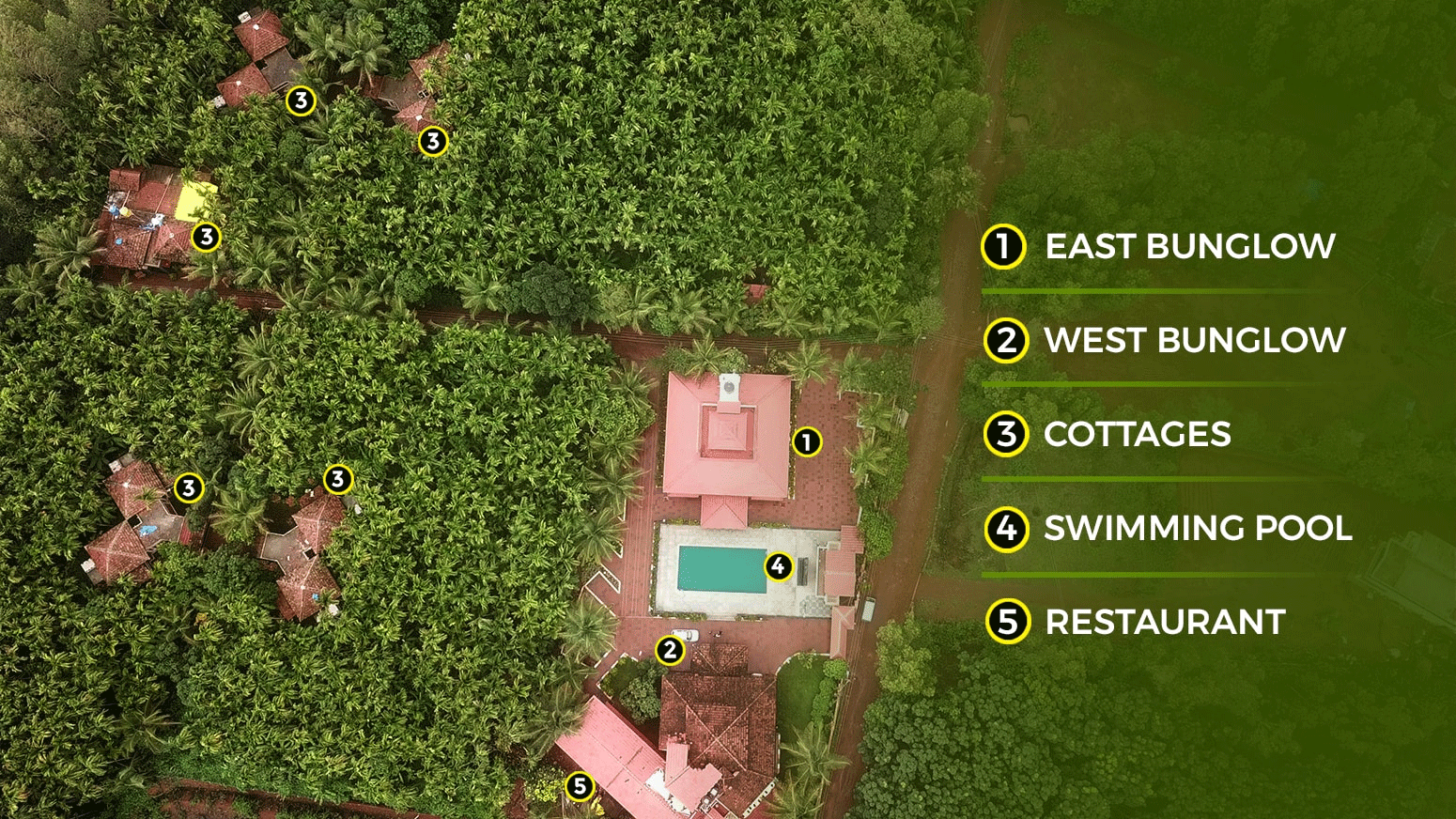 Activites:
Trekking:
If you are interested in trekking, you could choose beautiful places ranging from 1-2 kms to 25-30 kms. From a thick forest/hills to a moderately dense forests/hills or a plane back water shores.
Corporate Activities:
"Mutthuga",with its two large halls, is an ideal place to conduct various activities by the corporates like meetings, conferences, get-togethers, brainstorming, team building, workshops and other training programmes or just a stress buster for your top management team.
Nature/Plantation Walk:
You can take a walk in 10 areas of the Areca Farm with inter crops like cordamom, banana, vanilla, pepper, coconuts, coffee, mangoes etc. You can even take a long walk amidst paddy fields.
Bird Watching:
If you are interested in bird watching, you can watch thousands of birds of western ghats in and around our farm. Few of those birds are Indian Moorhen, Purple Moorhen, Bronze-winged Jacana, Red-wattled Lapwing, Black-winged Stilt, Blue Rock Pigeon etc.
Farming:
You can also witness various farming activities of malnad areas, depending on the season in which you are coming like planting, picking, weeding, harvesting etc of various farm crops.
Night Walking:
You can experience the mesmerizing nights of forest areas with deadly silence of the nature or rarest sounds of many birds, animals, insects etc by choosing a walk in the night ranging from 1-2 kms upto 8-10 kms. That is going to be an unimaginable thing in the urban areas and hence becomes an unforgettable experience for you and your family.
Or..Do nothing:
This is one of the great activity very few people, specially like us, the ones from major cities can do!! Don't do anything. There is no rule that you should be doing one or the other activities always! You can just spend your day quietly without any activity peacefully being with yourself, introspecting, meditating etc.
Just be with YOURSELF...
When to visit:
Anytime! :D Well, preferably during the monsoon season. Anytime between June and December is going to be ideal.
How to reach:
Matthuga is about 370 kms or say 6 to 7 hours drive from Bangalore. Google Map gives you the exact location.
Nearest railway station is Talaguppa Railway station which is about 3 kms away.
Nearest Airport is Bangalore International Airport.