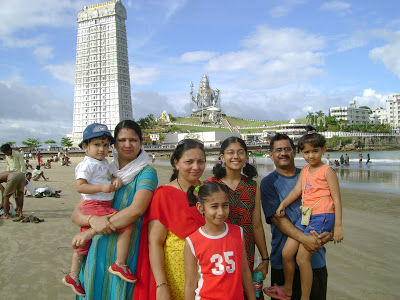 As dusk set in, we entered the ornately decorated entrance gate of the Murudeshwar temple complex, and as we drove past the various hotels and guesthouses lined along the roadside, suddenly, before reaching the main temple, we saw a huge, gigantic statue of the Lord Shiva towering above the sea. At that instant, I felt I have seen the Almighty!
Yes, this was the experience on seeing the awesome structure of Lord Maheshwara, which is another name for Lord Shiva, in Murudeshwar, which towers at a height of 123 feet into the sky.
This statue and the temple have been built on the Kanduka Hill which is surrounded on three sides by the waters of the Arabian Sea.
The imposing structure of the Lord is supposed to be the tallest statue of the Lord Shiva in the world ! There are more statues of Gods and demons around the main statue, which imparts a sense of living in the mythological era.
The impressive temple has a history that dates back to a few centuries. A few yards from the temple, is a hotel which is built into the sea, with restaurants located on two separate floors. One can enjoy a sumptuous meal amidst the pristine beauty of the beach and the cool blue waters.
Murudeshwar is around 220 km from Goa and can be reached by road and by rail (Konkan Railway) It is an ideal place for a weekend getaway from Goa.
The RNS Residency, is a very serene and strategically located hotel in the complex built on the waters, and offers a pleasant stay.
On the next day we proceeded to Gokarna, a temple town, which is around 70 kms from Murudeshwar. The Mahabaleshwara temple is one of the major temples here, and is atleast 1500 years old. The other holy places here are the Bhadrakali and Venkataramana temples, Kotiteertha tank etc. A few yards from the main temple is the beautiful Kudlee beach with a breathtaking landscape !.
After taking a dip in the cool waters at the beach, and having a quick snack, we proceeded back to our hometown, Margoa, Goa, with pleasant memories of our trip.
Our short weekend trip to Murudeshwar and Gokarna spanned for two days only but it was a great experience !