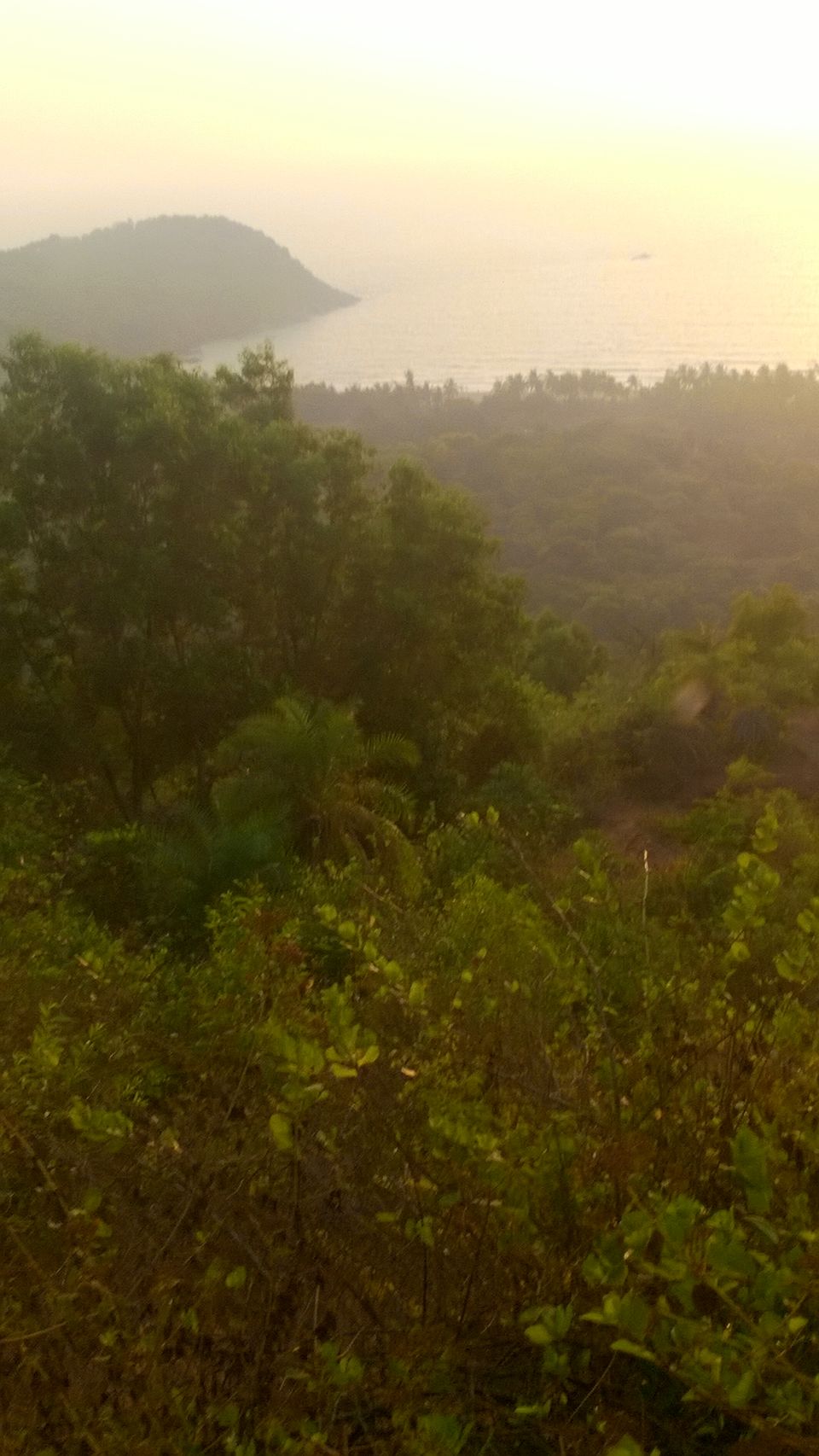 In search of lust of green, woods, chirping of birds we set our journey on Friday evening to a faraway place from crowd and traffic, it is late evening, in fact we thought this time is idle to skip the ironic traffic on outer ring road. I set out with 8 other friends for a "coast trip of Karnataka ". A beautiful all 10 hours drive from Bangalore. A wonderful sight of empty NH roads with travel freaks on Royal Enfield bikes and heavy bags on back gave us a perfect welcome. Traveling on a weekend is a definite inevitable joy especially for a banglurian to escape to a rather quiet and calm place from horns and cars. With mellow music on and a perfect lonely NH travel journey was quite pleasant start. Being March 1st week, soaring sun scared us a bit and humidity on coast was another added fear factor, yet every one of us were definitely pretty excited for the tidal welcome.
Our halt on very first day morning was midst of Gokarna and Yana. We stayed in a cottage called "Makara village" a cozy, individual and comfortable cottages, which is definitely far away from main Gokarna station but makes sense for a usual 1- 2 day trip with an own vehicle. Yana was our very first hit!, destination is a road way of 27km from the cottage, all green and surrounded by thick forests, never make you feel long and distant traveling in those places. Here and there small and individual homes leave you in surprise, how do these people commute and socialize at all? Nevertheless these homes are like tiny sculptures with small sized farms next to them with fullest of the natural comfort in most modest way. The sight of school kids walk on bare foot in mornings to reach the schools which is far off made us feel disgust about rural development issues.
Yana, is not so renowned, probably you find no such a tourist crowd neither so much like neither resort business nor home stays business. It seems like local folks come there for worship. Yana temple is in built inside a natural open cave with pitch black rock formation in a very unusual form, you being inside temple, it is very nice experience of limestone caves in vivid forms, Two big hills more like two huge, massive broken pieces of burnt charcoal is a strange view placed beautifully and the temple is built on one of the rock foot.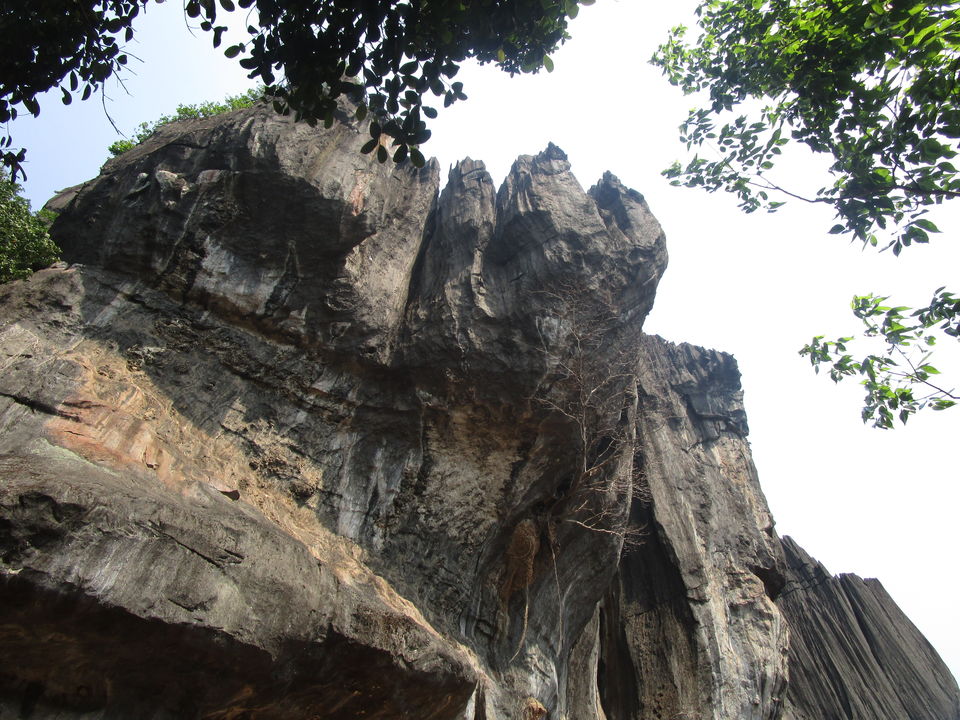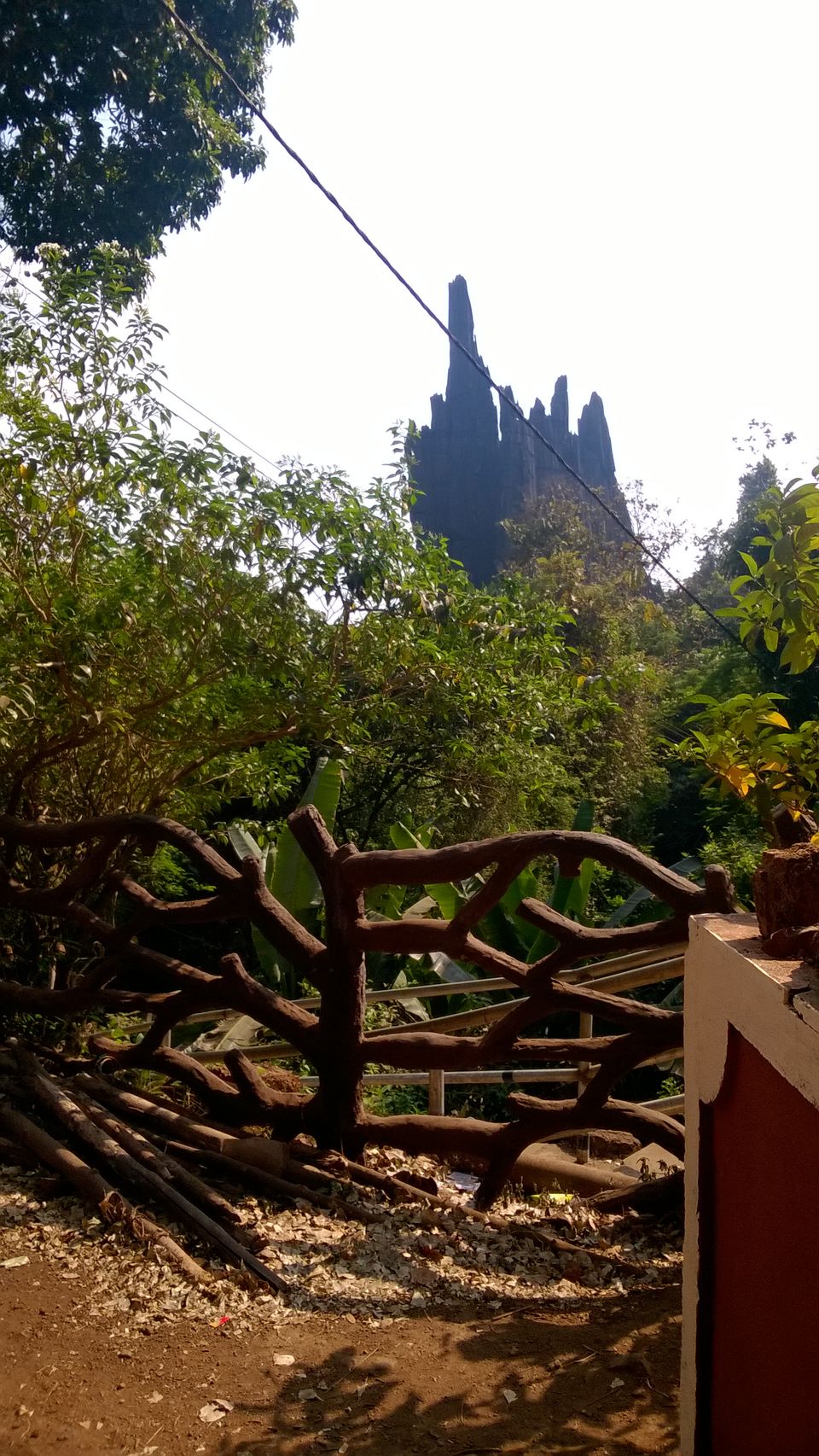 From Yana in mid afternoon we visited Gokarna temple, your trip to Gokarna is definite complete incase if you can't make it to temple, temple is situated in a complete ethnic environment and amidst of culture pampering group . A nice, beautiful and an awesome Cow " Nandini " was kept at the entrance of the temple, seems like a pretty rich breed cow ,it's tall and built body with a perfect white skin is a perfecto .The temple architecture is pretty ancient and well known for the hindu mythological story of "Athmalinga". Colorful decorated chariots kept at the entrance not only mesmerize foreign tourists and but usual localities and tourists leaving them with amazed feeling, it is super cool to see our ancient culture just being alive. Gokarna is a packed with tourists, many foreign tourists come over there and lead a localite life, learn Indian traditions, mythology, playing instruments like Veena. Gokarna beach is a just step away from main temple but we dint visit there, as it is bit crowd with pilgrims.
Night we halted in udupi, a well known place for lord Krishna temple, in fact very beautiful place with historic story behind the temple and place.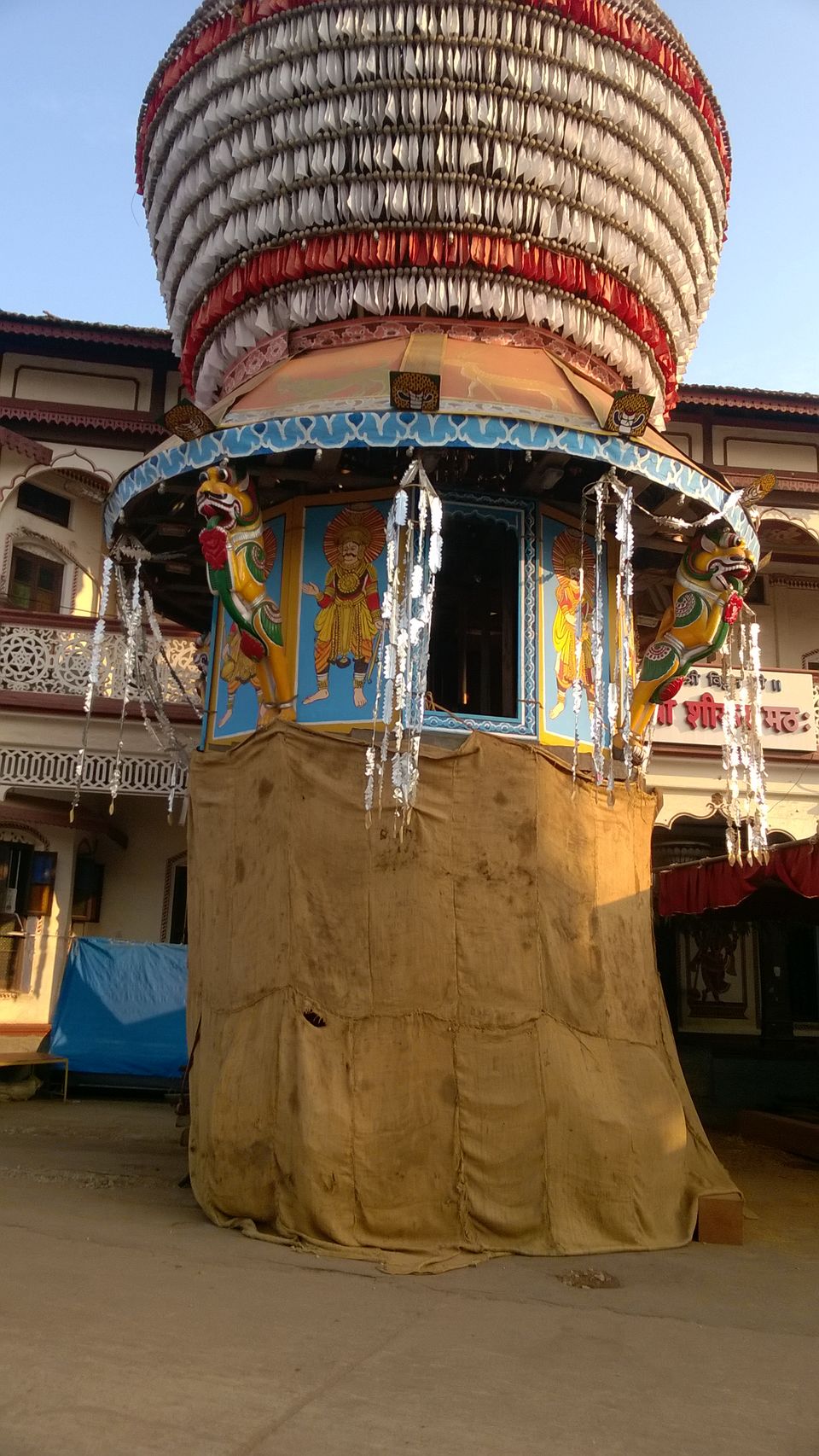 Many only know Roman, Greek architecture temples of 5th B.C, but in our own neighbourhood in the way between Gokarna to Murudeshwara there is one built in 4th -5th B.C called "Idalagunji" Ganesh temple. The second day trip started with this one, it is a good place to know the ancient culture and pay off tributes to such skilled old constructions. There were many waterfalls also in the way between Gokarna to Murudeshwar like Apsara Konda falls. Do make a plan there after monsoons, since we planned in the beginning of summer, we could not make it there. Our afternoon halt was in Murudeshwar, well known for the Siva temple, pretty large beach. Temple gave me a typical look of a rock stead high wonderful projection and a serene and calmly meditating Siva watching the serenity. Never miss the top panoramic view which is a must see and a restaurant straight opposite to beach constructed on the shore of the beach, seems like bit crazy! But many do prefer there! If you can make a bit stretched trip, scuba diving is a good choice in Murudeshwara.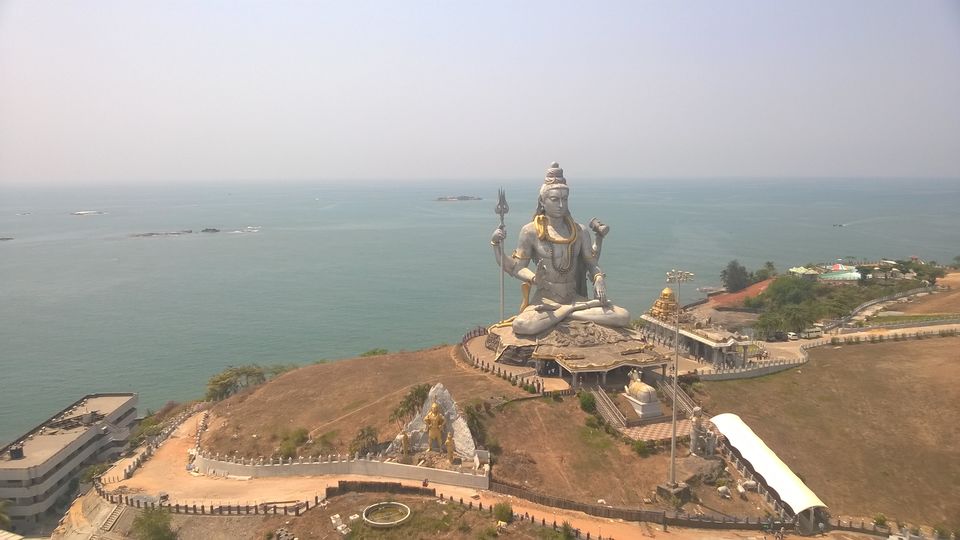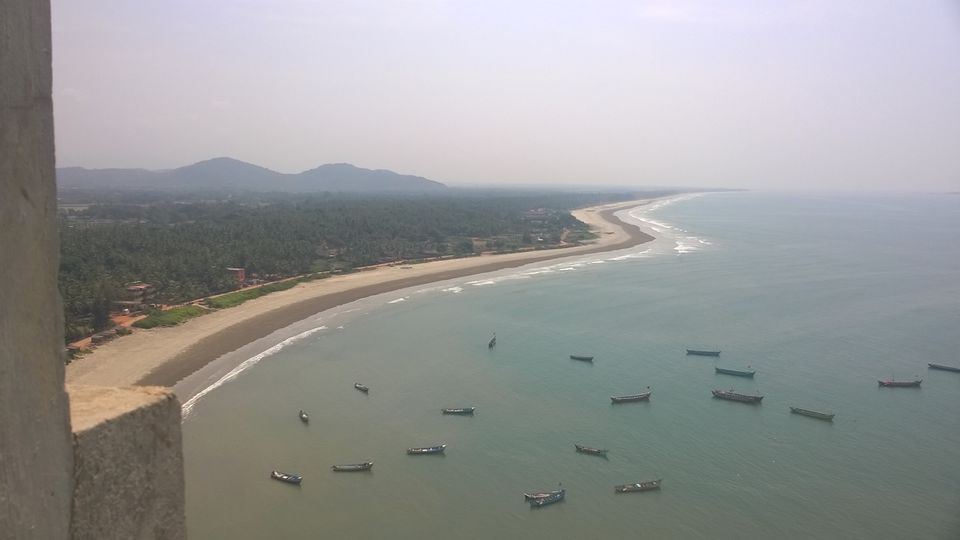 In this whole trip , I visited so many temples as a part of Coastal fun, all together does not sum up the number of visits to temples in my whole life time. Visiting so many temples gave me a feel that the reason why they must have constructed them in such deep forests and near sea shores, may be because people in the name of God and temple could experience the serenity of mother earth and nature and feel the joy in the lap of forests in abundant oxygen. Probably our culture would have imposed so strict guidelines about the visits so that every one (in olden days ) get equal benefits to enjoy natural treatment. Temple is a place to know a lit bit of history and the journey to the destination matters a lot rather than a destination itself. Now a days whole purpose of visiting a temple itself is changed for many, now it is a place of reading out a wish list for few and confession of sin center for few others or a must attendance center on a festival day without even knowing the purpose of visiting, especially for blessings to shower on them on festivals with exchange of fruits and coconut.
In the night at udupi for 2 hrs we went to relax at Malpe beach which is very near to udupi main station, a big coast line, high tide beach. Some social events were happening with lots of food stalls put up, very lovely!, Caution – There were too many crabs in Malpe beach, so just be beware when you want to play in water.
The third and last day was St. Marys island visit. My initial guess about the island is like any other island with commercials and full of shopping places, St. Marys island proved me completely wrong.Guess why ?, for me I felt like kind of a movie feel ,I myself imagined local Carrabian island nearby  . You need to get a boat from Maple beach (near fish market, not towards actual beach).
St. Marys Island is formed by sub volcanic activity and told by localities that Vascodi gama once landed in this island during his voyage, a nice and sweet fishing kind of boat picks up tourists near fish market. We got the very first boat to the island to avoid scorching sun in afternoon.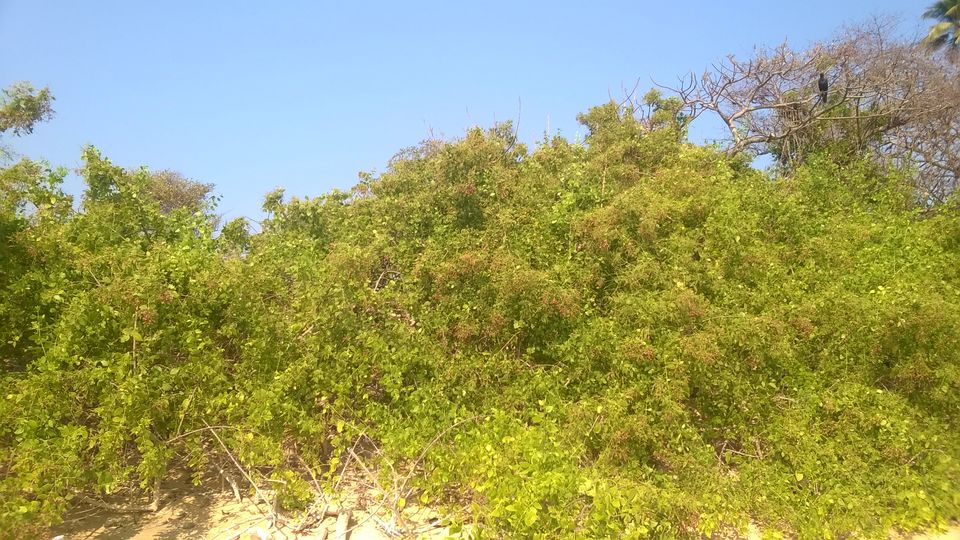 The boat had a loud speaker music system and the crowd was quite mixed and was pretty much busy with their own activities, all of sudden my friends went to the center of the boat and started cheering and dancing to the music, drawing crowd's attention , what happened in next minutes is what surprised me !! Everyone started cheering and whistling, few of the old chaps joined them and it turned into a proper party swing, kids in the crowd were pushed by parents to front to join them and dance and it was really heart touching to see the cheering crowd with great energy and enthusiasm. There is a saying that emotions are contagious, if it is contagious then why not spread happiness and cheer, which was even I witnessed there. In 20-25 minutes we reached the island by boat. You can see heap of sea shells piled together, cute fishes swimming in water between high laid rocks, basaltic formations, clean and nice view of real and amazing island opened for tourists only in summer (in complete monsoons season tourist visits are closed because of rough tides , don't plan in rainy season here). You get 1 hour to see and explore the island, as the boat which left you there will come in return to pick you up with other batch of tourists to leave there. Do not forget to get lot of photos in the island and collect sea shells, as it is one of the kind, during our way back from island by boat all of us were celebrities and crowd greeted us so warmly because of the morning dance probably ;) With this we end our visiting places and headed back to Bangalore. As usual my usual way of signing off " Keep traveling, keep experiencing, life is too short to stay in a place". Enjoy traveling!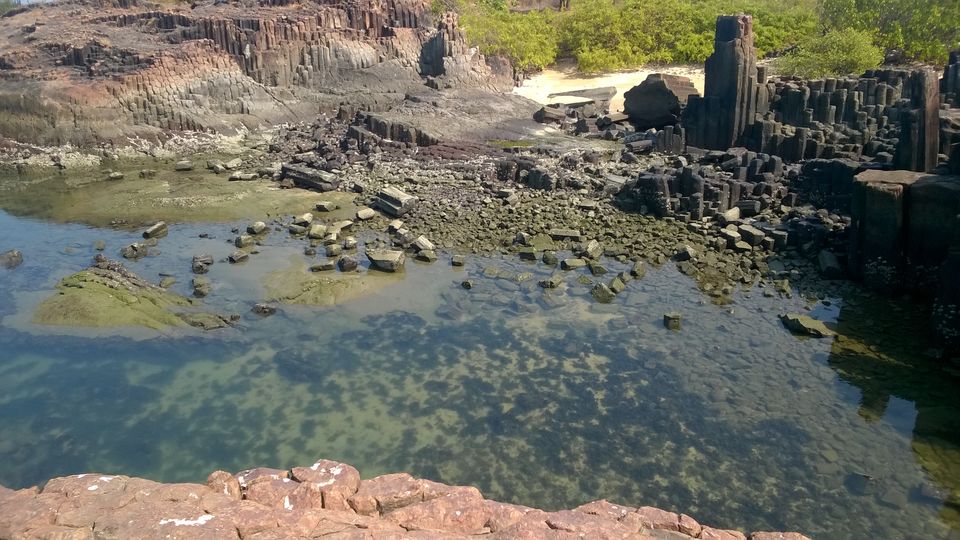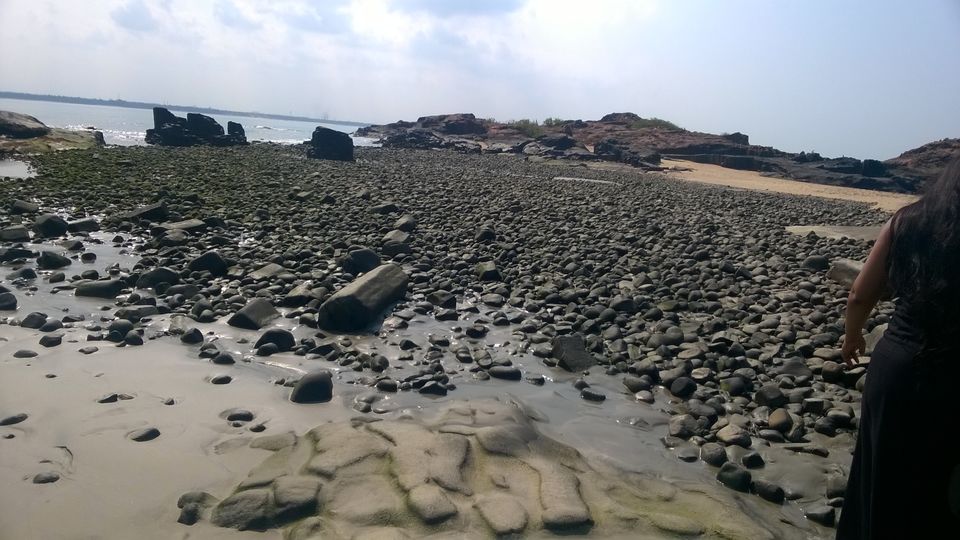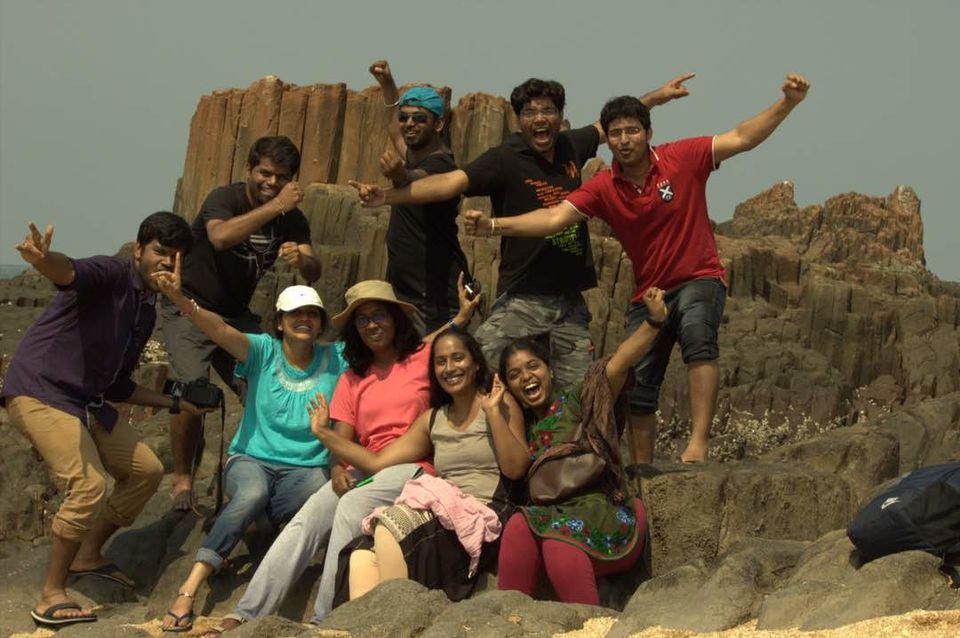 Frequent Searches Leading To This Page:-
Karnataka Trekking Places Itinerary, group tour to karnataka, karnataka trip with friends, gokarna trek holiday package, haunted trekking places in karnataka