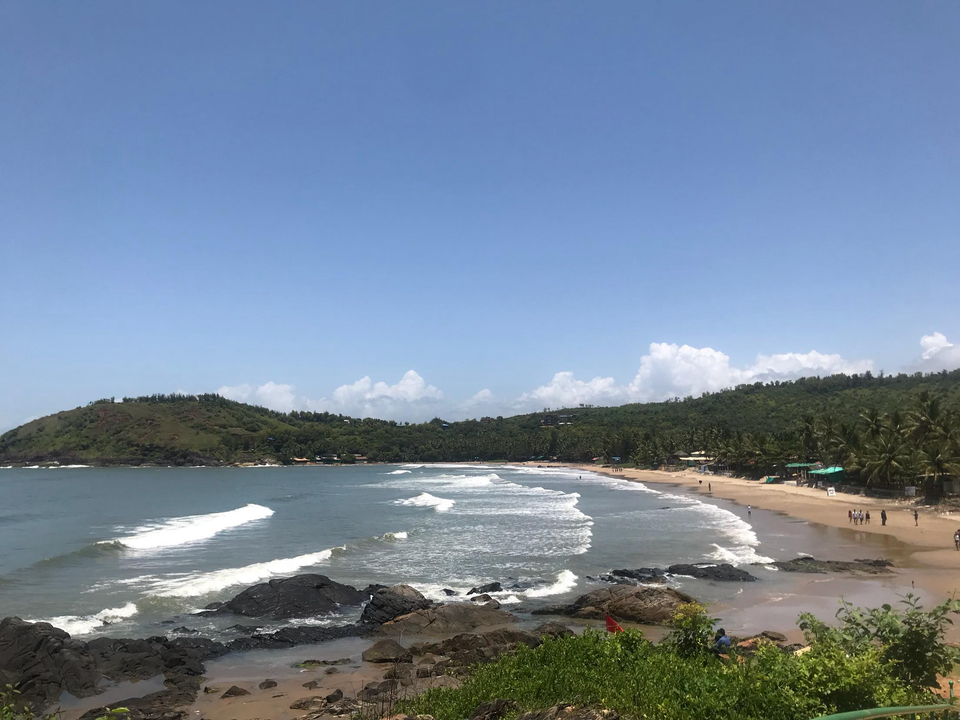 On the western coast of India, lies a small town named Gokarna. With the presence of the Mahabaleshwara Temple and other small temples, it is considered one of the important seven Hindu pilgrimage centers of the country, and it attracts tourists from across the globe.
With Karnataka being one of the favorite destinations for the trekkers, Gokarna couldn't certainly disappoint them. Redefining the regular trek, the Gokarna beach trek covers all the five beaches with scenic beauty.
It is located at a road distance of 516 km from Bengaluru and 145 km from Goa. If you want to kick back after a long work week and get some refreshment with a mixture of beach and trek, then Gokarna is a perfect weekend getaway for you.
Getting there:
The nearest airport to Gokarna is Dabolim in Goa, which is approximately 140 km. KSRTC and other private bus companies such as Sugama, Shree Kumar travels etc. are pretty cheap and convenient. Gokarna has a railway station which has a few direct trains from Goa and Bengaluru, so you need to check the timings prior to making your plan. And obviously, you can have a private vehicle drive to gokarna via Tumkur and Sirsi. It's a beautiful drive through the hills and the forests.
Transport:
There's no requirement of a vehicle for travelling in Gokarna, reason being, one can travel on foot if they're fit enough. However, there are auto rickshaws, cars, scooty for rent at a reasonable rate.
Where to stay:
There are a lot of small hotels and lodges located at a convenient location from the market as well as the beach. For small lodges, the prices are pretty reasonable owing to negotiable considering you would know how to bargain. There's no specific hotel or a lodge I would suggest because every person has a different taste. I'm sure you'll find some, they're as close as hundred meters from the drop off point. The rates can vary from INR 450 - INR 5000 and more depending on the kind of luxury you'd want.
Brief:
Distance from Bangalore - 487 kms by road
Attractions - Mahabaleshwara Temple, the trek which covers all the five beaches (Gokarna Beach, Kudle Beach, OM beach, Half Moon Beach, Paradise Beach), Jog Falls (at a distance of around 120 kms from gokarna)
Trek distance - 7-8 kms (one way)
Time to trek - 1.5 - 2.5 hours (one way)
Best time to visit - September end - March
Food - There are small restaurants types dhabas which provide good food, I would surely recommend you all to have a breakfast or a brunch at the Prema Cold drinks which is right next to the Gokarna Beach and at a distance of 200 meters from the Mahabaleshwara Temple.
My Journey:
Well, I have been a displaced person all my life, just kidding, I was sent to a boarding school far away from home, a college far away from home.My plan to Gokarna with a couple of friends for a really quick one, like, just three hours before we were sitting in a bus that was going to drop us at gokarna. I packed my bags, booked tickets and went on this exciting getaway weekend. We left from Bangalore at 9:00 pm and reached Gokarna in the morning around 7:30. We freshened ourselves after checking in to a hotel, and rushed to the beach and then for the trek to all the beaches. It was a great day.
The next day we woke up by early morning to visit the Mahabaleshwara Temple followed by a heavy brunch at the Prema Cold Drinks. Later on, we decided to go to the OM beach for sunset. On our way, we were lucky enough to get our sight on dolphins from the kudle beach view point which is approximately a km ahead of the Mantra Cafe, Zostel. With a glass of beer and delicious lunch at the Namaste Cafe, OM beach, we witnessed one of the beautiful sunsets of our lives. Following that, we reached back to our place to pick our bags and left for Bangalore with good memories.
NOTE:
1) The hotels would charge you for exactly 24 hours i.e. if you check in today early morning, you would have to check out tomorrow early morning. However, the rates regarding excess hours are negotiable and if you're lucky enough to get good people working at your hotel, you could drop off your luggage and explore the city and return and take your bag.
2) Food Hygiene is to be kept in mind.
3) Markets would charge really high prices, good bargaining skills are a must.
शुभ यात्रा | Happy Journey | bon voyage