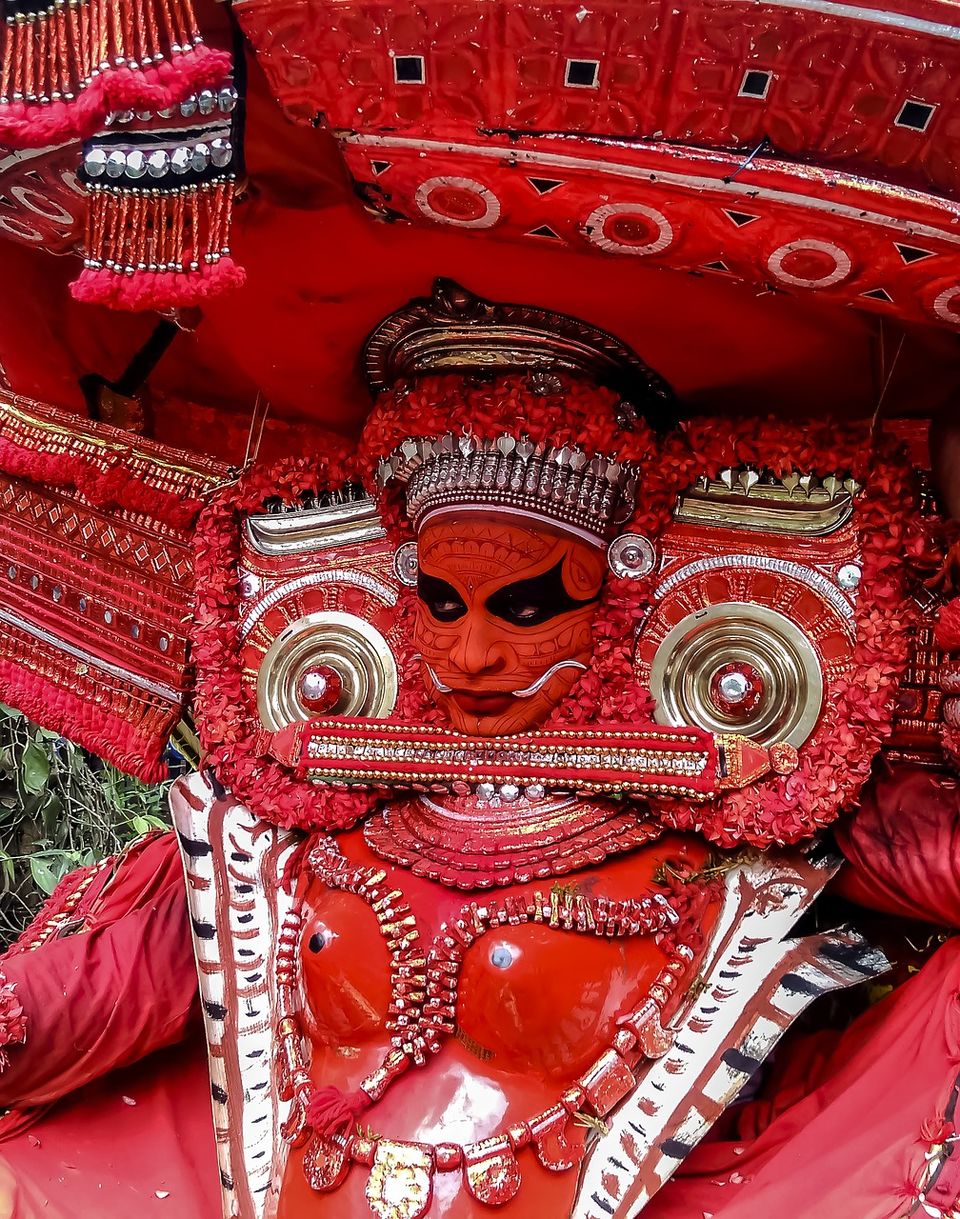 Theyyam is an ancient ritualistic dance performed in the North Malabar region of India. The flamboyant dance incorporates elements and rituals from the prehistoric ages, and finds its following in followers of different religions which originated much later than the dance was already into practice. Theyyam is considered as the 'Dance of Gods' which celebrates the heroes of the community and the ancestors.
There are more than 400 ways in which Theyyam is performed. These performances are held across temples in north Kerala during the months of October to April. The main dancer of Theyyam - Kutty practices a behaviour of piousness for weeks before the performance, abstaining from meat, alcohol and any ill-mannerism. The performance begins with the Kutty offering prayers to the deities in a minimal attire. In the second phase of the performance, a heavily adorned Kutty commences his trance dance where he spins at varying speed - from a furious pace to a slow intoxicated tumble on the beats of the instruments playing out aloud.
The audience meanwhile offers gifts to the Kutty (now Theyyam in his trance) as he spins towards them. At times, Theyyam gets fierce and plays with fire - setting himself lit or jumping into it, and the priests have to safeguard him. The dance continues for hours and hours until the exhausted Theyyam passes out in front of the temple.
Usually, the rituals of Theyyam continue for at least 3 days and begin at the midnight. The dancer who is believed to be taken over by Theyyam is revered and devotees seek prasad and blessings from him. The atmosphere is filled with an annimistic vibe that transfers you to an unknown ancient era.
Where to see a Theyyam performance?
There is a detailed list of Theyyam Performances issued by Kerala Tourism Website and also Theyyam Calendar Website that you can find here. Some of the most popular places that you can visit are:
a. Muchiloth Bhagvathi Theyyam- Perne Shri Muchilot Bhagavathi Temple, Mogralputhur, Kasaragod, Kerala
b. Sri Mavvilaakkavu Theyyam- Sri Mavilakkavu Temple, Mavilayi, Kannur, Kerala
c. Pulimuthappan Kavu- Pulimuthappan Kavu, Bavode P.O., Kannur, Kerala