In a world where gods are considered to reside in heaven, there are certain places in our "Gods own country" – Kerala, where it is believed that Gods come down to earth. As part of my third task, this is what I decided to explore on for which I had to travel from Kochi, my home town, to Kannur, the north of Kerala. Theyyam or Theyyattam is a popular ritual for worship in the north Malabar region- a sanctified as well as artistic dance form. It is a part of Hindu tradition, whose origin can be traced back to over a 1500 years.
Our first stop was the folklore academy museum, Kannur , from where we were enlightened about the various form of Theyyam.
According to the legends, it was Parashurama, the sixth avatar of Vishnu in Hinduism, who assigned festivals like kaliyattom and theyyam to the people of North Malabar region . People consider Theyyam itself as a God and come from far and wide to seek its blessings. Theyyam is the performance where the old heros are sanctified and worshiped as protectors for homes and villages. The Theyyam performers belong to different castes like Peruvannan, Perumalayan, Panan, Anjootan, Munnootan, Kalanadikal, Mavilan, Kappalan, Nalkithaya, Thulumalayala Velan, and Pulayar. They are generally called as 'Theyyakaran'.
The Theyyakaran completely merges himself into the intensive rhythm during the entire performance. Be it breaking of a coconut with his head or cutting his forehead with a sword, he never runs out of rhythm.This form of worship, often involve liquor and meat as offerings to Bhagawathi, Shiva or Vishnu.
There are several "Kollams" of Theyyam which depicts different versions of gods and goddesses. It is estimated that there are nearly 450 theyyam forms. Some of these have been demonstrated at the academy museum.
The performance of Theyyam is supposed to remove all perils and bring prosperity into our lives. This art form is mostly performed by men in a vivid and bizarre makeup . Vibrant costumes along with masks are put. Each costumes represent different characters and their stories, no two theyyams will have exact face paintings.
Some of the different theyyam faces
The typical waist dresses of heroes are found in Kathivanur Veeran which is made out of splices of bamboos and covered by red cloth. The theyyams like Theechamundi, Pottan Theyyam and Uchitta, the waist dress is woven out of coconut leaves and they leap into the fire during the act. Above the waist dress the performers body is painted with different native colours.
Next comes the head dress, locally mentioned as the " Mudi " which are usually made of bamboo sticks covered with coconut leaves. These head dresses can be as high as 50- 60 feet for some theyyam acts like that of the bhagavathy's. To portray bhahavathy's " roudram", lighted torches locally referred as " pandam " is attached on to the crown and waist. Its number can vary from 4 to 16 .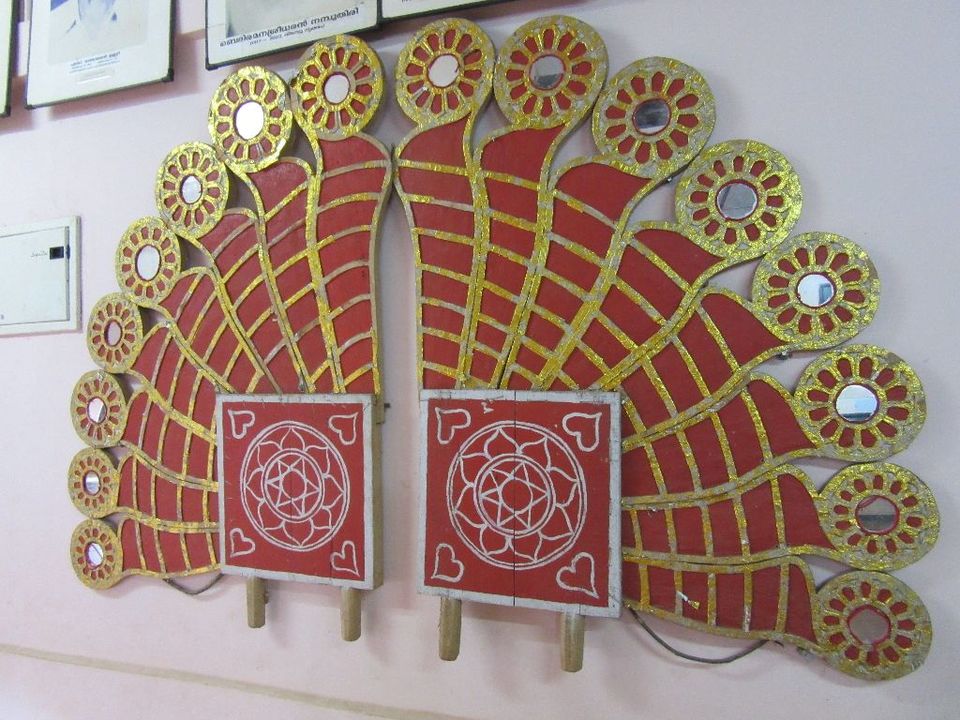 Various ornaments used for the theyyam performance: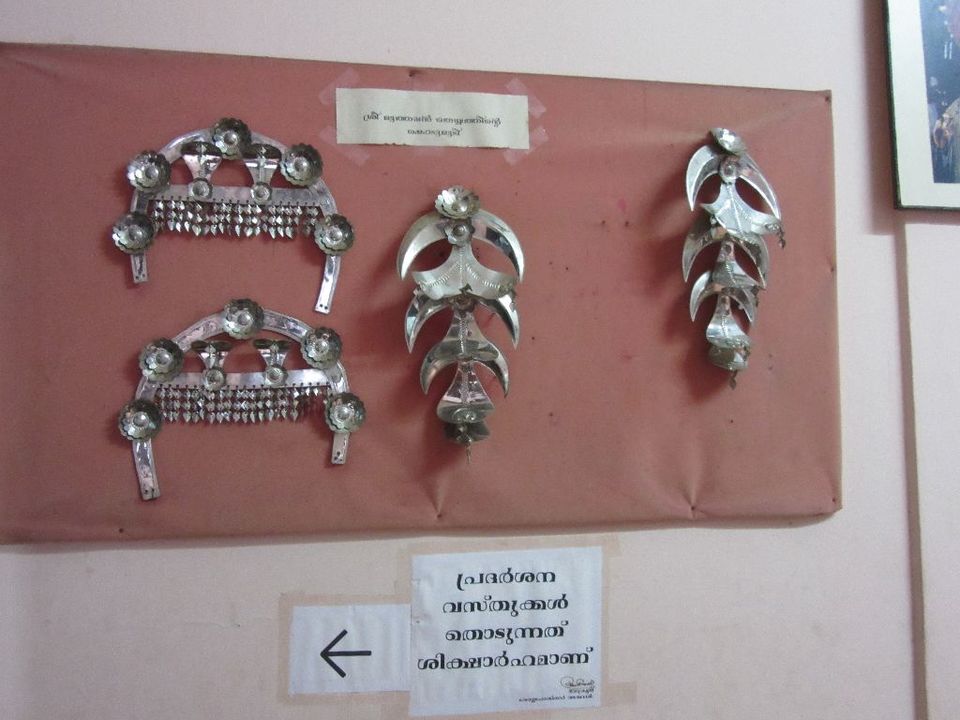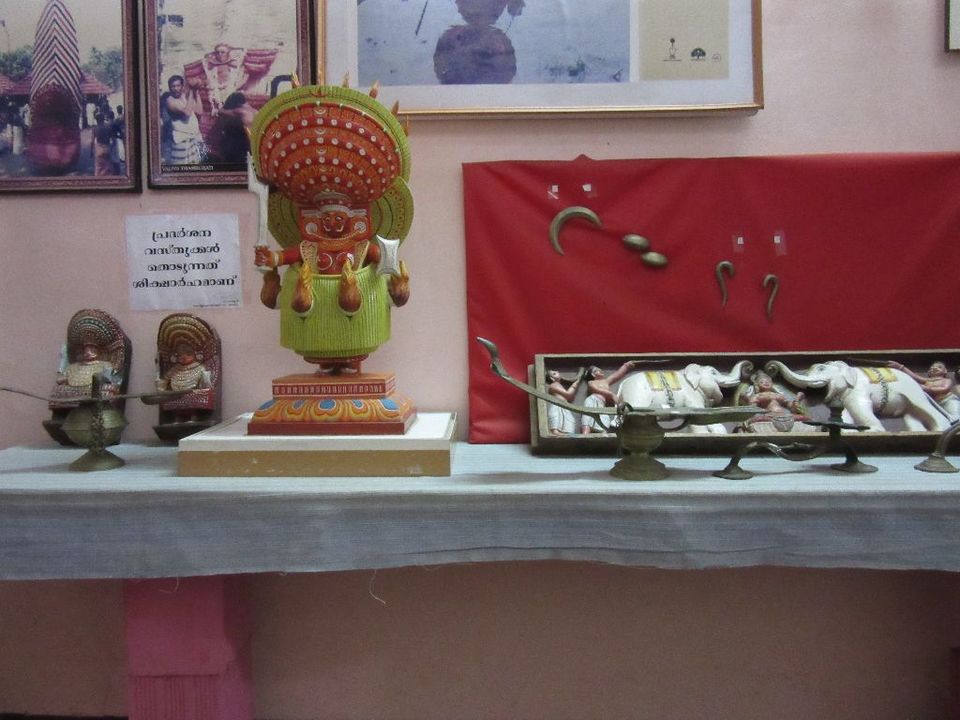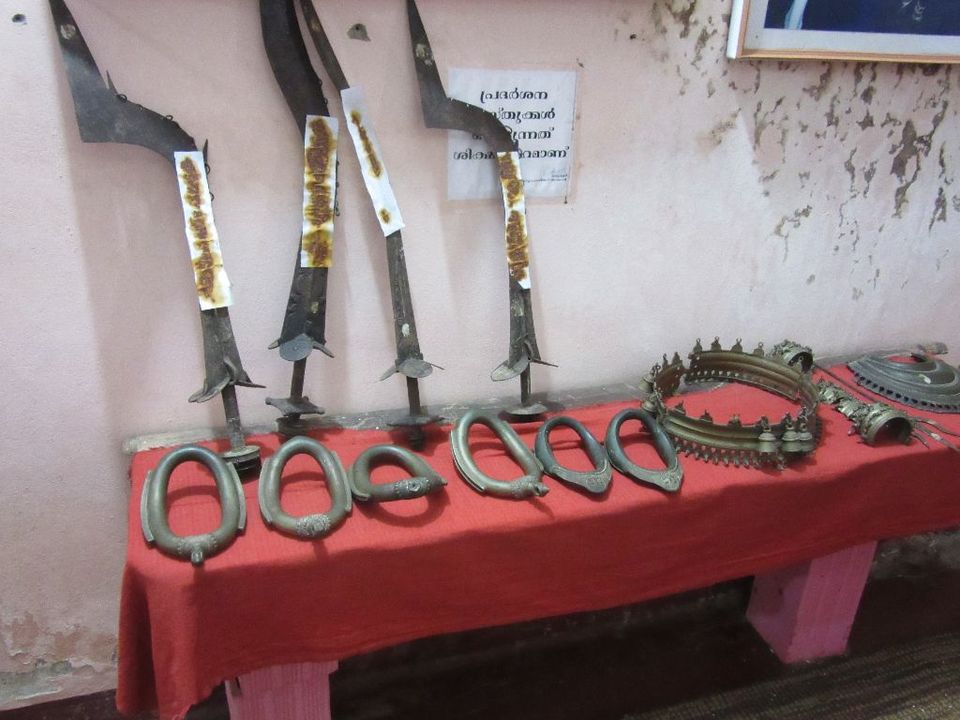 Parassinikadavu Sri Muthappan temple located on the banks of Valapatnam river, Kannur was where we visited next. Sri Muthappan (Siva) is considered to be a common deity of this area. Fish and toddy is used as an offering to Muthappan.
At Sri Muthappan temple, theyyam is performed throughout the year. Muthappan is a combination of two divine figures – Thiruvappana and Velattom. Velattom is usually performed before the thiruvapanna during the evenings. Sri Muthappan is an amalgamation of 2 deities – Lord Vishnu (with a fish-shaped crown) and Lord Shiva (with a crescent-shaped crown). To play the part of Thiruvappana the performer should be well versed and experienced. Locally called as a " Peruvannan " does the Thiruvappana.
Video of Sri Muthappan Theyyam at Prassini Kadavu temple that we took on 24th early morning
We were quite fortunate to get a meeting with Dr T P Sasikumar Sir at JNAANAM, Naduvil, Kannur who shared with us a lot on cultures, believes and art-forms of Kannur. Sir enlightened us a lot more on theyyam , even showed us some photographs and videos related Kuttitheyam and Thottampattu.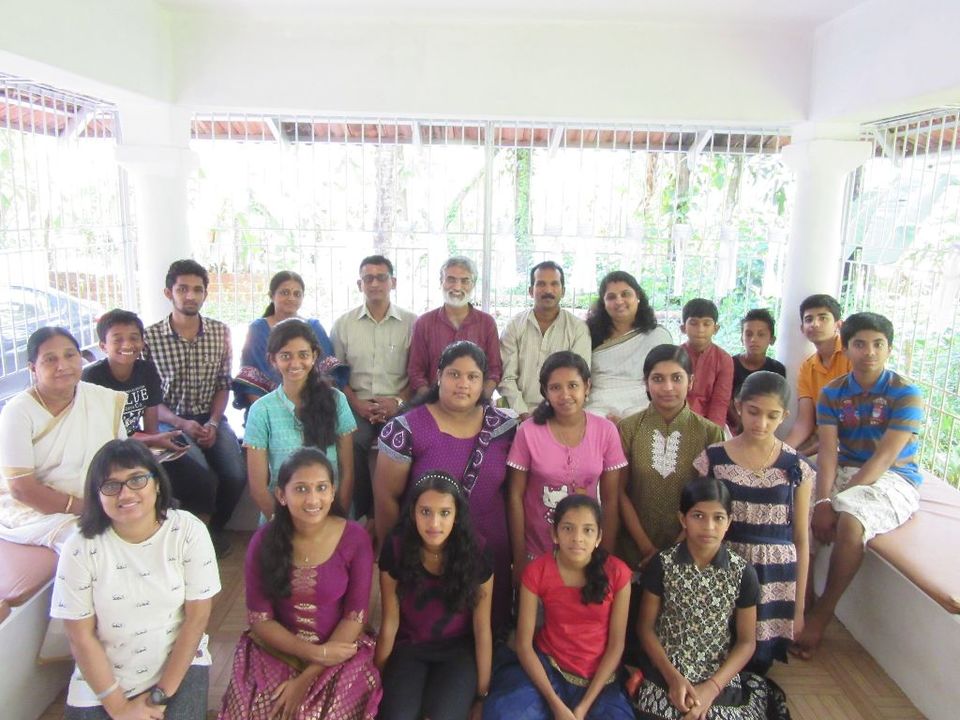 Thottam pattu is a vocal ballad that is sung before the commencement of theyyam. It is usually done by a community "Vannanmaru". It is like a pre- theyyam in which the legends and stories of the deities are sung. The player doesn't wear much of ornaments or head dress like that of the theyyam .
KUTTI THEYYAM – child performing a theyyam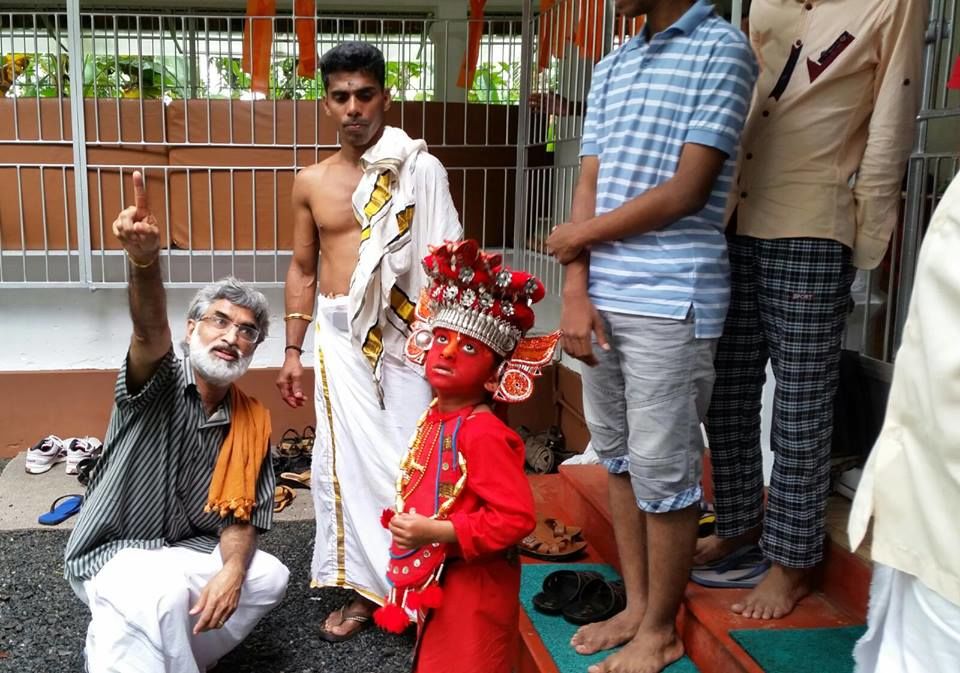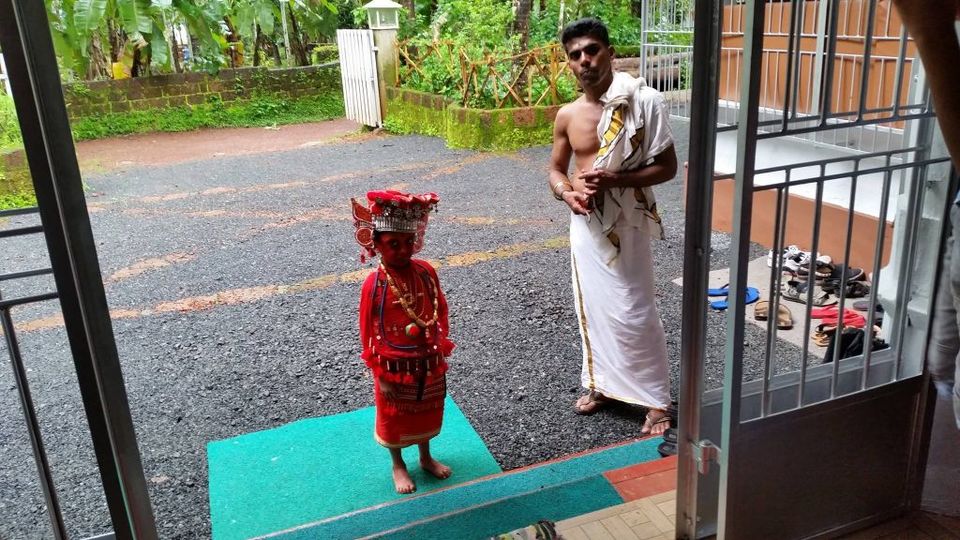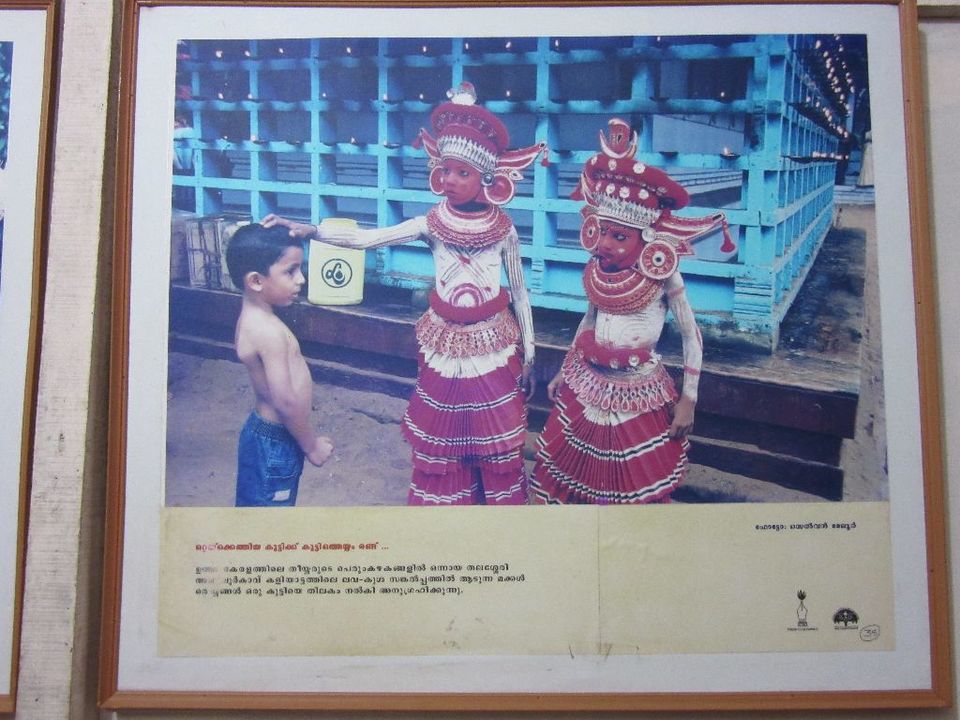 Perum kaliyattam or kaliyattam is another type of theyyam which lasts for longer days, nearly 11 to 12 days. The word kalityattam has its origin from the word " kali " indicating safety.
The only "god " that one can touch, talk to and ask questions, the only "god" that comes in between a crowed to give blessings- this is what makes a Theyyam out of the ordinary.These are just some of the many theyyam forms one can get to see. It was quite interesting and fun exploring this form of art, looking forward in sharing the knowledge so gained.
PS: This article was originally published on GoUNESCO