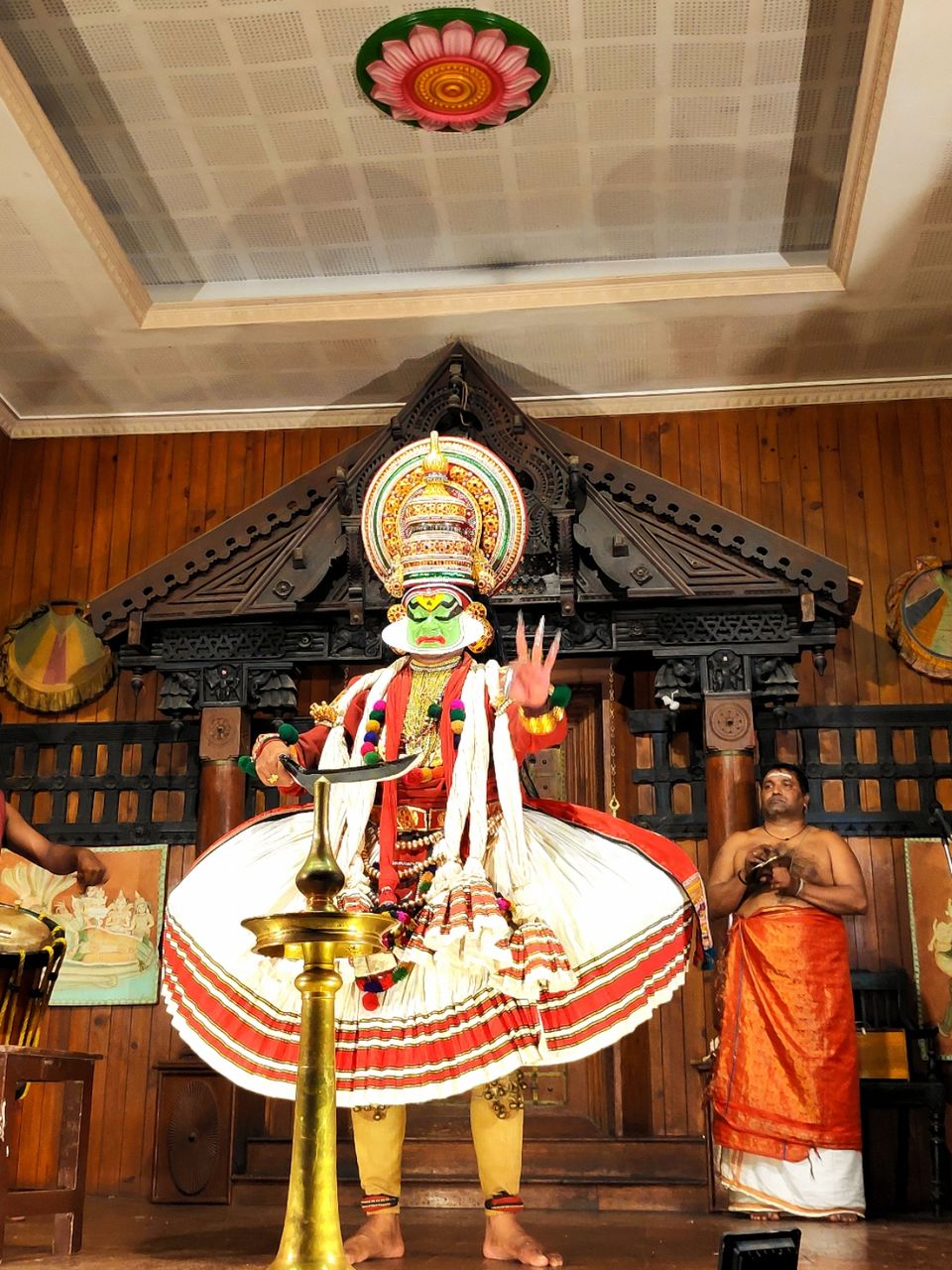 Kerala is India's most sorted after travel destination in the country. The state gets many visitors from all across the world! And rightfully so, because of is natural reserves of rich flora and fauna. The combination of backwaters adjoining the Arabian sea and the mountains of the Western Ghats makes it a perfect tropical holiday destination.
But if you have to experience the true essence of this Indian state, you cannot miss the cultural heritage of Kerala.
Kathakali is one such ancient art form, that is being practiced till date in Kerala. It is a 300-year-old art of storytelling and recognized among the classical dance forms of India. Witnessing a Kathakali performance is the closest one can get to Kerala's cultural heritage!
Though I had visited Kerala a couple of times over short trips, I wonder how I missed a Kathakali performance only until I was at Fort Kochi in 2019! And from what I experienced, I must tell you, that you would be missing the cultural aspect of this state until you have witnessed a Kathakali performance.
As a first time visitor, we were recommended to come an hour before the performance. I am glad we did reach before the show.
The make-up process of Kathakali dancers -
To be able to witness the BTS(behind-the-scenes) from an ancient dance performance in Kerala had been an exciting experience for me!!
On entering the theatre, I saw the artists were seated on an elevated dais, applying face paint and makeup. A soothing Carnatic music filled the divine aura of the Kathakali Mandapam.
Sitting through the entire make-up process, surprisingly felt very meditative even to me as an audience. Now I know, why art is also referred as a form of meditation.
Both artists completed their entire makeup with minimal help which I was surprised to see. 'Don't they have special make-up artists for every event?', I thought!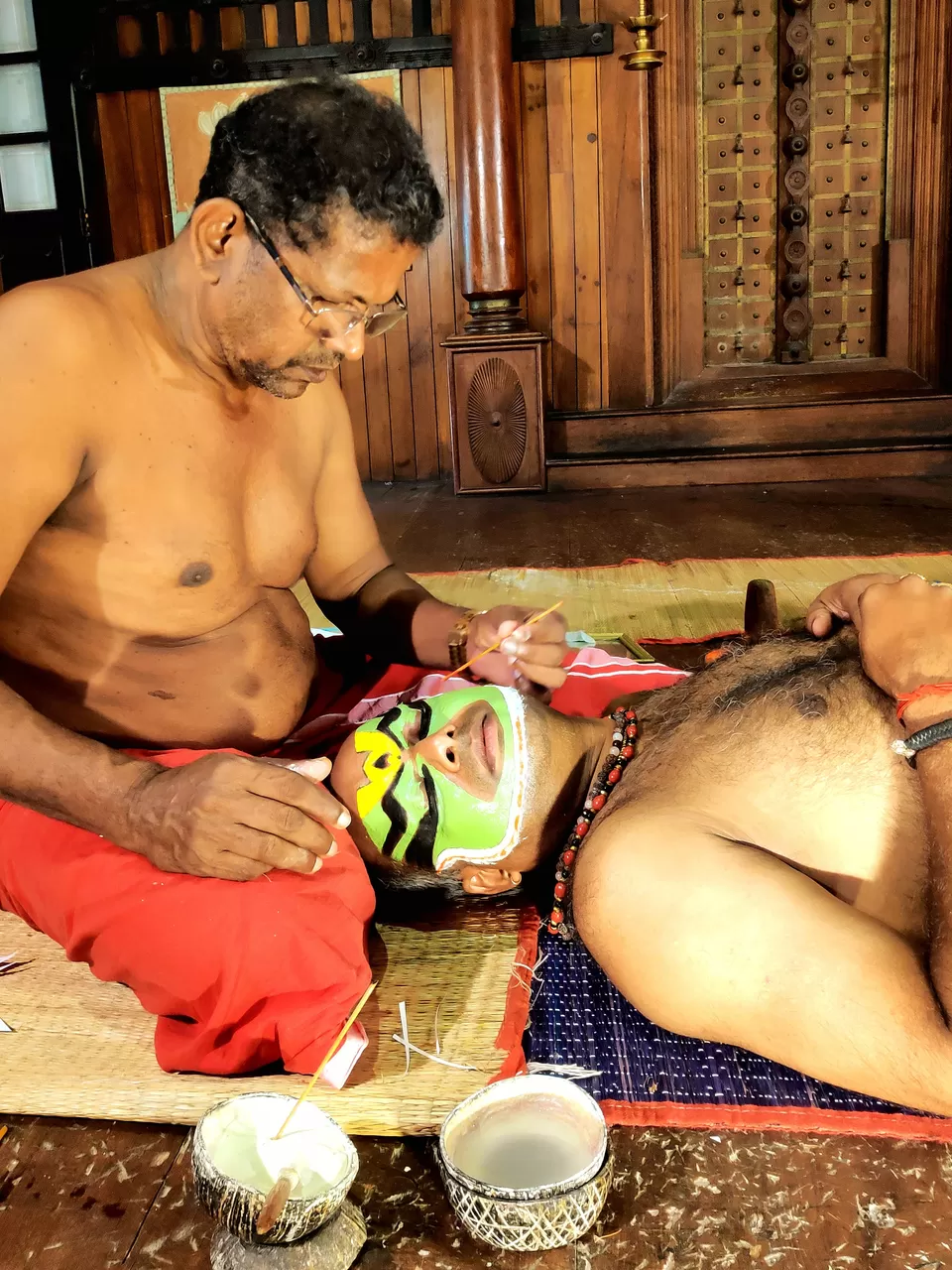 Only the male green-faced character required help for the final fixing of the white facial mask known as Chutti that covers the jawline of the artist.
With every passing minute, my enthusiasm to witness the most colorful and expressive dance form of Indian cultural heritage was turning into a much more elaborate and knowledgeable insight into Kathakali.
Before the performance began, the artists shared a little tutorial about Kathakali which were interesting and not known to me.
A few facts that I learnt about Kathakali!
1) The facial paints are made of natural ingredients
The artist demonstrated, how the colors painted on the dancers' faces are made by rubbing natural-colored stones with coconut oil.
The Kathakali dancers reddened their eyes by placing little flower seed inside their eyelid, which would depict evil or angry characters.
2) Each facial color represents a different character
The facial colors are to distinguish various characters of the Kathakali performance.
Pachha (green face) - denotes a humble and godly character
Minukku (Yellow and Red color mix) - denotes Brahmins, Rishis or a virtuous woman
Katti (Green face with a red extension from the sides of the nose to ear) - denotes evil, fierce or demonic character.
Taadi (can be white or black or red) - For instance, white is for Hanuman, Red is for Sugreeva, Bali, and Black is for characters like chief of decoits, etc.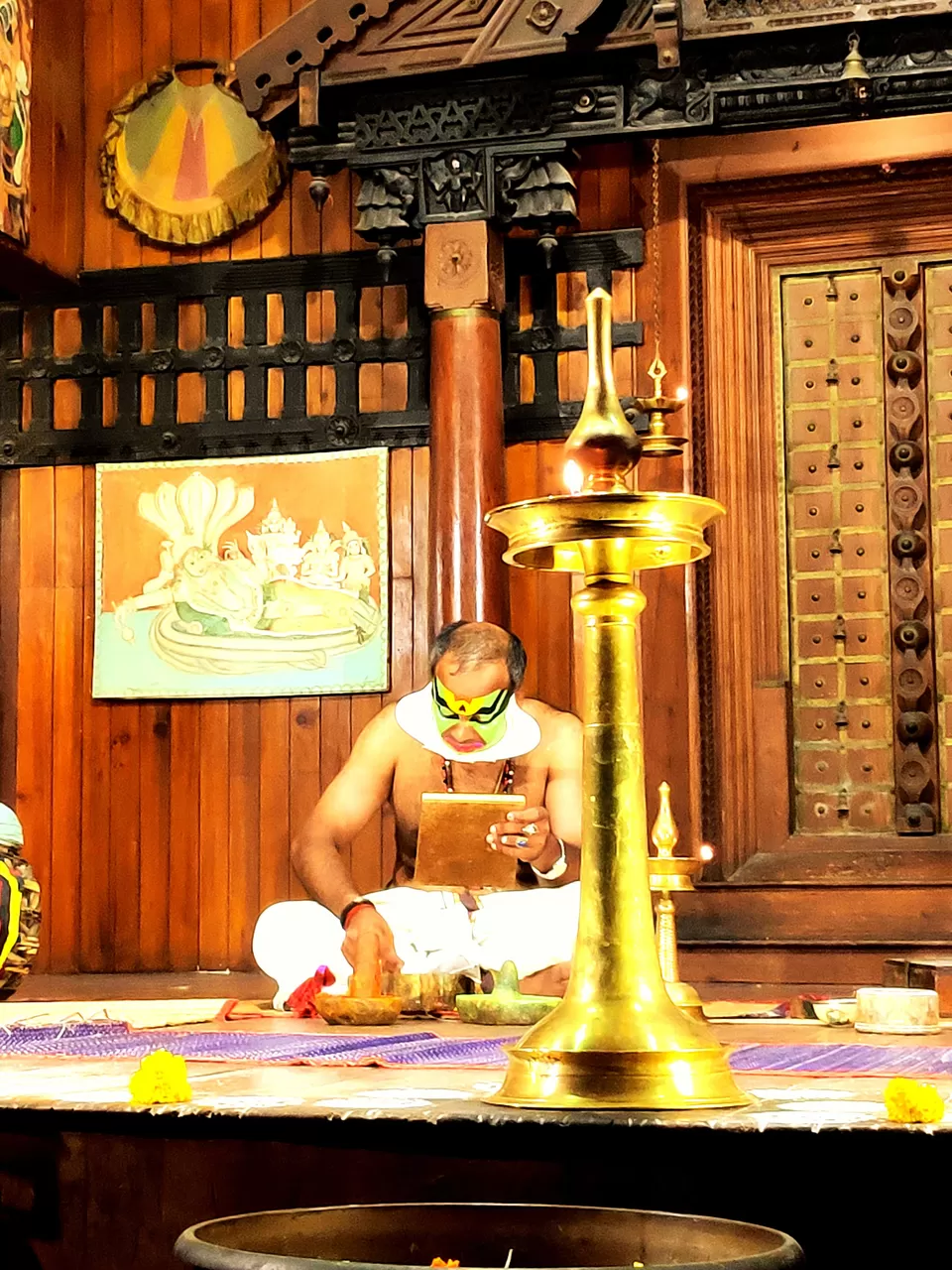 3) Kathakali dance is performed mostly by men
Both the male and female characters are performed by male artists only. Kathakali was a rather strenuous dance form with heavy costumes and hard footwork, thus it was mostly practiced by men.
However, women too are practicing the dance form in the past few years.
4) Costumes of Kathakali dancers are vibrant and unique
Apart from the typical facial make-up, Kathakali dancers have the most elaborate and colorful attires of all Indian classical dances. The skirts of these dancers are over-sized and dome-shaped. The dancer wears 20-30 layers of clothes underneath their large-sized skirts.
The artists also get dolled-up in heavy jewelries around their neck, wrists, upper arms, waist, and Ghungroos (beaded anklets) on their feet.
Large crown on the head and a face mask around the jawline worn by these dancers adds an extra dimension to their costumes.
4) Kathakali dancers undergo a minimum of seven years of training
People who learn Kathakali enroll into Kathakali schools and stay as residents through the entire course. They undergo hours of practice for perfecting their eye movements, expression (or navarasas), footwork, wrist movements (or mudras ).
Every student in the Kathakali school learns every aspect of the performance i.e. a dancer even knows how to play the musical instruments and sing the verses, how to apply their own makeup, how to set up the stage.
The final Kathakali performance I witnessed-
The ambiance of the theatre was set before the performance began! A large brass oil-lamp was lit in the center of the dais, fumes from aromatic incense sticks filled the hall, a brass container filled with water and marigold flowers amplified the temple-like ambiance on the dais.
Musicians wrapped a white cloth around their waist, took positions with their instruments. Just before the act, one of the artists took the center stage to demonstrate the navarasas (facial expressions) and the mudras (hand gestures).
He demonstrated expressions like anger, disgust, sadness, calmness, laughter, shyness, and much more, by twitching specific facial muscles and eye movements.
Narakasura Vadham - a scene from Jayantha and Narakathundi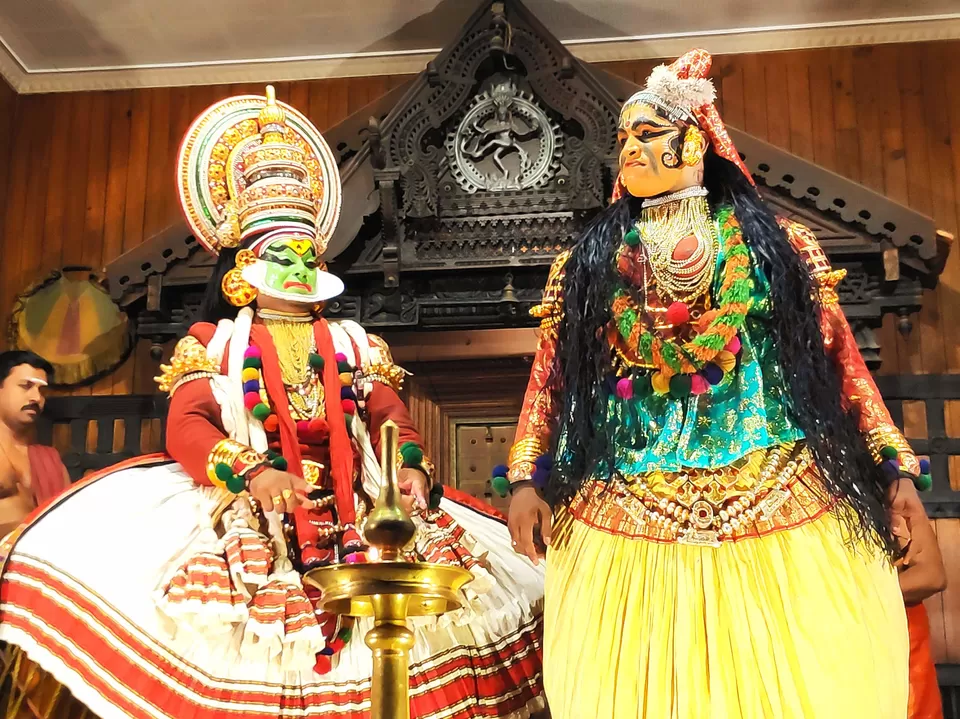 As a pamphlet was handed to us with the English narration of the evening's act titled 'Narakasura Vadham - a scene from Jayantha and Narakathundi', we had an overview of the story being enacted through the dance.
As the mythological tale goes, a demoness named Narakathundi disguised as a beautiful woman named Lalitha tries to claim her love for Indra's son, Jayantha and tricks him to get married to her. Though Jayantha seems to be lured by Lalitha's beauty, he soon realizes that it is Narathundi in disguise. Having been falsely lured by Narakathundi, he expresses his anger, disgust and after a heated tussle between the two; Jayantha chops her nose, ears, and breasts.
I was mesmerized by the act presented by both artists. I got so engrossed in the entire performance, that I hardly clicked or recorded their moves. A little distraction meant I would miss out on a beautiful expression, a facial twitch or an intense drama!
Both the artists were at par with their skillful performances. The last few moments of intense drama left me dumbstruck!
It was 2.5 hours of complete entertainment that will remain in my memories forever. When I came out of the theatre, it felt as though I had just walked out of a mythological tale!
Kathakali, an ancient classical dance form is dying a slow death with very few successors willing to take it up.
Where can you witness a Kathakali performance in Kerala?
▪️ Many Kathakali centers exist around the tourist-centric locations of Kerala like Kochi, Munnar, Alleppy.
▪️ We attended an evening show of Kathakali at the Kerala Kathakali Center of Fort Kochi.
▪️ You can book your tickets by calling the centre or just walk to the center for your tickets.
Tip: If you are an art lover, you can also plan to indulge in a show of Kalaripayattu, a martial art form of Kerala and Theyyam, a folk dance practiced in the district of Kannur in North Kerala
Frequent searches leading to this page:-
kerala tour package for 7 days, kerala family tour package at budget, places to visit in kerala in monsoon, places to visit in kerala after flood, best hotel names in kerala, best hotel in thekkady kerala, kerala tourism guide