#CoffeeWithTripoto
Kerala has been always my favorite destination, truly God's own country. Its not only about the natural beauties or greenery but the culture, food and tradition keep me encouraging to explore this beautiful state.

This time we planned for Malabar coast and Thalasserry was finalized. After looking in to google map, we also planned to cover Kannur, which is just 35 km and then another less unknown place Mahe, hardly 15 km. We started from Bangalore at 11 pm and after an eventful night (lost our way thanks to google map and navigation) we reached Thalasherry at 10 am next morning. There is many interesting places to explore but another thing which caught my attention is "Kalari Payattu". Its kind of martial art practiced in the Kerala and Thalassery is one of the major centre.
Let me tell you the brief history of this commercial town on Malabar coast. Before Independence Thalasherry was trade hub and considered as the export market for spices. The trade alliance between Vasco da Gama and King of Kolathiri gave Portugal direct access to the spice trade market especially for pepper. The French military base was built there. Thalasherry is also famous for its Biryani "Thalasherry Biryani".Thalasherry stadium located close to the sea is considered as one the oldest cricket stadium, where English used to play cricket in the 1890s. Cricket Ground celebrated its 200th birthday in 2002. Before we start exploring this beautiful and historic place, we had very heavy lunch, the famous Thalasherry Birayni, Kerala Parota and Meen (fish) curries.

The first place we covered was at Holloway Road, sea side park with a watch tower and is a great place to view the sunset.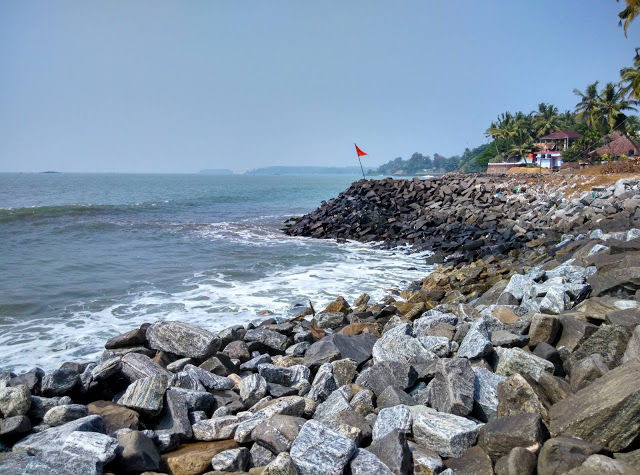 7 KM drive from Thalasherry toward Kannur and you will reach Muzhappilangad Beach, tongue twisting name but this beach is special, its longest Drive-In Beach in India (5.5 km). Here beach is wide and the sand is firm enough to support smooth driving.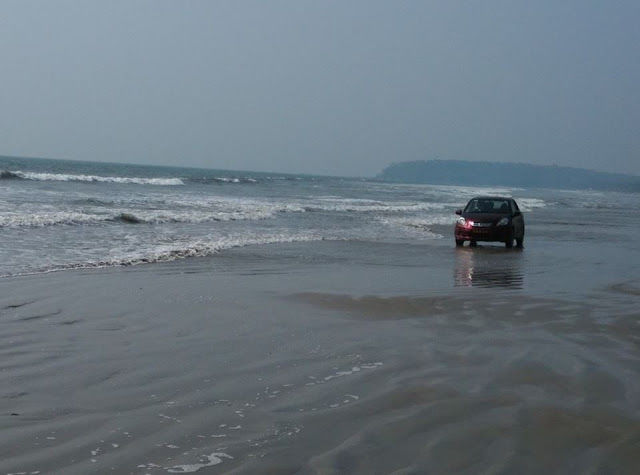 Next destination was Thalassery Fort. The British East India Company built the fort in 1708 to establish a stronghold on the Malabar Coast. Dont forget to explore secret tunnel there.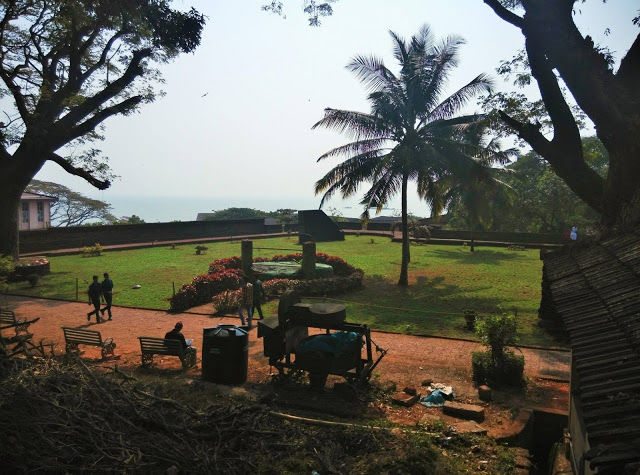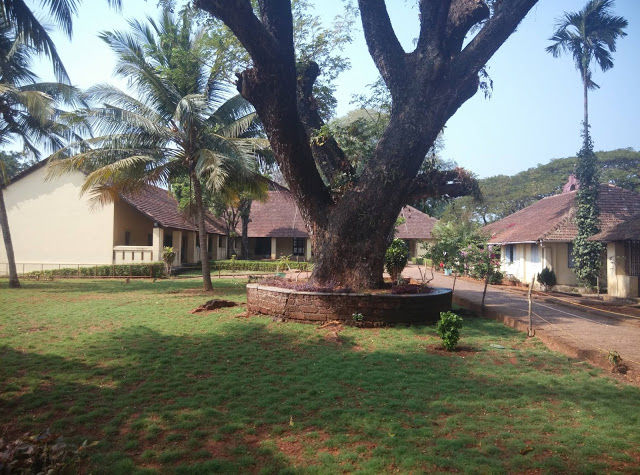 Our next destination was Mahe, one of the four districts of the Union teritory of Pondicherry (though its completely unconnected to Pondicherry and surrounded on all sides by the State of Kerala. Formerly part of French India . Though the French left Mahe nearly 60 years ago, the French culture can still be felt there. As its union territory Mahe attracted many booze lover where alcohol is said to cost only a third of what it does in Kerala. The town faces a peculiar challenge as ever-increasing crowds come to drink at its bars and buy booze from its liquor stores. The town is now gaining reputation as a booze destination and the number of outstation drinkers has shot up in the past few years. The main attraction in Mahe is Riverside Walkway, built alongside the banks of the river from the Water Sports Complex at Manjakkal, Mahe, till the breakwater of the Fishing Harbour at Mahe built by the government of Puducherry.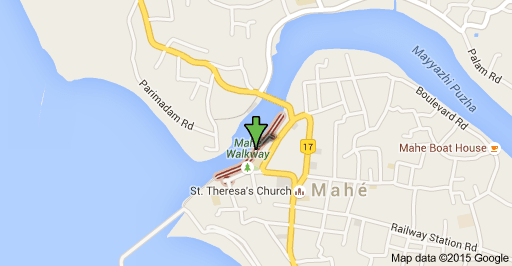 After watching spectacular sunset and spendning lovely evening at Mahe, we came back to Thalasherry, had nice dinner and thinking about our next day plan we all retired to bed.
Malabar coast adventure continues. Day two early morning, after checking out from hotel, we decided to visit Kannur to see famous Theyyam.
Theyyam is popular ritual form of worship of North Malabar in Kerala, India, predominant in the Kasargod, Kannur Districts, Wayanad and Kozhikode of Kerala, as a living cult with several thousand-year-old traditions, rituals and customs. Theyyam glorifies Goddess Kali. Theyyam or Theyyatam is derived from two Malayalam words "Deyvam" ( god ) and "Aattam" ( dance). The performers of Theyyam belong to the lower caste community, and have an important position in Theyyam. People of these districts consider Theyyam itself as a God and they seek blessings from this Theyyam.
Theyyam dances are usually performed in the months of October to June. You can browse this site to know more about timing and place http://www.theyyamcalendar.com/
We were not sure, where we can see this, internet helped us and we got to know one place where Theyyam was getting performed. There was contact number as well, we called and the person told us timing and the direction of temple. We reached there exactly on time.
It was small temple but decorated beautifully. So many food stalls there and off course place was crowded. There was one open courtyard, for performance.The whole locality had gathered in and around the courtyard to watch the Theyyam. For many local its a time for coming together as family. We somehow managed to get inside the courtyard and took the blessing from Theyyam performers. All the performer adorn colourful costumes and heavy makeup and within 15 minutes Theyyam started.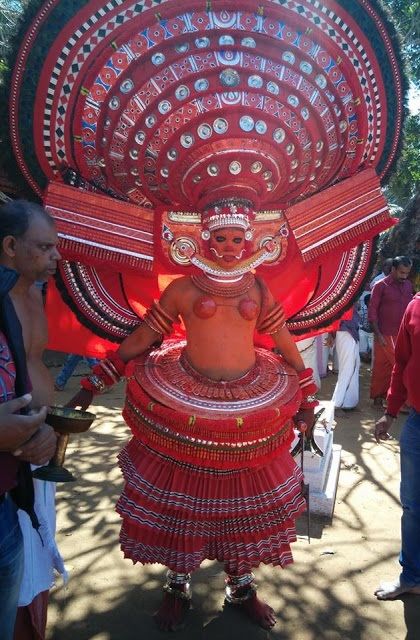 I read about Theyyam in the book "Nine Lives" written by William Dalrymple and also wanted to see this beautiful tradition of Kerala. I would consider this as one of the highlight of my trip.
After watching Theyyam, we decided to go back to Thalasherry and cover one beautiful Island we saw when we were going to Kannur. Dharmadom
Dharmadom is an island, en route Thalassery and Kannur. located 4 km from the town of Thalasherry. It is surrounded by the Anjarakandy river on three sides and by the Arabian sea on the fourth side.This place was simply brilliant and you will love the scenery there. It was not crowded and we felt so relaxing and calming.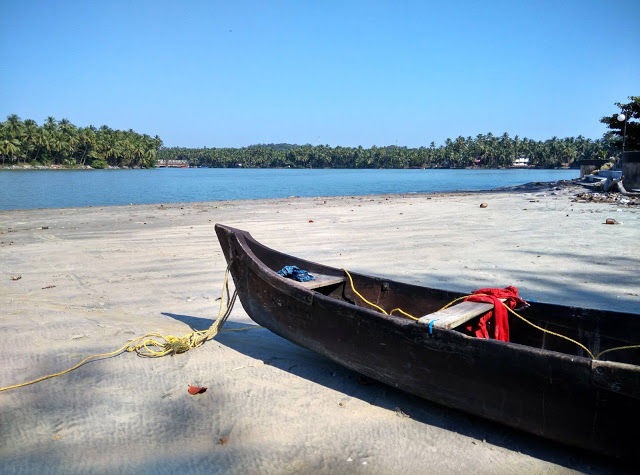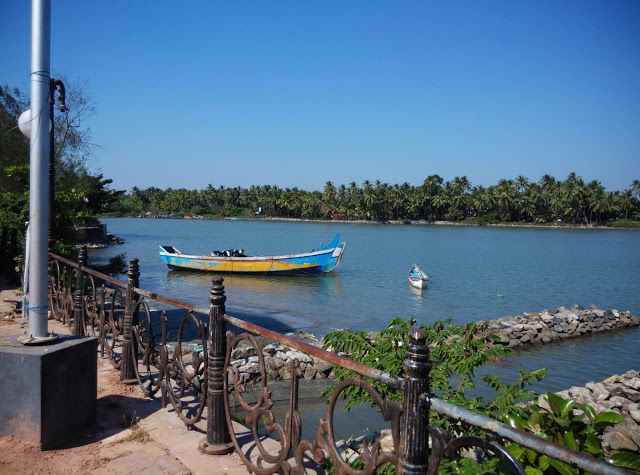 When you are in Kerala, how could you miss Toddy (mildly alcoholic beverage made from the sap of palm trees) and Tapioca. We found one small toddy shop near Dharmadam, had toddy, topioca and fish curry.
Evening we started our journey back to Bangalore.