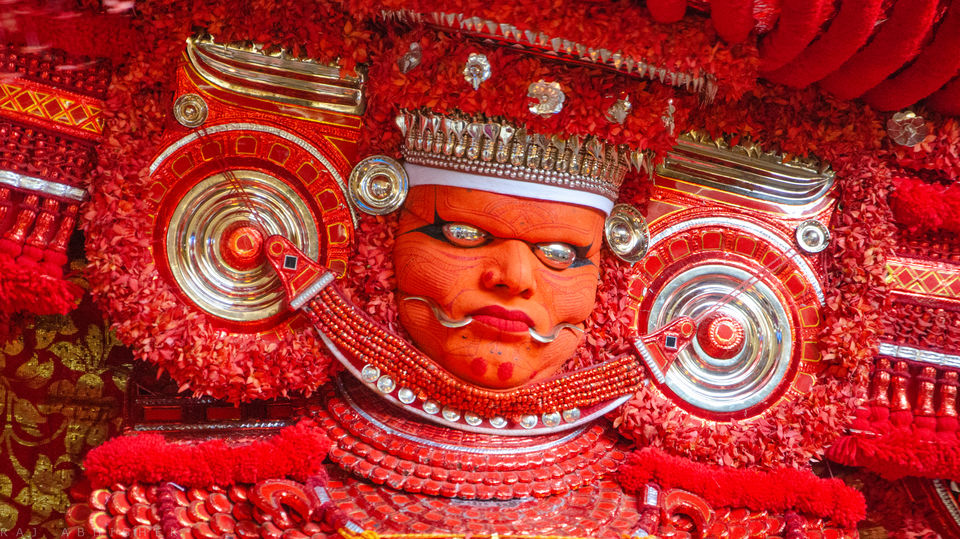 Visions of dancers dressed up in all their 'red-orange' finery had intrigued me ever since I saw their pictures taken by my fellow photographers. So colorful and so lively was how I had always perceived them. Dancing and swaying to the tunes of accompanying music, they assume the very stature of the deity that they seek to emulate; a channel to the God itself.
And so, this January, around when the performances begin, I was on the look-out to grab my opportunity to view and click this 'very ancient' ritual form of worship in the North Kerala region ( and to some extent in the Coorg/Mangalore belt of Karnataka as well ). My chance presented itself towards the end of Jan, and thereafter I did not leave room for any uncertainties to jeopardize this trip of mine. January is one of the best times to visit Kerala as well, so I hopped on to my overnight bus as soon as I could plan it !
Kuthuparamba presented itself as a small sleepy town early in the morning when we were jolted out of our bus, half asleep ourselves ! A rickshaw guy came up sensing his opportunity, and we were dropped off at our hotel a further 500 meters thence. We, on our part, jolted up folks fast asleep at the hotel reception, and made our way to the room soon thereafter.
Some rest and a hearty breakfast later, we were out and about, inquiring about the Kavu ( temple ) that we wished to seek, The KolaKavu Muchilot Bhagavathi at Kottayampoyil. Another short rickshaw ride later, we were in it's environs where preparations were underway for festivities to start up soon. We could see some people moving about hastily and with purpose, while many were seen seated in the arena surrounding the temple. It was going be an open theater after all, just like many other theyyams. I have read somewhere about there being around 400 types of such performances in all. It's a cultural feast in North Kerala during these times ! A place and time of your choosing is all you need.