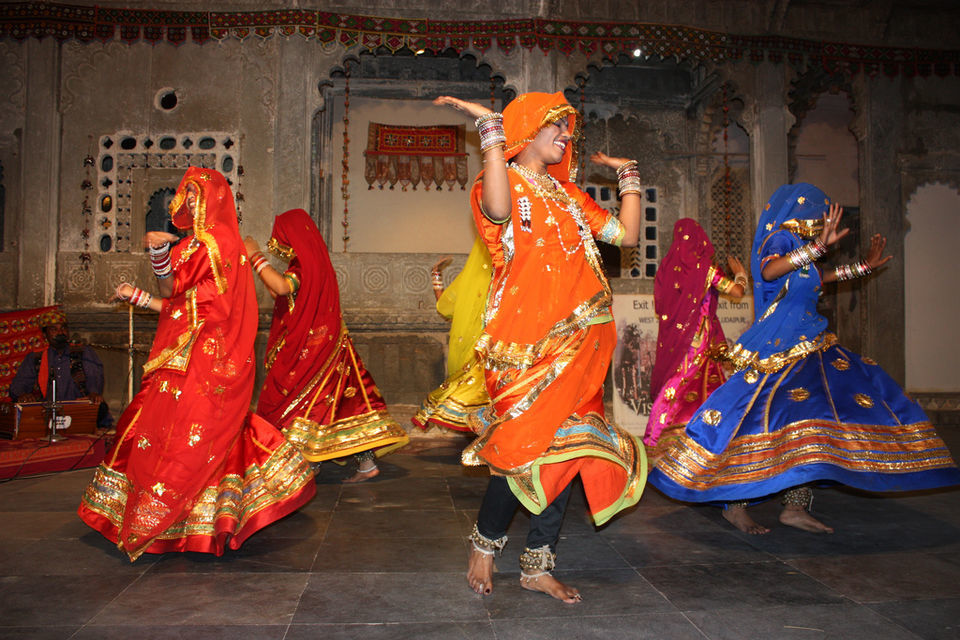 Over the years I have developed a keen interest in the folk traditions of various parts of India. The performing arts practised in a region bring out flavours of the land that are deep-rooted in tradition while also offering interesting insights into contemporary beliefs and pop culture, bringing us closer to understanding the value system of a community. It may be difficult to catch an artiste performing the Kalbelia from Jaisalmer, Theyyam from Kerala, Baul from Bengal, the carnival floats from Goa, Cham from Ladakh or the War Dance from Nagaland at an auditorium near you, but I've listed down festivals that will allow you to sit back, relax and enjoy the spectacle live.
Poush Mela Santinekatan
The haunting sounds of the ektara (one-string instrument) are audible even amidst the chattering of locals and tourists who make their way to the Poush Mela. This annual celebration of the arts takes place at the Visva-Bharati University in Santiniketan which is modelled on the gurukul system and was Nobel laureate Rabindranath Tagore's vision. The six-day fair is known for its stalls selling handmade products and artworks and for live performances of Bengali folk music, notably Baul music. The earthy voices and rustic charm of the Baul singers is captivating. They are usually a group of mystic minstrels from Bengal, mainly belonging to the Vaishnava Hindu and Sufi Muslim communities. They can often be identified by their distinctive clothes and musical instruments. Baul music had a great influence on Rabindranath Tagore's poetry and on his music. It is said that at Tagore's behest, the annual Poush Utsav became an important cultural event where students and teachers of his school played an active role. The mela became a meeting ground for the urban and and rural population. Rural artisans would bring their wares, such as batik-printed materials, the famous Santiniketan leather bags, earthenware, and paintings, while urban counterparts would set up stalls where rural folk could buy industrially-produced goods that were revolutionising life in the cities.
Top things to see and do: Visit the Visva-Bharati campus; take a step back in time as you walk past various buildings associated with the Tagore's — Nutan Bari and Dehali. Classes and major functions are held in the Amra Kunja (mango grove); check out the Rabindra Bhaban Museum which houses original manuscripts, letters, documents, medals (including a replica of the Nobel Prize medallion), plaques, certificates, paintings and photographs; try a typical Bengali thali at the open-air restaurant attached to Hotel Kharimati in Sriniketan; visit the Kala Bhawan, one of the world's best colleges for fine arts and crafts; shop for art and craft souvenirs made by the students and residents as well as cloth items, leather bags, wallets, batiks and handloom fabrics; listen to soulful Baul music; watch tribal dances (Santali) and daring acts being performed like bike and cars riding in a well, called Mauth ka kuan.
How to get there
By air: The nearest airport is in Kolkata. The distance from Kolkata to Santiniketan is about 182km. Santiniketan is well connected to Kolkata via road and rail.
By train: The nearest station is Bolpur. Take the Visva-Bharati Fast Passenger or Rampurhat Express from Howrah to reach Bolpur within 2.5 hours.
By road: If you follow the Durgapur Expressway, it takes approximately four hours to reach Santiniketan.
Festival dates: The festival starts on the seventh day of the month of Poush (around December 22 or 23) and lasts for six days.
Where to stay: Hotel Terra Vill or Hotel Deer Park Eco Home. For more options, check here.
Jaisalmer Desert Festival
It's a perfect mix of colour and culture at this annual fair organised by Rajasthan Tourism. Think folk singers, puppeteers, acrobats and fire eaters. The highlight of the vibrant Jaisalmer Desert Festival though, are the eternally graceful Kalbelia dancers. Once professional snake handlers, the Kalbelia community today evokes their former occupation in music and dance. Kalbelia is one of the most sensuous dance forms of Rajasthan and in 2010 became part of UNESCO's Representative List of the Intangible Cultural Heritage of Humanity. Women in flowing black skirts dance and swirl, replicating the movements of a serpent, while male musicians accompany them on the khanjari (a percussion instrument) and the poongi (a woodwind instrument traditionally played to capture snakes).
Top things to see and do: Go on a camel ride; watch the camel polo and the camel decoration competition; cheer for competitors of various competitions such as camel races, turban tying, longest moustache competition and the Mr. Desert contest; participate in competitions such as Tug of War; shop for Rajasthani arts and craft; stare in amazement as the fire dancers take centre stage; take a desert safari to the shifting dunes of Sam; watch performances of various folk artists under the starlit sky.
How to get there: The festival is held at the Sahid Poonam Singh Stadium and Sam Dunes in Jaisalmer.
By air: Jaisalmer Airport is a military airport and supports only chartered flights, hence is sparingly used by travellers. Jodhpur Airport is the closest domestic airport that is functional throughout the year. Major cities such as Delhi, Mumbai, Chennai, Kolkata and Udaipur offer regular flights to Jodhpur. The airport is approximately a 5 to 6 hour drive from the city. You can either hire a prepaid or a private taxi from the airport to reach Jaisalmer.
By train: Jaisalmer is well connected with a wide network of trains, covering most of the Indian cities such as Delhi, Jodhpur, Jaipur and others. Some of the popular trains are Delhi Jaisalmer Express, Jodhpur Jaisalmer Express, Howrah Jaisalmer Express and Lalgarh Jaisalmer Special.
By bus: There are no direct buses from Delhi to Jaisalmer as the 17-18 hour drive is too time-consuming and quite exhausting. You can switch buses in Jaipur from where a state-run sleeper coach operates regularly. Be sure to book tickets in advance as there are limited seats. Some sleeper buses are also available from Jodhpur and Udaipur.
Festival dates: January 29 to 31
Where to stay: Stay at Moustache Jaisalmer or Hotel Lalgarh Fort and Palace. For more options check here.
The Hornbill Festival
The Nagaland State Government's annual cultural extravaganza is a treat for all senses. The week-long celebration presents a colourful spectacle featuring folk performances, sports and traditional ceremonies. More than 60% of the population of Nagaland depends on agriculture and therefore most of their festivals revolve round agriculture. They consider their festivals sacred and so participation in these festivals is compulsory. Each tribe celebrates its own festival with dedication and passion. To encourage inter-tribal interaction and to promote the cultural heritage of Nagaland, the Government of Nagaland organises the Hornbill Festival every year in the first week of December. The festival is named after the hornbill, a bird which finds a special place in many of the state tribes' folklore. Naga folk songs are both romantic and historical, with songs narrating entire stories of famous ancestors and incidents. There are also seasonal songs which describe various activities done in a particular agricultural season. The war dance is the most famous dance of the state. It involves a great deal of expertise as the performers go through dangerous war motions. Even a little bit of carelessness can prove highly dangerous. Nagas never perform individually, they always dance in a group. The dancers wear colourful and graceful dresses which add more charm to the dance. The dresses of the dancers resemble the costumes of the warriors. The dancers also hold silver, brass and iron ornaments to make the performance more interesting.
Top things to see and do: Check out the traditional Naga Morungs exhibition (dormitories for men) to understand how long before the age of modern communications, the Nagas devised indigenous methodologies of relaying messages by beating different tempos and arrangements to send out messages decipherable only to the village members. Every Naga community is represented in their respective Morungs and some even accommodate the majestic log drums where male members intermittently beat the gigantic hollowed log with wooden beaters in perfect synchronisation; shop for arts and crafts; binge at the food stalls; sample herbal medicines at the stalls; enjoy the gorgeous flower shows; watch a cultural medley unfold with songs and dances, fashion shows, beauty contest, traditional archery, Naga wrestling, indigenous games and a musical concert.
How to get there
By air: Dimapur is the only airport in Nagaland. Direct flights connect this airport to Guwahati and Kolkata and connections can be made from all other airports in India, including Delhi.
By train: Dimapur has a railway station on the main line of the North East Frontier Railway. It is well connected with most major Indian cities.
By road: A number of taxis ply from Dimapur to Kohima. Night buses connect Dimapur and Kohima to Guwahati and Shillong (Meghalaya). A very convenient way to reach Kohima is to take the train or flight to Dimapur and then a taxi to Kohima. The Dimapur taxi stand is adjacent to the railway station. Yellow taxis can be hired with other passengers (shared taxis) or exclusively (full taxis).
Festival dates: December 1 to December 10
Where to stay: You can stay at Niraamaya Retreats Aradura Kohima or Hotel Ariel. For more options, check here.
Goa Carnival
The sun, sand, sea and some Samba. India's party capital, Goa, wears its most gorgeous avatar during the carnival. With roots in tradition that was brought to Goa by the Portuguese in the early 16th century, this festival is the local version of the carnival that is celebrated worldwide before Mardi Gras. The four day-long celebration starts on Saturday before Ash Wednesday and is the best place to capture the state's spirits and the flavour of its local performing arts. The events at the carnival combine fiestas of diverse cultures, religions and beliefs and many street shows. It closes with a colourful parade which can be compared to the holiday parades in South America. Balloons bobbed up in the air with multi-coloured trails and a colourful procession featuring horse-drawn carriages, and bedecked floats are the highlights of the parade. The festivities during the Goa Carnival include dancing troupes, revellers wearing masks and costumes, electrifying music which is generally performed live, sports competitions, floats and parades.
Top things to see and do: Soak in the sun at the beaches; shop at the multiple flea markets; indulge in parasailing and other water activities such as the banana boat and speed boats; tuck into delicious seafood; try the local beer, the wine and the Bebinca; enjoy the sunset from Fort Aguada; join in the revelry and walk along or shake a leg at the parade.
How to get there
By air: The Dabolim Airport lies just 29km from the state's capital, Panjim. It is well connected by daily flights from Chennai, Mumbai, New Delhi, Hyderabad, Cochin and Bangalore.
By train: The two major railheads in Goa are Madgaon and Thivim, which are well connected by trains from all over the country.
By road: There are a number of public and private bus operators in Goa, which offer options for intra-city and inter-city conveyance. KSRTC, MSRTC and KTC are some of the government undertakings that operate from Panaji, Madgaon and Vasco Da Gama, while you can find many private operators too. Goa enjoys daily bus service from important cities like Mumbai and Pune.
Festival dates: February 10 to February 13
Where to stay: Casa Portuguesa or Novotel Goa Dona Sylvia Resort. For more options, check here.
Losar Festival
The culture, tradition and performing arts of Ladakh are as unique as its landscapes. The festival of Losar marks the beginning of the Tibetan New Year. The origin of the festival dates back to the pre-Buddhist era in Tibet. The locals come out in large numbers on the street and pray, pass fire torches, dance and sing. During this festival, the Ladakhi Buddhists make a religious offering before their deities in the domestic shrines or at the gompas. Ancient rituals and traditional performances mark the festivities. Careful preparations along with rigorous rehearsals for the performances begin much before the actual festival. Ladakhi performers with their elaborate costumes present dramatically staged battles and masked performers take centre stage. The origins of the mask dances date back to the 8th century. These dances depict the old occurrences from the existence of the 9th-century Nyingmapa educator Padmasambhava also known as the Guru Rinpoche. This dance is also known as the Cham Dance and is said to bring good luck to the people who watch it. It is lively, vibrant and accompanied by music played by monks using traditional Tibetan instruments. The dancers wrap their heads with strips of soft cloth as a protection against the weight of the heavy decorative masks made of mud and wood. At the time of the dance they conceal their faces by wearing the huge masks which represent an assortment of forms, and skip to the tempo of the music that is being played by the monks. This music is considered to be excellent for meditation. Apart from the Cham, there is the Metho (procession of fire) that takes place with people chanting slogans to chase away ghosts and evil spirits. They later return with rocks of ice as an auspicious symbol which are then stored carefully. In some villages there is a tradition of making old snowmen, which last for about a week.
Top things to do: Apart from enjoying the festivities, there is much one can do in Leh. Visit the Leh market lined with shops on either side, mainly selling Ladakhi and Kashmiri items; buy old Tibetan items and prayer flags at the road parallel to the Leh market; enjoy a quiet moment at the Shanti Stupa/Japanese Peace Pagoda; explore the nine-storey high, Leh Palace built by King Tashi Namgyal after the reunification of upper and lower Ladakh and victory over Hor; take day-long excursions to Sham Valley; Alchi monastery, Magnetic Hill, Gurudwara Pathar Sahib, the confluence of Zanskar and Indus river, Pangong lake and Tso Moriri lake.
How to get there
By air: Flights to the Kushok Bakula Rimpochee Airport, Leh are available all year round. From the airport, you can easily get taxis that will take you to your hotel/resort.
By train: Pathankot and Chandigarh are the closest railway stations to Leh. This is still a three-day bus ride away and is not usually the recommended way to get to Leh.
By road: Via Jammu and Kashmir or from Manali, if you're planning to get to Leh in a bus, it will take at least four days (starting at New Delhi).
Festival dates: February 16 to 18
Where to stay: Ladakh Sarai Resort or Thangkop Guesthouse. For more options, check here.
Theyyam Dance Festival
The worship of Muthappan in Kerala is truly unique, as it does not follow the Brahminical form of worship, like other Hindu prayer rituals. The main mode of worship is not through idol worship but by ritual enactment of the Theyyam dance, performed every evening at the temple. There are many versions of Theyyam, and Muthappan Theyyam is one of them. If you plan to visit North Kerala, which is less touristy and commercial than the South, coincide your dates with the Kuttikkol Thampuratty Theyyam Dance Festival. This annual, three-day festival, held in Kuttikkol, in the Kannur district, is a grand affair to showcase Theyyam, recognised as one of India's oldest folk art forms. The ritual performers of the Muthappan Theyyam belong to the Vannan community of Kerala. A masked dancer enters the temple foyer to the sound of beating drums as a gaudily dressed priest performs the aarti with fervour. The dancer's face is painted and he is dressed in bright colours and an overbearing headdress. The performance incorporates dance, mime and music, and enshrines the rudiments of ancient tribal cultures, which attached great importance to the worship of heroes and ancestral spirits. After the performance, devotees queue up to make donations and seek blessings from this performer, believed to be possessed by the spirit of Lord Muthappan. He looks at the devotees and whispers into their ears, giving them a solution to their problems and predicts their future.
Top things to see and do: Visit local training schools that teach young children the art of Kalaripayyatu – one of the oldest martial art forms that originated in Kerala, dating back more than 2,000 years; visit the Arakkal Kettu or Arakkal Palace museum, the residence of the only Muslim Royal family of Kerala, to learn about Kannur's past; enjoy the clean Thalasseri beach and the Fort St Angelo located around 3 km west of Kannur town; experience a houseboat in the backwaters of Kannur; visit the Aralam Wild life sanctuary, at a distance of 22 km from Kannur; choose from one of the many Ayurvedic centres for massage and treatment for all sorts of ailments.
How to get there
By air: There are no direct flights to Kuttikkol or Kasargod. Mangalore (50km from Kasargod) and Kochi (almost 400km from Kasargod) are the closest airports.
By train: Kasargod has the nearest railway station. Many trains ply from here to major cities in India. From Kasargod, Kuttikkol is 30km away.
Festival dates: February 23 to 26
Where to stay: Kairali Heritage Resort or Woodgreens Heritage Resorts. For more options, check here.
If you've been to any of these festivals, share your experience with us and tell us what you liked about it. To watch some interesting travel videos, log on to our YouTube channel. If you like what you see, hit subscribe!