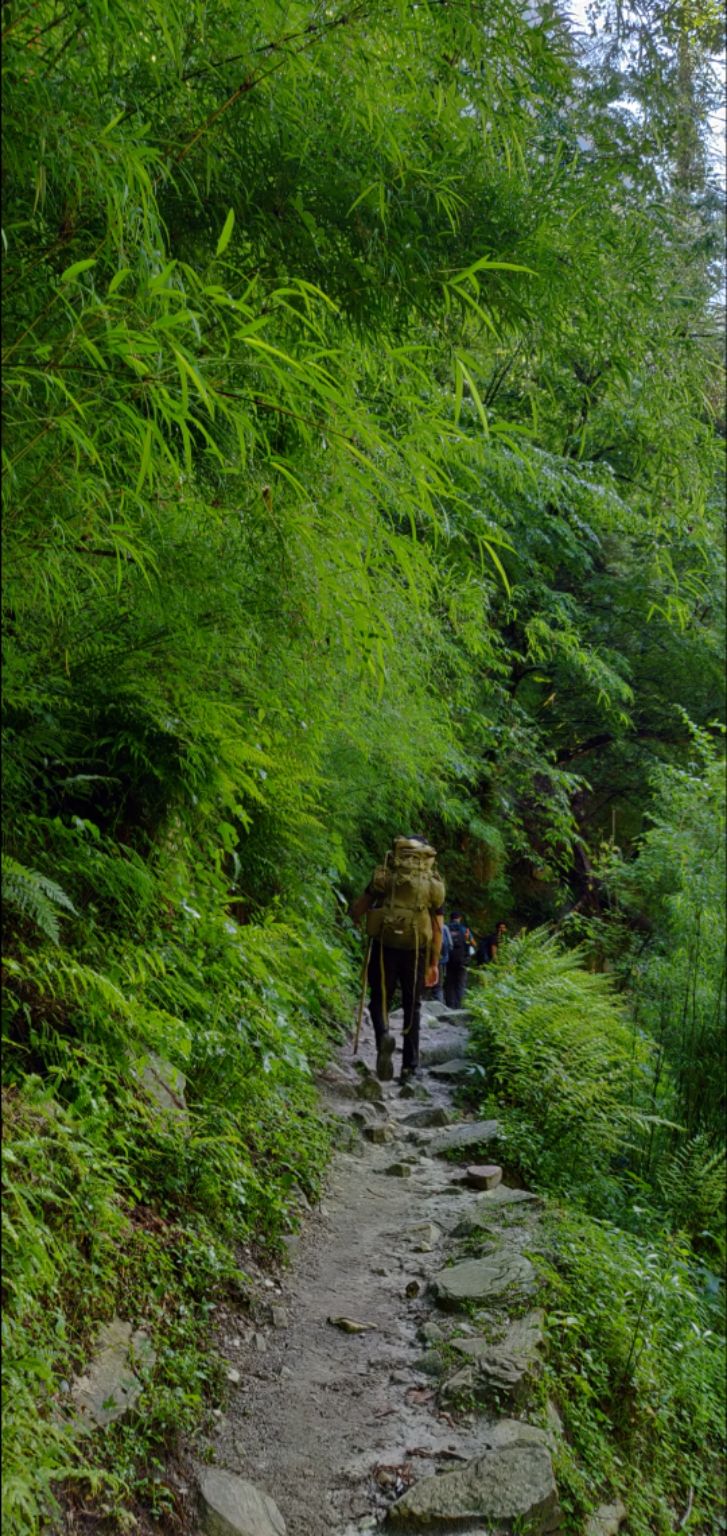 People were up before our alarm went off, and we were startled by the enthusiasm with which people went rushing here and therewith their bags on their backs.
We woke up with the temperature touched down to a chilling 5 and a layer of fog in our tents with dews on our begs and beds. Breakfast was served lunch was packed and we stood in the formation listening to what our trek guide had to say.
We started moving ahead when we for the first time saw a new companion that had joined us in our trek, a beautiful, blonde, muscular and cute mountain Golden Retriever, in no time he had the attention of most of us.
The trail seemed easy following the river we kept on climbing the mountains. But soon it got rocky filled with lush green trees. The oxygen seemed pure and the chill was soothing, the silence could never be achieved even at nights in the city of Mumbai which we were experiencing in the noons of Kasol!!
Hours into the trek we, at last, took a lunch break at a small stop with a ton of trees all around the place and a small hut selling maggie and omelet with sneakers if needed.
We were carrying our lunch with us in the lunch box that we had carried, it was veg soybean rice tasting way better than I had ever thought, maybe because we were tired and hungry or there could be some other reason but whatever it was the trek seemed fun.
After a steep climb post-lunch, we, at last, reached the Grahan village which was our next camping sight and was told about the rules which we had to follow to respect their culture and religion like no carrying alcohol, not touching or entering their temples, etc.
Listening to all those rules and regulations the only image that I had formed in my head was of a strict villager who will be treating us like aliens but it turned out to be the opposite of what I thought it would be!
Stretching out a bit we left for exploring the village we were told by our trek guide about a very special flower that was grown in this village, it was sweet and was one of the best medicines for cancer. So we were in search of this flower or the juice of this flower.
Hunting down the narrow mountain lanes of the village we at last found a hut that could serve us with the juice of the flower. The owner of this hut was a very sweet lady in her 50s. she welcomed all 18 of us with a smile, offered juices and allowed us to go through her house to see how houses in Grahan looked like.
A beautiful house made out of woods was very well designed and kept by the lady, with shiva paintings and idols kept all around. A room was kept for travelers to sit and enjoy eating anything that they would like to eat where I for the very first time tried Hash Brownie and later were served with the juice.
Honestly, the juice wasn't that good but we were all obliged by the hospitality of the local lady and her young kids.
We were back in the tent and sat down, all 18 talking about ourselves and making friends. Time passed slow, we were away from everything we were a part of in cities traffic, pollution, internet, friends and family. We had seen nothing in the past 3 days and still the time seemed amazing. No mobile network did make us kinda conscious but soon we didn't care.
I remember the feeling of fresh air gushing through my lungs, I remember that bonfire we had in the evening sitting around which we sang songs in the night. I remember the taste of juice we tried and the smiles of those young kids welcoming us with open arms. I remember how till then everything just seemed fine but we didn't know what was next.
Stay tuned for other chapters and days of trek!!