The last trek that I did was the 'Sandakphu- Phalut trek' but that too a while back, almost a year and a half back. Our trek was planned in the month of May 2017.
We were a group of 7 friends, consisting of 2 first time trekkers, who finalized on this easy to moderate level trek after a quick and sudden discussion, some 3 months before the trek started. The first step was to finalize the trek operator and we chose the company Wetrekkers (https://www.wetrekkers.com/), after a reference from a friend. Everything was arranged by them and we only took the pain of shopping essentials like trekking shoes, fleece jackets, raincoats, tracks etc. from Decathlon, which are bare essentials when going on a Himalayan trek. After a month long preparations which included regular morning walks only, we were all set to go.
Day 1 : As we reached New Jalpaiguri (West Bengal), we were received by our trek leader, cum guide and taken to Meghma (a small village) from where our trek was supposed to start. After a hearty lunch at a local's home, we started our trek(at late afternoon) to the first stop, Tonglu. By the time we reached halfway, the sun was going down and we were left panting for breath already. Life seemed tough ahead of us. Many of us had already understood the kind of fitness level we had. We still had to continue, as slowly the mountains started turning dark and not a speck of light could be seen in the surroundings, except the stars and our torchlights. The fear of bears and other animals(as told by our trek leader) made us push ourselves and we finally reach Tonglu, fighting the darkness and bone chilling strong winds, only a little while before dinner time.
After the evening tea and then the hot dinner finally came the time to rest our bodies, that is when we realized how cold the beds and blankets were. Although we had two rooms with 10 beds in total but, we all snuggled in one single room and slept. The toughest night it was as nobody was able to get sleep for the first few hours, due to the heaviness in our head and breathing problems faced. But, thankfully after a few hours towards the wee hours of morning, we could finally get some sleep.
Day 2: We got a wakeup call early in the morning to witness the sunrise, and although most of us were deep in sleep (due to lack of some, in night) one of our friends' couldn't just hold on to his excitement and forced some of us to wake up (after half an hour of nagging). Finally, when we actually could manage to get ourselves up and come down for the greed of sipping a hot cup of tea, did we realize the actual beauty of the place. In front of us, we could see the majestic Kanchenjunga range, all clean and clear. After spending some time clicking pictures and roaming around we were told that we need to get ready to leave for our next stop. So we had a wholesome breakfast of hot aloo parathas and tea and left for Gairibas (8-9 Kms). The path today, as we were told by our leader, was much easier and of lesser gradient (one of the happier days for us) to Gairibas via Tumling. This day was a sunny day so we merrily kept treading the path at a much faster pace than the previous day. On the way, we entered the Singalila National Park and had to obtain our permits at the check point (taken care by trek leader). At one point we were informed that we have entered Nepal and are trekking through Nepal's territory. This was an exciting moment for all of us and we took a break at a small village (in Nepal) to have a cup of tea and just have a feel of the place.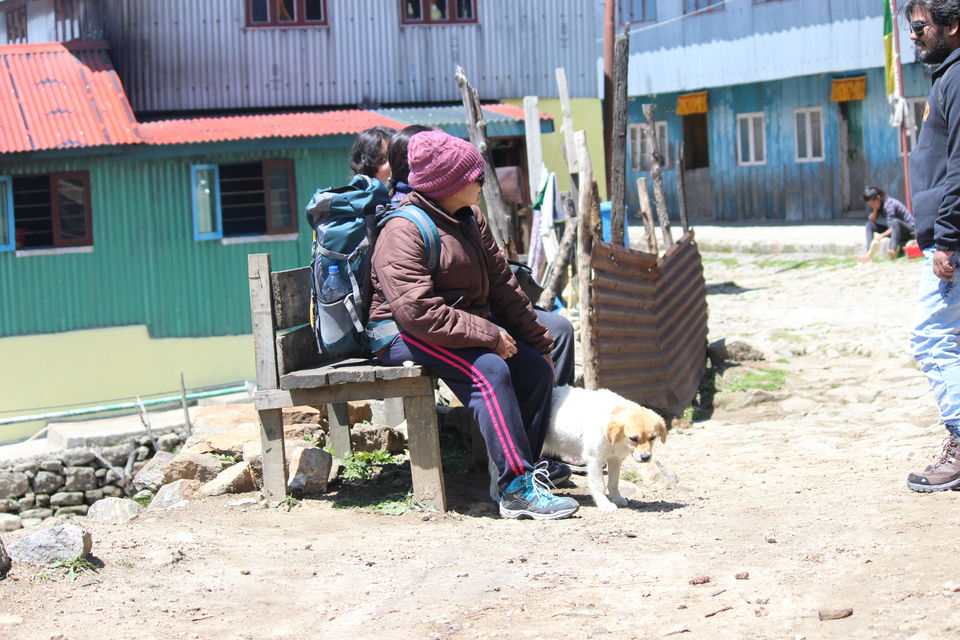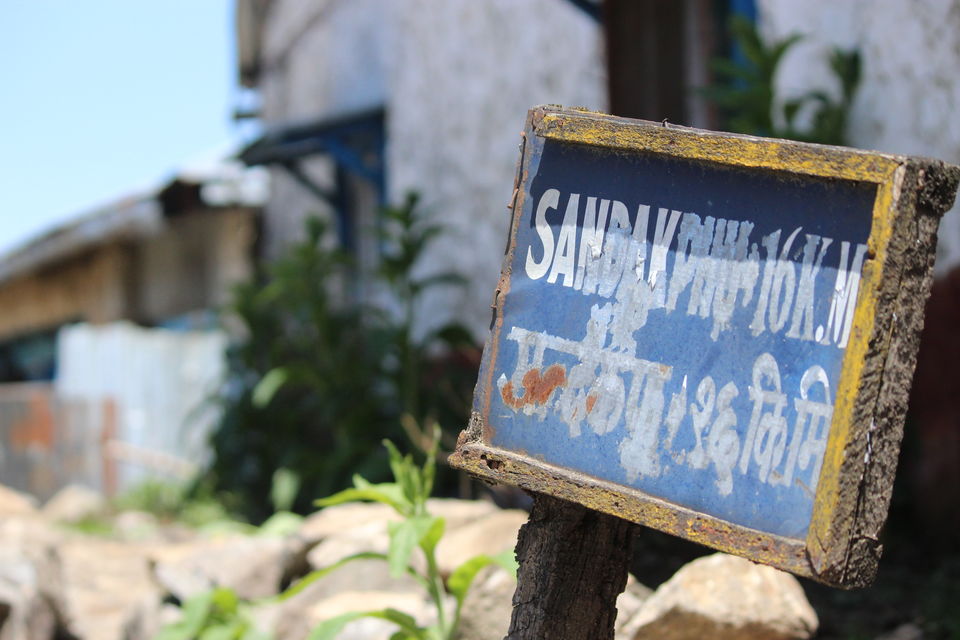 Later, we continued our journey onwards and within some time, reached the motorable road that we had to now follow upto Gairibas. This day was such a lucky day for us, as we could enjoy the clear Kanchenjunga views throughout the journey. Finally, well before sundown, we reached our day's stop and rested our backs. The evening was well spent, by enjoying some maggi, momos and chai at a local shop, and playing around with the resident Himalayan dog. Late evening, we had a gala time with dumcharades and antakshari, the benefit of having a group on such treks. The day came to a happy end.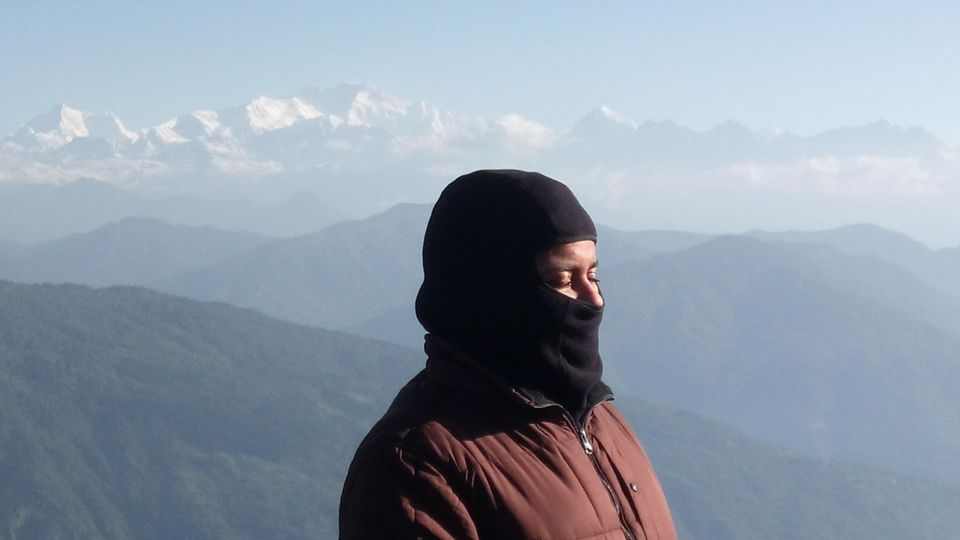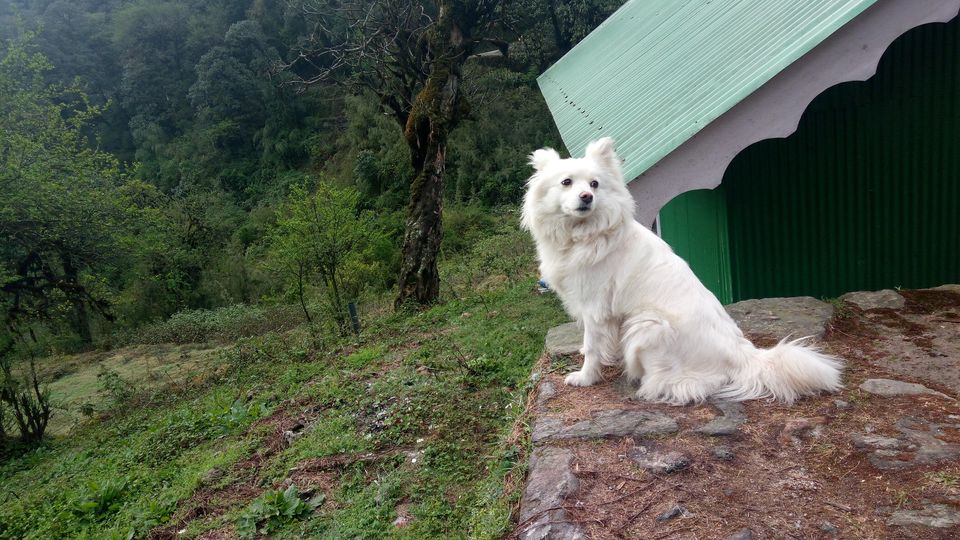 Day 3: Then came the 1st most difficult day of the trek. The morning started a little hazy and cloudy. We got ready and started early as today we had a long day ahead of us (12kms trek). The starting itself scared us as the roads are of a constant steep gradient and we had to continue walking on similar gradient for the entire day. By lunch time we managed to reach Kalipokhri, at just the midway to Sandakphu.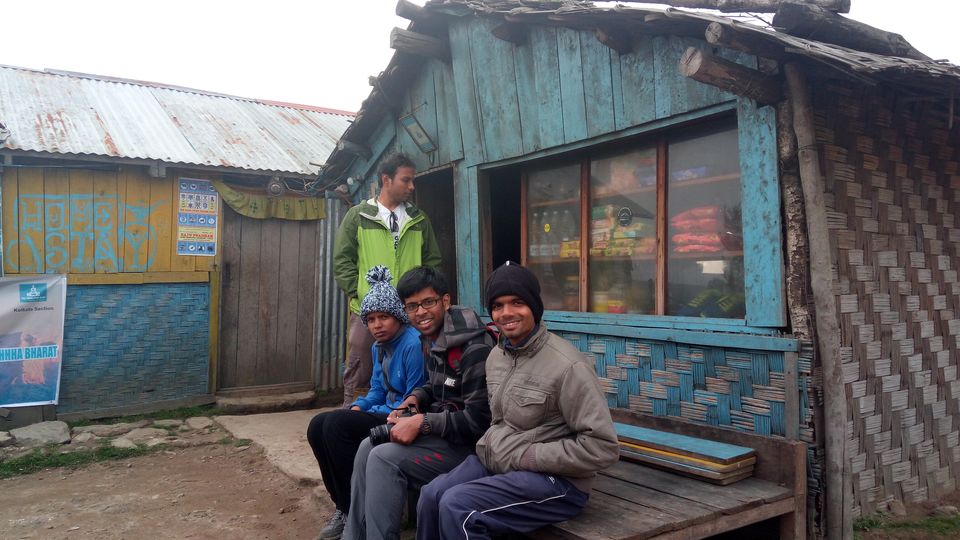 We were supposed to take a short break for lunch here, so after having hot food at the local shop, we continued on our way without wasting much time, as the weather conditions didn't seem favorable at all. Post lunch, the trek seemed even more difficult, as we still had 6 kms more to go with the mist and fog increasing. The route, however difficult it seemed, was very beautiful, with the path going through the forest with rhododendrons of various colours in full bloom on the way.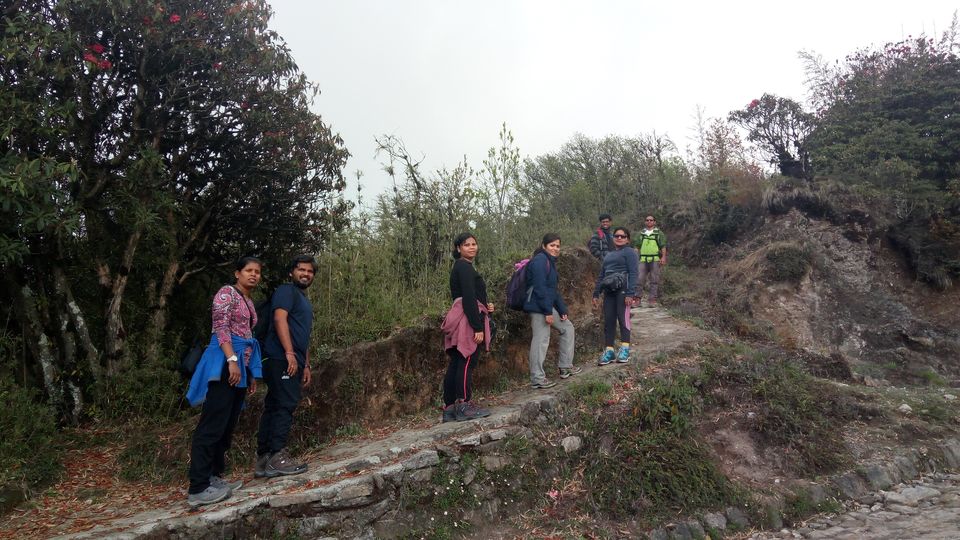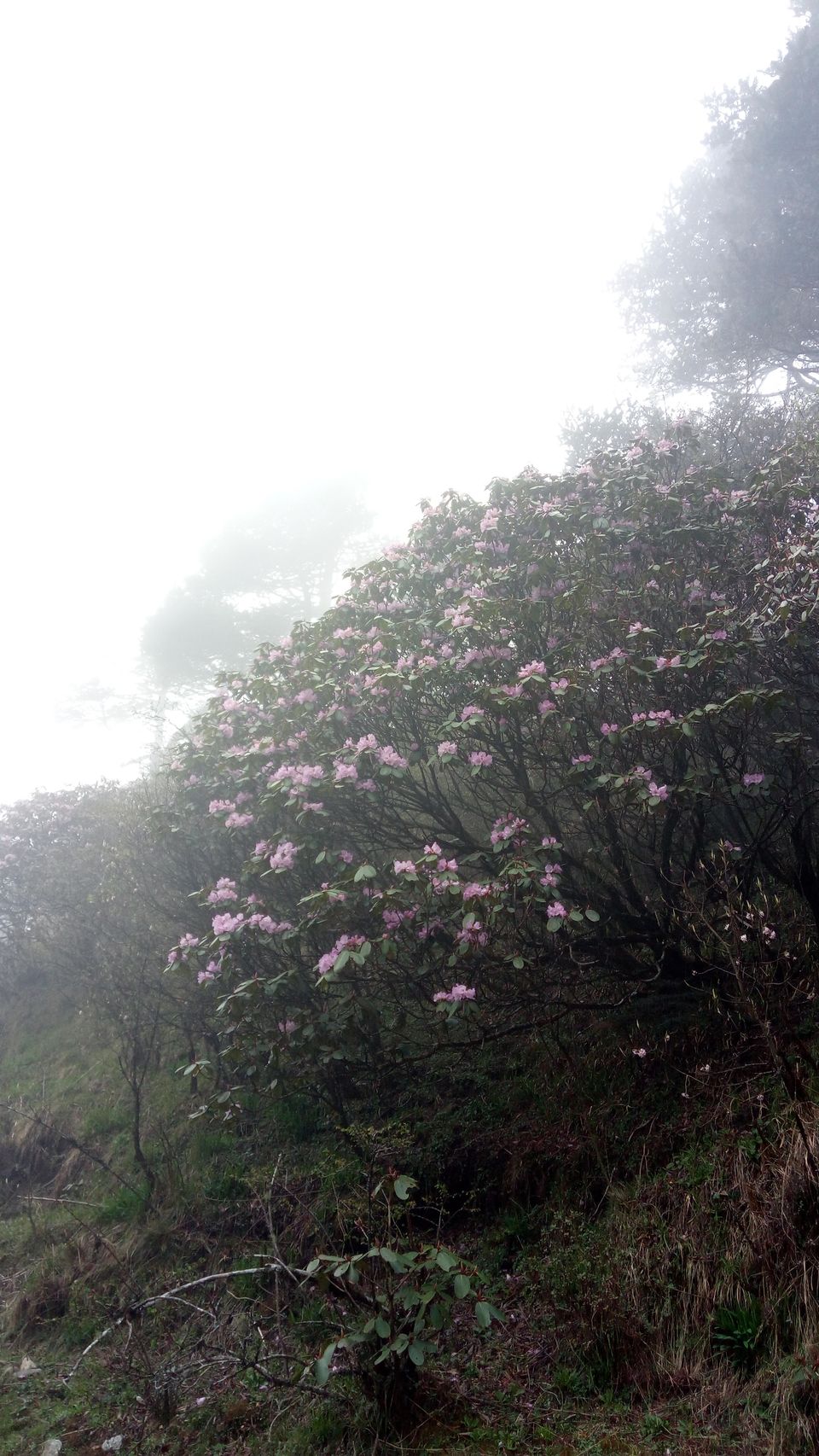 We wished, the day was more sunny for us to be able to capture better pictures. Well, finally, after a lot of effort and pain, we reached Sandakphu and our trekker's hut almost on the verge of darkness. By the time we freshened up and relaxed ourselves in the room we could hear the strong winds and rain outside. The cold temperatures plummeted further and we just could not leave our room till the dinner was served. Dinner consisted of basic: khichdi, papad and achar which tasted heavenly in the chilly night. Without much to do we quickly went off to sleep as the next day was again going to be a long day.

Day 4: The morning also started with a gloomy face. It was cloudy and rainy and we couldn't see even a glimpse of Kanchenjunga, where it is known to be the closest at Sandakphu. Without much time to waste we had to start for Phalut to cover a distance of 21kms on this day. Although the route wasn't much steep and difficult but the distance of 21 kms was scary enough for us. The route again was picturesque, with full bloom rhododendrons lined up on the sides of the path; had it been a little more sunnier, we could have managed to capture the beauty with our cameras as well.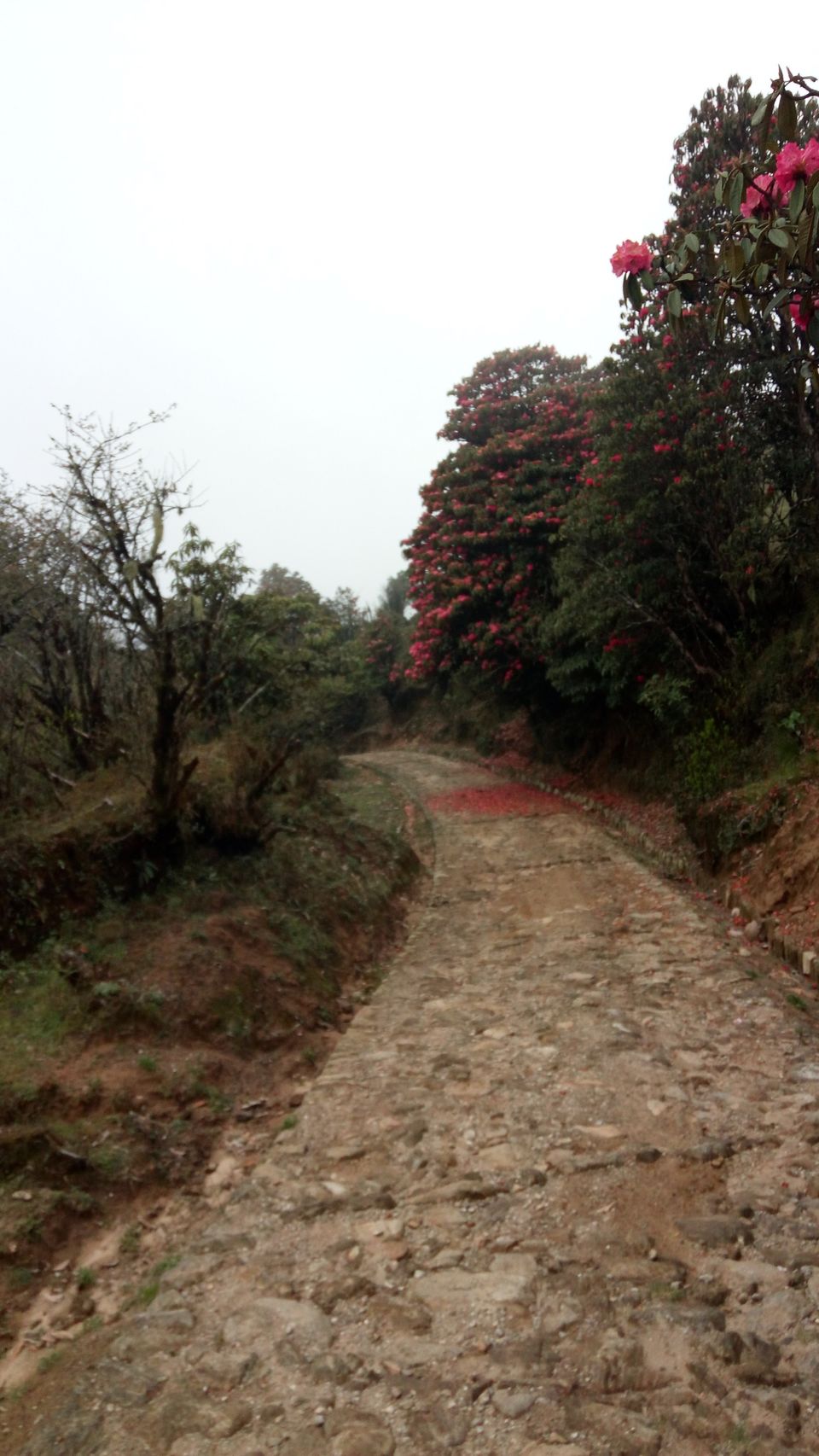 By the time we reached halfway, the weather gods had somehow turned unhappy and the rains and winds became harsh than ever. We could almost have flown in the sky from the mountain tops, with the kind of strong winds blowing. After a tense & strenous walk of another 3-4 hours, through the harsh conditions, we could finally reach the trekkers' hut (the only accommodation at Phalut) way after sundown and in darkness. Everybody took a sigh of relief and enjoyed the coziness of our very basic room with a hot tea and dinner thereafter. The night, that day, seemed scarier than all our nights before. The winds blew so strong that it was difficult to fall asleep. We feared that the roof might just blow off or the hut may just fall on us, but the fatigue in our bodies wouldn't let us stay awake for long. Finally, another strenuous day came to an end.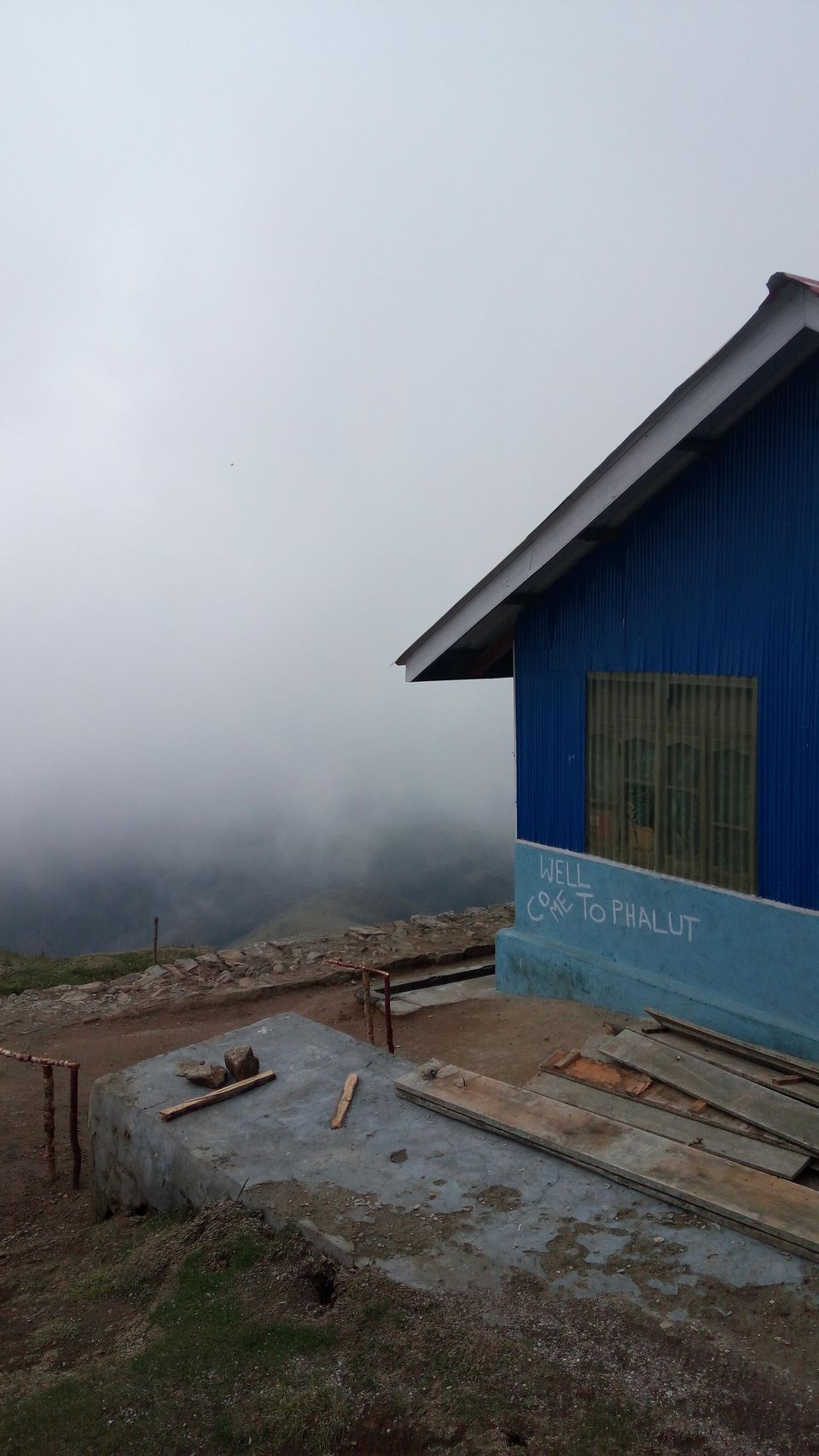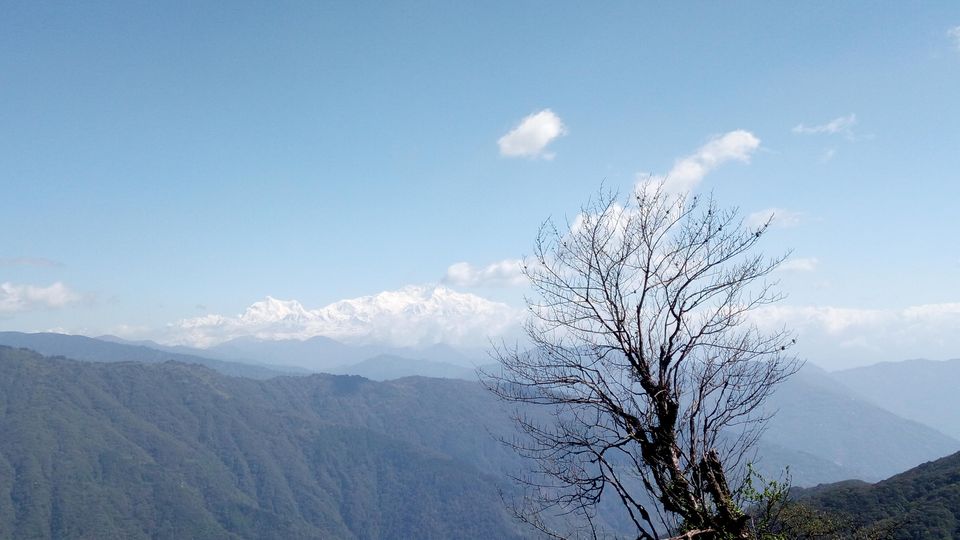 Day 5: This day started with a lot of sunshine and hope. We were taken to the Phalut peak in front of our trekkers' hut from where we could see a 180 degrees view of the Himalayan range, including Everest group, Kanchejunga, Chamolhari, Pandim, Three Sisters and lot others. After spending some good amount of time capturing pictures of Kanchenjunga and surroundings. We started our descent and reached Molley , a small settlement with only a trekkers' hut beside an army camp. The path was not a very strenuous one and so we enjoyed ourselves upto Molley. We spent a good time in Molley, as there was no other groups staying there and we had the entire hut to ourselves. Enjoyed some delicious homecooked food and roaming around the hut as the temperatures were no longer as down as they were in our previous days. Finally, we went to sleep with the satisfaction that we were only one day away from completing our trek.
Day 6: This was our last day of trek and we were never than before happy. We also cheered the fact that this was going to be a descent and hence less stress and strain. But little did we know what lay in our future. We kept moving down , also got lost in the dense forests for a while. When finally we reached a village, we were excited to know that we have almost reached our destination. Our trek leader said that our homestay was only a little further down. But as we started our descent through narrow roads of the village settlement, all of us got separated in different groups and didn't know where we were moving towards. To make things worse, it started raining cats and dogs and we took shelter outside a small hut of an old lady. The lady offered us to sit inside and gave us steaming hot tea, making us more than grateful and praising the humanity and kindness of the mountain people who are still so innocent and kind to offer help to strangers. As the rain subsided, we thanked the lady for her kindness and offered her chocolates that we carried during the trek and left the shelter again in search of our homestay. Finally, when we reached our accommodation, it was late afternoon and we were hungry. The first thing we did was to wash our hands and sit down for the heavenly lunch. The rest of the evening was well spent with recollecting and sharing of our individual experiences and memories from the trek. After a tasty and hearty dinner, comprising of chicken and roti (first bite of non veg in a week's time), we happily went to sleep.
Next morning, we all had a warm shower and prepared to leave, thanking our hosts in Srikhola, and moved onward to NEW JALPAIGURI in our vehicle, waiting for us across the bridge. Thus, came an end to the most exciting and memorable treks' of our lifetime.