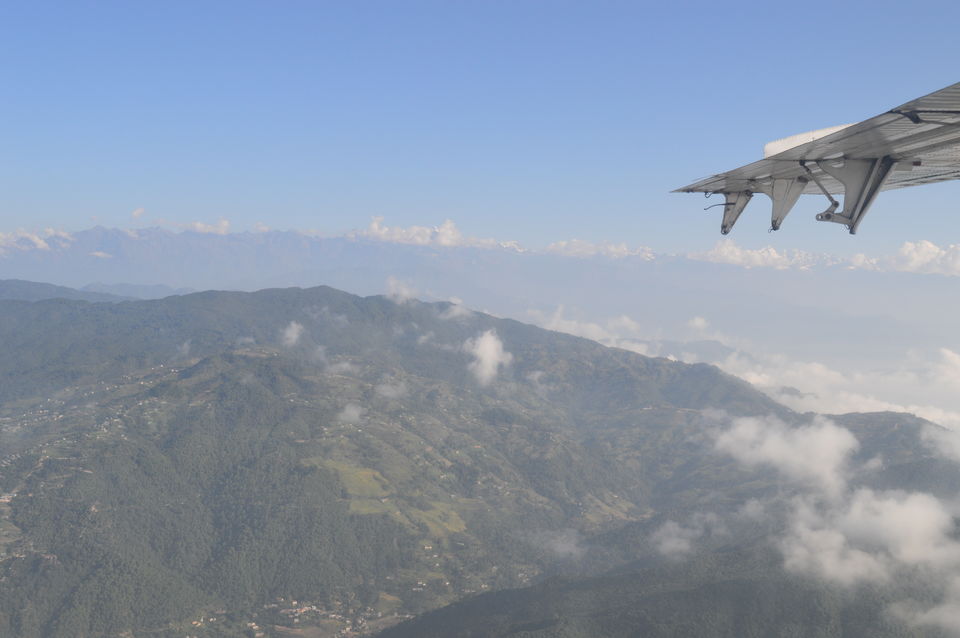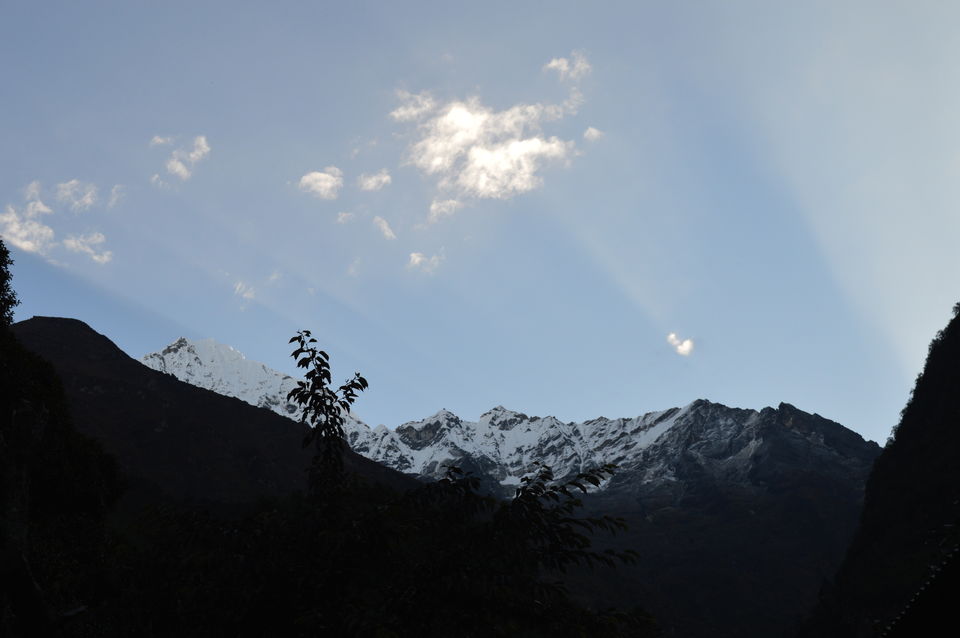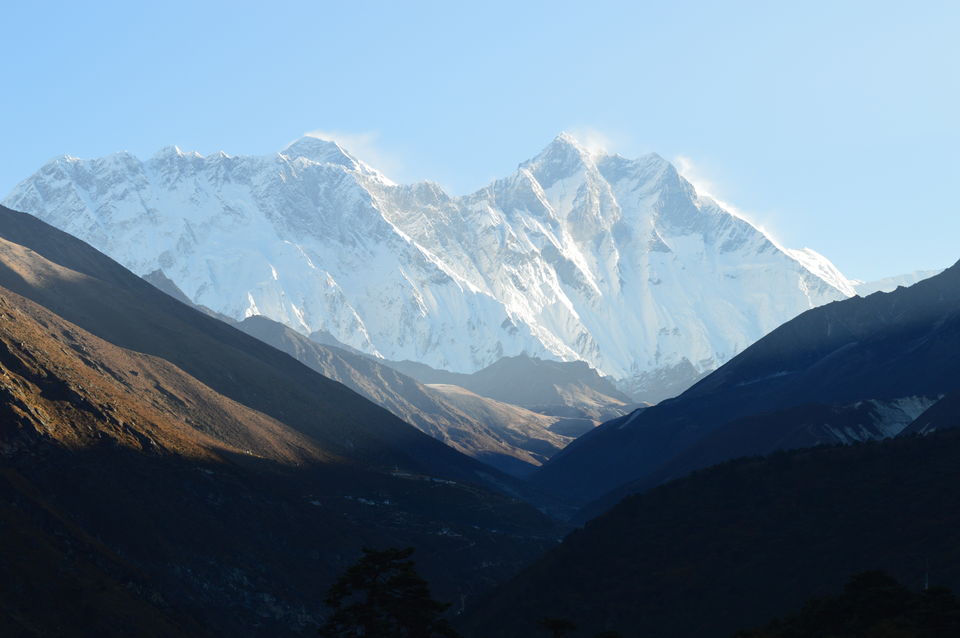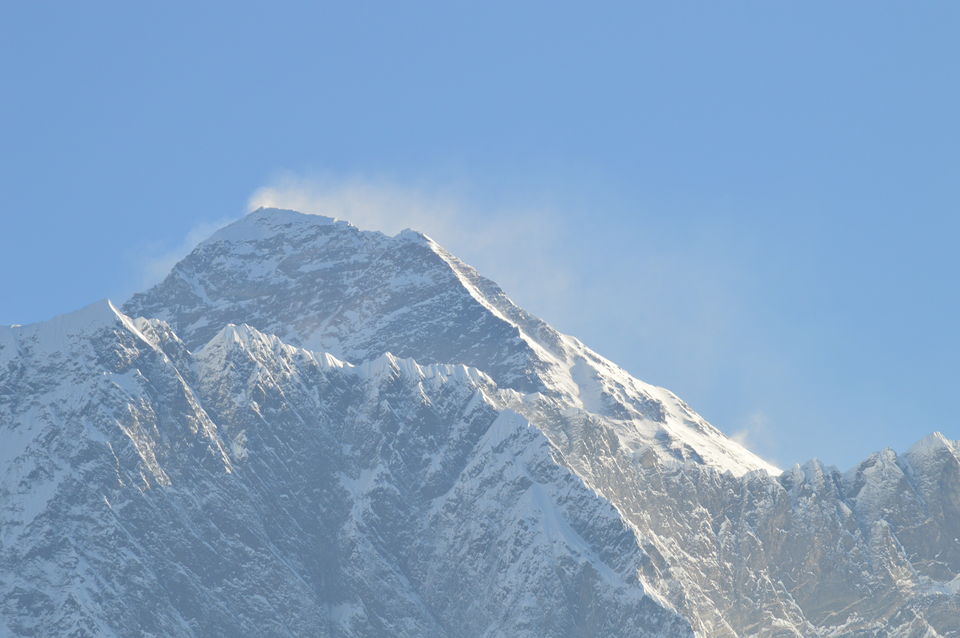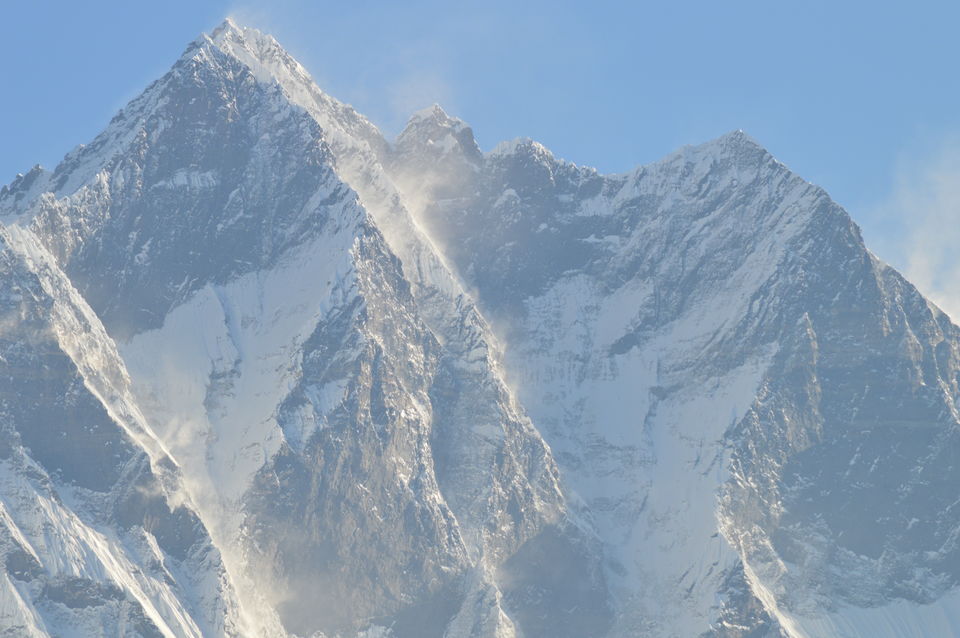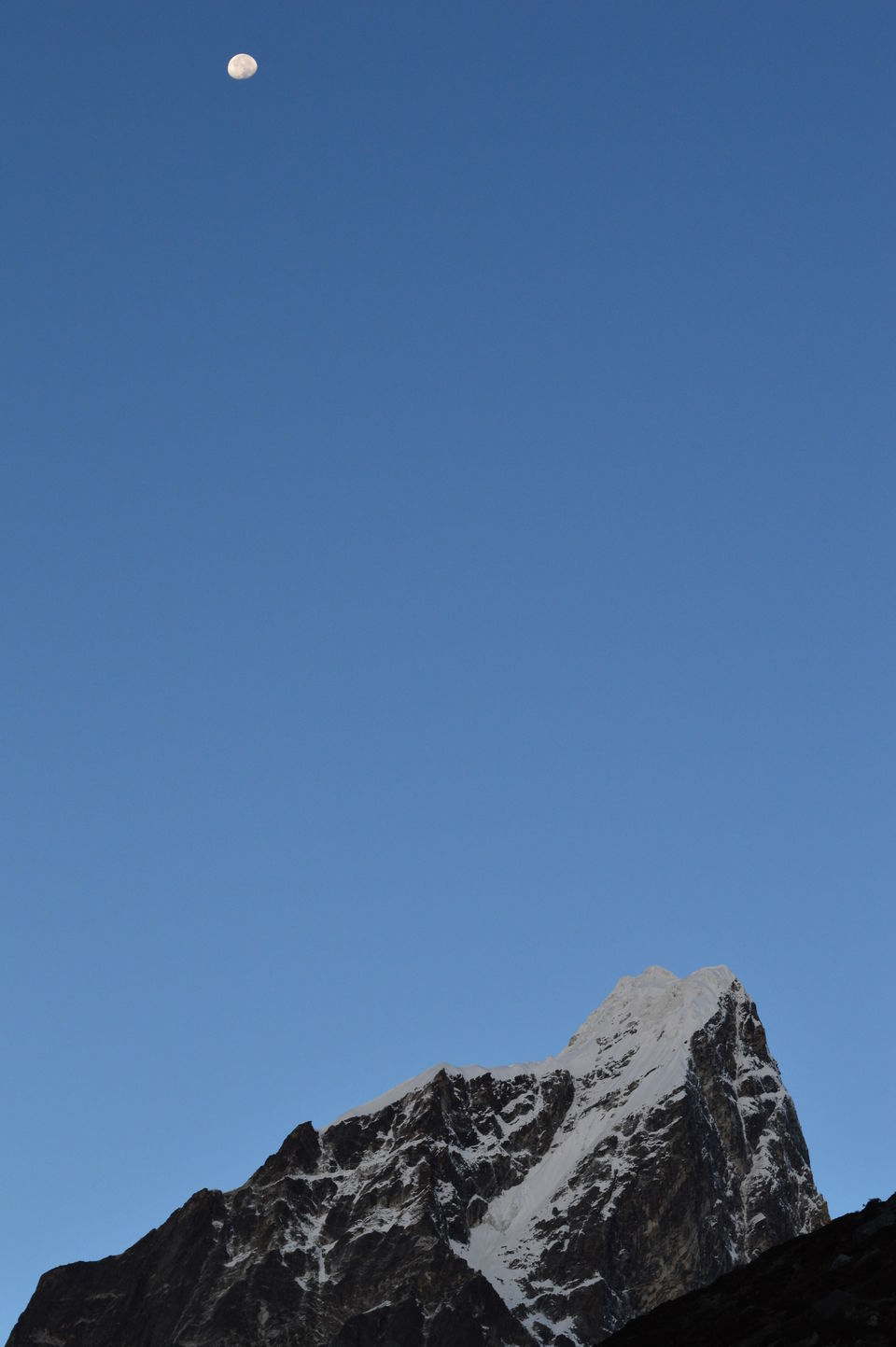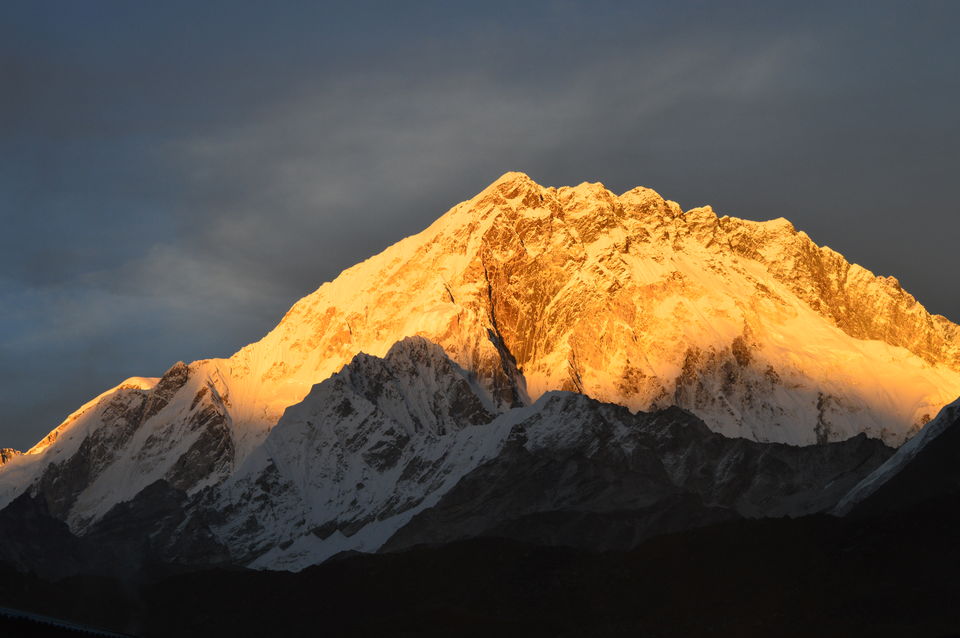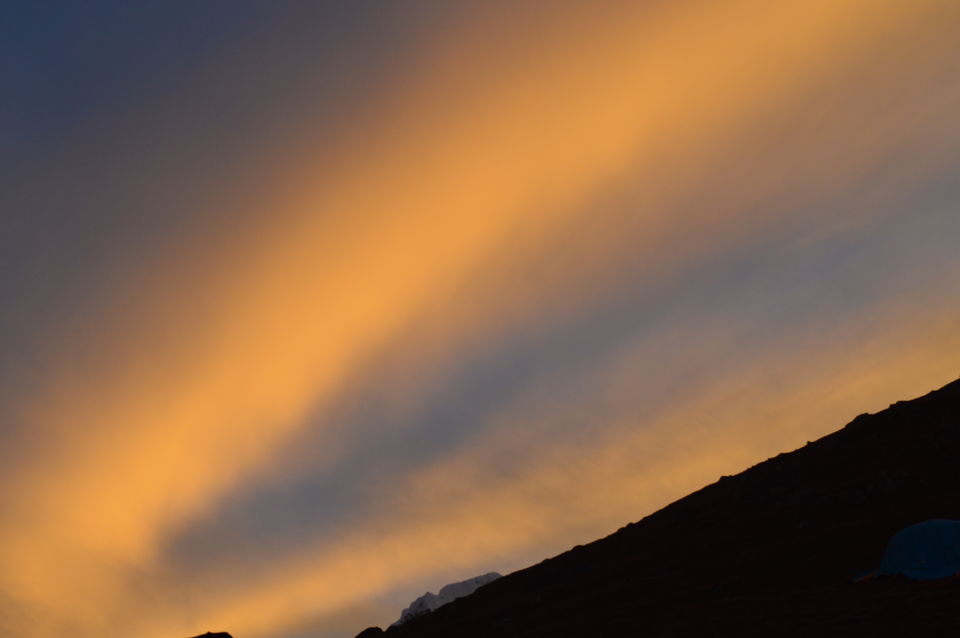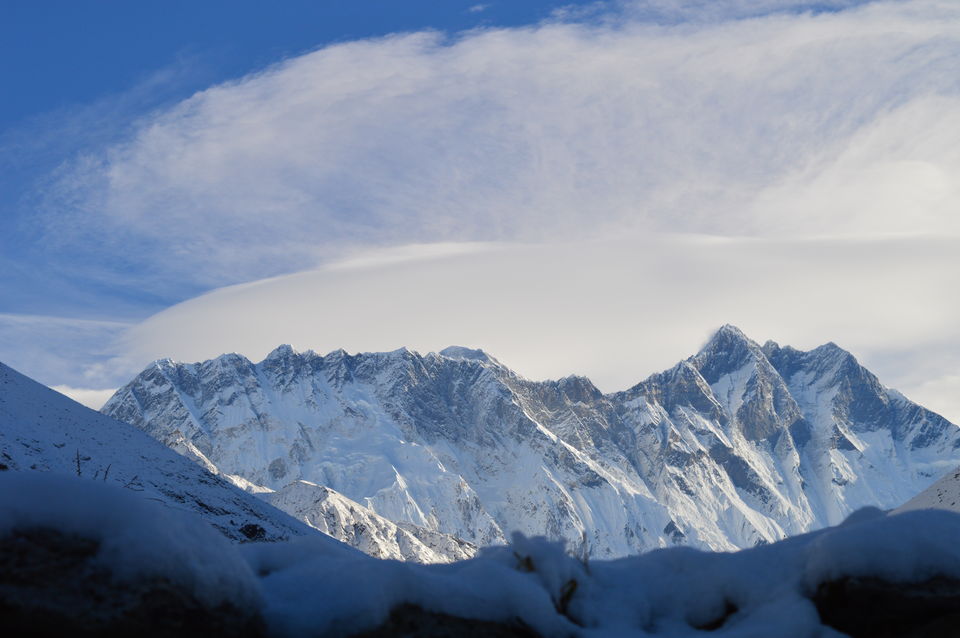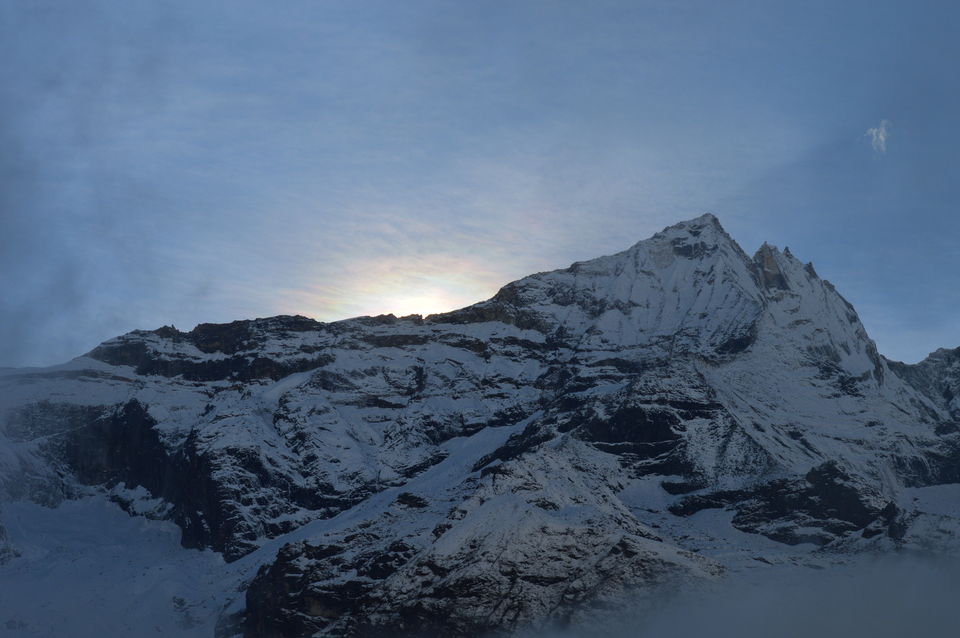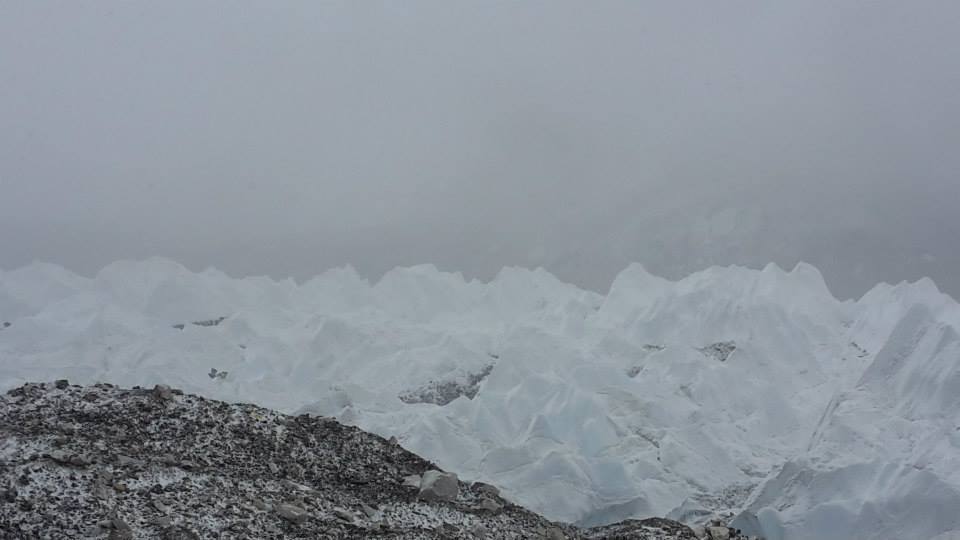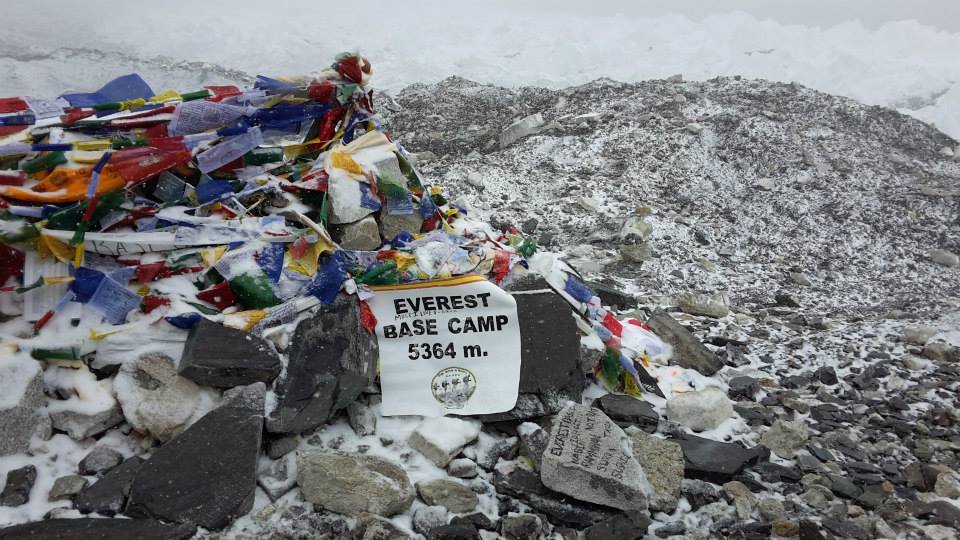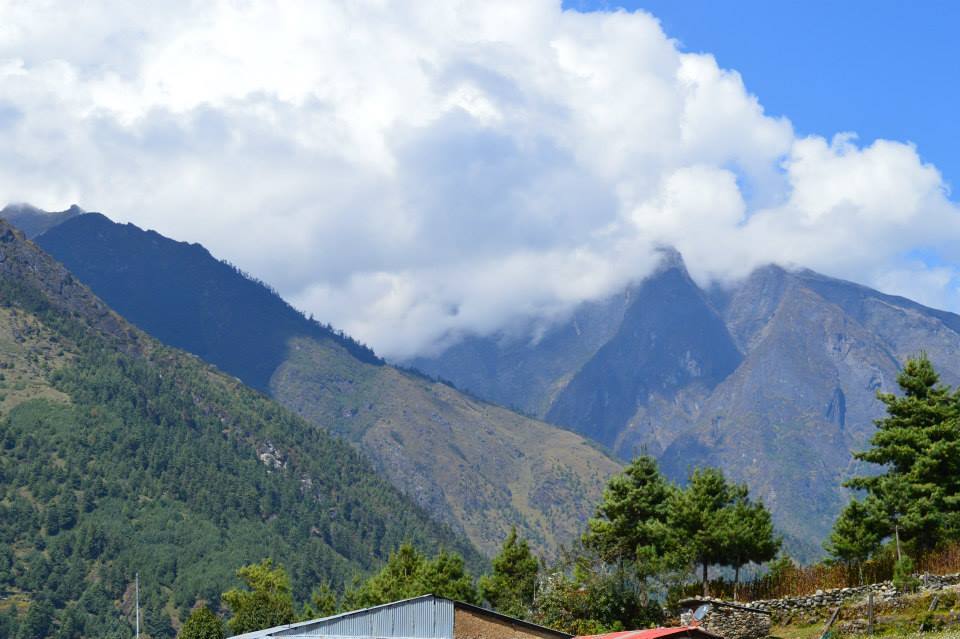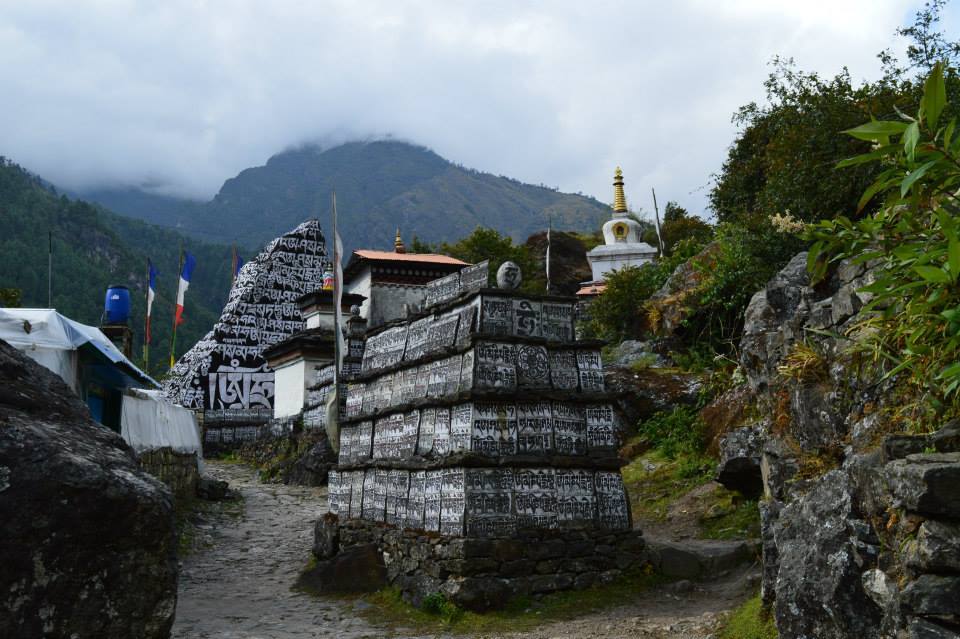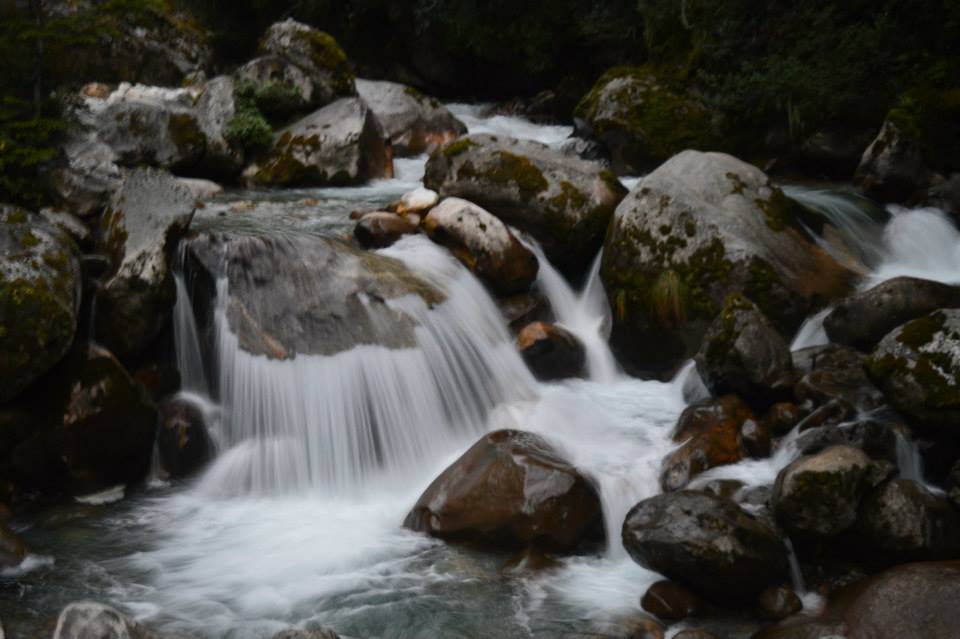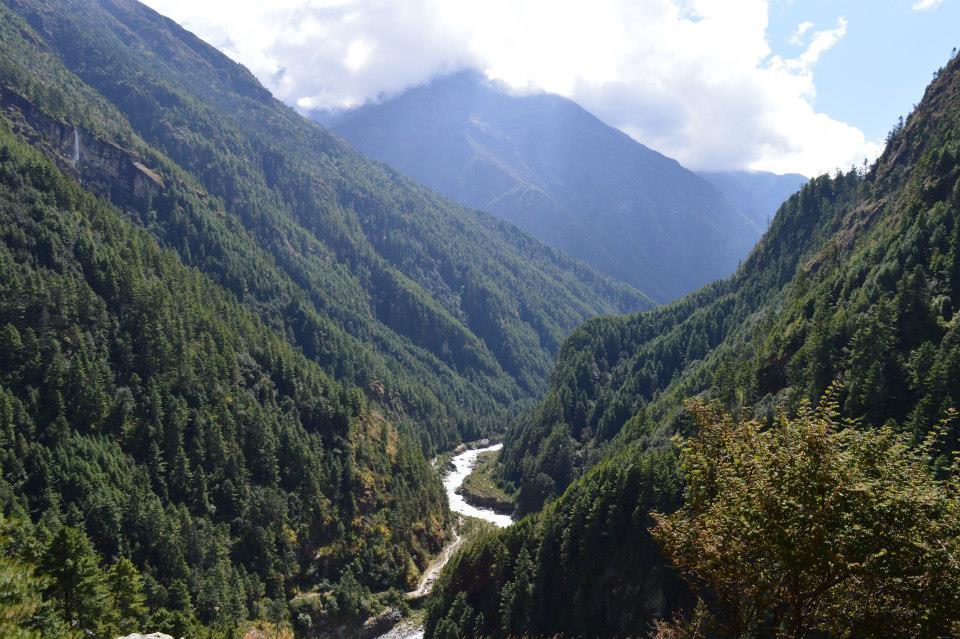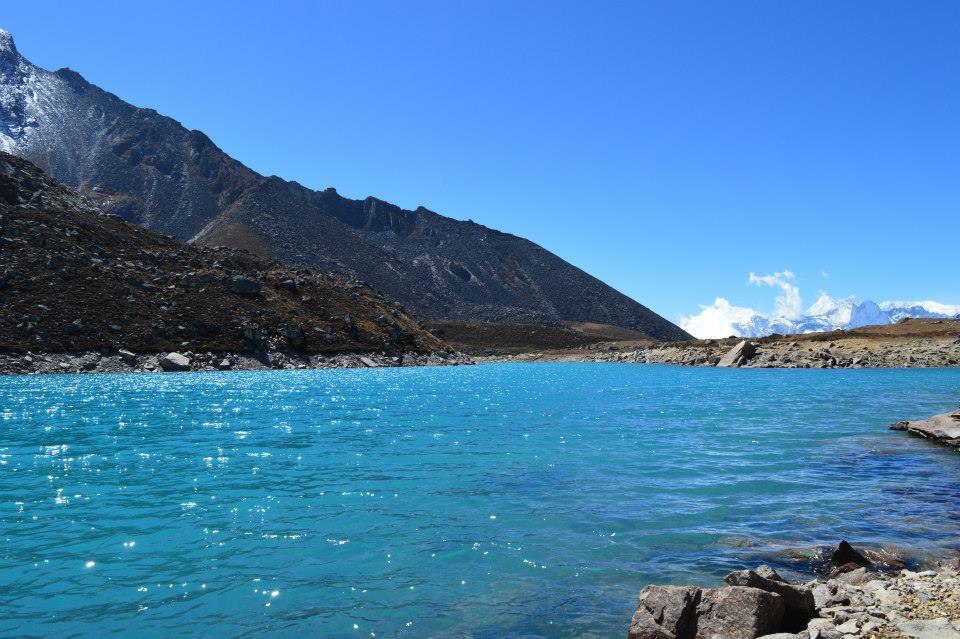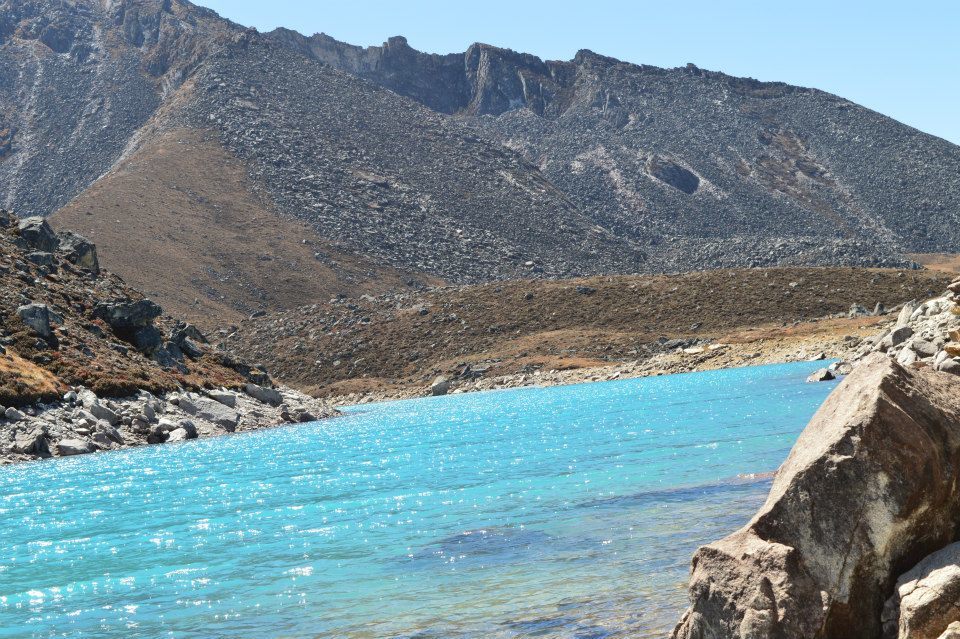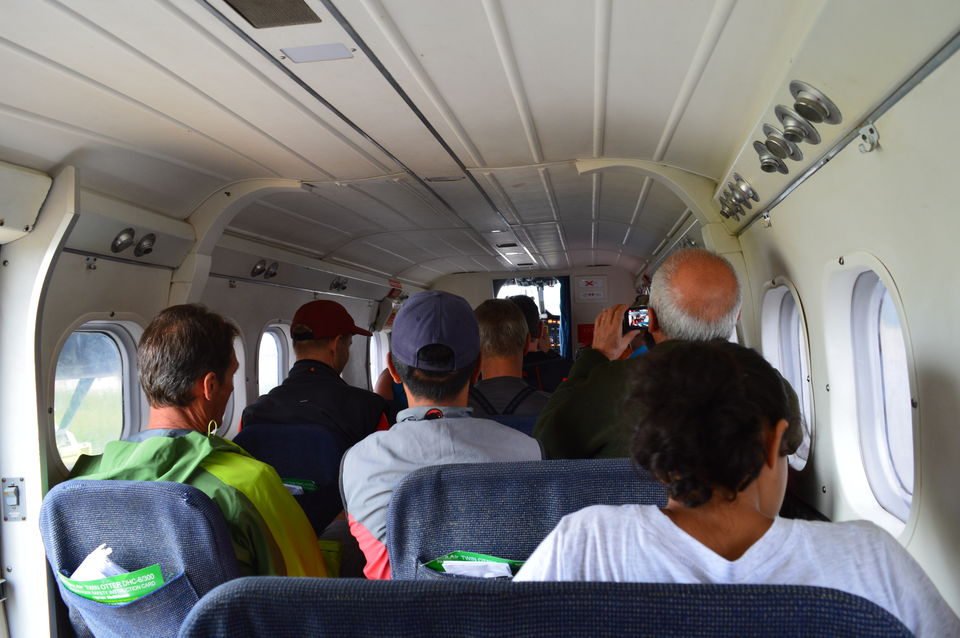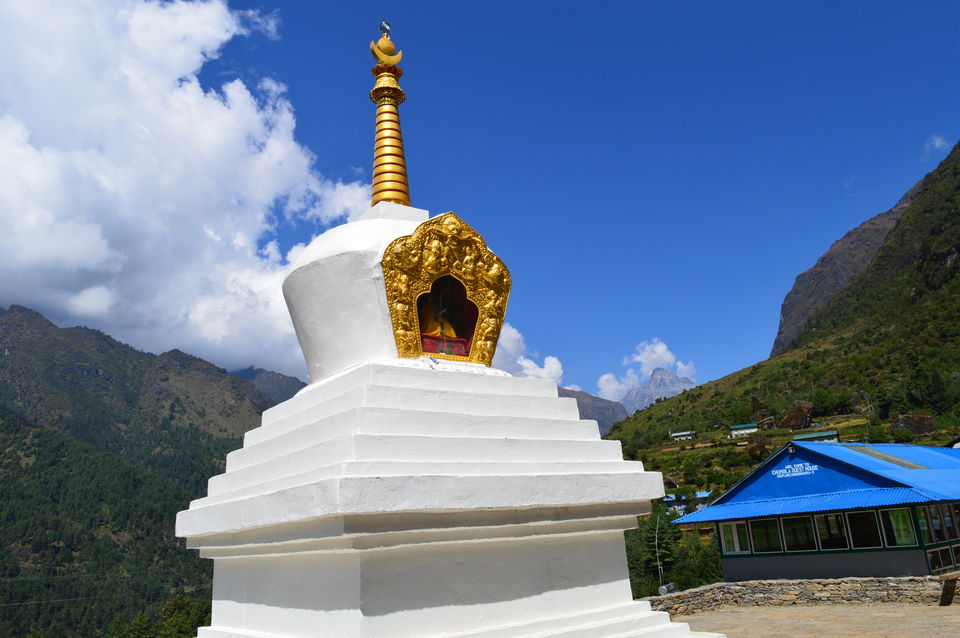 Everest Base Camp
Early 2014 I had decided to do Leh Ladakh in the later half of 2014, however one day I get this mail about Everest Base Camp (EBC) and 2 months later I was on my way to Nepal.
The flight from Delhi to Kathmandu was delayed by 2hrs (I know not the best start to a trip where your nerves are already jittery to start with)
On Delhi Airport I met the other trekker of the group a 14yr old girl (believe it)!
We reached Kathmandu on the noon of 5th Oct'14 directly went to the tourism office got the trekking permit for EBC, rest of the day we spent in Kathmandu market shopping for trekking gears.
Next day we left for Lukla in a 14 seater non pressurized aircraft and what a flight it was. The Cockpit was just an arm's reach and you can have a conversation with the pilots if you are feeling adventurous and want to take a chance of distracting them while they maneuver that toy of a plane through the huge mountains.
In the plane I got a glimpse of the scenery and the beauty I was going to be a part of, snowcapped mountains, lush green valleys dotted with small colorful house with milk like river flowing through.
In 33 minutes we reached Lukla airport, surrounded on all sides by mountains, clear blue sky with tufts of while clouds, an airport not bigger than a football field, actually smaller and an airstrip not more than 100mts which abruptly ends into a steep valley (scary)
We meet our guide Narayan Lama and so began our trek.
Lukla is at a height of 2800mts we reach lukla around 8:30AM, transfer our stuff into one knapsack, have breakfast and by 10AM we are ready to move.
We decide to call it a day when we reach Phakding which is at a height of 2600mts so the first day trek is mostly downhill. Clear weather, blue sky, mountains on all sides and we pass through a small stretch of forest, and while I was enjoying the till now comfortable trek I come across my first wire bridge hung over a deep gorge AND!!! I was scared, the bridge went sideways with the wind and up and down when you walk on it, essentially moving in all directions possible. It took me atleast 15-20 baby steps, holding the bridge railing to overcome my fear and then I was behaving like I have been walking this bridge since childhood :-D
These wire bridges are the only way of connecting one side of the mountain to another, they are life line of this place. The transportation of goods would have been a nightmare without them.
We came across Buddhist houses and monasteries. Our guide told us that all the houses we see which have multi-color flags (Red, Yellow, Green, White, Blue) outside of them are Buddhist households. The flags looked beautiful fluttering in the cool breeze under the sunny blue sky.
There were lot of stones and boulders carved with Buddhist Mantra (Hum Mani Padme Hum) in Tibetan.
These stones/stupas/sculptures are usually put in the middle of the path and people passing by have to make sure that the structure is always on their right hand side.
After a walk of 2+hrs we reach our lunch place on the outside of Phakding and I had taste of Nepali Dal Bhat with Garlic soup and a hint of Timbur added in it (local herb: said to prevent Altitude Sickness), and the meal was tasty.
We decided not to call it a day in Phakding but to continue walking don't know if it was initial excitement of the first day or what but we continued to trek and again downhill for next 2-3 hrs towards a village known as Monju.
We passed through some amazing waterfalls and my first thought was these are the falls to try waterfall rappelling J (being too adventurous, I know), the waters were as clear as glass.
We trekked along Doodh Koshi, as the name suggests (Doodh=Milk) the water from distance looked like Milk, this river is formed by two different rivers coming together, Bhot Koshi from Tibet and Everest Glaciers waters from Nepal. I was in awe of the force and sound of the water hitting against the rocks.
We reached Monju around 5PM, it was getting dark and cold. The place where we stayed for the night got extremely cold and I was shivering even with my jacket, gloves and monkey cap on.
The night was so silent and quite not even a sound of a cricket, I could hear my heartbeat and after sometime the heartbeat became so loud that my ear drums were throbbing due to that, I clearly understood that night the meaning of the phrase 'deafening silence', initially the silence was irritating even scary but once I got used to it, I felt one with the world, with the nature around, as cold as the night and as warm as the blanket. You feel small, alone, insignificant but still a significant part of something unimaginably big.
Anyways J
Next morning was just an amazing sight for the eyes, we got up at 6:00AM and by 6:15AM started seeing the first rays of the Sun hitting the mountains, the streaks of Sun illuminating the blue sky from behind the snow clad peaks.
If you are a few minutes late you have to wait for yet another 24hrs for this marvel.
We had our breakfast by 7:30 and were ready to start our day which was supposed to be a hard trek, so made sure that we had a filling breakfast. Today our objective was to reach Namche Bazar which is at the height of 3400mts so in all we were supposed to do a trek for 6-8hrs to cover a distance of 800mts (child's play, right). The trek took us from plains which were strewn with rocks and stones with a strong surge of Doodh Koshi flowing in the opposite direction of our trek. The plains (kind of) ends with steps leading to a wire bridge which is around a few hundred feet up in the air, but I'm a pro now J, the upward incline kept on going for 3-4hrs and trust me after you have crossed 3000mts altitude a 30mins climb feels like a 8-10kms run. Our guide was very clear on the speed aspect, he kept on saying "jo insaan dheere jaata hai voh kahin par bhi pahuch saakta par jo tezi se jaata hai voh bahut jaldi girta hai aur sirf neeche hi jaata hai". Go slow but steady and moment you need to rest, go ahead and take a breather for a minute of two.
The climb/trek to Namache Bazar was quite tiring, but the scenery never lets you feel tired, every minute of the trek was something never seen or experienced before. You could see altitude catching up with trekkers, breathlessness, difficulty in walking, but that's kind of normal after 3000mts. Make sure you have enough supply of energy bars you will need it now.
We reached Namche around lunch time we are supposed to stay here for 2 days for acclimatization at 3400mts.
The trek to Namche was hard and tiring but Namche is beautiful, colorful, lively. There are lot of shops selling things right from trekking clothes to local artists handiwork, Cybercafe, pharmacy shops, bakery. When is Namche make sure to visit Namche Gumba (Monastery), they charge Rs.100 but the small museum and the information contained there about the people, culture and the history is quite interesting and helps you understand a lot of things which you have seen or will see during the trek. (Do not try to click the Monks, they don't like it)
When staying in Namche for acclimatization, on the 2nd day we went for a little hike of around 500mts to Syangboche airport although besides choppers nothing else lands there anymore but the birds eye view of Namache there is worth the hard work, if you think Namche is colorful when you are in it, you will be convinced that its even more colorful when you see it from up top.
However before going to Syangboche, we also visited the Conservation Memorial Park and guess what I got the first ever view of the Majestic Mountain and trust me I couldn't stop looking at it and then couldn't stop clicking. I had my 55-300mm lens and I was almost caressing each and every jagged edge of Everest with my eyes. I don't recall how many pics I clicked. It is a beauty, an enigma. I was almost ready to run and climb up the peak, just that I was still 5 days away from the base and about 5000mts below the peak. Besides the magnificent Everest there were equally beautiful and astounding peaks Lhotse, Lhotse Shar, Peak 38, Ama Dablam, Nuptse.
All the peaks were amazing but every time your eyes will land on the peak of Mt. Everest. I'm not sure whether it was spectacular or was it just so in my head.
Moving ahead we went to a small museum/information center which had info about the culture, flora and Fauna of the region.
From Syangboche airport we went a bit downhill to Khumjung Village also known as Green Valley because all the houses are colored green. One thing about this village 'Do not click photos of the people here as it might not be good for you or for your camera. People here don't like to be clicked and show their displeasure by throwing stones or asking you to hand over the SD card.
When in this village make sure to visit the Khumjung Gumba which has Yeti's scalp on display (ticket of Rs.100). Have a look at the Khumjung School or Edmund Hillary High school, this school is run by the donation given by Edmund Hillary's family, in this school the teachers and the students both get salary and every year 1-2 bright students are sent abroad for better education.
We went back to Namche to call it a day almost 300-400mts downhill trust me if you feel uphill is hard then trust me downhill is painful.
Next day as other days, we started early towards Tengboche (3900mts), on our way to Tengboche we met this old man Pasang Lama Sherpa (Khumbu Sarkar), this gentleman has been collecting donations from the trekkers for past 30yrs and has been making the trekking routes walkable.
The scenery today was breathtaking, white river beds, with cream water, streams criss-crossing the vast river bed. We reach Tengboche around 3:30PM after a trek of 5-6 hrs.
One thing about the mountains is that by 2PM the clouds start descending and start to cover the mountains and then by 4PM its almost as dark as late night. In Tengboche you have to visit the monastery, it's the biggest of the region, not very different from the others but big, beautiful, colorful and again don't try to click the Monks, you can take photos of everything else though.
Tengboche doesn't have anything else to offer., charge up your cell phones, camera although the cost is like Rs.300/hr but still do it as you go up the charges just keep on increasing.
Next morning as soon as you get up make sure its early, go and get yet another view of Everest, get a good look because now you will see Everest after 3 days of trek only and nowhere in between.
Today we start our trek to Dingboche, the trek first goes downhill through a small village and forest, keep your eyes and ears open for some nice local brids (is you are interested).
The trek today is going to take you through some jungle and even further downhill towards the river side and if you leave Tengboche by 8AM you should be in time for lunch in a small village by river side Phuttefunga. Rest your legs and have a good meal because for the next 3-4 hrs it's just an upward climb, but don't forget the scenery, waterfalls, riverbed, the valley and the snow capped mountains in the distance and as all other days its gonna be spectacular and will keep your engaged so that you don't really feel the climb.
Make sure to enjoy the shade offered by the trees while you are climbing because in the next few hours the landscape is about to change.
After a 3 hrs climb and a 45mins of walking before you reach Dingboche(4400mts) and as I mentioned the landscape has changed, small shrubs, thorny but colourful, mountains mostly barren but someplace heavily dotted by small green shrubs. Dingboche is the place where we are supposed to stay for 2 days for acclimatization, sleep early around 7PM.
Next day is a hiking day, there are two hiking spots. One on the left side takes you up to the top of a peak (5000mts) to a small Shiv temple, on the right hand side is a trek which takes you to 4900mts to Ama Dablam base camp.
We chose to go to Ama Dablam Base Camp, the climb takes around 1hr 45mins and you can see and smell the green shrubs dotting the mountain it is known as sonpatta and its smell is very nice, however due to the number of shrubs being very many the smell becomes too much for some trekkers, some even faint or vomit due to the strong smell, so before starting the hike make sure you smell the shrub and if you feel irritated with the smell inform your guide so he can take you from a different route.
After a 2hrs steep climb when you reach the top you will not believe your eyes, you will see a lake which is formed from the glacier water, picture perfect blue, clear water surrounded by Ama Dablam glacier on one side and plain barren land on other. The lake is so beautiful that you might have to pinch yourself couple to times, you will get the temptation of taking of your clothes and taking a swim but the water is freezing cold (Duh!!) combined with cold breeze at that altitude.
We spent 30mins there and then climbed down in next 40mins in time for lunch, rest of the day you actually have nothing to do. So play cards with the guides and the porters roam around a bit and then off to bed .
Next day we trek to Loboche (4900mts), the trek is fairly easy and/or moderate, the only reason why some people find it a bit difficult is that the landscape changes yet again and the small thorny shrubs which were visible in Dingboche that are replaced with small rubbery or moss like growth (less vegetation/plants means less oxygen, make sure you are checking your oxygen level (anything above 65-70 at this altitude is good), the trek takes you to Thukla after walking for 3hrs.
Have lunch there rest and then there is a climb of 30mins, which takes you to a memorial, this is constructed to pay respect to the trekkers and sherpas who have lost their lives during the Everest expeditions. Stop there for sometime read the memorials. The trail now is much more rocky and absolutely no vegetation, another one hour and you reach Loboche, we reached there by 2PM. Have a quick bite and go for a small hike of 50mts up a small hill, on the other side of the hill is the Everest Glacier, the start and the end of the glacier is nowhere in sight but the depth of the glacier must be around 40ft, it makes you wonder if the Everest Glacier is this huge what will Everest be like.
Make sure you have your windcheaters on as the winds here can be very strong and chilly.
We were back by 4:50-5PM, but don't retire into your room yet, as the sunset is about to happen and its nothing like you have ever seen, the mountains turn golden, the sky changes color from yellow to red to orange to magenta, with clear blue sky in the background. It's natures light show put up just for you at the height of 16,000 ft. we took as many photos as we could, I was actually running around the whole of loboche (not that it's a big place, just 3-4 hotels J)
Next day we left for Gorakhshep, however last night at 2AM we get a weather update that weather in Gorakhshep and EBC is not going to be good (the reason we realized later was the HudHud hurricane in East of India). We anyhow started out trek quite early 6:30AM we were out. It was quite cloudy and chilly, our guide told us a very disappointing news that if it continues like this we will not be able to have a glimpse of Everest.
On this very disappointing note L we started our trek as I had said about the landscape, this time it was just stones, rocks, boulders and just more of the same for as far as you can see. The trek again is not difficult just keep a tab on oxygen levels, and remember the golden rule "GO SLOW". On the way to Gorakhshep you will be trekking along the Everest glacier and you get to see the enormity of this thing.
After a trek of almost 3-4hrs we reach the destination, eat something quick and keep your bags and head out for EBC (make sure to carry some energy bars). Since the weather forecast was not favorable so our guide told us to be prepared for temperatures around -12 to -15 along with chilly winds in the base camp.
When we started for base camp the weather gods were not so pleased with us, the clouds were still blocking our view, snow flurries started landing on us (no biggie) but within 30mins or so the flurries transformed into heavy snowfall and of course strong chilly winds. Whatever little hope we had of getting a glimpse of Everest disappeared, vanished then and there. We kept going towards the base camp and the landscape changed from rocky grey to ice white. The trek isn't tough but the temperature which had fallen to -25 with the chilly winds and fresh snow on those rocks made it dangerous and pain stackingly slow. Due to the fresh snow it was becoming slippery and dangerous.
Ok what is base camp, its icy cold water with a thick layer of frozen ice topped with huge boulders and rocks and you walk on top of these, in some places you have icy water on either side and one wrong step and off you go to you icy grave and no way to rescue you and to add to it the trekkers use the same trail for coming and going, so you have trekkers coming from the other side.
After trekking for 2hrs now we are just 5mins away from the base camp and the top right hand side of my skull is numb!!!
Finally we reach base camp VOOO HOOOOO!!! And what do you see there, is a small banner which reads Everest Base Camp 5364mts, tied to rocks…that's it!! Beyond base camp is solid jagged ice and beyond that is the majestic Everest which as luck would have it we were unable to see (that time I thought that this is the sign that Everest wants me to come back again)
To celebrate our success we had snickers at the base camp as we had decided, there were others celebrating it by opening beer cans. We stayed there for 20mins and then started back. Because of the snow the trail was lost, the rocks were slippery and by now the right side of the head was completely numb and I was literally running, my only motivation was to reach a warm place before my head freezes. But it was a good 2hrs of walk to reach our lodge, so besides my right side of skull, my chin, lips and nose were also numb J. But what an experience it was. I realized the limits of human endurance, the thrill of achieving something under the harshest of conditions.
Rest of the day was spent in proclaiming our conquest of EBC to our friends and family. It was beyond freezing outside so we just stayed put near the heater talking with other trekkers and guide about the plan for the next day, as per our schedule next day we were supposed to go to Kala Pathar (5500mts) because you get the best possible view of Everest from there, however due to bad weather and snowfall Kala Patthar becomes very slippery and dangerous to tread. All of us decided that its fool hardy to go there and from next day onwards we started our downward trek towards Lukla and what a descent it was, as expected it was snowing heavily even more than yesterday, based on our guides estimates it would be snowing till Thukla, so we were prepared for a very slow, tedious, slippery descent and so it was, but the rocky barren landscape as it was during the ascent was a sheet of white, with no trails in sight and it was fun making your own way in the snow. We slipped a few times, came close to banging our heads against the rocks.
In a day we crossed Gorakhshep, Louboche, Thukla, Fherruche and reached Pangboche. To cover this much uphill we had taken 4days.
So, our estimate of snow ending at Thukla was wrong, it was all the way till Pangboche. We had covered 1100mts in a day and we were freezing, stiff, wet, tired, shivering but excitedJ. Next day our target was to reach Namche Bazar and we did reach it, but trust me Namche is hard to reach when going uphill and hard to reach when going downhill. The moment I reached Namche I was like I need a shower and a shave, it had been 11days since I had taken a shower and what a feeling it was to have a warm water bath though it costs you to take a warm water bath but trust me its worth it.
And here is where we heard the tragic news of trekkers dying in Annapurna Base Camp due to ice breaking atleast 40-45 trekkers were killed and a lot of them were still missing. RIP!
From Namche, next day we reached Lukla another 6-7hrs of descent, reaching lukla was a mixed feeling, I was not sure if I should be happy to have accomplished what I had set forth for or should I be sad that such an amazing experience had come to an end and that I have to return to the usual mundane life.
But I was sure of one thing, I'll be back!