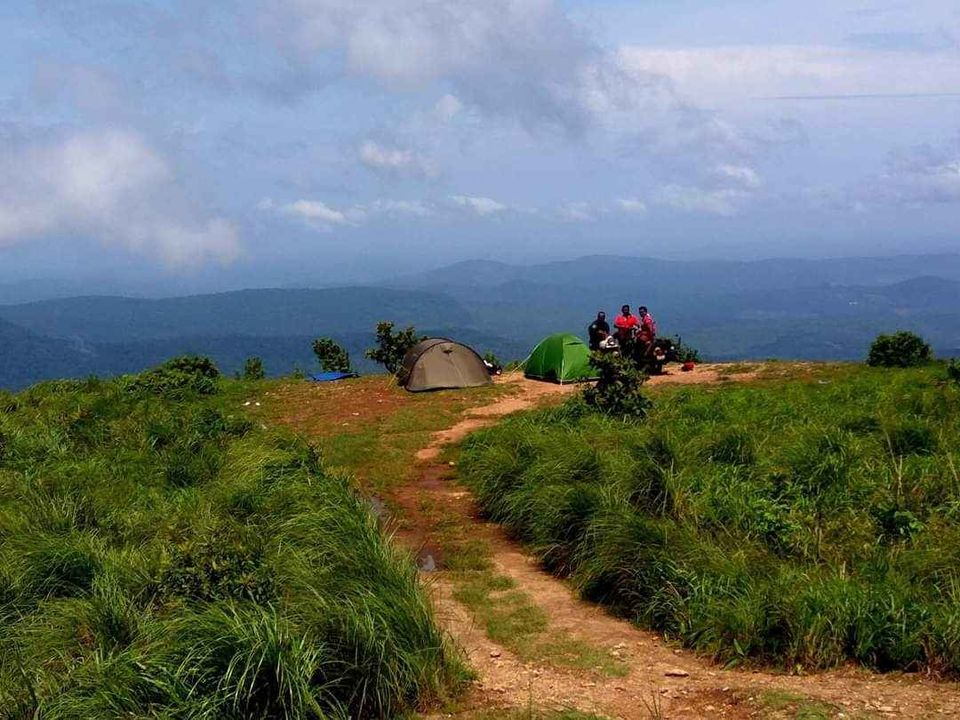 Along its soothing breeze, mighty Western Ghat that often comes first to embrace the heart of any road tripper heading up and down east of Kochi. It has been like a custom for us to chase these thin inner roads engraved in green mountains for the frequent weekend motorcycle rides. Short rides are mostly Saturday afternoon rush to less praised ordinary serene mountain corners , valleys and jungle side that seriously do not demand mass step ins. Staying in tented camps during road trip often offers new learning experience of living minimal and attaining higher level of adaptability. After all, majority campers are led by the less spoken places and extracting the right earth experience out of infrastructural comfort.
What exceptional experience awaits one in a thin framed nylon tent and overnight hours around somewhere beneath the unrolled ocean of stars?
While outer world sleeps on strives in compressed routine, long hours of good times form in fun talks and conversations around those little home built for a day. At least one among or everyone in your team unusually find time for speaking of stars, clouds, sky and enormous unknown glittering colors beyond the faded mountain lines. One could have the simplest recapture of their country side living sequences of past in many ways. Mildest smell of wet soil, itching bug rubs, insect bite, running behind the illuminating fire flies, aromatic lemon grass wind, drum beating thunders and finding dewed grass paths to the rising sun in the morning.
Recent years of my native road trips, had some of the best motor cycling stretches to list out, secret hill dwells, and amazing on -earth hours in and around the self pitched tents. Wrapped in a 24 hours weekend pack, these tiny road accomplishments are made out of 100 to 200 km distance from Cochin. The afternoon ride carries Tents, Sleeping bags, LED lights and other camping gears all the way from home. Food, refreshment and drinking water could be arranged from the available base town comes enroute. Isolated hills have tougher off-roads to reach out; weekend's extra efforts with Royal Enfield machines have never been gone easy in catching the right location to raise the camp, climbing bumpy broken paths, unstable weather, threat of wild animals, and gaining native support.
Off beaten roads nothing guarantees a traveler rather it fills his or her raw terrain desires in such a harsh way. So the story of a mountain wake up is never gonna get balanced by comfort thoughts like having homely hygenity, sufficient can of drinking water, warm linen, secured surroundings, equipped washrooms, being supported or connecting five block signal strengths. I had my first self managed outdoor camping during motor biking ride was in early 2016, when Kochi's sport stores had started promoting qualitative tenting gears and accessories for the amateur trekkers and wanderers. Also remember the initial risk reminders from many side and discouraging advice by the native guy who helped us in pitching the tent at the hill top for the first time, but offered food and bathing facilities in next day morning at his home. Although permanent campsites and kind of stake holders started facilitating special interested travelers adjacent to the conventional destinations, there is no well accepted armature camping culture across the state.
Do we need to go for more promotional propaganda for these exotic places there by?
Answer is firmly not!
These places really deserve special interested and small adventure groups exactly not expecting conventional holidaying. Riding up to the base hill is an easy task but taking gears carried in bike tail rack to the halting peak thoroughly relies an optimistic short climbing in such evenings. These places are not commercially mapped in detail or never exposed to the appraisal of comfort tour makers to reach safe , get settled and rejuvenate .
Before you plan:
Make sure the permit of entry from the concerned Forest office to meet the formalities for trekking and camping with due respect to the nature and also these unspoiled hills can't afford phenomenal mass tourism. Certain places in the list have partially restricted tourism activities recently.
1 - THONDAMANKOTA
Literally means the fort of King Thondaman based in Putukotai, Tamil Nadu for a long period from 17th century. Massive fort like high lifted rock caped peak is the final destination in your trek through the mud ways frilled with silky grass, shrubs and spice plantations. Long shady lines of grand old trunks marked the hiking path to the rock head raised to the lower plains of Tamil Nadu cultivation villages.
Locally evolved story says, this small strategic rock hill once used by the King to hide himself along huge royal treasures during the attacks from neighbors .King found rock edges and cliff holes as his giant locker, sealed by another piece of rock hooked with a hidden metal chain extended long way to an unknown water body nearby. This exotic trekking highland is much closer to the plantation town called Poopara stays between Munnar- Thekkady highway offers foggy,countryside walk and hike through the coffee and cocoa plantations.
Direction: Kerala--Kochi--Adimali(103 kms)--Rajakkad -Pooppara(41 kms)---Santhanpara(4 kms)---Thondamankota(6.5 kms) total 151 kms
Riding hours: 5 hrs: off Road: 2.5kms
2 - PAPATHICHOLA
Mountain hikers and highland trekkers set their arrivals and gather at beautiful Sooryanelli, most convenient base camp to the upward explorations in the Kolukkumalai region of Munnar Hills, Kerala. Papathichola is one among the most scenic side of this high altitude hill; offers deep 360 degree view and extremely cold weather at night.
Mild cold wind has no rest on whistling over worlds highest organic tea gardens and aromatic eucalyptus canopies. It had a giant Metal Cross facing eternally in to the green water body of charming Anayirngal Reservoir before; that flamed itself to a hot topic before the main stream medias up on its destruction by charging encroachment . A few months before the fall of huge Metal cross, we did this most scenic plantation ride to Papathichola (hill of butterflies) and had the best of its experience. One can even trek all the long way from Suryanelli to the top of the hill in 5-6 hours and can experience the most undisturbed tea gardens.
Route: Kerala---Kochi---Munnr(130kms)---Chinnakanal(20 kms)---Suryanelli(10 kms)---Papathichola(4kms)
Riding hours: 6 hours: off Road : 3-5 kilometers.
3 - PALKULAMEDU
Less explored young hill station is an extra ordinary monsoon trek route for the off beaten travelers. It's purely a wild lemongrass world with zero infrastructural pollution so far. A Ride or trek in broken four wheel mud path around 4 kms from the lonely basement junction Churuli would reveal the secret beauty of Palkulamedu. The name literally means the hill of milky lake, as it has a small water body and origin of several small streams.
During monsoon the so called road transforms to a water channel, thrilling off road ride in flowing water is the pinnacle experience. First stretch of motor-able path ends at the rock dotted table land beckoned by a huge electricity tower . Cloud kissing steep mountain stretch in the left edge is your track for climb and trek further and follow the stream to the pond.
Route: Kerala---Kochi---Muvattupuzha(42 kms)---Vannapuram(24 kmsx)---Kanjikuzhi(24 kms)---Palkulamedu(3.5 kms)
Riding Hours: 4 hours; Off Road : 3 kms.
4 - CHATHURANGAPARA
Monstrous hills suddenly chopped out and erased to a blurred mud painted plain land beneath the eastern edges. Follow one of the patched grassy hill top to throw your eyes beyond Tamil boarder villages deep down below the mountain blocks.
This border part of Kerala and Tamil Nadu having less local settlements but part of the valley is planted with giant wind turbines. It makes the place get often alive by constant knock of wind blew from Arabian Sea. Several random paths to the doom spread of grass hills gift moderate trek to grab the beauty of two extremely different terrains.
For Off road lovers, you have a 5 kilometer moderate stretch of zigzag broken ride at the last leg that is typically a rough jungle trail.
Route 1: Kochi---kothamnaglam(55 kms)---Adimali(47 kms)---Udumbumchola*42)---Chathurngapara(6 kms)
Route 2: Kochi---Muvattupuzha(42 kms)---Vannapuram(25 kms)---Panikankudi(44kms)---Udumbumchola(20 kms)---Chathurangapara(6 kms)
Riding Time: 05 hrs
5 - ULUPPUNI
Uluppuni secretly stays behind the charming hill station & Paragliding valley Vagamon in Kottayam district; frequently posing its curves in many Indian movies and song sequences for decades. These are wide spread procession of dom shaped pasture lands and meadows sleep most of the time in fog and crystal dews.
It had several natural tracks loved by favorite extreme off road adventurers and 4 wheel rally makers for long time. Recent conservation initiatives by the authority keeps the hill tops away from motor vehicle adventures. The sustainable conservation effort has positive result; it had better grass growth and cleanliness these days. Still it's a perfect spot for day trekkers and nature walkers.
Kochi---Muvattupuzha(42 kms)---Thodupuzha(22 kms)---Muttam(9 kms)---Moolamattam(15 kms)---Uluppuni(10 kms)
Riding time: 5 hours Off Road: 5 kilometers hardly.
6 - KARIYATHUMPARA
Go Karyatumpara River village of Calicut district; that has no better matching around. The beautiful river bed, grassland, refreshing streams, natural ponds, green shore road, and natural rock cut natural bath tubs really a back to village walk,.
Simplest reveal of typical Malabar Village that doesn't have extra make ups or much formal deal to the visitors. Kariyathumpara shines from post monsoon Period every year, by the withdrawal of heavy rain in June- July- Aug, grass lands and polished rocks come out of water to surprise the enthusiasts. It's an easy accessible interior agricultural and plantation village lies between Kakkayam and Peruvanmuzhi Dams. This can be done enroute while riding from Calicut to Wayanad if additional 4 hours to spare.
Kochi--Kozhikode(200 kms)---Adivaram(45 kms)---Kakkayam(40 kms)---Karyathumapara(15 kms)
Riding hours: 7-8 hours in traffic: No off road still quiet hill roads to ride along.
7 - URUMBIKARA
Urumbikara might be the least explored highland plantation resort in the border of Idukki and Kottayam District of Kerala. It had lot of serious trade engagements with British East India Company & today the village almost looks like abandoned by tough accessibility and downfall of its glorious harvests enjoyed during pre- independence period.
Long stretch of off road starts from Enthayar the tiny base town takes you through the narrow broken hair bend road jeep path, was once flourished with healthy tea plants, dust tea processing factory, colonial officers bungalows, workers settlements etc,. Haunted tea factory, Irumulachi (breast shaped) rocks, dark granite plains and one can grab bonus of three chilling waterfalls during monsoon. Here I had the toughest native off road ride From Enthayar to Irumulachi rocks placed on Urumbi hill.
Kochi---Thalayolaparamb(38 kms)---Poonjar(50 kms)--Enthayar(2o kms)
8 - ILAVEEZHAPOONJIRA
Literally means the valley has no leave shed as the entire valley and ridges has no trees rather huge textures of grasses and shrubs. It can be climbed in 1 hours from the base point accessible from Melukav Jn. Most of the off road riders might have ridden this broken road because of the accessibility from kochi and a few isolated cottages to stay on hill top.
Bikes and four wheelers can reach at the top that has restless wind, constant thick fog and the terrain is free from all kind of constructions other than two or three basic home stays. Repeat visit would not make any boredom feel by its super duper atmosphere. You can do camps and hill trek during the post monsoon period for the exotic experience.
Route: Kochi---Thodupuzha(60 kms)---Muttom(10 kms)---Kanjar(9 kms)---Ilaveezhapoonjira(16 kms)
9 - KATTOOTHIMEDU
Kattoothi is yet another exotic interior spice village of Idukki hide away from tourist map has chilling atmosphere throughout the year and the local terms really means the" hill of blowing wind" exactly offer a wind trek through meadows . Rarely passing jeeps packed with workers of the local plantations.
This beautiful hill has a small water body of wild Lilly flowers on the top, lined by mystically shaped old tree structures shaded for a local deity. It's believed to be that the idol and some sculptures found from the small lake and which has been placed beneath the mini forest found aside the lake. (My second visit in Feb 2019 was witnessed painful transformation a rich ethnical "Kav" to concrete shrine)
Direction: Kerala--Kochi--Adimali(103 kms)---Pooppara (42 kms)---Santhanpara(4 kms)---Thondamankota(6.5 kms)
Riding hours: 5 hrs: off Road: 2.5kms
10 - PANJALIMEDU
It becomes add on to prominent Periyar Tourism Region; To discover Thekkady's crowd free neighboring hills Panjalimed, divert down right from Murinjapuzha comes between Vandiperiyar and Kumily in a tiny shaded metal road. Panchalimedu has many mythical tales along its name and geography. Literally means the hill of Panjali (by Mahabarata) who found this place as their temporary settlement during the exile with Pandavas. A large pond gives birth to a milky stream on the mountain that has a shrine for Bhuvaneswary. Perfect for day out and soft trekking over the wide hill table and has the aerial view of Periyar tiger reserve and Gavi. it may soon become conventional destination where the resort brands have started setting their units in recent years.
Kochi---Mundakayam( 102 kms)_---Vandiperiyar(42 kms)---Murinjapuzha(30 kms)---Panjalimed(2 kms)
Riding hours: 5-6: through road.