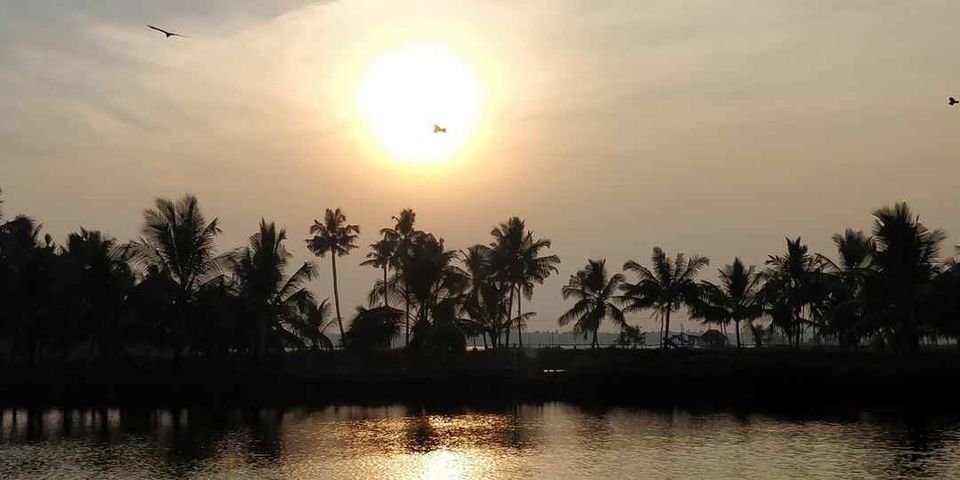 Urbanized Kochi holds a magnificent neibouring world of authentic country life. All four sides surrounded by canals and backwaters form an island amalgam of birds, fish, paddy, toddy, mud ways, coconut palm groves and friendly villagers. Rapidly growing city's concrete blocks couldn't erase it's beautiful basic life style bounded by farming and fishing tradition.
Kadamakkudy is a collection of spectacular tiny islands secretly kept behind the restless chaos of a metro city. Setting a trip to this charismatic isle might reopen the door to experience vanished living style of Cochin region, got lost in booming infrastructure and commercial growth over last few decades. Village explorers, backpackers or any traveler want to set a trip out side the convenient conventional destination, Come down to breezy Kadamakkudy.
Many simple, yet genuine earth experiences in the isle are marked like following thin lined mud paths through extensive wetlands or paddy fields, spotting regional as well as forign birds rarely seen, huge columns of organic fish farms, live Chinese fishing net operation, mangrove forests, networks of canals, local tea shops and hot snacks, Pokkali paddy fields and coconut groves, seafood serving toddy shop, extra ordinary sunset view, visiting villager's home etc.
Two sequences quickly frame my memories for Kadamakkudy .
I sometimes used to go to Cochin city in a water way from my first working place at Manjanakkad Village (12 kms outer city, Vypin island), to collect and accompany tourists on a motorboat. It was a small leisure resort where I got employed in 2005. Although not on every day basis, Those beautiful boat rides in backwater interiors helped us making guest happy even before resort check in.
Personally it got an escape from hectic resort day duty and having new experience on un scene ways on the other hand made boat journeys best of those days. Ninety minutes ride in slowly moving motor boat would never remind there were horn blowing roads outside and gift everyone a sudden fall in the magnificent beauty of backwater suburbs in real peace. Kadamakkudy was one among a few island clusters came across this journey, I still remember its calm groves and echos of bird chirps over the mild waves.
being stayed at Cochin city for long years,
It has become my favorite one quick get away to detach the smokey town to breezy groves of country side Kadamakkudy.
I would like to share the local way to explore this village with in your non fatty wallet.
How to access the islands?
Kadmakkudy is located just around 10 kilometer radius of city roads or Fort Cochin. Although "Kadmakkudy" is used for addressing the entire area, individual islands have its own name, settlements, farming fields and clear identity among locals. It has more than half dozen island villages around and some of them got loosen its typical island character up on the recent road developments. Pizhala, Murikkal, Chennoor, Valiya Kadamakkudy, Cheriya Kadamakkudy, Moolambilly, Chariyamthuruth, etc are the major islands to visit in the cluster.
There are multiple super ways to reach the villages out via boats or motor vehicles.
For the right exploration of every immense essence of this island village is to bring a bicycle or bike along . All other motor vehicles have its own limitation to access the inner corners as this visit cant restrict at its well heard Kadamakkudy part of a big cluster.
Private buses are running from city via Varappuzha town, one of the major suburb town famous for its fish market and the island villagers immediate city for major needs. The town is just along NH 66 (old NH 17) after Cheranelloor signal Junction towards Paravur. Coming by own car or motor cycle, this is the convenient way that could avoid the ferry crossing. maximum of 30 minutes drive from Edappally would give you entry to the village.
Expecting more adventurous and Authentic experience?
I used to get in to the islands via both the way by car, bike and scooter in different occasion gave a realization that this place can't afford the bustle of motor cars or even found the excess number of motor cycle's presence distracting the small livings of this island.
Catch the beautiful container road either from Edappally or High court junction to reach Mollambilly bus stop. Take the free left/U turn by service road along the bridge where you can meet Beena Chechi, she runs a small tea shop beneath the bridge.
Its is the first experience point and beginning of a small road leads to the island. People in small group are daily commuting from the isle to the mainland for their jobs or education through this small road. The narrow road goes another 400 meters ahead with in the lines of native homes, would take you the first ferry point of Mollambilly to the next island Called Pizhala.
Its a highly populated part of the area, road get filled with motor bikes and auto rickshaws along pedestrians followed by the boat arrivals in the jetty on regular intervals. Friendly people might smile at you and some times ask you like where you from and give suggestions. Can reach the Moolambilly ferry point in few minutes walk, get in to the next ferry to Pizhala seems more scenic. These crossing backwater stretches have lot Chinese fishing nets and presence of water birds.
From Pizhala in another 10 minutes walk could open the next boat jetty where a bit smaller ferry floats to Chariyamthuruth Island and Chennor. Get down in Chariyamthuruth as it takes around maximum of ten minutes. One could feel better once reach Chariyamthuruth with its crowd free wetland fields, Fish farms, group of birds in different colors, mangroves etc. The small road connecting Chariyamthuruth and Valiyakadamkkudy offers typically a village ride. The narrow road gets packed with two wheeler s and one or two cars during the boat arrival time; Any way it doesn't hurt, start enjoying everything around in a pleasant mode. Local homes have dotted across the fish farms and many natives are found running behind it all the time.
The connecting road way from Chariyamthurth island to Valiyakadamakkudy is calm and green to make a slow ride. Lot of birds are ruling over each and every corners, trees, bushes and fields. Valiyakadmakkudy is the centre of these villages, has a wider road in the middle of fish and prawns farms. Visitors to the island are mostly find their shade or space in this road side to experience the mind blowing sceneries. Lot of bikers and picnic tourists came here to enjoy the sunset and evening breeze. The fish farms partly end at a small Junction where some shops, temple, church, school etc can be spotted.
If you have a real wanderer soul; Kadamakkudy can be experienced in a bigger way with longer time .
1. Kadmakkudy has many Toddy shops around but the one found alone out side the main road is the family friendly and serve quality sea food. Need to walk through the mud path for 10 minutes to reach here. Or else hiring a small private boat is a good idea to reach right at the door step. Pearlspot, Crab, Silopi, clan, prawns are the highlights in the menu along Toddy. You can watch how the vendor is keeping your bill by writing it on the table by a chalk in a traditional way. What ever one order they just write the price on his table and while asking the bill they would add it and tell the sum.
2. Cycling is the most adaptive mode for this place in many context; since the roads are very thin, motorcycle or cars would not let you go the very inner side of the village corners. Stopping anywhere in the village, find time for spending with locals are incredible here. Other islands like Pizhala or Cheriya Kadamakkudy exactly need your bicycle for the exploration in tiny paths.
3. Ferry crossing experience is the highlight of Kadamakkudy visit for outsiders. These are loaded with cars, motorbikes, tourists and lot of local people exactly an outstanding experience. It operates to the other island like Chenoor, Kothad etc. (Kothad is another point in container road to catch the boat to Pizhala) .
4. Fishing can be done in many ways here. Canals are open for angling while fish farming fields are owned and operated by locals. Once in a year during summer these fields get dried and all grown fishes would be caught for the whole sale market, it's like a festival in Kadamakkudy (happens on April). Once this harvest is completed fields would be opened for the public, when remaining fish can be caught by the locals or visitors. The village has also other fishing techniques like Chinese nets, Cages (koodu Krishi) and Nanju (dumbing stamps and leaves in the water where fish naturally grows and breed, once in six months they roll this deposit with nets and catch them.)
5. Pokkali farming are the iconic and traditional paddy farming technique; as in monsoon time fields are cultivated with kind of rice and after the harvest the same fields got converted to fishing farms. These organic rice are very healthy and rare. Farming and harvesting time is a rural celebration in fact here.
6. Visiting local temples, churches and small shrines are interesting. Most of the natives are following Christianity and Hindu tradition, thus there are lot of churches and temples in charm.
7. Small motor boats are available for moving around but still finding a traditional wooden boat, exploring its narrow canals would be exceptionally a good idea.
8. Without birds, Kadamakkudy can't be imagined. A traveler would find more birds than natives in this village. Even from the Siberian crane to little tern, the wetlands are often crowded with hundreds of beautiful birds.
9. Shooting for movies or post wedding album, Kadamkkudy is a popular choice for many photo/Videographers.
Big bridges are raising over these islands and might erase its current pattern of living for sure once. Finding the basic way like a cycle or scooter trip would definitely gift you better experience rather rushing in big car or van. Check in with small tea shops in front of the homes where homely snacks and food will be offered in love. Talk a lot with friendly native, scratch the miserable stories of island living in older days, great survivals and a lot more.
There are amazing people like Mr. Jose, Who lives alone in an isle called Murikkal and Mr. Joseph has been hosting travelers with their Meen kett (fishfarms) and Pokkali Padam (Pokkali rice feilds).
Those who really miss the grass ways of the village childhood, its the best trace and curing spot.
Common Notes:-
1. Finding a public toilet is bit difficult but some newly opened restaurant or local homes help you. 2. Day time is too hot and Humid, morning or evening is the best time to visit. 3. Do not bring plastic or any use and throw stuff as it has full of water body and fragile echo system. 4. On late night return use the road way through Varapuzha than the ferry mode. 5.Go friendly and natural with the locals. 6. Seek the locals help for finding the routes inside the villages. 7. A few basic home stays are available for travelers with limited facility. comfort travelers can find hotels out side the island on NH or Edappally. 8. Try to visit the neibouring ilands like Cheriya Kadamakkudy, Pizhala, Cheriyamthuruth etc