Author : Nmrtä Patel
WHERE ARE THE LOFOTEN ISLANDS LOCATED ?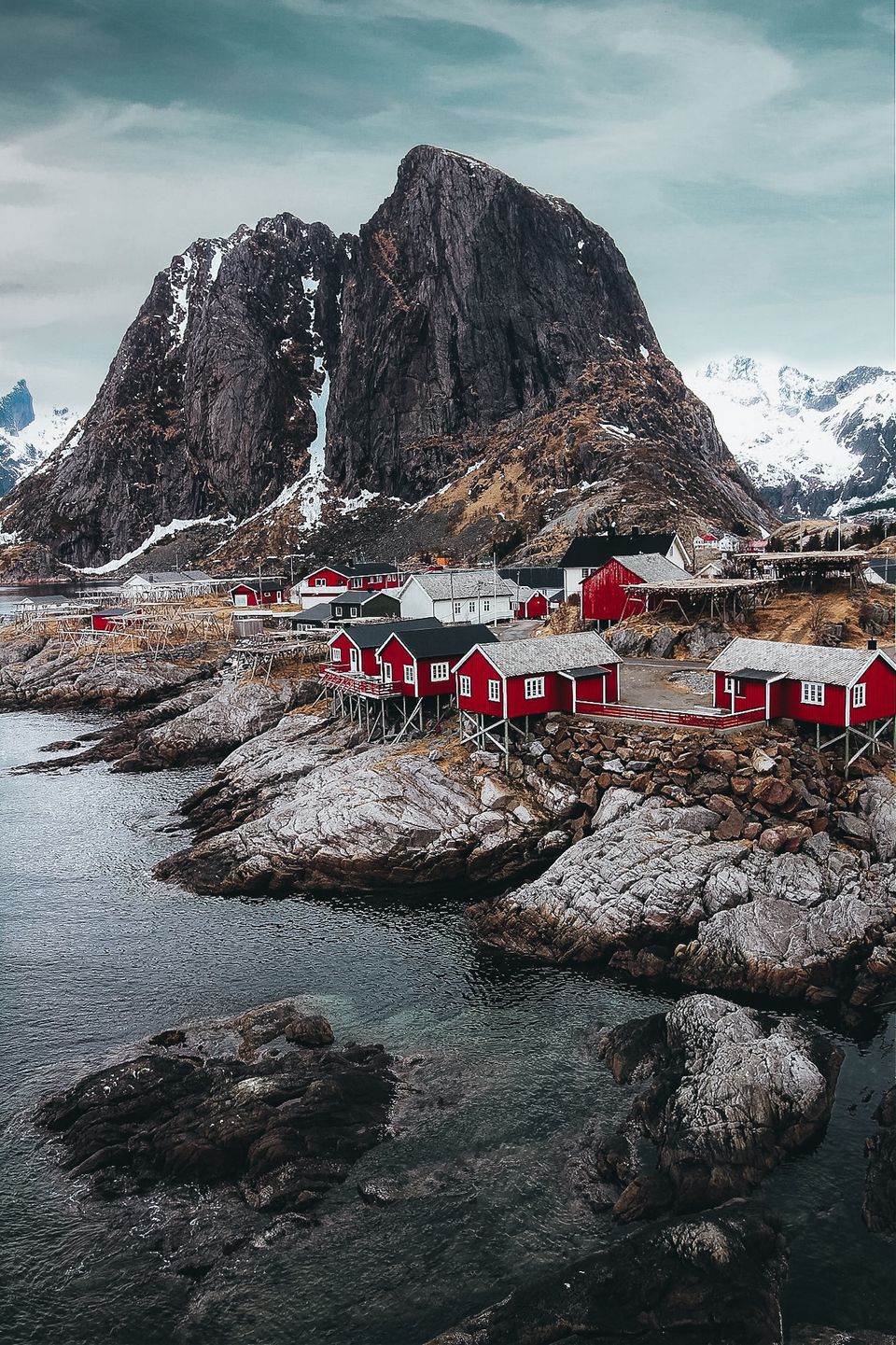 Branching out from mainland Northern Norway is the beautiful and out of the world Lofoten archipelago located at 68 degrees north and well above the arctic circle.
Norway's Lofoten Islands are an unmistakable sight if you've spent absolutely any amount of time looking at travel photography. With its dramatic peaks rising sharply out of the Norwegian Sea, the scenery is unlike anywhere else on earth. Throw in some quaint red and yellow fishing cabins, and you've got yourself a cozy arctic paradise ! I spent a total of 6 days last april road tripping around these craggy islands with my boyfriend and I cant help but promise myself that am going to definitely go back again.
In this post, I've done my absolute best to gather up everything you need to know about what has to be my favourite place in all of Scandinavia. Ready? Let's go.
WHEN TO VISIT ?
Your scenery goals for your Lofoten vacation will dictate when you want to visit. I was there in April because I wanted to avoid the peak tourist season i.e the summers. Summer is Lofoten's busy season for tourism because of the long warm days and the midnight sun.
If your goals are northern lights, snowy peaks and beautiful twilight skies, then visiting around December to February would be ideal. Just be aware that many hiking paths will be inaccessible during this time of year.
Even when visiting the Lofoten Islands during the clearest of months, know that the weather can be quite unpredictable. This place is home to one of the biggest temperature anomalies in the world relative to latitude. So layering up in warm winter clothes should be your objective to enjoy these islands and its temperamental weather.
WHAT IS THE CURRENCY USED ON THESE ISLANDS ?
Sweet old Norwegian Kroner is what you must have on you while visiting any part of Norway. At the time of this post, 1 NOK = 8 INR !!!
ORIENT YOURSELF TO THE GEOGRAPHY !!
Orienting yourself to the map and the places in and around your destination adds to the fun and gives you a clear idea of the country you are in. Also it will be easier for you to navigate through rest of the post if you have these places rolling off your tongue easily.
HOW TO GET TO THESE ISLANDS ?
These islands can be reached by road or by ship or by air with a few airports nearby.
By Air:
There are two airports which service the area: Svolvær Airport and Leknes Airport and both have regular flight direct flights to several Norwegian airports.
The main operator to Lofoten is the domestic Norwegian airline, Widerøe.
One can catch the flight from Oslo to Bodø and a connecting flight from Bodø to Svolvær or Leknes . And further rent a car or take a bus till the islands which are 20-50kms from these airports.
By Road:
The highway E10 (King Olav V's road) connecting the Lofoten archipelago from west to east will be your lifeline as you travel to and around Lofoten. So I decided to to fly in to the quaint airport of Leknes from Oslo ( flight duration : Oslo to Bodo – 1 hr 40 min & Bodo to Leknes – 25 min ).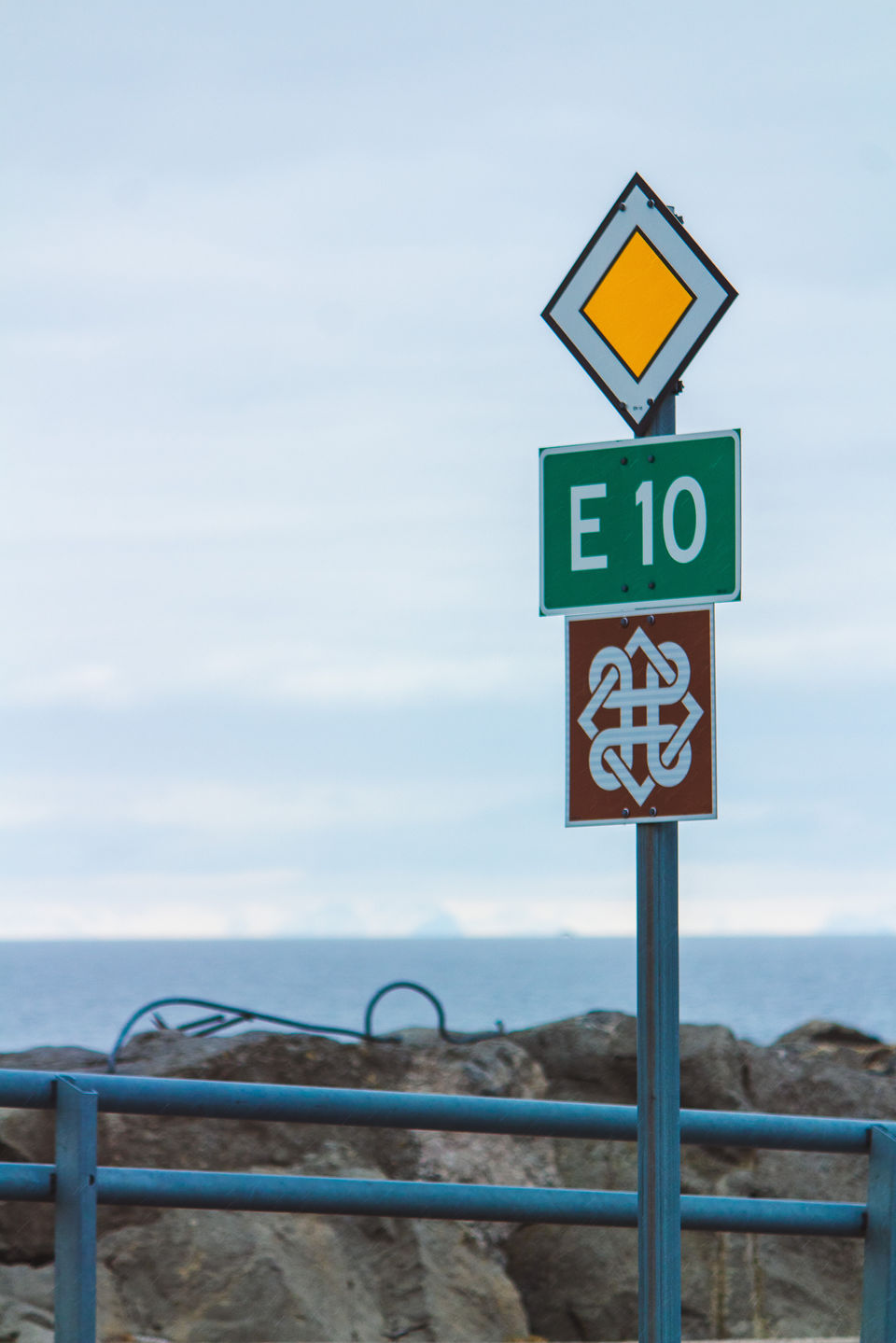 As with most airports of the world, several of the major car rental companies can be found at Svolvær and Leknes. Don't rent these. Well, you can, but you better go sell a kidney on the black market first coz flash news : renting a car in Norway is expensive.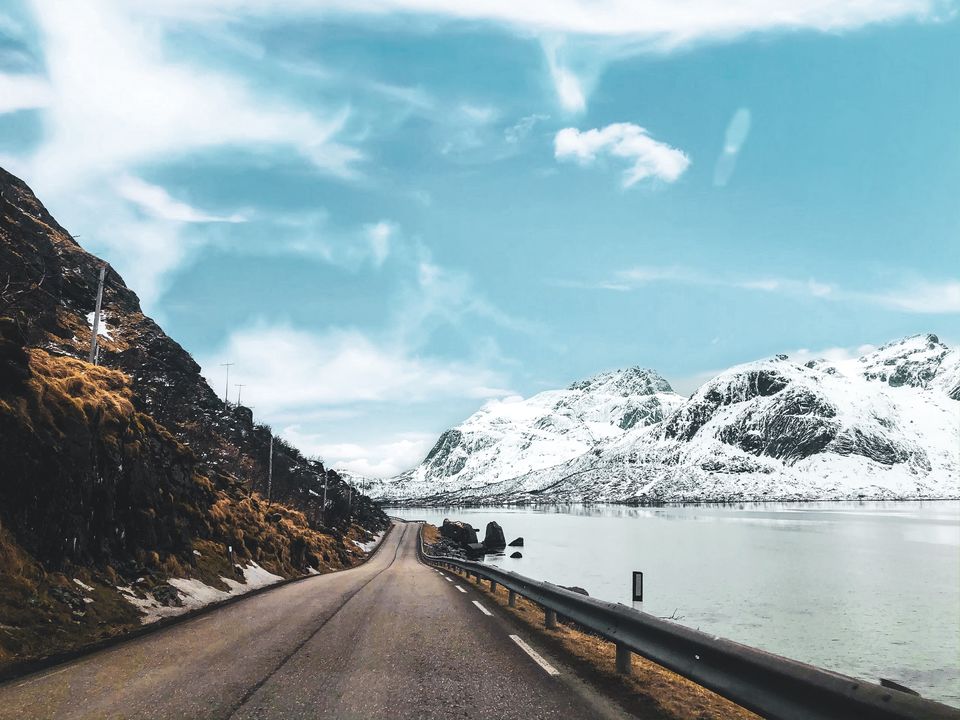 So to turn your adventure in Lofoten more budget friendly, you can take the public transport till the islands and then scan the place for a "Rent a car" sign. Because luckily there are locals, usually the owners of car repair garages, that rent out used cars for about half the price of the big agencies. They are a little hard to find online, but once on the islands, look for cars with a 'rent a car' sign on the door and call up the phone number.
So I was lucky to find a gentleman who rented me a car for 900 NOK (approximately 7000 INR ) for 3 days as opposed to what I would have paid ( around 1500 NOK ) if I had rented a car at the airport.
Please bear in mind that even though the public transport is okay, it isn't exactly convenient. They run 5-6 times a day and you can find the schedule on www.177nordland.no . But for a more comfortable and hassle free time around these islands, please rent a car.
By Ferry / Car Ferry :
The more traditional way to arrive in Lofoten is by taking a car ferry from Bodø. There are three destinations to choose from, Moskenes, Væroy, and Røst. Ferry routes vary during throughout the year but there is usually at least one ferry per day to Moskenes.
WHERE TO STAY ?
These islands are scarcely populated and probably that is what adds to the raw beauty of these fishing islands. So make it a point to book your place of stay well in advance. You can get a decent Bed & Breakfast on Booking.com or AirBnB. But nothing beats the experience of renting a local fisherman hut or the characteristic red huts of Lofoten fondly known as the " Rorbuer " . You can find these on the websites mentioned above !!
So in order to enjoy these islands from a place more close to home, i rented one of these cute little red huts.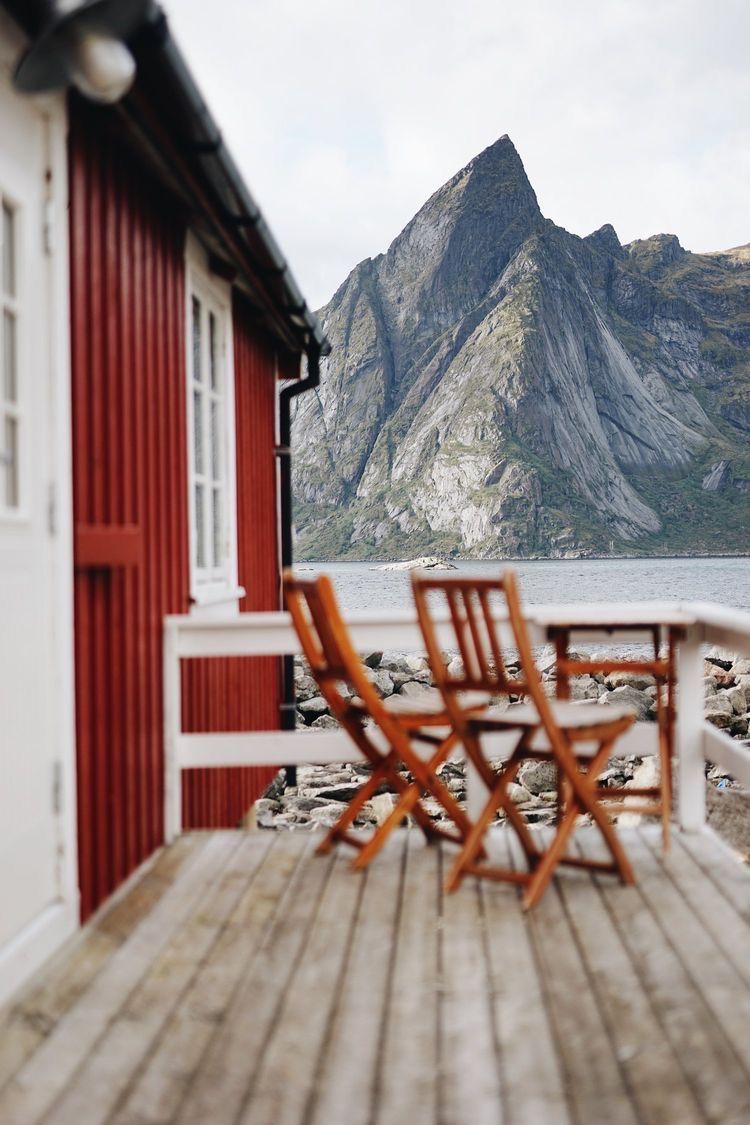 Well it was difficult to choose amongst the yellow and red huts !! Would you just look at these colors ?!!!!!!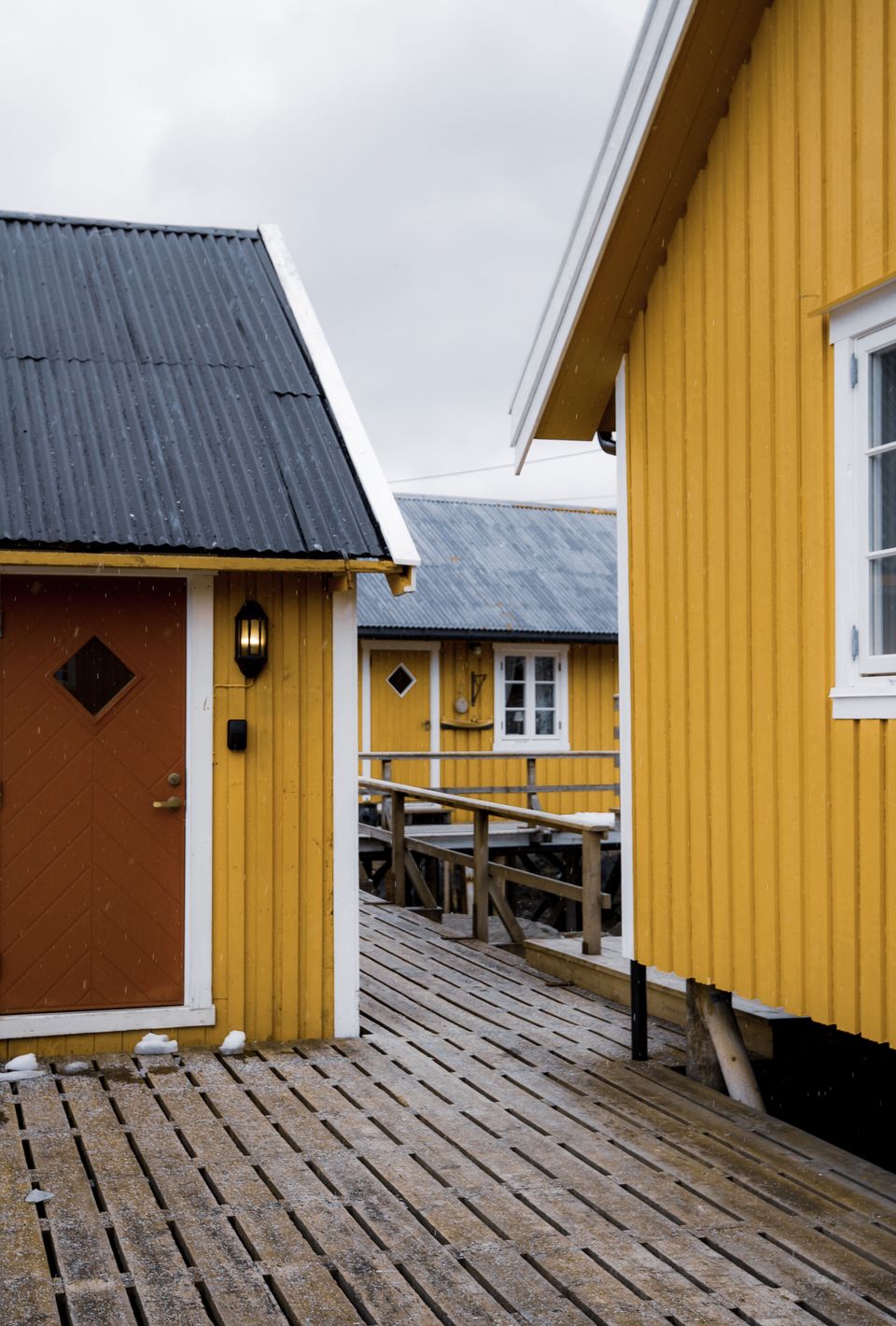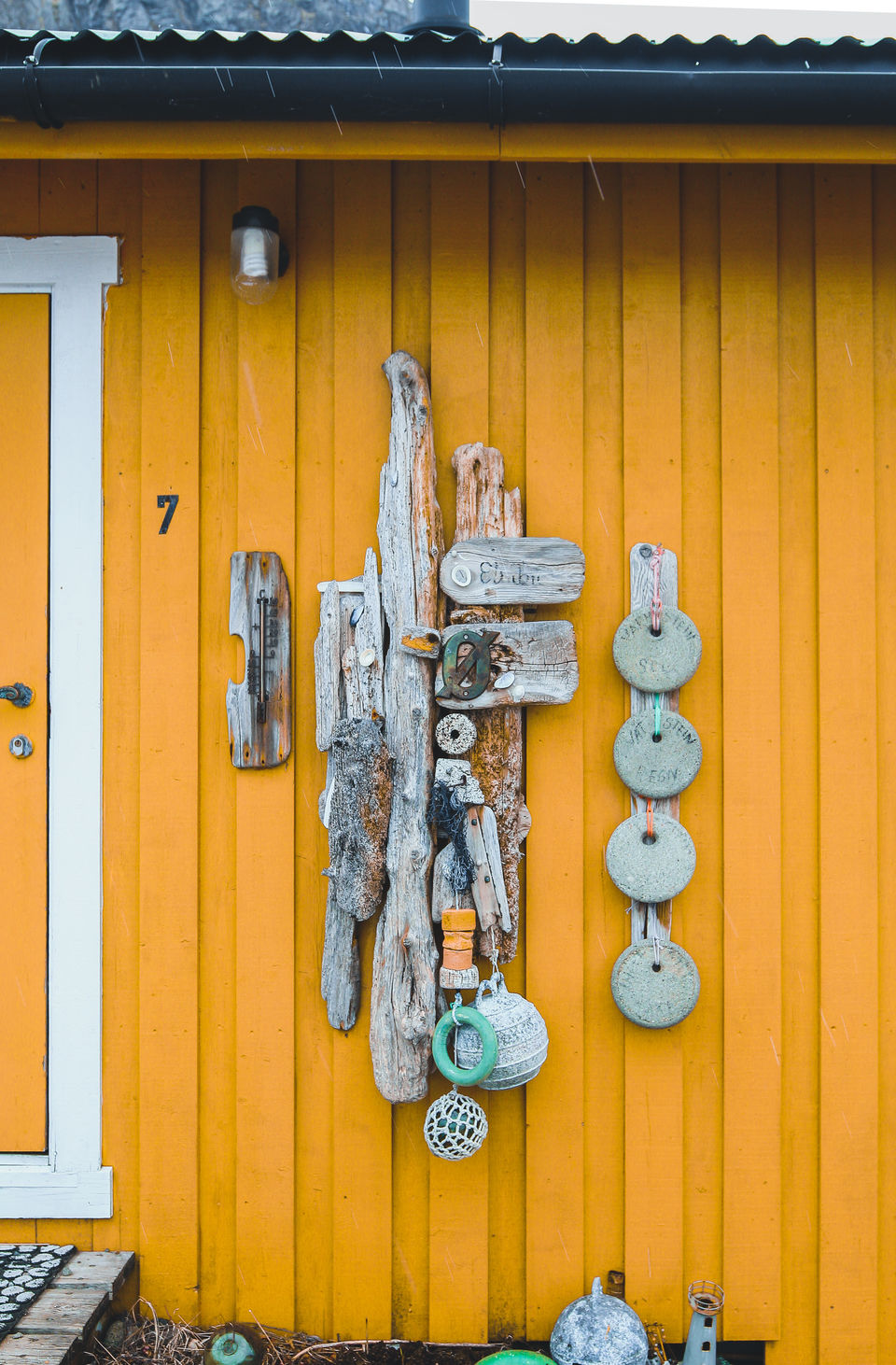 The cabins themselves are homey and quaint, and include a kitchen area if you are inclined to fend for yourself. For food options, there are grocery stores near the ferry landing and in Reine if you want to utilize the kitchen in your Rorbu.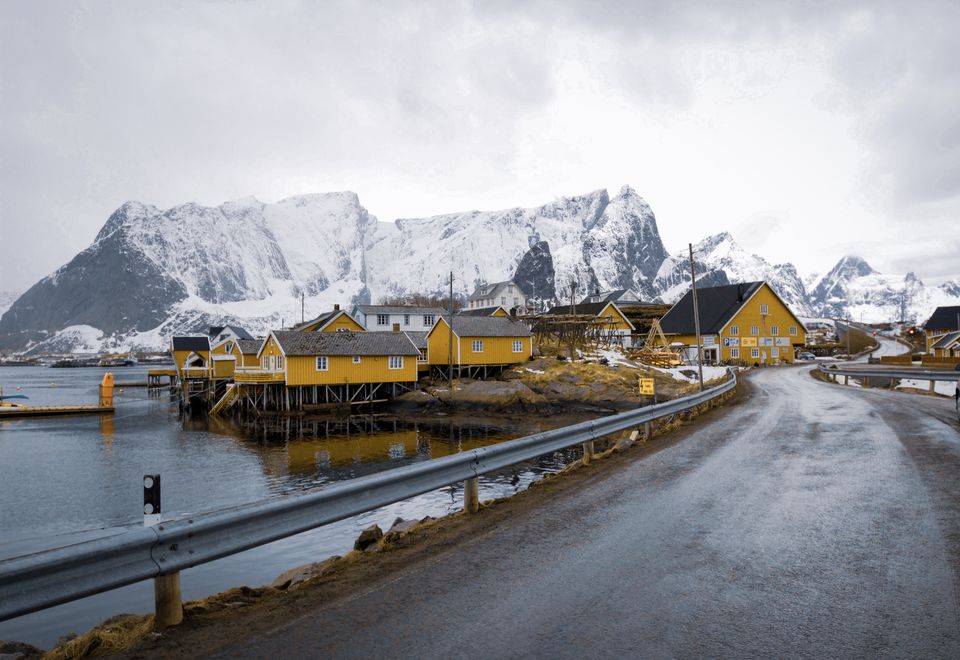 Alright , so you are all set on the basics !! Time for my favourite part !!
If the breathtaking pictures above haven't already made you add Lofoten on your bucket list, scroll down for the top 8 reasons why you should do so !!
#1 Enjoy the Gorgeous Views
Perhaps more so than any other Norwegians, Lofoten islanders are happiest when outdoors. And with views like this, who can blame them?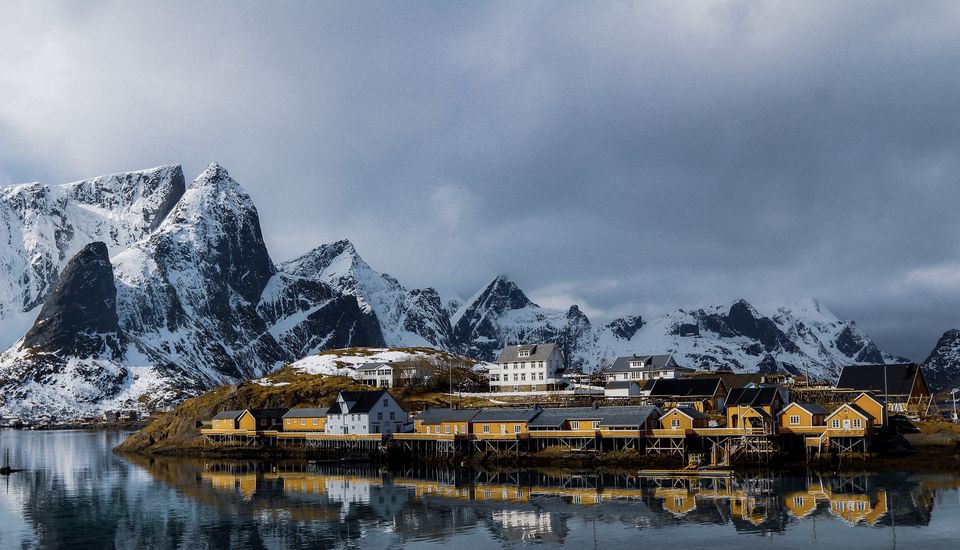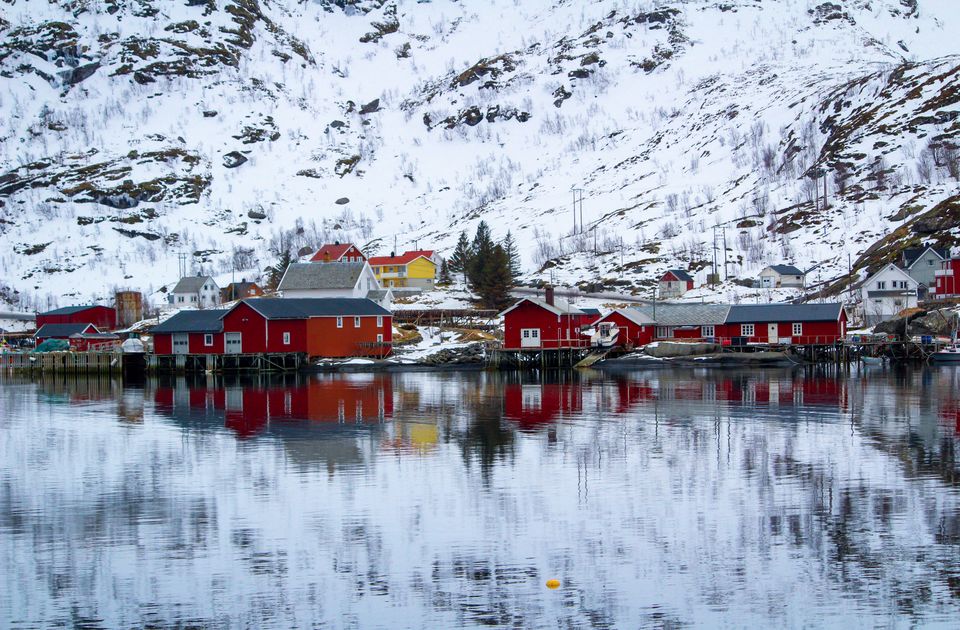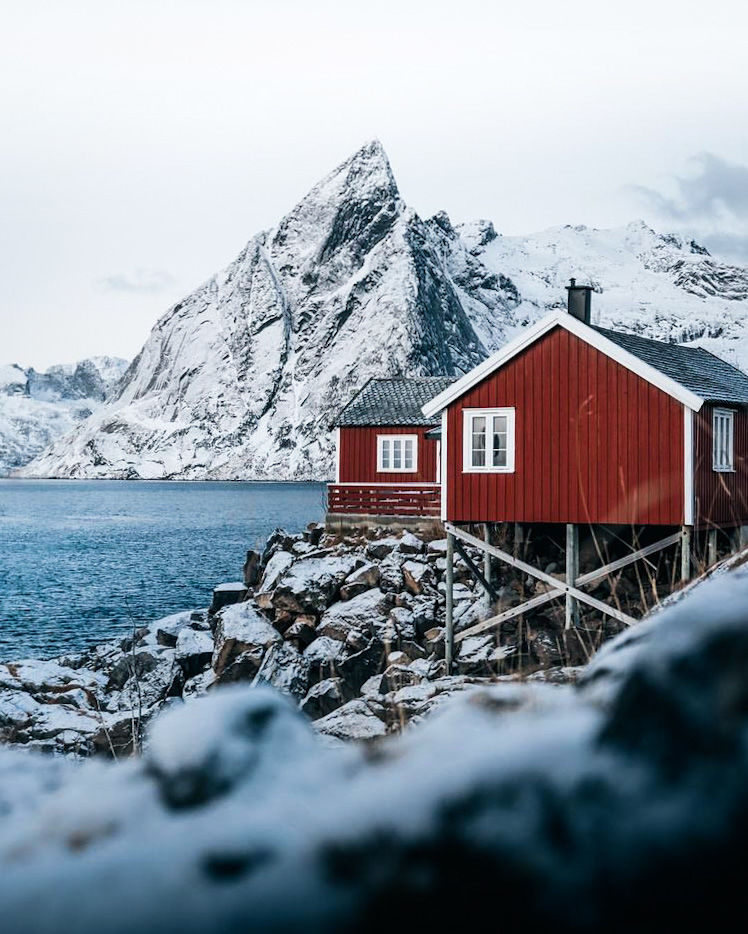 #2 Know about the history of these Fishing Villages
The reason people settled on these imposing islands in the first place isn't the spectacular scenery and certainly not the weather. It's the bountiful waters surrounding the islands. For even though tourism is increasingly important to the local population, the fishing industry still dominates.
The industry is responsible for one of the best known sights that rarely makes it into the tourist brochures. Wooden racks for drying out fish line the coastline across the islands – a constant reminder of the islands' principal economy. Lofoten's fishing industry develops dried Cod fish as its speciality, a product that is in great demand today around the world.
It all started with Pietro Querini, an Italian sea captain from the Venice who in 1432 was shipwrecked in Røst, a small island in Lofoten. While recuperating on the island, Querini discovered codfish which he called 'stocfisi' (Tørrfisk in Norwegian), which dominated the local economy and was air- and wind-dried until it became "as hard as wood".
When Querini left for Venice four months later, he took 60 sticks of air-dried cod with him and wrote a report of his travels. Querini is famed for having popularised Stockfish, particularly codfish, in the Veneto region where it is prepared as Bacalà alla Vicentina.
Part of the process in preparing the Cod Fish is to hang them out to dry on these large drying racks. It might sound weird that in order to dry fish you put them outside where it's cold and snowing, but the air up here in Northern Norway is so dry that it actually dries out the fisk (fish) really well !!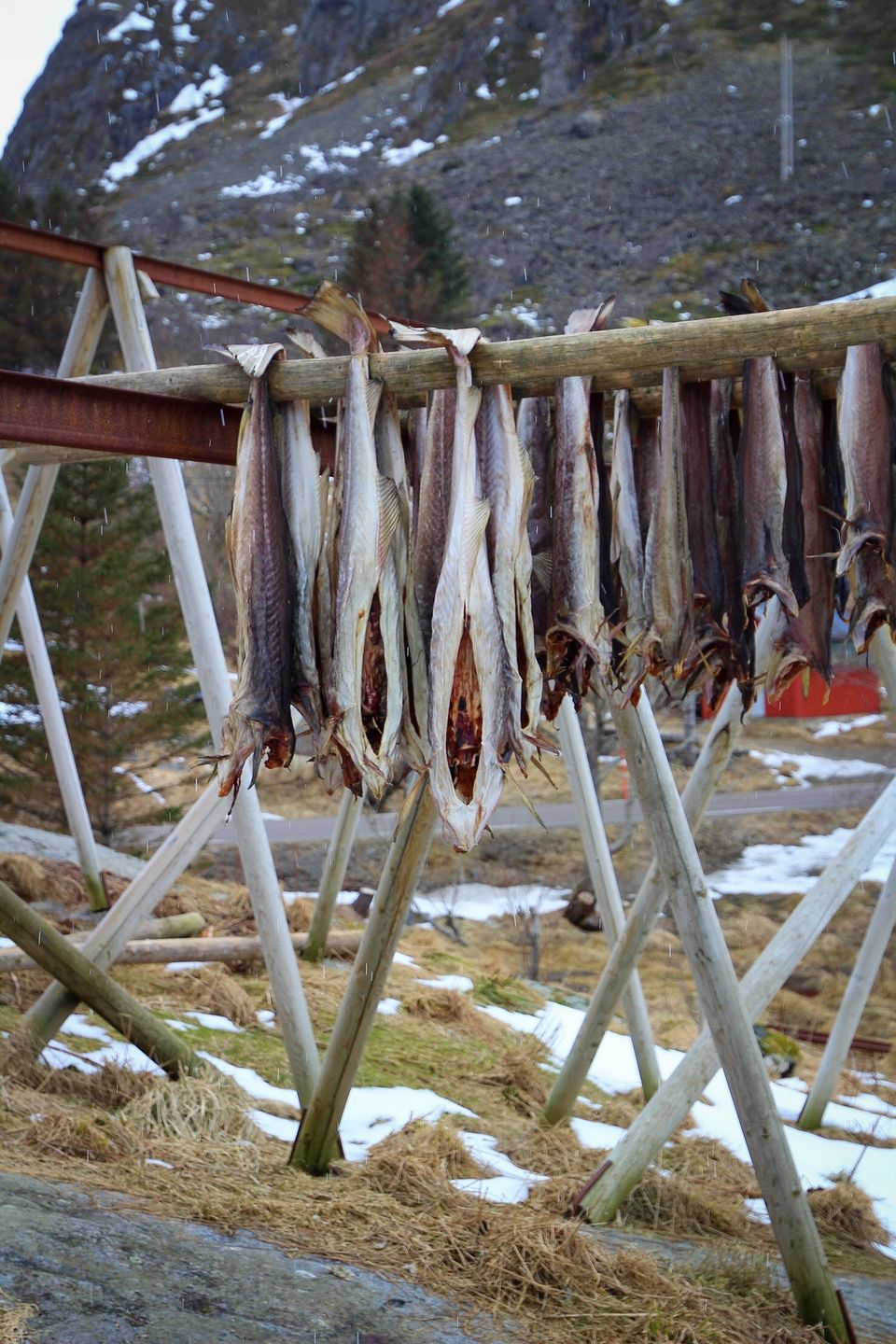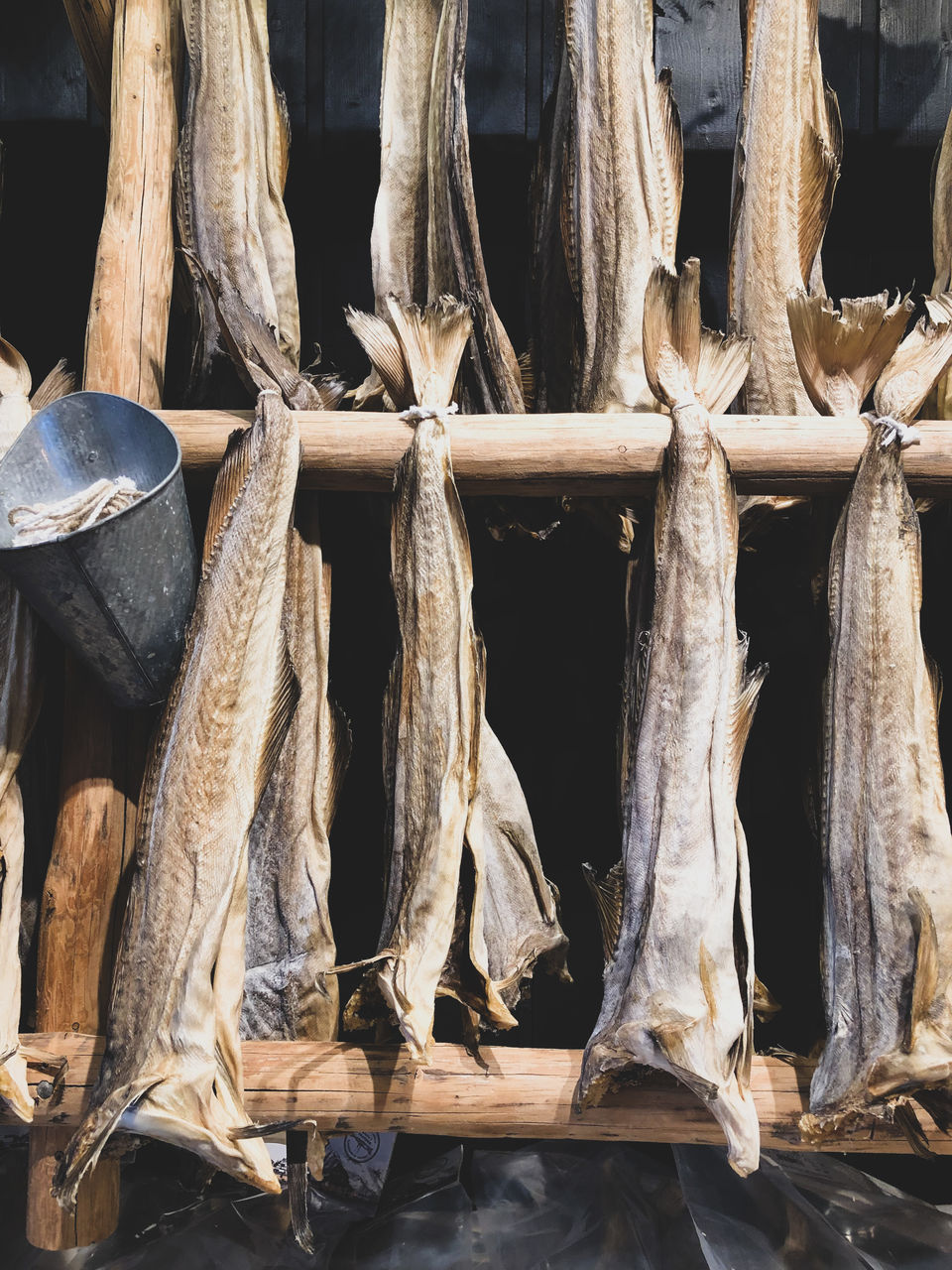 Something else you'll only discover about the region when you visit is a constant fishy smell in the air for much of the year ! It's something you get used to after a couple of hours… honestly.
#3 Explore the Towns and Fishing Villages
Explore the towns from Svolvaer or Leknes to Å and everything in between. There are great places to wander, to shop, to photograph, and to have lunch or dinner.
The first thing I did after dropping my belongings off in my BnB was drive to the small village of Å. That's right, the name of the village is Å (pronounced aw).
Not to mention the thousand times I pulled over to click gazillion pictures because no matter what, every turn or bend offers you something new. So it is safe to say, these islands have to be on the bucket list of a photographer.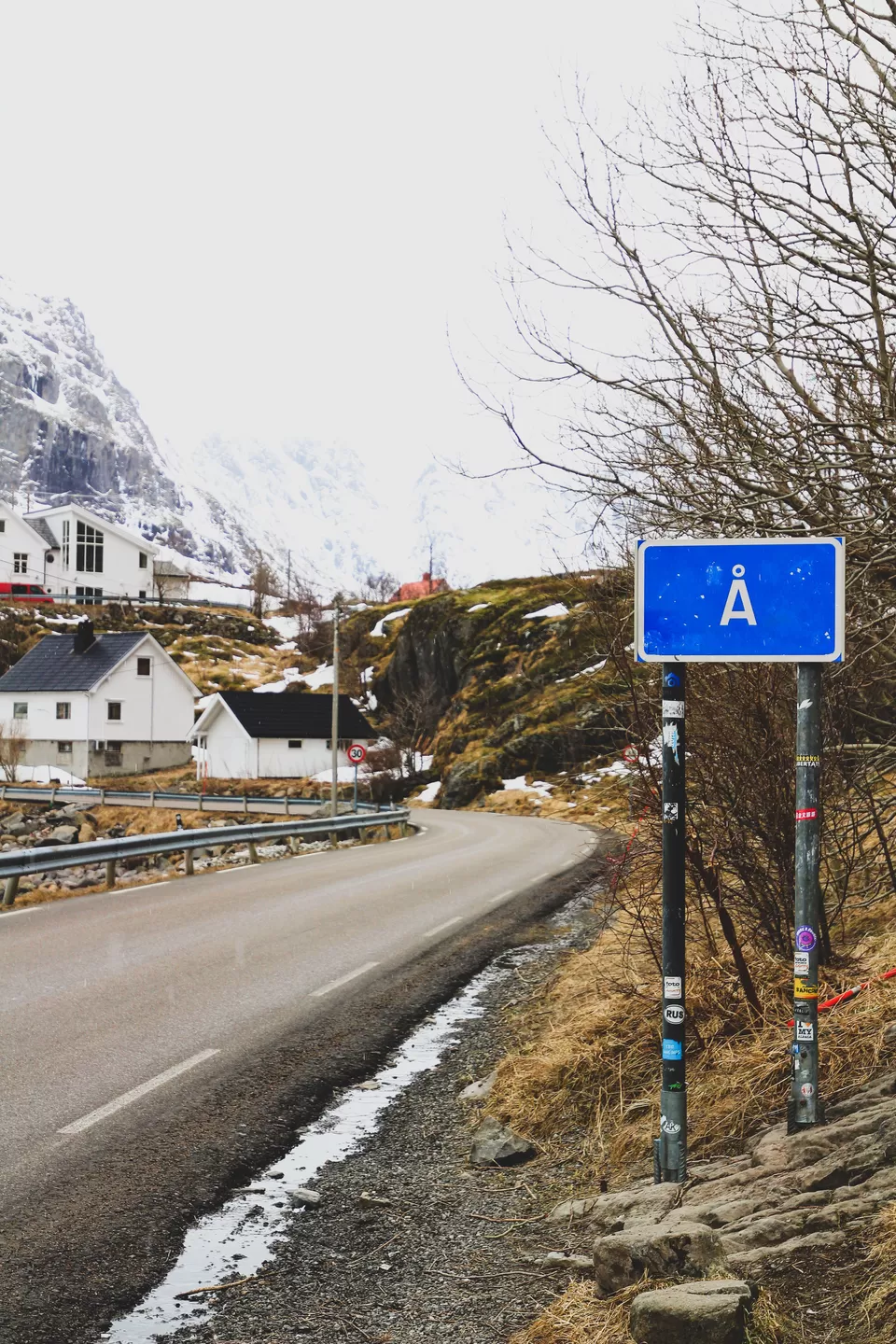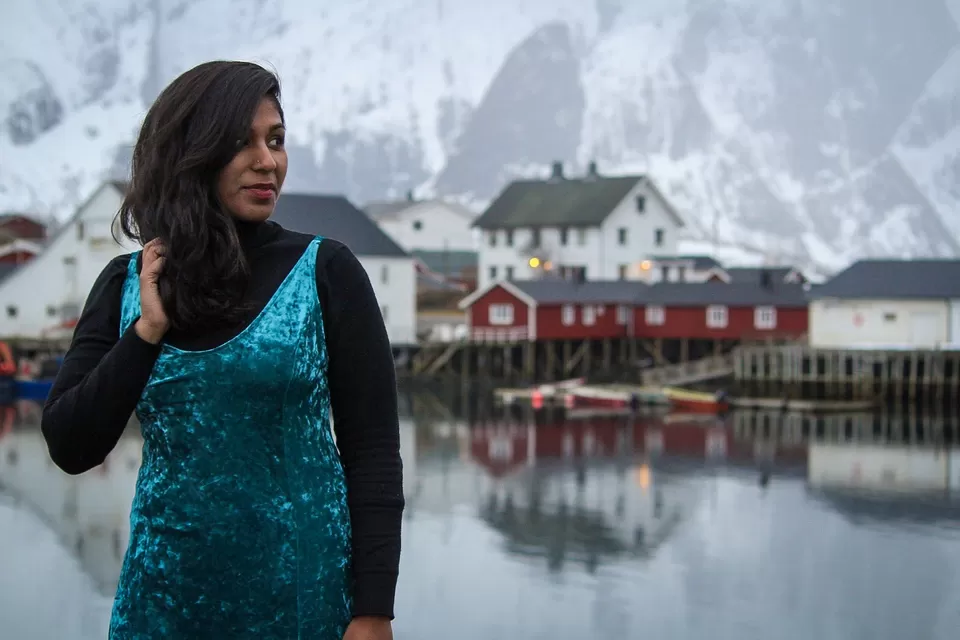 Just five miles on from Reine is the end of the E10 and the village of Å, the last letter of the Norwegian alphabet and the southern tip of the islands. The small village serves dual purpose as a fishing village museum.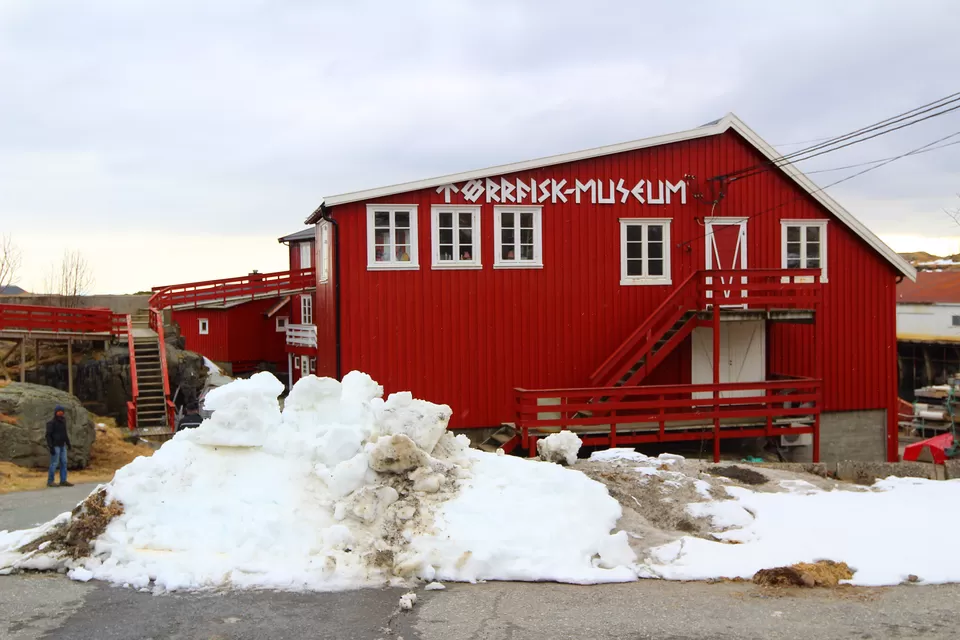 Founded by a local history group, the Norwegian Fishing Village Museum's purpose is to preserve the fishing village rather than to build anything new. The old boathouse has been converted to hold most of the museum's exhibitions, but the whole village is the real exhibition.
Just walk around and take in the picture postcard scenes at every turn, the cod drying racks and the shoreline of red Rorbuer !! Or munch on a classic Norwegian Kannelbuller ( Cinnamon role ) at the Brygga Restaurant or the bakery.
Reine
The island village Reine has arguably the most spectacular setting in all of Lofoten. The approach by car is nothing short of breathtaking. The E10 winds its way across islands and skerries for a couple of miles, with open ocean, mirror-like lakes, and granite peaks visible in every direction.
The village is well equipped for visitors. You can find supermarkets and gas stations where you can load up on food if you are sticking to a budget. Otherwise one can find a couple of cafes for a decent dinner.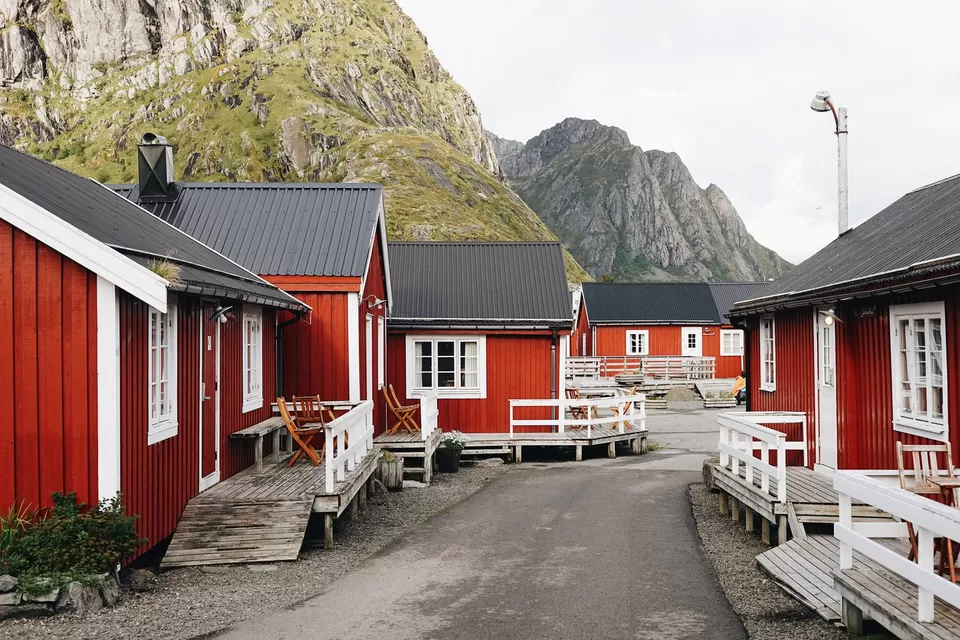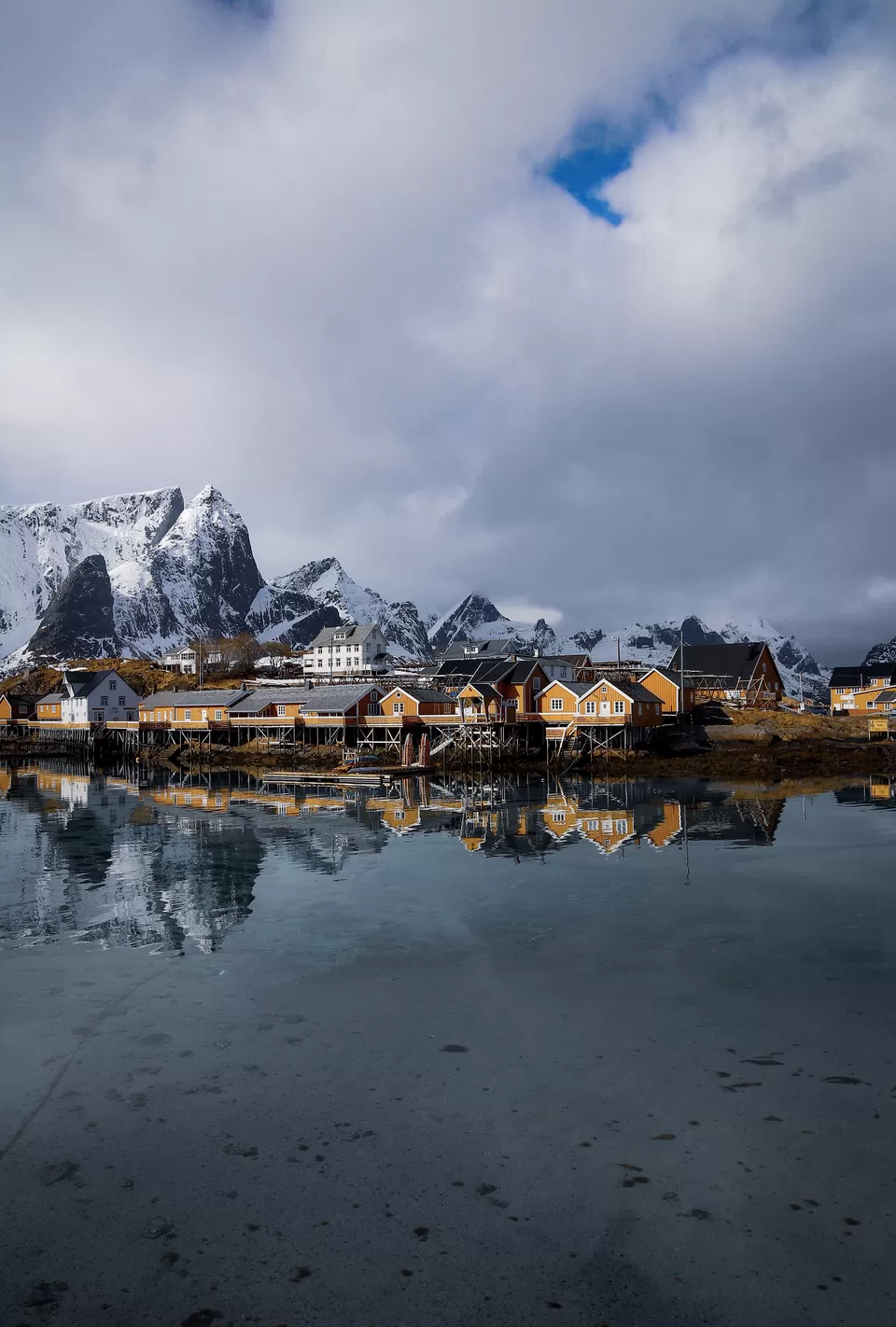 The other villages through which one will unmistakenly drive and not not stop for a few pictures are Sakrisoy with the yellow colored huts and the cute little village of Hamnoy.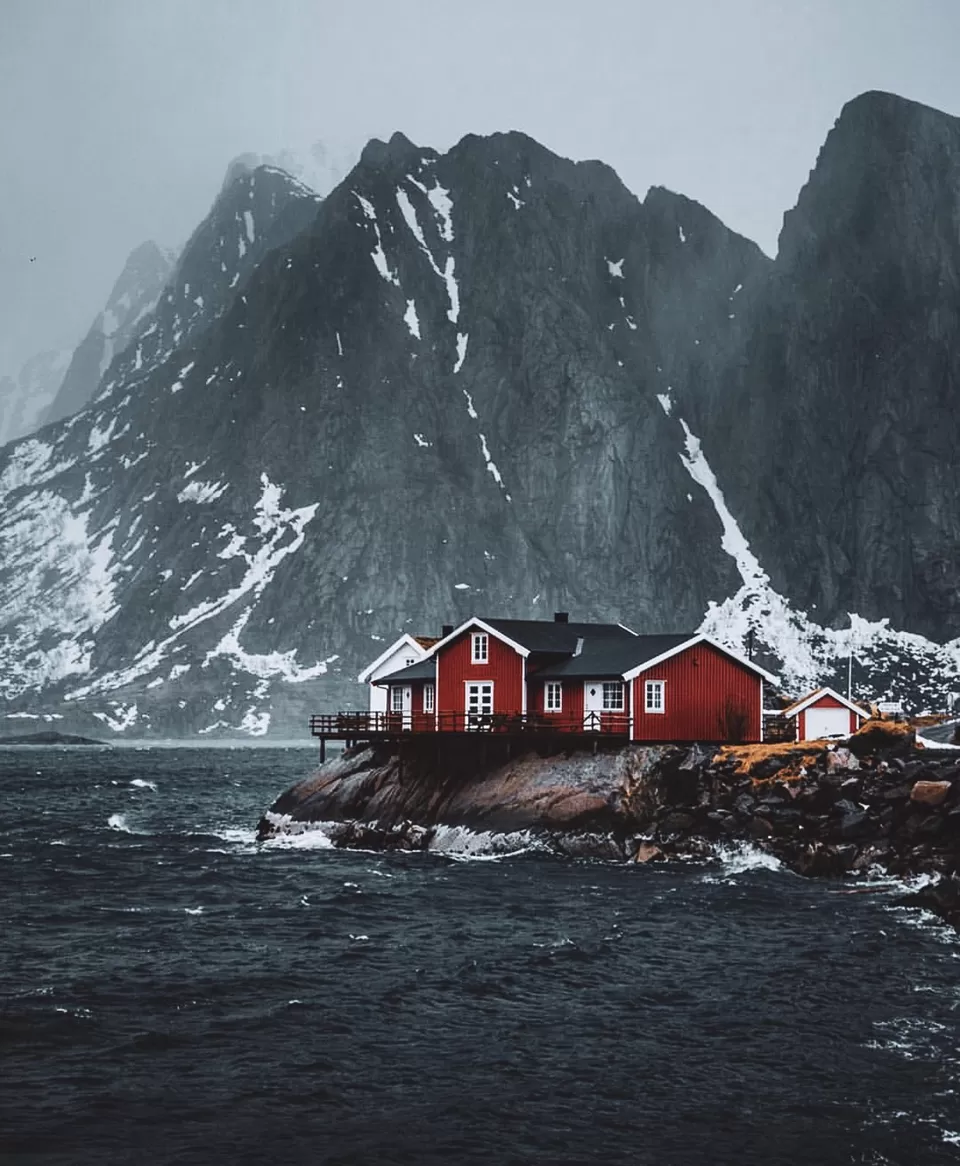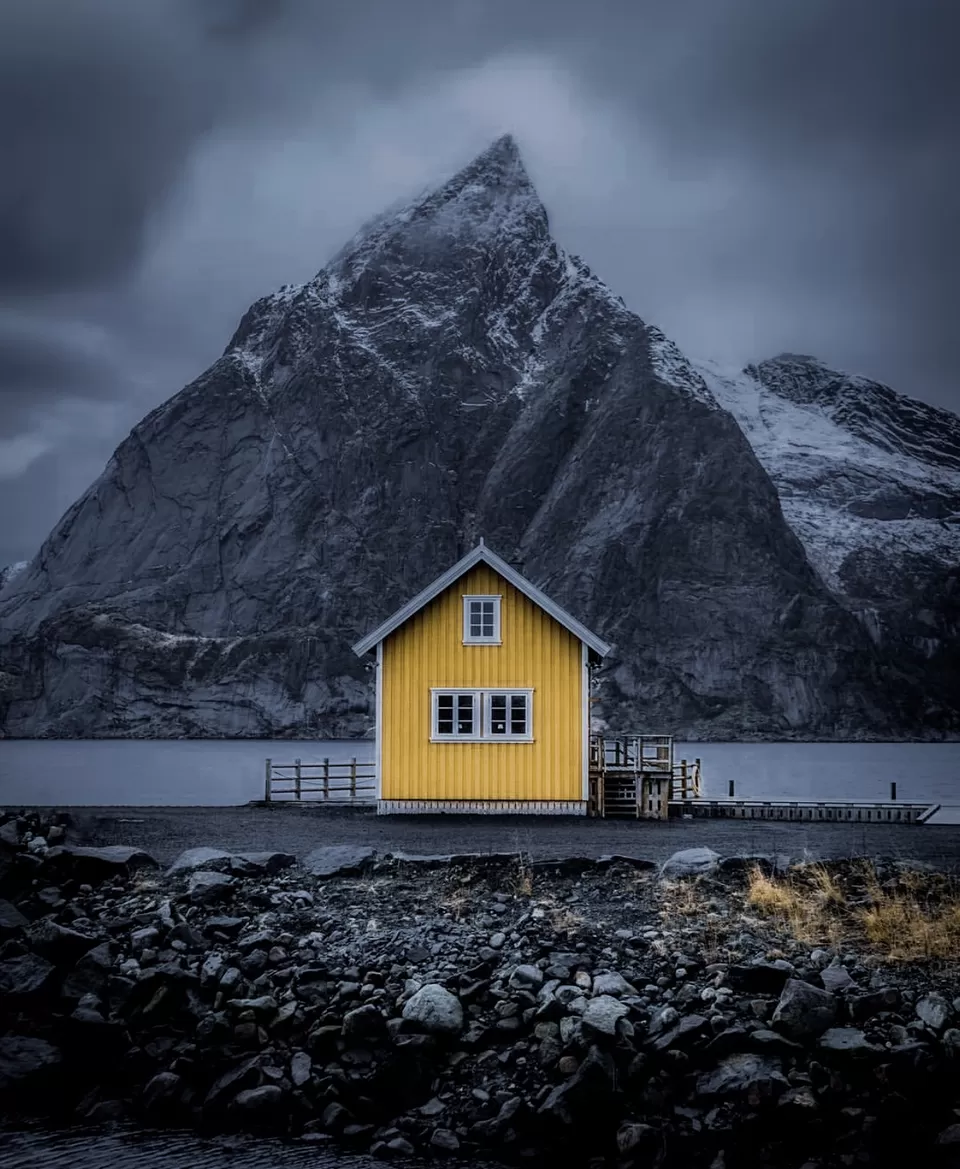 Henningsvaer
Henningsvaer is a small, picturesque fishing village that is scattered across several islands. I added this place as a day trip from my homestay. Enjoy the seafood at Fiskekrogen, Henningsvaer's culinary claim to fame. And a post dinner drink in the Bar Nord next door.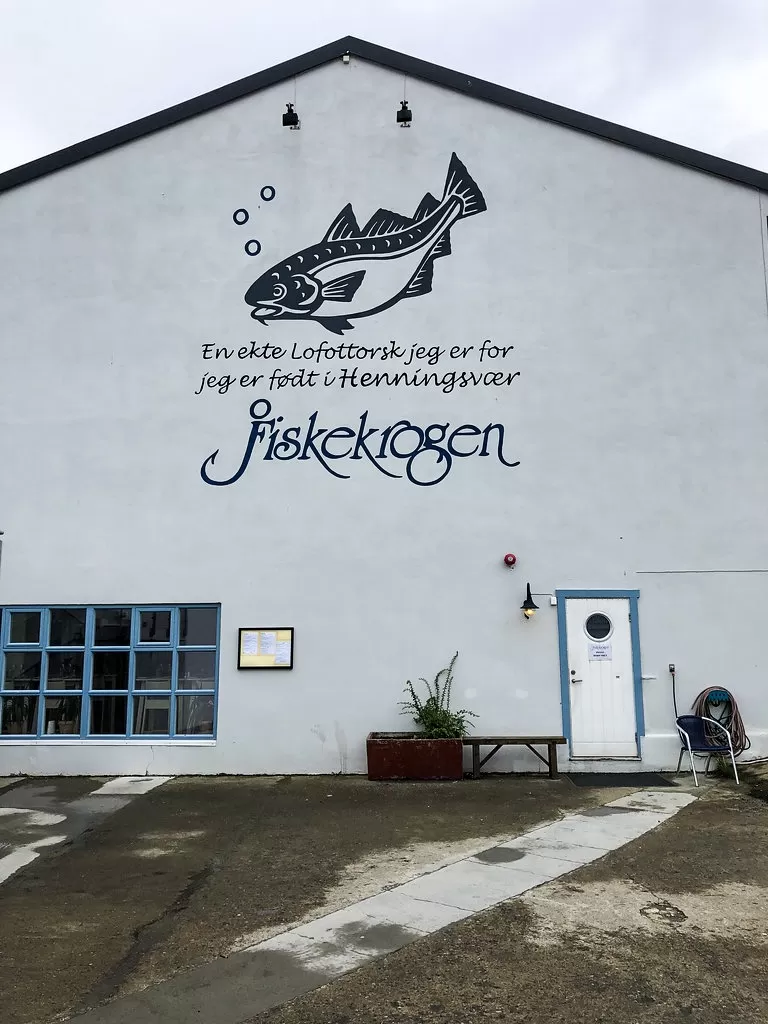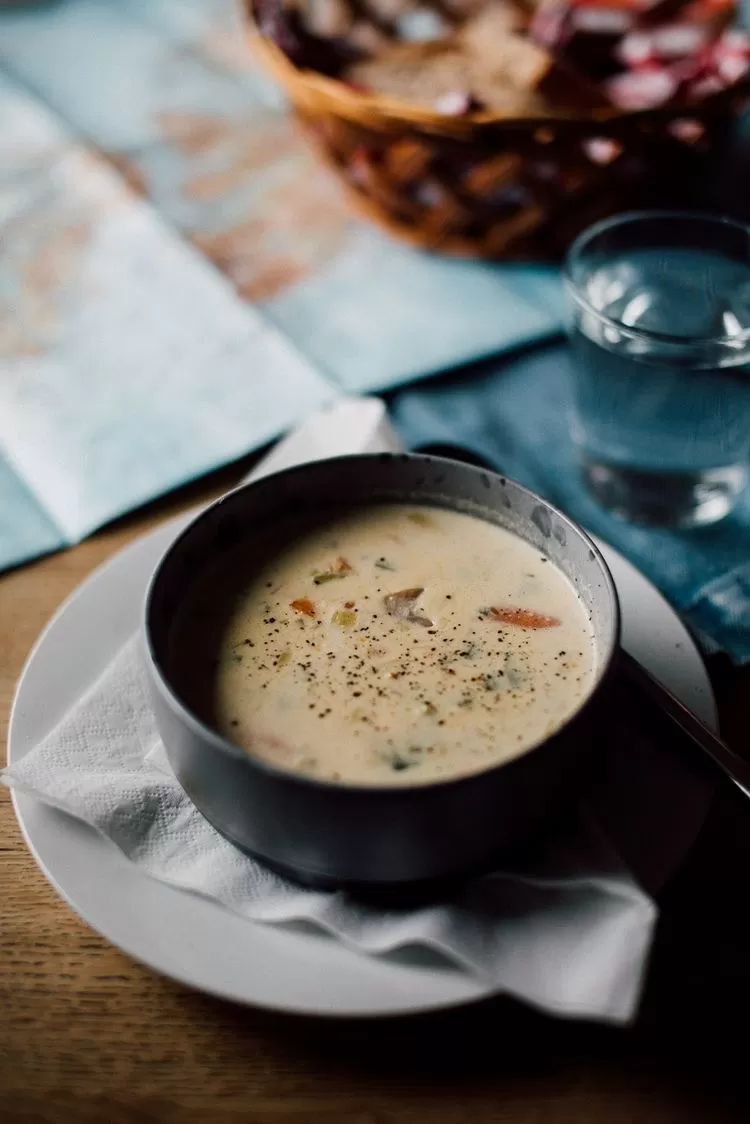 And ofcourse the Henningsvaer Stadion is probably the most beautiful football ground ! Why ?? coz the location is just amazing! It is located on a rocky islet surrounded by mountains and the sea. Google the drone images of this place right now. GO !!
#4 Bite into some authentic Lofoten cuisine
Another place you should pen down is Anita's Sjømat in Sakrisøy where Sjømat means Seafood !!
This waterside café sells all sorts of stockfish snacks and uncommonly good fish soups, fish cakes, shrimp and salmon burgers. My favourite was the pulled- salmon burger with a hot chocolate.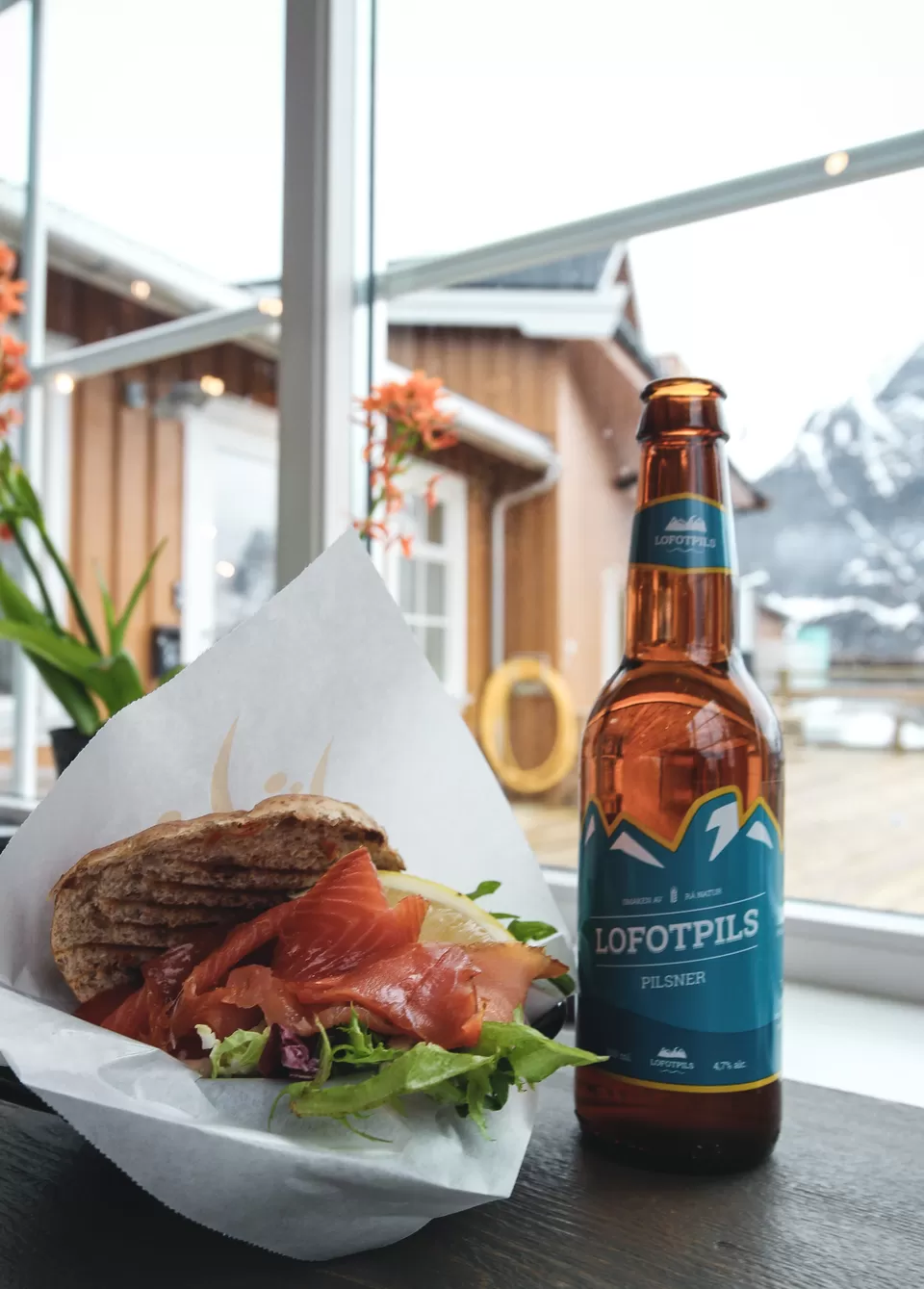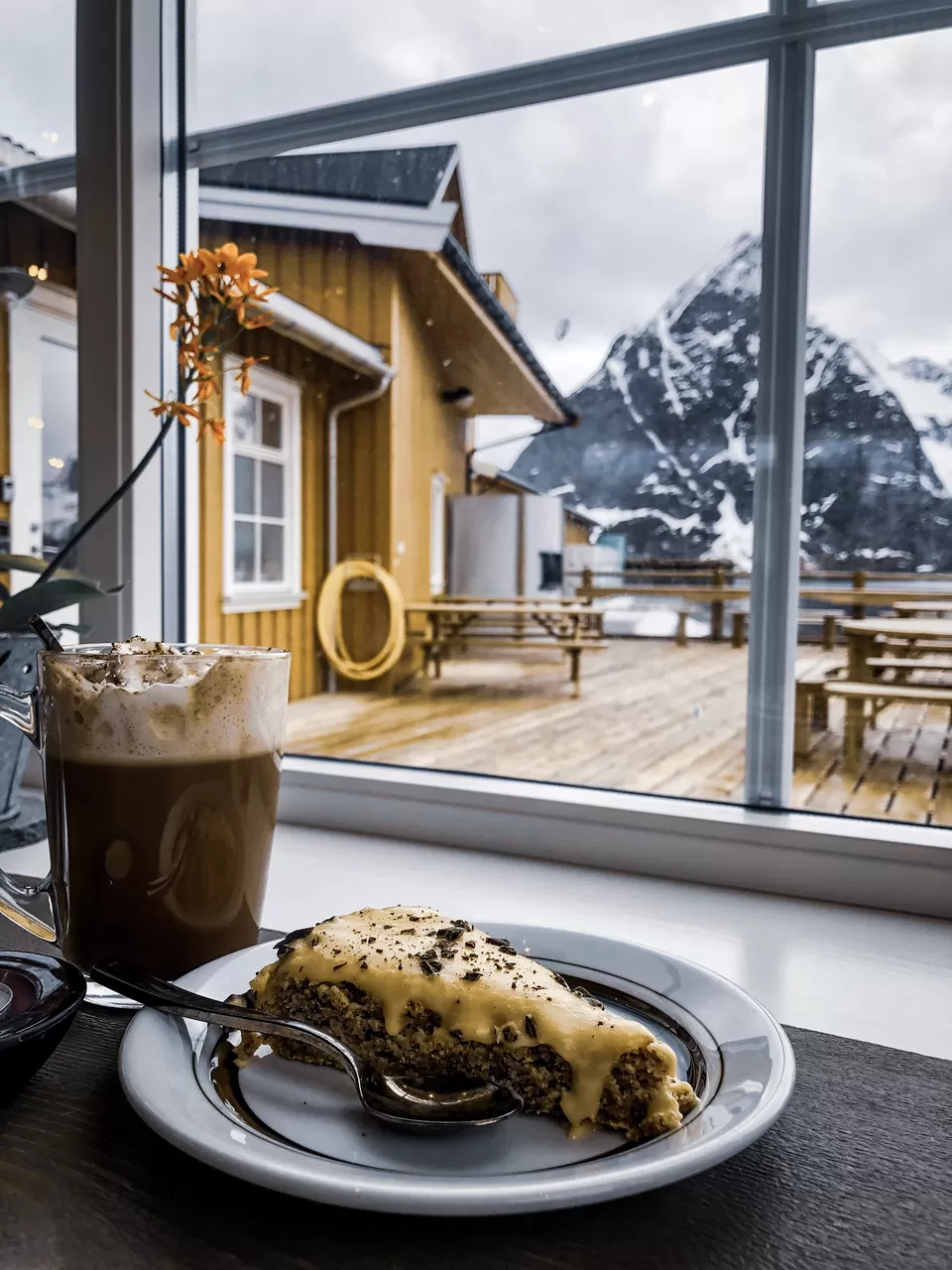 Don't be put off by the fearsome dried cod heads outside or the crazy cod fish chandelier above your head !!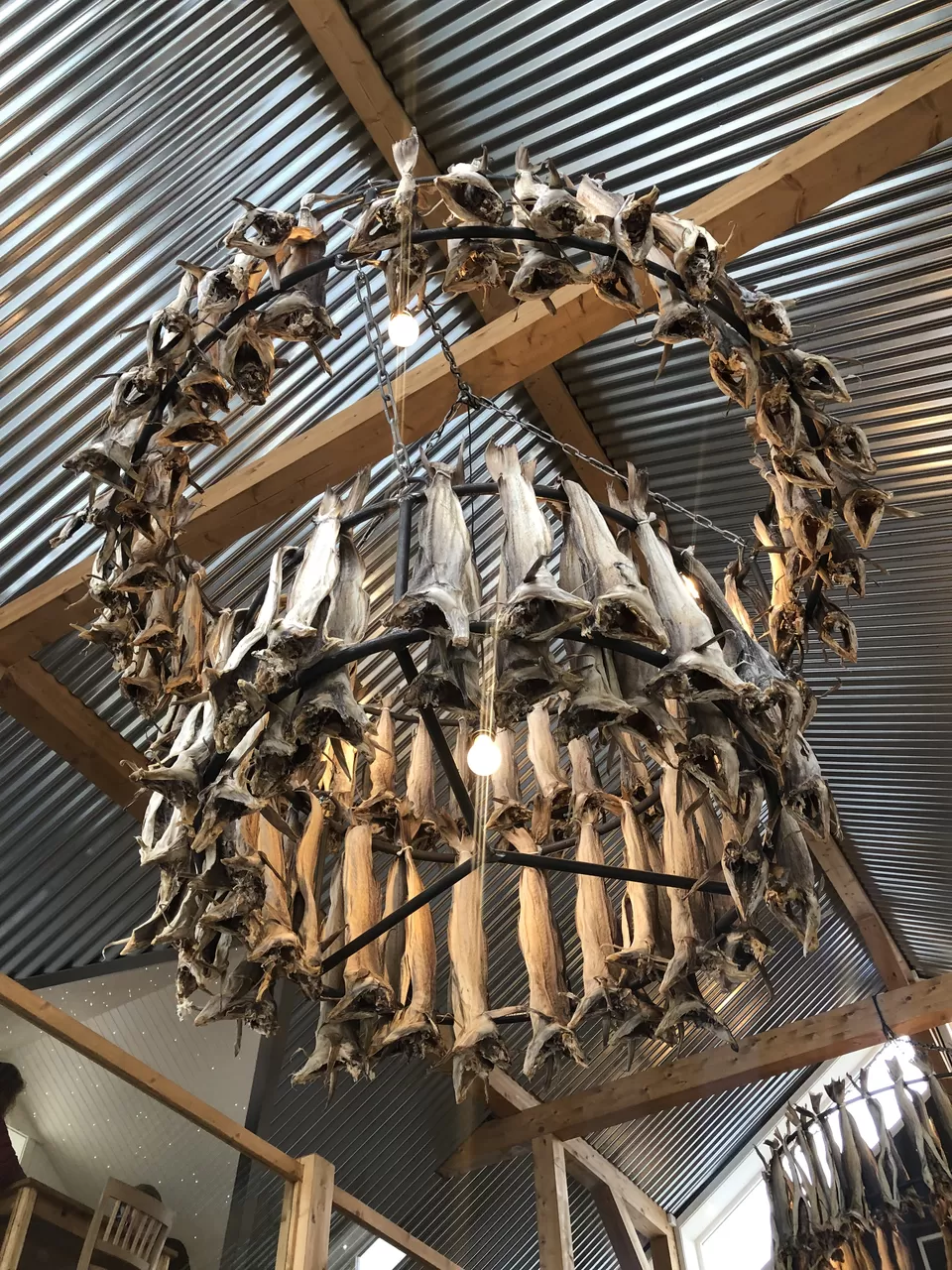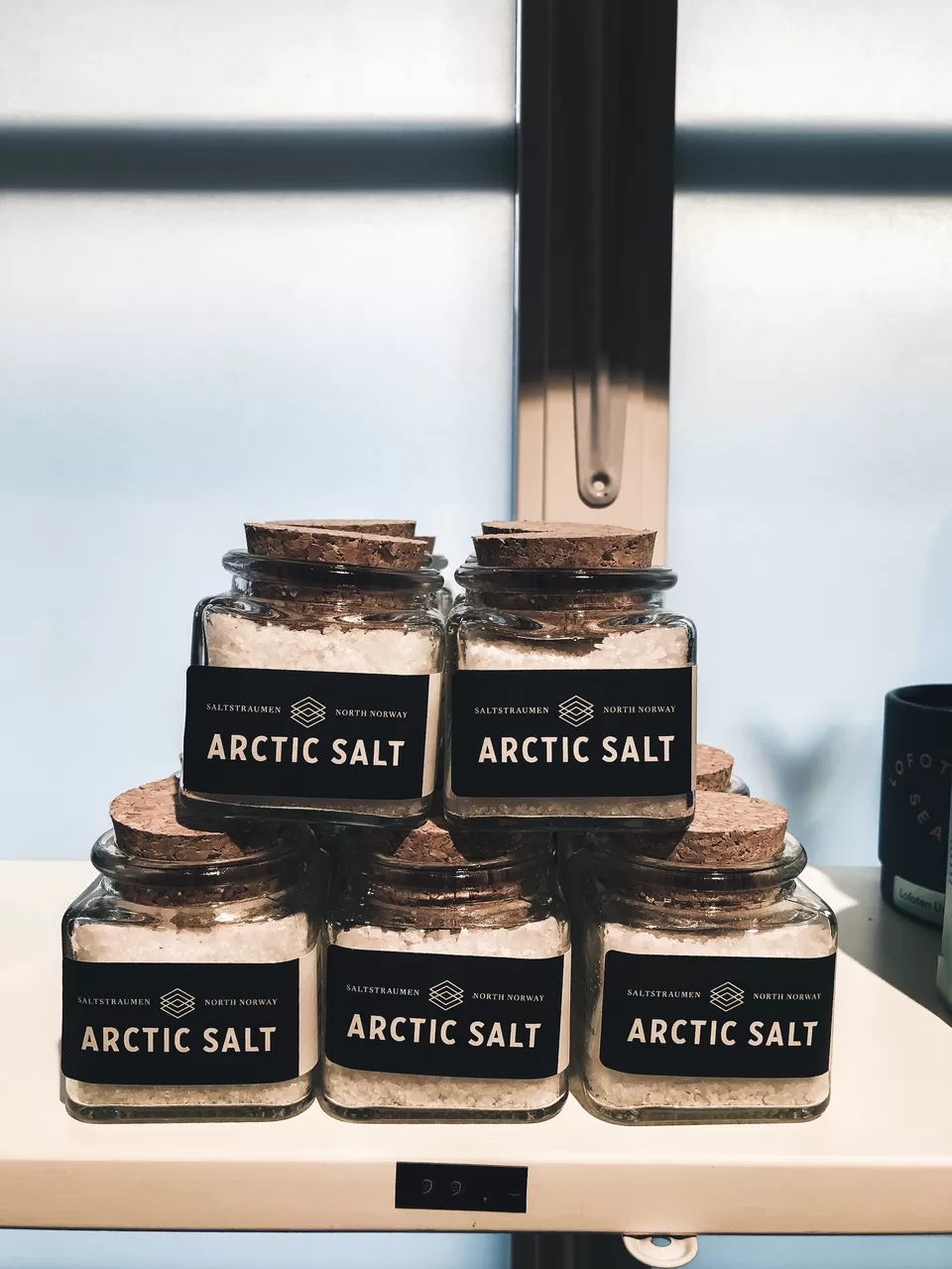 #5 Go to the Beach
Yeah, you heard me right. The Lofoten Islands are home to some of the most beautiful beaches in the world…long stretches of black sand and crystal clear aquamarine water, all with the backdrop of towering, jagged mountains.
Ramberg Beach, Ytresand Beach, Uttakleiv Beach, and Haukland Beach are all easy to get to by car. The only way to get to Kvalvika Beach is on foot. To get to Bunes or Horseid Beaches, you will need to take a ferry from Reine and then hike the rest of the way.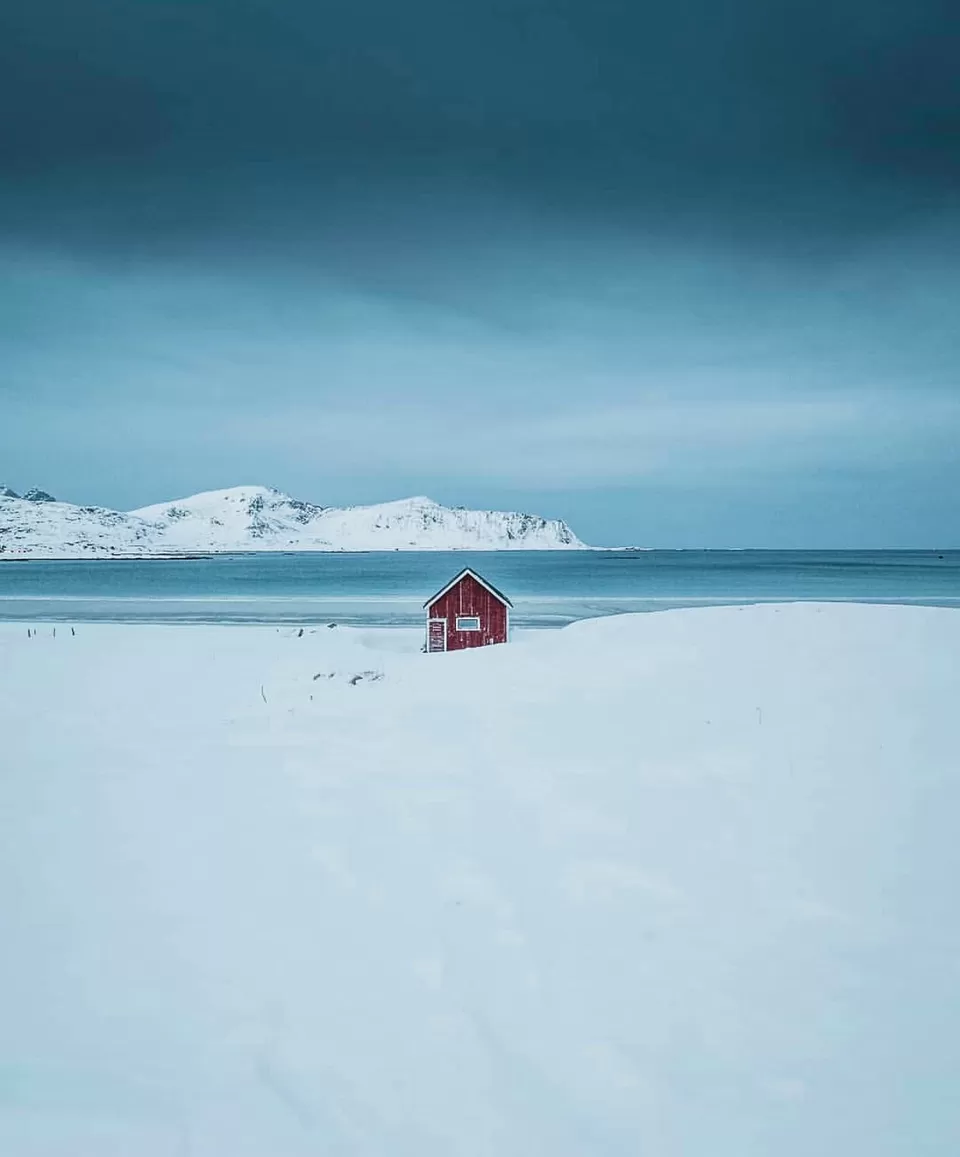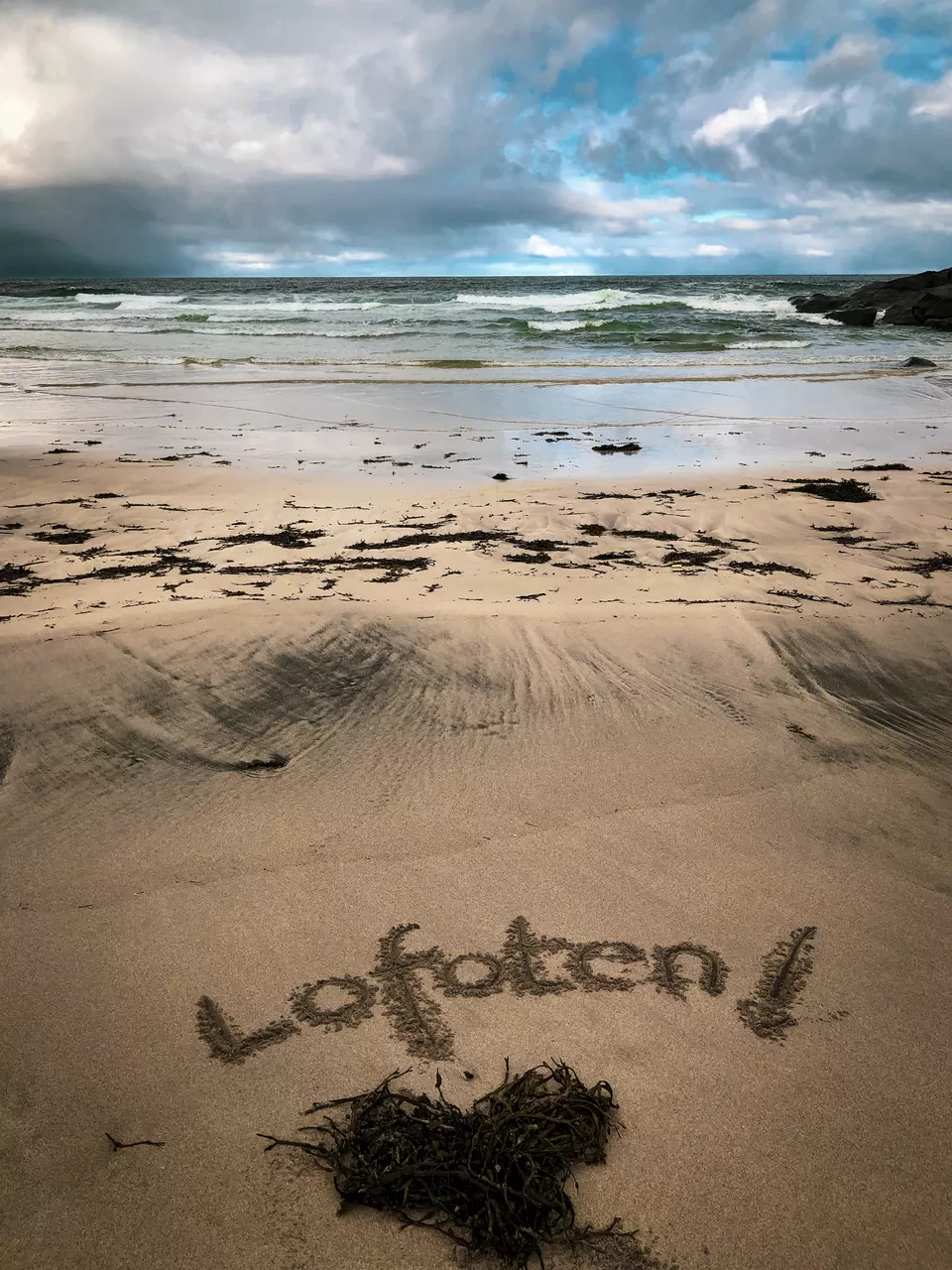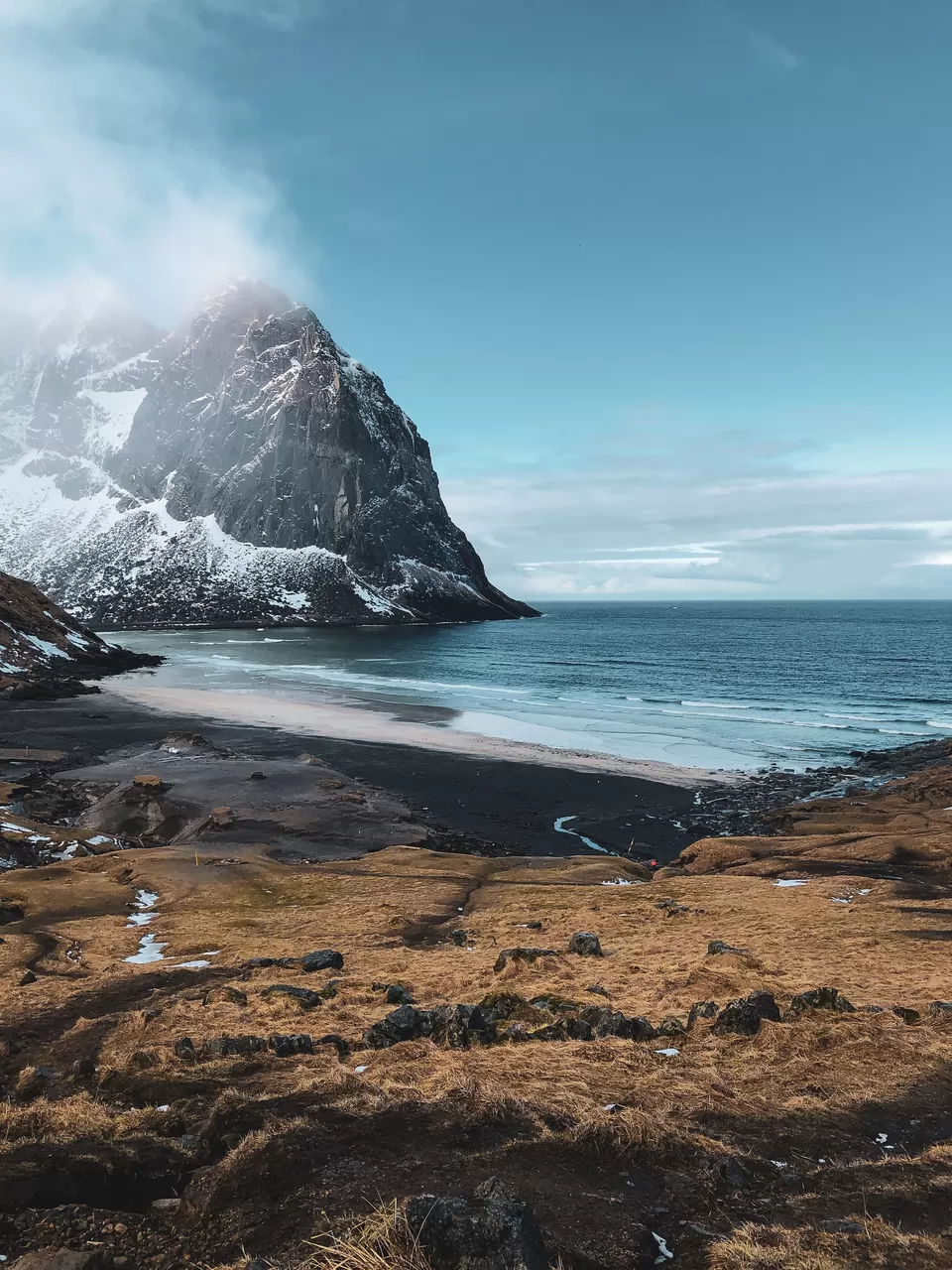 #6 Conquer the Epic Hiking Trails
Without a doubt, this is my favorite thing to do in the Lofoten Islands. To see across the rocky mountain peaks from a hiking trail is an unforgettable experience.
Many of the hikes in the Lofoten Islands involve climbing to the top of a mountain, so be prepared to work hard. But it's worth it !!
Reinebringen is the most popular hike, but it's a challenge and not to be underestimated. The trailhead is located on the road that runs along the outside of the Ramsvik tunnel.
It's only about 1 km to hike up to the viewpoint. It's basically one long stair climb to almost the very top of Reinebringen. But the hike gets tricky around some slippery areas and the rocky trail near the summit. But the views are drop dead gorgeous.
I loved Ryten, with its spectacular view over Kvalvika Beach and its slightly easier hiking trail.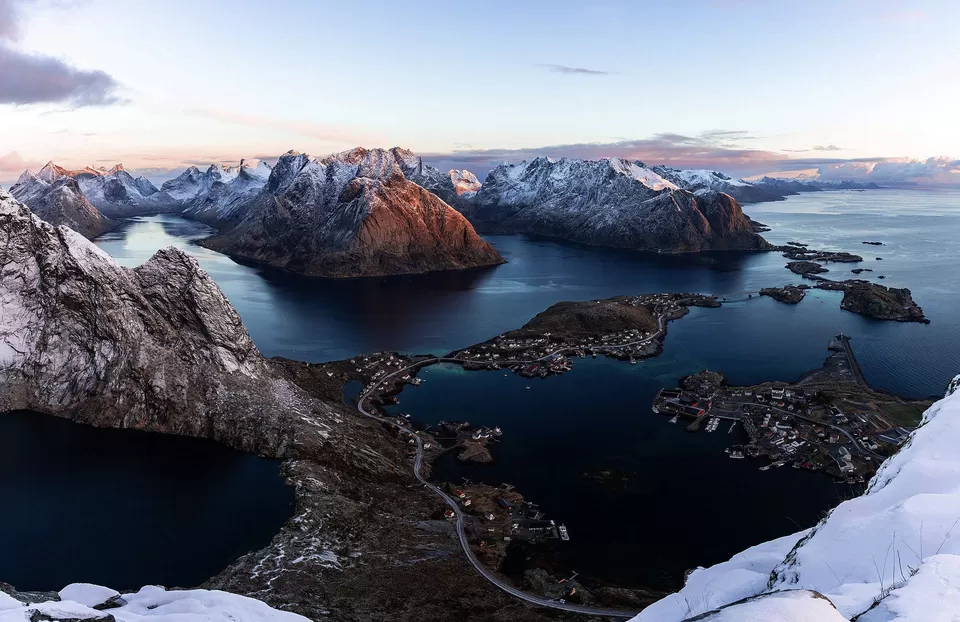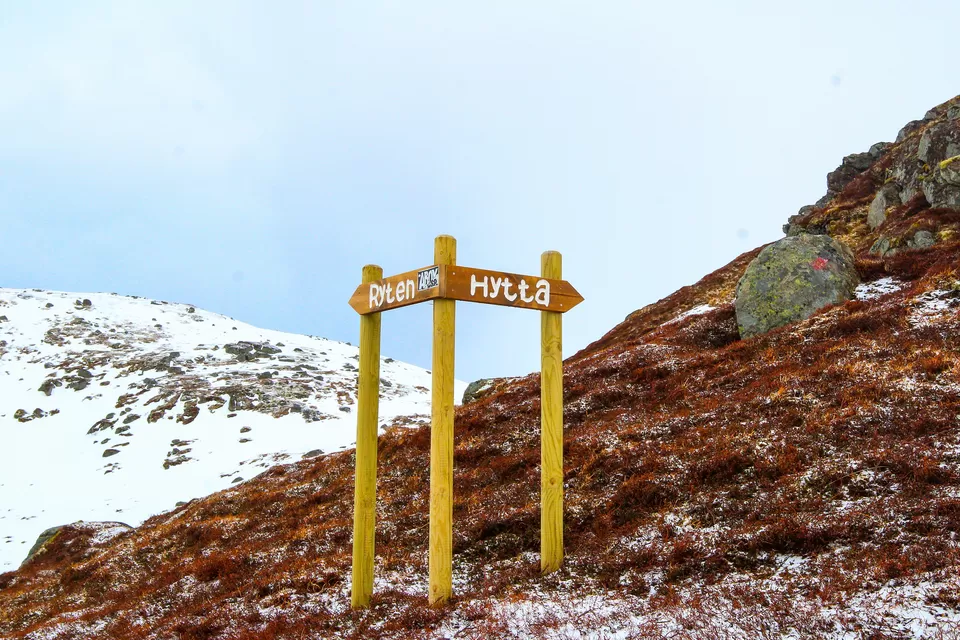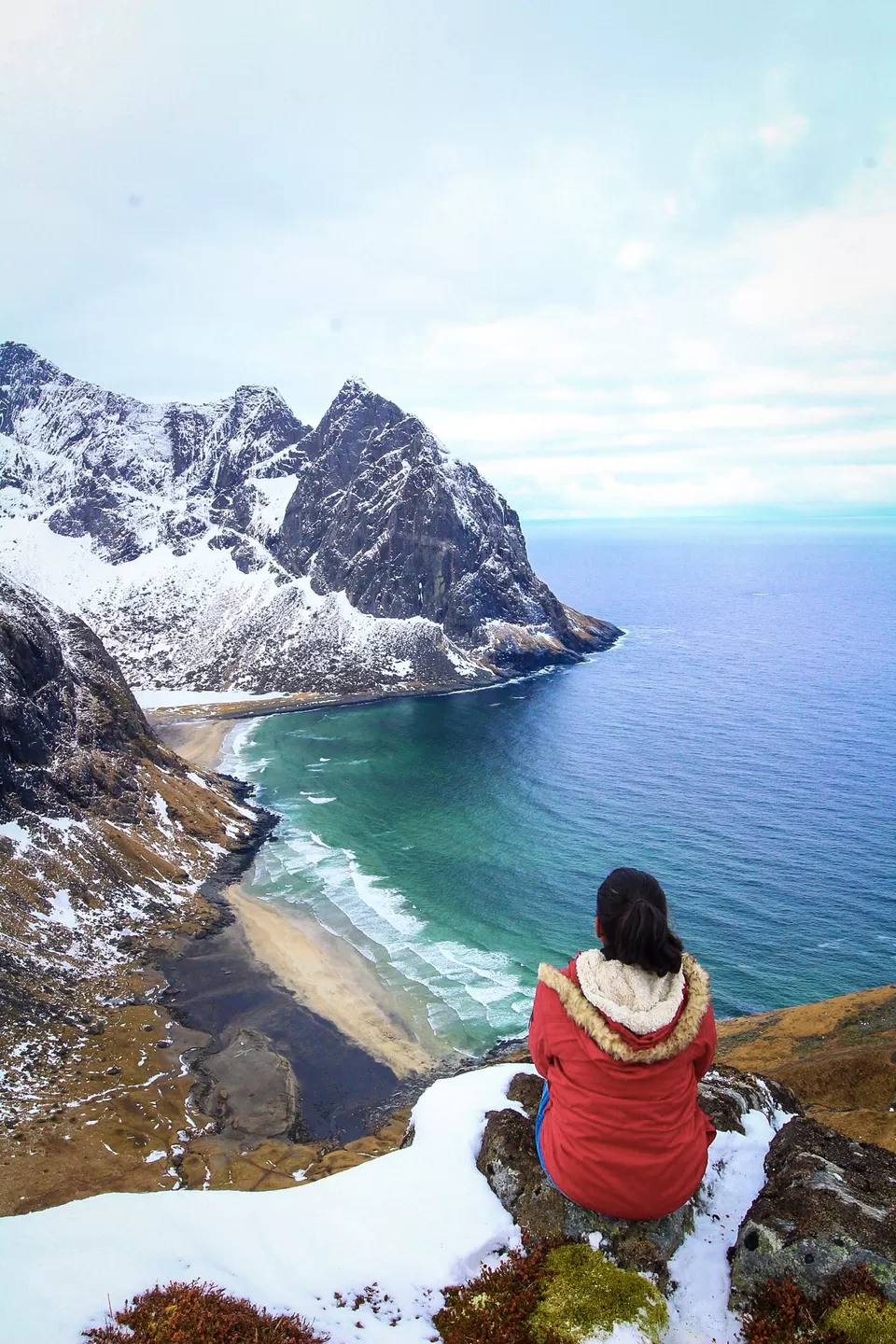 Other trails you can consider are Svolvaer Fløya and Festvagtind although I couldn't attempt these due to to heavy rains. So another thing to cater to during your trip to these islands are the rains which effortlessly can foil your hiking plans !!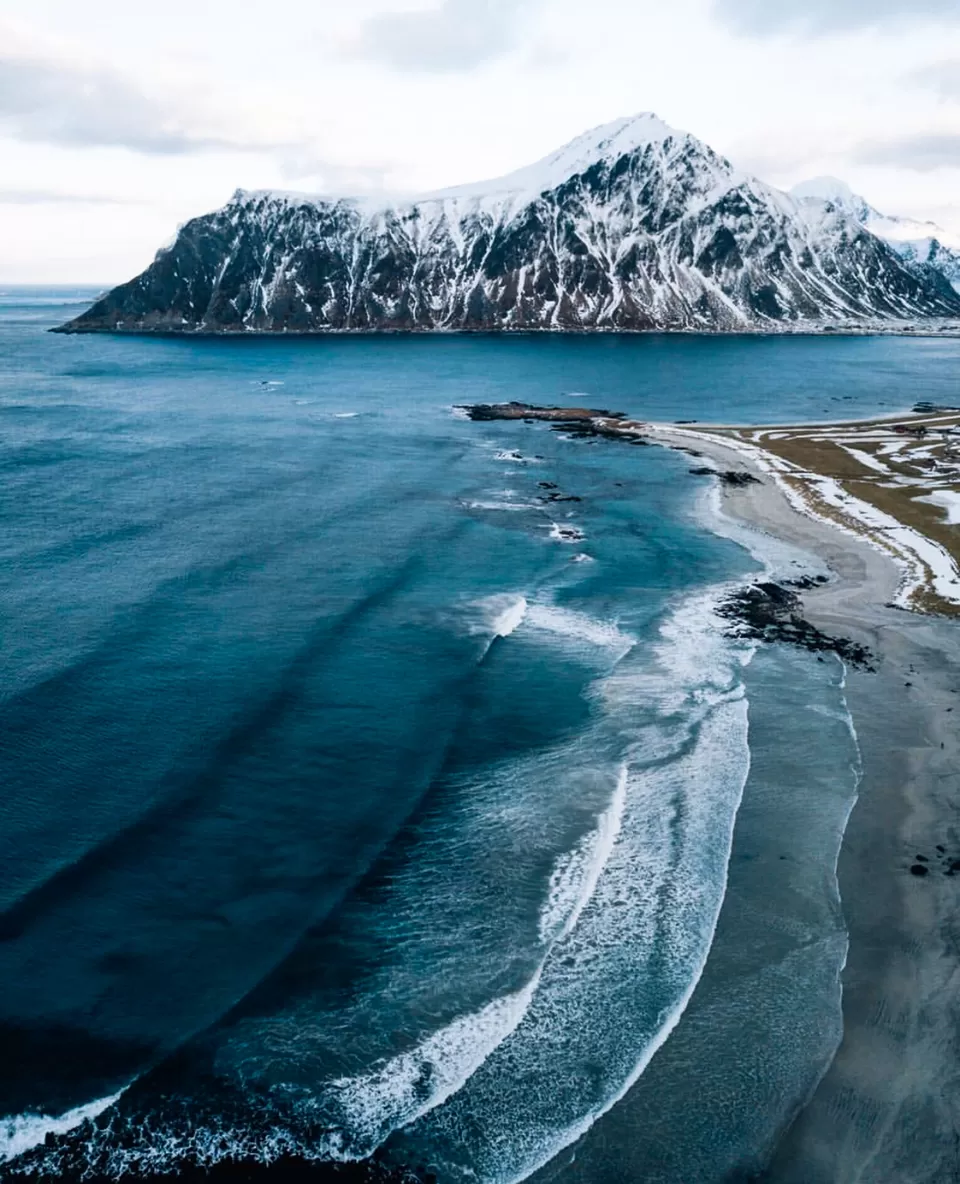 My recommendation for hiking is the website www.68north.com to prepare yourself regarding anything and everything about any hike in these islands.
#7 Kayaking & Canoeing
If you are visiting in the summer months, you can sign up for some great Kayaking or Canoeing excursions to enjoy the calm arctic waters.
#8 See the Northern Lights
Since the Lofoten Islands are located in the Arctic Circle, from November to February, it's possible to see the Aurora Borealis otherwise known as the Northern Lights.
From idyllic fishing villages and remarkable beaches that seem so out of place in Arctic Norway to mountain trails designed to test the toughest of outdoor enthusiasts and drying cod fish on huge racks and sea gulls flying along the shore, Lofoten has it all.
So that's it !! I hope I have managed to provide you an insight into these islands and why the Lofoten Islands should be on your bucket list !! I will shortly be posting a guide to the photography locations in Lofoten islands. Do checkout that as well.
I would love to answer any questions or queries about a trip to these islands !! Do leave a comment below ! Keep wondering and wandering !!