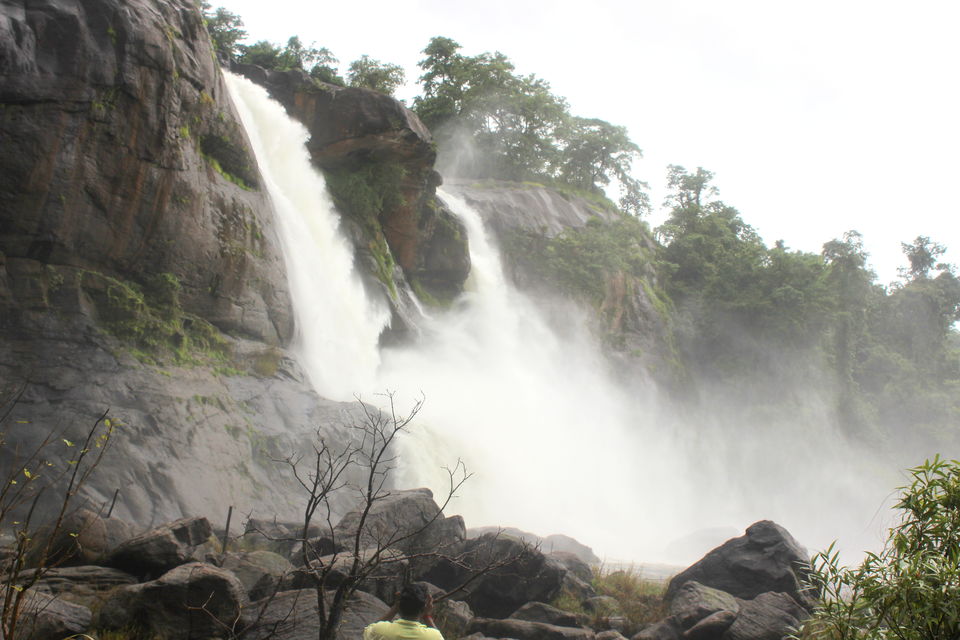 Day 3 : Athirapilly – Kochi
What if I tell you, you can visit the magnificent waterfalls that Bahubali climbed on? Yes, Athirapilly waterfalls, the largest falls of Kerala which stand tall at 80 feet are the same falls where scenes from various movies are filmed. A bit further away are Vazhachal/ Charpa falls. Located in Thrissur district, these falls make a great weekend gateway even for locals, thus are crowded during weekends. (Thus I would suggest you to go on weekdays!)
After a sumptuous south indian breakfast, we started our journey to Thrissur. The descent of Munnar can give you feeling of a ferris wheel, and thus we took plenty of short breaks. Since we did not include any temple in our itinerary, we briefly halted at a temple enroute. We had to climb few steps but view from the top was pretty soothing.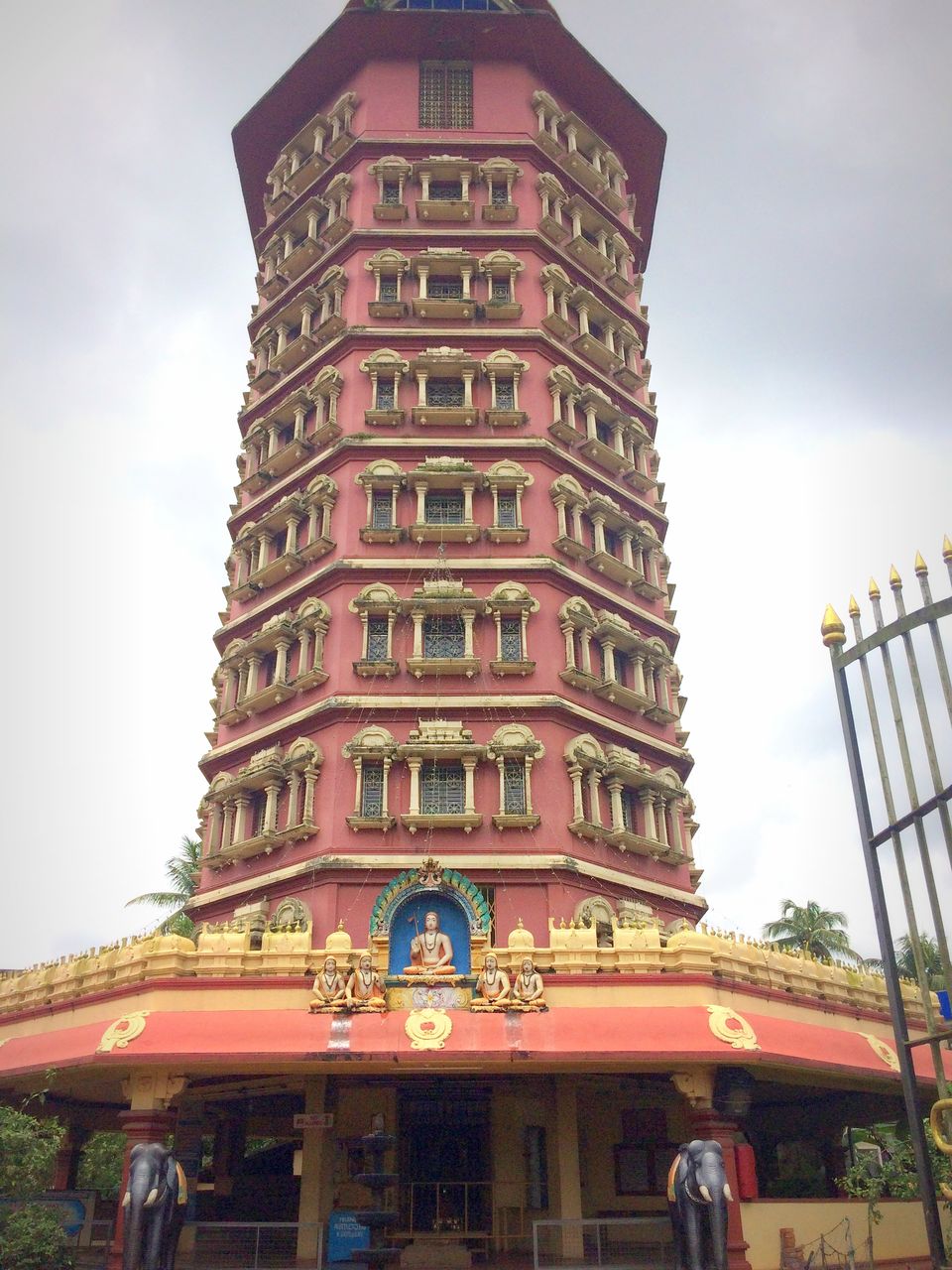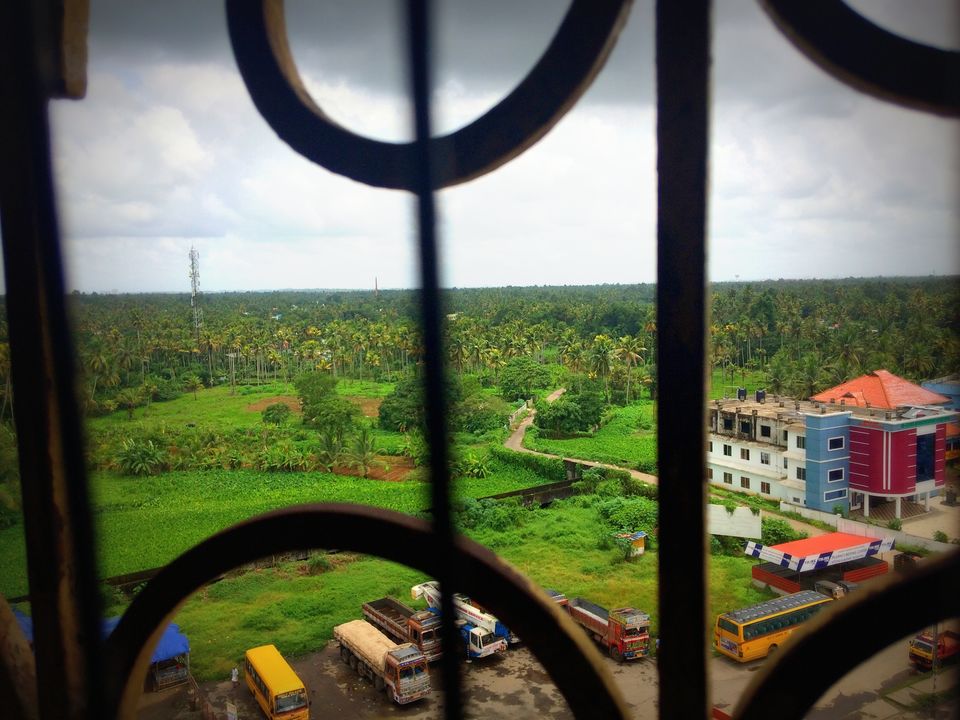 Payasam, a south indian rice pudding (like kheer), is a speciality we tried after lunch. Being a sweet tooth I liked it better.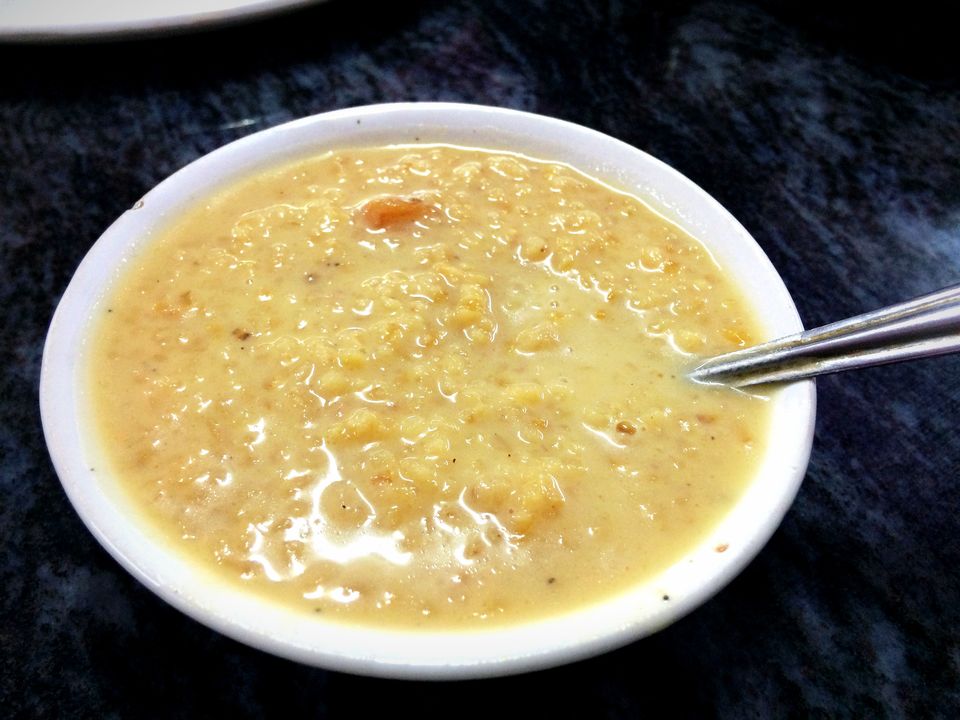 We resumed our journey and soon were surrounded by thick vegetation of palm and coconut trees. Journey to these falls is as beautiful as destination. Since it was weekend, the place was pretty crowded. Local families even with their toddlers had flocked the place. The road being narrow made cars move slowly. We parked the car nearby and decided to walk. The ticket counter also had a pretty long queue. The walk to main gate from ticket counter was of another 5-10 minutes. Entrance gate as well as walkway leading to the top of falls is made of bamboo giving this place a natural feel.
You can view the falls from the top along the bamboo barricades. A trek of approx 2 kms will take you at the bottom of the falls from where you can actually feel the magnificence. Since it was raining, the roads were slippery and we realised our mistake of wearing slippers. It is advisable to wear proper footwear if you're planning to go to the bottom. Even though a rough pebble pathways are built, trek is steep and may not be appropriate for elderly. There are bamboo benches on the way in case you get tired.
Though falls were not at their fullest capacity, it was a sight to behold. The mist at the bottom will leave you wet irrespective of your choice. Best time to visit here is when monsoon is at peak and the fall is at its grandeur.
If you have additional time following are the places you can visit around these falls:
1. Vazachal falls are just few kilometres ahead of Athirapilly falls. Infact the entry ticket covers both Athirapilly and Vazachal falls . Though not a huge one, this gives a pretty view of water cascading like a staircase. To add, a garden and thick forest area makes this place a quick stop if you've time in your hand.
2. The whole area is full of enchanting forests with many places unexplored. Try your luck and drive around, you might find a great spot of your own.
3. You can explore great architecture in Temples and churches of Thrissur. Vaddakunatahn Temple, Paramekavu Bhagavathy Temple, Triprayar Sri Rama Temple, Thiruvambadi Krishna Shrine, Bible Tower, Shakthan Thampuran Palace are just a few names.
Each district of Kerala is a complete package in itself, and just a day or two is not sufficient to explore it to fullest. I told you, you'll fall short of days when you visit this Gods Own Country!
Stay tuned for my next chapter of Kerala trip!
This post was originally posted on:
https://explorewithneha.wordpress.com/2018/05/07/kerala-diaries-athirapally-falls-the-niagara-of-inida/