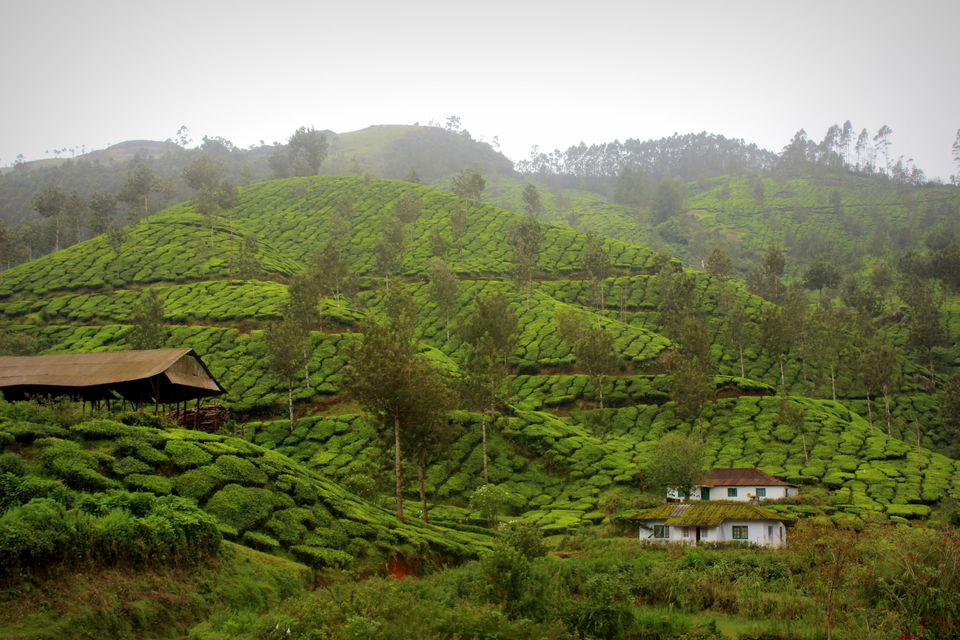 Kerala- rightly known as God's own country, is a complete travel package of landscapes and experiences. Be it family, friends, couples or backpackers, this place has something in store for everyone! Best thing about Kerala - from beaches to mountains, from citylife to wildlife, from waterfalls to grasslands, name it and you'll find it here. Sad thing - it is not really possible to cover everything in a short itinerary of 4-5 days. Sadly, we had to let few places off our plan which I really hope to visit soon.
Thus, I would suggest you to really plan your trip well because you'll be spoilt with options here. This is a place where you cannot be 'Bunny' from Yeh Jawani Hai Deewani, in a rush to cover everything that's there to visit. You'll need to be 'Naina' who knows how to savour the best from places you visit in your short time.
Since there is so much to write about Kerala, I'll be splitting my experience in several posts and I'll link them below for future convenience.
Kerala Travel Diaries- Munnar (This post)
Kerala Travel Diaries- Athirappilly
Kerala Travel Diaries- Alleppey
Kerala Travel Diaries- Kochi
Kerala Travel Diaries- Munnar
Munnar, located at 1500 m above sea level is a hill station in Kerala famous for its tea plantation. This honeymooners paradise is a great place to visit throughout the year, best time being winter. Even though it receives heavy rainfall in monsoon, I had a rejuvenating experience when I visited Munnar in August.
As much fun I had during my Kerala trip, I did make few bad choices and realised that places can be sometimes over-hyped. When I was back, I even stumbled upon some cool places which I missed to cover, and that's why here I'm giving you genuine review. I hope it helps you! :)
Day 1: Mumbai - Kochi International Airport - Waterfalls - Spice Plantation - Munnar
The journey to Munnar from Kochi airport is of about 4 hours. There are few en-route places like Cheeyappara / Vallara waterfalls and spice plantations. Falls are not huge, but can be a quick break in the long drive. Spice plantations offer guided tours. You can also buy fresh spices from their stores. Elephant rides are also offered there. A bumpy jeep ride took us to the elephant camp. However after my experience, I would prefer watching elephants in their natural habitat at Periyar National Park (3 hours drive from Munnar). These en-route places are one time visit, and can be skipped if you've visited them before.
We opted for a budget stay at 'Munnar Tourist Homes'. Single room was spacious enough to accommodate all four of us. The service was decent enough for the price paid.
Munnar is a place where you don't need a luxury resort to experience its beauty. I was rather surprised that our hotel didn't even have a ceiling fan, but It was so freaking cold during the whole trip that I had to put layers for warmth.
In the evening we did a quick tour around the market for souvenirs (which are almost same at all the places). Mostly you will find handicrafts (lots of coir and coconut products), traditional items like Nettipattom, wooden crafts like jewellery boxes, etc.
Day 2 : Munnar - Rose Garden - Echo point - Kalarikshetra - Tea Museum - Tea Gardens
Few facts that you should remember- Breads are sweet in Kerala; Kappi(coffee) can be a bit strong if you prefer it a bit sweet like me, and Kerala people are great host that they serve you 3 (sometimes 4) idlis/ vada/ uttapam in a single plate (Mumbai hotels should learn!) So make sure you confirm the quantity you get in a single serving before placing your bulk order.
After almost a meal-like breakfast, we headed to Rose Garden, which ironically didn't have a single rose! But they sure did have some prettiest flower I've ever seen. Not really the highlight of the place, but you can visit once.
Our next location was Echo point, which does what it should, gives you reverbs of whatever you say. But the highlight is the reservoir of Mattupetty Dam. You can do boating here or simply enjoy on the banks. The blue sky perfectly casts a reflection on the water and there is constant breeze to keep you refreshed. Cleanliness is a plus point in whole of Kerala.
After quick freshen up, we were in search of the place Munnar is most famous for, Tea Gardens! It was stupid of us to think that tea gardens was a specific place, instead whole of the Munnar can be called as a tea garden! There are acres of lands mostly cultivated by Kanan Devan and Tata Tea plantation houses. Most of these lands are private properties, but you can just walk along the roads and even climb through narrow passages if there are no barricades. We drove around and halted at a good spot where there was less crowd and spent some time admiring the greenery all around us.
We even toured Tea Museum where you'll get a documentary and guided explanation of tea processing. You can even buy from hundreds of varieties of tea they offer. Nothing exceptional here and you can skip if you're short of time.
Since time was in our favour, we decided to go for a story based Katthakali act at Kalarikshetra as suggested by our driver. They also have shows of martial arts and other stuff. It was a decent and short act which you can visit if you've extra time.
Next day we proceeded to next place on our list, the gigantic Atthirapilly falls. However here are few places which I missed in Munnar and would definitely want to visit next time:
1. Top station (I'm so sad that I missed it!), half hour drive ahead of Echo point, is a scenic view point from where you can enjoy the panoramic view of the majestic Western Ghats. It offers spectacular views of valley amidst the clouds and thus is photographers' favourite destination in Munnar. The route leading to Top Station is scenic making it a memorable ride.
2. Eravikulam (Rajamalai) National Park hosts a rich and diverse variety of flora and fauna. It is a UNESCO world heritage site famous for housing the endangered Nilgiri Tahr.
3. Attukad waterfalls can be visited during rainy season, however water stream shrinks during late winter/ summer. On the way to Attukad waterfalls is Pothamedu View Point (Sad thinking of this again!) which again offers breathtaking views of tea gardens. It is a great point to view sunset.
Stay tuned as I'll be posting the next chapter of my Kerala trip soon! :)
Feel free to post any comments / suggestions / questions below! You can even let me know of your favourite place I might have missed! :)
This post was originally posted on:
https://explorewithneha.wordpress.com/2018/03/21/kerala-travel-diaries-munnar/
Frequent searches leading to this page:-
Kerala Tourism Packages Honeymoon, Kerala Tourism Packages For Family, Top Kerala Tour Packages With Price, Best Kerala Tour Packages For Couple With Price, Kerala Tour Packages 3 Nights 4 Days Price, Best Kerala Tour Packages With Price From Delhi, Kerala Tourism Best Places To Visit