So like most, a trip to Kerala had been playing on my mind for long. While deciding on the itinerary (since there are so many places that are a must visit) I narrowed down on central Kerala for my first. What my list finally looked like? Here it is — Ernakulam/Kochi, Thrissur, Guruvayoor, Alappuzha/Alleppey, Munnar, Thekkady. Among them I would love to go back to Munnar and spend some real "do nothing" days. Some we could not do due to local issues that had risen restricting tourist visits (Top Station & Kolukkumalai)
While the place gave me awesome memories and immense satisfaction as a travel & photography addict, the weather, the food and me could not connect. Not to forget the 'demonetization breaking news' the very day we landed in God's own country!
ERNAKULAM/KOCHI
Ernakulam Marine Drive Boat Ride, is a must do when in Ernakulam/Kochi. The beautiful marine drive with its greens, commercial life, dazzling lights and backwaters on the other side is a good option for an evening out. Opt for the sunset cruise and the crew will keep you well entertained and informed about the historical / touristy landmarks around.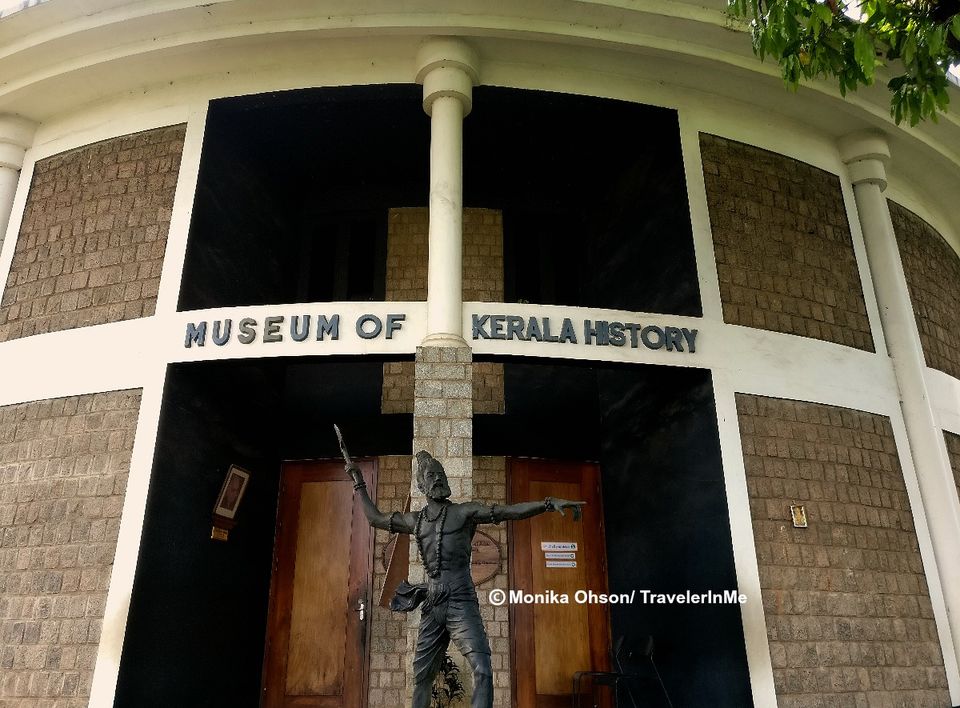 Museum of Kerala History and the Gallery of Contemporary Art which is the core part of the Foundation — the Visual Arts Gallery, the Gallery of Miniature Art and the Dolls Museum. It is located in Edappally, Kochi. I was quiet amazed with the interesting way the history narration unfolds…… life size idols / setup showcasing the personality and time of that era.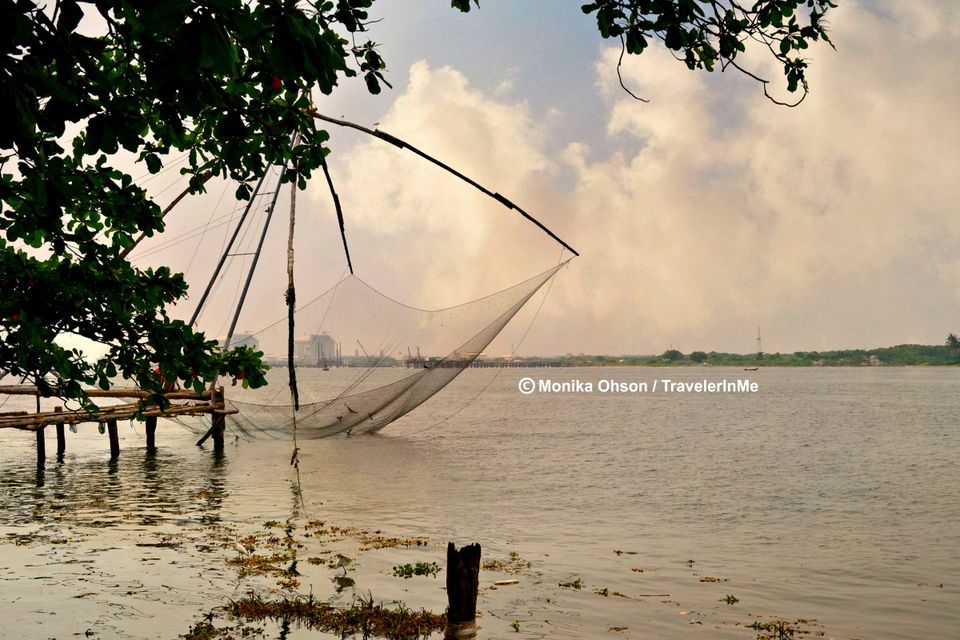 Fort Kochi, for those leisurely walks, cafe breaks, visit to the Jewish Synagogue, Mattancherry or Dutch Palace (now a museum), the Chinese Fishing Nets, Maritime and Police Museum. You will love the quietude the place offers, a stark contrast to the noisy commercial city of Kochi. The place would be of interest to history lovers and travel photographers but may not find a top place on a regular tourist's list when they relive their trip.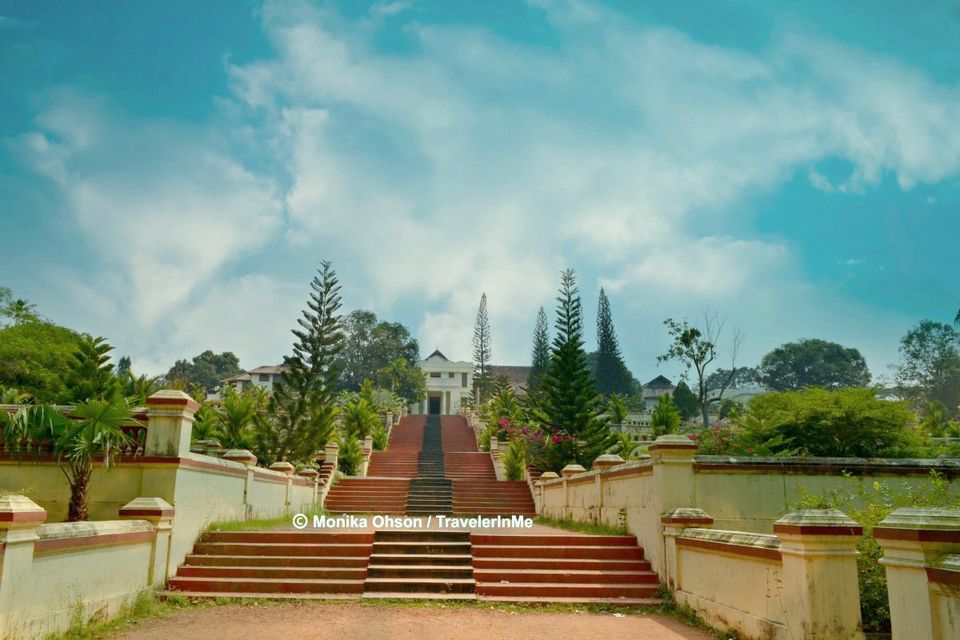 Hill Palace in Tripunithura, was an administrative office of the Kochi Rajas and built way back in 1860s. Spread over 55 acres of land it consists of ~50 buildings — archaeological & a heritage museum, a deer , pre-historic and children's park. A must visit! In fact it is the largest archaeological museum in Kerala! This is the first museum I've seen that exhibits the gold treasure (locker room) of the rulers. Major attraction being the gold crown embedded with precious stones.
The Vadakkumnathan Shiva Temple was high on my list. A beautiful temple so intensely charged that you can feel it as soon as you enter it. According to legends this is the first Shiva temple made by Parshurama, the 6th incarnation of Lord Vishnu. Photography is strictly prohibited but the time spent there shall remain as an endless blessing for you.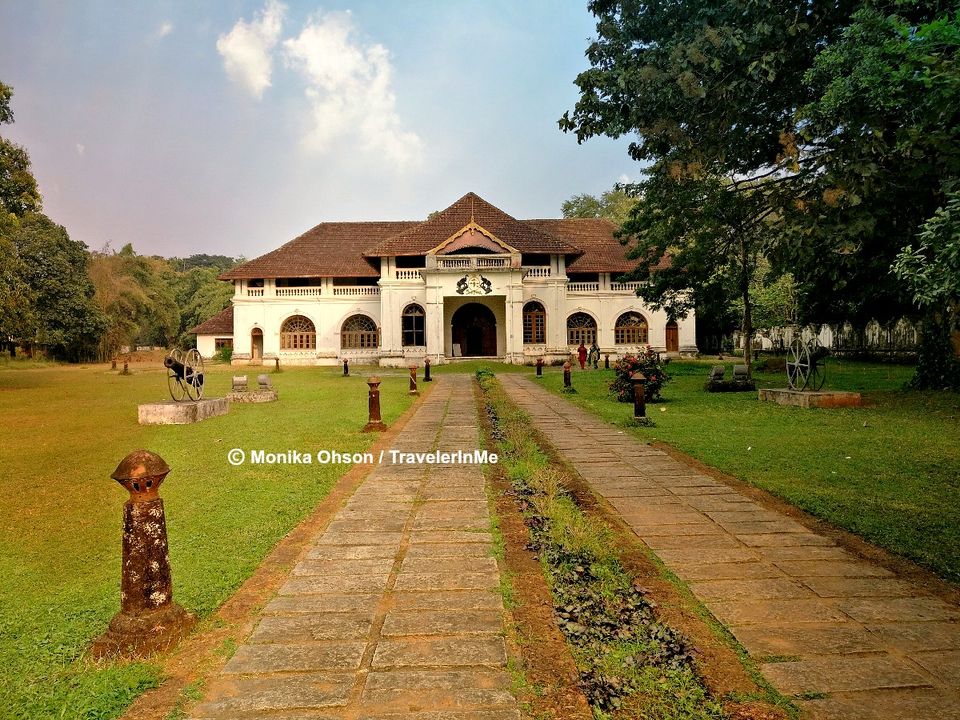 Sakthan Thampuran Palace, has a Kerala – Dutch architecture and situated close to the Vadakkumnathan Temple. The time of King Rama Varma Sakthan Thampuran rule was considered to be the Golden era of the Cochin Dynasty. He was the one who gave the state of Kerala its much awaited religious annual festival, the Thrissur Puram. Although the palace is under ASI it is not well maintained from the outside. It has been converted into a museum since 2005.
Athirapilly Falls, a popular picnic spot, tourist attraction and a regular location for outdoor film shooting. The drive to the falls is beautiful. Wooded on both sides with acres and acres of rubber and palm plantation. Read Green; Nature; Forest. The place tends to be crowded but am sure one will find their spot
Guruvayoor Krishna Temple, is known as the "Dwarka of the South" and is dedicated to Lord Krishna the avtaar of the presiding deity, Lord Vishnu. The temple is said to be dated some 5000+ years ago! The dress code is strict and one needs to have devotion to be a part of the serpentine queue which means a minimum wait of 1.5 hours for the deity's darshan. The temple is one of the 5 most popular of the Krishna / Vishnu temples in India.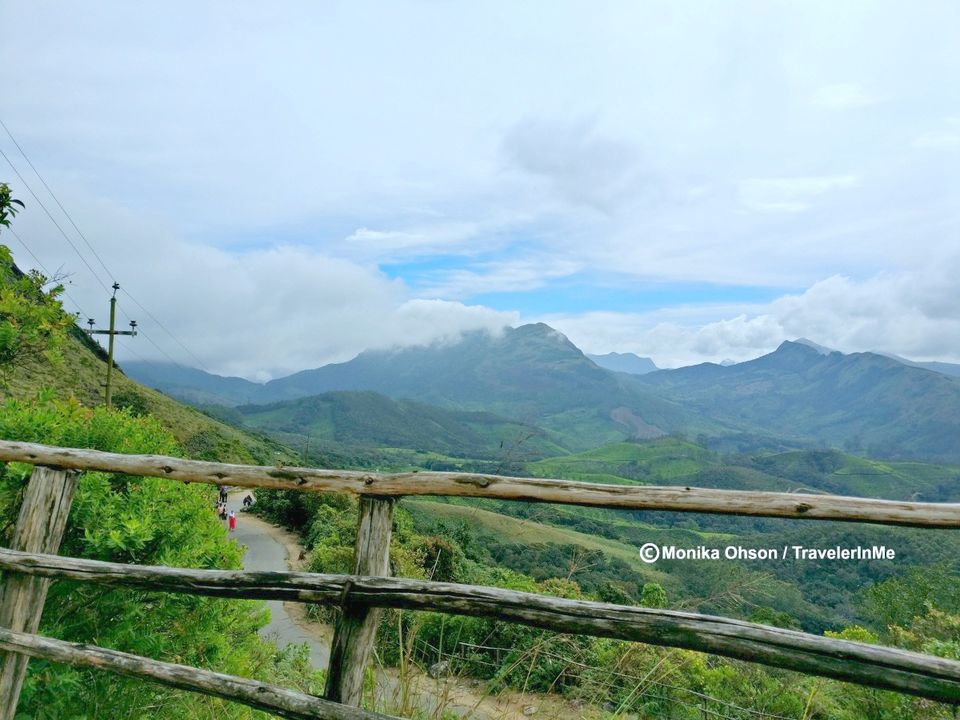 Eravikulam National Park, my favorite! Nature at its best….. rolling greens, blue skies, misty views, clouds white & fluffed up ….. I already have you all drooling, right ???? Not to forget the beautiful endangered, endemic Nilgiri Tahr who roam around freely. It is advised that you do an online booking and reach the place much ahead your slot as the rush to the place is immense.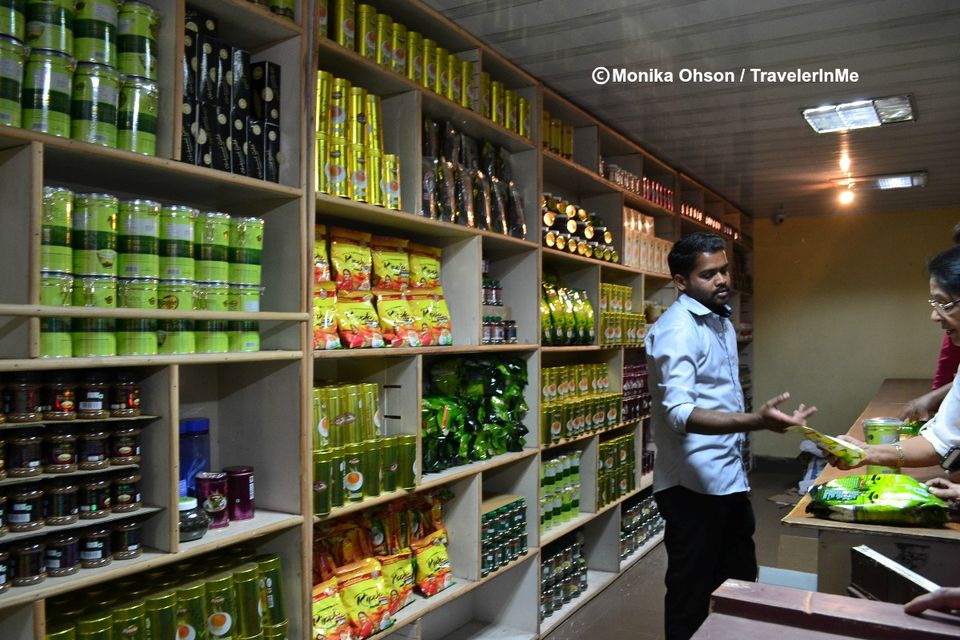 Kanan Devan Tea Museum, takes you through the process of tea making, an interesting documentary on the Kanan Devan Tea Plantation and retail therapy of the plantation produce. I was disappointed as there was no plantation visit which should be there. One can do away with a visit here if pressed for time or if they have a better plan/ option.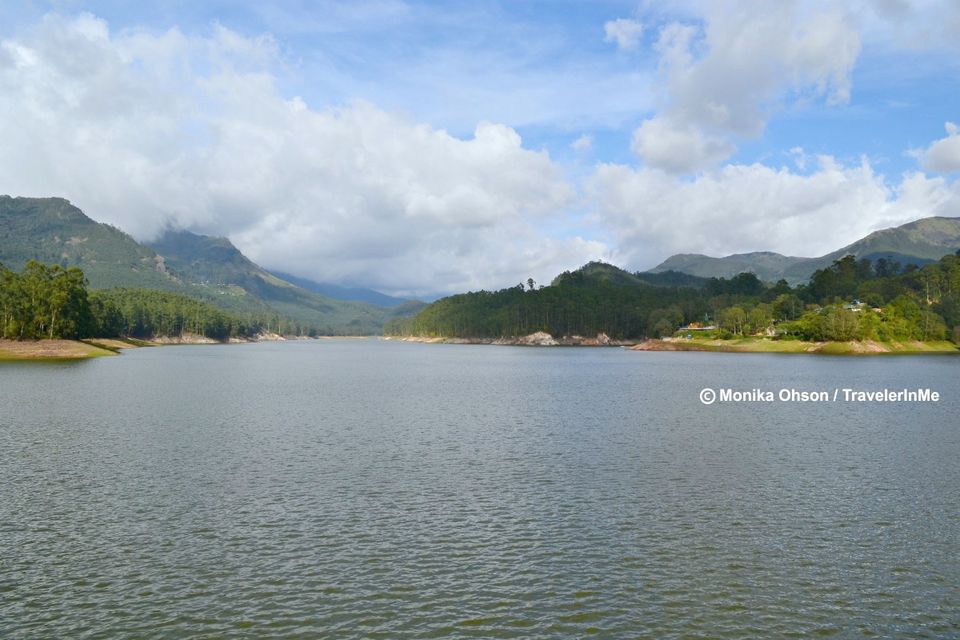 Mattupetty Dam, is a storage concrete gravity dam built to conserve water for hydroelectricity. Take a leisurely walk and enjoy the natural scenic beauty around the dam.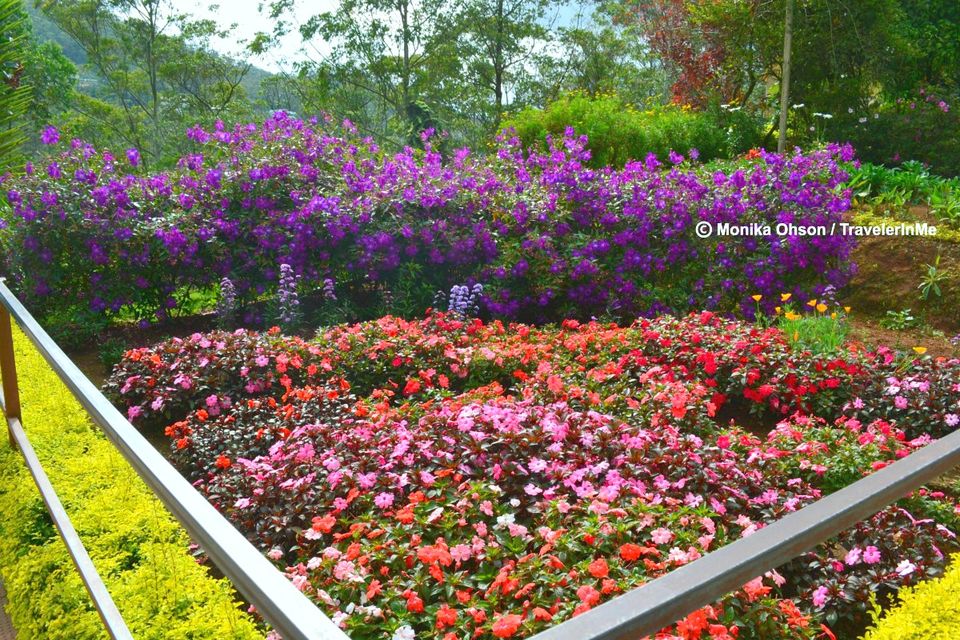 Mattupetty Rose Garden or KFDC Floriculture Centre, houses variety of flora in all possible colors and hues. This comes before the dam so do stop for a floral treat for your eyes!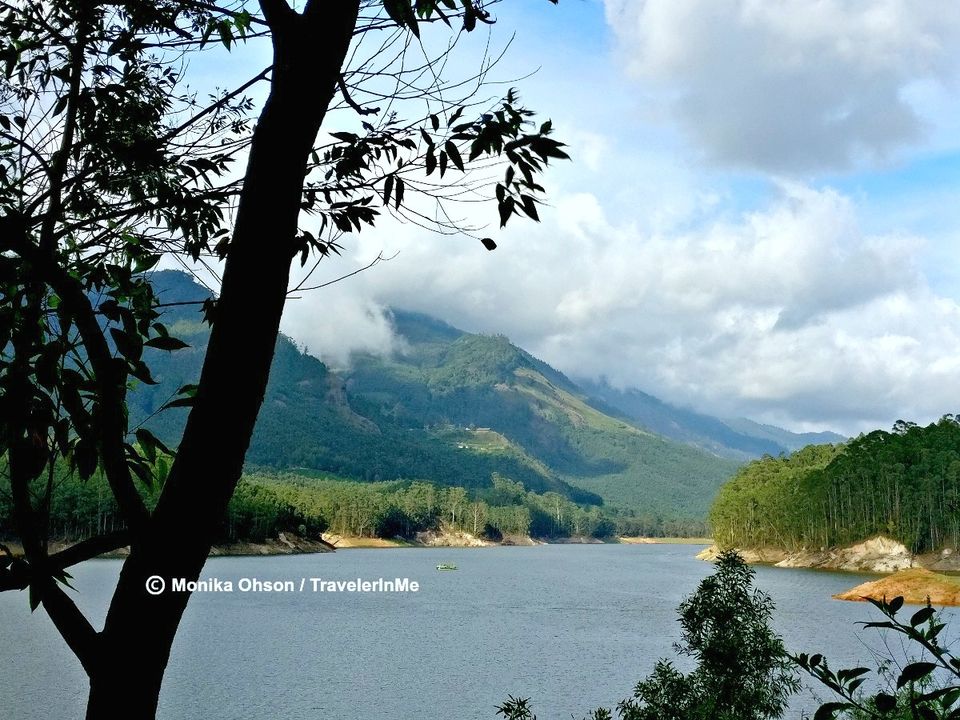 Echo Point, will offer you a cacophony of echos hahaha…. well if a place is crowded with tourists and all are yelling their lungs out to hear their echo what would you expect!! Nevertheless the place is picturesque with clear blue skies, clear water, white fluffy clouds and greenery to add more beauty to it.
Read more on my Munnar trip here
Spice Plantation, visit can be done on the way from Munnar to Thekkady or vice versa as per your itinerary. It will be interesting to see the herbs and spices growing in abundance in Kerala — cardamom, pepper, cashew, vanilla, cocoa, coffee, clove and many more. Be ready for the retail indulgence of spices and ayurvedic medicines
Periyar National Park & Wildlife Sanctuary, another picturesque place. One can opt for treks, boating, bamboo rafting etc to enjoy the national park. It is fun to stay within the premises to get the best out of the place. We were unlucky in sighting of the elephants which are the high point of the Periyar trip. Do be prepared for such 'oh no!!' moment Enjoy the place and time spent there. Again do not forget to do your online reservation and be there much ahead of your time slot.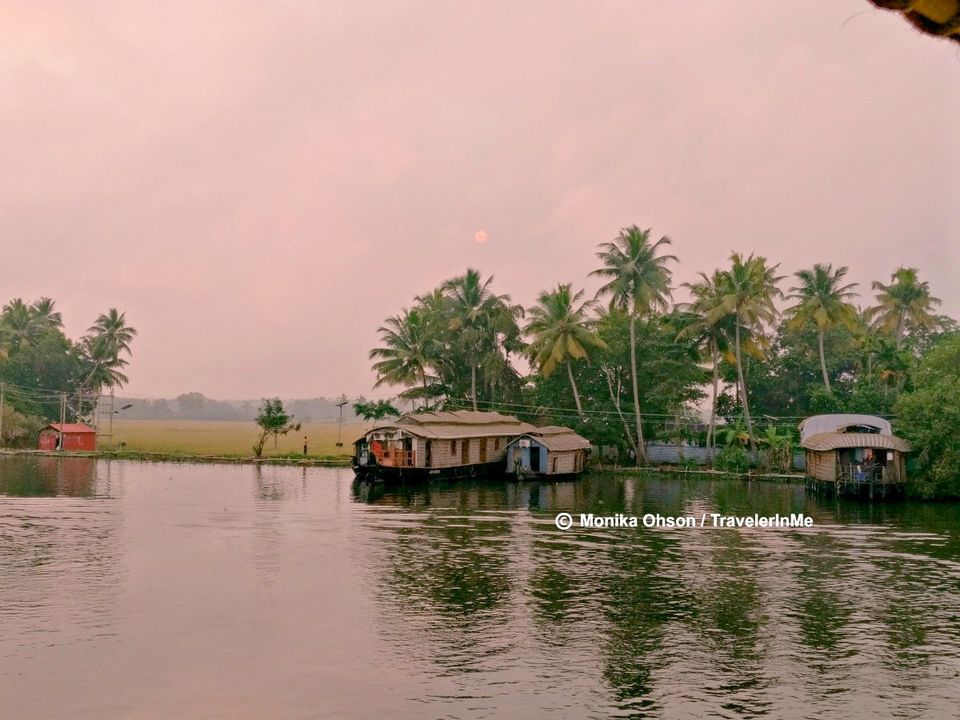 Backwaters & Kettuvalams, is a must do for everyone. Opt from a day ride or an overnight stay. You can enjoy the Kerala cuisine besides the scenic views of backwaters, Vembanad Lake and village life around. Once the houseboat halts for the night you can explore the village and its life.
Read more about my Alleppey Backwaters experience here
For my other posts of Kerala or my travels follow me & keep discovering India through my travels!
HAPPY TRAVELLING!
Monika Ohson / TravelerInMe
This post was first published for/on HolidayIQ Blog
Frequent searches leading to this page:-
Kerala honeymoon places, budget for honeymoon in Kerala, Kerala honeymoon itinerary, Cochin to Thekkady to Munnar ,Alleppey to Thekkady, 5 nights 6 days Kerala package itinerary