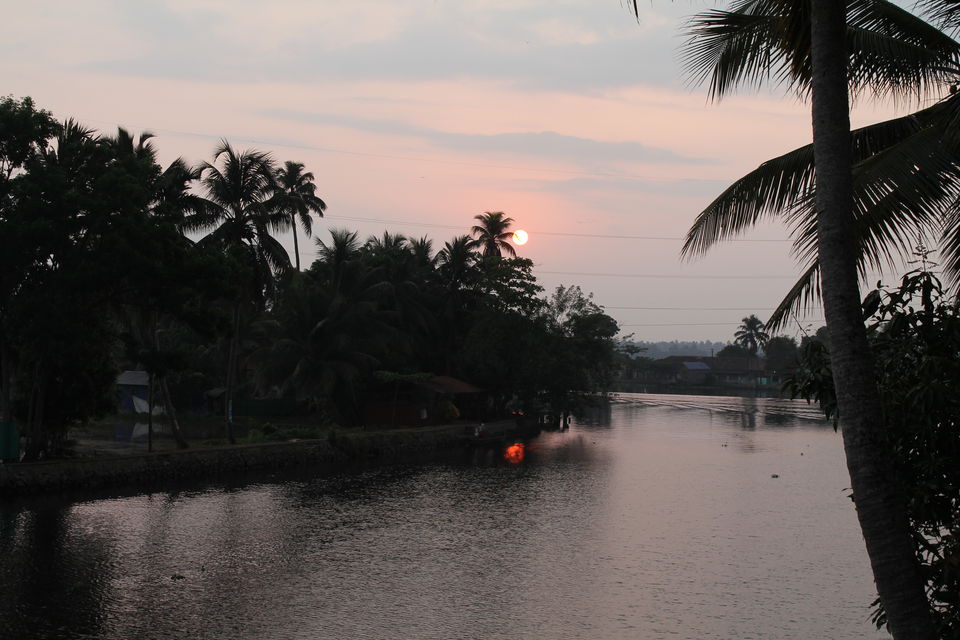 Hello fellow travelers!
Everybody wants and deserves an escape from the mundane everyday lives that we lead to pay bills (that's what adulthood is!). Albeit lot of alternatives made available to us in this age of technology which makes us glued to the gadgets we own to kill time, its basic human instinct to explore new territories and free ourselves from the shackles of a constant ambiance. We, a bunch of laid back corporate folks (a.k.a. slaves) from Bengaluru, decided to embark on a five day long road trip cruising through the god's own country in the month of scorching early April.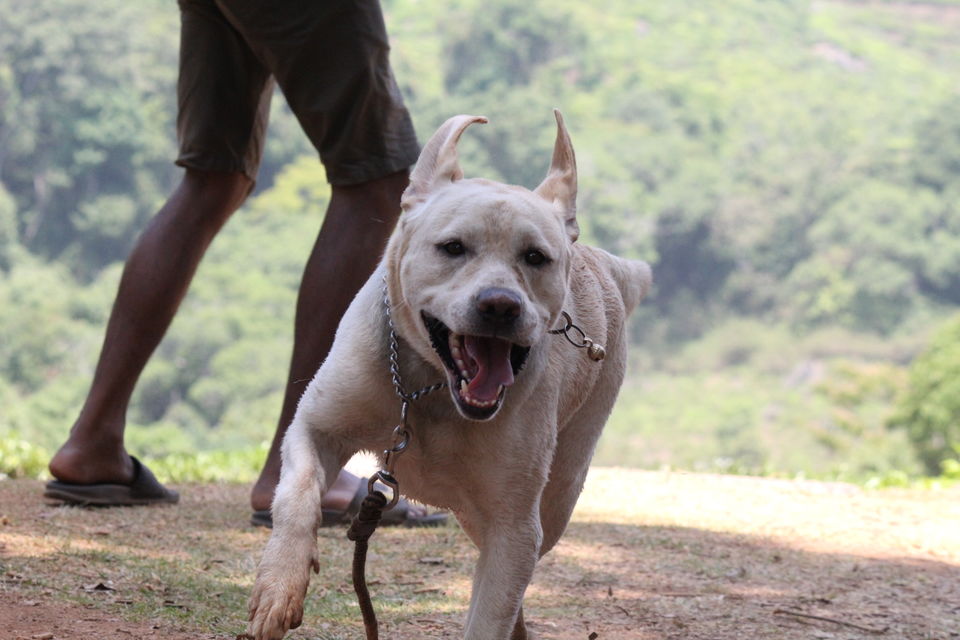 We rented a car from 'Mychoicez' and set our journey from Bangalore, a little after midnight on a Saturday. Our first destination was Athirapilly falls, which is the largest waterfall in Kerala and also has gained fame for being the backdrop in many movie sequence like adada mazhada song from the movie paiya, jiya jale from dil se, the lingham scene from Bahubali pt.1,to list a few. We opted to be on road after sun down for most of this trip because of the hot-humid-sun. It was an 8-9hr drive which wouldn't have been pleasing without chill hop and deep house playlists. We took the blr-Hosur-Salem-Erode-Coimbatore-Palakkad-Thrissur-Athirapilly course. The roads up until Coimbatore are the regular smooth four lanes NH, but once you enter Palakkad there were a great deal of 'under construction' roads which slowed us down. In the Chalakudy area, along the country roads, you can spot several huge bungalows of the local residents and humongous churches which looks right out of the movie set, and is a sight for our sleep deprived sore eyes.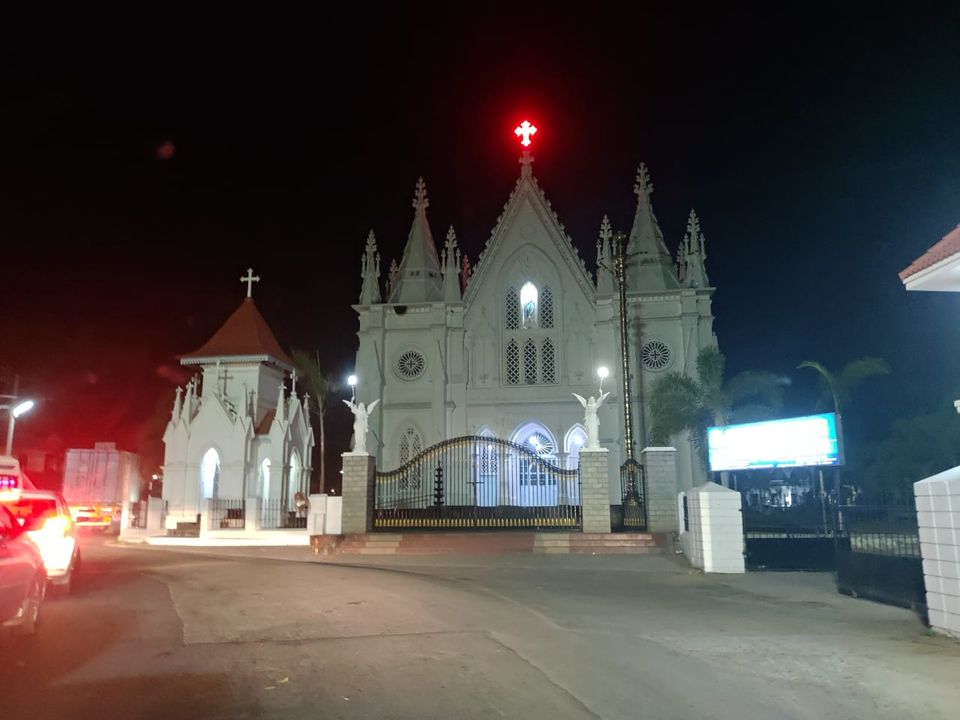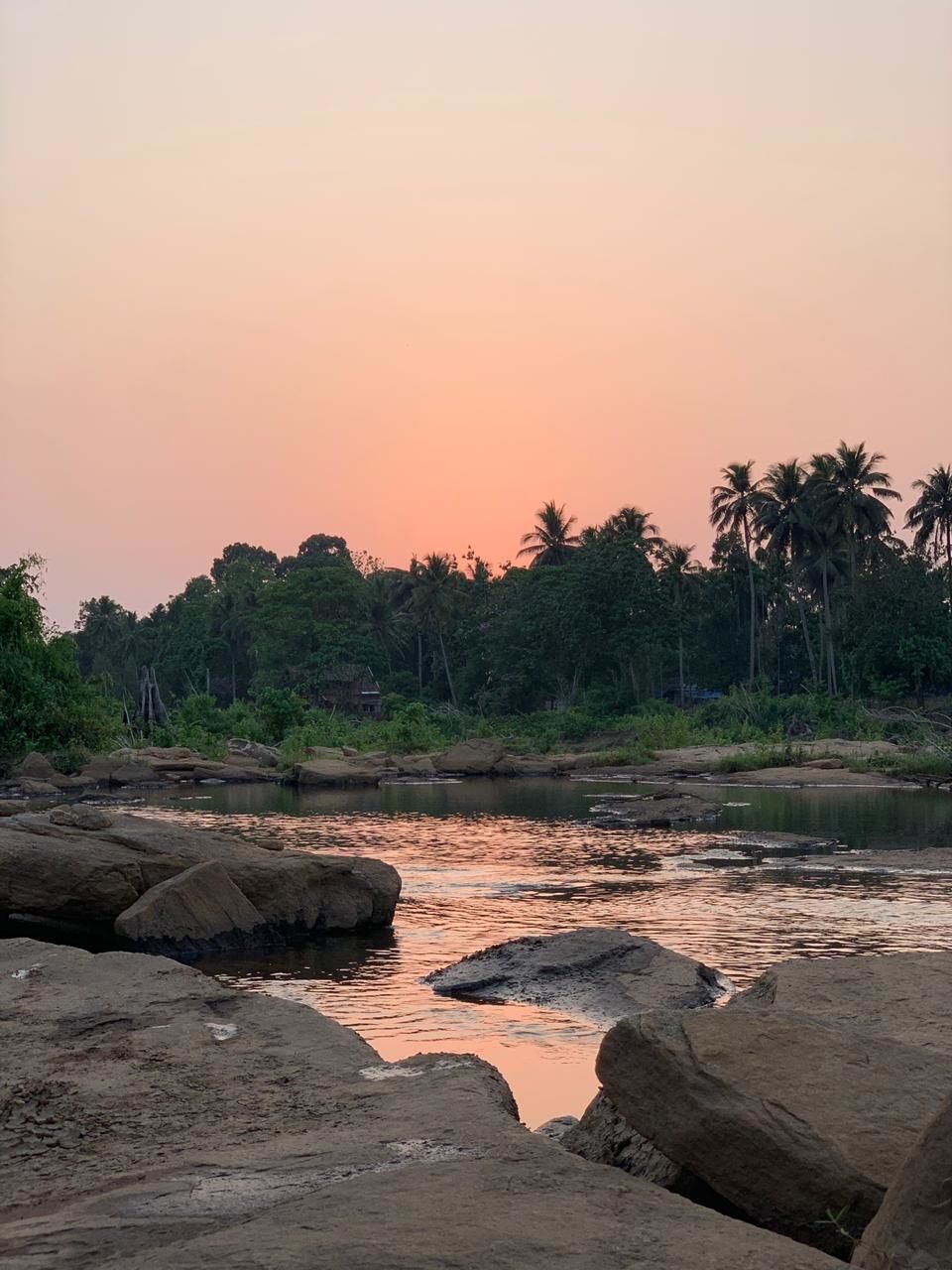 There were hardly 20 people and the sun was setting; it was just like a private pool, except the water was so clean w/o any chlorine (duh) we had a refreshing bath with an amazing view. After spending more than an hour basking in the 6PM sun, we rested for a while in our rooms and played a little bit of badminton later, had dinner with few chilled beers and retired to bed. The next day we decided to go early around 6AM to the falls but nobody got up until 8AM. Our resort owner warned us that we will not be allowed to bath in the falls but we had an optimistic mind and left to falls.
It was a 10min drive from our stay and since it's a tourist attraction, they had charged an entry fare. I would say, it was quite a trek to the falls; there are two view points to the falls- the top view and the bottom view (which was pretty challenging).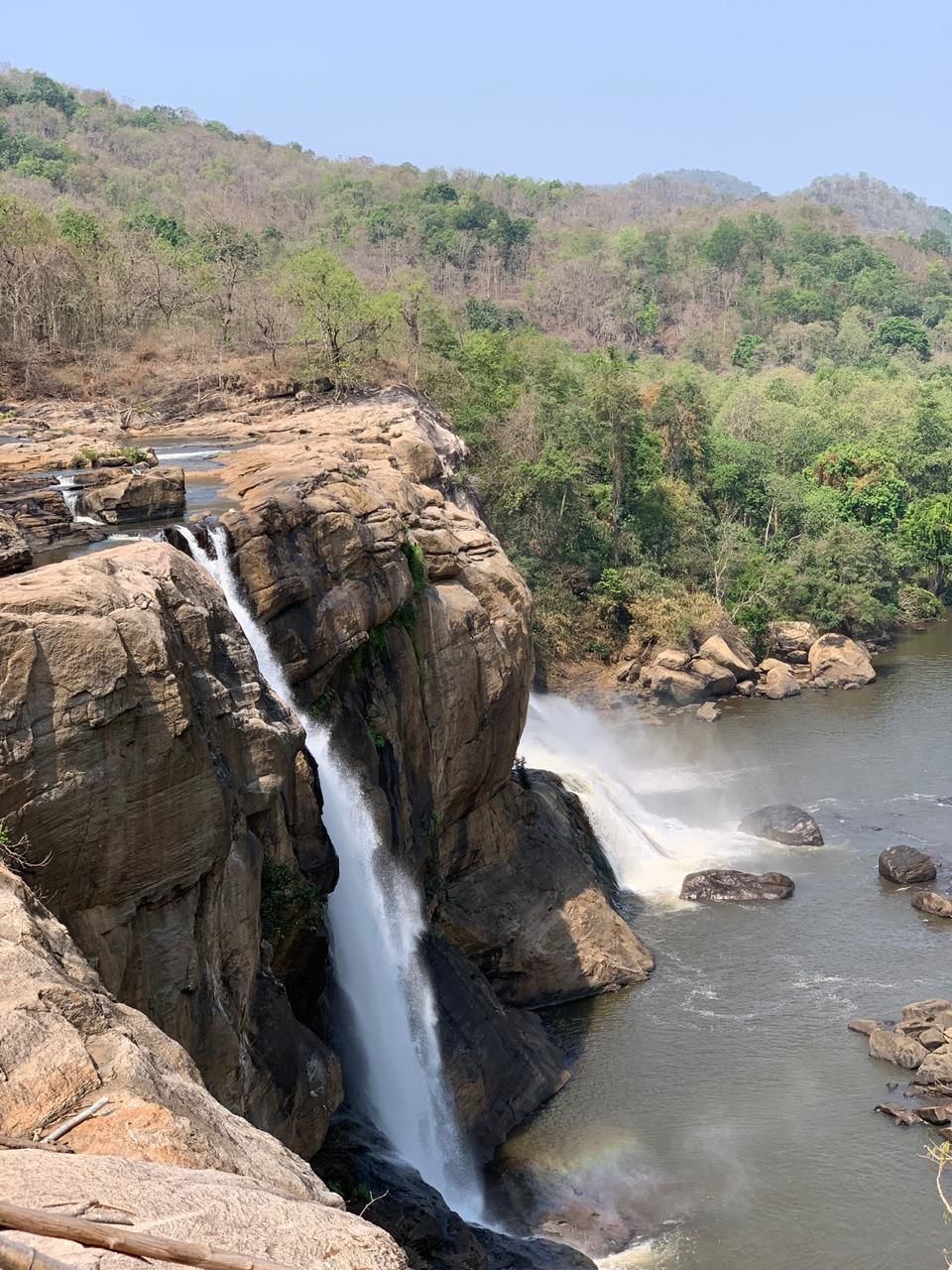 The whole of the falls was fenced and since it was summer the water flow was not huge, which was disappointing but expected. So we just clicked a few pics from top view and started our trek down.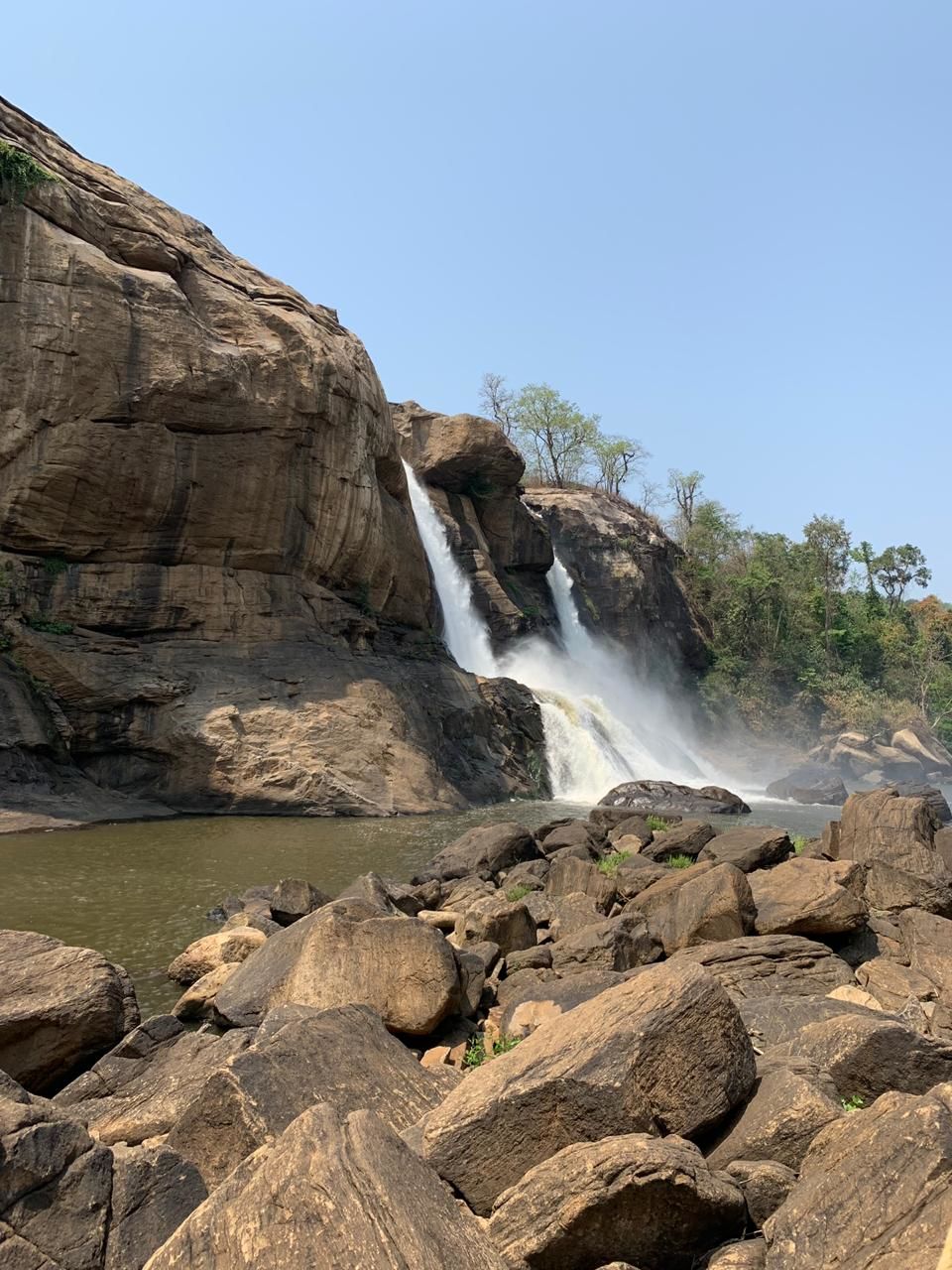 We sat on a low lying rock and dipped our feet in a small stream of water from the falls and suddenly, all of us had the privilege of free fish spa in freshwater. We enjoyed the free spa for a while, but at the same time 12'o clock sun was upon us so we decided to leave. After having our breakfast at 1230 in the resort (idly and kattangaappi/black coffee), we checked out from there and started to our next destination to Varkala.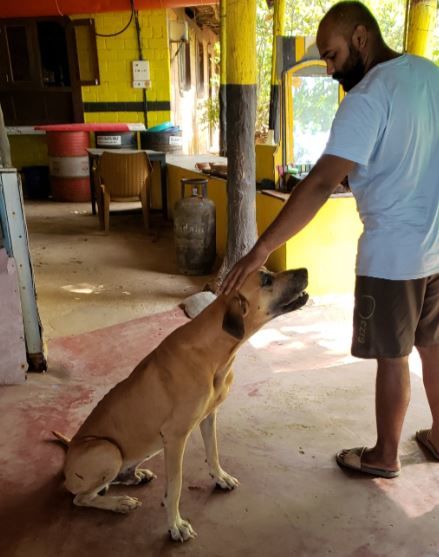 The beach was sparsely dotted with people and we decided to get ready for a dip in the ocean. But our stomachs growled and we walked down to a nearby restaurant and gobbled down a wide spread of English and continental breakfast. Then, the sun dint show us any mercy, whatsoever, and was giving away its fullest. With the unbearable humidity, we brisk-walked to the beach and dived in the waters. It was a mere paradise as it's the only way to escape the tropical sun.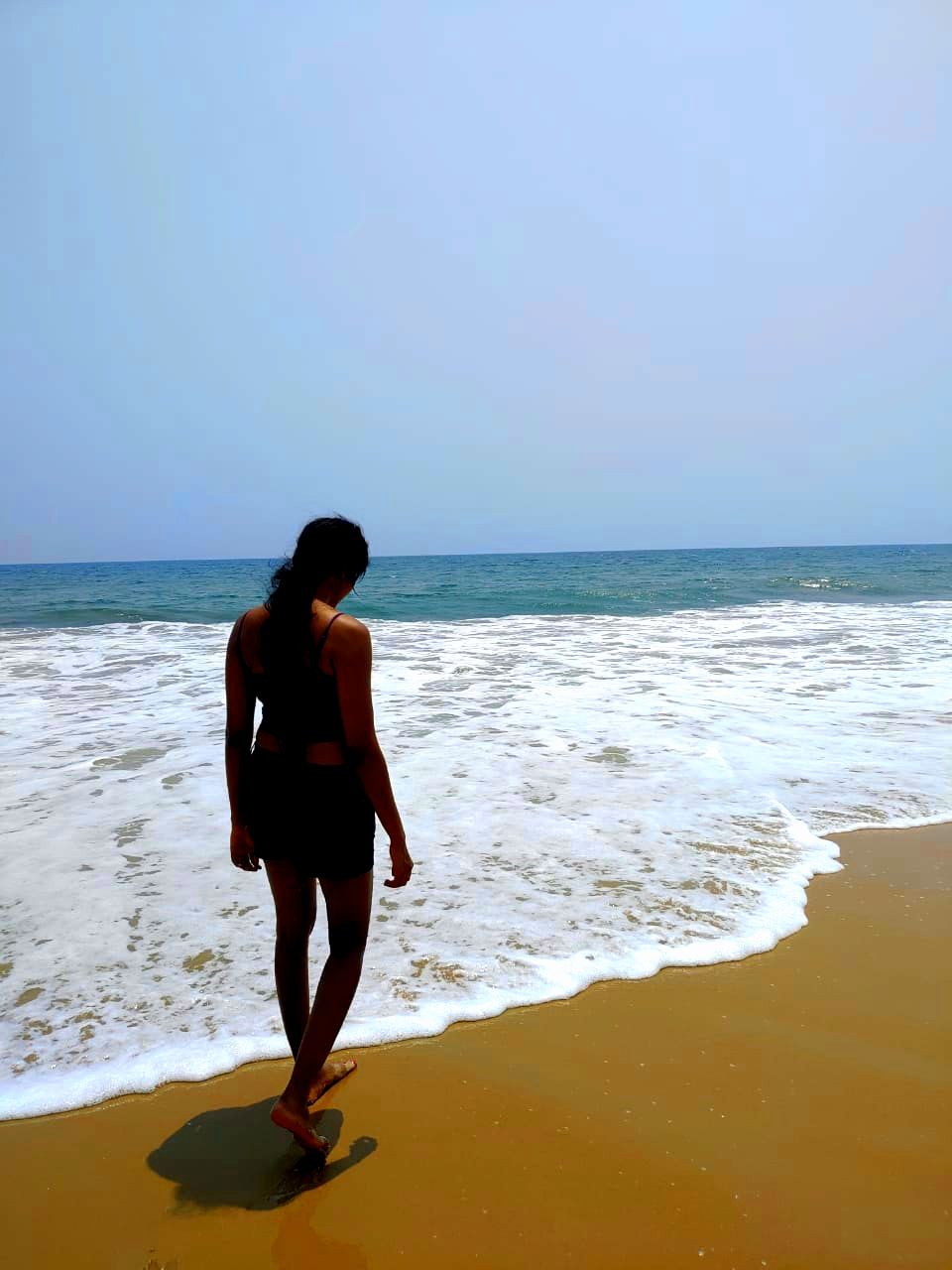 The waves were very mild and water was not polluted, which is an added bonus. We were on and off the waters for more than few hours and again brisk walked to our stay. After a quick shower we rested for a bit and at around 4PM we strolled to the Varkala cliff, through the closely arranged array of restaurants right down the cliff; the menus have been placed outside each restaurant so that u can browse through that first and see what if it's the right place for you. Lot of European, Italian and Mediterranean options available. But I was craving for a good crispy Kerala meen, so we found a place called 'café del mar' and settled there for some delectable Malabar food. We sat there till sun set, munching with a serene view of the cliff while the sun was directly hitting the sea and the water shone like a sheet of diamond. It's definitely not something to miss in Varkala.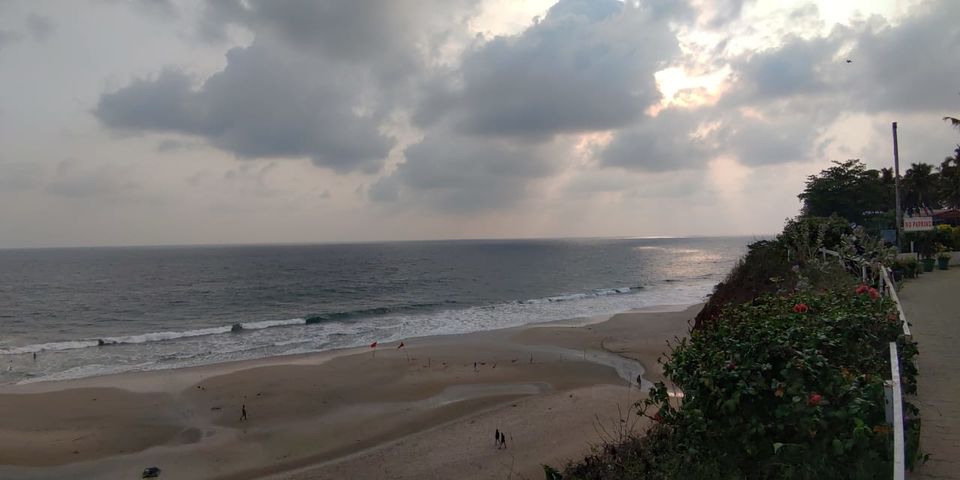 We checked out of our hotel afterwards and began to our nest destination-Guruvayur. One of my friends was getting married the next day in Guruvayur temple and that was the sole reason we had planned for this trip. Since we came on a packed schedule, we couldn't stay longer in Varkala. But it's worth for even a week-long stay there.
We travelled along the coast of Allepey-Kochi and the roads to guruvayur is a real roller coaster. It was 10PM when we reached kochi so we stopped there for dinner near the famous lulu mall and was bustling at that hour. After a scrumptious meal of Al-Fam chicken with khuboos, we resumed our journey on road. We reached our destination for the night, past midnight. Guruvayur was relatively less hot and humid. We checked in the stay which we had booked through AirBnB, which costed 3k a night for 7ppl which was a pretty sweet deal. It was already 230AM and with just 3hours left for the wedding, we tried to put ourselves to sleep. After few hours, everybody woke up, managed to get ready somehow and left to the temple for the ceremony. It was just a 10min drive from our stay and the sun was still waking up. I was a first timer for the famous Guruvayur temple-wedding and I dint have any expectations, but it dint fail to astonish me. When we entered the chamber of the temple outside the shrine, where all the weddings happen it was super crowded, but for a regular Indian like me, you can get used to it. The bride and a groom is given a time slot of 30mins and in within that time-frame you get called upon anytime to the mandap. All the brides and the grooms and their families line up in a queue near the stage and when it's their turn, they go up the stage, tie the thaali or mangalsutra, exchange flower garlands, go around the mandap in a circle together, pose for a pic and get down. It's just a five minute affair and you are hitched for life. That day alone, I witnessed more than six weddings, back to back! It was one of a kind experience for me. After my friend's ceremony got over, we clicked few pics with them and let them alone for their candid (awkward indeed) photography. We had breakfast on the way back to our stay and unwinded for few hours and started to our next destination Kotagiri.
We took the Guruvayur-Thrissur-Palakkad-Coimbatore-Mettupalaym-Kotagiri path. The drive till Kovai was the four lane NH and from there the state highways begins, followed by the ghat section. It was dark when we entered the ghat and there were lot of check points because of the upcoming elections. When we were cruising along the ghat roads, we noticed a stretch of flame which spewed sparks and ashes up in the sky. After couple of turns in the road we realized that IT WAS A WILD FIRE! I know its no reason to get excited but I have never seen one before and one that which was so up close(the fire was still on until the next day when we got down the hill. Few minutes later we reached our stay (AirBnb-https://www.airbnb.co.in/rooms/5594530?location=Kotagiri%2C%20India&adults=2&guests=1&toddlers=0&check_in=2019-07-14&check_out=2019-07-15&s=d0kXZWfP) for the night around 9PM and the temperature was 12 degrees, which was a paradise for us from the only furnace-like temperatures that we had experienced for the past few days. The stay was a cozy brick house with lush green creepers and climbers that went all the way up to the roof overlooking a vast lawn on both sides. As the temperature dropped, we settled indoors for watching IPL which can never fail to entertain you while we accustomed ourselves to the weather there by sipping few drinks.
The next morning was bright and nice with pleasant breeze and we set off to 'Catherine falls'(named after the wife of one Mr.Cockburn,who introduced coffee plantation in Kotagiri) which was a 20min drive through Kotagiri town. It was a 20-30 min trek from the parking, through the private tea estates on to your left and the local's residence on the right. The view all along to the falls was breathtaking so we stopped in many spots to get it inside our camera.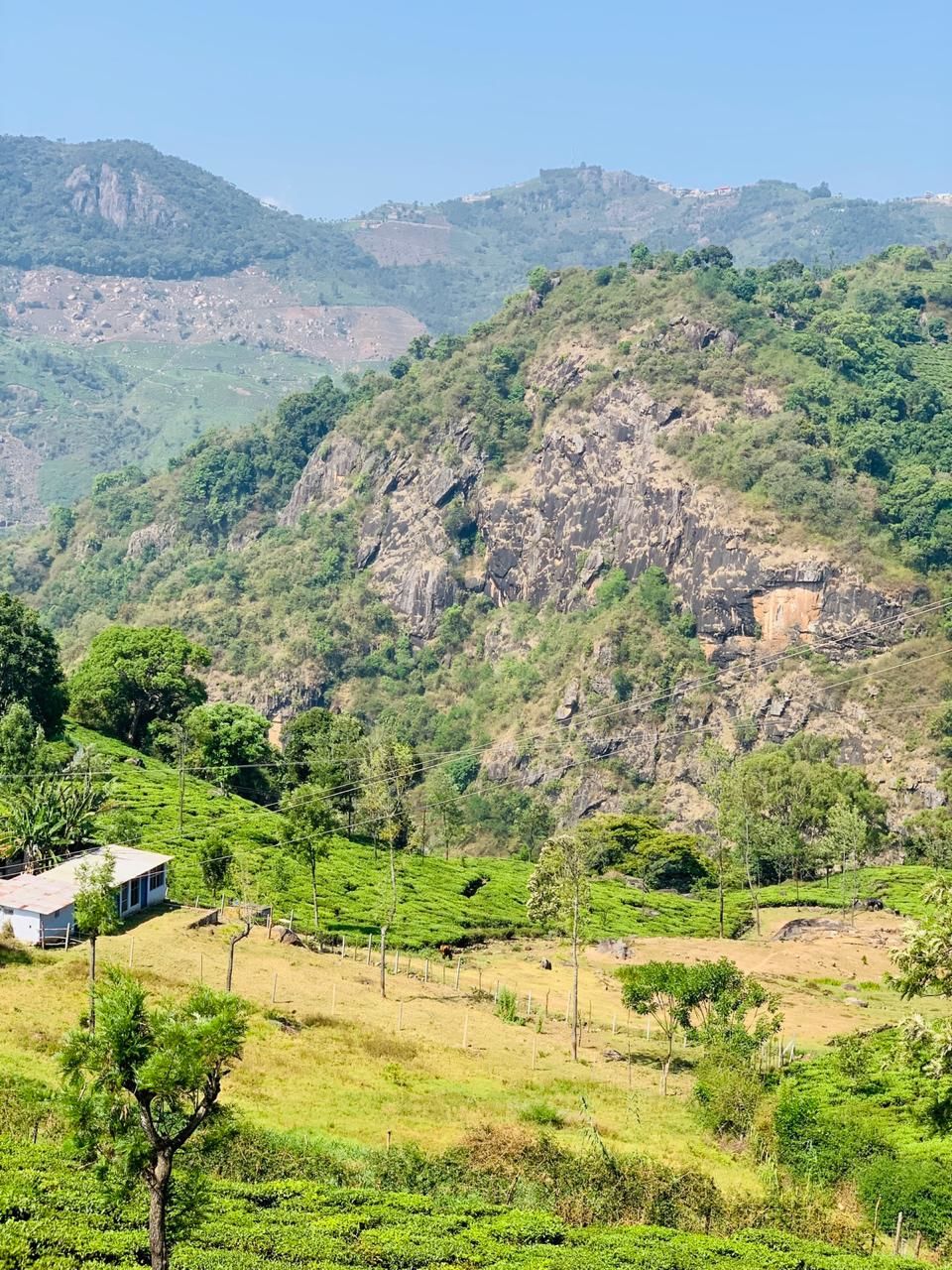 Watch out as the trek can get a little tricky once the falls nears. There were only a handful of people when we reached the head of the falls; to get down to the bottom of the falls you gotta trek again which was definitely no picnic and it's not for everybody. So the scary cat as I am, I refrained from trekking down while few of my friends were already at the bottom, of course after a great difficulty. I didn't want to risk it and go back with an injury to remember from this vacation, but my friends wouldn't leave me alone. Hence, mustered up all the courage I had and descended down the rock somehow with constant support; successfully reached the bottom of it. The water flow was adequate to take a good dip and was so clear; there were nobody except us. Having no clothes to change should I get drenched in the water, initially I was sitting on half immersed rocks , whilst my friends danced away in the waters with no care in the world(I know I can be a spoilsport sometimes). Tempted, slowly I got down from the rocks and stepped into the water and made my way to the waterfall. The water hit me hard and I was completely drenched; it truly was blissful.We clicked few amazing pics there and climbed our way up.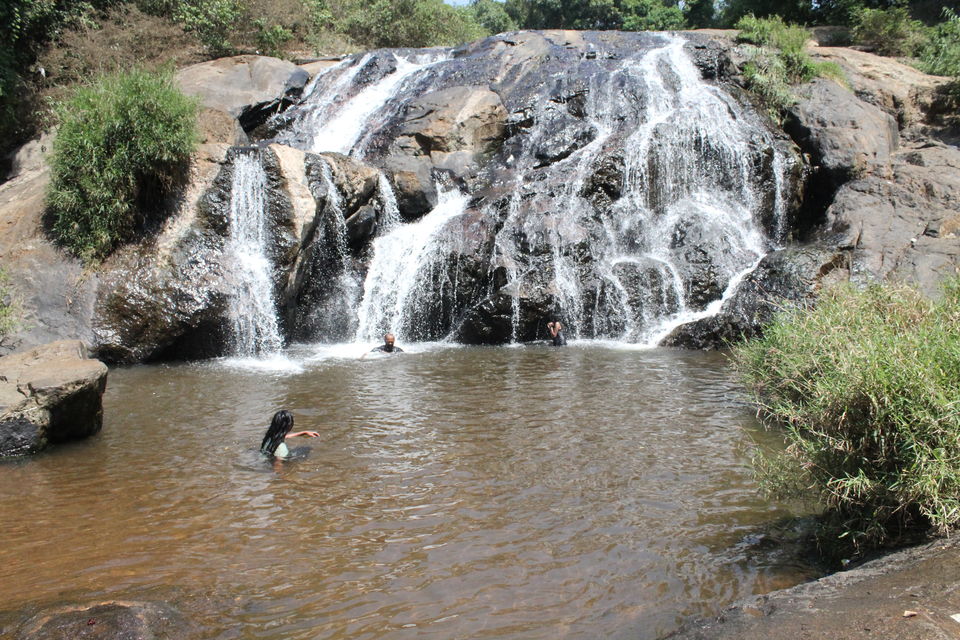 After a simple breakfast and a catnap in our stay, we checked out and packed our bags sadly as this was the last day of our road-trip. We planned to go through Ooty-Masinagudi-Bandipur-Mysore route to reach Bangalore which will just take 5-6hrs max. On that account, we reached Ooty, had lunch and reached the diversion that leads to Masinagudi from Ooty. But universe had different plans for us, rather unfortunate one though. Apparently, that particular road gets closed at 6PM daily and only local vehicles are allowed past that check post. Without any choice left, we took the longest route - Ooty-Coimbatore-Salem-Hosur-Bangalore. But since the roads were excellent with not much traffic we reached our destination in less than 6.5hours.
And then the inevitable post vacation blues kicked in.
Nature truly has its way of talking to us, all we have to do is listen to it once in a while by getting connected to it. Figure out a way that suits you best. For me it is things like this road trip that gets me close with oceans and mountain ranges.
Rental care fare-9k/3 ppl
Fuel fare-5k/3 ppl
Stay fare-~4K per person
Food and Misc-4K per person
That's all folks!!!!