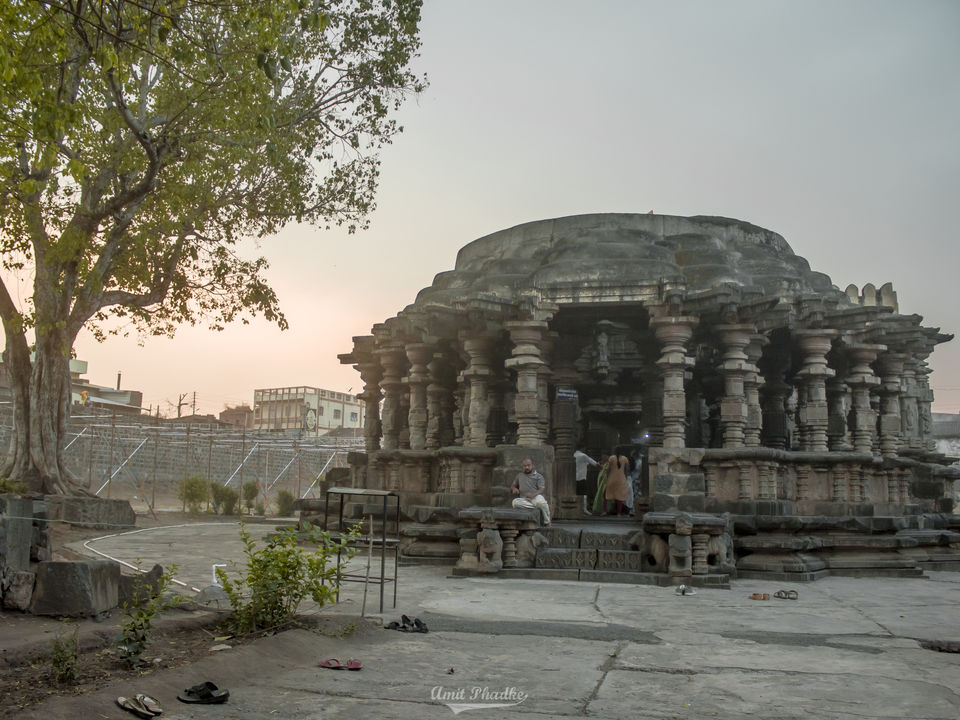 14th April 2018
Khidrapur, Maharashtra
The snooze button on my alarm had won the battle after I hit it the third time. I got up, washed up my face and packed a small bag with 2 days' worth supplies all the while thinking why am I giving up the only two days I get from my laborious 9-6 job. My phone beeped with the message from Ankit:
"I have left bro. Meet me at Dange's".
One rickshaw ride later there I was, At Dange's. I called them both to let them know I was there. I was with them the night before for an after work 'Happy Hour'. After imbibing a fair amount of our favorite drinks we had decided to go for a road-trip for the weekend. I still could not believe that we were actually going through with this impulsive trip made in the influence of "our favorite drinks". But here we were on our way to Kolhapur.
Why Kolhapur? We had our reasons, Dange wanted to test his photography skills, Ankit wanted to take a road-trip and I just wanted to feel a little productive for the weekend maybe give my dusty SLR a workout, since i had not done that since December 2017.
Kolhapur is a Maharashtrian city in the southern part of the state and is around a 4 hour drive away from Pune. In our case the drive is almost always the highlight of the road trip. All we needed was a cup of tea and some delicious breakfast to charge our batteries and then it was 3 hours of singing in bad high pitched voices on obscure songs from the 90's. Like expected we were in Kolhapur around lunchtime. I say lunchtime because one of the reasons why I like Kolhapur because you can expect a good authentic meal every time you visit the place. But, 'Tambda/Pandhra rassa' and Chicken curry had to wait because GOD comes first, which brings me to the main reason for Kolhapur's fame. 'The Mahalaxmi Temple'
'The Mahalaxmi Temple' is an ancient temple and forms one of the Shakti Peethas which means the goddess Shakti herself is here or well a part of her. Now Shakti Peethas are very important part of Hindu Culture so needless to say the temple is popular among many hardcore worshippers and whenever you go there is always a huge crowd. But I had seen worse crowds than the one we encountered on Saturday. We got face to face with Goddess herself in a matter of minutes but only for a few seconds as we can hear the guards shouting at us to get out of the way so others can get a 'darshan' too.
The temple visit was a short one than we had expected. We got some sweets in the temple for the road and got invited to a lunch hosted by the temple. That's sounded good but our hearts were set out on the Kolhapuri Cuisine we wanted so badly since the week before. Well some of us anyway. Dange, the vegetarian of our group went for the temple feast while Ankit and I went to the nearest place that will serve us our Chicken Curry. Courtesy: Google Maps.
Now the classic way a Kolhapuri dish is plated is as follows:
1 cup chicken curry (spicy, very Spicy)
1 cup 'Pandhra (white) rassa' (Broth cooked with coconut)
1 cup 'Tambda (red) rassa' (Broth cooked with in red gravy)
1 cup Solkadhi (a symphonious mixture of Kokum, coconut milk, and Indian spices)
And some Jowar Bhakaris and white rice to go with it.
Yup this is type of meal that makes you want have nice nap. But we had schedule to stick to and a destination to reach. That was a small village named Khidrapur.
Khidrapur, as showed on the map was around 60-70kms away from Kolhapur at the Karnataka border. A small village on the Maharashtra-Karnataka border was not exactly a tourist hotspot but had this beautiful temple in its heart. It was named Kopeshwar after Lord Shiva's wrathful form and it had a huge history behind it.
We reached Khidrapur just around Sunset which is to say in perfect light. Since it was a village of about 10 houses we found the temple easily. The temple is humble in size but the architecture is very unique. The first time when you enter, a good idea is look up. You will see the sky because you are standing in the 'swarga mandap', a roofless hall supported by 48 pillars. Every pillar has a detailed sculpture of different deities. The next hall is the outer sanctum which is like a gateway to the innermost sanctum where the heart of Kopeshwar's story lies. In the sanctum sanctorum Lord Vishnu or Dopeshwar is placed in the 'linga' form along with the linga of Lord Shiva. This is highly unconventional given the Hindu Mythology. Another mythology rule break is that Nandi the 'gate-guardian' or the mount of Lord Shiva is absent in the Shiva Temple. The temple is covered with beautiful sculptures of gods, goddesses, animals and other natural and celestial things. We spent about half an hour in the temple and left. We thought we might explore the village itself. The village seemed like a sketch drawn by some old Indian artist depicting the countryside. It had green fields on both sides of the roads, Small comforting houses on one side. The approaching stormy weather gave it a more hauntingly beautiful look. Storm was brewing and it was time to leave but we could not head back to Kolhapur since it was way too far. The closest town with some boarding was 'Narsobachi Wadi'.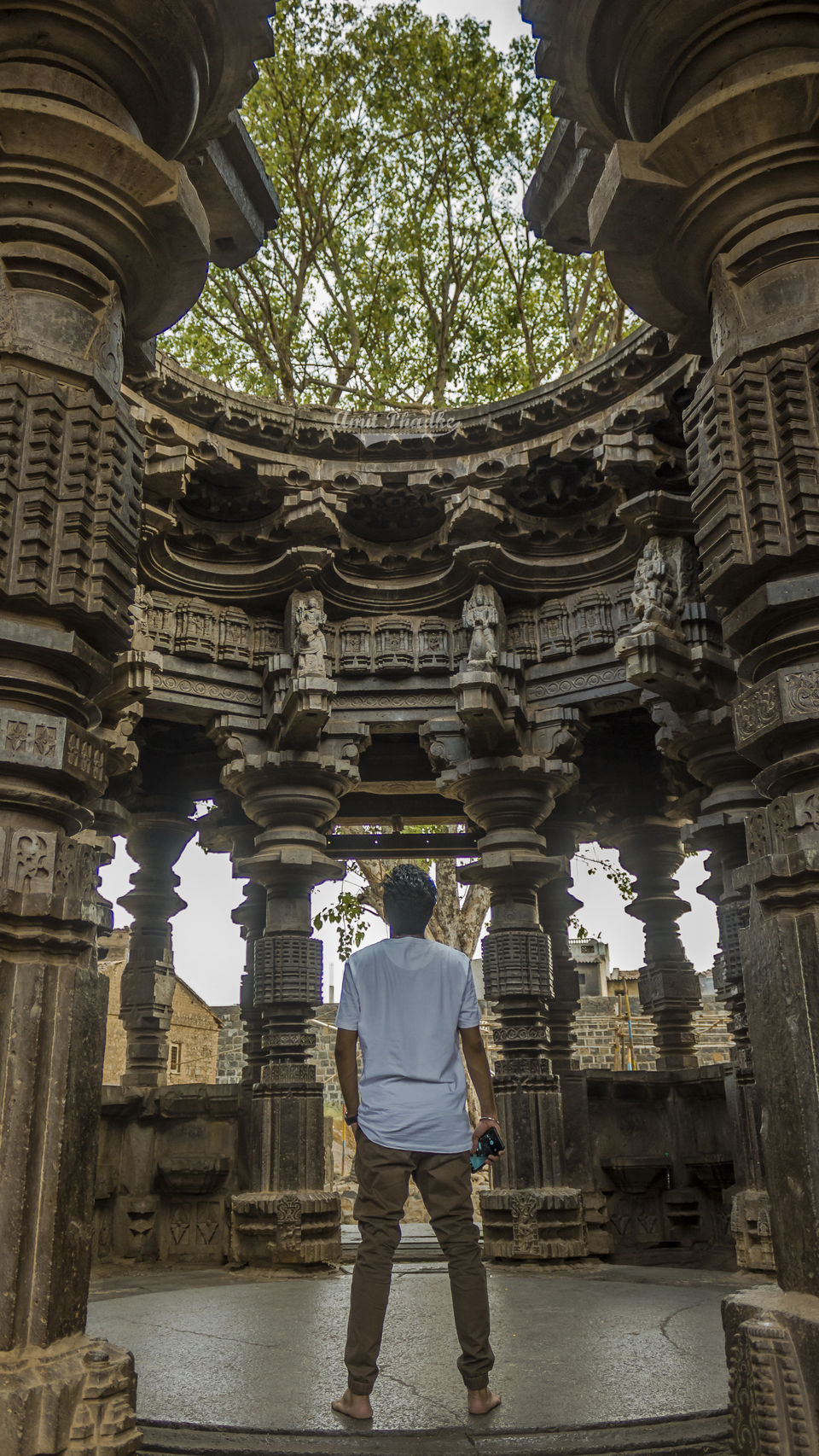 Narsobachi Wadi was about 15kms from Khidrapur so around 30 minutes. But we were greeted with hailstorm or hell's storm as my friend's put it. We decided it best to stop given the force in which big icy stones were falling on the windshield of the glass. So we found a shelter and waited. Wadi was just around the corner really and a place to stay was easy to find. Narsobachi Wadi has a very famous temple of Lord Vithoba (another name for Vishnu) so we thought we might end our trip in a temple trifecta.
15th April 2018
Narsobachi Wadi, Maharashtra
I had hazy memories of the last time I was in Narsobachi Wadi but I do remember the crowds rushing in pushing each other to get a glimpse of the idol, Stray dogs scrounging for food, the pujaris chanting sermons, people diving into the river thinking all their sins will be washed off like the dirt on their hands, the content look on my mother's face after catching a glimpse of Vithoba's feet. This time around it was completely different. The crowd was scarce, no river divers and my mother was home. The dogs were there though and so were the pujaris and the sermons.
Fewer crowds meant easy darshan. I could study the details of the idol this time. No pushing and no shouting. I saw Vithoba's feet with higher resolution this time. No line for 'Prasad' either. I gave some to a dog as well. Maybe it was the early morning that helped us in avoiding the populace. We even sunbathed by the river. All four of us, well the dog followed us around expecting more 'Prasad'. We added a nice cup of tea and some Wada Pav to the mix making it a perfect morning. A perfect end for the only two days I get from my laborious 9-6 job.