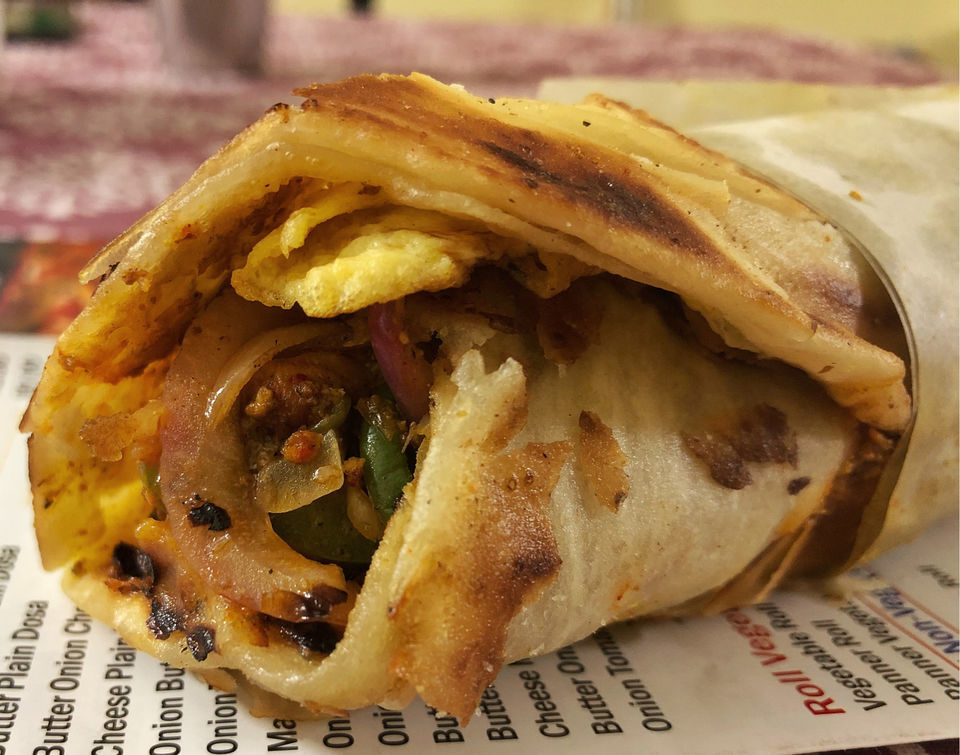 I am a north Indian living in Kolkata for a decade now. Initially, it took me some time to get familiar with the tastes here. But below are few things which took my heart away in first bite.
1. Puchkas
Pucha or also known as Golgappe or Pani puri in other part of the country. Unlike north India where they cut the potatoes and sprinkle them with salt and other spices. Here in Kolkata, potatoes are mashed and spiced up with masala and thus resulting in more flavour.
2. Rolls
Rolls also known as Kathi roll. But here, just ask for egg roll, chicken roll, egg chicken roll and so on. Asking for Kathi roll might confuse the shop keeper.
Best place to eat: These are easily available in most of the localities. Usually it is prepared right in front of you so you can customize.
One tip, ask them not to put in cucumber.
But if time and place permits you can try Arsalan.
3. Biryaani
Kolkata Biryaani, is very different from all the others Biryaani's you have had. Just keep your mind open and do not compare it to any other biryaani you might have had in the past. Kolkata Biryaani is not as spicy as other Biryaani's and they have Aloo(Potato). Best way to eat, take little bit of rice, little bit of chicken and little bit of aloo and savour the taste.
Best place to eat: Arsalan.
4.Roshogulla:
Roshogullas of Kolkata with time has taken commercialized turn and in big Shops they are not as mouth melting as they were originally. But still better than rest. Avoid going to Halidiram's for Roshogulla.
5.Fish fry :
Not a fish fan, but I relish the taste of crispy fish fry with tea on the sides. If you happen to be in College Street (which I hope you are as you can buy best saaries there), you can try out Mitra cafe. It is a small old shop but sells best fish fry.
Best place to eat: Mitra Cafe, College Street.
6. Chelo Kabab:
This is an Iranian dish but Kolkata has given it it's own style. Order this only if you love non vegetarian food because you will get a lot of it. It is basically butter rice accompanied with chicken kabas, mutton seekh roll and boiled egg.
Best Place to eat: Peter cat, Parkstreet