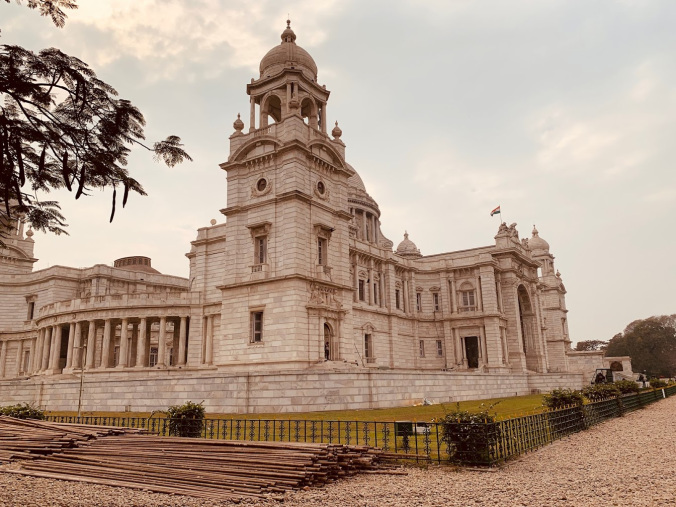 I have no idea why the city is known as the "City of Joy" (I haven't read the book) and nobody cared to explain that to me either. But it is definitely a city of many colors. The people are lovely, the places are with so much history steeped into them and of course, it has its own cuisine!
I grew up reading books and stories from so many Bengali authors and Kolkata was often mentioned in them. I'd seen it in films and a few tv series. But I didn't know when I would be visiting this city. My parents had gone there a long time ago and my mom still brings up snippets from their trip. Then I've had friends from Kolkata whom I used to implore to bring me interesting things from Kolkata. So all in all, even though I had never been there, it felt like a familiar city.
Coming back to the present. Last year when two of my friends D and S decided to get married in Kolkata in January this year and graciously invited me too, I decided to take this opportunity even though I had originally planned to come home sometime around Holi. And as I expected, I didn't feel like a stranger there! So my feeling about knowing the city wasn't wrong. What I didn't know was the history of the city from the British times. As it so happened, during the British Raj, Kolkata was the capital city for some time in the 19th century. But of course, the ruling class usually doesn't mingle with the ruled, hence the city was divided into White Town (for themselves) and Black Town (for the natives). The White town is centered around what is called Dalhousie Square. And during the city walk the next day, I got to know that as people from other places like China etc. came for trading, they wanted to be closer to where the trade opportunity was - the White Town, but they weren't allowed to settle there, they squeezed themselves between the White and Black towns. Today probably Kolkata is the only city in India with a China Town, with a daily newspaper in Chinese!
Where did we stay
Most of us wedding guests were staying in a guest house in the Salt Lake City colony, which is a relatively new part of Kolkata. If you want to stay away from the hubub of the main city, in a quiet area, then this is your place. It's easy to get into the city using the autos/taxis from there. It provided breakfast. For lunch and dinner, there were several restaurants nearby to explore. There are also several good hotels also to choose from. At the guest house, it was around INR 3000 per night (around EUR 38/USD 43) for a big double room with attached bathroom. Breakfast was inclusive.
The morning after the wedding, I was ready to see the city of Kolkata with three other friends who had also come to attend the wedding. Without having a fixed plan, we just decided to immerse ourselves in the sights, sounds, smells of the city as it came.
How to Travel Around
One can rent the taxi from several agencies. You can hire the taxi for the whole day or you can use Uber/Ola apps to call the taxis to wherever you are. I'd booked a full day taxi that costed us around INR 1500 (around EUR 19 / USD 21) for 8 hours or 80km, whichever target is achieved first). Another set of friends had booked a taxi service specializing in sightseeing which is a bit more expensive (full day for INR 3000 for 1 guest + INR 500 per additional guest, Guide costs are additional if you want one). Good thing with the first option is that it's cheaper and you are flexible, while the second option is better if you want to see a lot of places in one day. You can also hail down a taxi if you see one (the yellow Ambassadors!). The sign of "No Refusal" will be understood by all of us who have the experience of being "refused" to be driven by the auto-rickshaws of Bangalore, simply because they are too busy going somewhere else except where you need to go :)! But with them, I don't know if they use the meter or not. I used them one time, just for the experience of sitting once again after a long time in an Ambassador car, at a pre-negotiated price.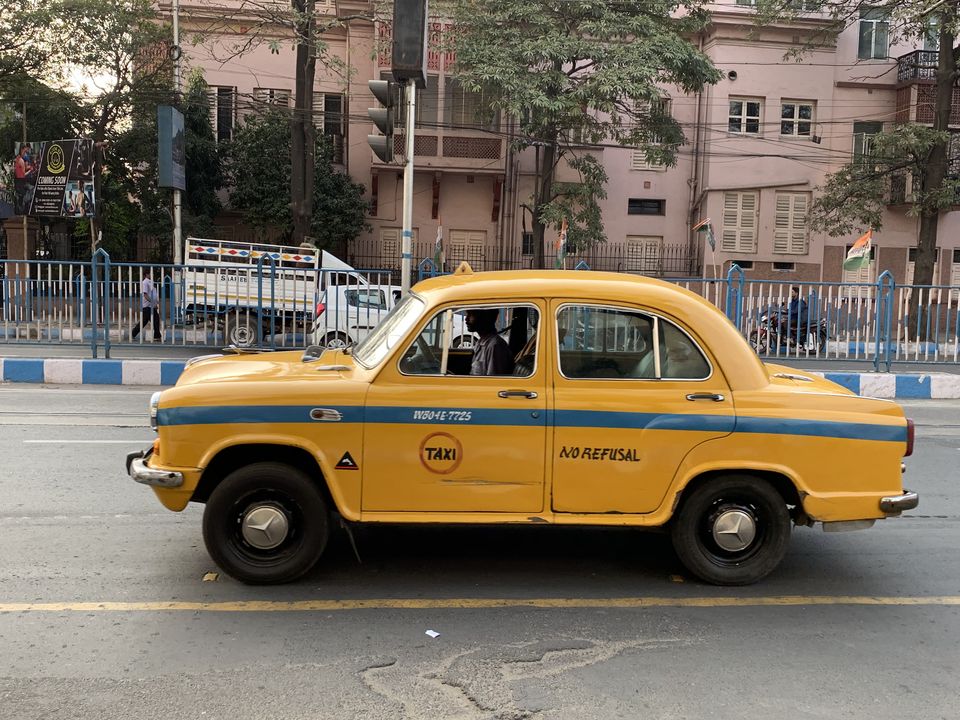 So coming back to my trip, our driver was quite good and kept explaining what we were seeing on the way.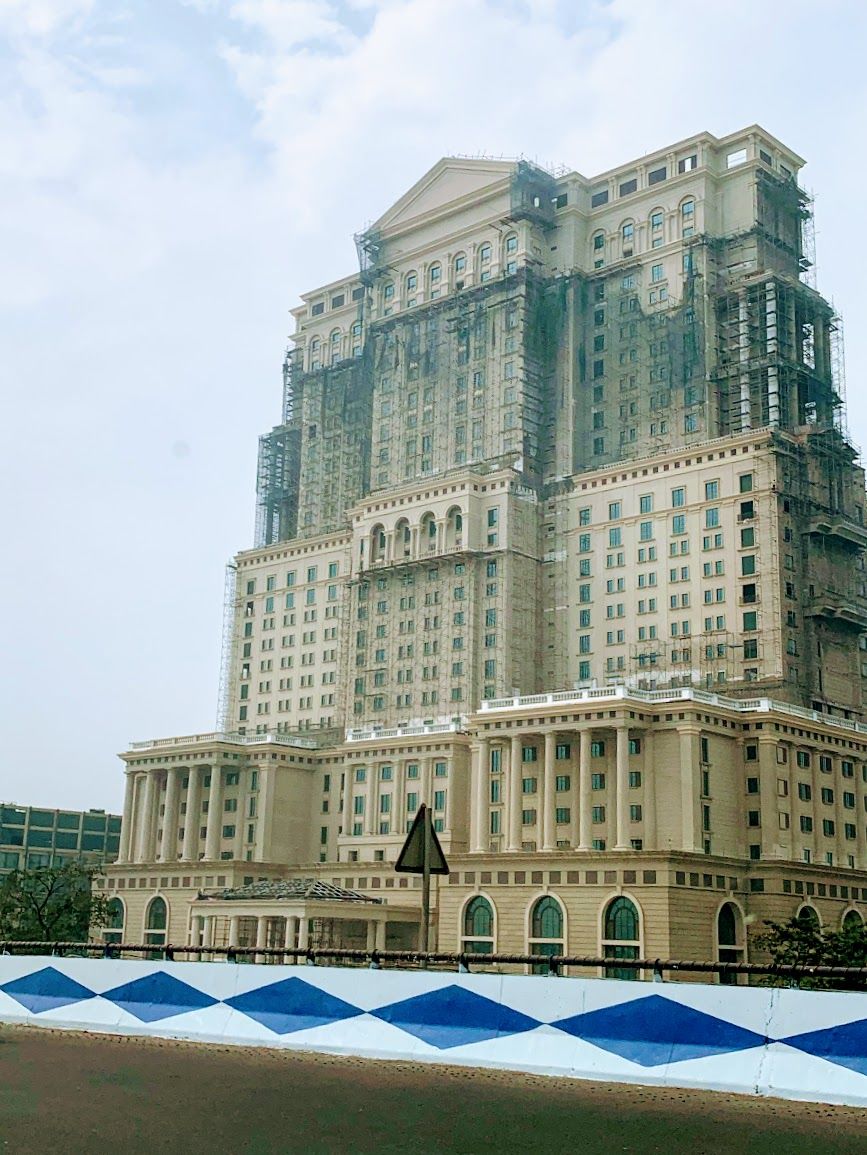 I don't know if it's always like that there but it was quite hazy. I think it was dust and exhaust fumes mingled together, making it very difficult to see the actual colors of the buildings! It's sad that we have so much pollution in our cities, and we just learn to live with it.
Our first stop was - surprise surprise - New Market, which is actually the oldest market of Kolkata. Talk about names that are opposite of the characteristic of the named! There we were swarmed upon by the hawkers who wanted us to come to their shops for buying stuff. They kept imploring us to come to their shops, to which we had to keep saying "later later". Before we could get anything else done, the eyes of one of the friends K, were caught by the sight of some lovely Indian kurta-pyjamas and she wanted to try the outfits. She made some purchases while the rest of us looked around.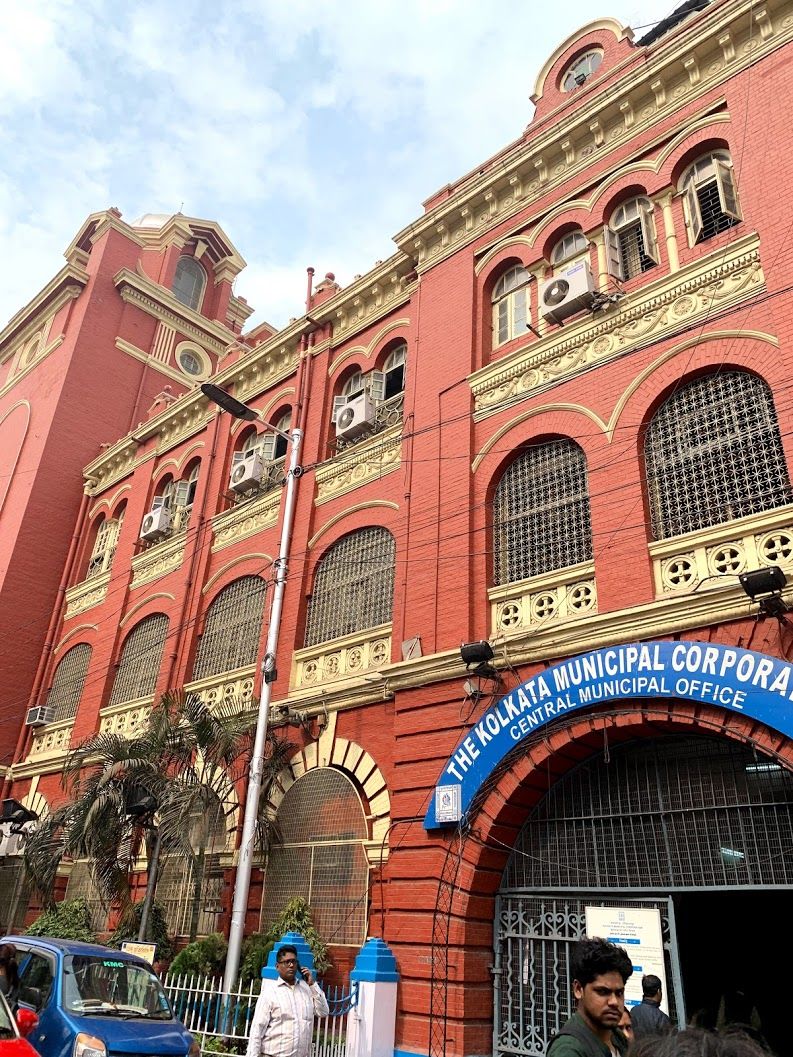 We returned to the taxi but then we felt we needed the loo. This was then again an exercise, as anybody who knows India would know that unfortunately finding a clean toilet is the toughest thing to do in an Indian bazaar, unless you're in a modern shopping mall! So, there we were, trying to find the public toilets, asking people where it was. Couldn't find. So we were guided by a man through a maze, who decided to help us in the anticipation that we would buy something from the shop where he worked (no pressure - right?). Once relieved, we returned with that guy and then one of our group members, A, found a nice silk stole in his shop which she was looking for to wear with her outfit for the wedding reception the next day. As for me, well, I found and purchased a few things that Kolkata is quite famous for - choorans - which are very delicious sweet/sour digestives made with some spices. I am crazy about those and although one must take them sparingly, I just cannot stop at one!
Shopping
If you have time for shopping and have some bargaining skills, then New Market or Bada Bazaar are your places. Bada Bazaar is quite congested though, so you would have to explore it on foot. You can get anything and everything there, if you know where to look. As my mom puts it, you can get even a tigress's milk, if for some reason you are looking for it! But if you would like a relaxed shopping atmosphere, then there are some very nice malls too. Look up on google for a mall close to whichever area you are in and enjoy! I went to City Center 2 Mall in Salt Lake City for a few things I needed for the wedding and to the Quest Mall another day to get some things for my onward journey.
Sights that we explored
Then we moved on to be at the most famous icon of Kolkata - the Victoria Memorial.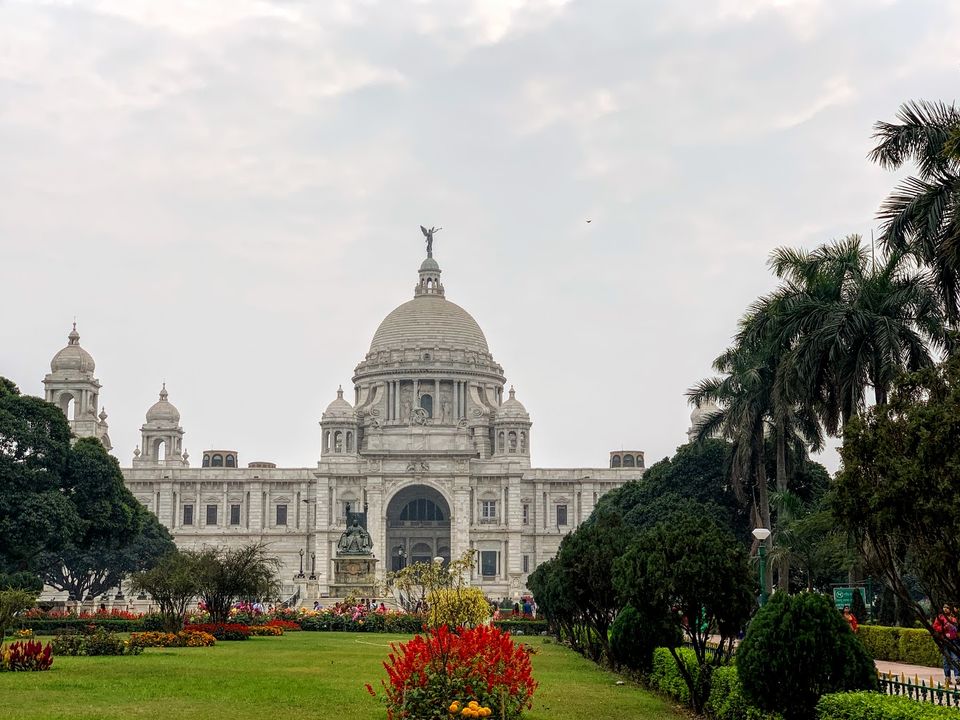 It is a beautiful ornate building made of marble, in memory of Queen Victoria upon her death in 1901. Since Kolkata was the capital of the British empire in India, it made sense to the viceroy to make the memorial there. However, during the long period of construction, the capital was moved to New Delhi in 1912, making Kolkata just a province. Nonetheless, the memorial was completed and opened to public in 1921. It is an impressive piece of architecture, befitting a monarch whose empire extended far and beyond her country, what one can call a small island in Europe. Today the memorial is home to a museum as well. Unfortunately, we couldn't see the museum, it being a Monday. So we just strolled through the beautiful gardens, which were in full bloom in end of January, with brightly colored chrysanthemums, dahlias and some others!
Then we moved on from there and as it was lunchtime, we asked the driver to take us to a South Indian restaurant. He brought us through the old British part of the city which had very impressive buildings from the 19th century, still being used today as government offices. As far as I remember, the of the place was Anand Restaurant and it was perfect for what we wanted.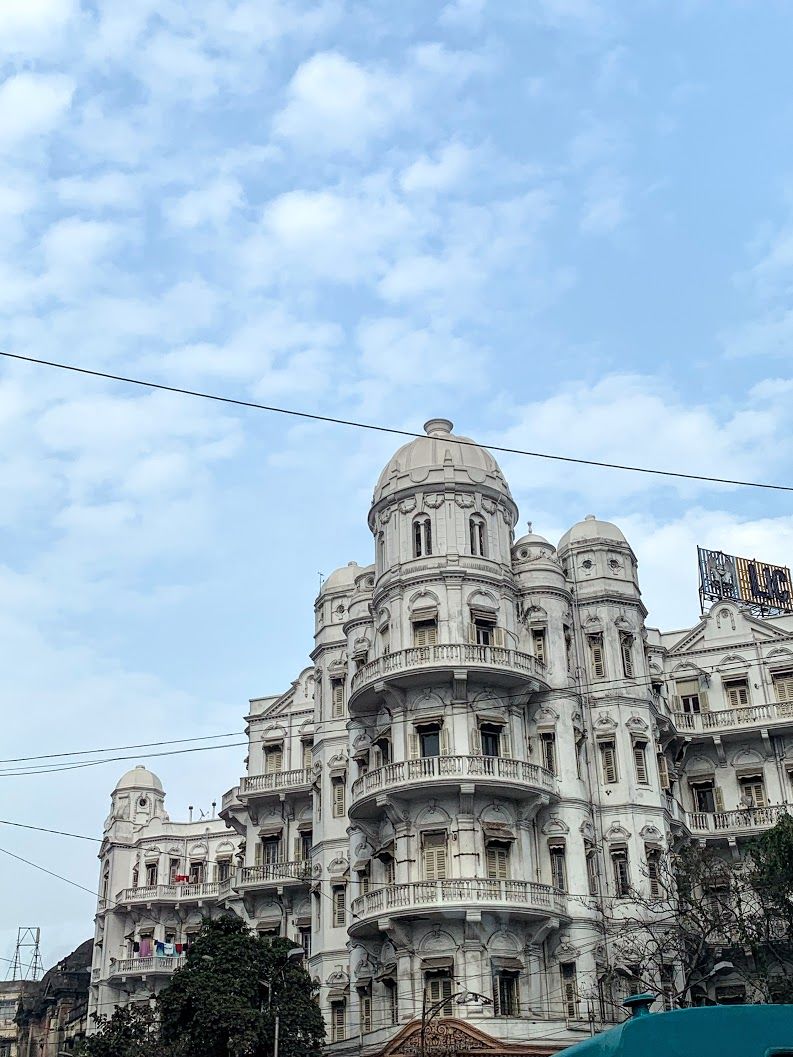 After a nice lunch and having rested our feet, we were ready to go see some more of the city. We went towards the Howrah Bridge, which is a huge cantilever bridge on the river Hooghly and is an icon of Kolkata. Official name since 1965 is Rabindra Setu but hardly anyone uses that name.
Crossing that, we found ourselves around Howrah Junction, which is the largest railway complex in India. But we didn't stop there and moved on towards the other bridge on the Hooghly river called, guess what, Hooghly Bridge!
The next stop was the Prinsep Ghat, which is one of the beautiful ghats of Kolkata where one can get down to the river, take a boat ride or just stroll on a nice promenade lined with trees and food stalls. I think that's the escape for the people of Kolkata, to come to the river side when they want some respite from the craziness of the city.
It was just so relaxing to be there till the time a blaring Party Boat appeared on the river! We watched the sun going behind the clouds and went further.
We hadn't seen even one temple thus far, and my friends wanted to see one. I didn't want to go to a crowded one, so we went to the Birla temple. It's a beautiful, relatively new temple (opened in 1996, after a 20 year long construction).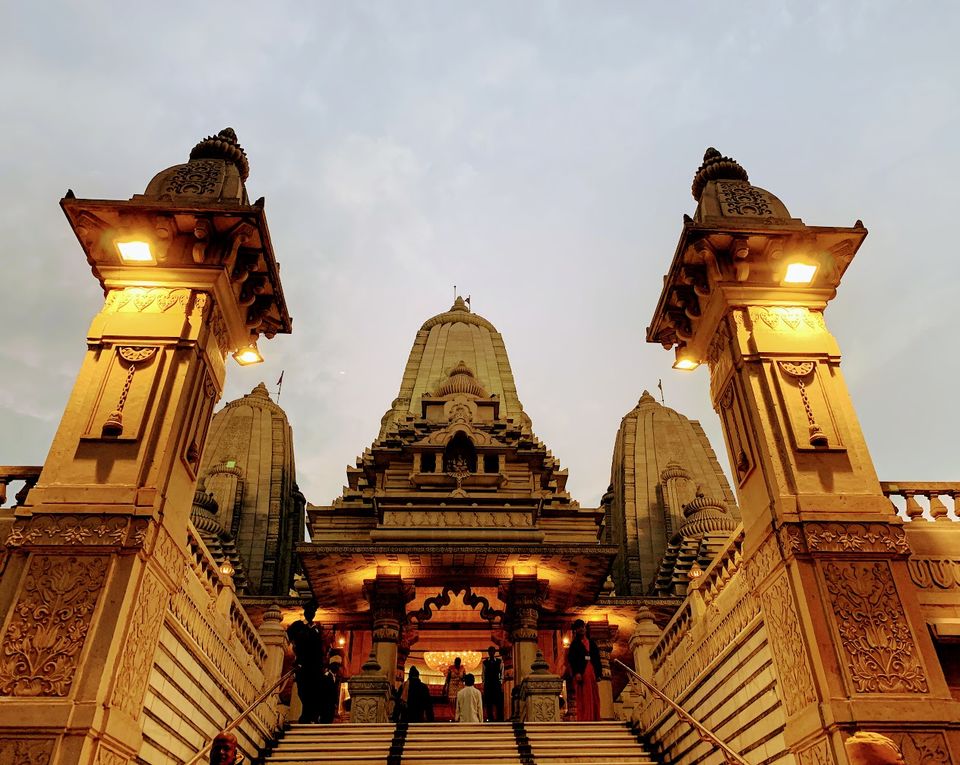 An industrialist family - the Birlas - have commissioned several such temples in India. I liked the quiet ambiance there which is what I look for in a place of worship. But we didn't have too much time as we were supposed to leave the taxi soon. So we proceeded and got a drop at the mall where we wanted to get a few things. Shopped, ate a bit and then went back to our guesthouse, thus concluding our first excursion of the city of Kolkata..
Another set of friends of ours went on a temple tour and saw the Belur Math, Kali Ghat Temple, Dakshineshwar Kali Temple and I think also the Paresnath Jain Temple. There was one more thing which I wanted to see but couldn't manage in this trip was the Marble Palace. May be another time!
Some Tips
1. Start early - when there are not too many people it's easier to take pictures!
2. Don't mix shopping and sightseeing, if you have more than a day or two, to explore Kolkata. Shopping should be a separate trip of its own - there is just so much to shop there - clothes, handicrafts food items and so on! You can may be combine shopping with exploring the food.
3. Temple tour would need one full day for itself if you want to see all the famous temples there.
The next day I took a walking tour of some parts of the city. Details to come in the next post. Keep an eye!
My personal blog is here - http://reflectionsontheriver.wordpress.com.