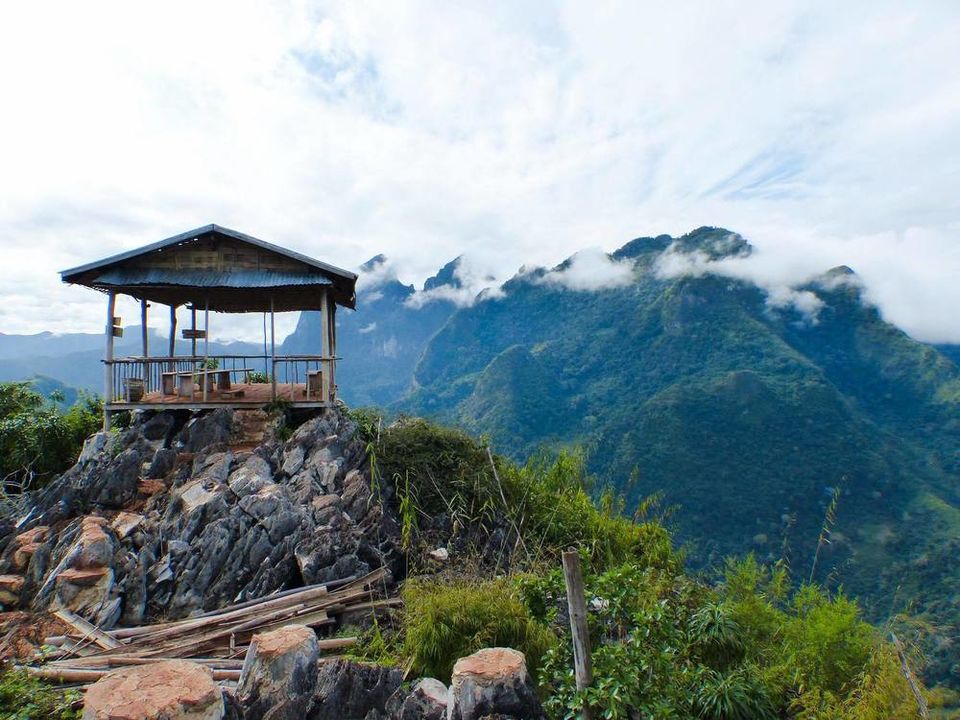 DAY 6 - LUANG PRABANG
At 3 o'clock in the morning I wake up. It is still night and it is cold. So we wrap ourselves up as best we can and go out into the street, where almost all the day market tendentes are already on. We are careful not to step on any chicken. We arrive at the door of a Wat where we wait for the monks to leave, which takes place at 6 o'clock.
Each of them carries a kind of basket, where they will keep food. Several people kneeling on the sidewalk give each of them a bit of sticky rice and some banana. There are many tourists with their cameras, and the procession crosses several blocks until returning half an hour later. Then we learned that in all the temples something similar is done.
After this curious spectacle, we enter the fantastic morning market. Many products are for sale from vegetables and fruits of all kinds to live fish of various species including pigs, chickens, bats, rats, frogs, crickets, grasshoppers and many varieties of rice. There is also a food stall with roast chickens, waffles, fried plantains, and assorted pastries.
We have been hungry, so we have a potent breakfast in the guest house, and when finished, the body asks me to sleep a bit. After a little more than an hour, I am as fresh as a lettuce and we are about to cross to the other side of the Mekong, to visit a couple of villages, which have three or four wats, and a cave.
After bargaining we managed to rent a boat for ourselves, although when we reached the other shore we paid half. The owner agrees to pick us up again in a couple of hours. The change with respect to the city is brutal. We observe rural life with children running around among animals.
Several children accompany us with the intention of becoming guides. They take us to a cave, that have nothing interesting to see, and in which it is necessary to use a torch. In the vicinity of a Wat, we observe how several teenagers play. When we return to the shore, our boatman is not there. So we waited 10 minutes and finally decided to take one of the boats that moves people from one side to another.
When we disembark, we have a beer, and then we go around a couple of other temples, until we stop at a street bar. There are enough people taking a spicy soup similar to the Vietnamese Pho, and that it has rice noodles accompanied by meat or vegetable. We ordered a couple of tasty dishes that have a ridiculous price.
After the frugal meal, we go to the room to rest a bit, before going to give us a massage, which I enjoy very little because the masseuse does not care about it, and it leaves me quite sore. When we finished, we tried to dine at a famous restaurant.
As it is closed, so we went to another we had seen on the way with good looks and a nice garden. There we took a very interesting menu with beers included. It's cold on the terrace. So we take not too long to go to sleep.
DAY 7 - NONG KHIAW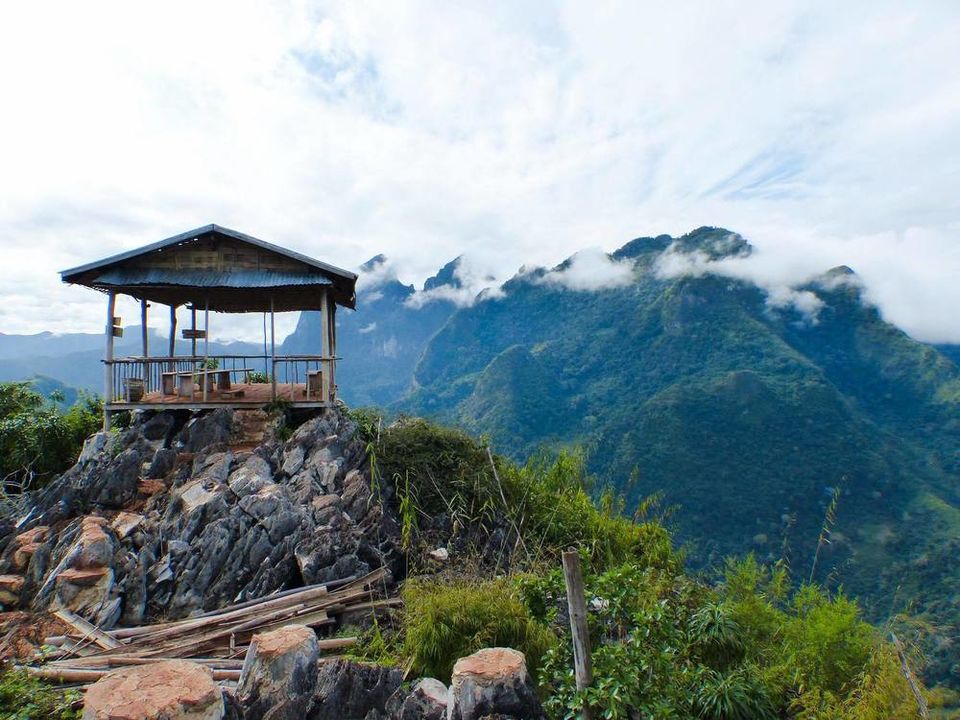 As soon as I wake up, I head to the market to buy fruit. A long trip by the river awaits us to arrive at Nong Khiaw. It is a small town where we will spend the night, as a previous step to reach Muang Noi, our final destination, and which can only be reached by boat. We had reserved the ticket the day before, and after breakfast, we went to the pier where they accommodate us in a small boat, with about 10 more tourists.
The route, initially by the Mekong, and then by one of its tributaries, is spectacular, with an incredible landscape. The river meanders between great mountains, covered with lush vegetation typical of the tropical jungle. We go up the current, crossing strong rapids that balance the unstable boat, and observe the life of the inhabitants of the small villages nestled on its shores.
The seat is not too comfortable (wooden chair, with lifeguards on top of it as a cushion). So when we get to Nong Khiaw at about 4 o'clock in the afternoon, we are quite tired, although we quickly forget to observe the postal environment, in which the town is located. Almost all the guest houses swirl around the river, with various types of bungalows.
After visiting several of them, we decided on the bamboo bungalow with a bathroom with hot water, as well as a mosquito net, and a terrace overlooking the river. The first thing we do is buy a beer and a bag of chips (they are more expensive than a plate of noodles) and we enjoyed watching the sunset.
When we finish showering, it is night, and there is very little light in the town, so we go to the only place where we can connect to the Internet. At about 7.30 we go to dinner. After comparing several restaurants, we decided on an Indian-Laotian with a quality cuisine. The beers are the cheapest we have taken to date, and an hour later we return to our privileged terrace, where we make time before going to sleep.
In the distance we hear music like a disco, which we assume erroneously that it will end soon. Protected by our mosquito net (which overwhelms me more than anything else), we cannot sleep until 2 in the morning, till the party stopped. The fact is that between the music, the mosquito net, and the one that at 5 o'clock in the morning, dozens of roosters agreed to sing at the same time, I hardly slept all night.
DAY 8 - MUANG NOI
There is no point in staying in bed, so we got up, and decided to take a walk around, while a crowd of children walked to school. After the brief, but demanding walk, we had breakfast at a nearby restaurant. I go to the pier to confirm that the boat to Muang Noi, does not leave until 11 in the morning, as we were told yesterday, and buy the tickets. I go back to take the backpack and cross the bridge that connects the two sides of the town.
At the jetty we sit some time, until we leave at the scheduled time, along with a mixture of tourists of different nationalities, and some locals. We see a small boat half as big as yesterday, in which there are not even seats, but we do not care, because the landscape is becoming more beautiful.
In less than an hour we reached our destination, and again the ritual of looking for accommodation begins. We choose in this case a guest house, with a terrace on the Nam Ou River, where we are told that there is hot water. We left the dirty clothes to be washed, and we bought some fried plantains and a pancake, in a stand located in the main street, and almost unique, of the town.
After lunch, we went on an interesting route, which will take us to several caves used in the Indochina War, as a hiding place for people. Although we carry a flashlight, we are afraid for fear of getting lost. We continue walking in the direction of Ba Ha, a village located 5 km away through rice fields surrounded by rugged mountains, where farmers work with hand tools. We have to go through unstable bridges and small streams, and we meet many people.
At 4 o'clock in the afternoon we still have not reached our destination. So, fearing that it will be night, we return where we came to get to see the sunset from the Guest House. Immediately, the generators that provide light to the town are lit from 6 to 10 at night. At the same time I take the opportunity to ask about a trip we have seen announced in several agencies.
It consist of fishing, visiting a couple of riverside villages, going down tubing down the river (which is to let yourself be carried away by the current, on a truck tire), to finish eating the fish, grilled over a fire. The price is quite expensive, although the manager tells us that if we find more people, it will be cheaper.
We have dinner at the town's best looking restaurant, and then take a walk to discover the surprisingly lonely garden pub. We hear Western pop music, with a trunk burning outside, as a heating, though the temperature is excellent. There, we started a conversation, with one of the waiters, who turns out to be a guide.
We asked for the excursion, who offer to do it with us for about half the price that the owner of the guest house had offered us. We accept, pay a part and book him for the next morning.
DAY 9 - MUANG NOI
At last we have slept 9 hours at a stretch, without annoying noises. At 7 o'clock in the morning we prepare the backpack for the excursion and arrange the luggage a little. After breakfast we go to a bar that has the kitchen, literally on the street, with a bonfire and a couple of pans, with which they prepare fried plantains, and pancakes. There are already many people wandering around the village, and we relax taking a pancake with banana and a great assorted fruit plate.
At 9, we met with our guide, who tells us that he can only accompany us initially, because he has to go to his village, upstream, to see his son, but to replace him has brought his brother. We are about to embark, and they tell us that there is one more traveler, a young German. So they reduce the price of the trip, which we appreciate. Immediately we left in a small boat, with the guide, the boatman and the three tourists, with the tires for the tubing, on the stern.
The landscape is amazing, and the river has a green color, so even though we are quite uncomfortable, we enjoyed the trip. Half an hour later we stopped at a small village of artisans. We climb back to the canoe and shortly after we stop in the town where the children receive us with the cry of falang, falang (foreigner, foreigner). There live families dedicated to fishing, growing rice, and collecting fruits (almost as 10,000 years ago, with the Neolithic revolution).
I began to slide on the tire. The water is not too hot, but as it is sunny, it is very good in the river. The current takes us slowly and I enjoy like a dwarf of solitude in the middle of the river, with the song of the birds in the background, and the lush green of the mountains, whose pointed peaks seem to reach the sky.
The sun hits me in the face, and causes golden reflections on the water, and I think I fall asleep, in such a relaxing moment, that I will remember all my life. From time to time the noise of some boat, disturbs that peace a little. I notice how our passengers look at us, a little surprised that at this time, (it seems that in the summer, it is very normal), there is tourists doing tubing.
An hour later, the clouds begin to cover the sky, and it is not so good. Fortunately, we soon reached the small beach where the others are waiting for us, roasting a dozen small fish that others have managed to fish. I tell the guide to let me try, and with the net, I can catch one more. So the menu is made up of fish for each one, glutinous rice with hot curry, and some leaves that have been picked from a nearby tree, and which serve as a salad.
After lunch we go back to Muang Noi, where we pay what we owe in the guest house. After taking a shower with warm water, we have a beer on the terrace, looking at the river. At about 5 we went to school, where yesterday we saw that there were children practicing football, with the intention of playing. I'm on time, because a match is going to start.
The field has grass, but it is full of potholes and cow poop. People cross in the middle, and if we add the difficulty to know who is on which side, makes it difficult to give a good pass. The course of the game is a true reflection of the Laotian daily life, with continuous interruptions, without knowing very well why, and with a referee, who whistles all the time. Anyway, I spend a fun hour, and yes, I take all the balls up, because I'm the tallest of them all.
When it's over, it's already dark. So I take another shower, and we go to the bar, where our guide on the river is baking bread in a traditional oven. It's a starry night, and the music is in the background, that makes us order another beer and another slice of bread.
At 8 we go to dinner, fearing that they can close the restaurants. We took alone a bamboo soup, duck skewers and noodles. At the end we take a little walk in the dark, and observe inside the houses, that despite the cold, are completely open, as families watch television. In the street there are people chatting around a bonfire, some tourists scattered by the few bars and little else, so we go to sleep.
DAY 10 - LUANG NAMTHA
Another night we have slept well as the fatigue is accumulating. After preparing the suitcases, we go to breakfast. I have some fried eggs and a cheese sandwich. We bought the tickets for the boat to Nong Khiaw, and in half an hour we sail downstream, to get to the pier quite quickly. The landscape is almost prettier than on the outward journey, because the clouds seem to want to play with the mountains, and offer some amazing photographs.
Once with the bags in our possession, we walk to the nearby bus station, consisting of a booth and two vans at the door. We get the tickets for Oudomxay, city where we have to change to Luang Namtha. Quickly we went up to a minivan, quite decent, next to two French couples and a Laotian. The road is a real hell, and potholes make us bounce like balls.
So it took us 3 hours to get to Oudomxay. There we have an hour until the bus leaves for Luang Namtha. So after buying the tickets we take advantage of an open-air bar to have a grilled fish, soup and a beer. Fifteen minutes before the start, we see that almost everyone is already seated, so we went running and take the last free seat.
The trip is amazing, with continuous stops, where people go up and down. When we arrive at Luang Nam Tha it is night, and there are several tuc-tucs, waiting. We go to the guesthouse recommended in various guides. After dinner we go to the restaurant. After dinner we go to a cyber to connect to the Internet, and after reading the emails, we go to sleep, since we are tired after 8 hours of boat and bus.
DAY 11 - LUANG NAM THA
We thought that we were no longer affected by the sound of the cocks at dawn, but it is not like that, and again these animals wake us up. We moved the luggage to our new guest house. We had breakfast in the restaurant. Although the day is cold and very foggy, we rented a motorcycle for an amazing price, to see the surroundings.
So, after equipping ourselves with several layers of clothes, and loading the fuel, we began to visit temples and markets, crossing unstable bamboo bridges. At this time the sun warms up strongly, and we take advantage of the opportunity to remove clothes, while they prepare a great pineapple bought from a roadside stand.
Around one o'clock in the afternoon, we stop for a few beers and a little fish, before wandering aimlessly, penetrating into villages where the children look at us with curiosity. After 2 hours, we arrive at Muang Sing a village located very close to China of which they speak quite well in the Lonely Planet guide.
We arrive is a lazy hamlet, where there is hardly anything to see, because even the market, which can be the most interesting, is almost empty. For that reason we approach the checkpoint of the border with China, although it does not have anything special either. When we got back we had a beer in the garden of a guest house, where a few tourists snoozed, and we bought a huge pineapple, which we eat under a tree.
It's early, but we decided to go back to Luang, and make stops along the way. In one of them, we diverted to visit some very cool waterfalls, badly indicated. After leaving the motorcycle we walked, a path surrounded by thick vegetation, which makes us feel like Indiana Jones, although the sight of a pair of spiders of considerable size, makes us no longer enjoy so much. Upon returning, two countrymen who live in a cabin, on the edge of the road, charge us for the entry.
Before nightfall, we return to the city, and leave the motorcycle (we tell the manager, that tomorrow we want to change it because it has the speedometer broken). After taking a shower, we take a walk, although there is not much to see, and we opted for an Indian dinner, which a British couple had recommended.
It really has a great dinner, and I especially love the green chicken curry. When we left, we decided to go somewhere other than tourists, and we got into a pub full of Laotians. Upon entering, some young boys and a girl invite us to come to their table. The most fun was that the waiter handed us a letter written only in Laotian. We try to have a conversation with them.